Christmas Traditions For Couples To Start
Having Christmas traditions in your family and as a couple is something that every person should do! My husband and I have a few traditions that we've carried over from our families but it's always fun to add even more traditions around Christmas time. You can really never have too much Christmas cheer! I really enjoy hearing what other families do to celebrate the season. We've gathered up some of the most spectacular Christmas Traditions that you can start with your spouse and even a few to include your family and friends, starting THIS Christmas. What are you waiting for? Get started!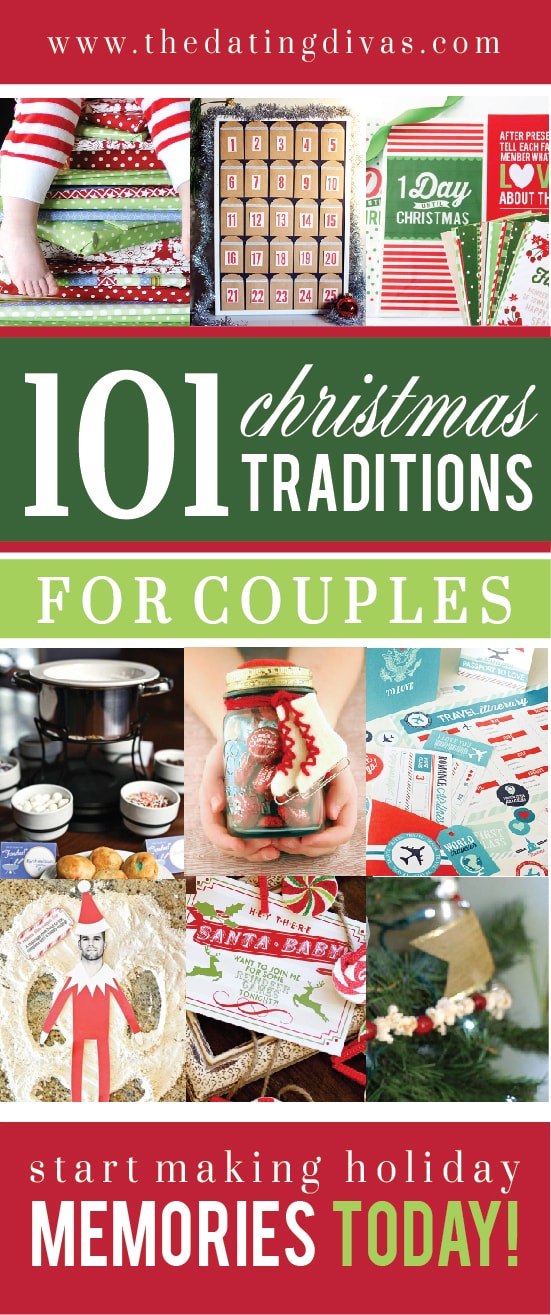 Disclaimer: This post contains affiliate links. To learn more about 'em, click here.
We have so many Christmas Traditions lined up for you, we've split them into a different categories to keep you organized and help you find what you're looking (especially when you come back next year)! We've gathered up traditions for:
______________________________________________________________________________
One of the more meaningful parts of Christmas is the gift giving, I don't know about you but I can't get enough of the smiling faces when my friends and family are surprised by a thoughtful gift. These gifting traditions are perfect presents to give every year and will give you and your spouse something fun to look forward to each year.
Christmas Gift Traditions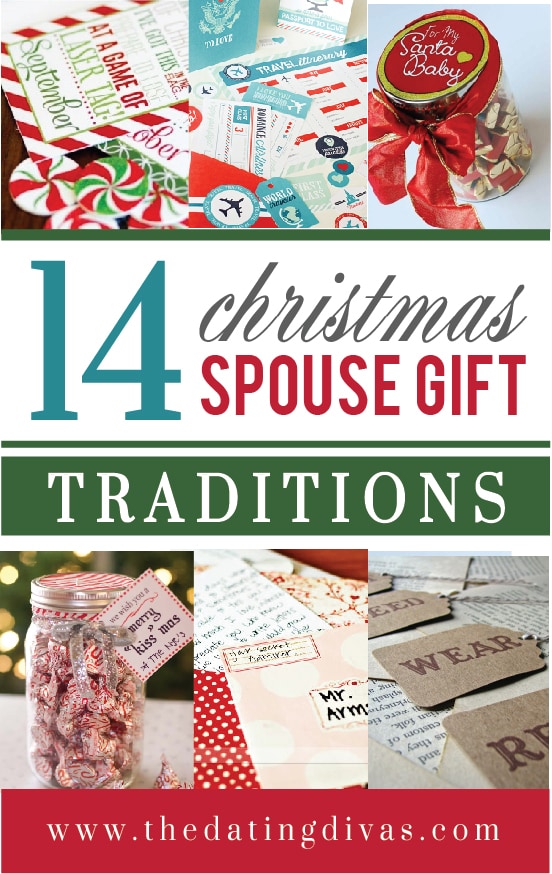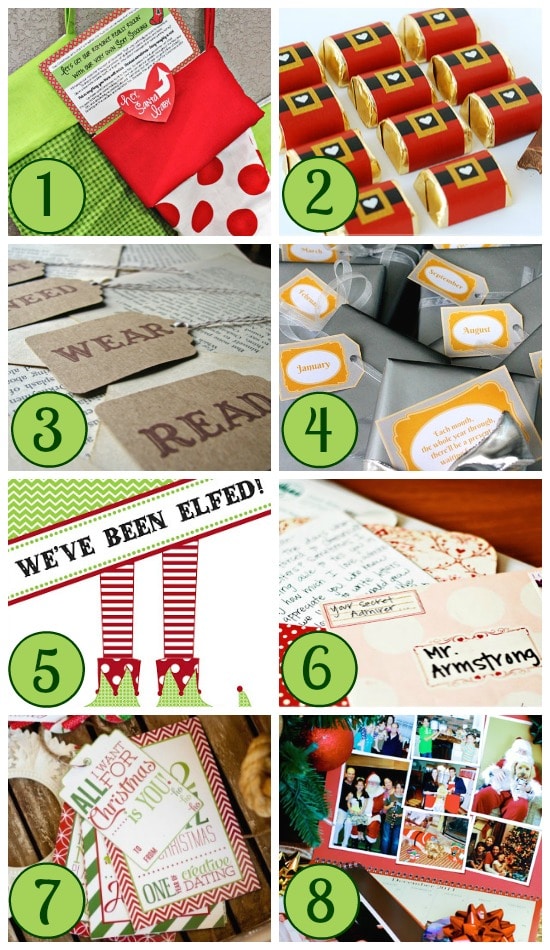 1. Sexy Stocking – A stocking tradition meant for just you and him! Give each other some sassy gifts when the kiddos aren't around!
2. Santa Baby Chocolate Wraps – Dress up chocolate candy nuggets by wrapping it in a Santa inspired printable.
3. Want, Need, Wear, Read Tags – Use these adorable printables to cut down on the quantity of Christmas gifts while improving the quality and making it more meaningful!
4. Gift of the Month Club – A DIY gift that keeps on giving, for an entire year!
5. Elfed – Leave your neighbor a sweet treat with a challenge to pass it on!
6. Love Letters – Write an old-fashioned, thoughtful letter to your spouse and pop it in the mail!
7. The 12 Daytz of Christmas – This gift provides a date for each month of the coming year and the best part is, it's already done for you!
8. Christmas Calendar – Create a calendar for the coming year filled with photos of your favorite moments together.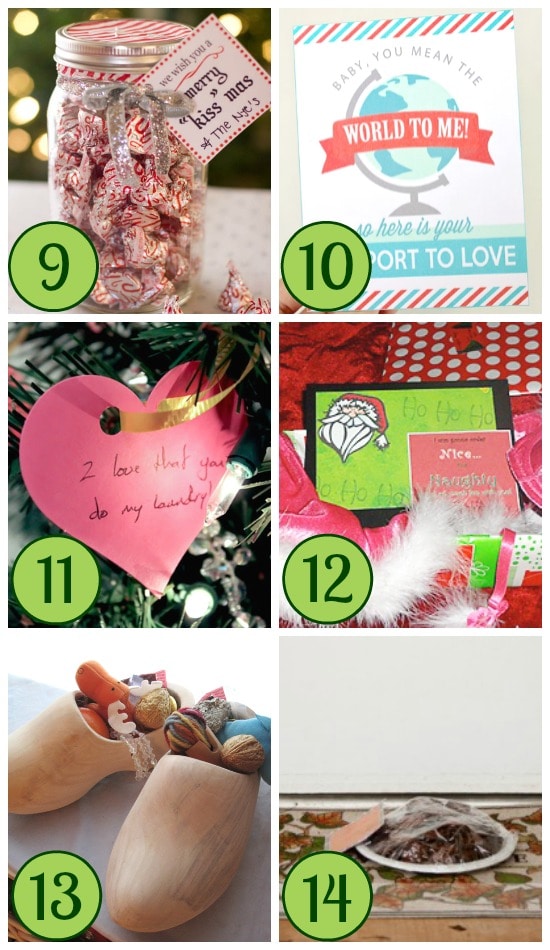 9. Merry Kiss-mas Jar – Put together an easy DIY gift: a sweet note and a jar full of chocolate kisses!
10. Passport to Love – A year of romantic date nights traveling around the globe!
11. Love Note Tree – Write love notes on hearts and hang them as ornaments on a special tree.
12. Naughty or Nice Notes – Leave notes around the house for your spouse to find. Make them NICE things he has done for you or NAUGHTY things you'd like to do!
13. Christmas Shoes – Put out your shoes on St. Nicholas' Day and fill each other's shoes with a few sweet, little treats.
14. Ding Dong Ditch – Anonymously leave a surprise treat for your neighbor – ring the doorbell and run!
______________________________________________________________________________
Who doesn't love all the delicious foods around the holidays? Some of the best Christmas Traditions start with yummy treats that you'll keep coming back to year after year and will get excited to make once Christmas rolls around again.
Christmas Treats Traditions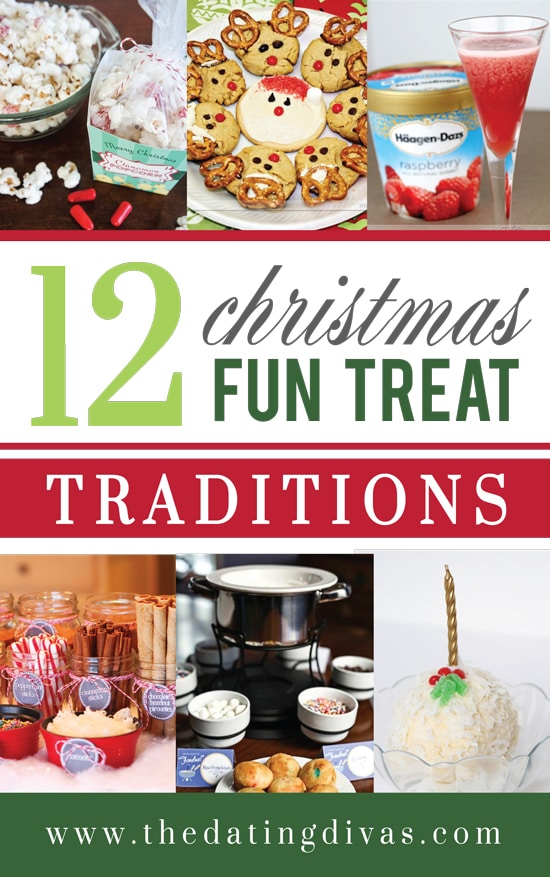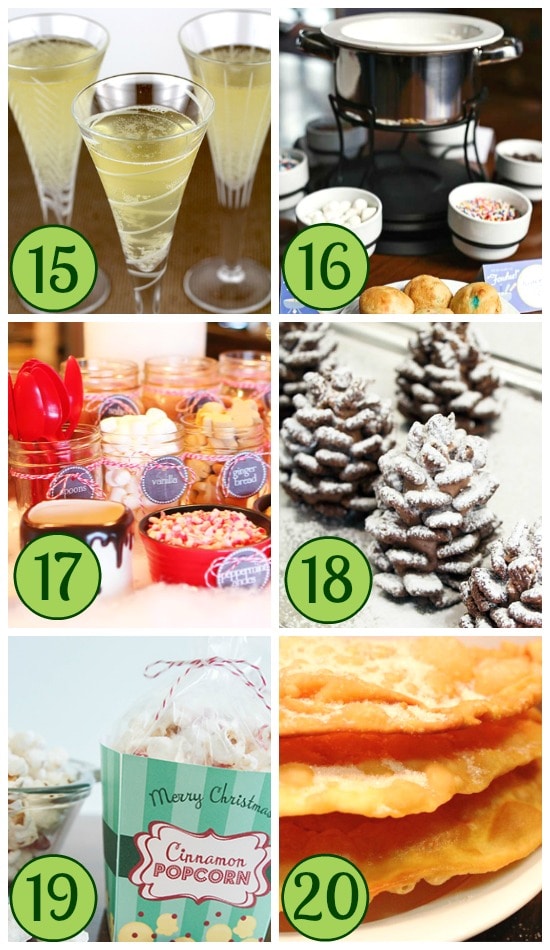 15. Christmas Mocktails – Mix up a Christmas drink or two and toast to the holidays with your sweetheart.
16. Fondue – Warm up on a chilly night with chocolatey fondue. You could even use Christmas cookies for dipping! How good does that sound?!
17. Hot Chocolate Bar – Gather up a few festive mugs, a variety of hot chocolates, and some fun toppers or mix-ins and make a night out of creative hot cocoa.
18. Chocolate Pinecones – Just a few simple ingredients and you can make some realistic pinecones fit to eat!
19. Cinnamon Popcorn – Mix up a batch of this cinnamon popcorn and check out #34 on our list for a bunch of holiday movies to watch as you're eating.
20. Bunuelos – Work together to make these "little bundles of love." They are originally a Mexican tradition but it's a great one for you to start, no matter what your heritage.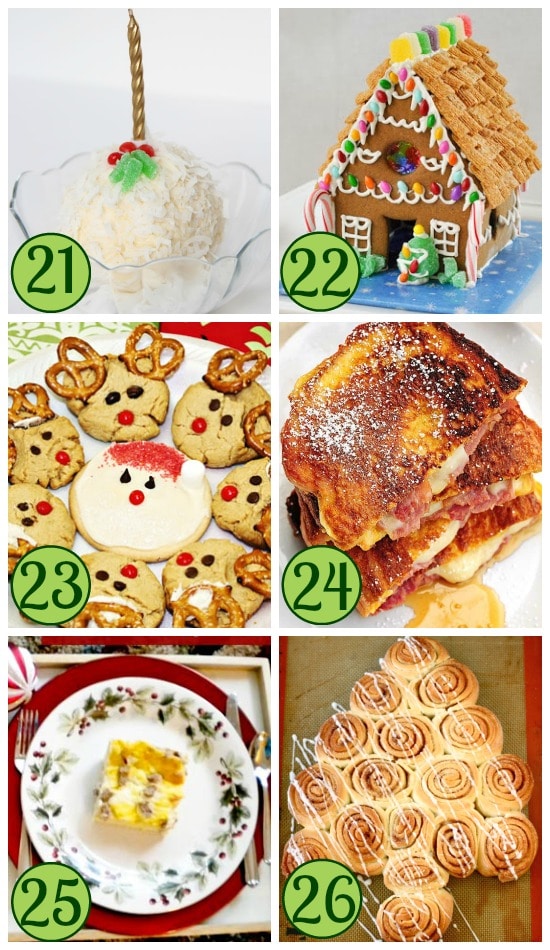 21. Flaming Ice Cream Balls – A delicious treat reminiscent of snow balls, they're especially perfect for the season if you don't get any snow at your house!
22. Gingerbread Houses – Turn this classic holiday tradition into a competition and have friends or family vote on a favorite or just work together on a masterpiece.
23. Santa and Reindeer Cookies – An adorable tradition that our Diva Becca shared
24. Monte Cristos – Make a delicious sandwich for lunch with your leftover Christmas ham!
25. Egg Souffle Breakfast – A delicious Christmas morning tradition that can be prepared ahead of time so you don't have to miss out on the festivities.
26. Christmas Tree Cinnamon Roll Breakfast – I love the smell of cinnamon rolls, it reminds me of Christmas every time. Baking them in the shape of a tree is even more festive!
______________________________________________________________________________
As the little ones start to get excited about Christmas (admit it – you do, too) – it's even more fun to countdown if you have a few traditions that help you in the days leading up Christmas. Here are plenty of traditions to start in the days before the holiday!
Christmas Countdown Traditions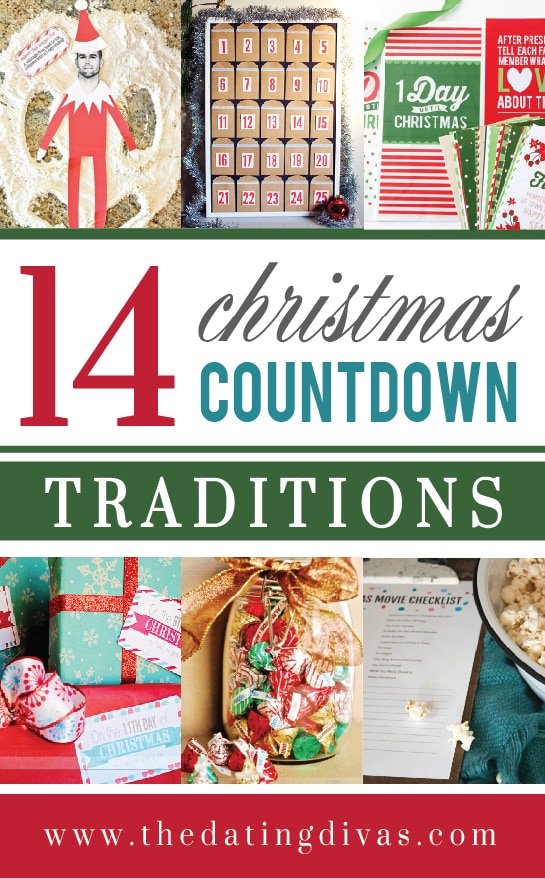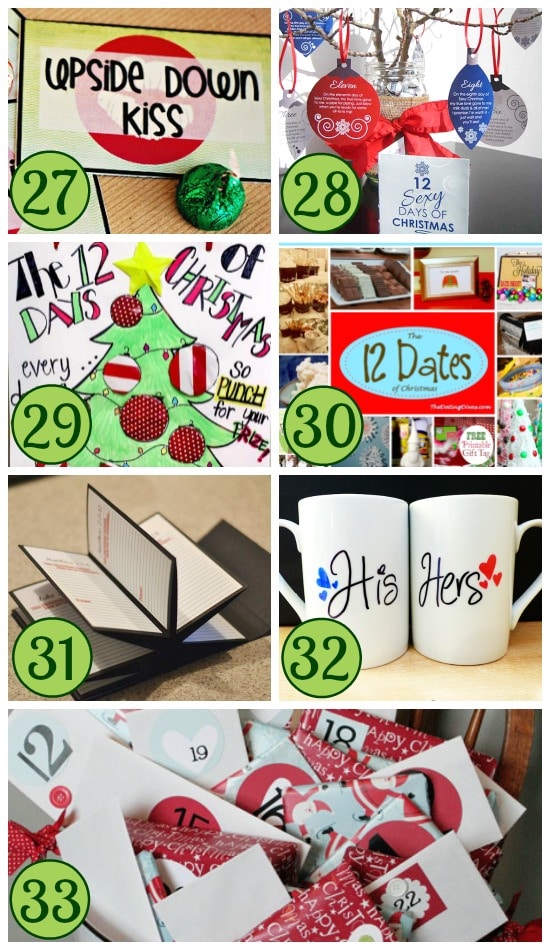 27. 12 Days of Kiss-mas – The perfect way to sneak in some unusually fun kisses – both chocolate and otherwise!
28. 12 Sexy Days of Christmas – A great countdown of intimate ideas for you and your spouse before Christmas.
29. 12 Days of Christmas Punch Poster – Create this interactive poster filled with treats to keep track of the days until Christmas.
30. 12 Dates of Christmas – Some fantastic ways to spend quality time together each night.
31. Oh Come Let Us Adore Him Countdown – Read scriptures and create a journal and prayer book in the days before Christmas.
32. 12 Days of Toasts – Make these adorable DIY mugs and then grab 12 different drinks for you and him to share in the 12 days leading up to Christmas. You can have a theme like a new variety of hot tea, cocoa, cider or soda for each night. Take turns toasting to each other, your marriage or the spirit of the season.

33. Christmas Bucket – Plan out the days before Christmas by wrapping gifts (new and old) as well as ideas for activities (see our Holiday Bucket List) and placing them in a bucket. As each day passes, grab a gift and have some fun!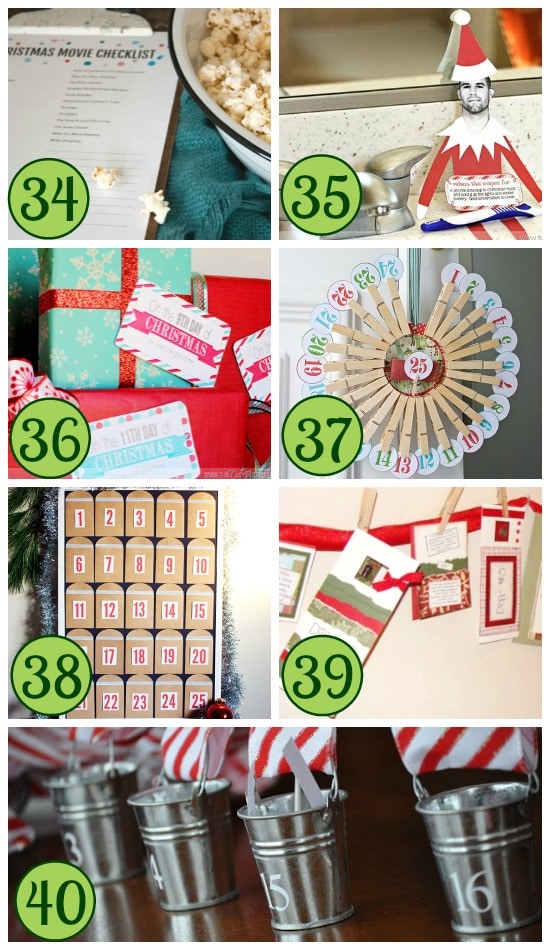 34. Christmas Movie Countdown Checklist – There are too many favorite Christmas movies to remember them all, but here's a great list to help out. Watch a movie each night and save your favorites until it's almost Christmas.
35. Hubby on the Shelf – A version of Elf on the Shelf for just the two of you. Put your hubby in hilarious situations but leave him with some love coupons as a reward!
36. 12 Days of Christmas Song Countdown – Countdown to Christmas with a little gift for each day – using the classic song as inspiration.
37. Clothespin Countdown – A simple version of a countdown that will be a cute decoration as well!
38. Advent Calendar of Service – A DIY countdown to Christmas that reminds you both to serve others in the simplest ways.
39. Spouse Christmas Countdown and Spouse Christmas Countdown – A countdown made especially for your spouse, filled with compliments, acts of service and fun couples activities.
40. Good Deeds of Christmas – A countdown that is perfect for keeping you focused on the true meaning of Christmas, although you can reward yourself a little, too!
______________________________________________________________________________
You know it's officially the holiday season when you see the stores filled with decorations. This year add to your traditional Christmas decor with these unique ideas:
Christmas Decorating Traditions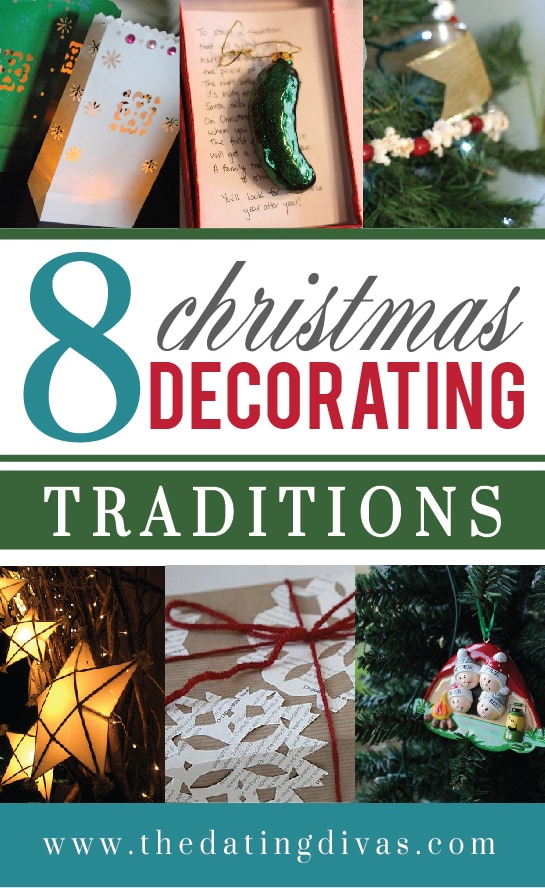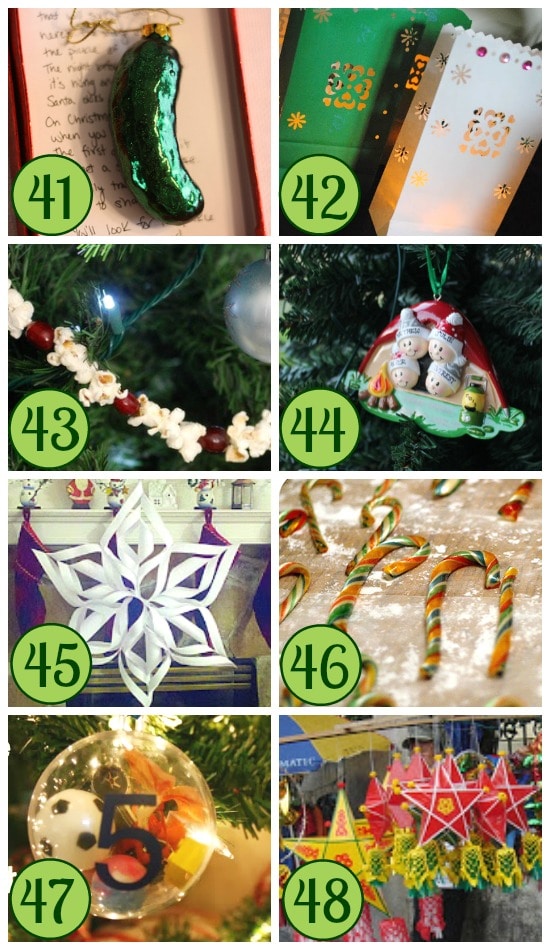 41. Hidden Pickle – Hide and seek with a pickle?! Pull a pickle out of the fridge (maybe a fake ornament pickle is better) and hide it in your tree. See how long it takes for him to find it. Take turns and see if you can get faster!
42. Farolitos – Create a more intricate version of luminarias. Decorate and cut out shapes in the bags you use to light up the streets on Christmas Eve.
43. Popcorn and Cranberry Strings – This classic tradition is perfect for some quality time to sit, relax, and decompress together, plus you get a pretty garland for the tree!
44. Annual Christmas Ornament – Pick out an ornament to represent your year together, and maybe even have it personalized with your names and the year. Then, write about it in a Family Keepsake Ornament Album.
45. Snowflake Cut Outs – I remember cutting out snowflakes as a kid, but this is an even better option. They would be an easy addition to your decor this season.
46. DIY Candy Canes – I love the messy, handmade look of these candy canes. They're perfect for decorating your tree or giving as sweet gifts.
47. Time Capsule Ornaments – These ornaments may be intended to hold a little one's memories, but I think it would be perfect for a couple to make with trinkets from the past year. It would be great to have the memories of each year visible on your Christmas tree.
48. Parols – These colorful decorations originated in the Phillippines and you can learn to make them yourself!
______________________________________________________________________________
We never want to forget the true meaning of Christmas, so we've included some meaningful traditions to show the spirit of the season through service and remembrance. These special traditions you can come back to every Christmas season.
Christ-Centered Christmas Traditions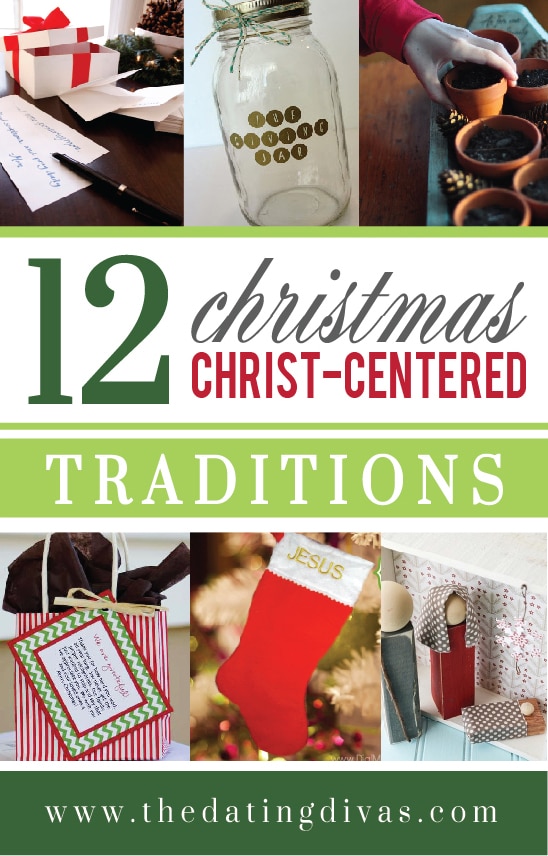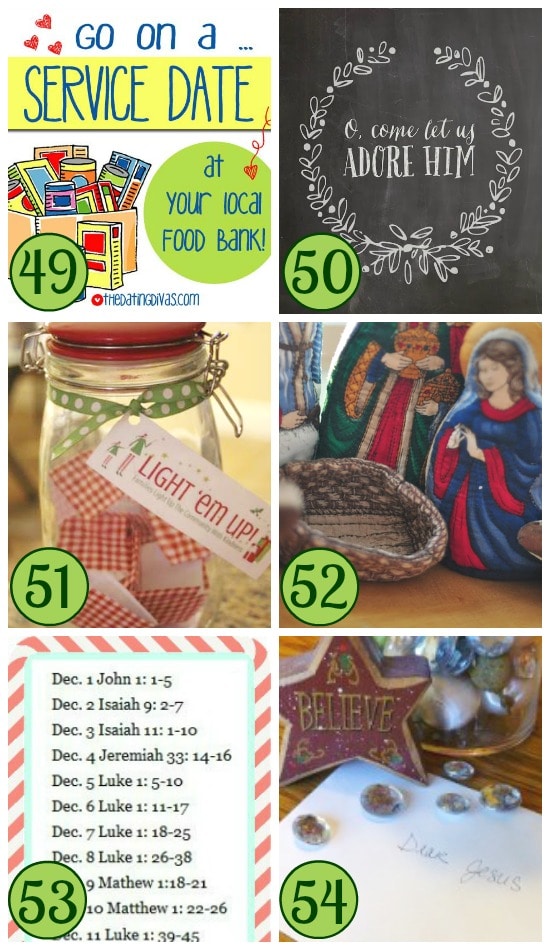 49. Service Date – Give your time together by volunteering at a food bank (or anywhere that help is needed).
50. Keeping CHRIST in Christmas – An entire round-up, including gifts, snacks, home decor, music, and even more ways to keep in mind the reason for this season.
51. Random Acts of Kindness – It's so much fun to do things for others anonymously. It's even more fun to do those things with the one you love! Here's a list to get you started doing little kindnesses for others.
52. Fill the Manger – Remember the importance of thinking about others by doing acts of service in the days and weeks before Christmas. Each time you do something kind, plant a seed – on Christmas eve use the sprouts to fill your manger. Here's a great story to go along with the idea of filling a manger with kindness.
53. Scripture by Candlelight – A list of beautiful and relevant scriptures to read by candlelight, together.
54. Christmas Envelope – Write letters to Jesus explaining what you plan to do in the coming year to improve or something you are willing to give up. Share your letters on Christmas day.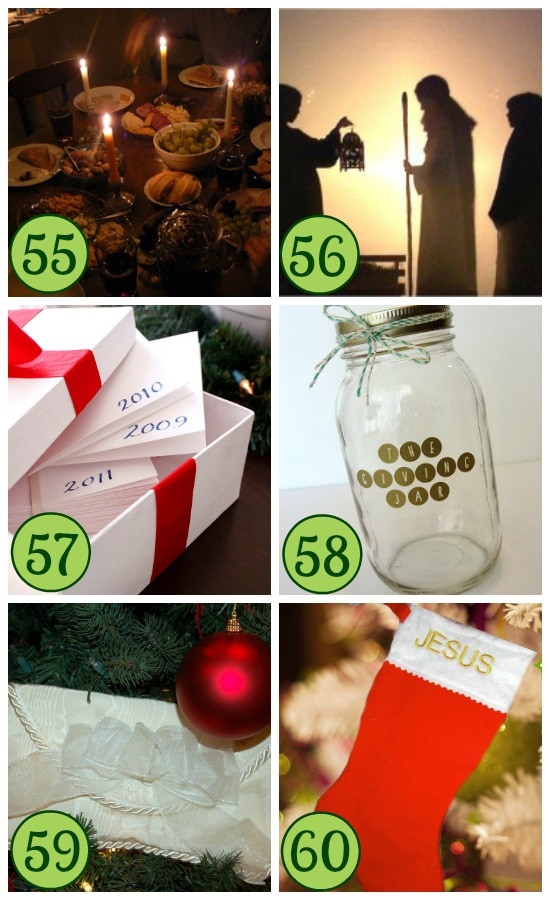 55. Bethlehem Dinner – Plan a meal with foods that would have been eaten during Christ's time on earth. Eat by candlelight and even on the floor, while listening to the story of His birth.
56. Creative Nativity Play – An active tradition that would be great with a few more – family, friends, or neighbors. Find creative ways to put on the Nativity Play – try performing a shadow drama, acting silently or doing it backwards! (or shadow puppets?)
57. First Gift of Christmas – Keep a box of gifts (ways you will serve) to give Christ each year.
58. The Christmas Giving Jar – Collect your spare change throughout the year and give it to a family who needs it during the Christmas season.
59. Secret Service White Envelope – Donate to a cause that's in need and surprise your family with the gift of giving in their honor.
60. Kindness Stocking (A Stocking for Jesus) – Fill a stocking with spiritual gifts for Jesus. Write down kind things you do for others as Christmas approaches and even ways you plan to be kind in the coming year.
______________________________________________________________________________
The month of December can get truly hectic, but don't forget to slow down and start some traditions that include quality time with you and your spouse. These date ideas are sure to be a hit during the holidays!
Christmas Date Night Traditions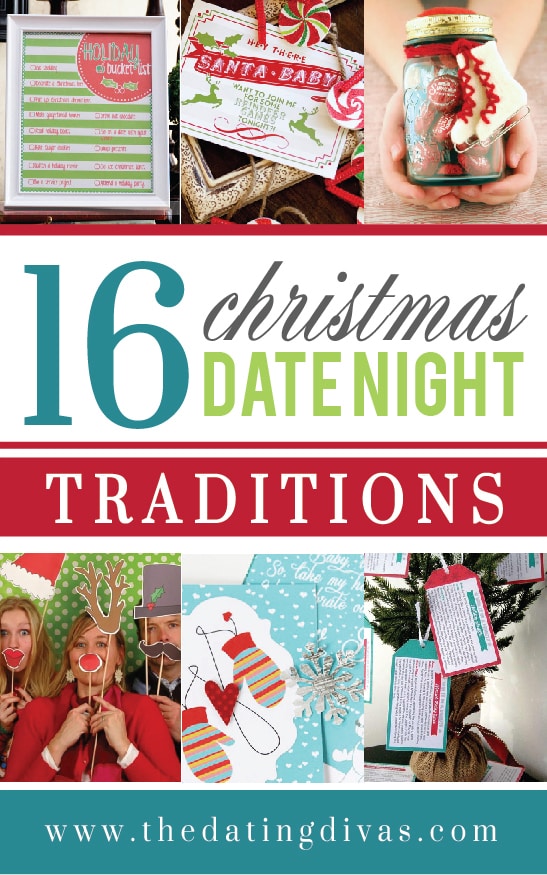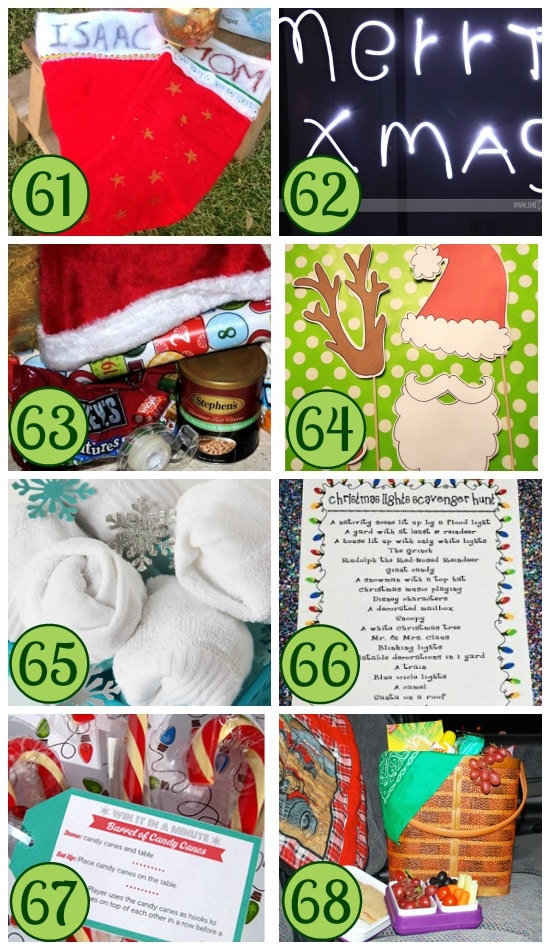 61. Stocking Stuffers Date – Check out these Stocking Stuffer coupons to help out!
62. Light Date – Test out the settings on your camera to create 'light graffiti' photographs with messages.
63. Santa's Helper Mini Date – Have a practical date night and get some wrapping accomplished, but make it fun with Christmas music!
64. Christmas Photo Booth – Create your own photo booth and take some wacky pictures!
65. Snow Ideas – Some great snow-related activities for playing even when there is no snow.
66. Christmas Lights Scavenger Hunt – Hop in the car and try to check off everything on our list! If you want to bring a few friends, try this fast-paced, competitive Christmas Lights Scavenger Hunt.
67. Christmas Win It in a Minute – These fast-paced games will have you in hysterics in a friendly competition with your spouse!
68. Winter Car Picnic – A great date night if you can't get away. Have a snack in the car!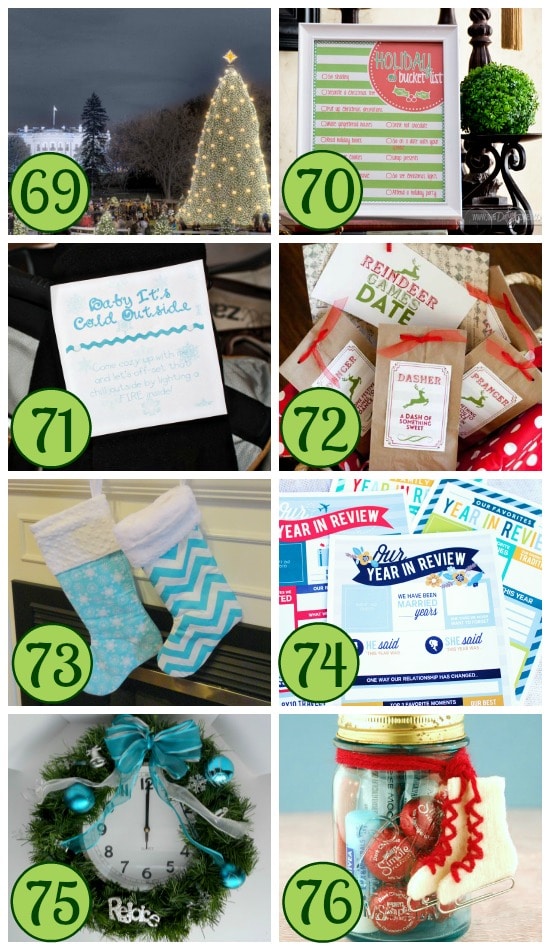 69. Tree Lighting – Even if you're not close enough to the Capitol, many towns host an annual tree lighting. Check your town or nearby cities to get the season started with your community.
70. Holiday Bucket List – Work (or play) your way through this list of Holiday must-do activities!
71. Baby It's Cold Outside – Fun, winter-themed activities to keep you entertained (and warm)!
72. Reindeer Games – Exciting ideas and treats inspired by Santa's reindeer.
73. Stocking Stuffer Shopping Double Date – Grab another couple and make a date night out of shopping for each other. A great idea is to split up into girls and guys and work together, plus the ladies can be prepared with our list of 101 Stocking Stuffers for HIM!
74. Year in Review – As the year begins to wrap up, get together and reminisce about the most memorable parts of your year together. Make this beautiful keepsake as a couple.
75. Midnight Treat – Stay up until midnight (on purpose) and celebrate in the first, quiet hours of Christmas together with a toast and a small treat.
76. Ice Skating – Make this adorable date in a jar, then bundle up and head to a skating rink (bonus points if it's outside!). It doesn't matter if you're no Olympic skater, it's more fun when you hold onto each other!
______________________________________________________________________________
As your family grows, so will your traditions. We've even included some great activities for the kid at heart or the kids in your growing family! These fun traditions are perfect for a Christmas with two or two plus a few!
Family Christmas Traditions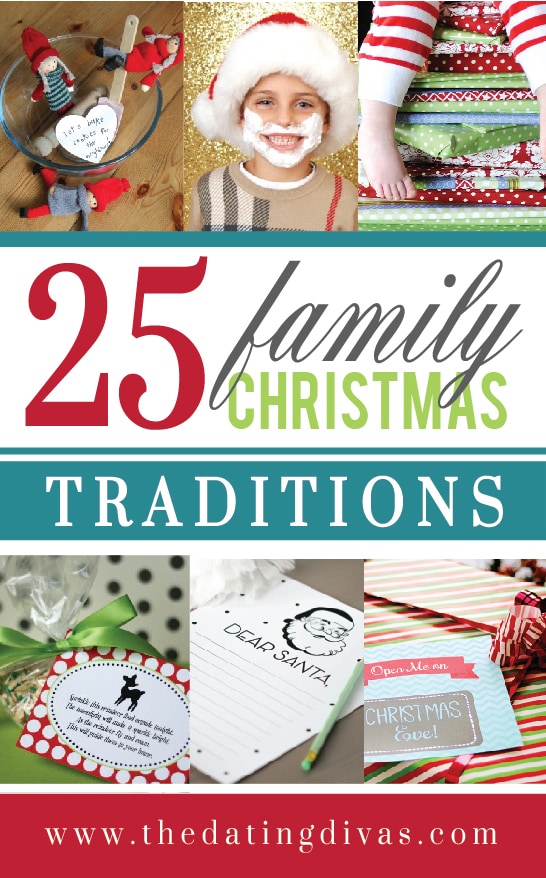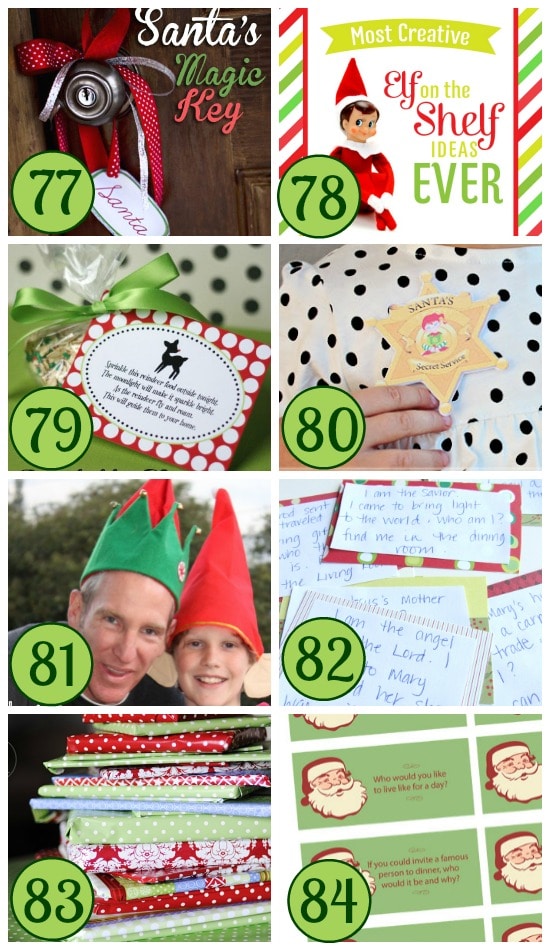 77. Santa's Magic Key – A tradition to explain how Santa's magic works, even without a chimney!
78. Elf on the Shelf – A favorite tradition of kiddos everywhere, here are some of the most creative Elf ideas.
79. Reindeer Food – Feed the reindeer on Christmas Eve, not just Santa!
80. Santa's Secret Service – What kid wouldn't want to help Santa?! Encourage them to help out and do good for others by being a part of Santa's Secret Service!
81. Carol Charades – Play charades where the answers are Christmas Carols.
82. Find and Fill Nativity Scene – Let the kids help set up your Christmas nativity scene while learning about the role each person played in the Christmas story. Give them clues and let them find each figure to fill the scene.
83. Book Advent Calendar – Read a new Christmas story each night. It's even more fun if you wrap each book. You don't have to buy new books every year, just rewrap what you've got!
84. Conversation Starters – Interesting and insightful questions to get the conversation going at family dinners!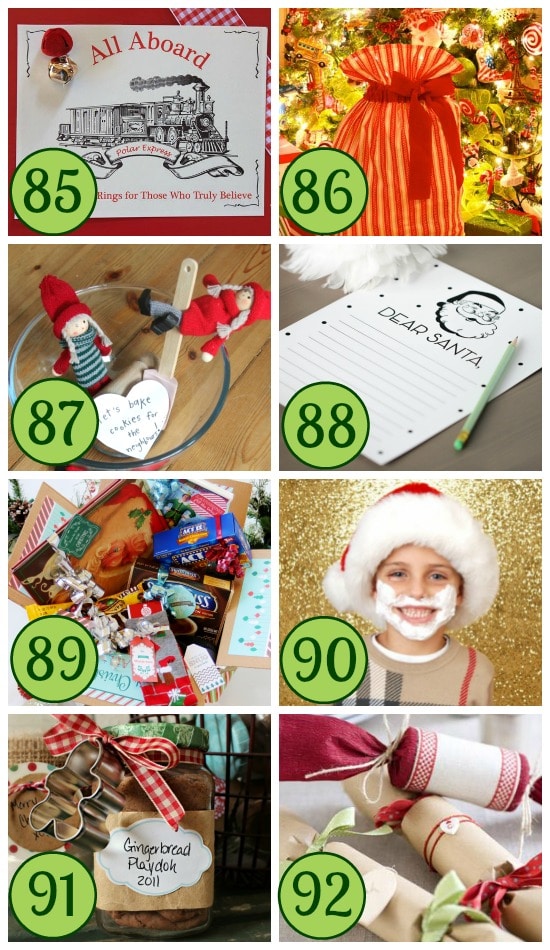 85. Polar Express Pajama Party – Read the story, watch the movie and grab some hot cocoa – all in your PJs!
86. Santa Sack – Instead of wrapping gifts from Santa. ALSO give back to needy. Give each kid their own Santa Sack and let them fill it with old toys to give to kids in need. (Bonus – it's like spring cleaning in December!)
87. Kindness Elves – A different kind of elf! Instead of watching to make sure the kids behave, this elf looks for acts of kindness and suggests ways you can help others during the holidays!
88. Dear Santa – Kids write their wish lists to Santa using an adorable free printable.
89. Christmas Eve Box – Wrap up a few gifts to be opened and used on Christmas Eve. Include a new pair of PJs, a book, a board game, hot cocoa, popcorn and a Christmas movie.
90. Shaving Cream Santa Beard – Another idea for some silly family photos – or just for fun! Do you remember using bubbles during bath time to make a beard? Shaving cream works much better!
91. Gingerbread Playdough – Scented playdough to give your home a Christmasy aroma!
92. DIY Christmas Crackers – A Christmas craft with a ton of options! Make these and fill them with all kinds of goodies to give out as little treats for friends, neighbors, or teachers!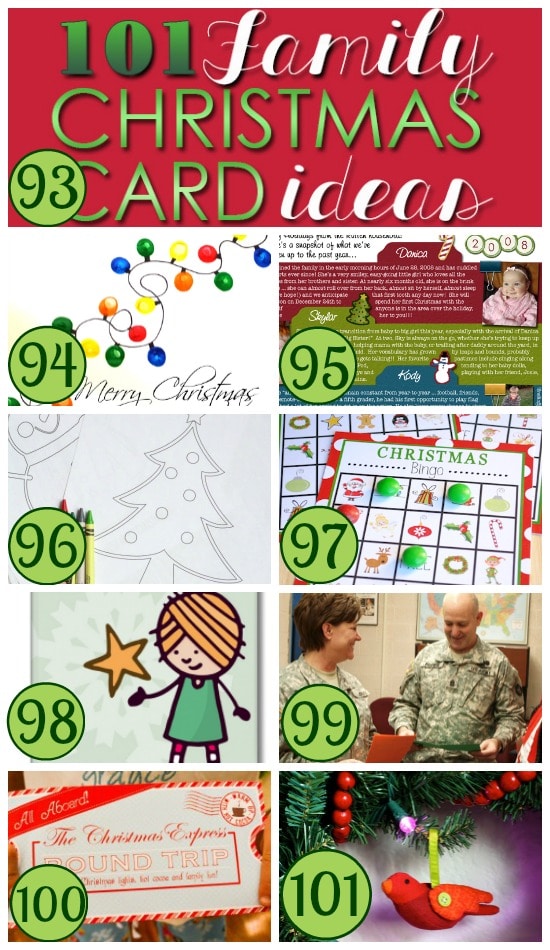 93. Family Christmas Photo – Make time to create a lasting memory with a family photo. Check out #64 for some fun photo booth style props!
94. DIY Christmas Cards – Get the kids involved in sending cheer by creating their own Christmas cards to mail to family and friends.
95. Family Newsletter – Write an update about your family's year and add it to your traditional Christmas card.
96. Coloring Pages – Fun and free printable coloring pages for Christmas. Add the finished artwork to your family Christmas cards.
97. Christmas Bingo – A classic tradition that would be a great way to keep the kids busy during any holiday party.
98. The Truth in Tinsel – A beautiful Christmas advent to celebrate the real purpose of the Christmas season.
99. Holiday Mail for Heroes – Encourage your kids to think about those who are serving our country and don't get to spend time with their families this Christmas. Write letters, make cards and put together care packages to send to these heroes.
100. Christmas Express – Cute printables that make hopping aboard the 'train' even more fun. Then, scoot around town to see all the decorated houses!
101. Ornament Collections – Help your kids start their own ornament collection by letting them pick an ornament each year and decorate a wreath in their room.
Bonus Ideas!
Maybe 101 Christmas Traditions weren't quite enough for you? If you want some additional Christmas Traditions, check out these great ideas:
25 Easy Ways to Have the Best Christmas Ever
25 Ideas for Starting Traditions with your New Family
Christmas Eve Traditions for Couples
Now, try to tell me you're not in the Christmas spirit! No grinches allowed! These traditions are sure to make your Christmas memorable for years to come!