101 Frugal Summer Activities
Summer is FINALLY here and I am loving it!  I love the warm weather, the awesome colors, and the fact my kids are out of school so we can hang out!  Yay!
The flip side to that is the fact that sometimes if my family and I don't plan well, we can get a little bored. To help off set that I decided to plan ahead – a concept to me which is foreign – lol.  Along with that, as Divas, we decided it might be high time to round up over 100 amazing summer activities for our readers (and us) to enjoy.

Disclaimer: This post contains affiliate links. To learn more about 'em, click here.
We found ideas for every person's needs…whether you want to include family or just you and your spouse – you will find your must-dos for your summer bucket list.  Below you will find…
20 Outdoor Activities
9 Food Activities
8 Activities for Couples
17 Activities with Kids
11 Crafty Activities
6 Thrill-Seeker Activities
8 Nostalgic Activities
22 Out & About Activities
With this list of over 100 awesome ideas, you are guaranteed to find out exactly what you want to do this summer!
As a bonus we had the ever talented Crystal of A Well Feathered Nest create an amazing printable bucket list for you.  Read through all the items we have found, pick your favorites and you can type them into your printable – or just print it and fill it out.  She even left a blank space for you to fill in with the dates you want to use the list or fill it out by category (for example: if your category is out & about ideas, then you fill the bucket list in accordingly).  Crystal is so great to work with and I want to shout my thanks for this gorgeous printable!
20 Free or Cheap Outdoor Activities
Have fun with these great outdoor activities.  They are sure to impress…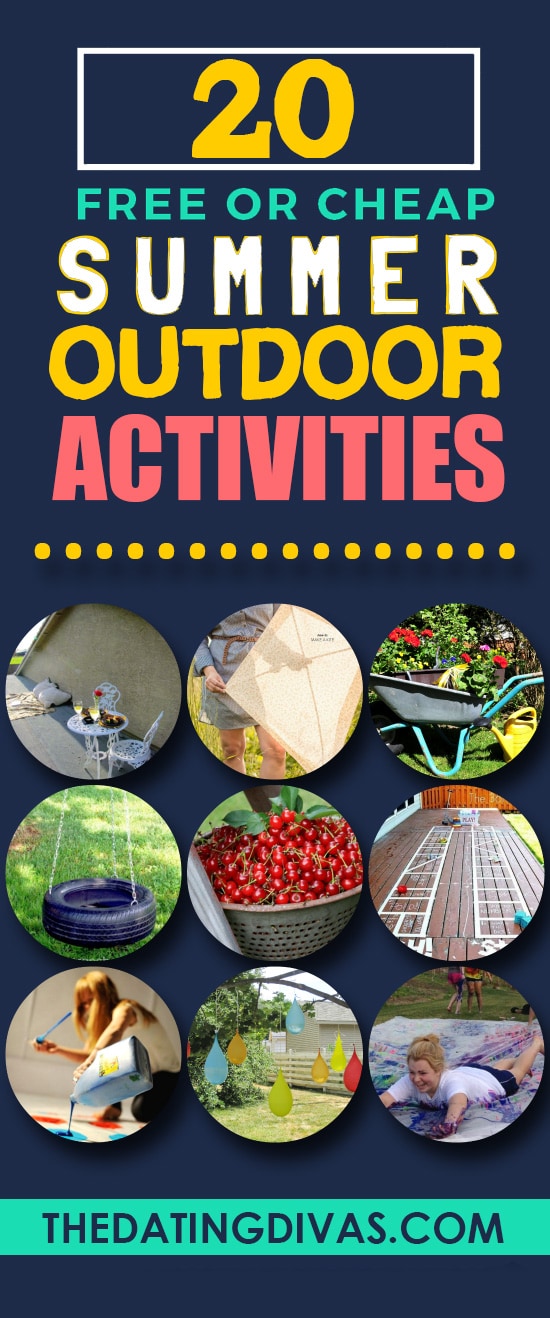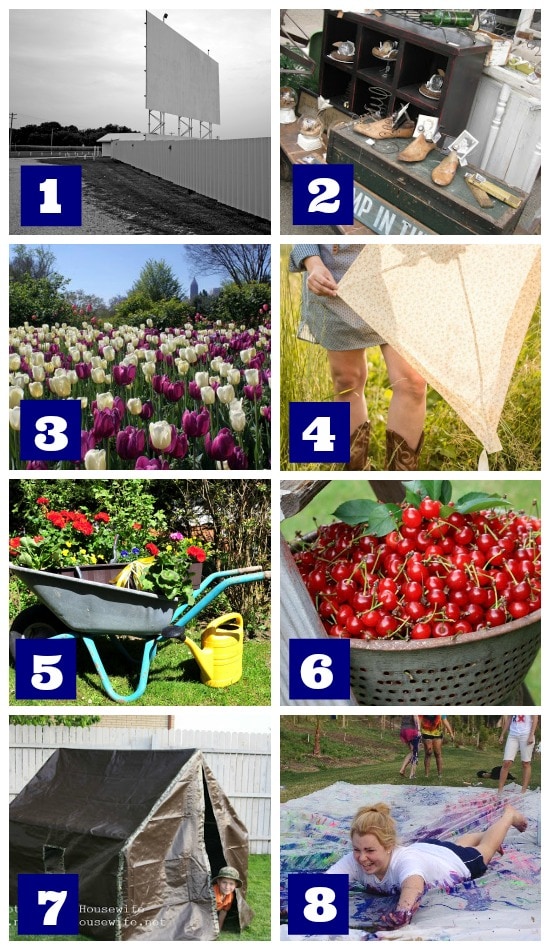 1-
Go to a Drive In Movie
: Drive-in movies are awesome! I loved going to them as a kid.  Go with friends, make it a family night, or just have an awesome date night – whichever you choose this is a must for your summer bucket list!
2- Swim in a Lake by Chipping with Charm: Swimming is an obvious must do for a summer activity – but up the ante and not just go swimming – but go swimming at a lake!  If you aren't sure if there is a lake close to you, do a google search (type your location in the top left search bar to find a lake or pond close to your location)… you just might be surprised at what you find! And check out our Beach Packing List for all that you might need!
3- Visit a Botanical Garden: I think that botanical gardens are one of the most romantic as well as fascinating places you can go to.  There are so many wonders to see. The flowers are amazing, the smell is to die for, and soaking up the sun never hurt anyone – and those are just a few rewards you receive when going to a botanical garden!
4- Fly Kites by Style Me Pretty:  Let's go fly a kite, up to the highest height…Oh that song brings back so many awesome memories.  You might scoff at us when we suggest this one, but honestly, it's a fun activity and before you know it, you will be having the time of your life!
5- Plant a Garden by Better Homes and Garden: Summer time is the perfect time to plant a garden – and the joy that it brings when you eat the joys of your labor is awesome!  Have a blast planting your garden and see what fun and adventure await. (Tip: If you don't know where to start- THIS article has some great tips and advice for how to start a garden!)
6- Pick Fruit at a Local Farm by The Brambleberry Cottage: Going to a farm and picking your own fruit has a sense of accomplishment attached to it. It's such a fun adventure and you leave with the most fresh fruits and vegetables money can buy.  Seriously, you won't find the quality of the farm at your local grocery store.  If you don't know where to find a farm near you, try here.
7- Go Camping by French Press: Camping is a definite must for your summer bucket list.  If however, your idea of camping is going to a hotel… try to be creative and camp in your own back yard with a tent or you can even try your own family room!  What's great about these is you still get to enjoy 'camping' but you get the comfort of your own home.  You can take the couch cushions and use them as your bed, or pile up a ton of blankets.  Whatever works for you so you can have tons of fun while still keeping your comfort level to the maximum!
8- Paint Slip n' Slide by Mr. Otter Art Studio: Oh my goodness…this just looks amazingly awesome and tons of fun!  I mean, big slip n' slides are great, but add paint to the equation and it turns it into a genius idea.  I can't wait to do this with my kids!
9- Make a Backyard Water Park by East Coast Mommy:  Going to a water park is tons of fun but can be super expensive.  Save money and still have tons of fun by turning your backyard into a water park!  Your whole family will just eat it up.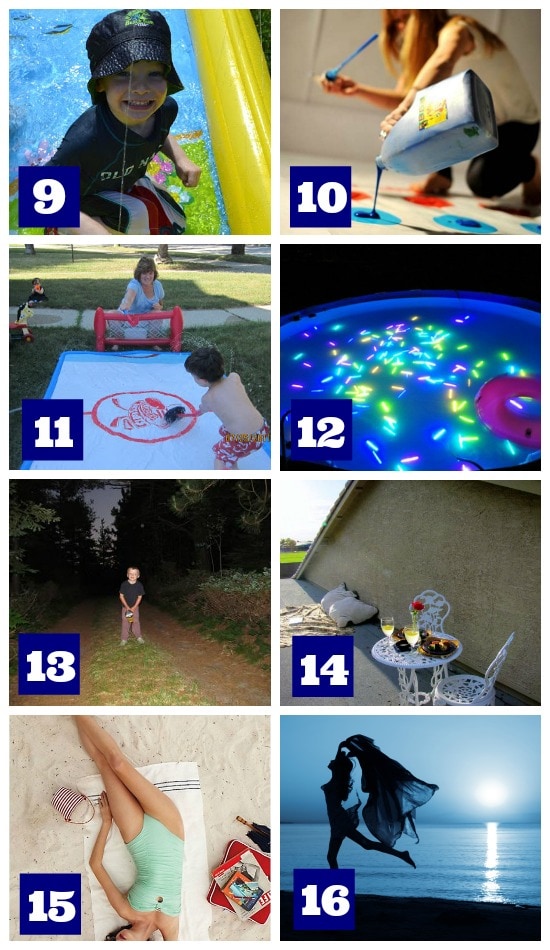 10- Messy Twister by lol Snaps: Darn, this link is no longer available 🙁 But Twister
 is such a classic game and tons of fun – especially for family get-togethers. Try this fun 'twist' by adding paint to the equation. I guarantee no one will be standing for long playing this game! LOL!
11- DIY Slip n' Slide Hockey by The Wee Chitlins: This over-sized hockey game is great!  I love that you can have the kids be super entertained, and they can stay cool.  If you want to make this even better, take this kids toy and make your own adult-sized water hockey rink!  Get plastic sheeting, spray paint the borders for an actual hockey rink, gather up friends and split into teams, then have a blast playing hockey and get super wet! Fun!
12- Go Swimming at Night with Glow Sticks by Hubpages: Again, going swimming as part of your summer activities is a no brainer, but swimming at night and using glow sticks as the lights.  This is a definite must! If you're loving this idea, check out our Glow-in-the-Dark Group Date Night.
13- Go on Night Walks by The Usual Mayhem: Dang this link is not available anymore but you could clear your mind by taking long night walks…while walking take deep breaths of the beautiful summer air, and just enjoy being out in nature.  There is nothing that will beat the peace you will get by taking a great night walk.  Just soak it in.
14- Go on a Picnic by The Dating Divas: Picnics are so great. I love that they can be so last minute and unplanned which is fun.  What's great is the diversity of a picnic too…you can go as a family, just yourself, or a romantic get-a-way with your spouse.  Whichever you choose, it will be awesome.
15- Soak Up the Sun by A Girl and her Pearls: Soaking up the sun doesn't necessarily mean get in a bathing suit and go tan your skin – although that is a great option too!  All you need to do is just enjoy the sun – go to a park, lay on a blanket, and literally soak up the sun's rays and enjoy every second of it.  Being outside in the sun raises your spirits and gets your day off on the right foot.  It's just great!
16- Dance in the Moonlight: I know this sounds so cheesy – but honestly, this can be so liberating. Throw caution to the wind and let your spirits soar and DANCE!  For a romantic option, grab your special someone and slow dance in the moonlight.  Either way, just have fun!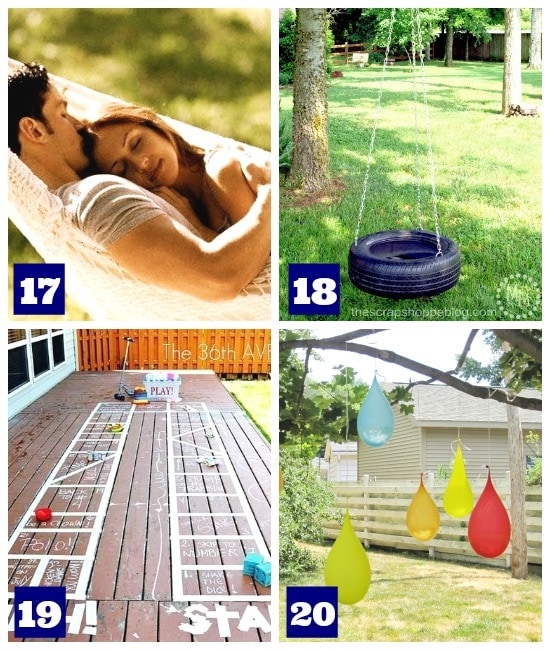 17- Nap in a Hammock by Bourbon and Pearls: Summer is not summer without taking a nap – but a normal old nap is not worthy to be on your bucket list.  Hammocks are perfect for summer, so taking a nap in one just fits.  Relax and enjoy.
18- Make a Tire Swing by Today's Creative Blog: Oh my goodness – tire swings just scream SUMMER BUCKET LIST!  Be creative and make your own – or find a park that has one in it.  Either way swing to your heart's desire and let it all go.
19- Outdoor Board Game by The 36th Avenue: Seriously, board games are a must for summer but a normal ol' board game is not bucket list worthy. What makes this idea bucket list worthy is that it is a DIY over-sized board game – using your own back yard as the board! Your kids will LOVE it!
20- Water Balloon Piñatas by Milk Allergy Mom: Oh my goodness – I LOVE this idea.  I am always searching for ways to keep my kids cool during the summer.  Fill up some water balloons, hang them up, and then let your kids at it (normal piñata style with blind fold, bat and all :))!  I would just take cover so you aren't soaked to the max, too!
9 Free or Cheap Summer Food Activities
Summer isn't summer without amazing food.  Enjoy these fun food filled activities to get your summer rolling!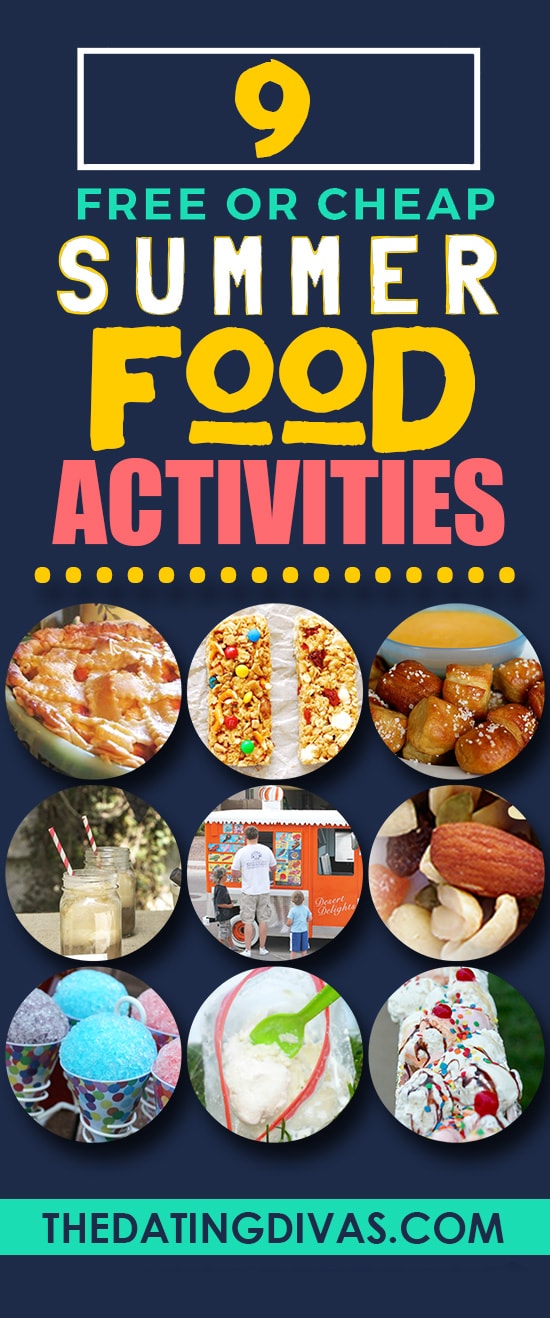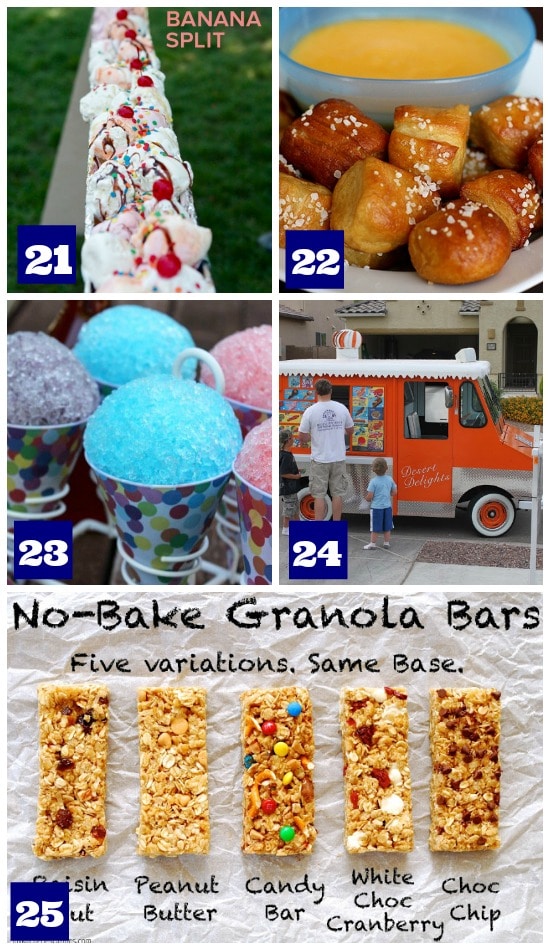 21- Make a Giant Banana Split by Oh Happy Day: My husband I used to have a tradition of going to the movies and getting the BEST banana splits you have ever tasted.  Mmmmmmm….my mouth is watering just thinking about it.  So, take the banana split to the masses…make one that is monster and big enough to share for the whole neighborhood.  That is definitely worth getting on your must dos this summer, right?!
22- Make Homemade Pretzels by Two Peas & Their Pod: My family loves to go to the mall and get amazing soft pretzels to share. Now that I know we can make our own, oh goodness… this is going to be a great summer!
23- Eat Snowcones by Hoosier Homemade: Come on…summer is not complete without eating at least one snow cone right? Make your own at home and have tons of fun in the process!
24- Get an Ice Cream Cone from the Ice Cream Truck Idea by Windhula: Ice cream trucks are rampant during the summer.  Fill your kids' memory books with letting them get a sweet, cool treat from the ice cream truck.  It didn't happen very often for me growing up, but when it did, it was awesome!
25- DIY Granola Bars by Made From Pinterest: Granola bars are one of my kids' favorite snacks – especially during the summer.  If I made mya own with my kids, they would be in heaven! I love the fact that these recipes have different varieties and options so we can make it over and over.  This is a must on my summer bucket list.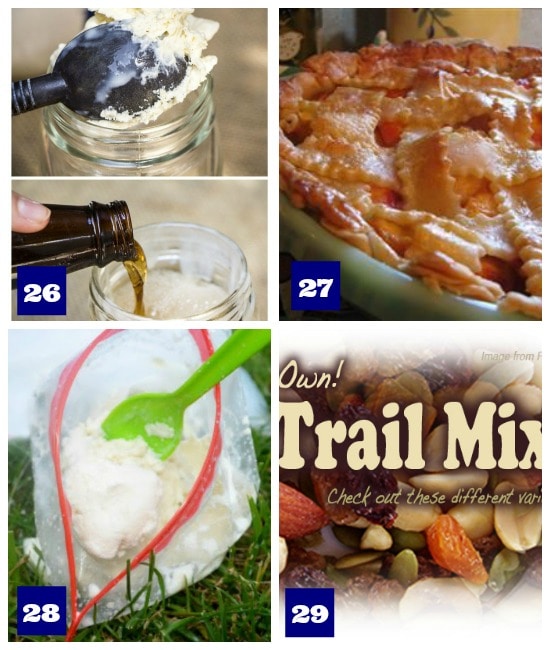 26- Make Root Beer Floats by Seedling.com: Yummy root beer floats have been around for forever, but not all root beer floats are made equal. Nope!  Try making your root beer float with different varieties of root beer and vanilla ice cream until you find the perfect combination that will get your mouth watering every time you make it!  Mmmm, mmmm good!
27- Make a Fresh Fruit Pie by AllRecipes: Have you ever had a fresh fruit pie?  If not, you are totally missing out!  Make this yummy treat for smiles all around. Yummy!
28- Ice Cream in a Bag by Growing a Jeweled Rose: Homemade ice cream is so great, but I had never heard of making it in bag.  What?!  This is just awesome.  My kids are going to love this!
29- DIY Trail Mix by My Natural Family: My family takes trail mix everywhere we go.  So, making our own trail mix takes it to the next level.  This is a definite summer food snack AND making it yourself makes it worthy of being on your summer bucket list.
8 Free or Cheap Summer Activities For Couples
Every couple needs some fun activities to do together during the summer – let this list plan all your activities for you!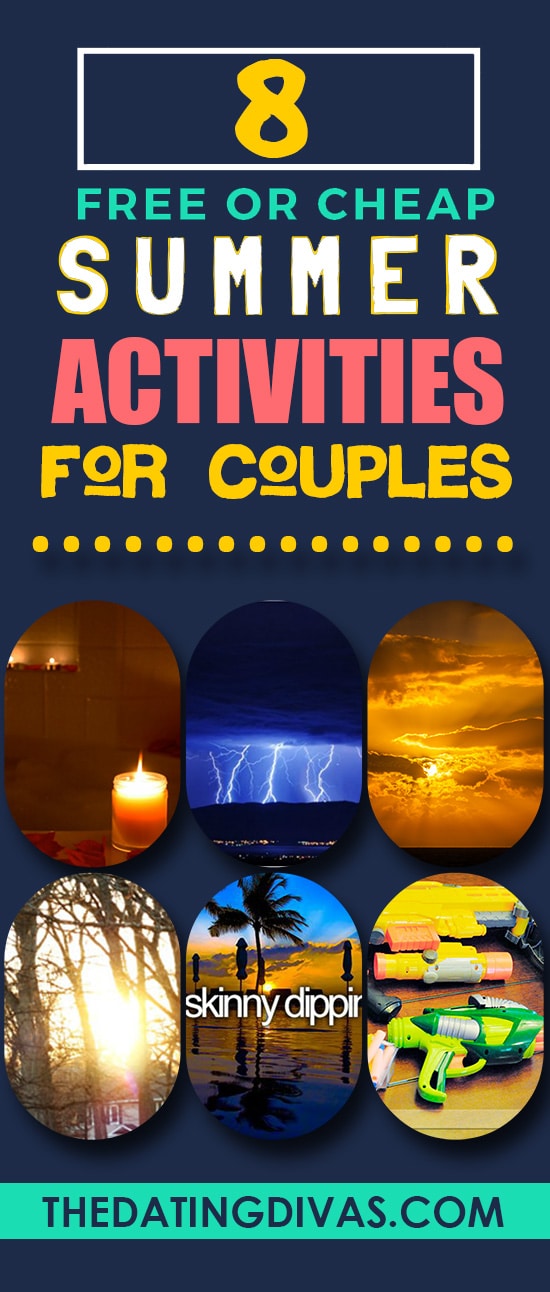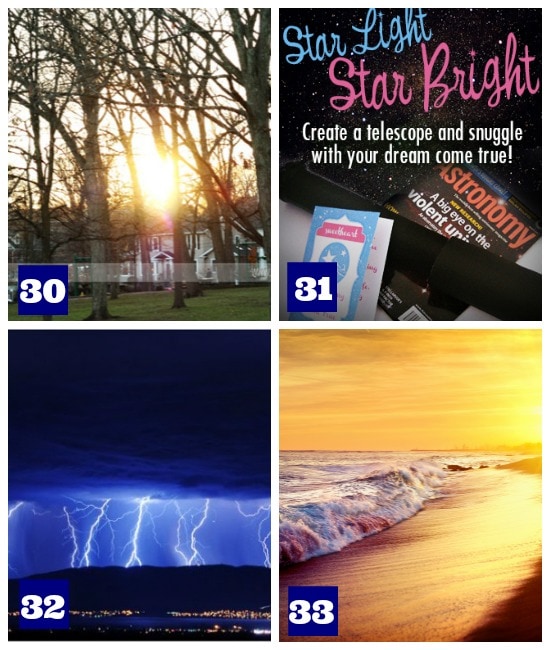 30- Watch the Sunrise by The Dating Divas: Take summer to the romantic level and go watch a gorgeous sunrise.  I don't know if I can say that my hubby and I have ever woken up early enough to watch an amazing sunrise. What a waste…it's definitely going on our summer activity list this year.
31- Have a Star Gazing Party by The Dating Divas: The stars are so gorgeous during the summer time.  Plan a great date and get ready to be amazed with the mind-blowing beauties of the galaxy. And make sure to check out these amazing Star Maps that mark a special date!
32- Watch a Lightning Storm by The Dating Divas: I love summer storms – and lightning storms fascinate me.  Plan a romantic date for your spouse and enjoy nature at it's best.
33- Watch the Sunset by The Dating Divas: If you are watching the sunrise, then you have to also plan a night to watch the sunset.  You will make your spouse happy by planning on awesome night full of cuddling and enjoying nature.  This is a must for your summer activity list.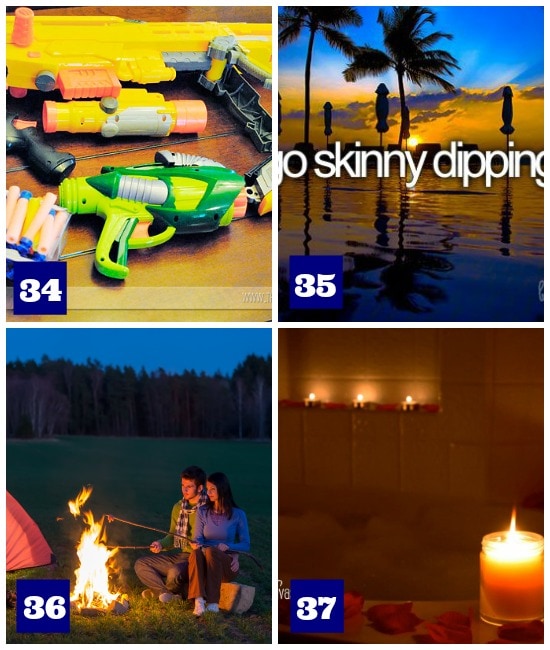 34- Have a Nerf Gun War by The Dating Divas: Have a fun filled evening with this great summer activity – and what's even better is it has a slight competitive nature to it.  Get your 'nerf' on and enjoy a fun night shooting targets and objects.  Just awesome.
35- Go Skinny Dipping by The Boyfriend Store: Um, I know that this activity might be a little 'shunned' but if you can't go skinny dipping with your spouse – then with who?  Throw caution out of the wind, be adventurous, and go swimming in your birthday suit with your spouse this summer!
36- Cuddle at a Campfire by PopSugar: I seriously LOVE to cuddle – so cuddling in front of a campfire sounds like heaven.  This is a must for any couple's summer bucket list.
37- Take a Bubble Bath by The Dating Divas:  I occasionally will take a bubble bath by myself to help me relax, but taking one with my hubby is even better.  Warm up the bath, add the bubbles, and then enjoy each other's company.  Yummy!
17 Free or Cheap Activities With Kids
Let your kids pick their favorites on this list to help your summer be filled with tons to do.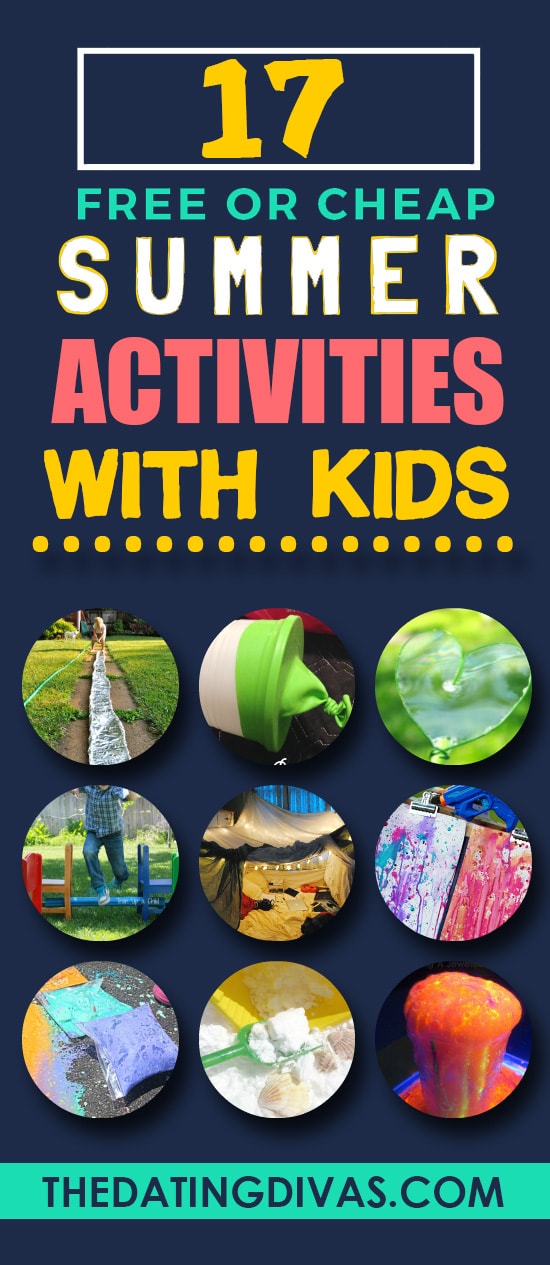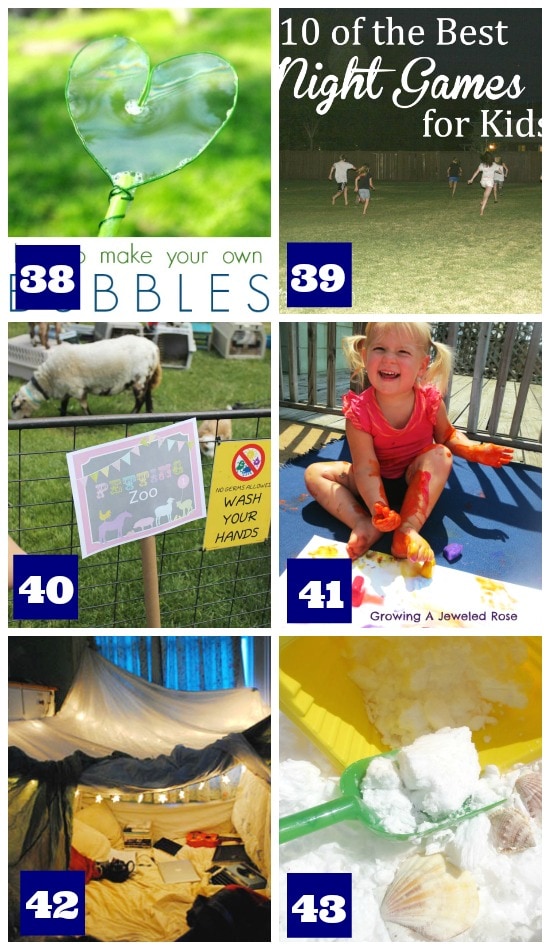 38- Homemade Bubbles by Artful Parent: Every kid is fascinated by bubbles.  How much would your kids love it if you made your own?  Awesome right?  Have tons of fun with this awesome summer activity.
39- Play Your Favorite Night Games by Tips from a Typical Mom: I loved playing night games when growing up.  Pick your favorite games to teach your kids and have a blast playing some amazing games!
40- Petting Zoo by Catch My Party: Take your kids to learn more about animals and enjoy nature at a petting zoo.  Every kid loves to pet animals so a whole day full of that will be heaven! Find a zoo near you here.
41- Paint with Ice Cubes by Growing a Jeweled Rose: This idea not only keeps your kids cool, but allows them to express their inner artist too.  These paint cubes will be a huge hit!
42- Play with Summer Snow by Growing a Jeweled Rose: Oh my goodness, I LOVE this idea.  Take shaving cream, pour it into a bucket, freeze it, and let your kids have  ton of fun with their summer snow.
43- Build a Fort by School of How To: Seriously, a kid's life is not complete without building at least one fort.  Have a ton of fun building a fort with your kids and letting their imaginations fly.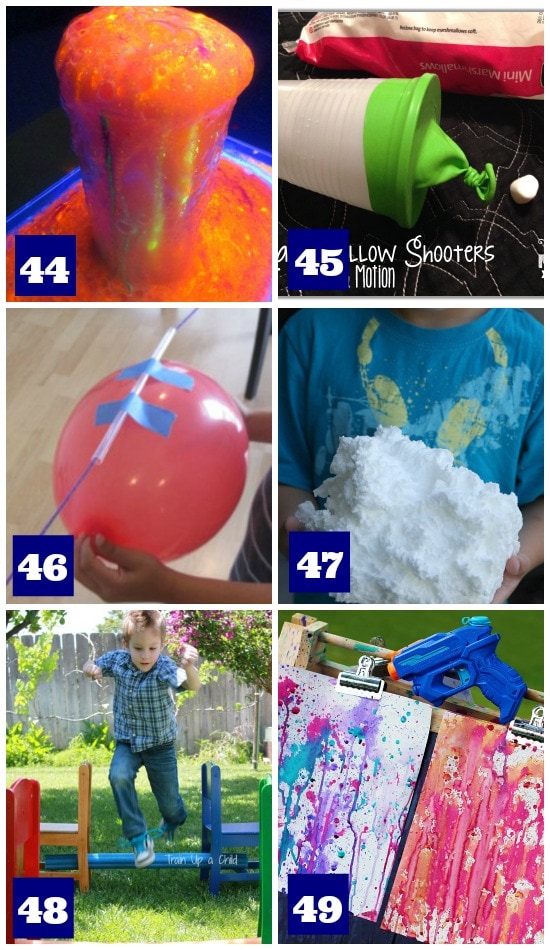 44- DIY Glowing Baking Soda Volcano by Growing a Jeweled Rose: Every kid loves to see science at its best – but a glow in the dark volcano explosion.  It's a definite must!
45- DIY Marshmallow Shooter and Marshmallow War by Owl-ways be Inspired:  Have a blast with these DIY shooter contraptions and let your kids go wild!
46- Make Balloon Rockets by Discover Explore Learn: Help your kids learn all about movement and science while still having a blast.  They will not tire of this fun experiment. Your kids will love this for their summer activity list.
47- Make Soap Clouds by Our Best Bites: After you do this you will never look at soap the same way again.  Get some bar soap, put it into the microwave, and voila – soap clouds for all your kids to enjoy.
48- Make an Obstacle Course by Learn Play Imagine: Obstacle courses are such a fun activity.  Have a blast using pool noodles to make a great course that your kids will want to do over and over.  This is a must for your summer activity list.
49- Squirt Gun Painting by Fireflies and Mudpies: If you want the best summer activity – then you need to combine all your kids' favorites – water guns and paint.  They will be able to create to their hearts content.  Awesome.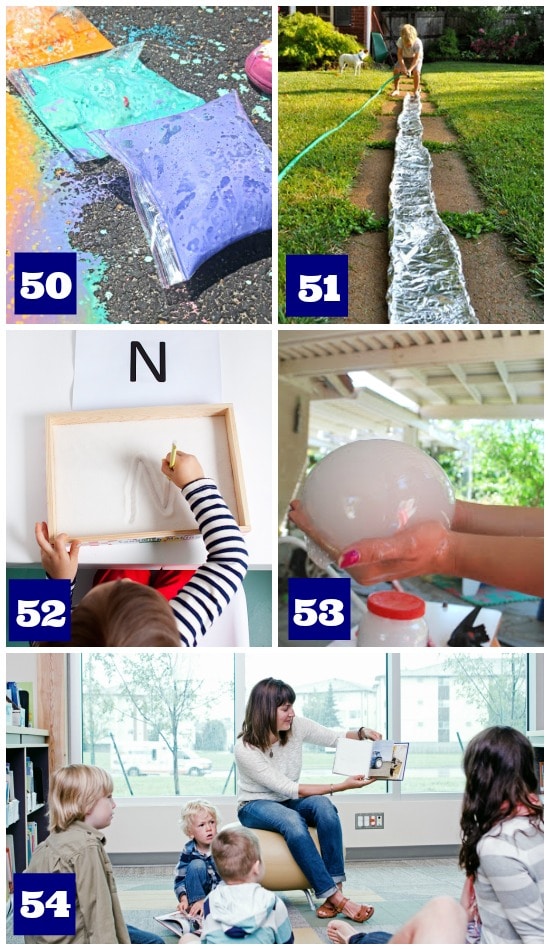 50- Exploding Chalk Art by Growing a Jeweled Rose: Make this your kids' favorite summer activity by making side walk chalk liquid, putting it in baggies, then throwing them on the ground.  Let them see their creations explode in front of their faces.
51- DIY Tin Foil River by Husohem: This link is no longer available 🙁 But make your own river with this summer activity.  With the help of some card board and tin foil, make a river in your own yard.  Float all your kid's favorite toys down your homemade river or race objects down.  The possibilities of fun are endless!
52- Sugar Writing Tray by Hellobee: Make your own box, fill it with sugar – and let your kids create!  This is also a great learning tool for writing and math.  It's just awesome all around.
53- Make Alien Bubbles by Family Licious:  Darn, this fun link is no longer available 🙁 But I will be honest, when I first saw these, I got a little grossed out. LOL!  That means every kid will love these creations and want them for sure on their summer activity list.
54- Go to Your Local Library Reading Time: Most libraries have group reading times for kids.  Call your local library and find out when your reading times are. Your kids will not only develop a great love of books, but will grow in other ways as well.  This is a must do this summer!
11 Free or Cheap Summer Crafty Activities
I am not a crafty person, but my kids love crafts – so once in a while I do them.  All the items on this list seem like something even I can conquer and have fun doing it!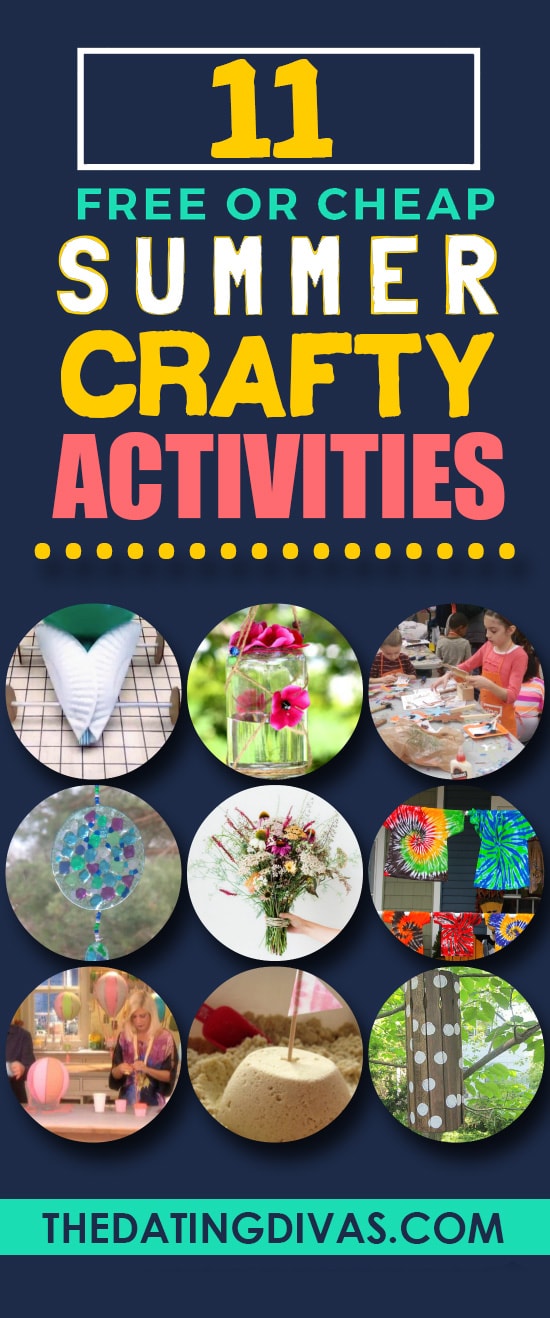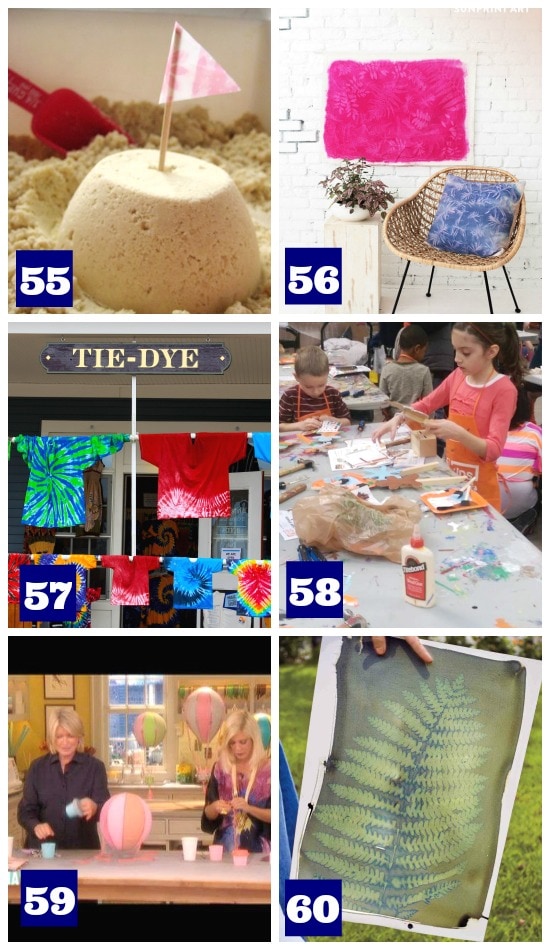 55- Make Cloud Dough by Nurture Store: Get your hands dirty this summer.  Create your own cloud dough and just have a blast with it!
56- Make a Fabric Sunprint by Design Love Fest: I love that with this idea you can create your own fabric using nature!  How cool is that? Then make a throw pillow using the pattern you design!  This is summer bucket list worthy for sure.
57- Make Tie-Dye Shirts by Instructables: I know tie-dye shirts are a bit old school, but they are still just awesome.  Make a bunch and wear them to your next family reunion, or plan a fun group date and wear them, or just a fun date night.  Whichever you choose, have a blast with this fun summer activity item!
58- Home Depot Craft Day: Go to your local Home Depot and participate in a fun craft day.  Build your creative skills by being taught by the masters of creation themselves – Home Depot and their employees.  You will have a blast doing this summer activity!
59- Make a Hot Air Balloon by Martha Stewart: This is a to-die-for craft to do with your kids.  What I love even more is that they are adorable decorations for your kids' rooms.  Love it!
60- Make a Paper Sunprint via Martha Stewart: Find some amazing looking leaves or other items from nature, get some light sensitive solution and watercolor paper, put your fun items in the shape you like, put out in the sun, and voila – gorgeous and beautiful art.  Awesome!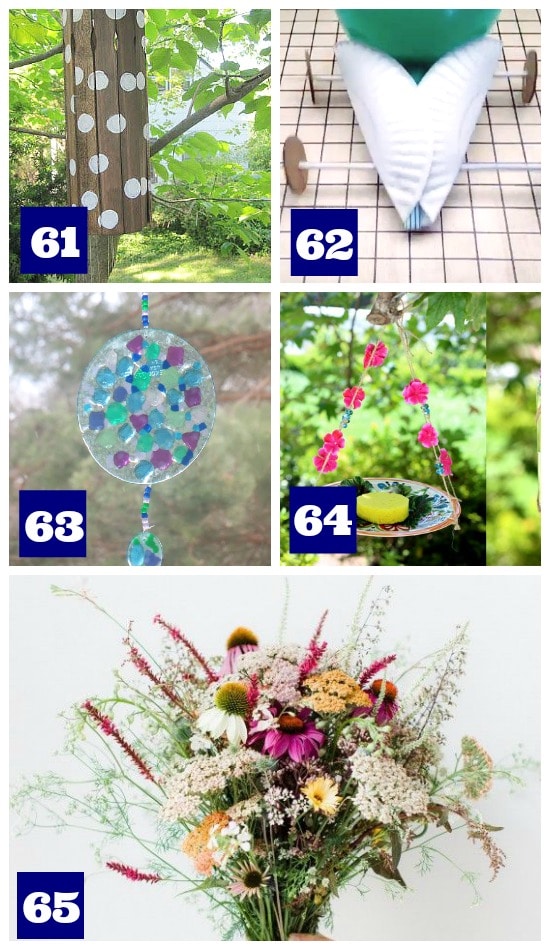 61- DIY Wind Chimes – by A Cultivated Nest: I love wind chimes, but one that I can create myself would make it extra special.  This is so much fun and I can't wait to add it to my summer bucket list.
62- Build a Balloon Powered Car by Wonder How To: Oh my goodness, seriously, not only do you get to build a car, but it's powered by a balloon!  What more could you ask for in a great summer activity?
63- Make a Suncatcher by Denise's Yadda Yadda: Get your creative juices flowing with this fun summer activity.  Create some awesome and gorgeous art with this fun idea.
64- Make Your Own Butterfly Feeder by eHow: Attract some amazing creatures with this fun summer activity.  Butterflies are fascinating so if I could get them to come to my house with this feeder, that would put a cherry on top of my summer!
65- Pick Wildflowers by Avenue Lifestyle: Pick some gorgeous flowers and make an amazing arrangement for your table.  Gorgeous!
6 Free or Cheap Thrill-Seeker Activities
My husband and I love adrenaline rushes.  These activities are full of adrenaline and perfect for summer!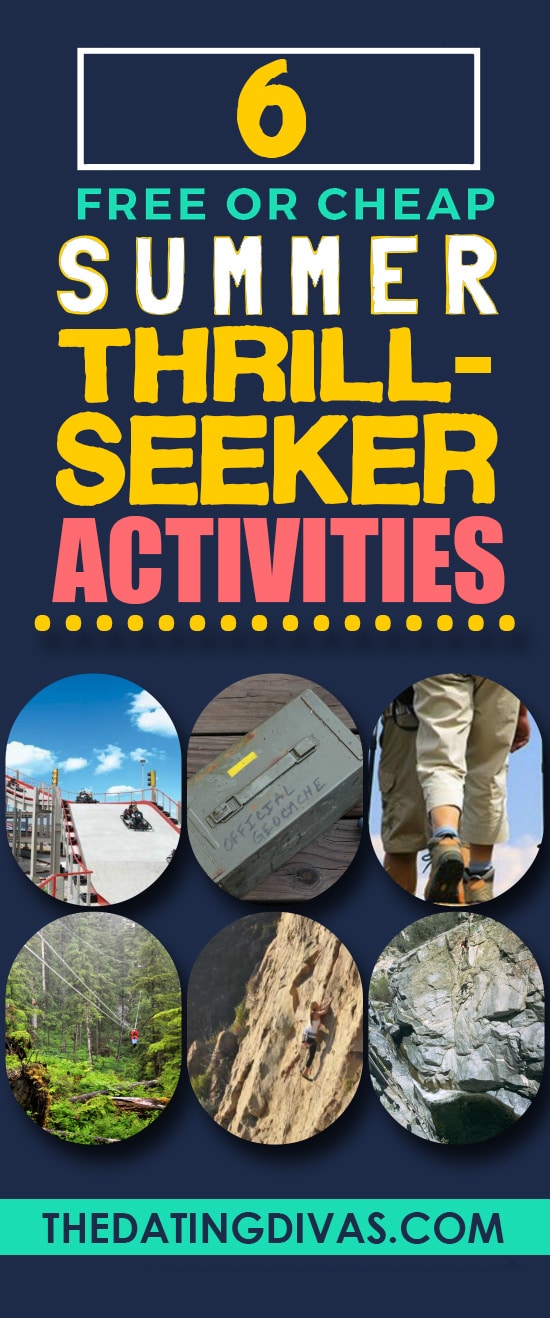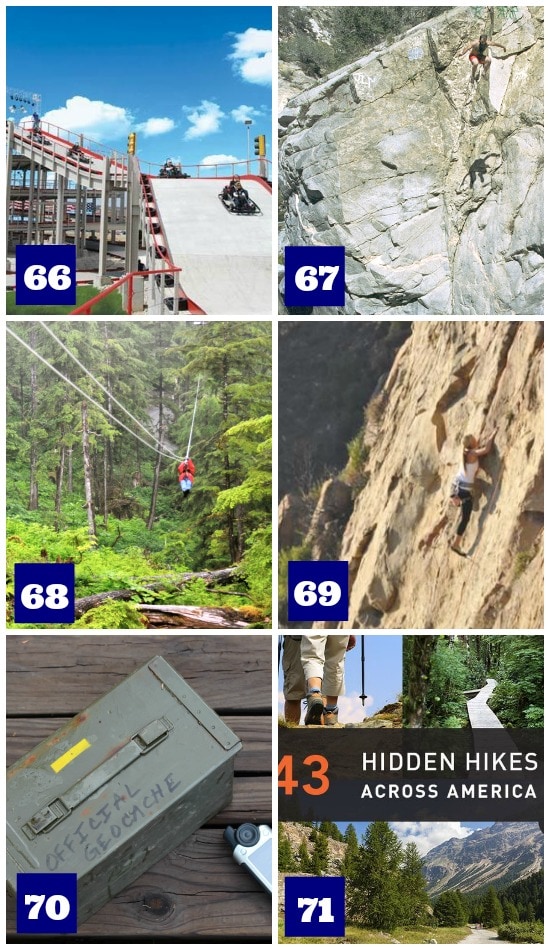 66- Ride Go Karts by Complex.com: My family loves to ride go karts.  They are so much fun!  Find a complex close to you and get your fun summer thrills going!
67- Go Cliff Jumping:  Cliff jumping can be such a huge adventure. I grew up cliff jumping in Lake Powell and have jumped ever since.  If you are looking for an amazing adrenaline rush doing something that doesn't cost a lot of money, then this summer activity is for you.
68- Go Zip Lining: Seriously, zip lining has always been a want of mine.  This exciting, fun event is a must-do for your summer bucket list!
69- Go Rock Climbing: Nature is a gorgeous thing, so being able to climb and enjoy it up close and personal would be amazing, which makes it a must for my summer bucket list.
70- Go Geocaching:  Everyone at some time wants to go hunt for treasure, so why not do it this summer? I can't wait to add it to my summer list.
71- Go for a Hike by Let's Go for a Hike:  Hiking is so amazing.  I love being able to go into nature and enjoy all that it has to offer.  Enjoy a nice hike this summer and have a fun adventure with your family.
8 Free or Cheap Nostalgic Summer Activities
Sometimes reminiscing on the good 'ol days is just what is needed to bring a smile to your face.  Have a blast with these fun ideas.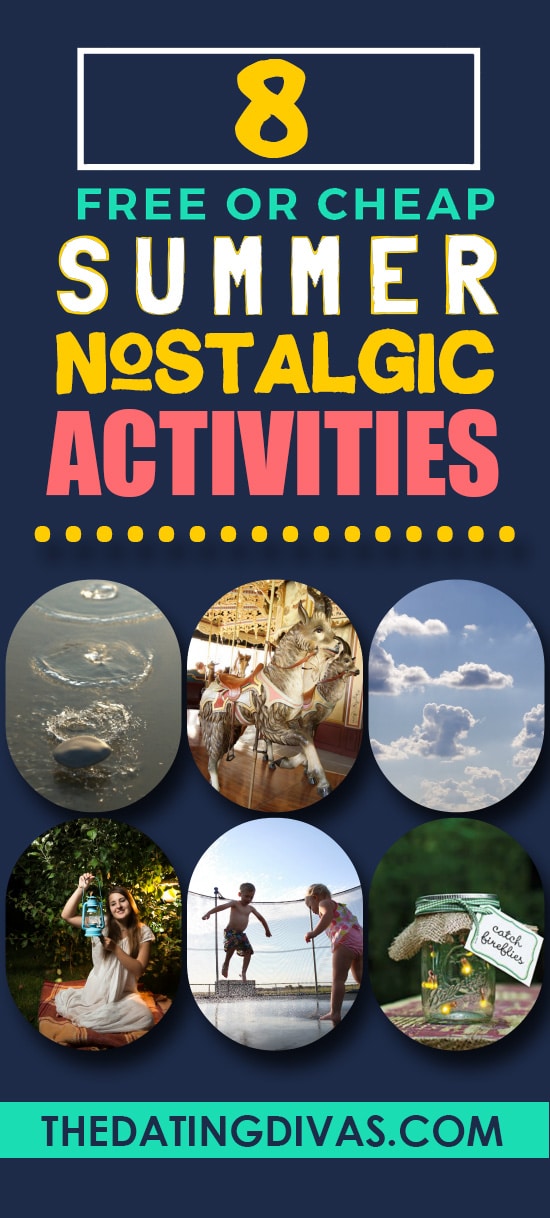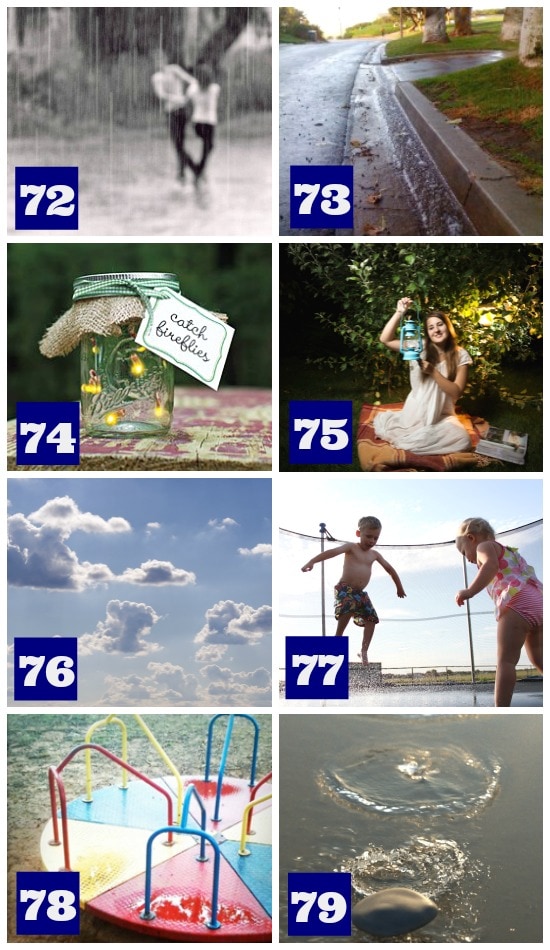 72- Dance in the Summer Rain by La Dolfina Lifestyle: As a kid I loved dancing in the rain. I don't know why I grew out of that, but I decided it's time to bring back the good ol' days and dance in the rain once again. I think this is a must for everyone's summer bucket list.
73- Race Popsicle Sticks Down the Gutters by Kidavalanche: I know that this sounds crazy – but my sisters and I couldn't wait for it to rain so that we could decorate popsicle sticks, wait for the rain to clear a bit, then go outside and race our sticks down the gutter's currents.  It was a blast and a definite must for everyone to do.
74- Catch Fireflies by Southern Living: I have to admit that I have never actually caught fireflies, but have always wanted to.  What a fun and exciting summer activity to do.
75- Sleep Outside Under the Stars by Nemo Equipment: Forget camping  with tents – have an awesome adventure out in the open!  Just grab your sleeping bag, some cushions, and sleep in your back yard, maybe on a rooftop, a deck, trampoline – whatever you choose, have a ton of fun and a blast!
76- I Spy Cloud Game: Seriously, this is the best game ever.  Get a blanket, lay on the grass and just take in the wonder of the clouds.  Let your imagination go and watch the clouds and see what shapes they form.  Find a bike, a boat, a basketball, a turtle – the possibilities are endless!  The clouds are ever changing and you might just be surprised with shapes jump out at you.
77- Sprinkler Under the Trampoline by Counting My Blessings: If you have a trampoline (or a neighbor does) then this is a definite must on your summer bucket list.  Throw on some swimsuits, put the sprinklers on, and have a blast with water and jumping!  It's a great combination, I promise!
78- Ride a Merry-Go-Round by Craftgawker: Merry-go-rounds are simply the best and it's so sad they are so hard to find now-a-days!  What I love about them is you can have someone push it, while you lay down in the middle and let all your cares go while spinning round and round. There's nothing better.  No matter your age, this is a great summer activity to do.
79- Skip Rocks by Good Memory: Go to a pond or lake, pick out a smooth flat rock, and see how many times you can skip it across the surface of the water.  If you are like my husband, you can skip it 10-12 times, if you are more like me, then you are lucky to get 4 or 5.  It doesn't matter how many times you can skip it, it's just a blast!
22 Free or Cheap Out & About Summer Activities
Once in a while it's great to just get out of the house and have a blast out & about!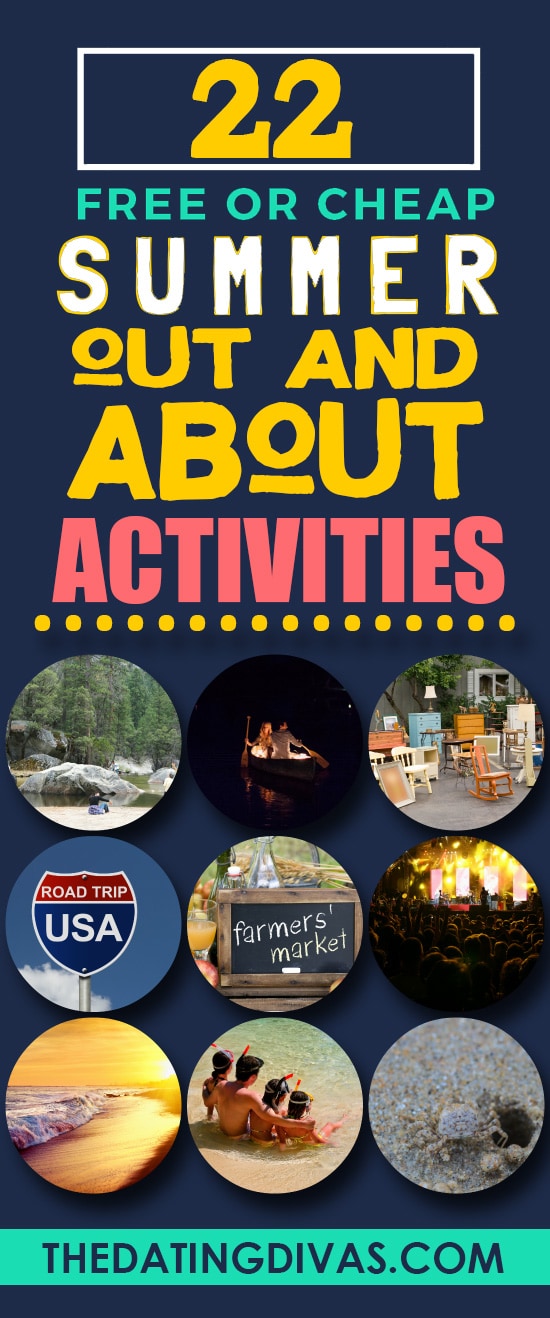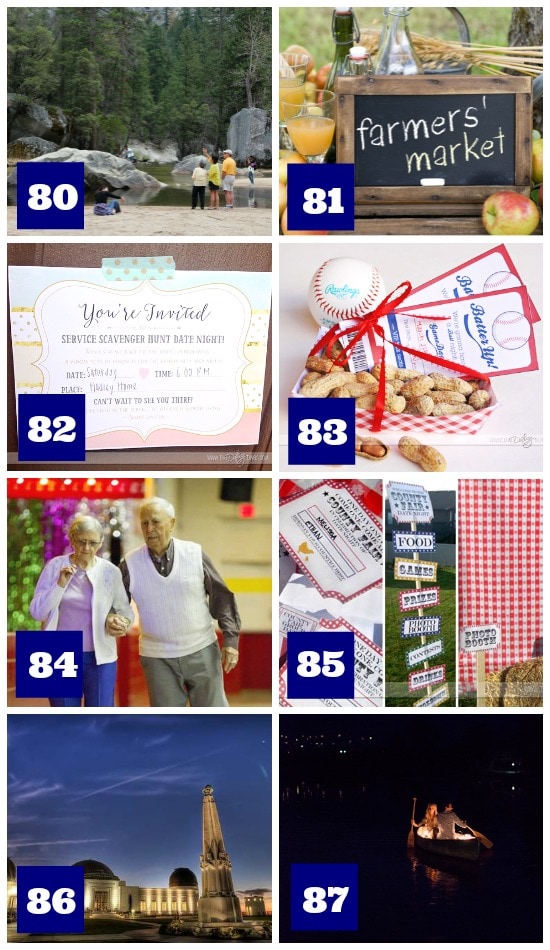 80- Visit a National Park: Our nation is filled with National Parks that are just gorgeous.  Look up one that is closest to you and go.  There are some you can hike in, some that are filled with water, and still others that are teeming with wild life.  Whatever park you choose, it is sure to be a great time that will be filled with amazing memories.
81- Go to a Farmer's Market: If you have never been to a farmer's market you are totally missing out! A farmer's market is not only filled with delicious food that you can sample, but also full of local entertainment, music, art, etc.  It's a great place to be in and the bonus is you can leave with healthy fresh fruits, vegetables, or amazing other food to stock your home with. It's definitely a must do this summer!
82- Go on a Scavenger Hunt by The Dating Divas – Service Scavenger Hunt, Mall Scavenger Hunt, Zoo Scavenger Hunt or Romantic Scavenger Hunt: Scavenger hunts are so awesome!  What I love about them is their spontaneity and ability to surprise the participants.  They are tons of fun, bring in lots of laughter, and can be used on a date, a group date, or as a family activity. It doesn't matter how many people you have partaking in the adventure, you will all have a blast. Enjoy!
83- Go to a Baseball Game by The Dating Divas: Going to a baseball game is a great summer activity.  There is an energy surrounded by baseball games that you just can't get anywhere else.  Whether you go to a major or minor league game, a local community game, or a game your child is in – you will have tons of fun doing this great summer activity.
84- Go Roller Skating by TheStar:  Honestly, roller skating is so old school, but yet still so much fun.  Go to your local rink, put on some skates, and have a blast circling around.  I was looking around for awesome roller skating ideas, and came across this awesome video.  Who knew that you could do a double axel in roller skates?!  I never knew that this was such an artistic sport!  Awesome.  Find a rink near you here.
85- Go to a County Fair – picture via The Dating Divas: County fairs are tons of fun.  I love that there is tons of yummy food, lots of people, fun rides and games to play – all in one place.  What more can you ask for?
86- Visit a Planetarium by All Famous Wonders: Oh my goodness, going to a planetarium can be mind blowing.  Being surrounded by the stars and planets up close really puts things into perspective.  You can learn so much from going to a planetarium.  Find a planetarium close to you here.
87- Go on a Canoe Ride by Alixann Loosely Photography: Have fun on a relaxing canoe ride this summer.  Find a pond or lake close to you, and go ride a boat.  Maybe even have a picnic while on your canoe ride.  Whatever you choose, make sure to just have relax and have fun.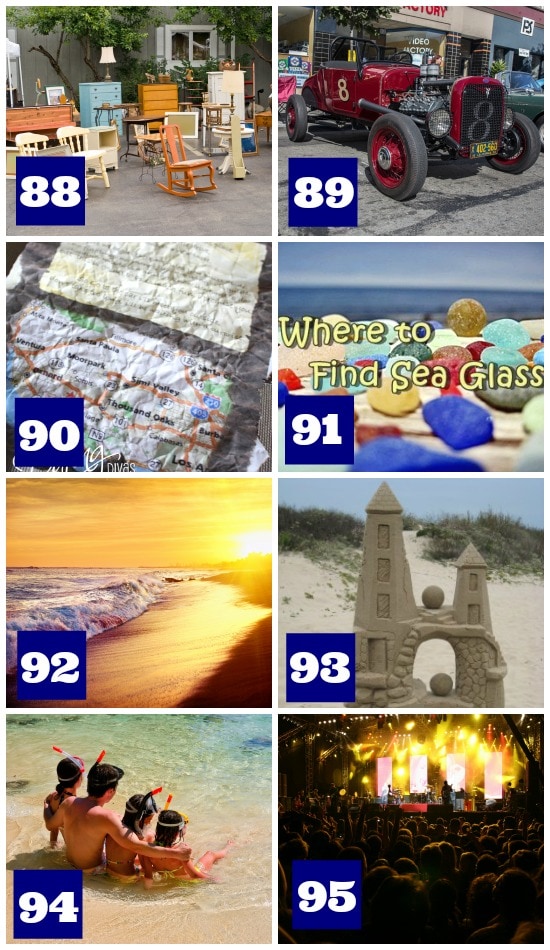 88- Go to a Flea Market: Flea markets have a captivating energy that is easily spread.  Get a taste of what your community has to offer while at a flea market, as well as, getting amazing deals on clothing, food, art – you name it and it's probably offered at a flea market.  If you have never been to one, this summer is your chance.
89- Go to a Classic Car Show by Stafford Towntalk: My husband and I have a dream to buy a classic car and restore it to its glory days.  Classic car shows fascinate me. I am awed by the work people put into their car, the craftsmanship that is on display, and the love they show.  Check one out this summer and be prepared to be blown away.
90- Explore a New City: It's safe to say that even if you have grown up in the city you currently live in, there are always going to be small towns and cities close by that you don't know about.  Search google maps to find your next adventure.  Pick a place that you have never been to and go explore.  You are bound to find some amazing things.
91- Collect Sea Glass: I have heard of sea glass, but have never actually seen it myself.  As a kid I would always collect sea shells when we went to the beach.  This summer my family is going to search for sea glass instead!  What's great is you can do so many things with it – turn it into a great home decoration, awesome jewelry or even a wind chime.  There are countless possibilities. You will love it.
92- Walk Barefoot on a Beach: Come on…who doesn't love to walk in the sand on the beach barefoot.  Take time for yourself and enjoy feeling the warm sand between your toes and the soft feel of it underneath the soles of your feet.  If you want to have a relaxing time this summer, this is a must-have for your summer bucket list.
93- Build a Sandcastle by Hubpages: I have never had a knack for building sandcastles, but I think that's because I didn't have the patience for them.  Let your imagination flow and create an awesome sandcastle this summer. Even if you aren't talented at it like me, it's still a fun adventure to be had.
94- Go Snorkeling by Coastal Living: Snorkeling can be tons of fun, even if you are at a local swimming pool and not in the ocean!  There is something to be said about being able to put your face in the water and witness a whole new underwater life.  If you can make it to the ocean, great – because the ocean is full of life and awesome creatures that only snorkeling allows you to enjoy.  If not, have fun snorkeling in a swimming pool.  Dive for objects, spy on your kids and what they are doing – but just enjoy no matter your environment.
95- Go to an Outdoor Concert:  I love to go to concerts, but outdoor concerts are the best!  The atmosphere is different at an outdoor concert. Bring a blanket, sit on the grass and enjoy the music, or be up and close, in the crowd dancing around.  Whatever you choose, it's sure to be a hit!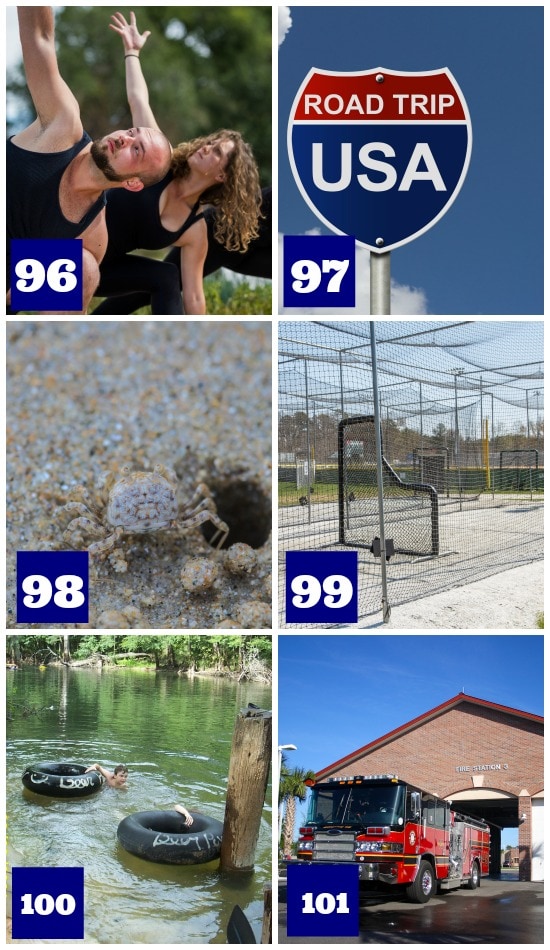 96- Do Outdoor Yoga: I love yoga and the calming energy that it gives, but outdoor yoga sounds awesome!  Find a spot near you and get your zen on this summer!
97- Go on a Road Trip: Road trip! Who doesn't love a good road trip?  It doesn't have to be far to be a fun road trip.  Plan a short trip or long trip.  It doesn't matter!  All that does matter is that you have fun doing this great summer activity. Make sure you check out our Road Trip Adventure Box to make it real fun! We also have tons of tips to make your trip nice and smooth!
98- Dig for Sand Crabs by WikiHow: Finding sand crabs is great fun. They are so hard to spot and even harder to catch.  I love the excitement my kids and I feel in the heat of the moment.  It's captivating!
99- Batting Cages: I am not great at hitting baseballs, but it's still so much fun!  Go to your local batting cages and hit away!  Who knows, you might just surprise yourself with your mad skills.
100- Go Innertubing by Bear Paw Escape: Keep your adventure skills up with this fun summer activity.  Get an innertube and float down a river, take a good nap, or play a game of trying to get another person off their tube and in the water.  The variety this activity provides is just what the doctor ordered for the fun you will have this summer.
101- Tour a Fire Station: Fire fighters are true heroes in today's time.  Call your local fire department and set up a tour that you and your family can go on and learn more about what fire fighters do for us everyday.
Isn't this list just great?!  All your summer needs in one place – you can't ask for anything more.  If you want some more awesome ideas for your summer check out these amazing family vacation ideas or these rainy day activities – because it will rain at least once this summer!