Grandparent's Day 2022 Gift Ideas
When is National Grandparent's Day 2022? It's Sunday, September 11th! Don't let National Grandparent's Day go by without celebrating the special grandmas and grandpas in your life.
We found a variety of gifts and activities that you can share with your grandparents as a form of love and appreciation to them! Get the kids involved with our craft and gift ideas below, then let them reap the joy of honoring the elderly people in their life. This is truly a wonderful holiday to share the love!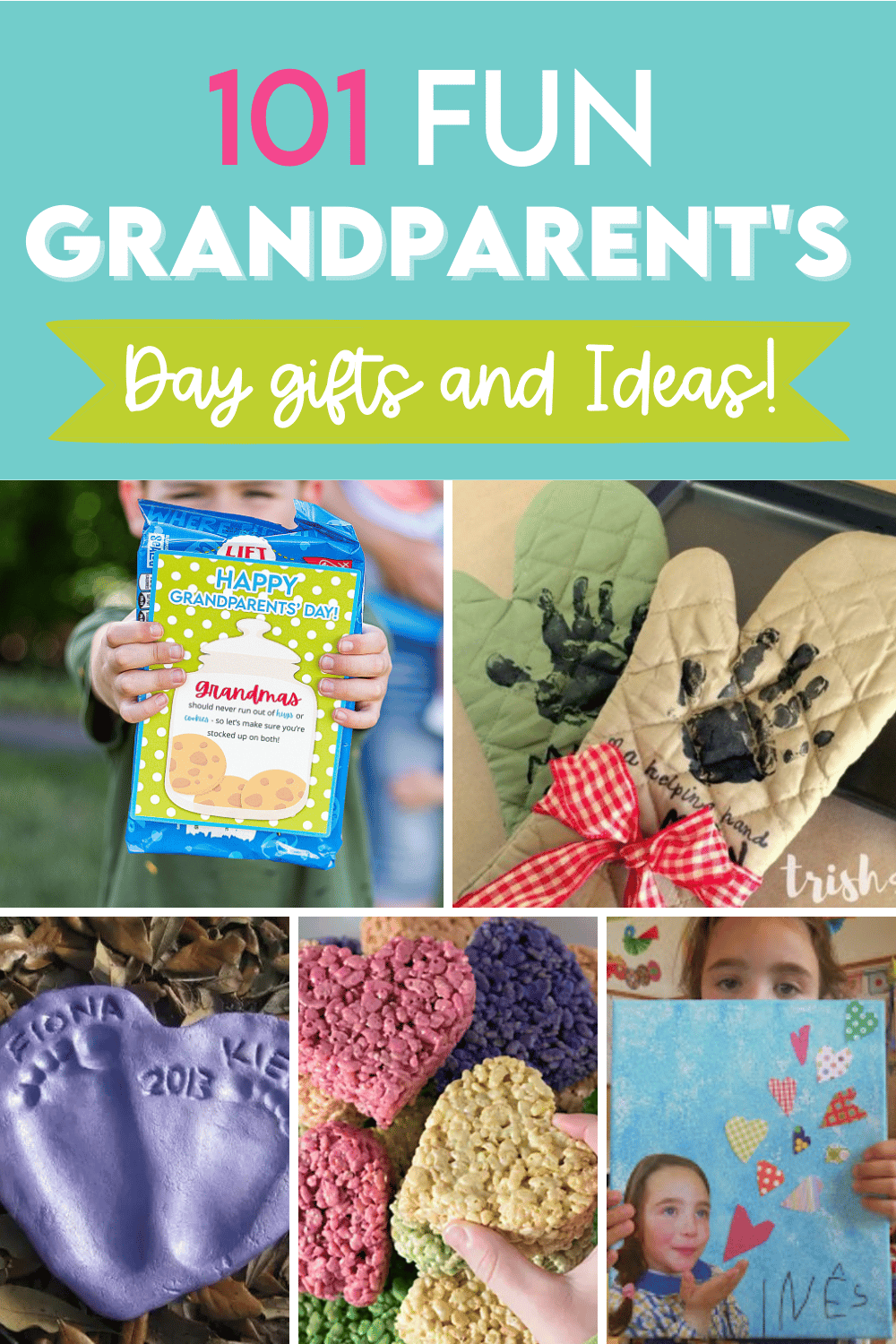 Disclaimer: This post contains affiliate links. To learn more about'em, click here.
To help make your Grandparent's Day browsing even easier, we've divided our list categories to best meet your needs.
Table of Contents
When is Grandparent's Day?
Recognized in the US since 1978, National Grandparent's Day is a time to celebrate those older and wiser individuals in our lives! Grandparent's Day is typically celebrated in September and, interestingly enough, many other countries have a similar holiday. Grandma and Grandpa are just that cool! Keep reading for some fabulous ways to make this Grandparent's Day an AMAZING one.
25 DIY Gift Ideas for Grandparent's Day
Give grandma and grandpa a gift they'll truly remember this Grandparent's Day with these DIY ideas!
1. Family Tree – Make this Grandparent's Day the best one ever with a sweet family tree craft on which everyone can put their mark.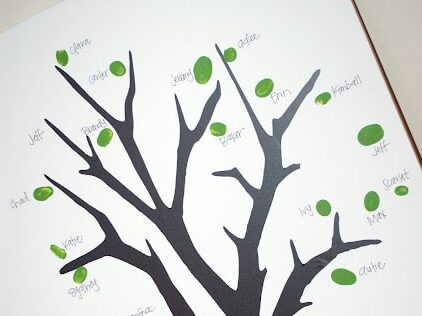 2. Love Canvas – Darling yet easy, this craft is the ULTIMATE piece of home decor for any grandparent. You can even get a set of canvases for a great deal on Amazon!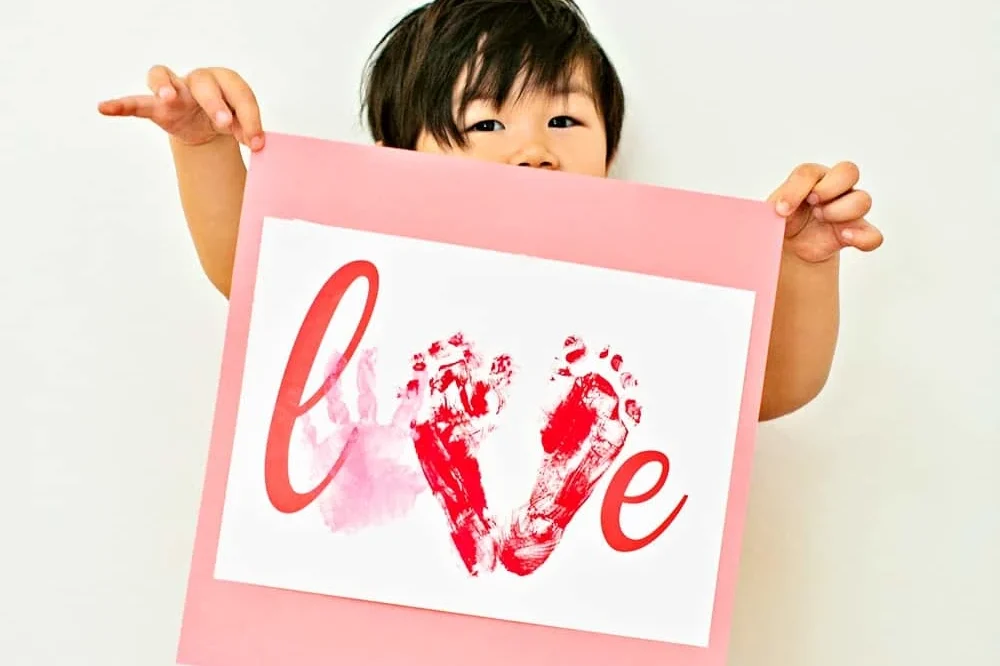 3. Helping Hands Kitchen Mitts – Grandma will always have a helping hand even when the kiddos aren't around with this Grandparent's Day gift! Don't forget the fabric paint and the oven mitts!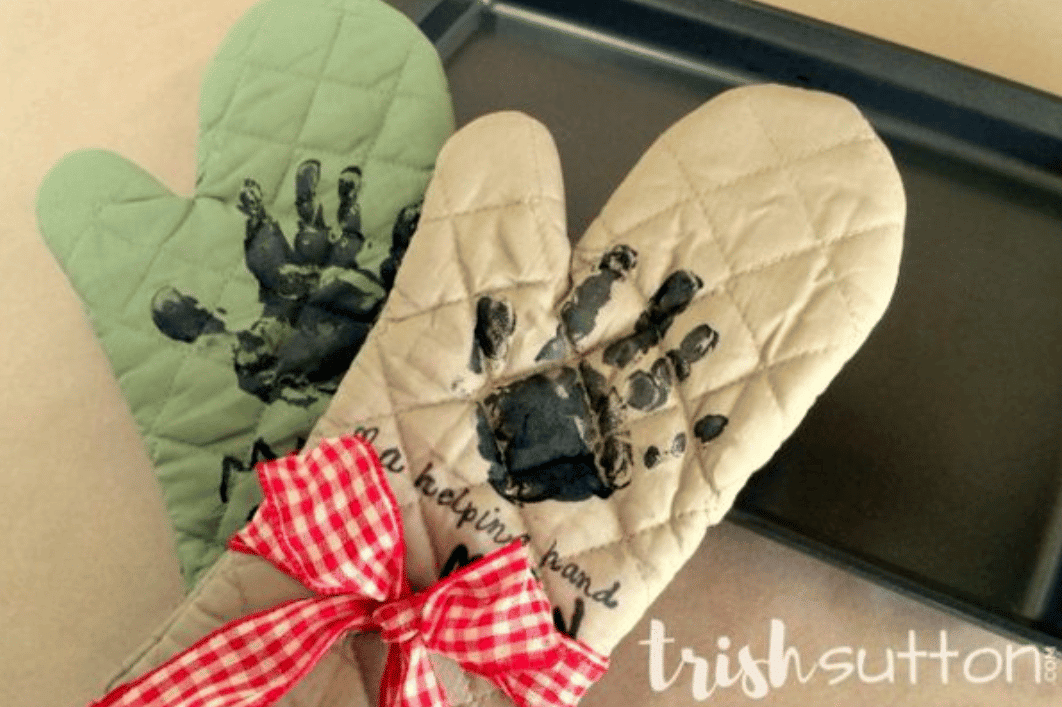 4. DIY Soap – A fresh lemon scent paired with soothing oatmeal makes this an original and practical Grandparent's Day gift.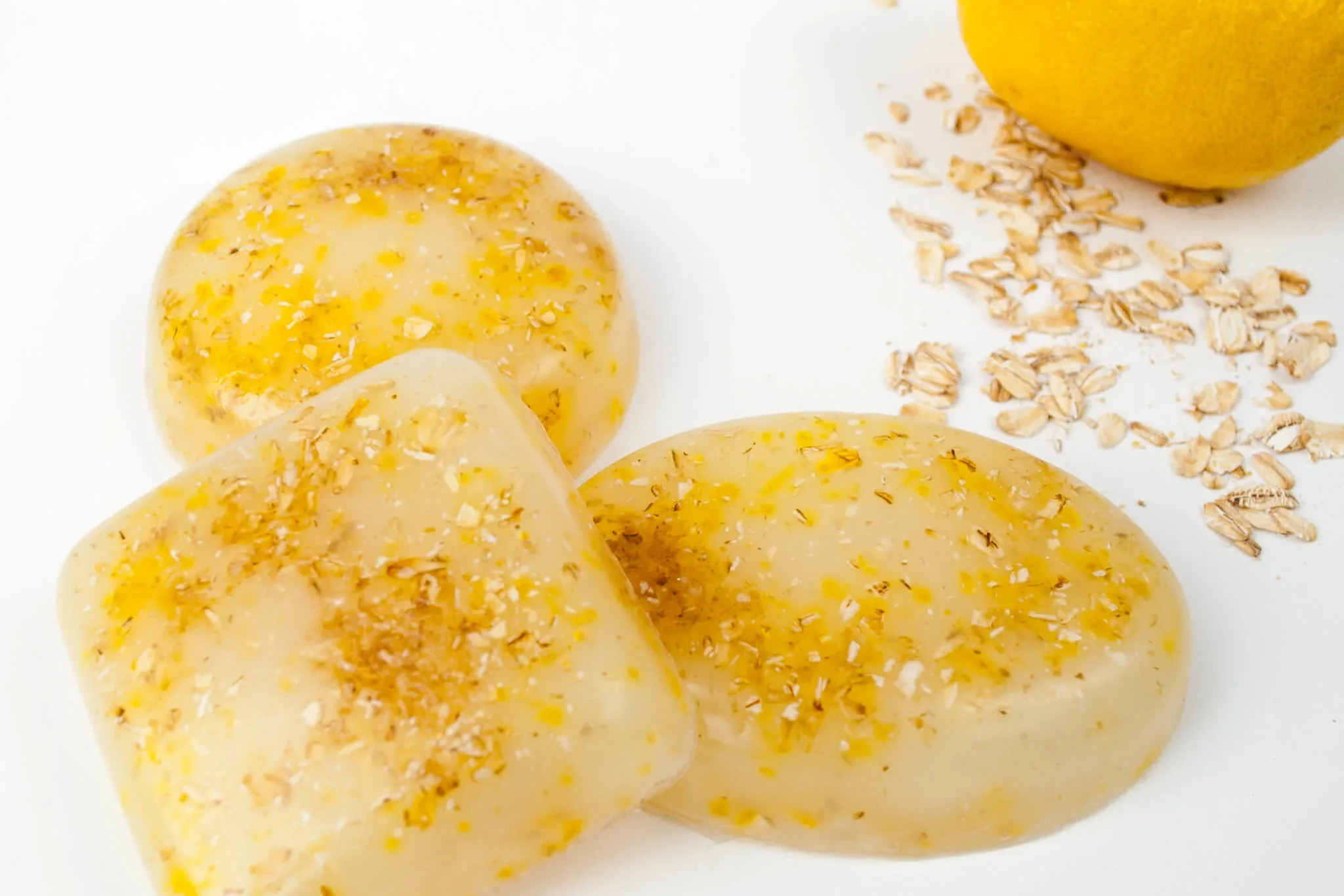 5. Grandma's Tweet Hearts– Make Grandma's heart chirp when she receives this darling platter featuring her grandkids' footprints.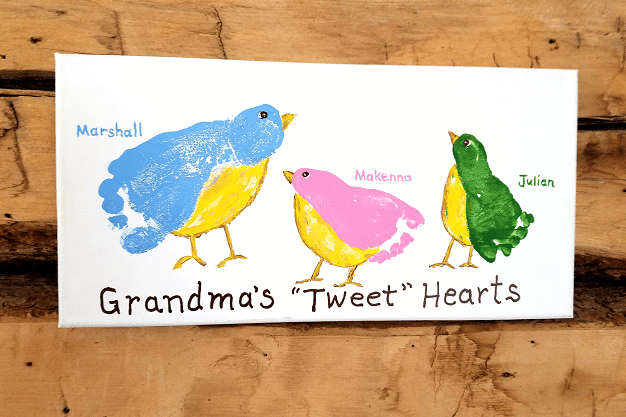 6. "I Love You Because" Letter – Kids say the darnedest things! How fun will it be to hear their responses to these questions for Grandma or Grandpa?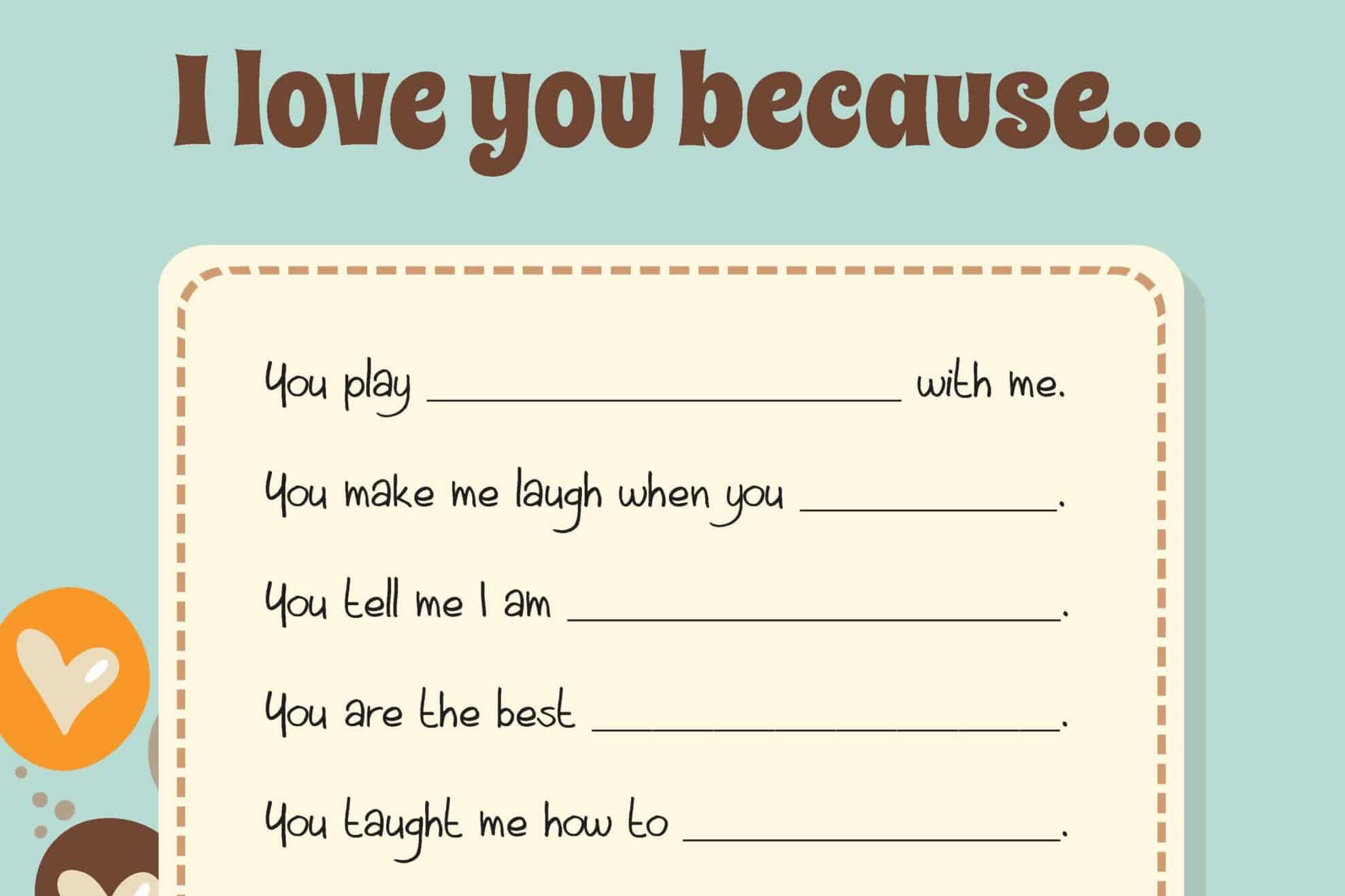 7. "I Love Grandma Because" Flower – How easy is this Grandparent's Day idea?! Simply list out all the reasons you love Grandma on each petal of the flower.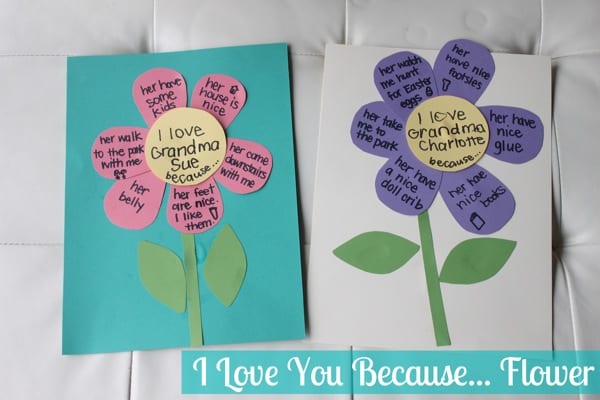 8. DIY Sharpie Mugs – Perfect for morning tea, this cup will be Grandma's new favorite. All it takes is some plain white mugs and Sharpies!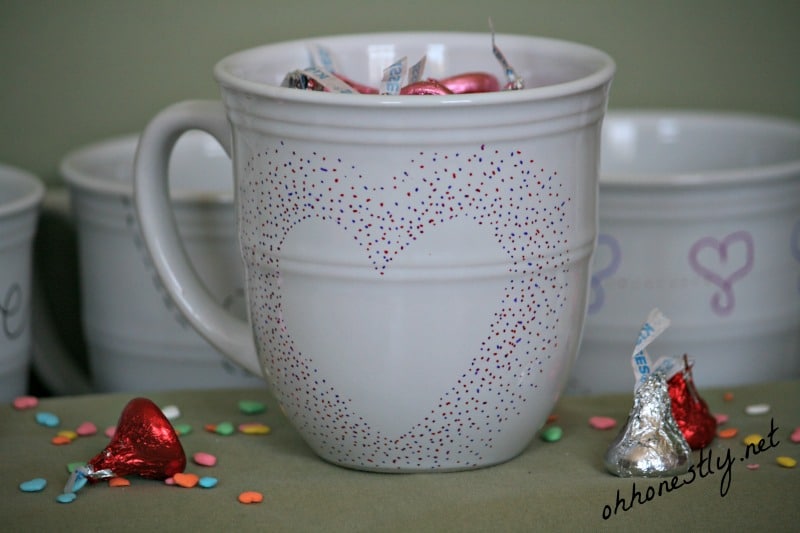 9. DIY Sun Catcher – Catch Grandma's heart with this DIY gift that's just perfect for Grandparent's Day.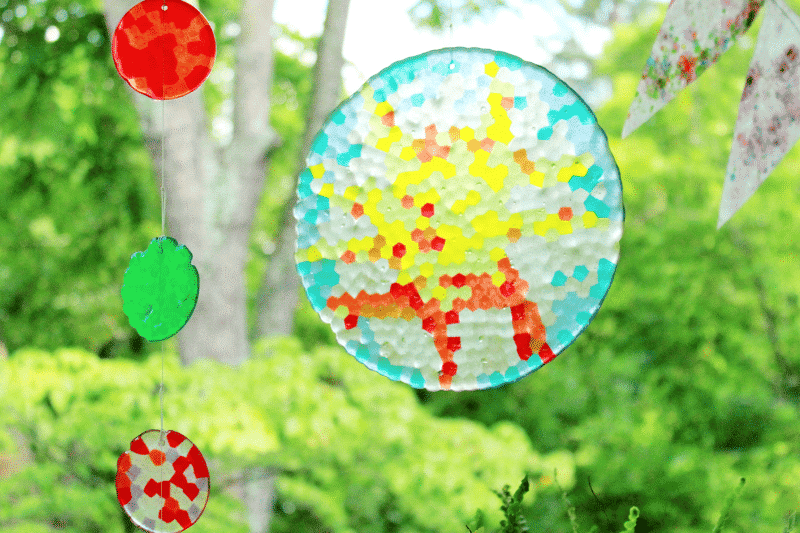 10. DIY Recipe Plate – Pick your favorite recipe made by Grandma, and get it transferred to a white platter for safekeeping. The link will take you to a store listing, but you can also make your own.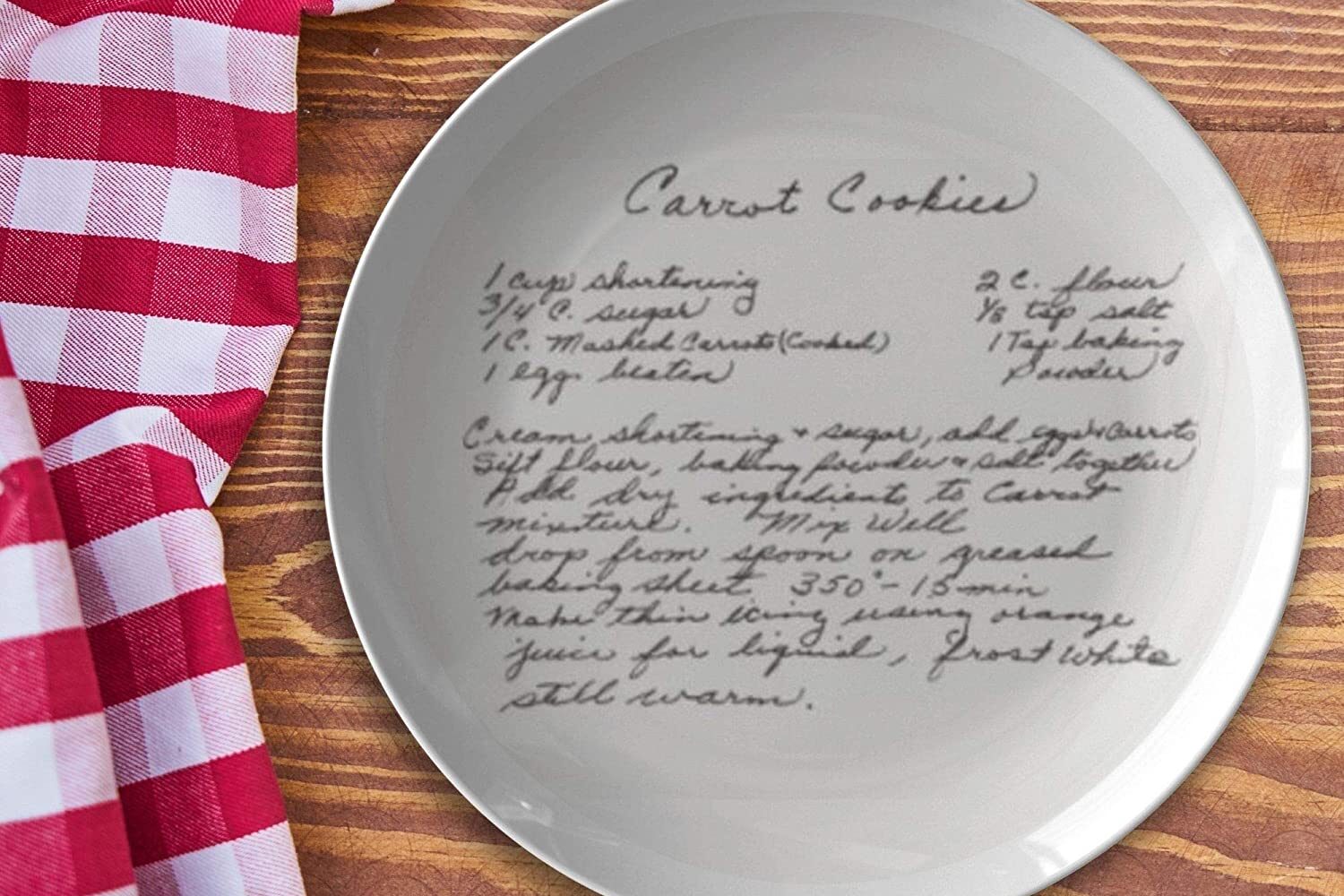 11. Heart Bookmarks – If the grandparents in your life enjoy reading, this is a great gift for them! The kit comes with all the supplies needed to make these special gifts for grandpa or grandma.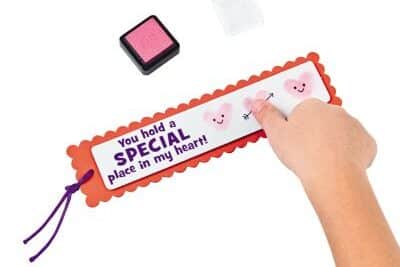 12. Framed Fingerpainting – Make some original art with your baby, then pop it in a frame for a special gift!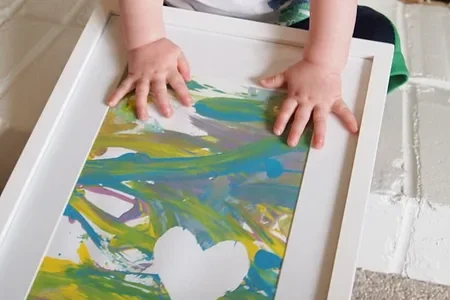 13. Blow a Kiss – This craft is darling AND includes an adorable picture of the grandchild! I don't know if a Grandparent's Day gift could get any better!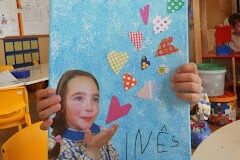 14. Family Tree Craft – Have a family history lesson as you create a cute craft for Grandpa or Grandma. It will be one of the gifts for Grandpa that will touch his heart.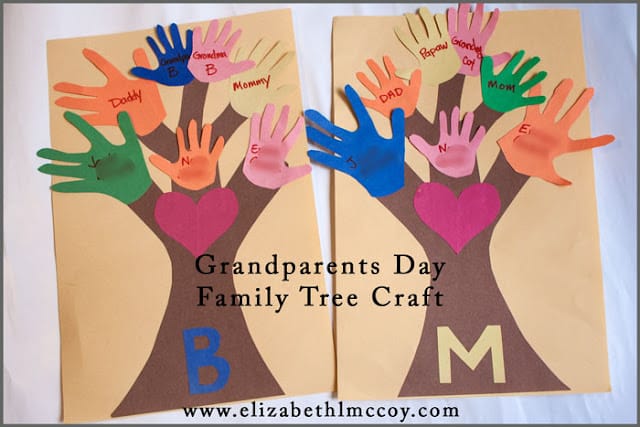 15. Family Birthday Calendar – This gift is not only sweet, but it's also practical! Never forget the special days of ALL your loved ones.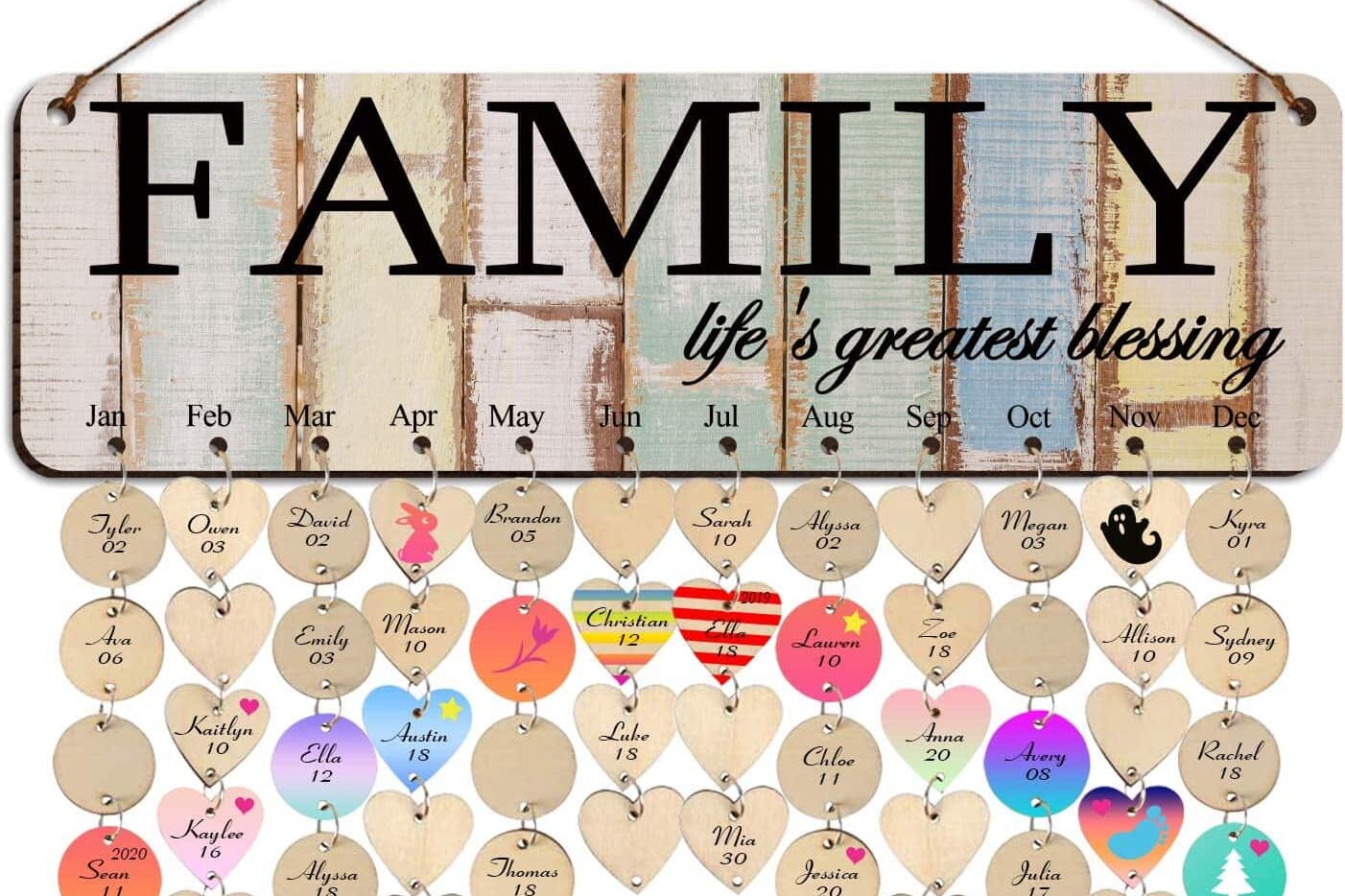 16. Send a Hug – A cute idea to send a hug to a grandparent so they can feel your love.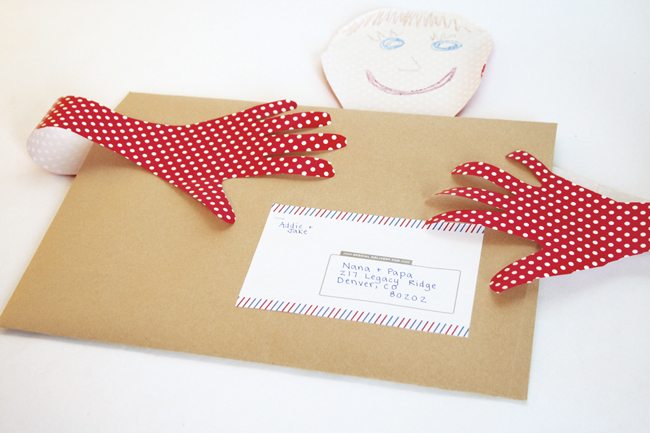 17. Handmade Plates – Kids will LOVE taking part in this craft, and grandparents will LOVE the outcome.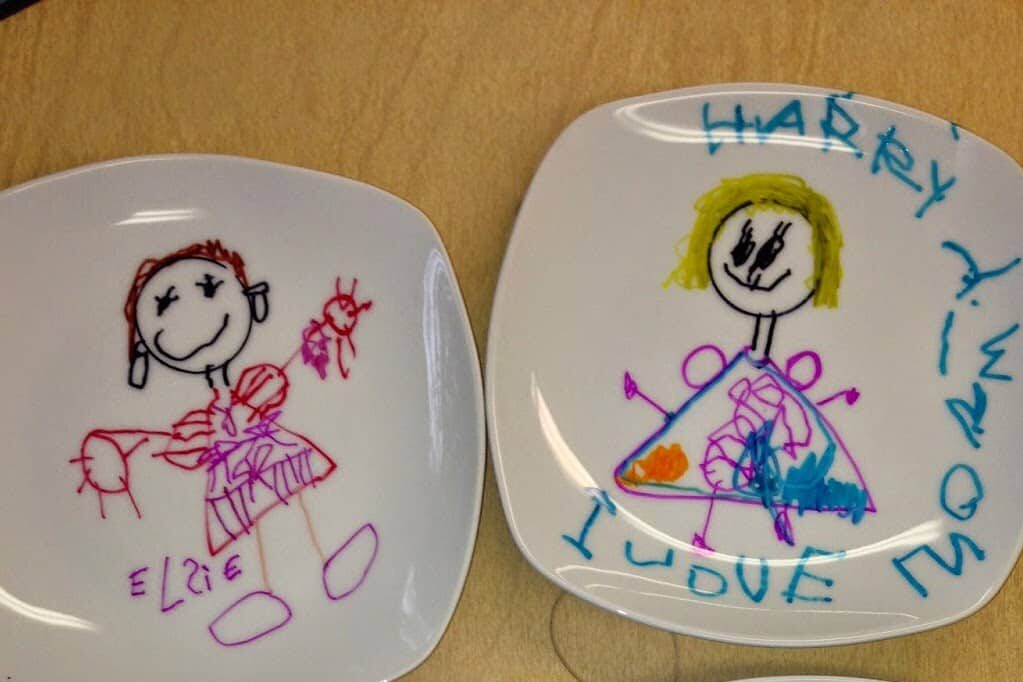 18. Grandparent's Day Craft – The message and the artwork on this Grandparent's Day gift are so sweet. We love the addition of the handprint rocket boost!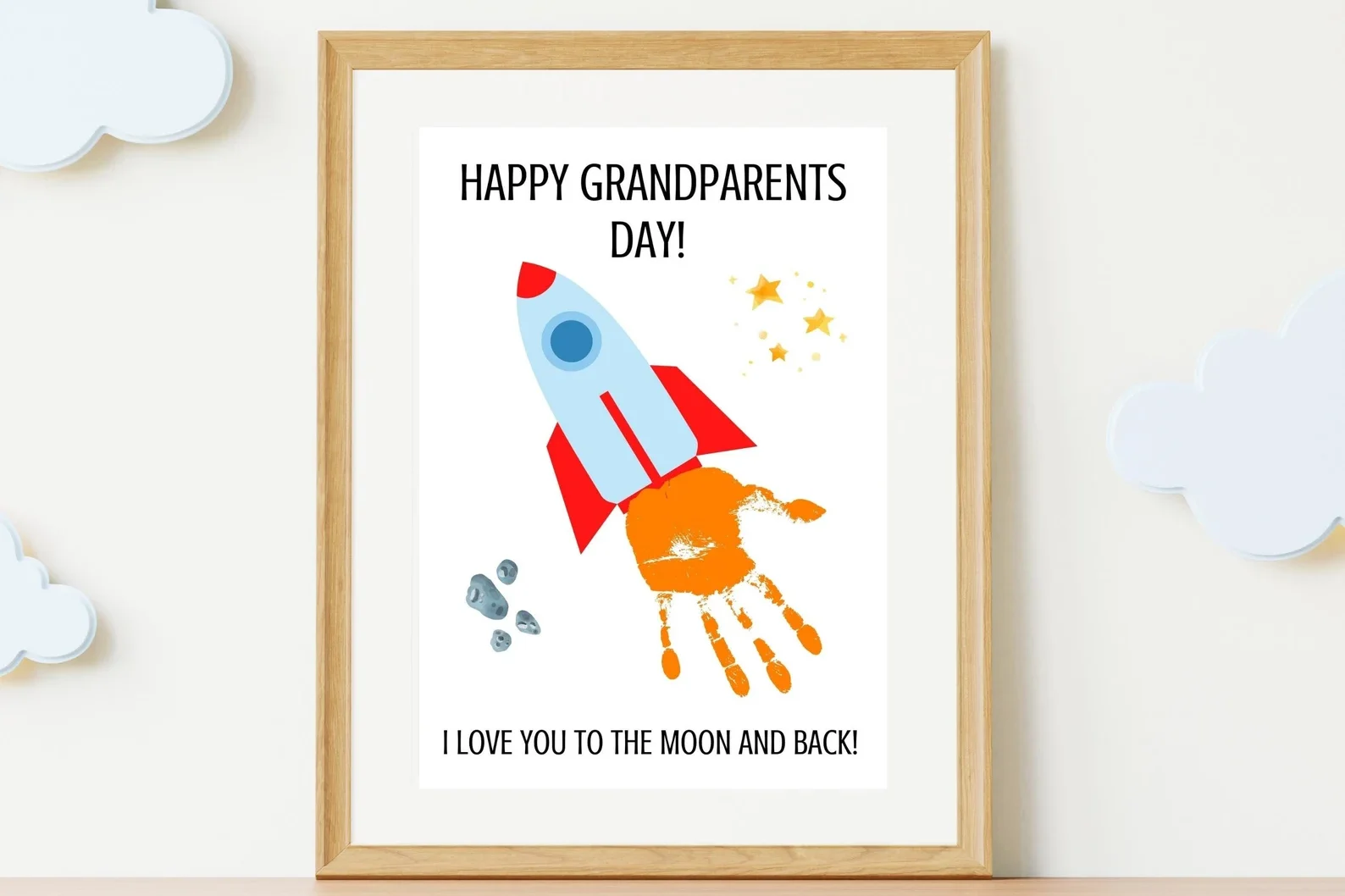 19. Pen Pal Kit – Grandparents could be near or far for this unique gift. Make a pen pal kit and get writing letters back and forth.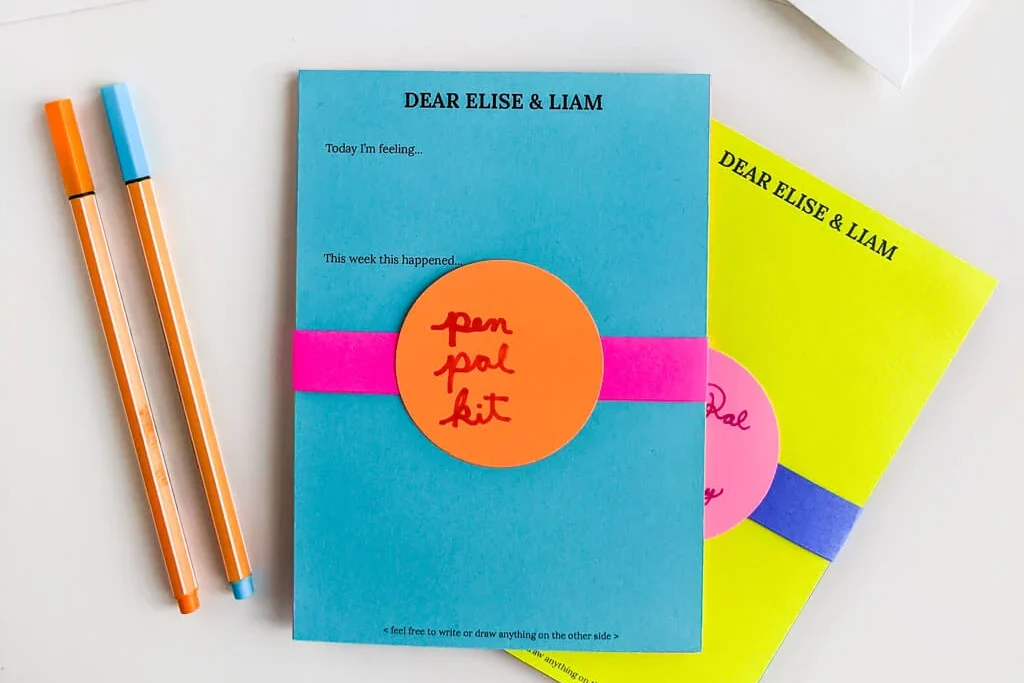 20. DIY Pillowcase – Create one of the most darling Grandparent's Day crafts, full of love from the little ones. Make it easy by using a simple white pillowcase!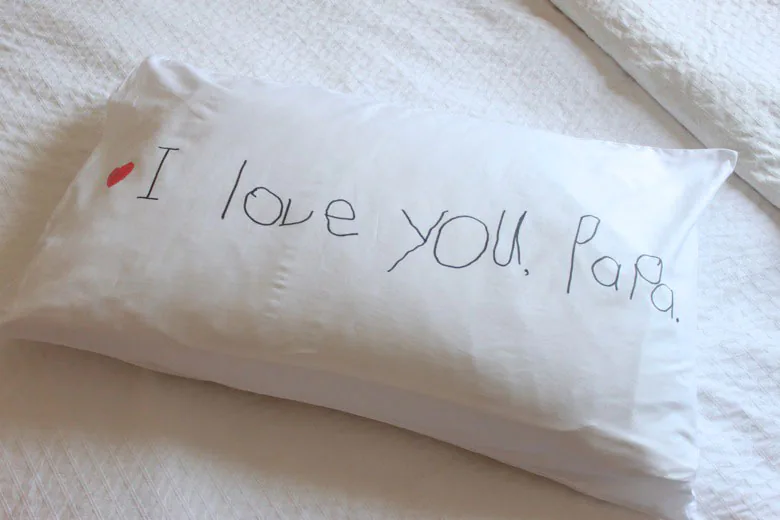 21. Homemade Bouquet of Flowers – Why buy flowers that will die when you can create an everlasting bouquet in colors perfect for your grandparents' decor?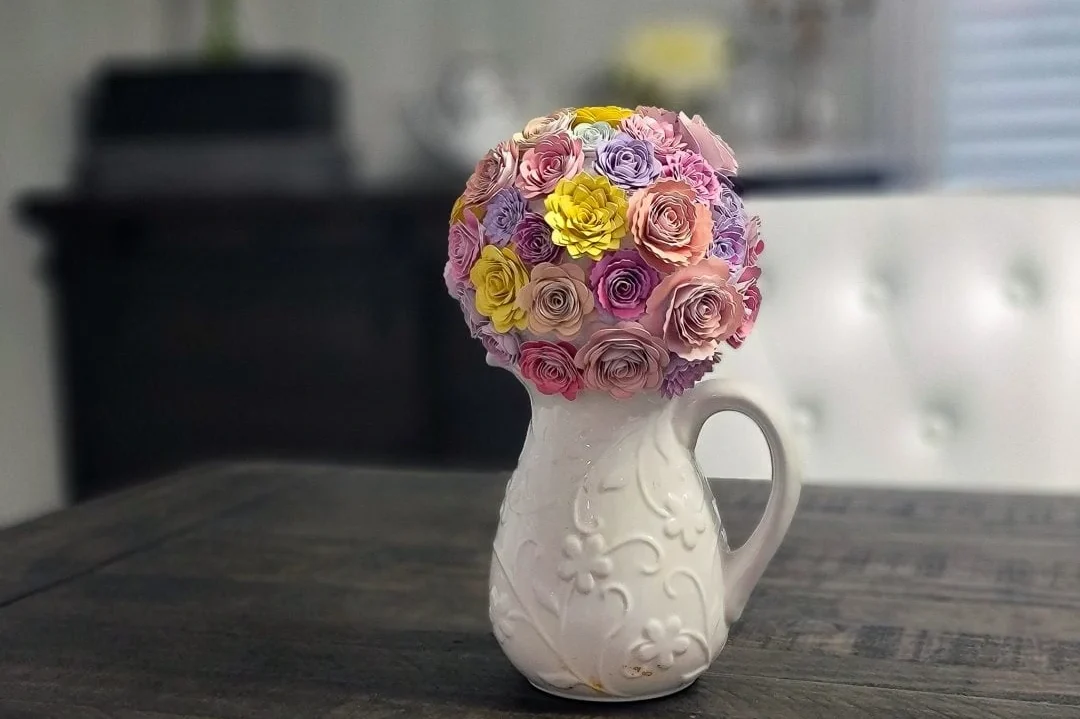 22. What a Difference a Day Makes – Create a Grandparent's Day print that lists the birthdays of all of the grandchildren.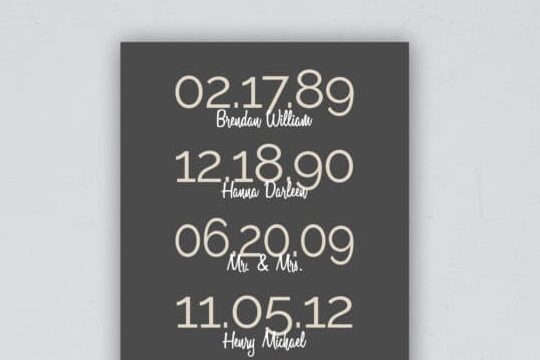 23. DIY Silhouette – This vintage-style gift with a sentimental touch is the perfect addition to Grandma's home decor.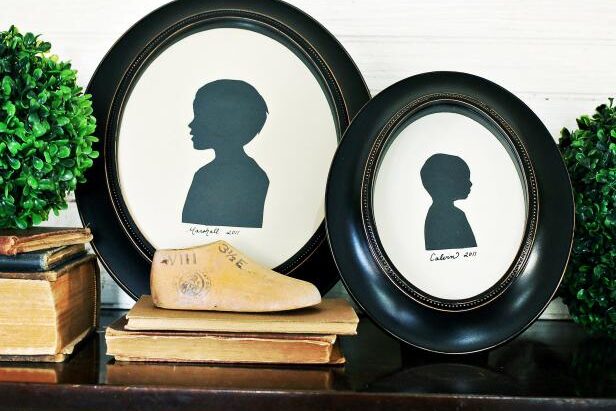 24. Salt Dough Stepping Stone – This is one of the most unique Grandparent's Day crafts we've seen and we love that Grandpa can place it in his garden all year round.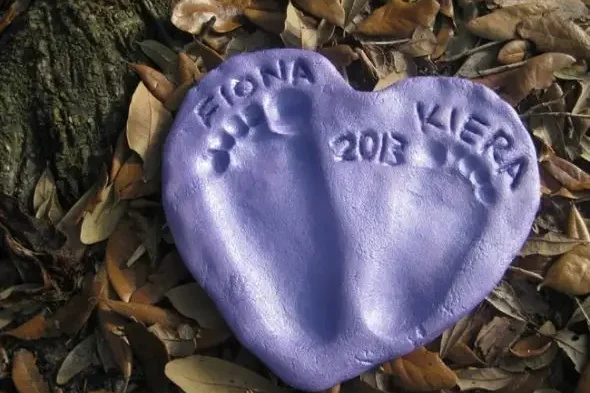 25. Thumbprint Platter– Grab all of the grandkids and create a platter of hearts with thumbprints of everyone. Don't forget the plain white platter!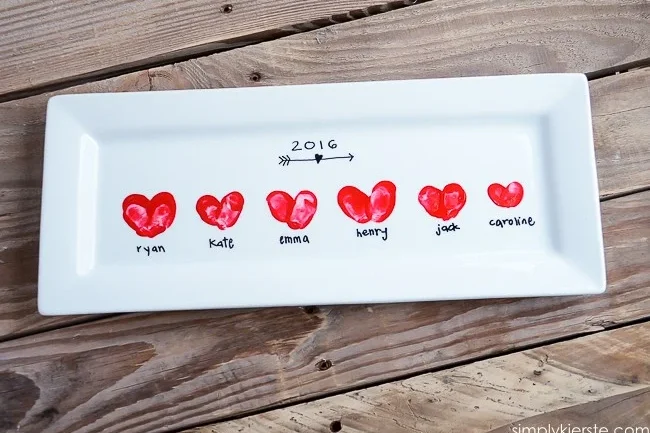 20 Photo Gift Ideas for Grandparent's Day
Make National Grandparent's Day picture perfect with these snazzy ideas!
26. Photo Candle – This Grandparent's Day gift allows you to personalize a candle into something special for the grandparents.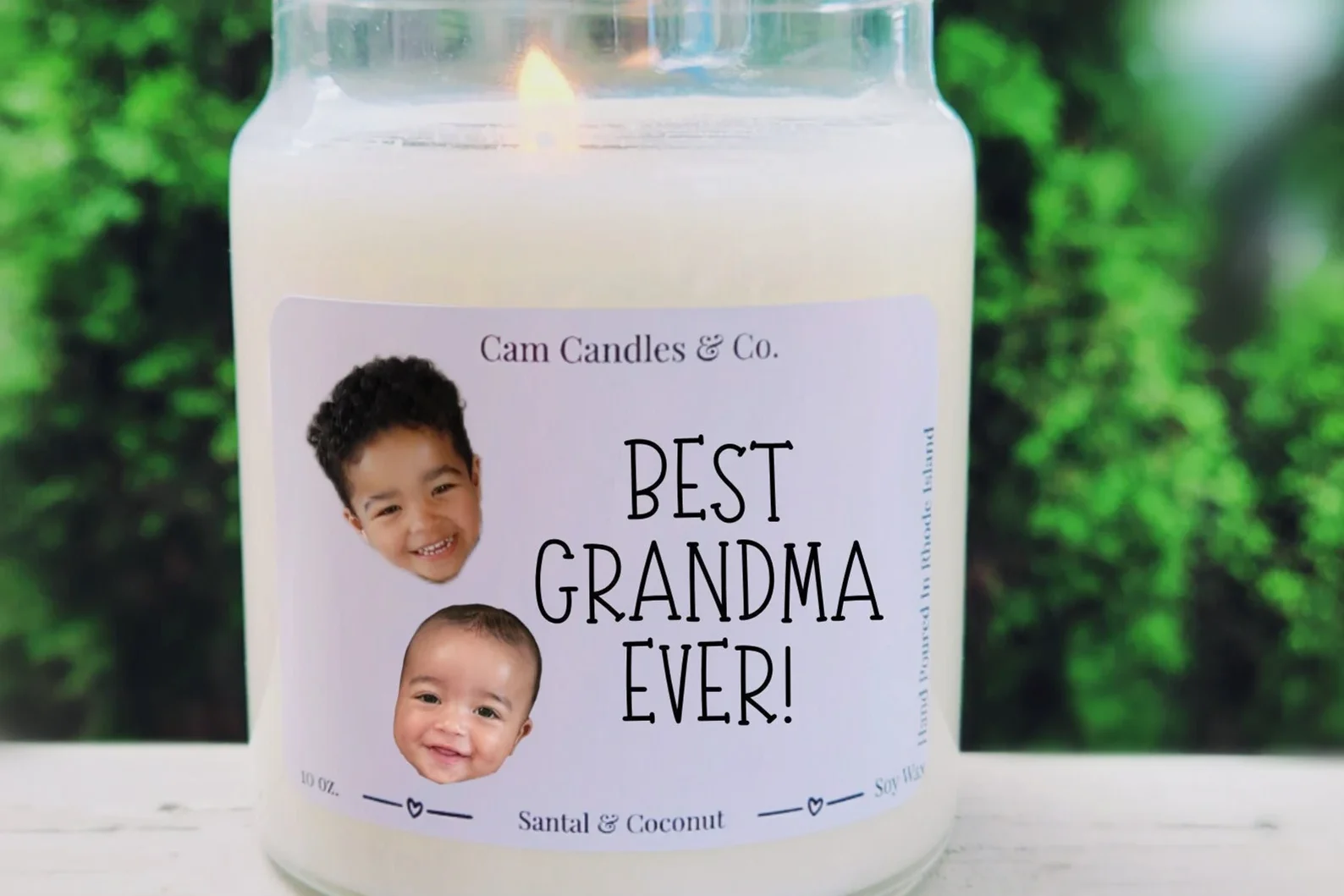 27. Grandparent's First Christmas Ornament – The perfect addition to any Christmas tree, this darling photo ornament is a great gift idea.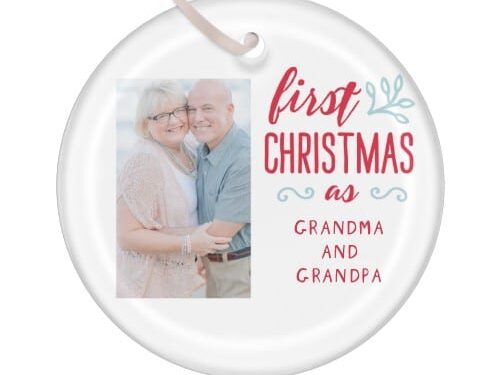 28. Personalized Portrait – An adorable, personalized portrait to show the grandkids with their grandparents!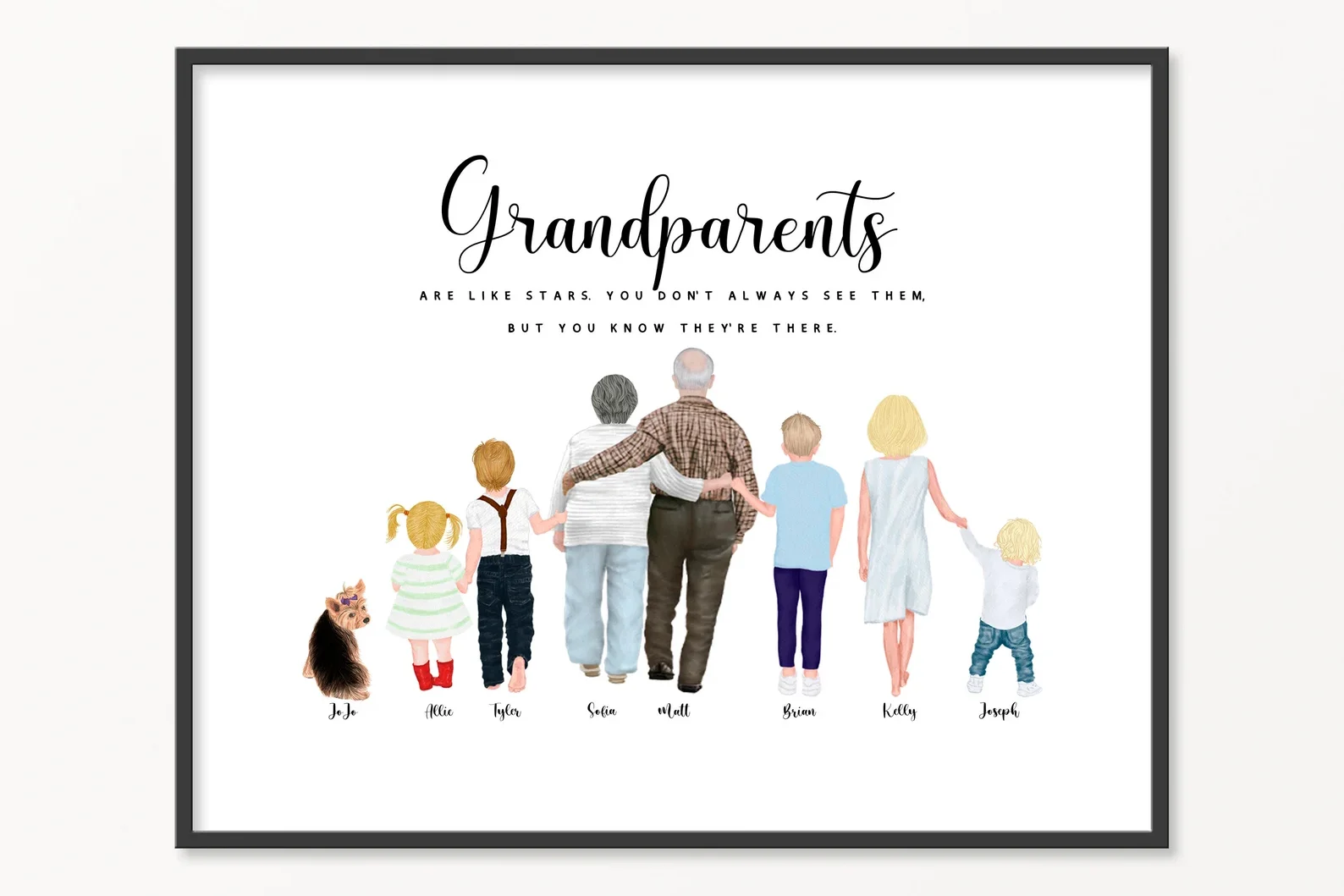 29. Photo Planter – This planter is something Grandpa can use over and over again, and he's definitely going to smile whenever he sees it.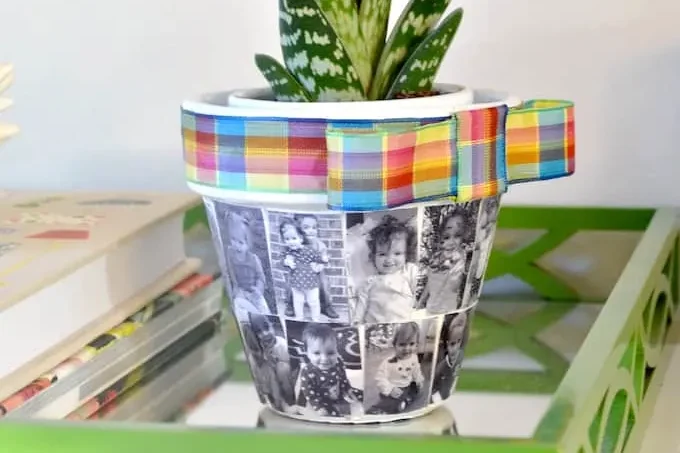 30. Grandkid Picture Board– Create a board where Grandma can swap in and out new photos of all of her little loved ones.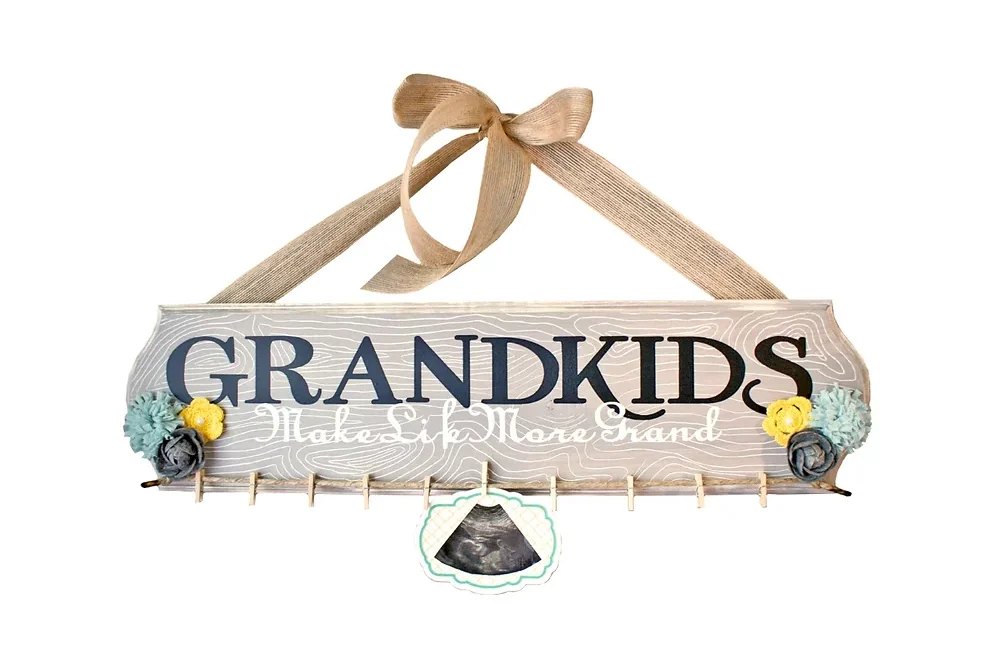 31. Family Calendar – Create a unique calendar that doubles as home decor with a family calendar. You better print off two so you can keep one too!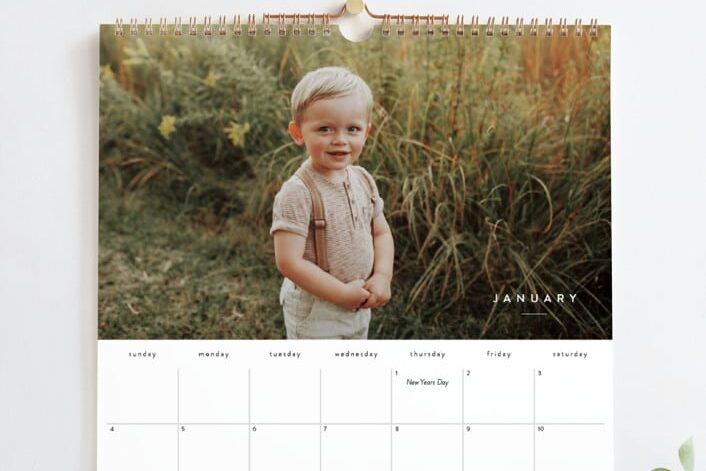 32. Photo Pendant – Grandma will love carrying an image of her grandchild around her neck to show off any time–especially on Grandparent's Day! You can get everything you need to make these tiles from this Etsy shop.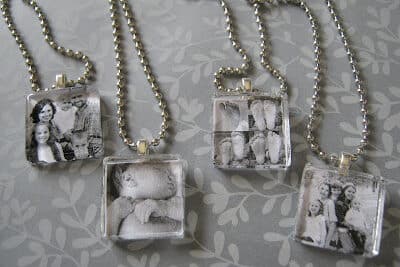 33. Heart Collage Photo – This is a gorgeous piece of wall art that includes all of the grandkids.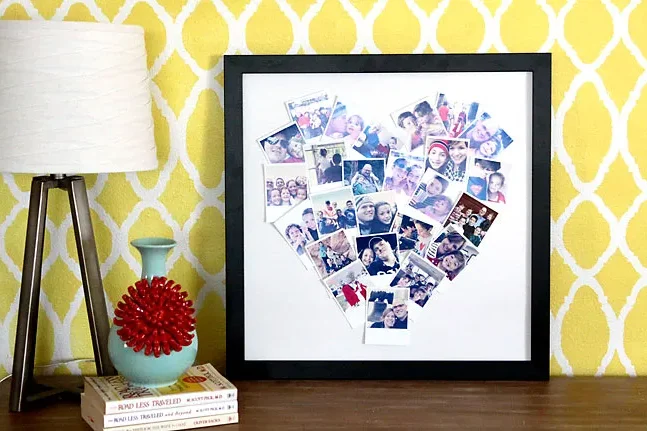 34. Photo Memory Quilt – Grandpa can snuggle up with all of his little love bugs with a photo memory quilt.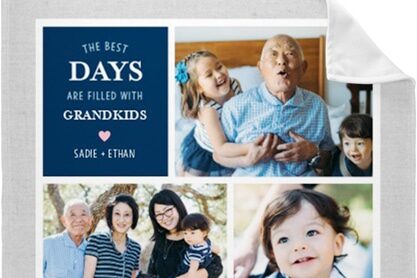 35. Photo Snow Globes – Save those baby food jars for a special Grandparent's Day photo snow globe!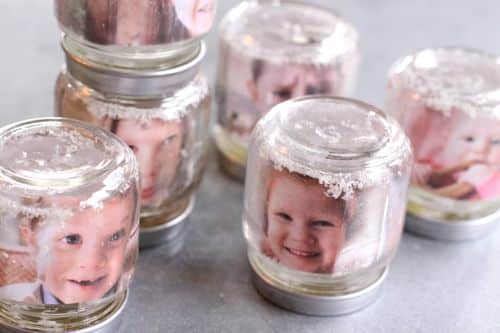 36. Photo Bookmarks – These metal bookmarks can be personalized with your photos. A couple of them would make perfect Grandparent's Day gifts.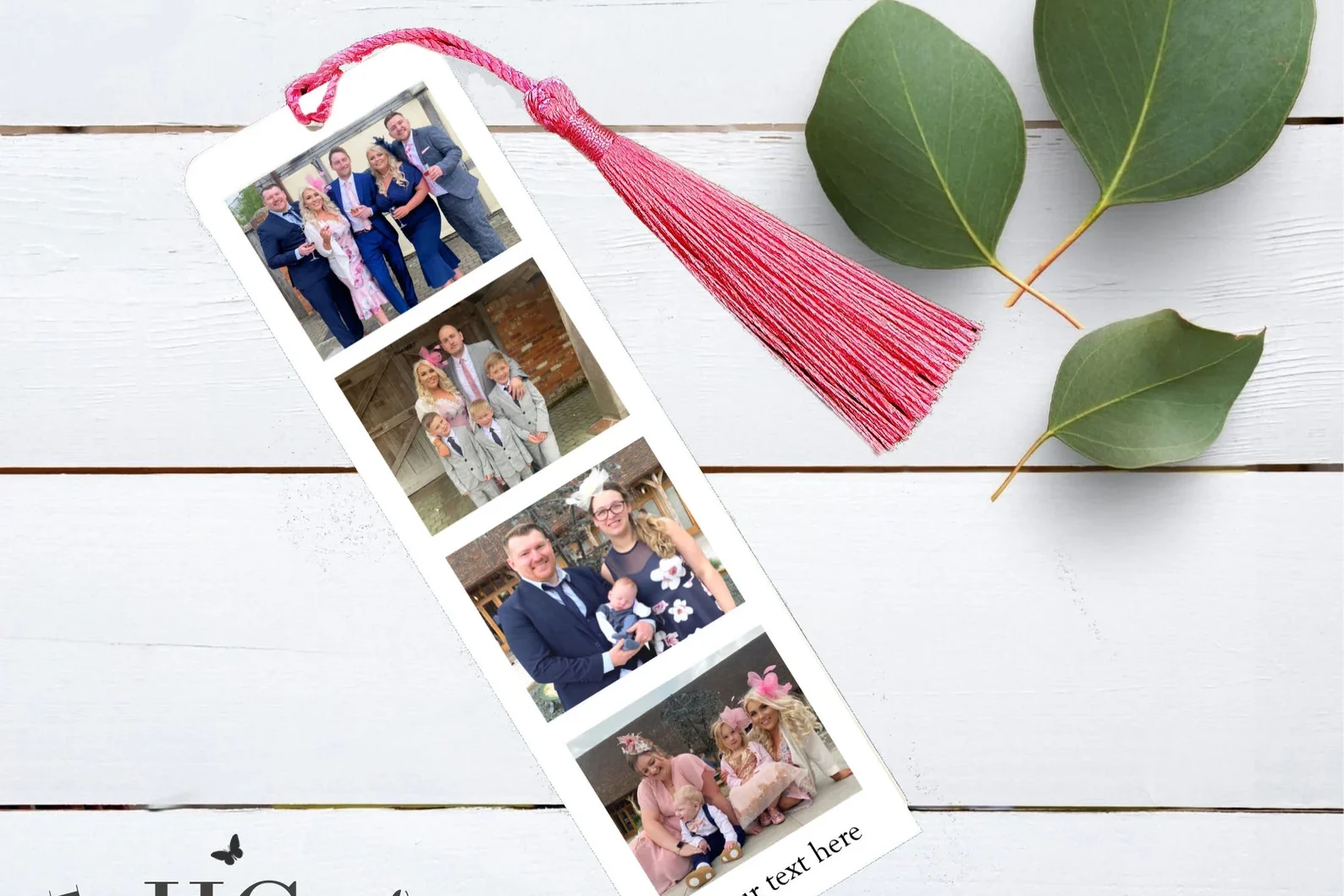 37. Garden of Grandkids – How cute is this?! For large families, this garden of grandkids is a great gift idea for grandparents.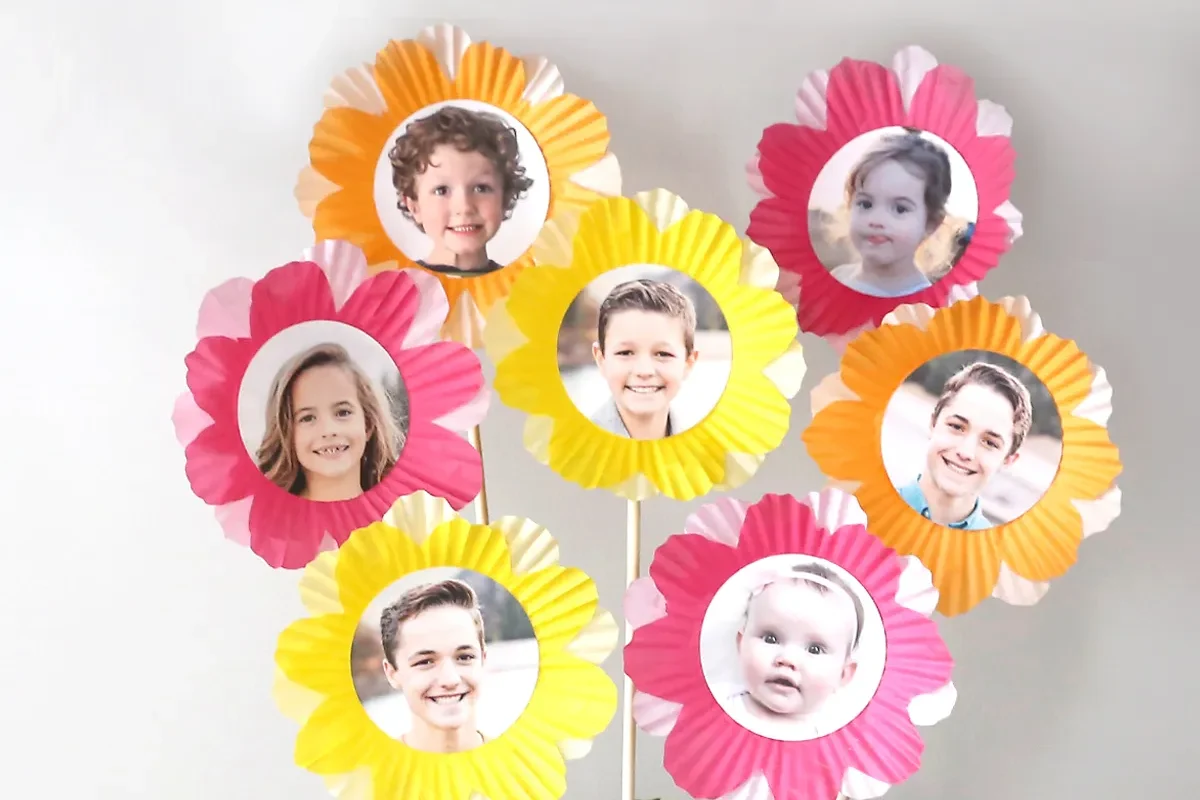 38. Chatbooks – Chatbooks is one of the easiest ways to create meaningful and fun memory books. They are also SO affordable, making them the perfect gift for Grandparent's Day.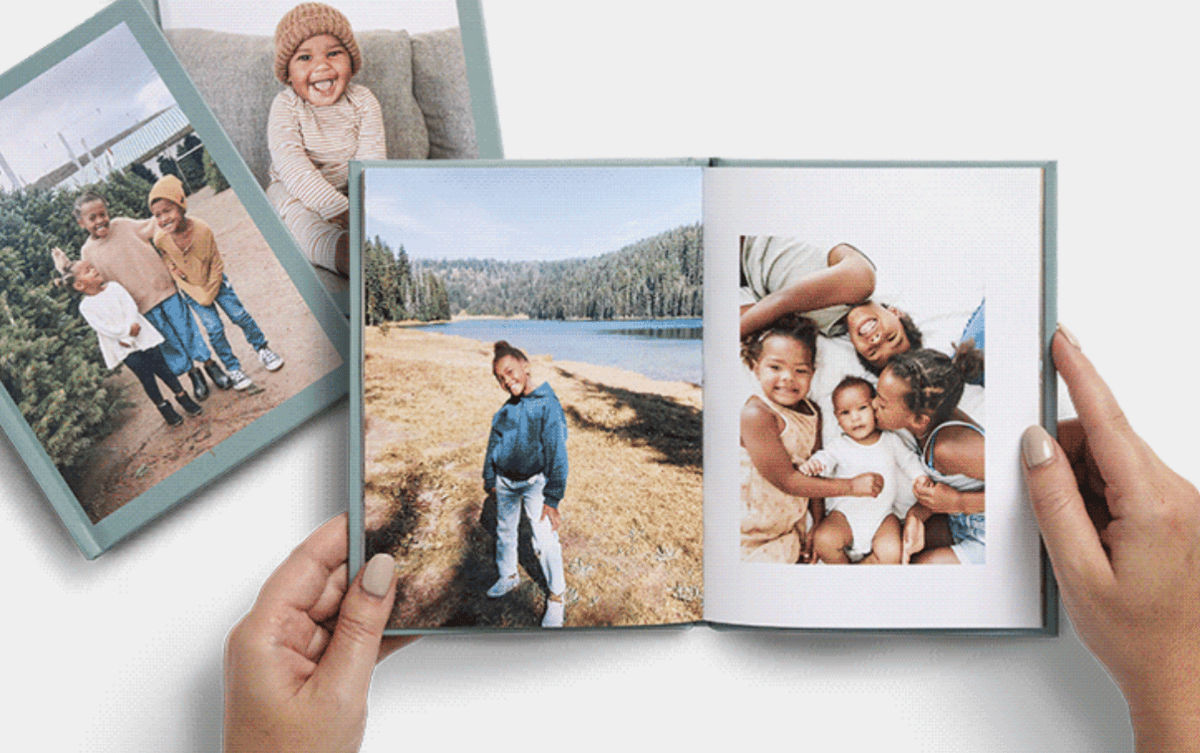 39. Skylight – It's a magic picture frame! Send new pics of the grandkids to this frame in seconds through email. The grandparents will see it immediately!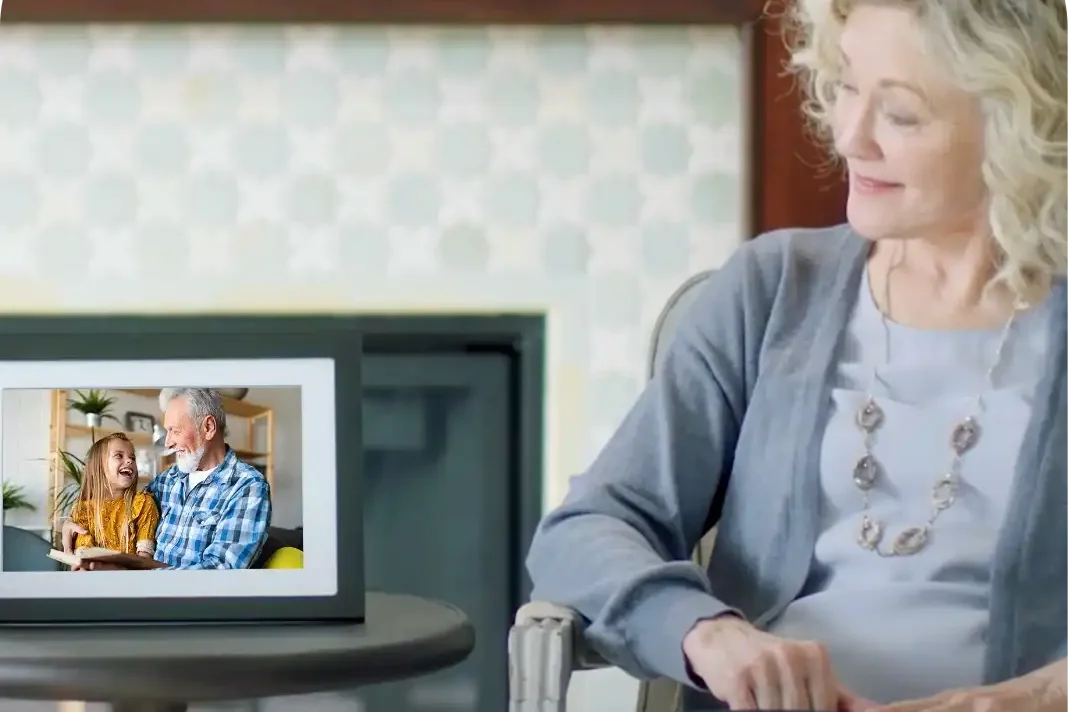 40. Custom Puzzle – It's not just a Grandparent's Day gift, it's also a bonding activity between generations!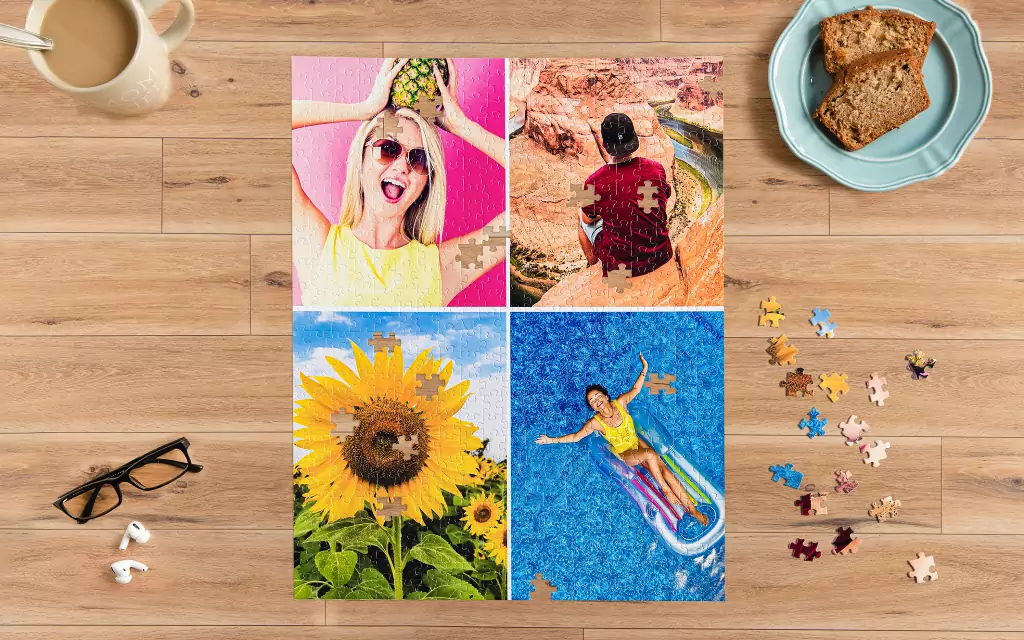 41. Photo Coasters – Don't ruin Grandpa's coffee table, make it beautiful by adding your sweet face!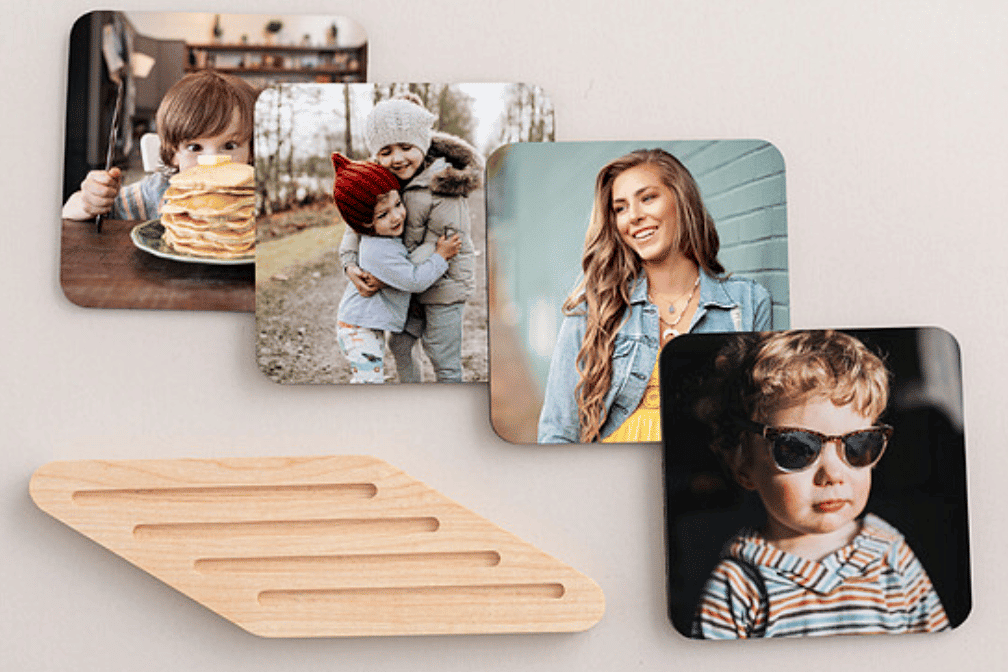 42. Photo Magnets – Decorate Grandma's fridge with fun photos of all the grandkids!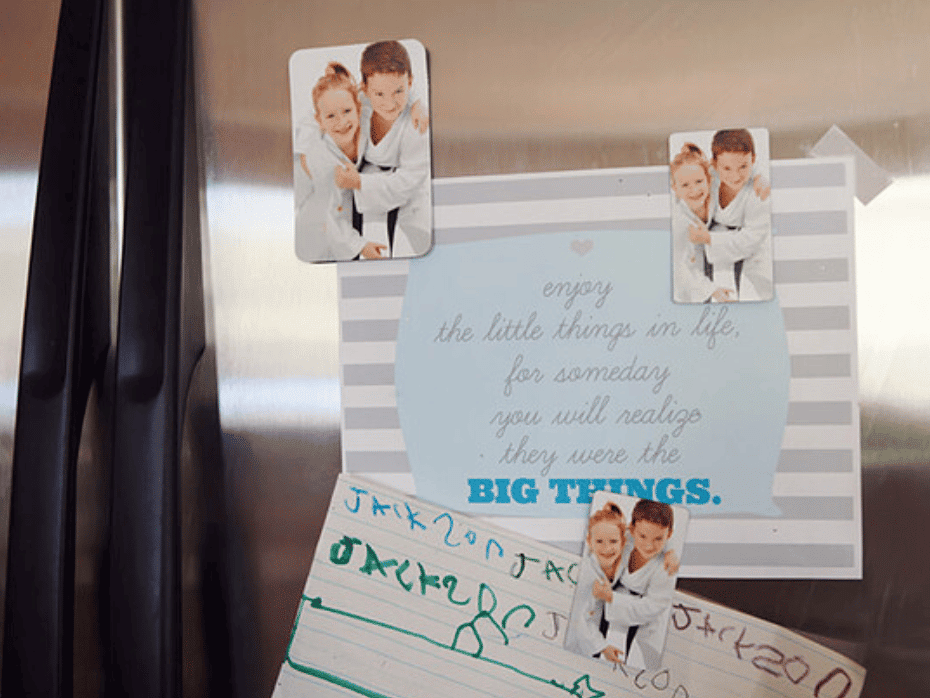 43. Scrabble Pictures – Choose any Grandparent's Day-themed message to add to a frame using Scrabble letters.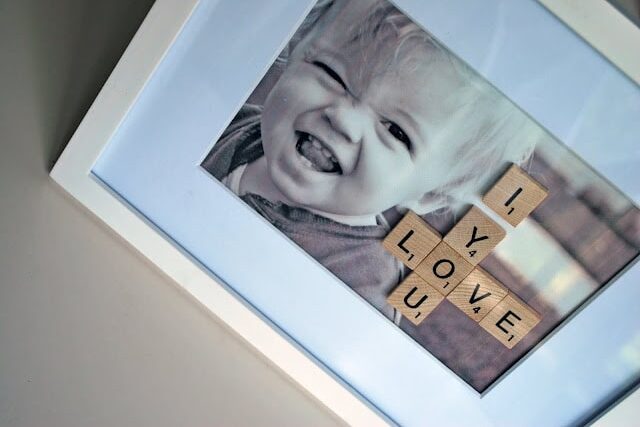 44. Film Negative Camera Roll – Create a personalized camera roll that is easy for Grandma or Grandpa to show off to their friends.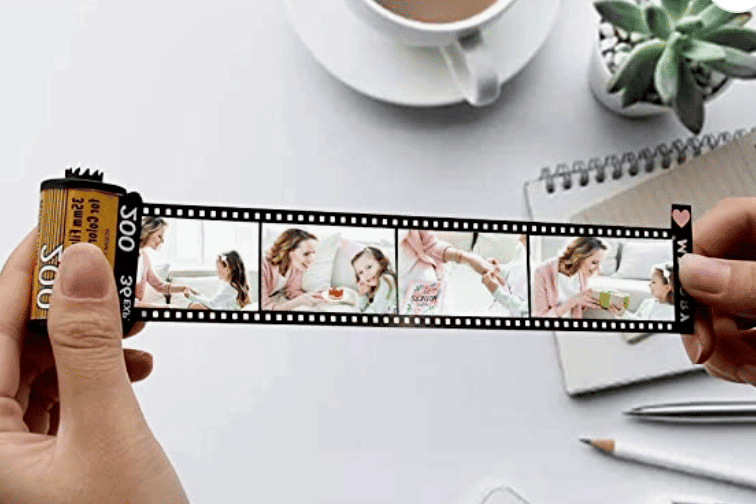 45. Photo in a Box – Include your favorite photos in a special keepsake box for the grandparents!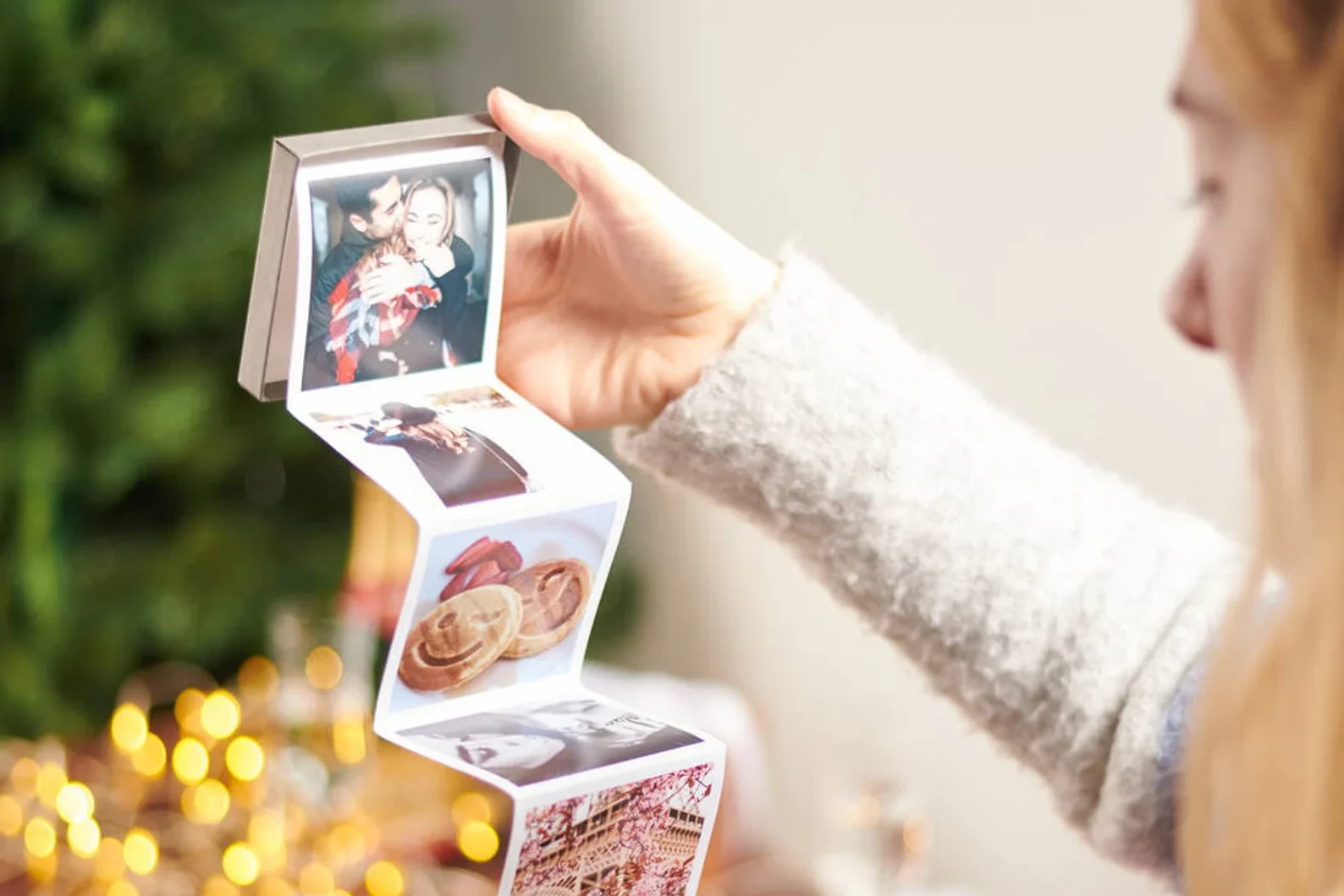 15 Food Gift Ideas for Grandparent's Day
We all love food, and Grandparent's Day is the perfect time to enjoy good food together. You can also send some really delicious treats in the mail if you can't be together for the big day.
46. Gourmet Food Baskets – Grandparents will love these yummy gift baskets full of treats and goodies.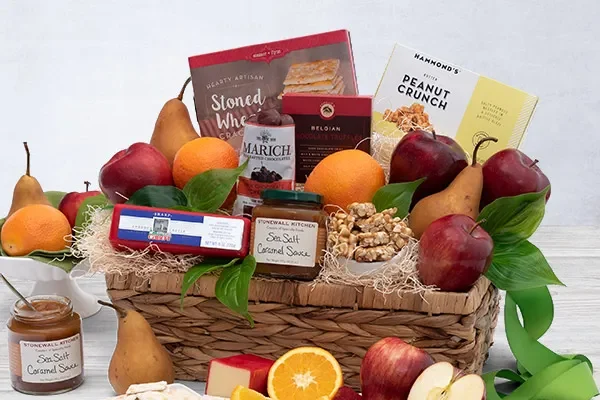 47. Grandparent's Day Cookie Treat – A nice, sweet treat for Grandma. Don't let those cookie jars go empty!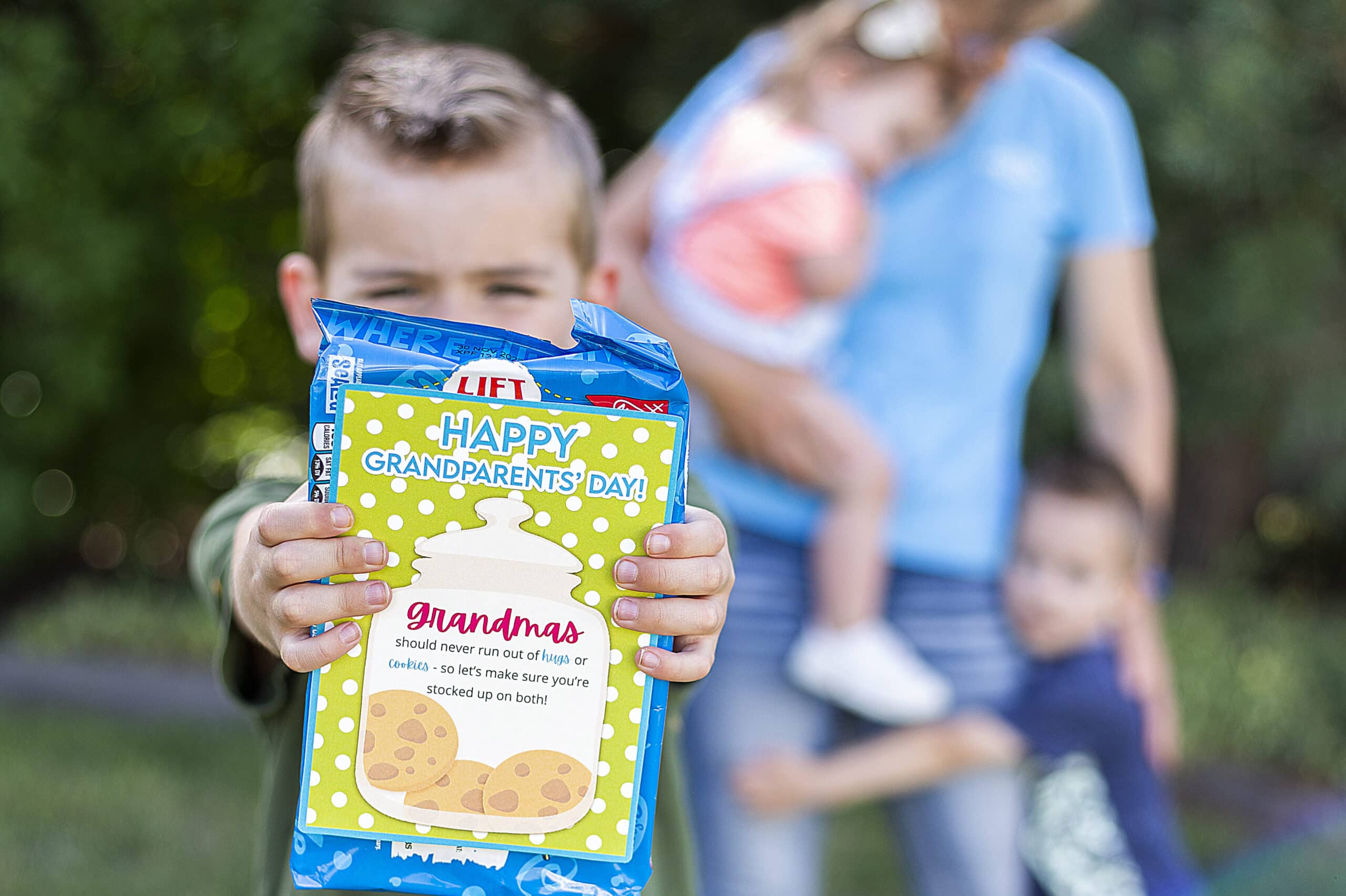 48. "Good Morning, Grandma" Spoon – She may not be eating the spoon, but every time she stirs her morning coffee, she will smile. It's one of our more simple gift ideas for grandma, but it's also one of the cutest.
49. Exploding Cake – Surprise your grandparents with a box that literally explodes with love and leaves a cake to be enjoyed afterward.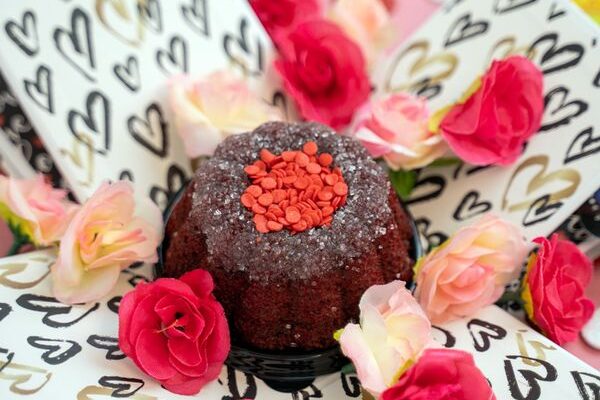 50. Rice Krispie Hearts – Get the kids in the kitchen to make a batch of these sweet treats for Grandparent's Day.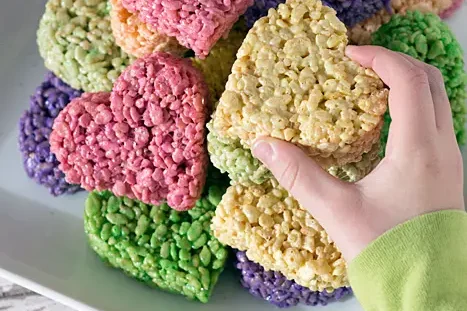 51. Pop Gift Basket – Fill a basket full of everything "pop" related and fill your "Pop's" heart!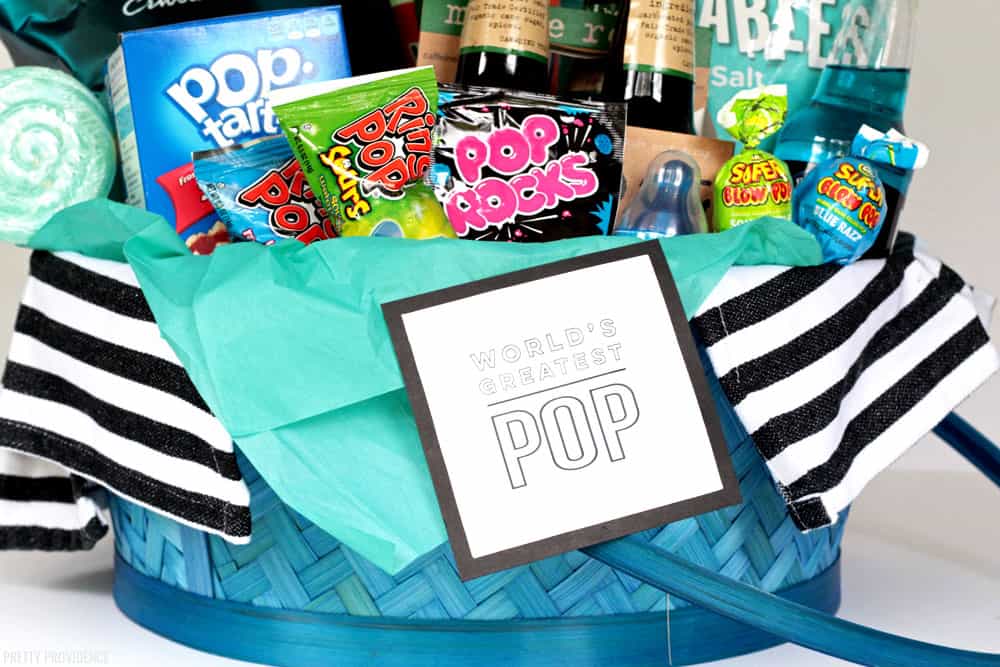 52. Grandma's Cheesecake – Does your grandma love cheesecake but hate the time it takes to make it? Fix her up with some of Grandma's Cheesecake Sandwiches sent straight to her door via GoldBelly.com.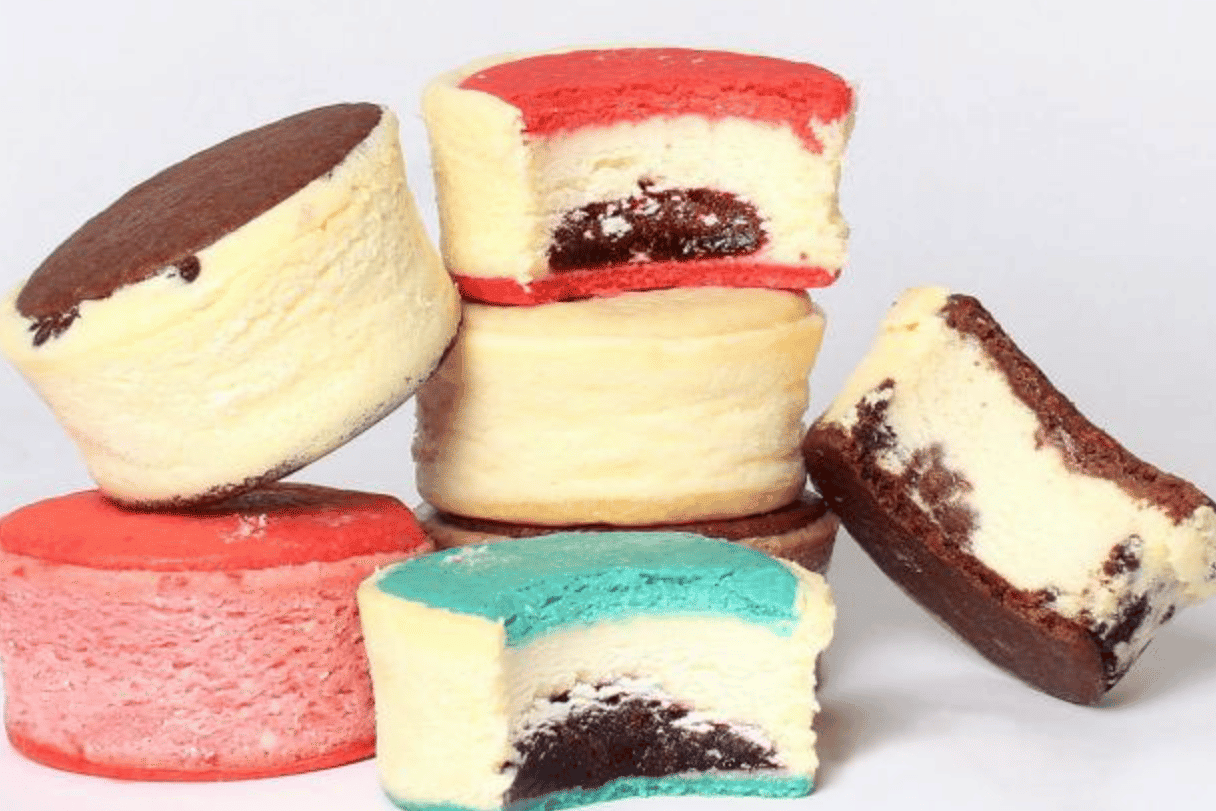 53. Crazy Cookies – Send in a picture of Grandma or Grandpa and get fun cookies shaped just like them!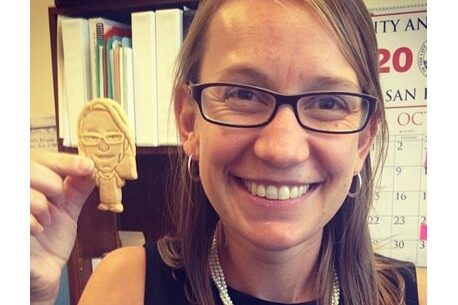 54. Fresh Cookies – Grandma always kept you full of cookies, now it's your turn to return the favor! Ship some delicious cookies straight to her door. We linked the raisin-filled ones, because we've yet to meet a grandparent who doesn't love a raisin-filled cookie.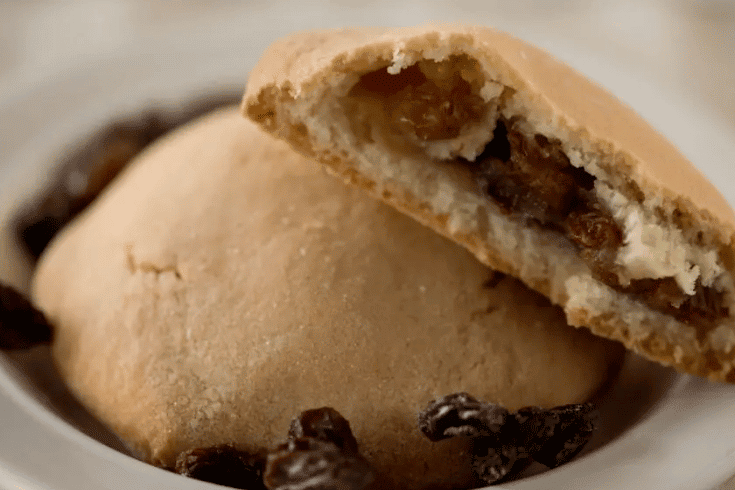 55. Hand-Dipped Chocolates – Florence's Chocolates are top-tier. Send a box of assorted chocolates, caramels, or nuts this Grandparent's Day.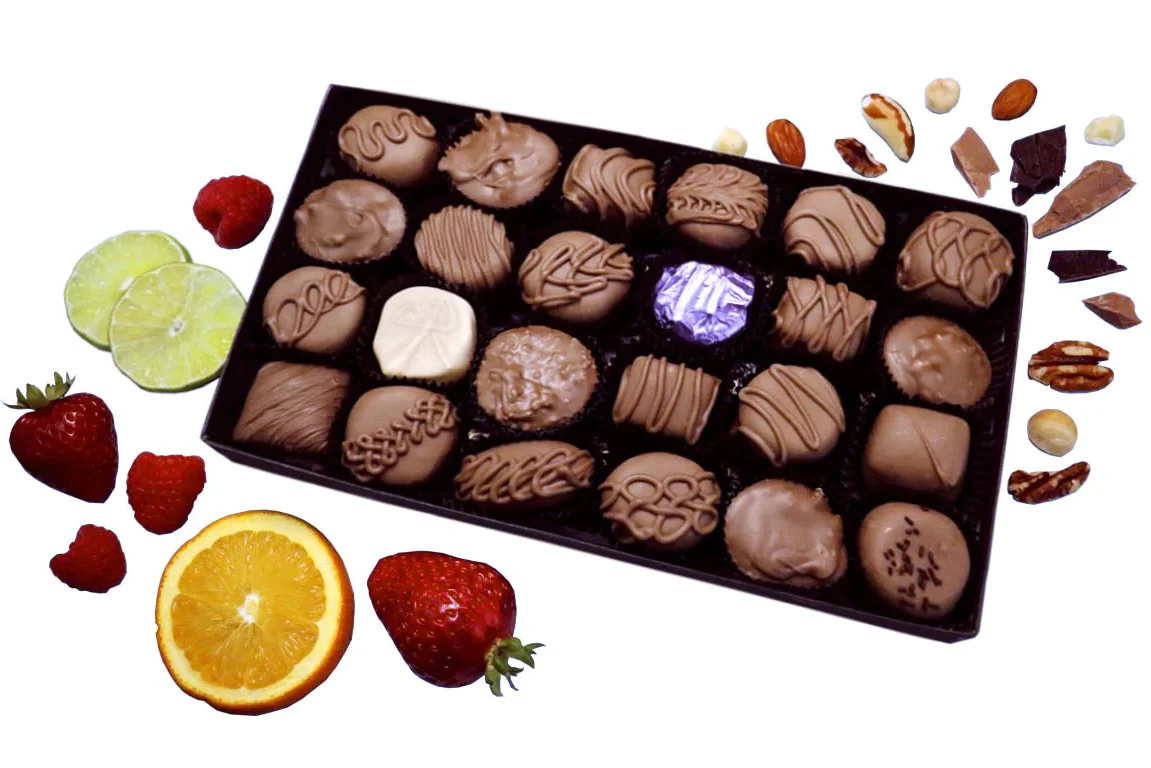 56. Candy Bouquet – Make your own Grandparent's Day candy bouquet with Grandpa's favorite treats!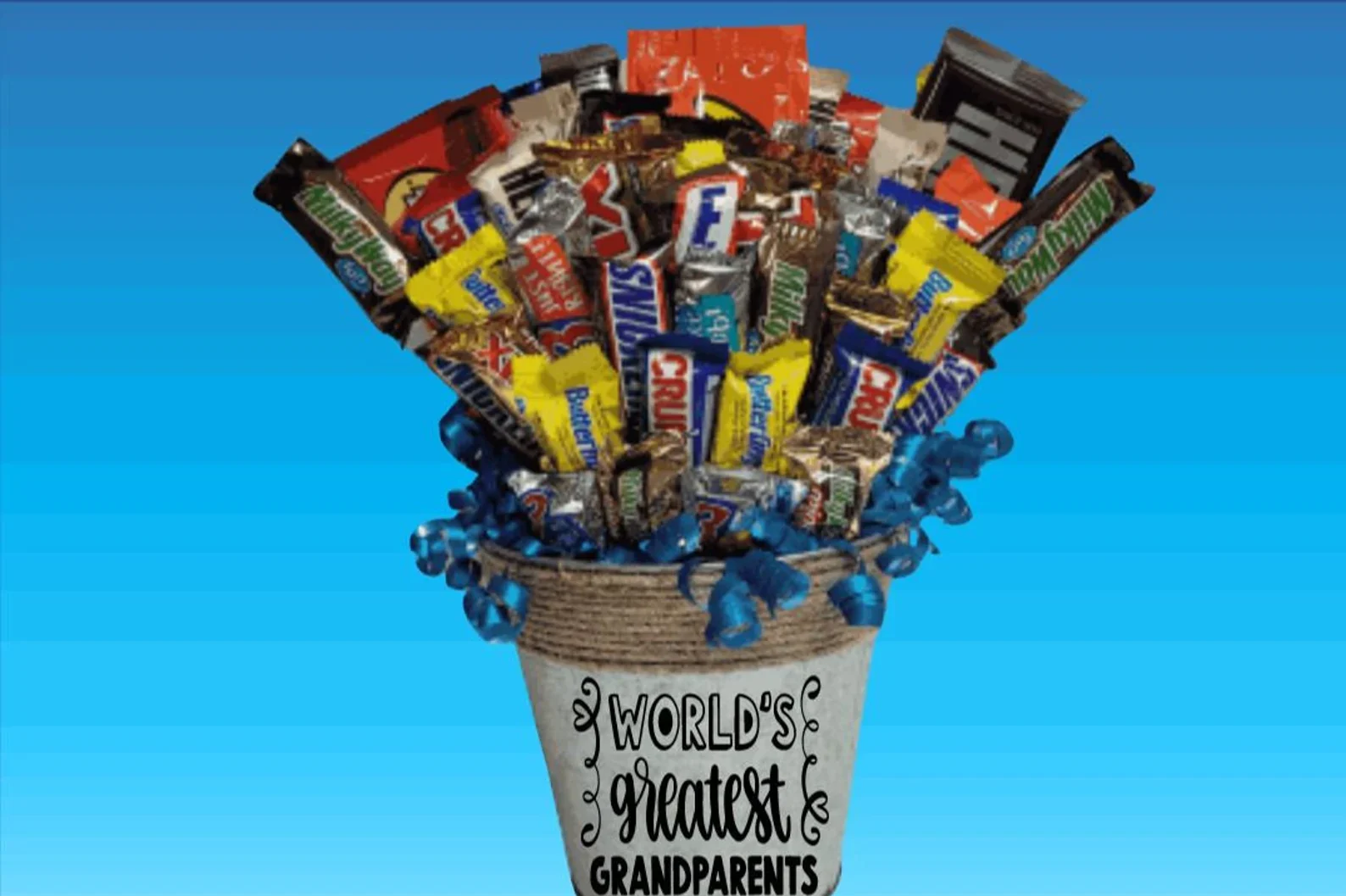 57. Fruit Bouquet – You can make this yourself or order it from a store. We love that it's a healthy and thoughtful gift for grandparents.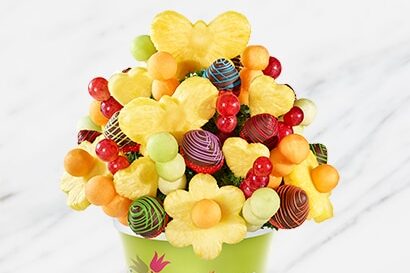 58. Cupcake Bouquet – This yummy treat is so gorgeous that Grandma and Grandpa might not even want to eat it!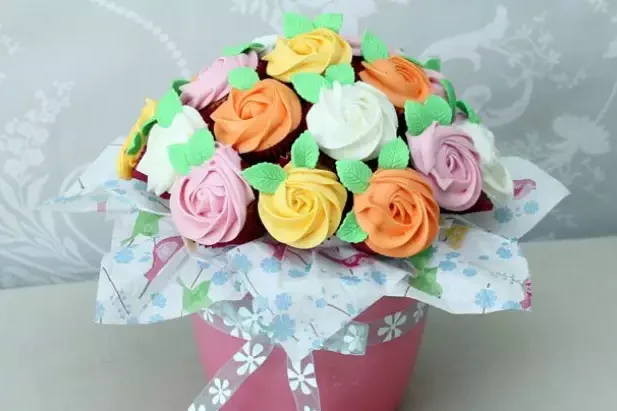 59. Mixed Nuts – Why are nuts such a classic when people think of gifts for grandpa? No idea, but here they are! Ship them directly to your sweet (or salty!) grandparents!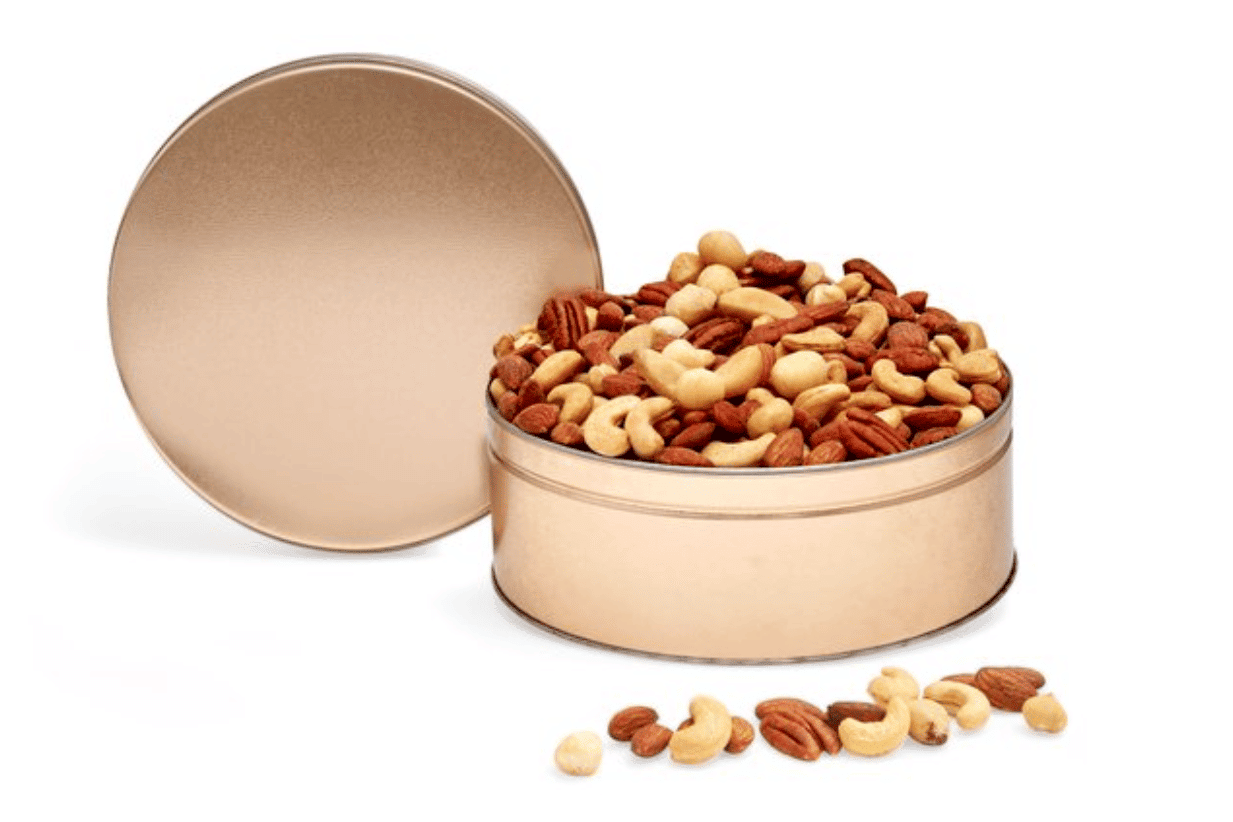 60. BBQ Basket – This adorable idea is perfect for grandpa for Father's Day OR Grandparent's Day.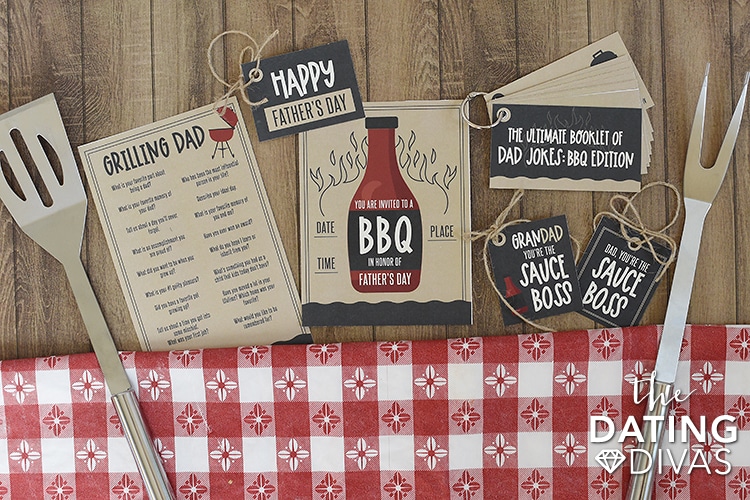 26 Meaningful Gift Ideas for Grandparent's Day
Crank up the Grandparent's Day love even FURTHER with these sweet and thoughtful gift ideas.
61. Personalized Keychain – This Grandparent's Day gift allows Grandma to keep adding rings for each new loved one that joins her family.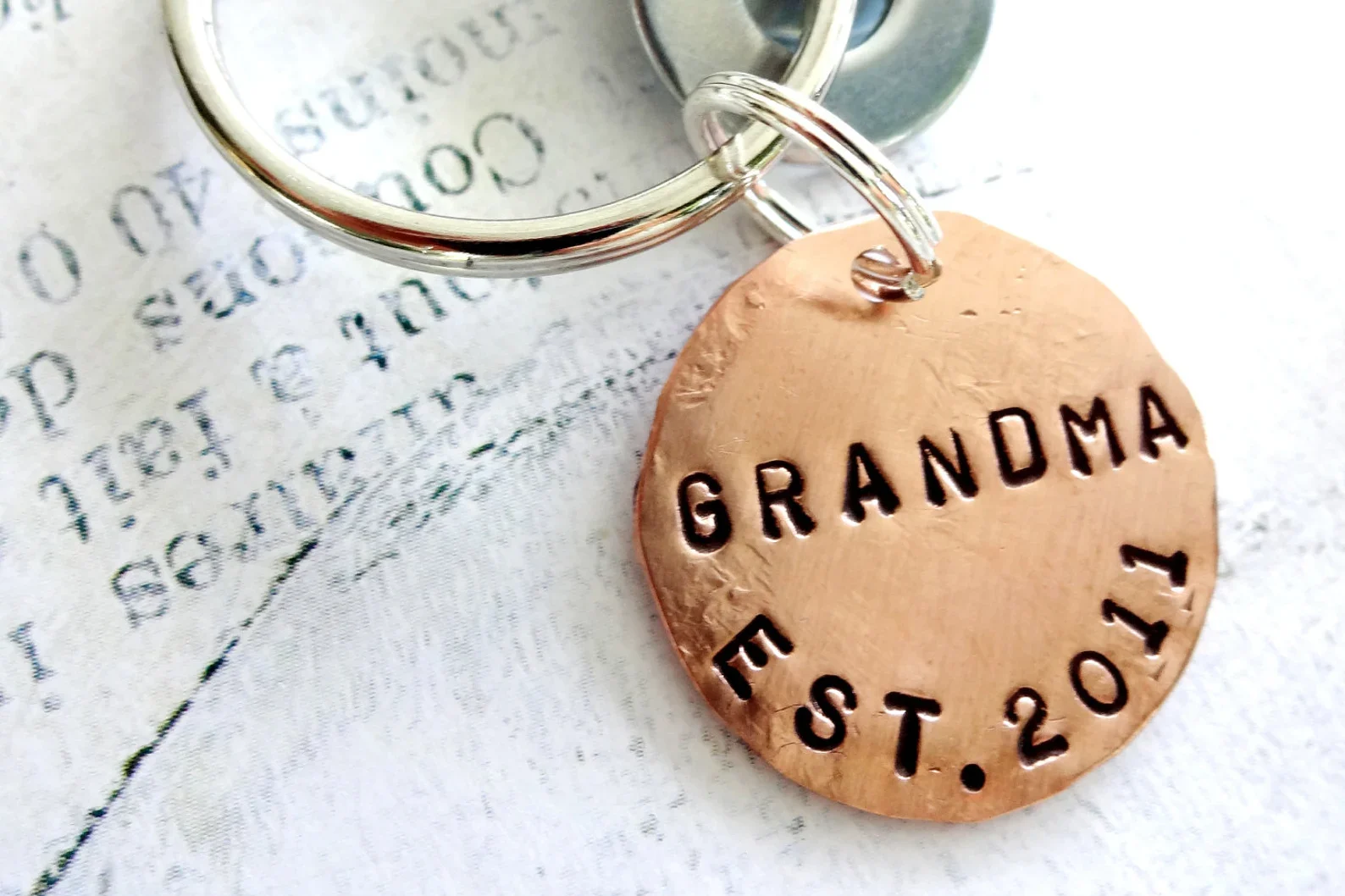 62. Storyworth – The number one most meaningful gift is sharing memories and Storyworth makes it easy. Grandma and/or Grandpa will answer an emailed question about their life and at the end of the year, you get it bound in a beautiful book. Order multiples!!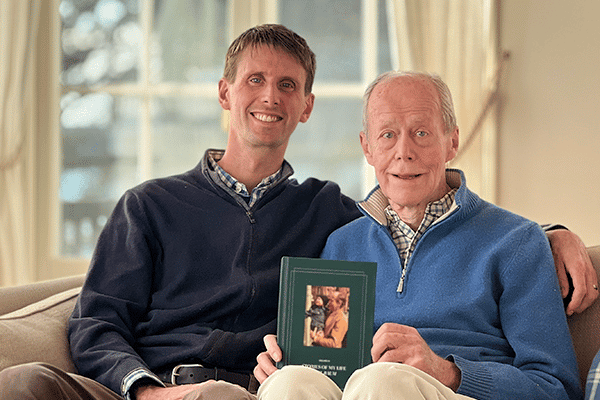 63. Blessed to be a Nana Shirt – Personalize a t-shirt with the names of Nana's grandchildren.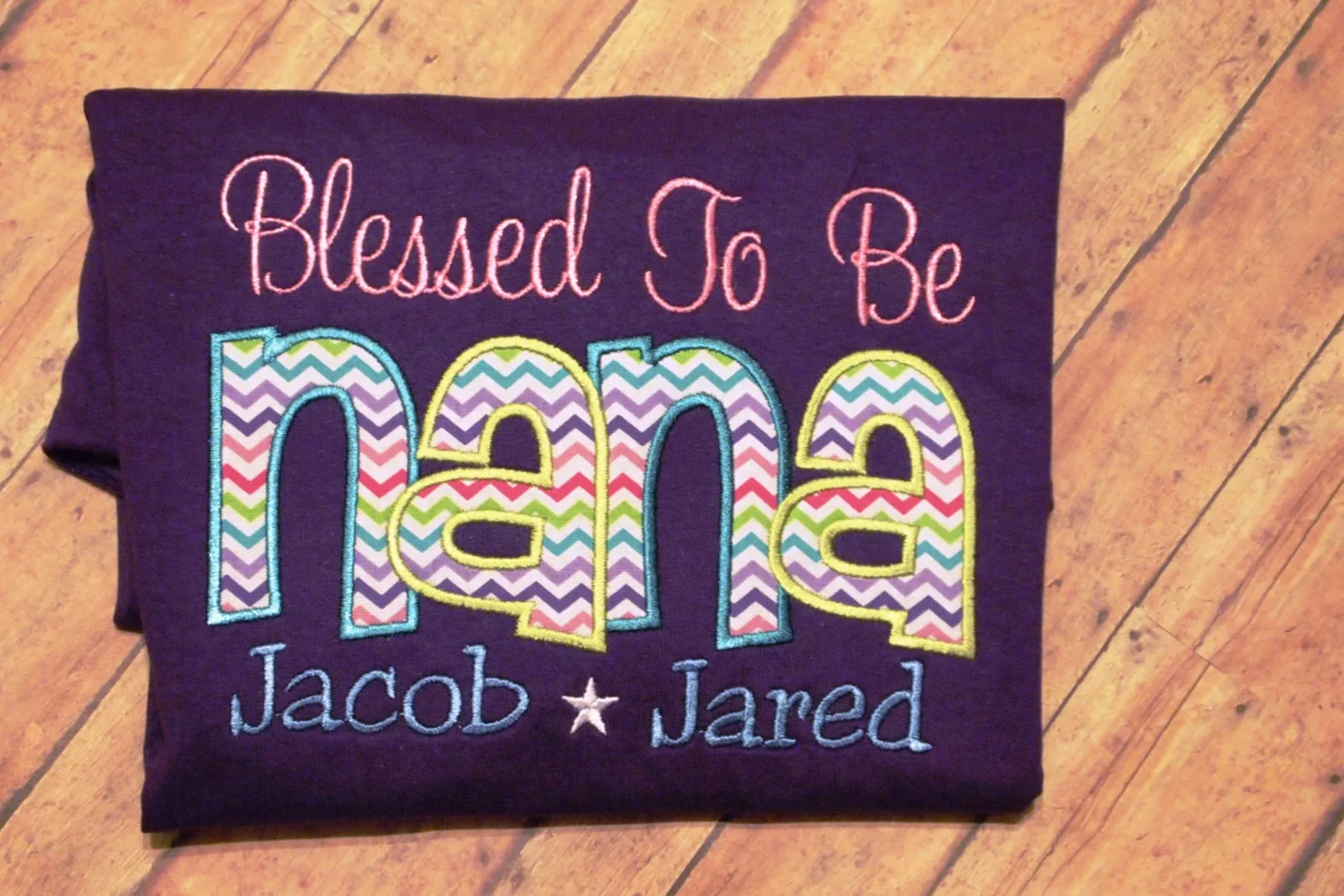 64. Family Adventure Book – Have you heard of The Adventure Challenge books? There are scratch-off adventures and a place to keep a picture of the adventure. Well, there's a family version that would be perfect for your active grandparents! Imagine all the fun activities you will do together.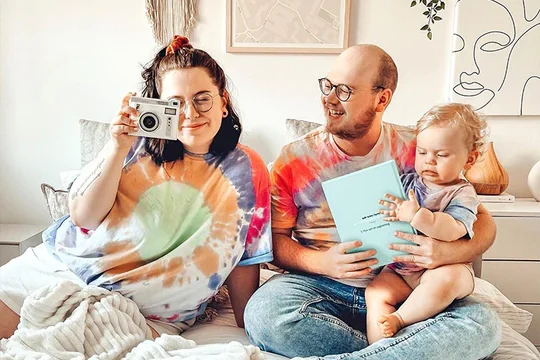 65. Custom House Painting – This could be a painting of the house they live in currently or their first home! So sweet!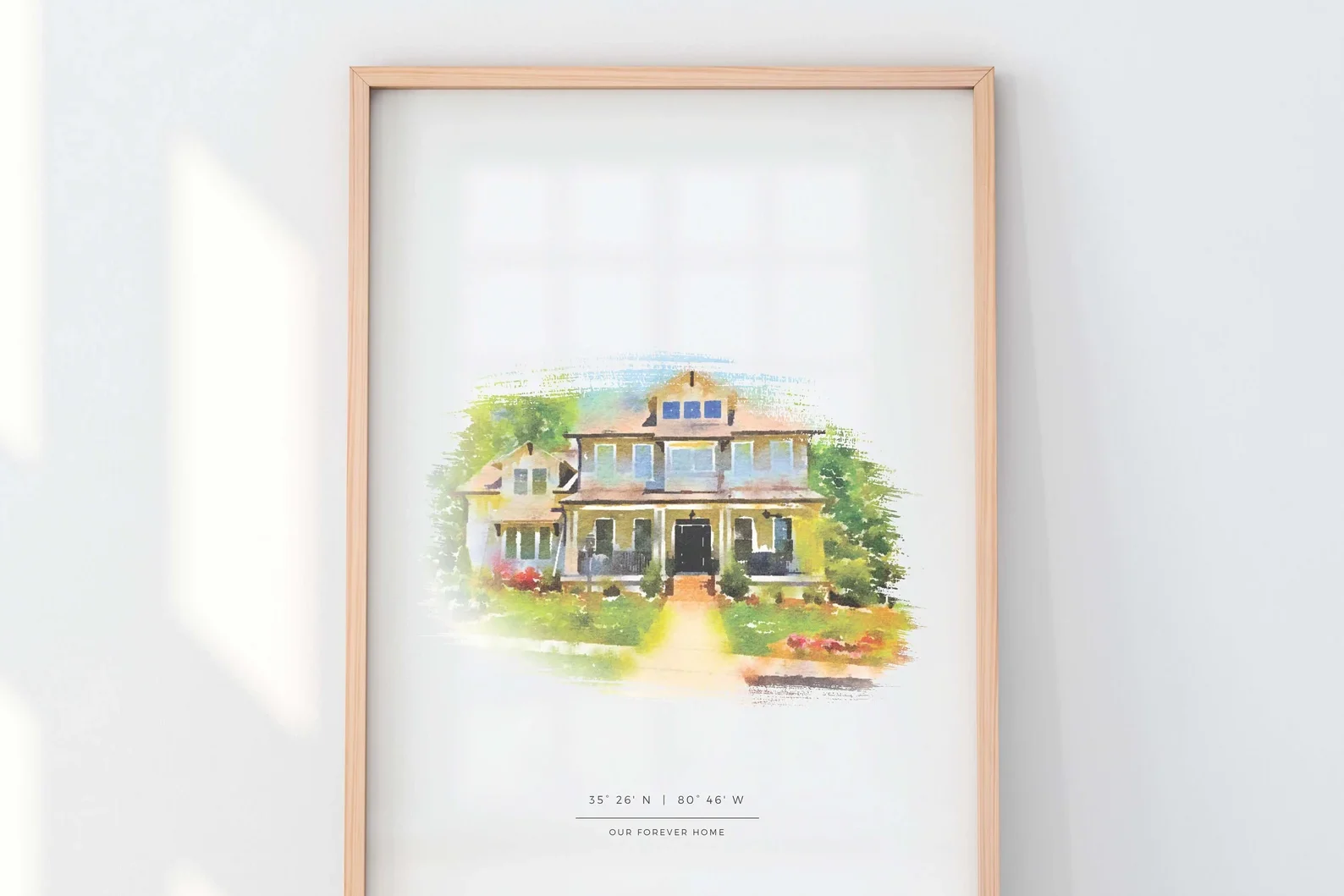 66. Willow Tree Grandmother Keepsake Box – Grandma will love this little keepsake box for her jewelry.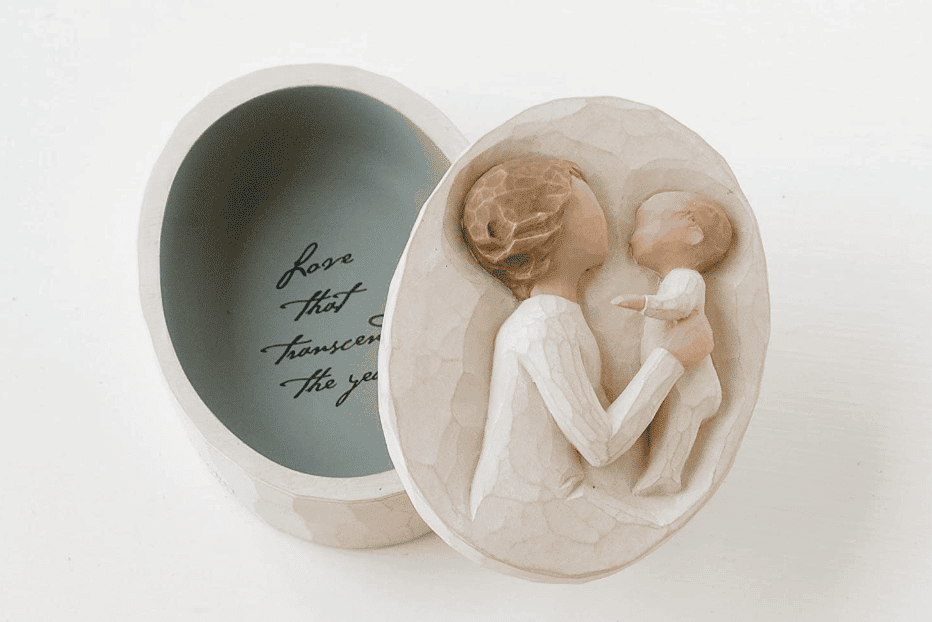 67. Guided Grandpa Journal – 200 different prompts to guide Grandpa on writing his life story. This special book will help the memories be passed on for generations. It's one of our favorite gifts for grandpa that we've found.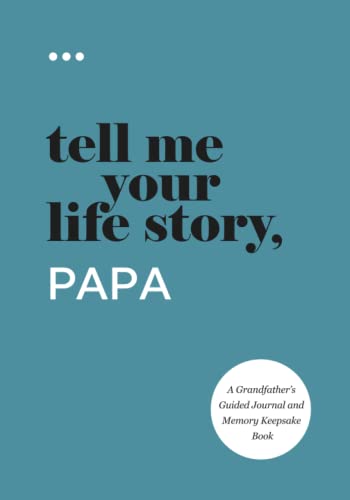 68. Guided Grandma Journal – Lest you think we're leaving grandma out, here's the Grandma version! Again, this is a top five on our list of gift ideas for grandma. If you want to be able to read their memories to your children, this is the perfect way to do it.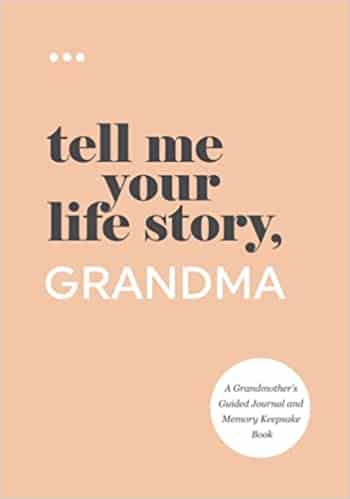 69. Personalized Fleece Blanket – Let the grandparents cuddle up with the names of all their favorite little ones.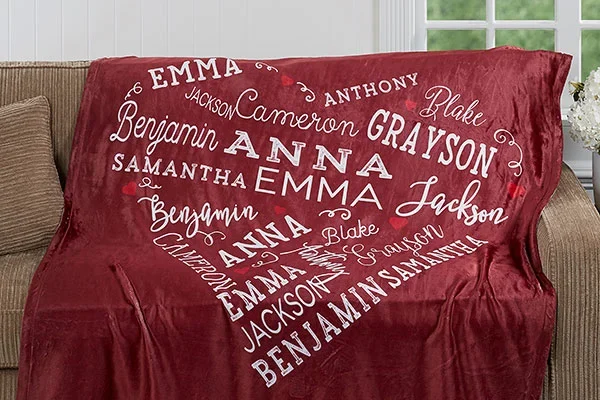 70. Granny and Pop's Pillow – This is the perfect addition to any home decor at Granny and Pop's house.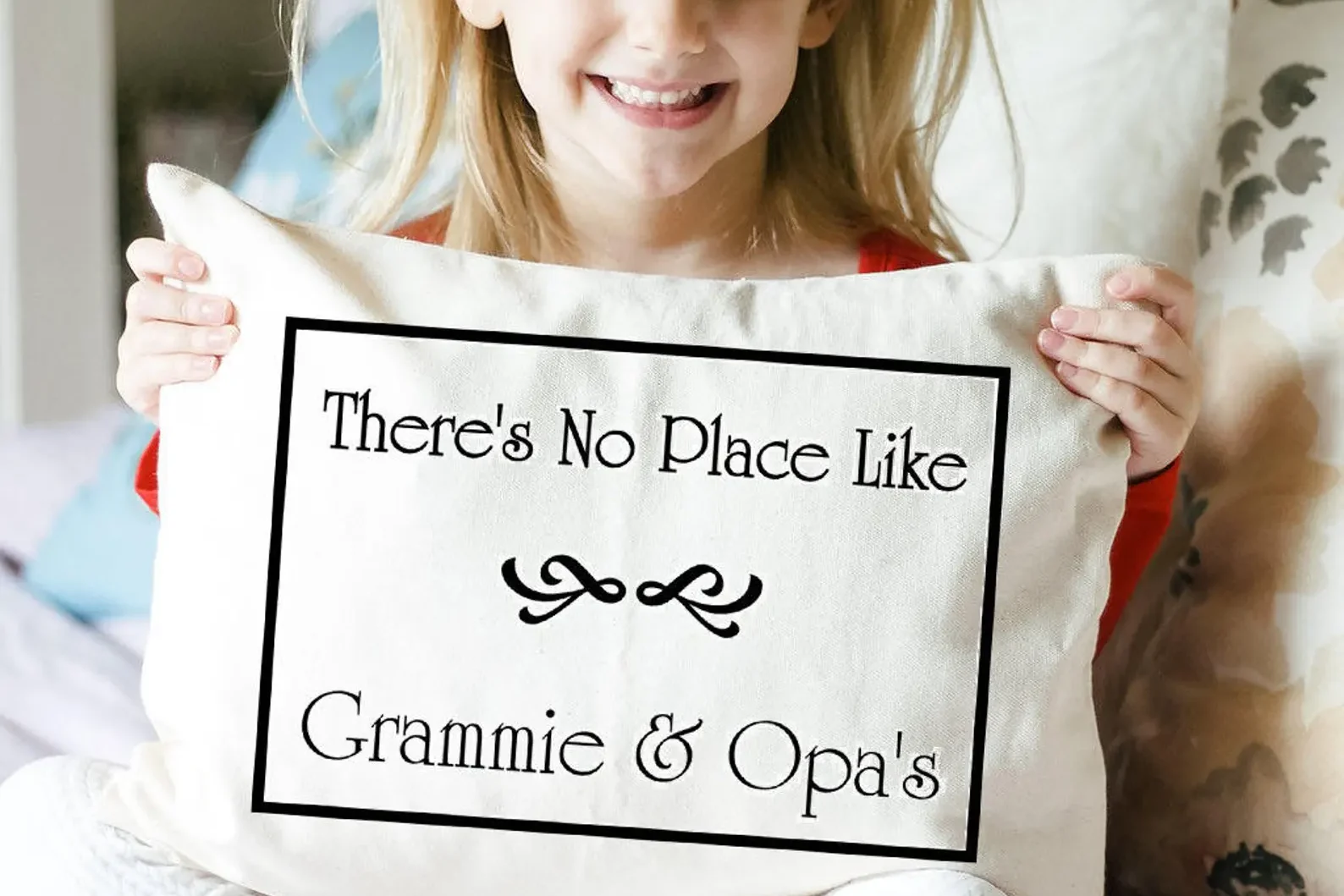 71. How to Babysit a Grandma – This is a great book to gift Grandma on Grandparent's Day as it gives you the perfect activity to do next time you are together: reading.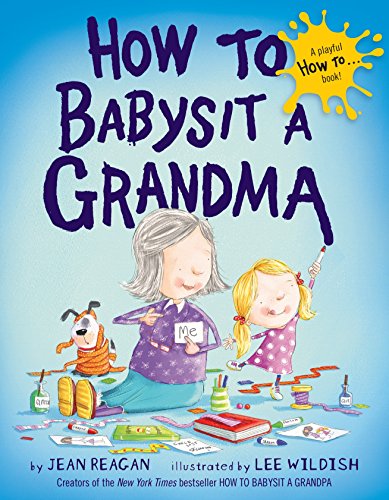 72. How to Babysit a Grandpa – The same goes for Grandpa. This book will give him a chuckle. Plus, reading together is a great way to bond.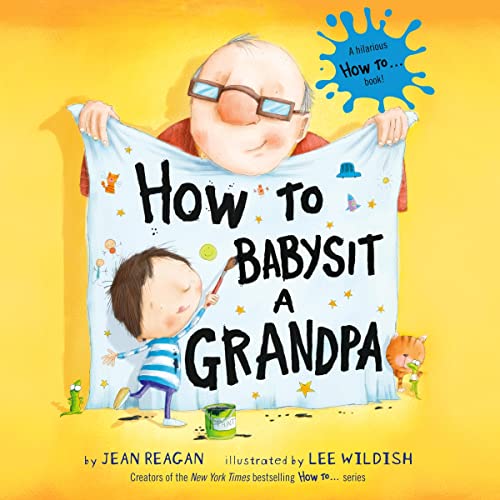 73. 40 Uses for a Grandpa – Another great book to share with Grandpa!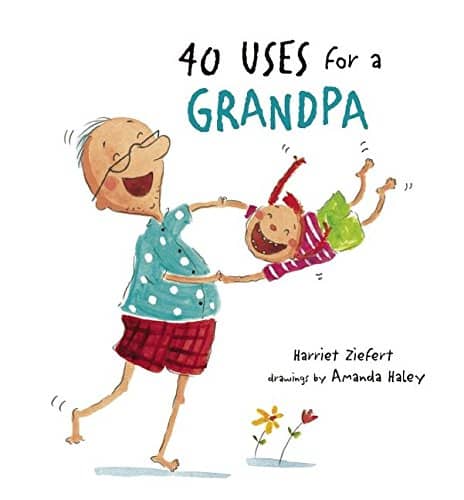 74. 41 Uses for a Grandma – Grandmas have tons of uses, like reading with her favorite little grandchildren.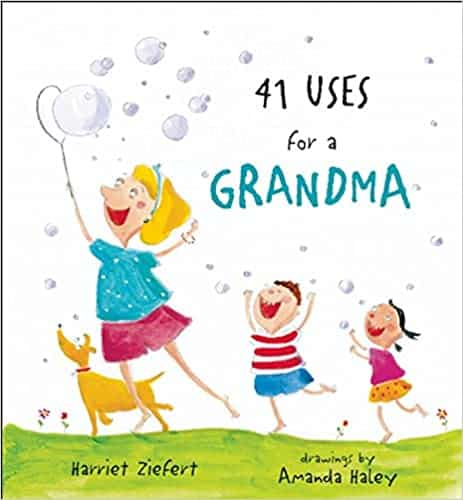 75. Here comes Grandma – This is a perfect story for Grandma to share with the grandkids if she lives far away.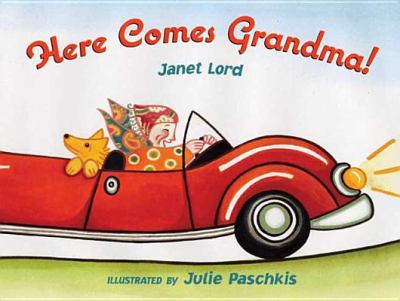 76. Q and A a Day for Grandparents – A quick prompt for each day of the year, ready to hand down when you finish it up.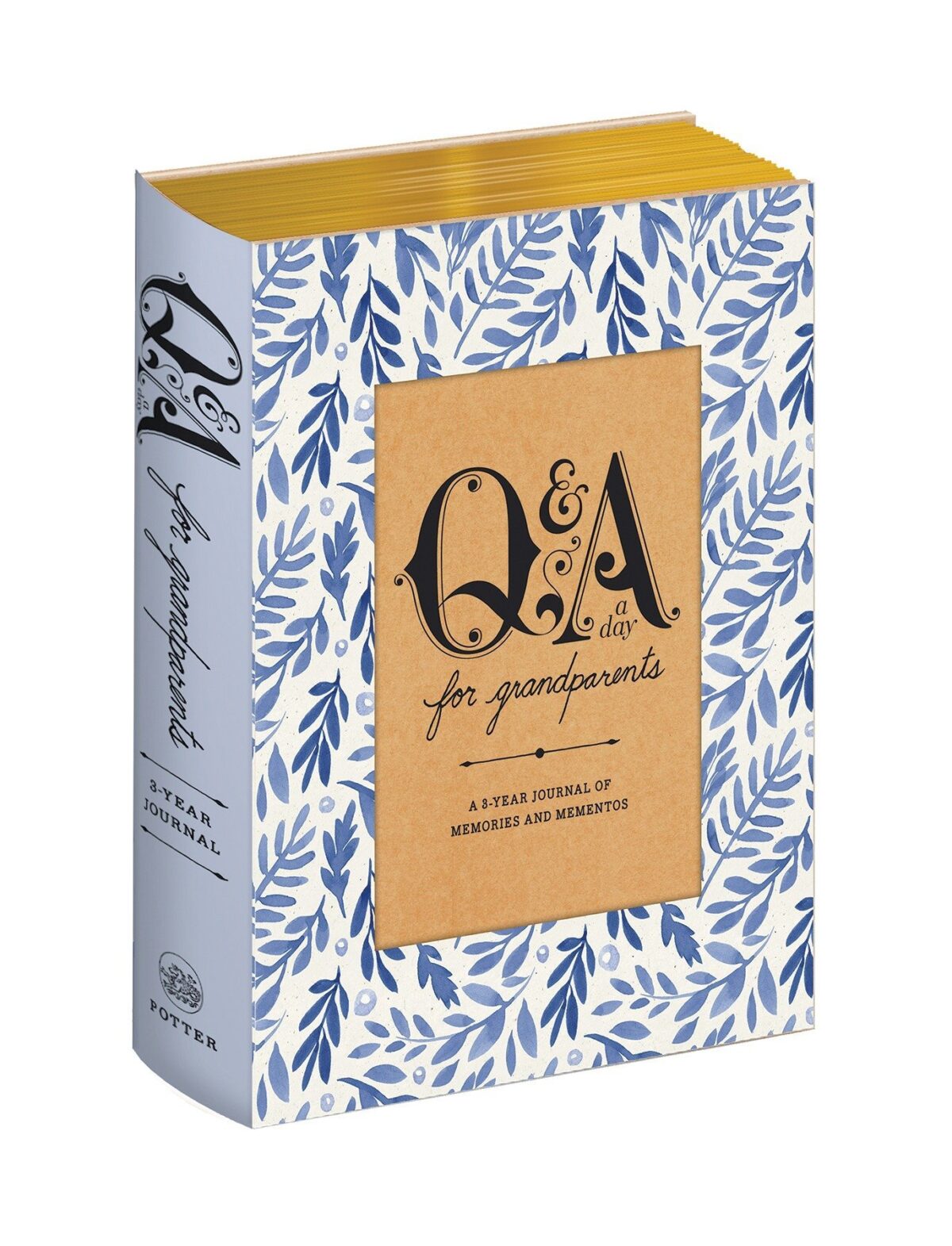 77. First-Time Grandma's Journal – This would be an adorable way to tell a mom that she's getting promoted! Perfect for an announcement or a Grandparent's Day gift.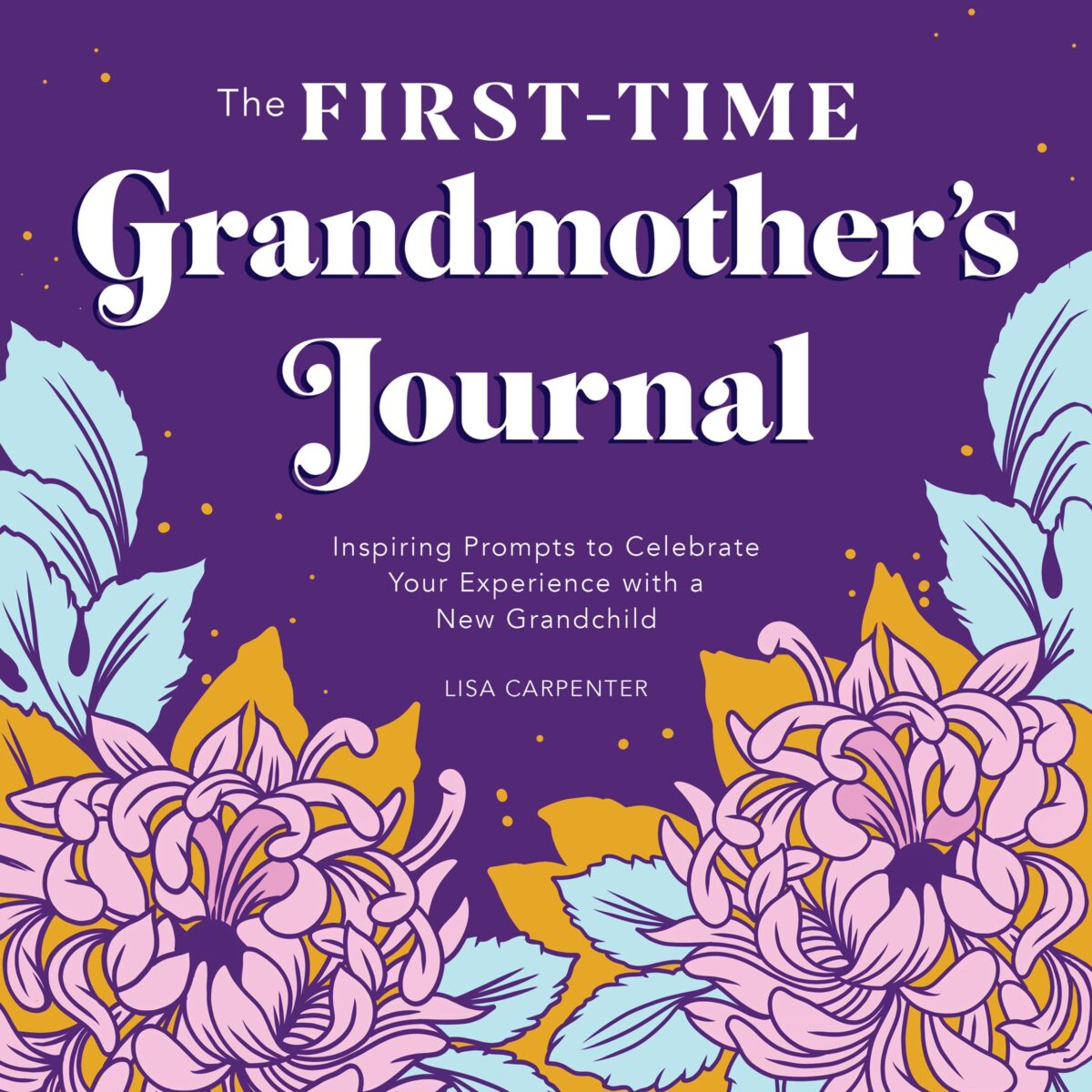 78. Grandparent Counting Sign – Grandparents love to brag about their family, and this Grandparent's Day-friendly sign allows them to do just that.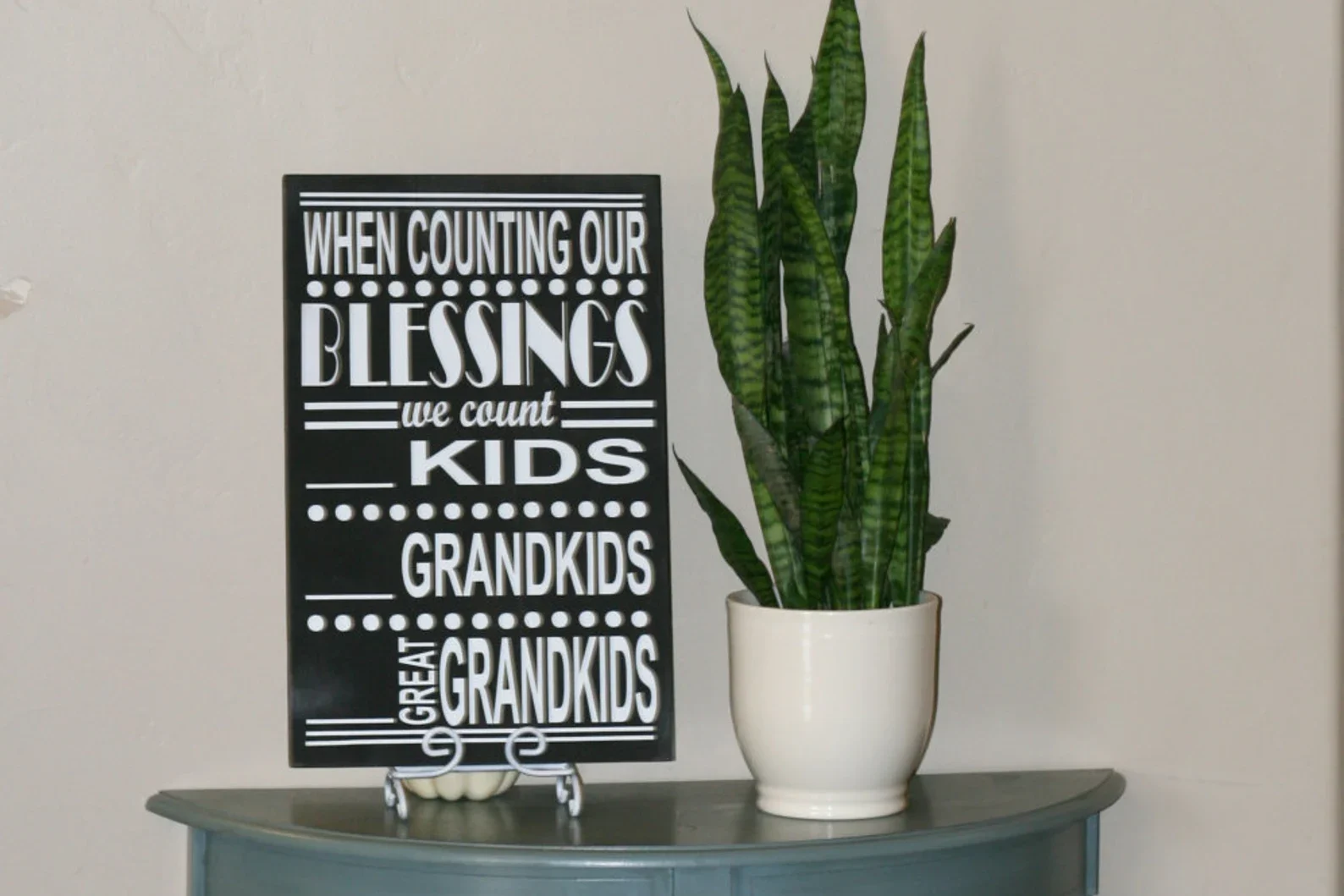 79. Modern Family Tree – We love this modern take on a family tree. The beautiful colors and simple aesthetics are a wonderful way to celebrate heritage without sacrificing style.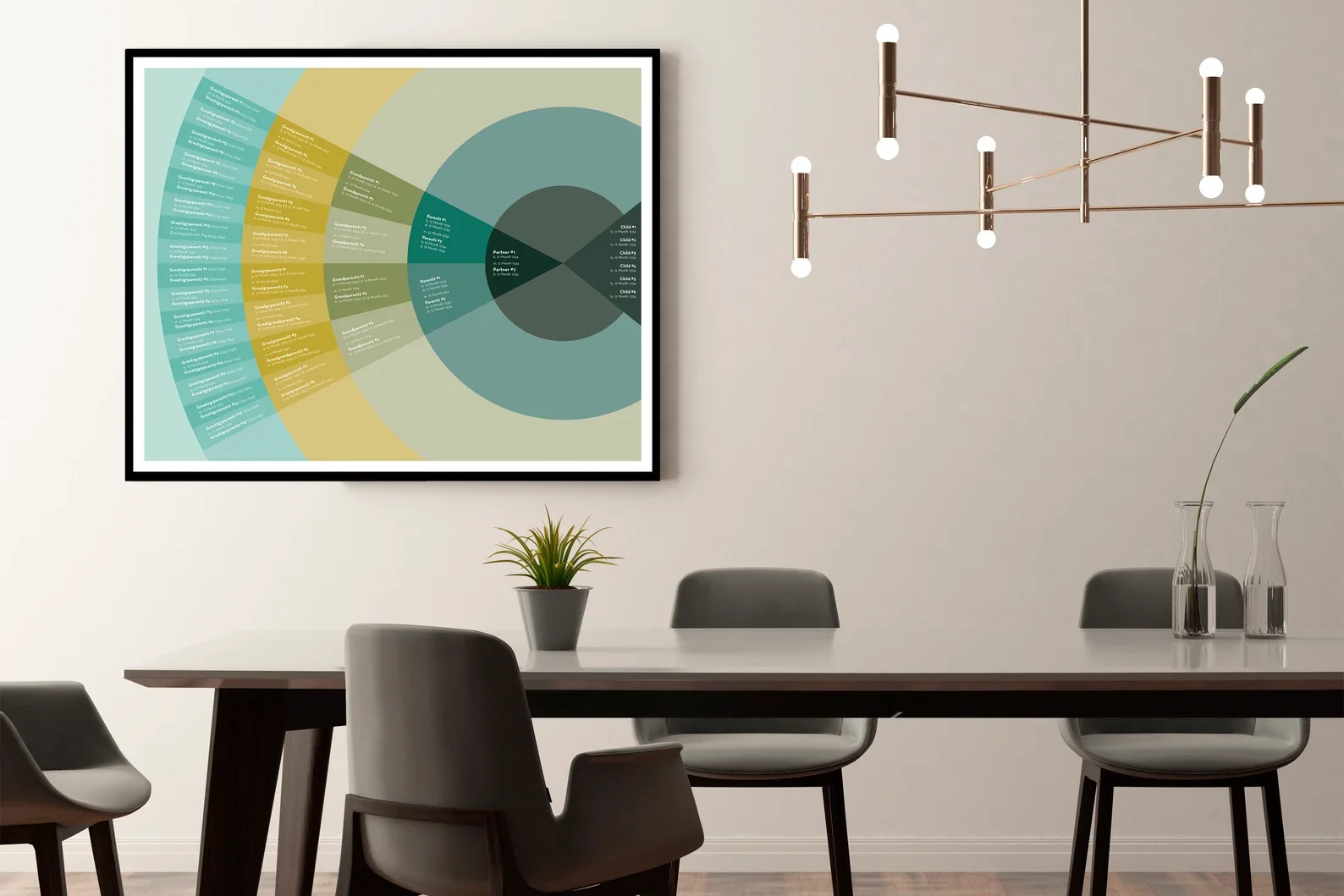 80. Custom Family Illustration – This is a super neat, personalized image that grandma can display proudly on Grandparent's Day or anytime! For another unique custom look, check out PaintYourLife!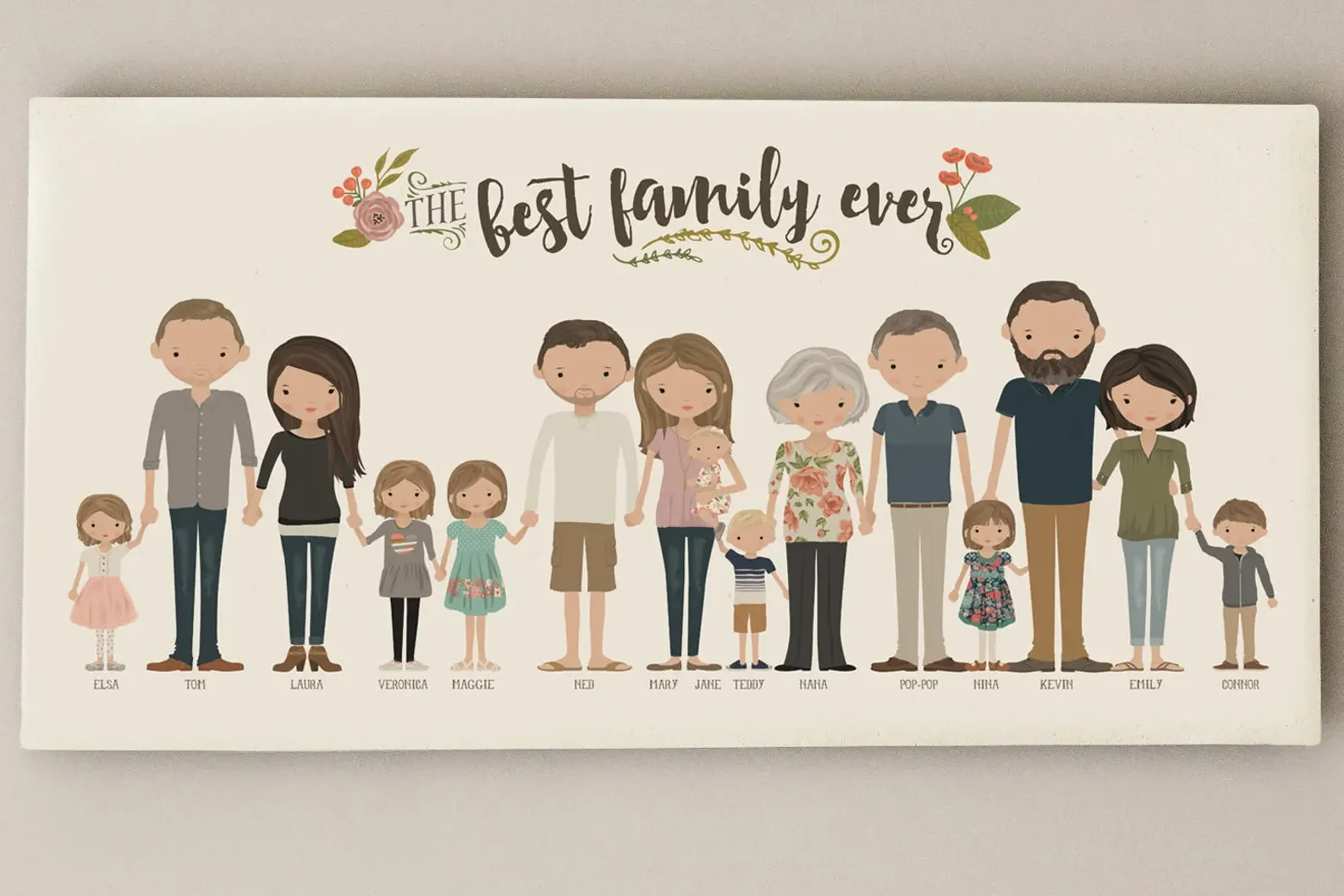 81. Letters to my Grandchild– Stationary and 12 different prompts that will encourage grandparents to write to their grandchildren! This will be a treasure for the giver and the receiver.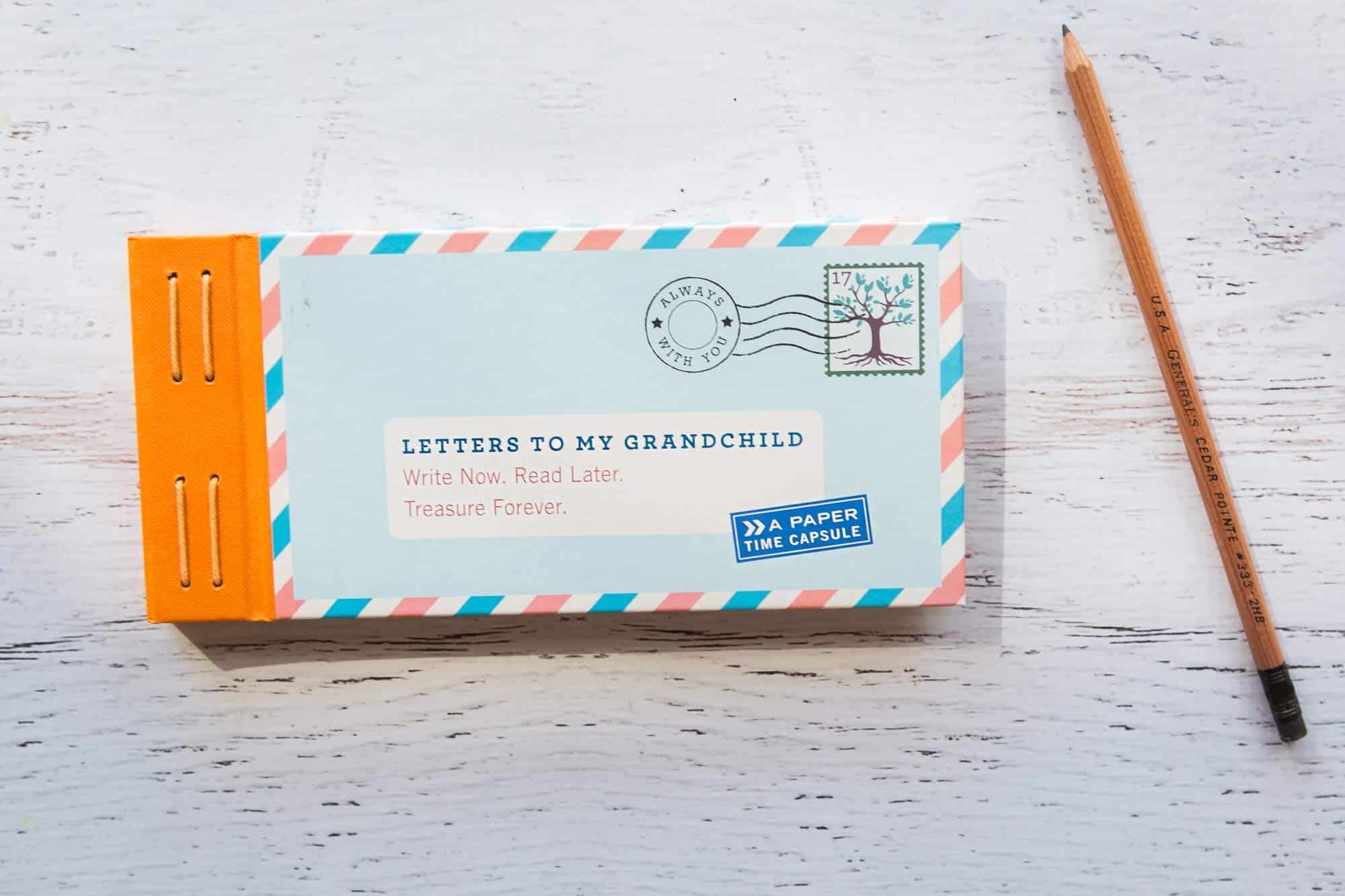 82. Letters to my Grandparents– The flip of the set above! Now you get to write special letters to your grandparents in this "paper time capsule."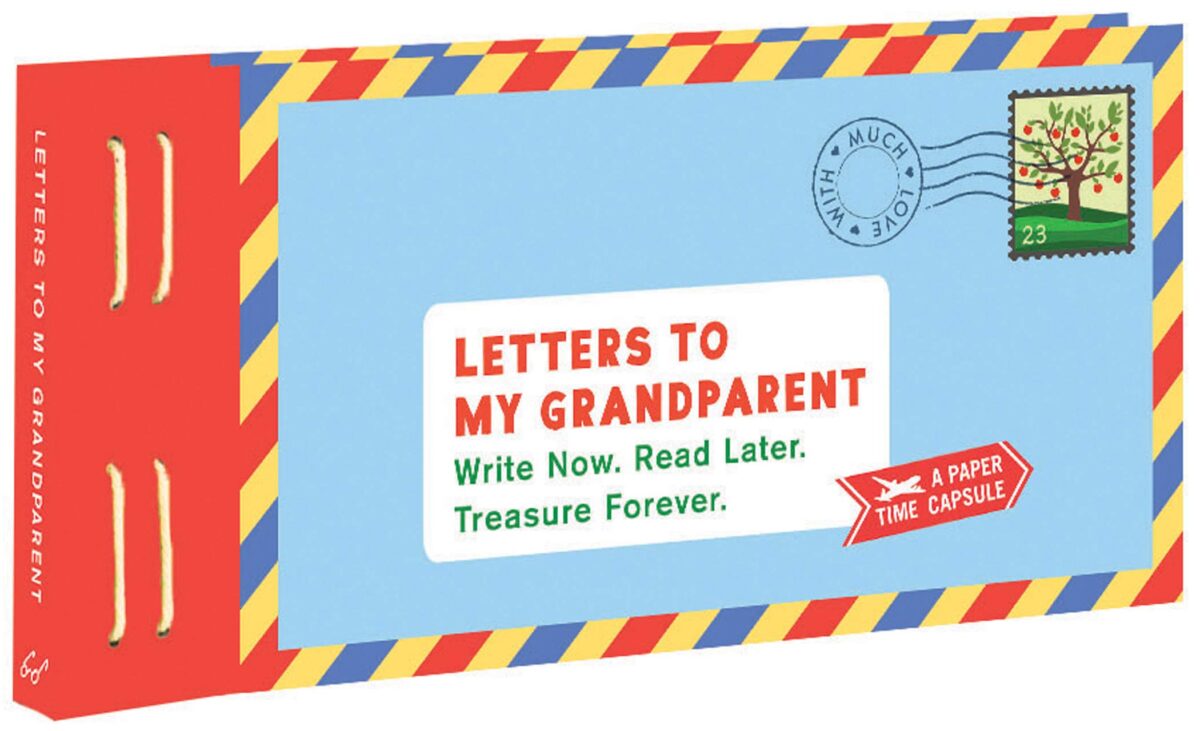 83. Portal – Portal is the new way to video chat with your grandparents! They can speak directly to it and it will call you up!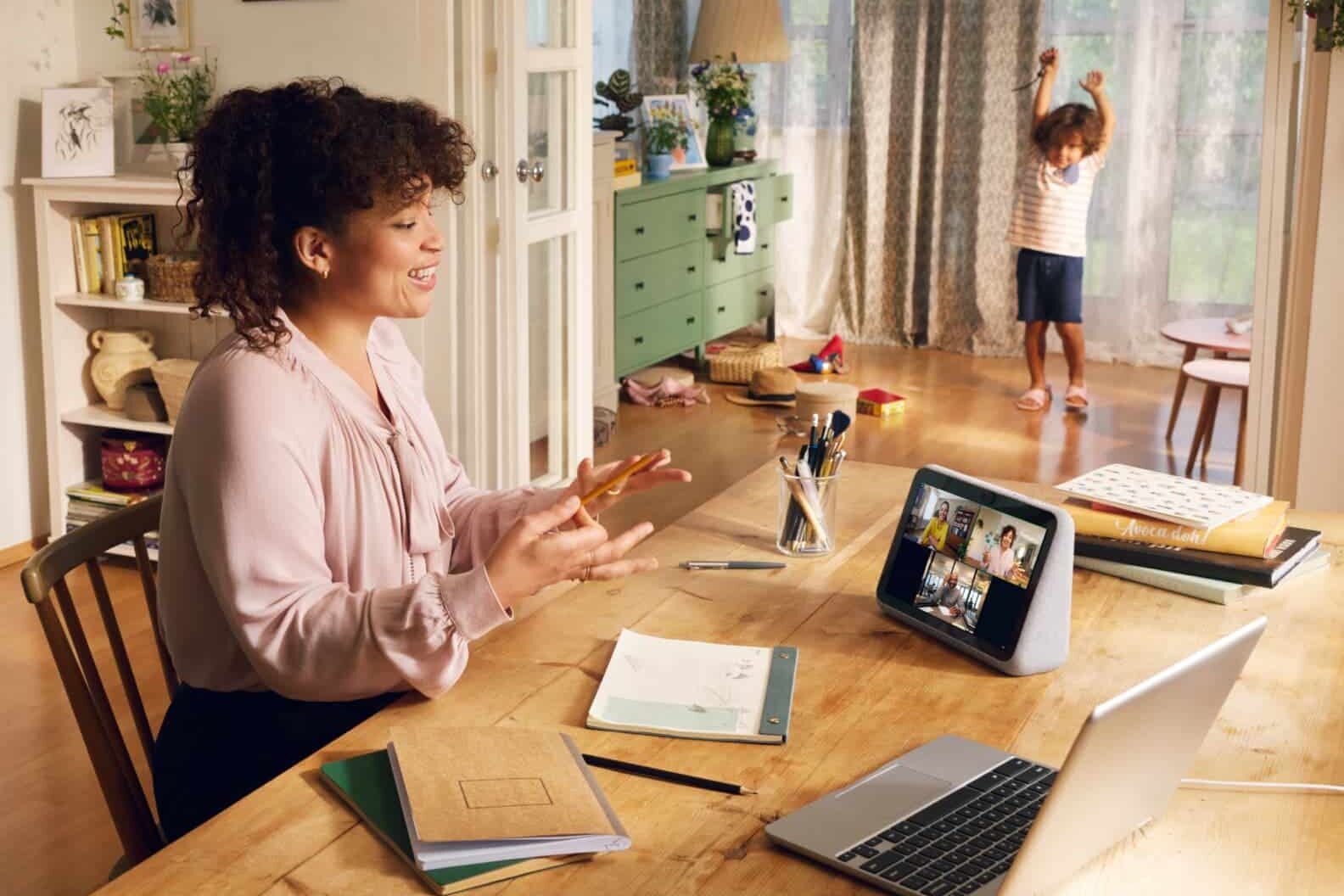 84. Personalized Mug – Let Grandma sip her morning tea with her favorite kiddos, even if they aren't there with her.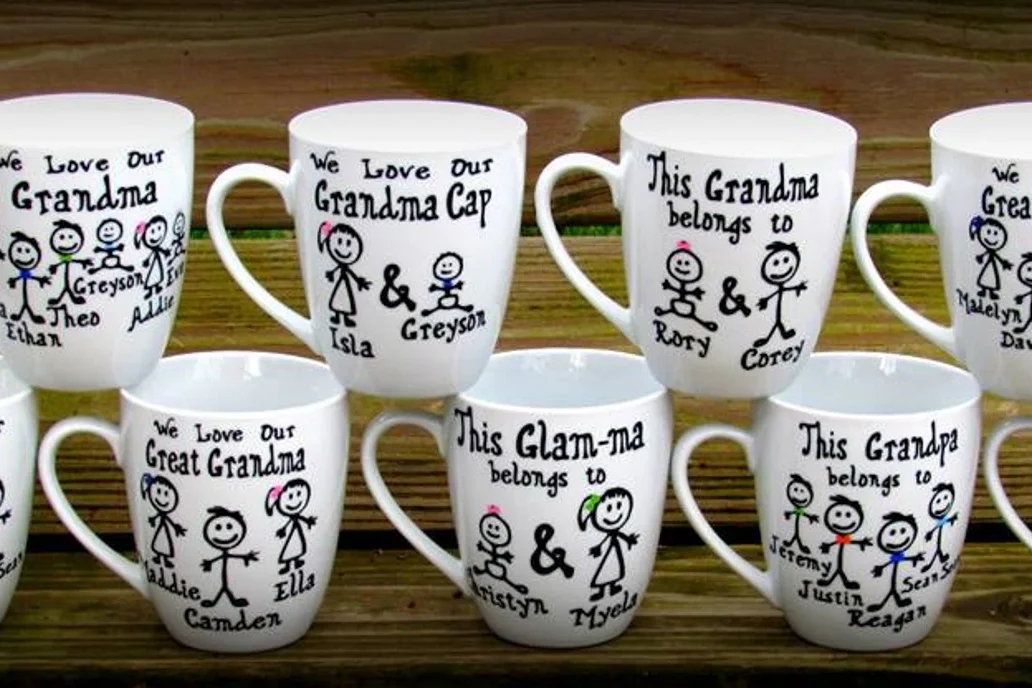 85. Handwriting Bracelet – Have a bracelet created with your handwriting for Grandma to wear or have her writing made into a bracelet for you.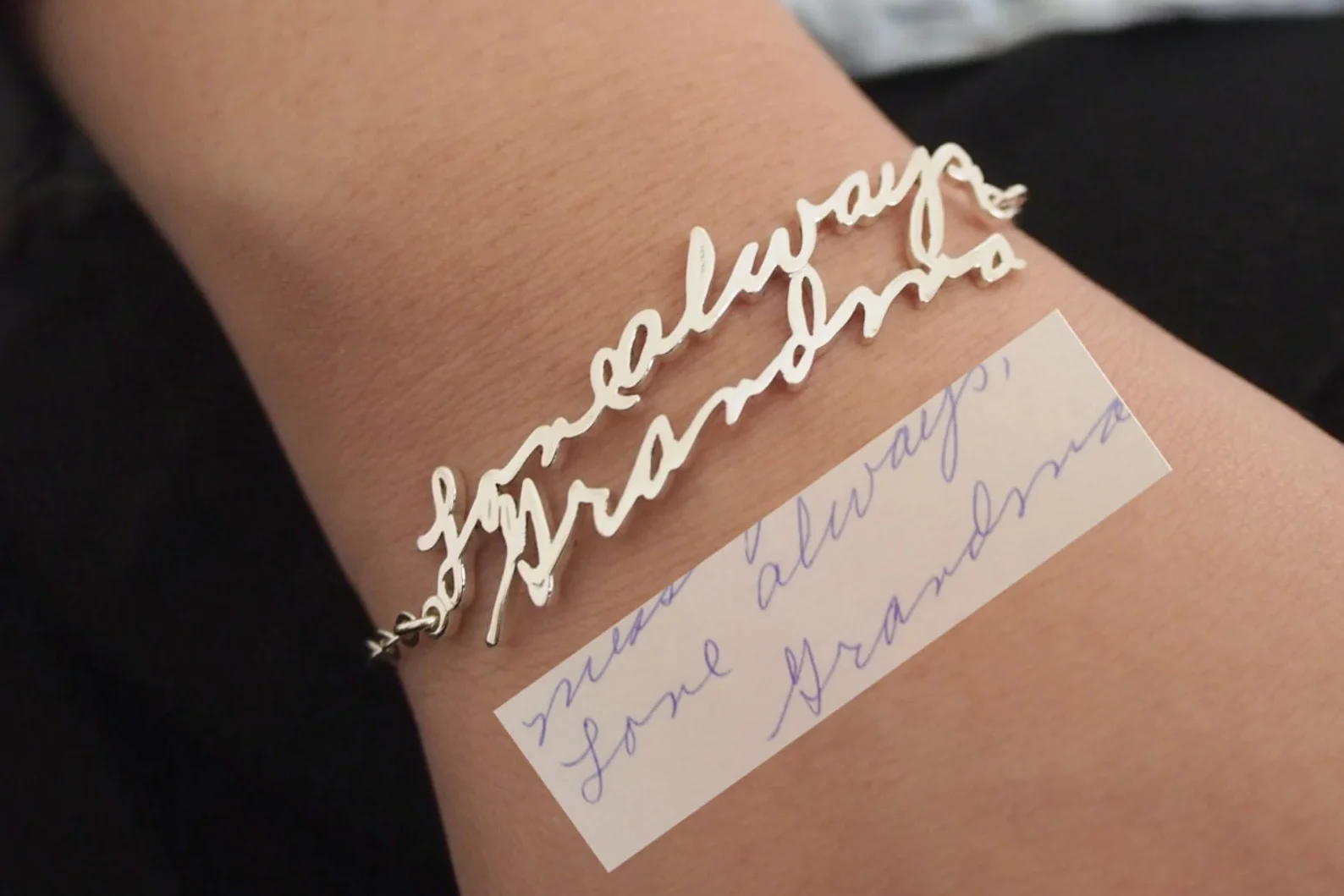 86. Long Distance Personalized Photo – A thoughtful Grandparent's Day gift for a grandparent who lives far away!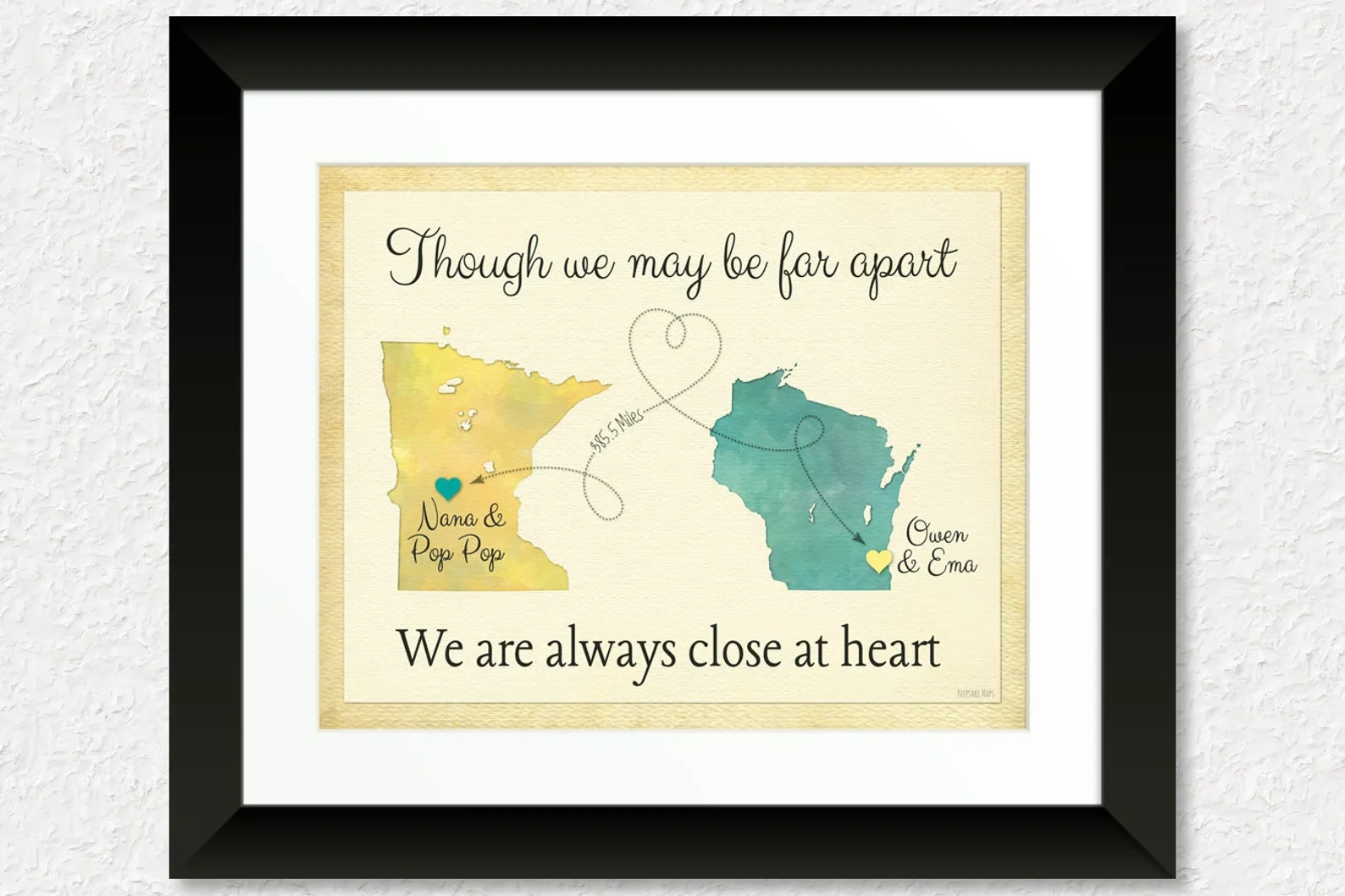 15 Activities to Do for Grandparent's Day
Let grandma and grandpa really join in on the fun this Grandparent's Day with these fabulous ideas!
87. Long Distance Date with Grandma – Buy a copy of the book for yourself and one for Grandma. Then set up a weekly story time over the phone or on FaceTime.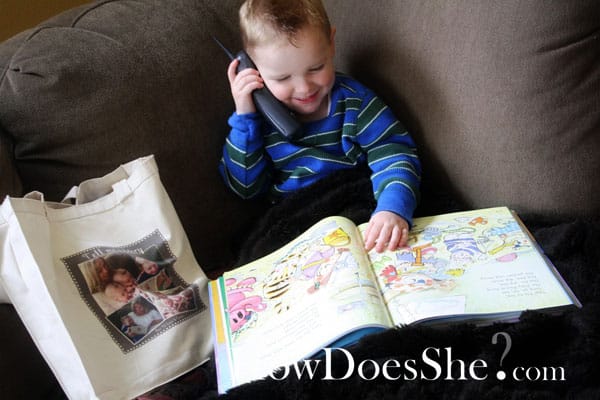 88. Build a Marble Run – Let Grandpa's inner child come out as he helps you build the ultimate marble run.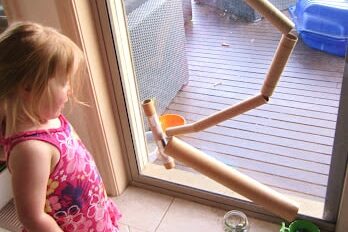 89. Paint Pottery – Get crafty! Paint pottery at a pottery studio like Color Me Mine or even just a picture together. You could paint these cute heart mugs!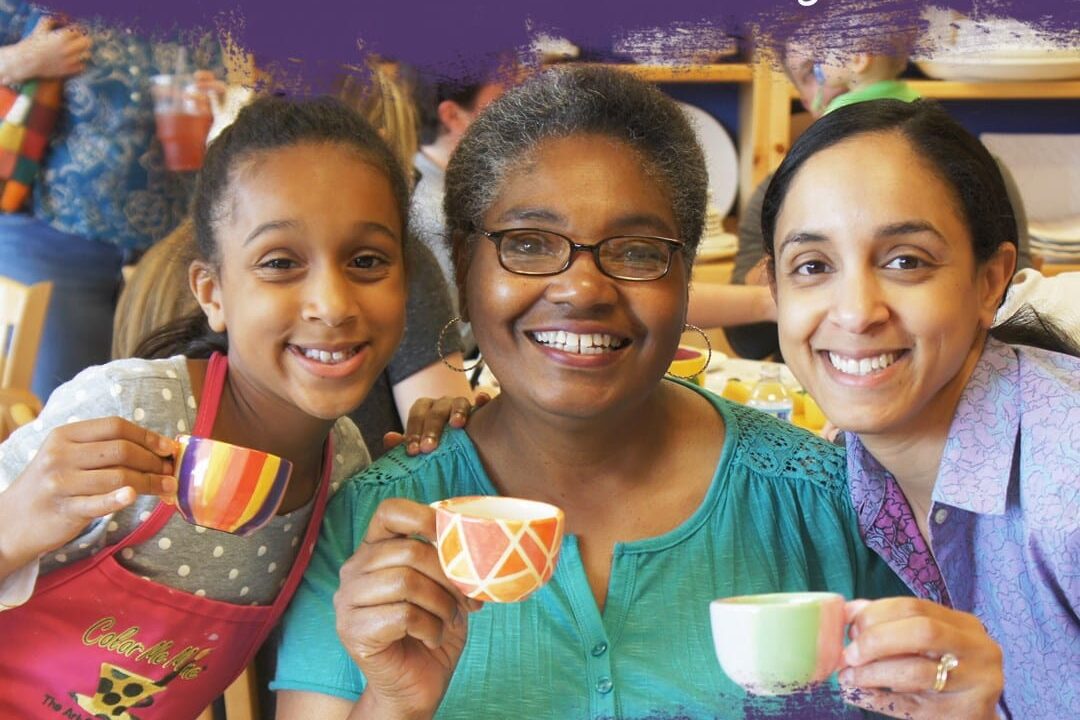 90. Plant a Garden – This becomes such a neat experience for the kids as they watch the things they've planted grow right before their eyes.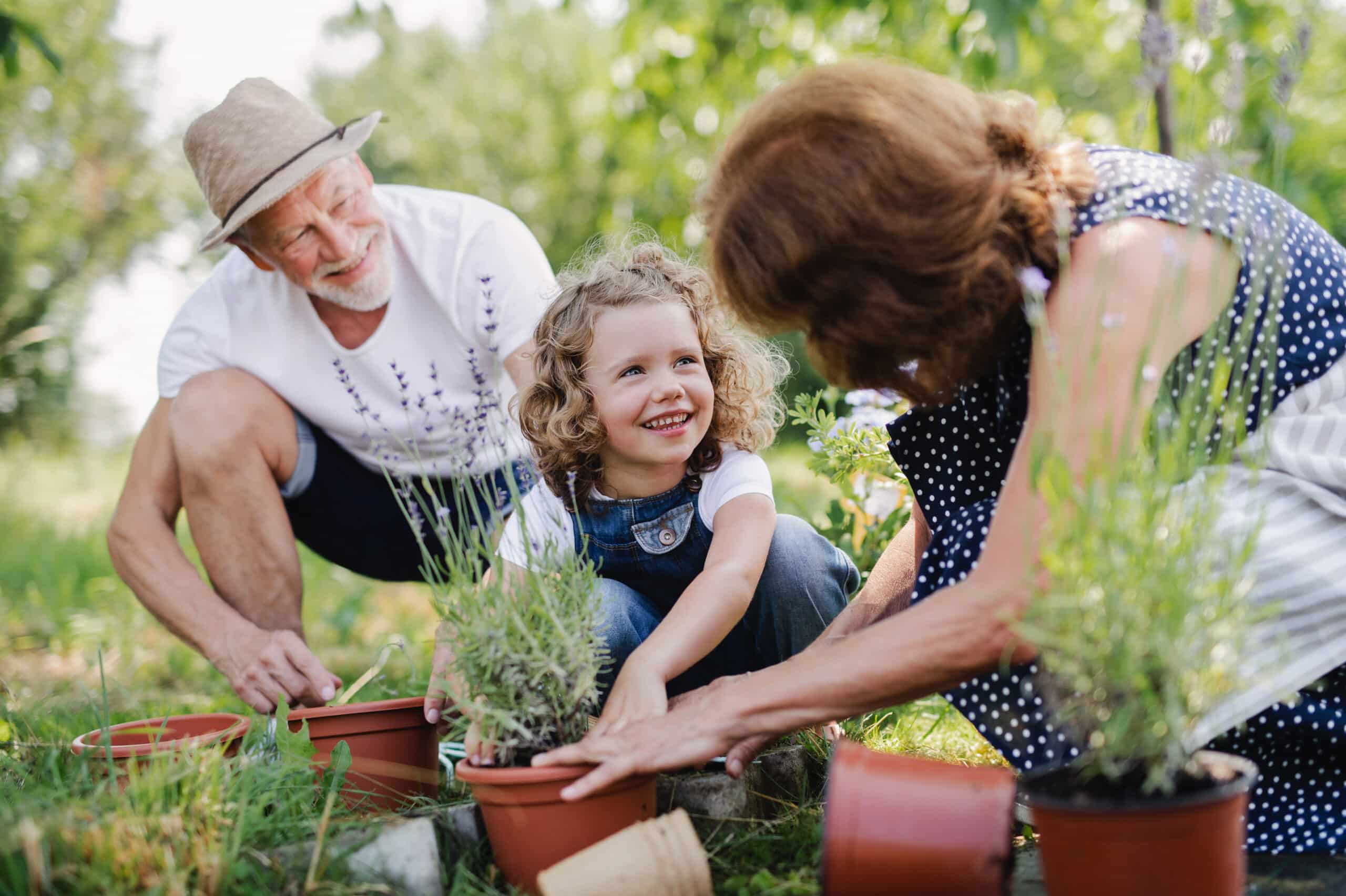 91. Learn and Play a Board Game – Grandparents are the best at teaching you how to play a new game! Grab one and have a very Happy Grandparent's Day together.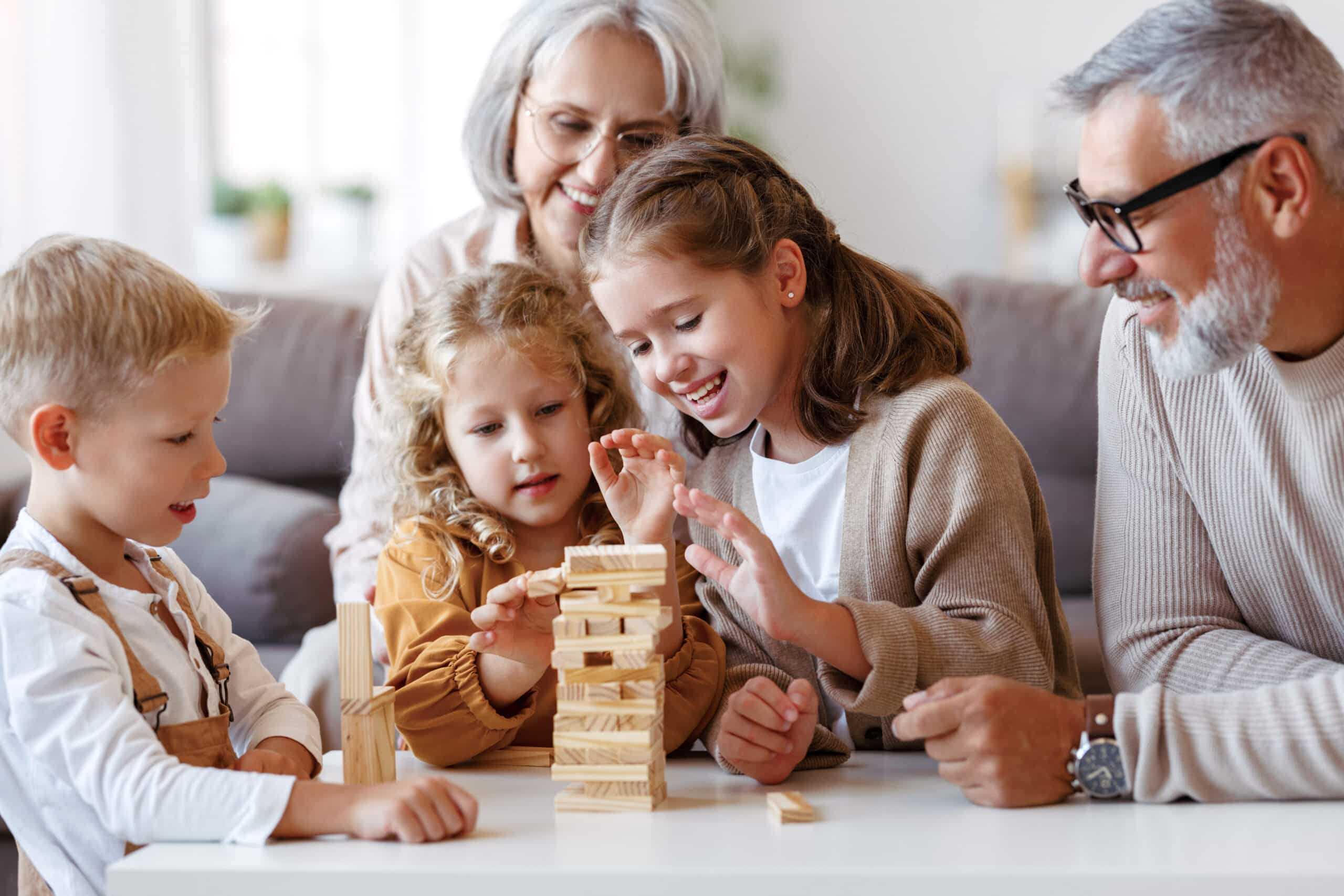 92. Have a Movie Night – Invite Grandpa over for popcorn and the latest kid movie.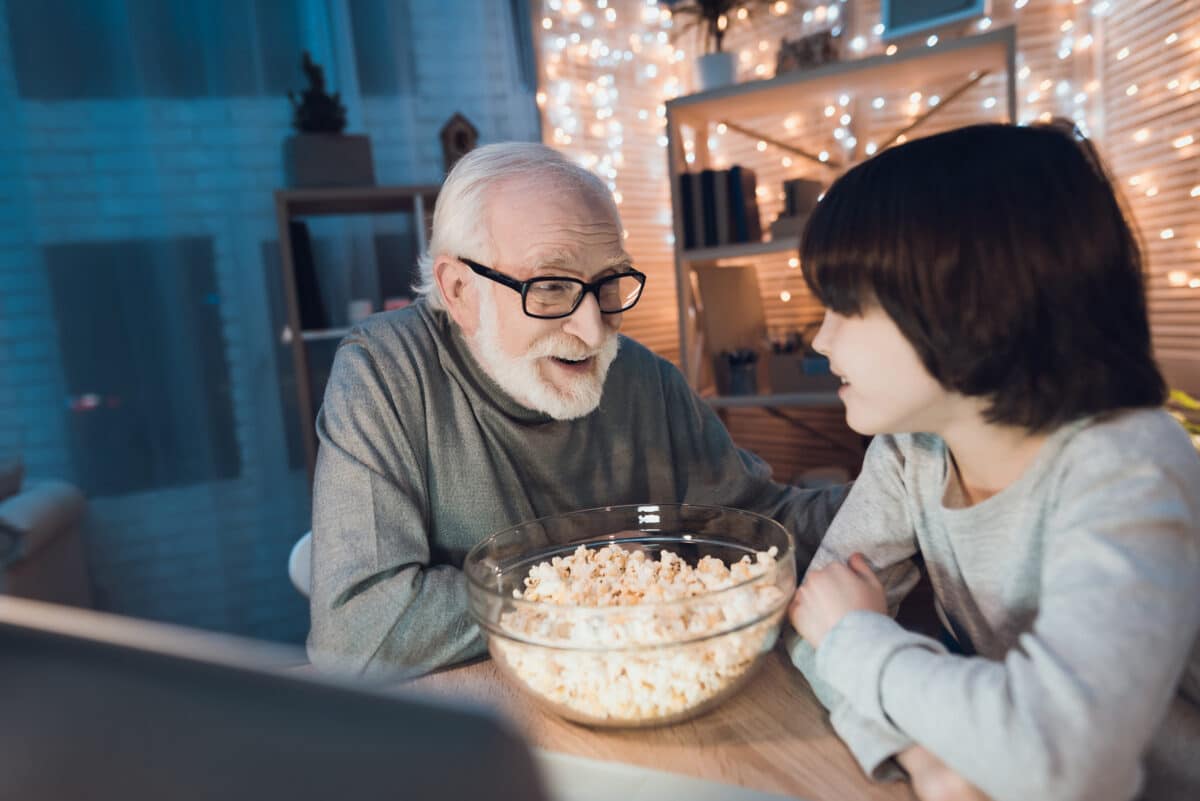 93. Go Fishing – Grandpa is the best teacher when it comes to fishing!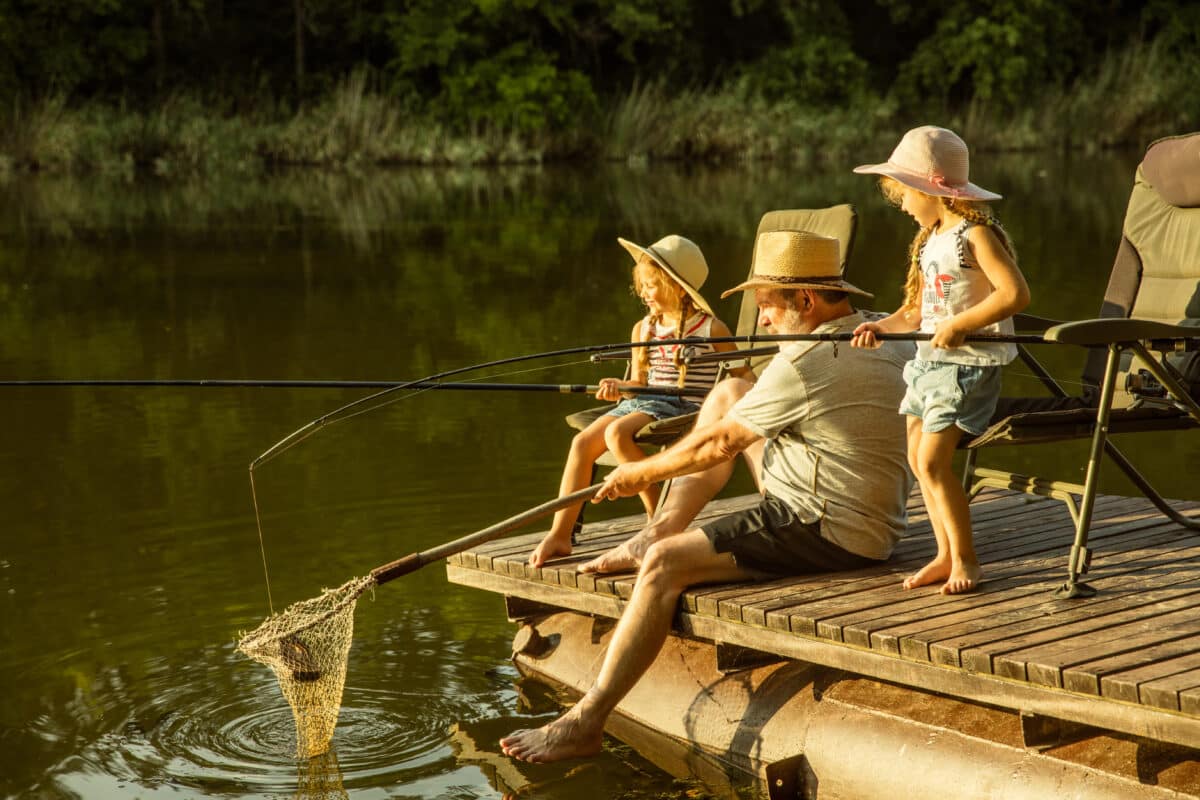 94. Read a Book – Reading is a great way to bond and snuggle.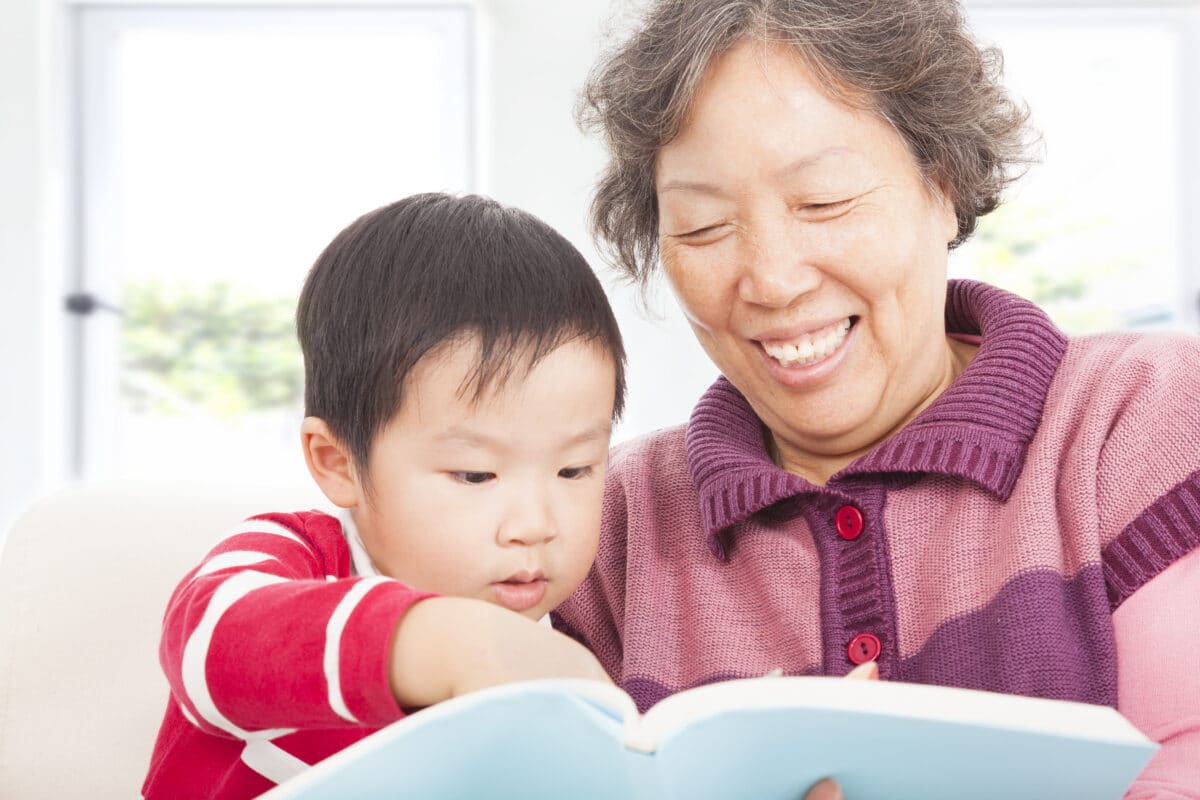 95. Bake Together – Have Grandma share her favorite recipe with you as you bake together.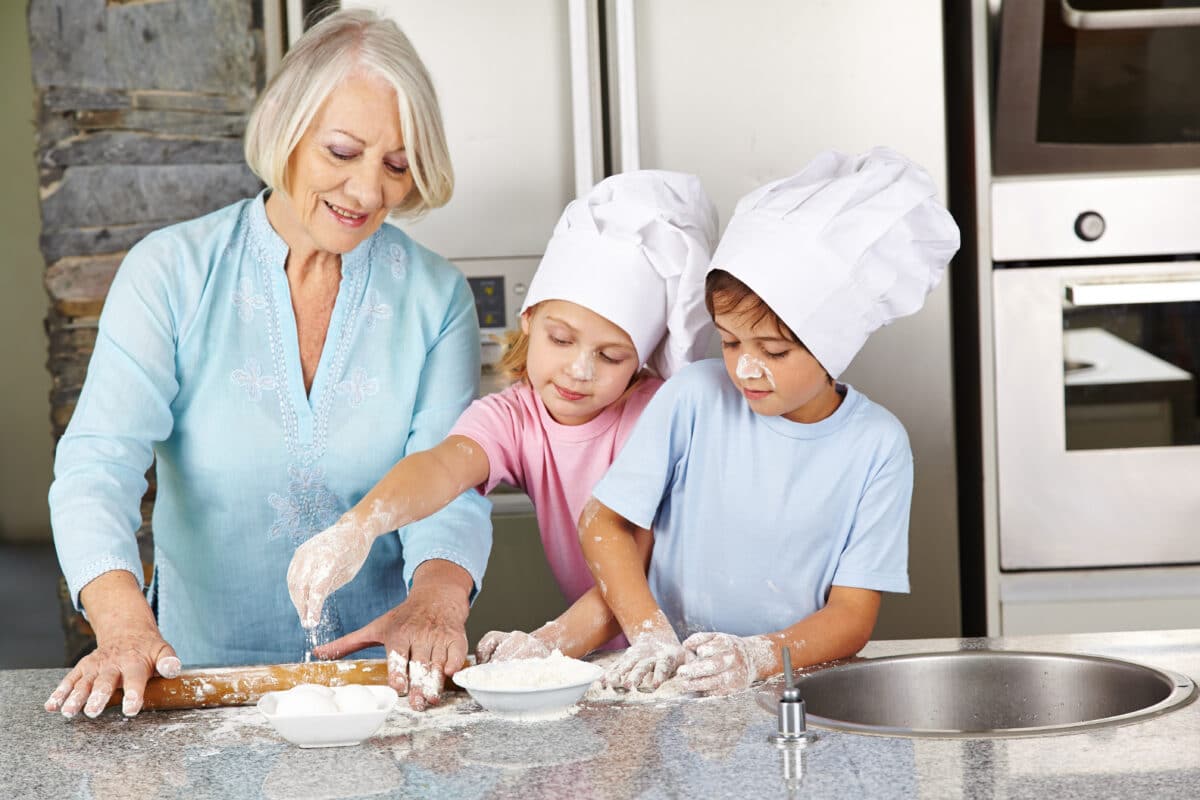 96. Go for a Hike or Walk – Explore the outdoors and see it through your grandparents' eyes.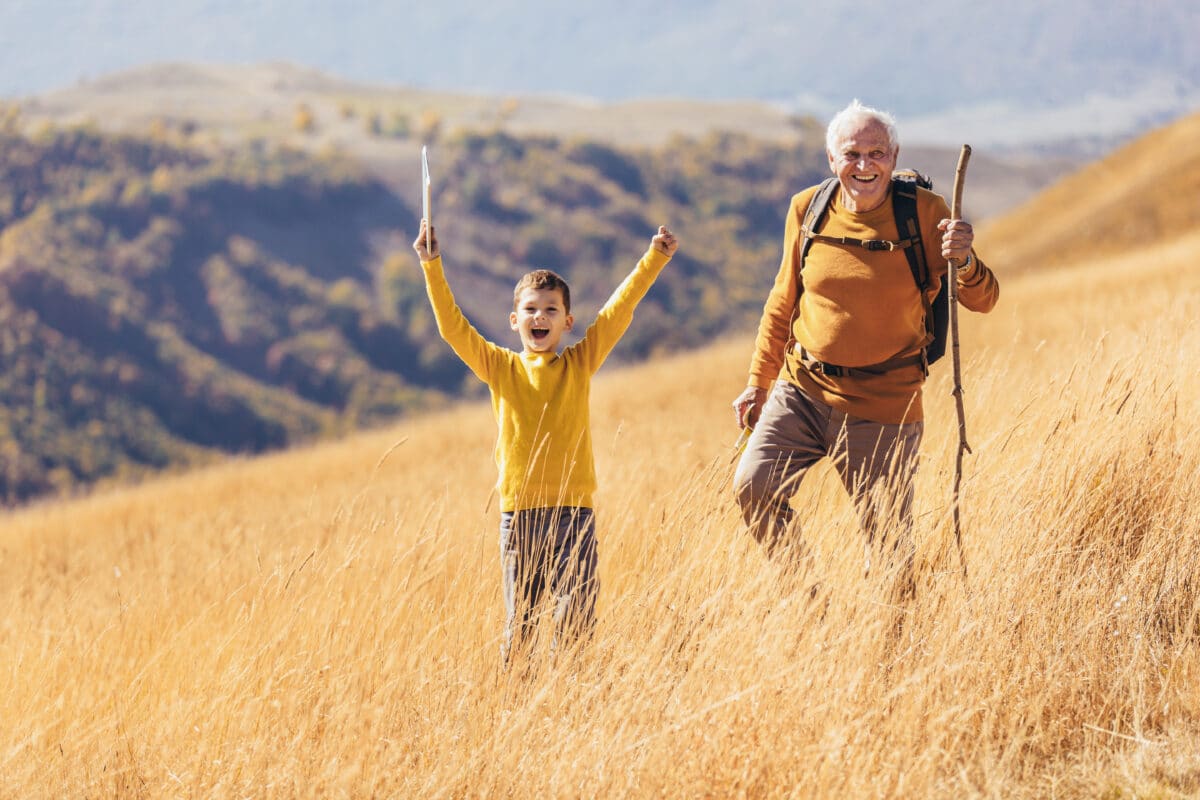 97. Draw Out a Family Tree Together – This idea not only makes for a happy Grandparent's Day bonding activity but a great lesson as well!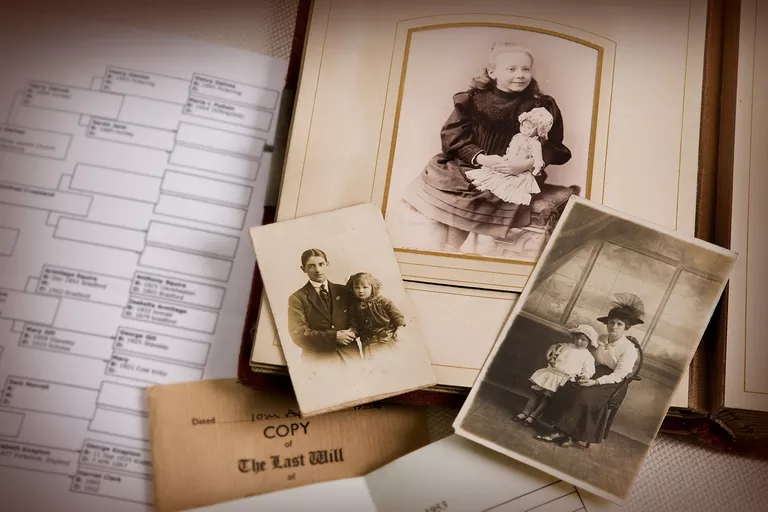 98. Grandparent's Day Bingo – If you and your grandparents have done the listed activity you can mark it off! Try to get a BINGO.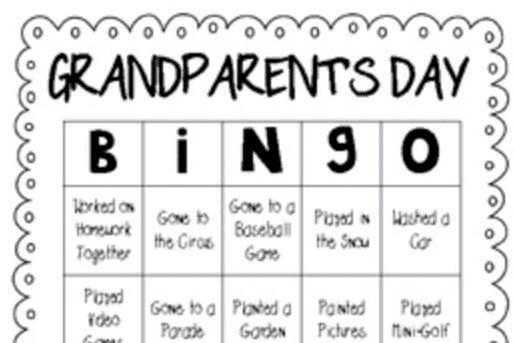 99. Then & Now Activity – How neat is it to compare times when your grandparents were young to what is happening now?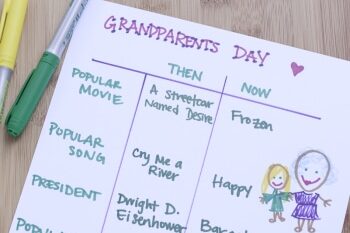 100. Make Bird Feeders – Create your own bird feeders and watch the birds flock to them together.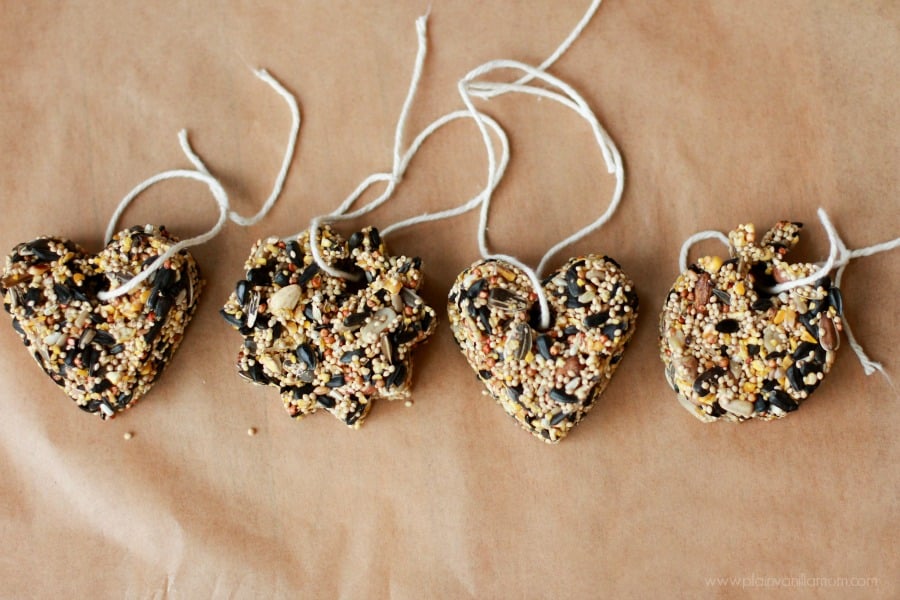 101. Interview with Grandma – Learn more about your grandma with this fun facts sheet.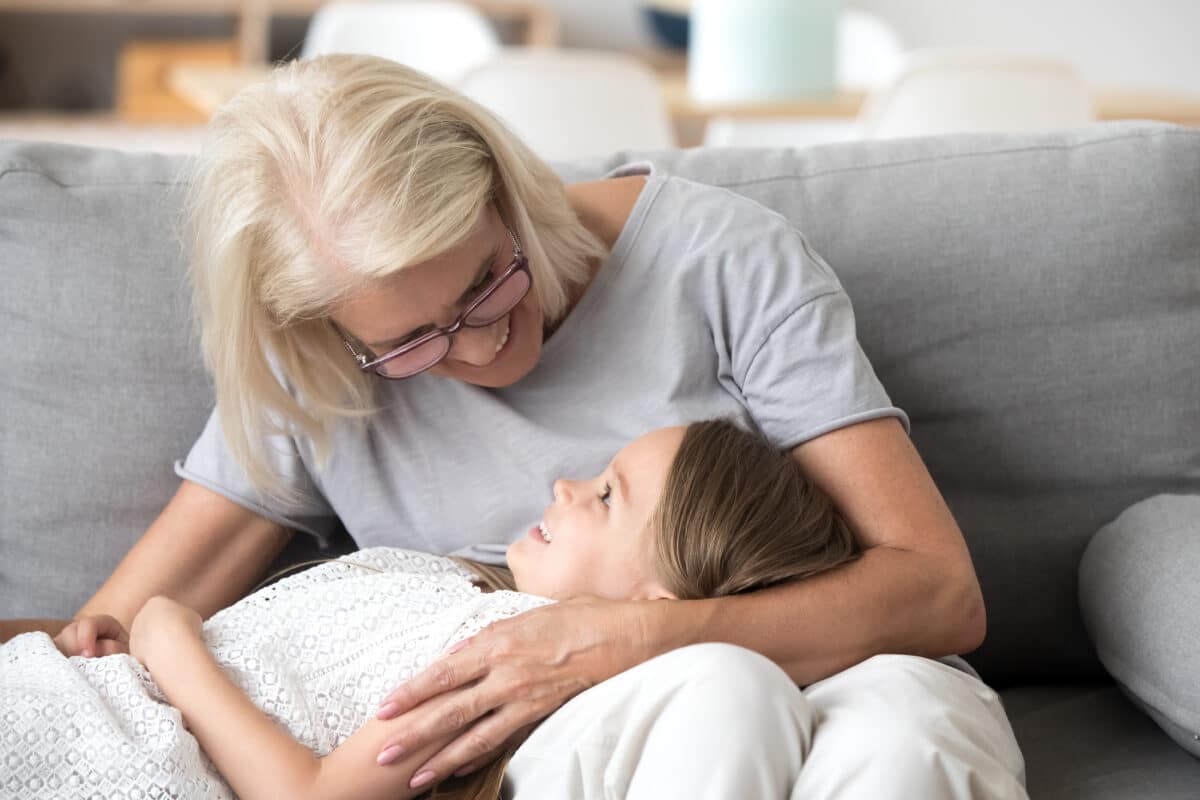 With all of these ideas, you are sure to have a very Happy Grandparent's Day. Just spending time with you will make it a day your grandma and/or grandpa won't forget!
For a similar idea, check out our Mini Mom and Dad Date Kits for a great bonding experience between parents and children.
And for MORE great activity kits for kids, check these out:
Babysitter in a Bag: Camping Kit