Healthy Valentine's Day Treats
Filled with treats, sweets, and whole lotta lovin', we Divas are OBSESSED with all things Valentine's Day. But with differing diet restrictions and health goals in the works, it can be tricky finding a treat we're truly in love with! That's why we've created a perfectly pink list of over 100 healthy treats for Valentine's Day that are not only GOOD for you, but Heart's Day approved! Gluten-free, Vegan, Sugar-free or anti-sweets, we're sure you'll find something that will tickle your tastebuds and spice up the romance!

Disclaimer: This post contains affiliate links. To learn more about 'em, click here.
To keep things as blushingly blissful as possible, we've organized our list into four simple categories:
28 Gluten-Free Treats for Valentine's Day
28 Vegan Treats for Valentine's Day
20 Sugar-Free Treats for Valentine's Day
25 Healthy Non-Dessert Treats for Valentine's Day
Ready to start drooling? We are too!
28 Gluten-Free Treats for Valentine's Day
Forgetting the flour and saying goodbye to gluten has never been easier with these 'hearty' treats!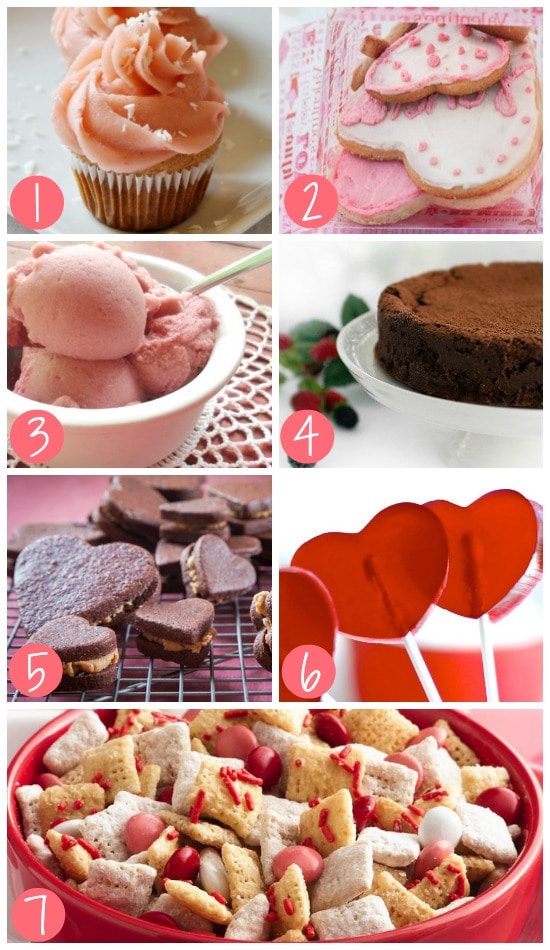 1. Valentine's Gluten-Free Cupcakes (The Colorful Kitchen) – We say the sweet strawberry icing makes this gluten-free goodie an absolute win!
2. Grain Free Sugar Cookies (Against All Grain) – Treat yourself to all of the goodness and none of the grain with this gluten-free sugar cookie! Make sure to snag some Valentine cookie cutters.
3. Pomegranate Sherbet (Gluten Free Easily) – Icy, sweet, and quite a treat, this pomegranate sherbet has stolen our hearts. 
4. Chocolate Truffle Cake (Gluten Free Goddess) – Guess what? You can have your cake AND eat it too!  Dress it up on this pink platter for a festive Valentine treat.
5. Gluten-Free Chocolate Sandwich Cookies (Eat The Love) – A clever, gluten-free spin on the beloved Oreo, this chocolate sandwich cookie is a definite must! You can't have Oreos without milk & you NEED these milk bottles and Valentine straws to make it more fun! Every drink is better in a milk bottle.
6. Natural Fruit Gummy Lollipops (Petite Allergy Treats) – Kids and adults alike will be drooling over these darling fruit pops! Make sure you have sucker sticks on hand for this one.
7. Valentine Chex Mix (Betty Crocker) – A little bit crispy and a lotta bit crunchy, this Valentine's Day Chex Mix is a definite crowd pleaser. Be sure to add the sprinkles.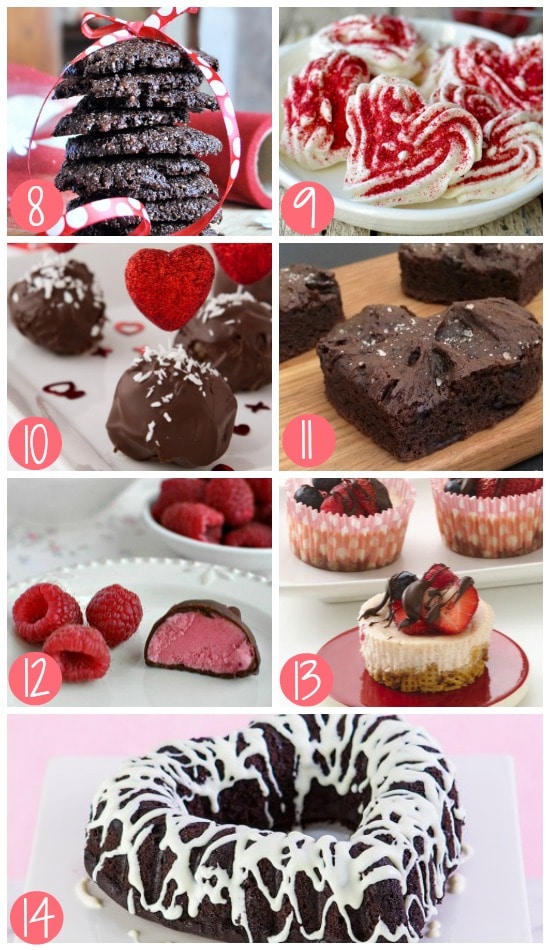 8. Chocolate Lace Cookies (Chocolate Covered Katie) – Chocolate meets cookie in the BEST way possible with this gluten-free treat!
9. Coconut Raspberry Meringue Cookies (Super Healthy Kids) – We're cuckoo for coconut, and you will be too, with this tasty (and gluten-free) cookie.
10. Strawberry Fudge Truffles (Healthful Pursuit) – Five ingredients are all that's needed for a dessert to die for.
11. Brownies with Vanilla Salt (Fearless Dining) – What could be better than a rich, gooey brownie? Why, a little sweet and sassy vanilla salt, of course. You can even bake them in a heart-shaped pan.
12. Chocolate Covered Raspberry Ice Cream Bons Bons (Allergy Free Alaska) – Not only gluten-free, these ice cream filled wonders are also Paleo and Vegan! A true triple threat.
13. Triple Berry Mini Cheesecakes (Betty Crocker) – We practically consider cheesecake a food group so this gluten-free version is at the top of our list!
14. Chocolate Valentine Cake (Gluten Free Canteen) – Not only a Valentine's treat for the tongue, this heart-shaped bundt chocolate cake is a beauty as well!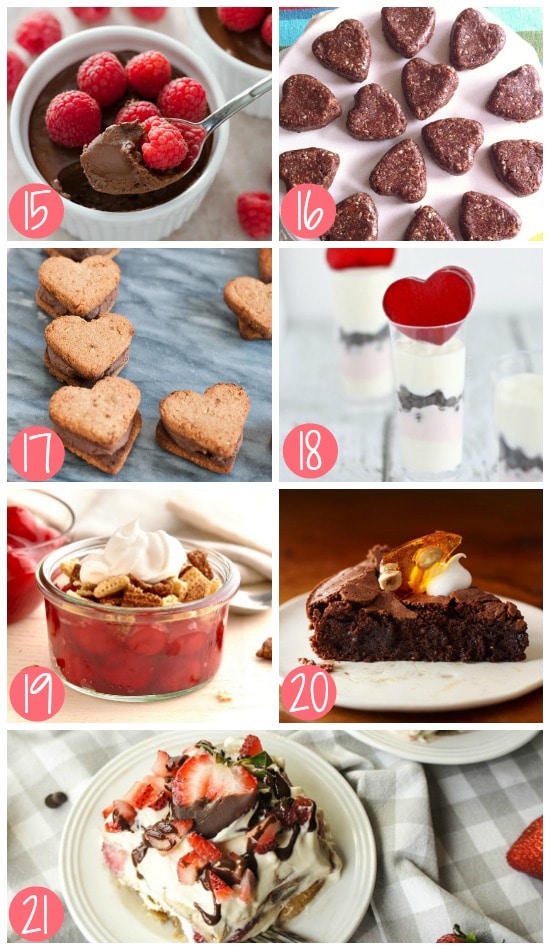 15. Dark Chocolate Pots de Creme (Cook Eat Paleo) – Smooth, sweet, and little bit sultry, this chocolatey dessert is best shared with a friend. Or maybe not…
16. German Chocolate Bites (Cha Chas Gluten Free Kitchen) – Any time you can add "healthy" to the description of German Chocolate, we are SO there!
17. Heart-Shaped Coconut Flour Cookies (Dine Dream Discover) – Swapping traditional flour for its gluten-free coconut counterpart is what makes these heart-shaped treats so special! The original idea we had here no longer exists, so we found another option for you!
18. Parfait Fruit Gummies (Petite Allergy Treats) – If there's anything cuter than an all-natural fruit gummie, it's GOT to be these bad boys! 
19. Mini Cherry Crisps (Betty Crocker) – Perfectly portioned and gluten-free, these mini crisps are almost too cute for words!  Serve them in these mini dessert cups.
20. Flourless Chocolate Hazelnut Cake (Good Housekeeping) – Who knew no-flour could be so nice?
21. Chocolate Covered Strawberry Greek Yogurt Tiramisu (Vitamin Sunshine) – We're in absolute heaven and we know why! It's all thanks to this sweet treat.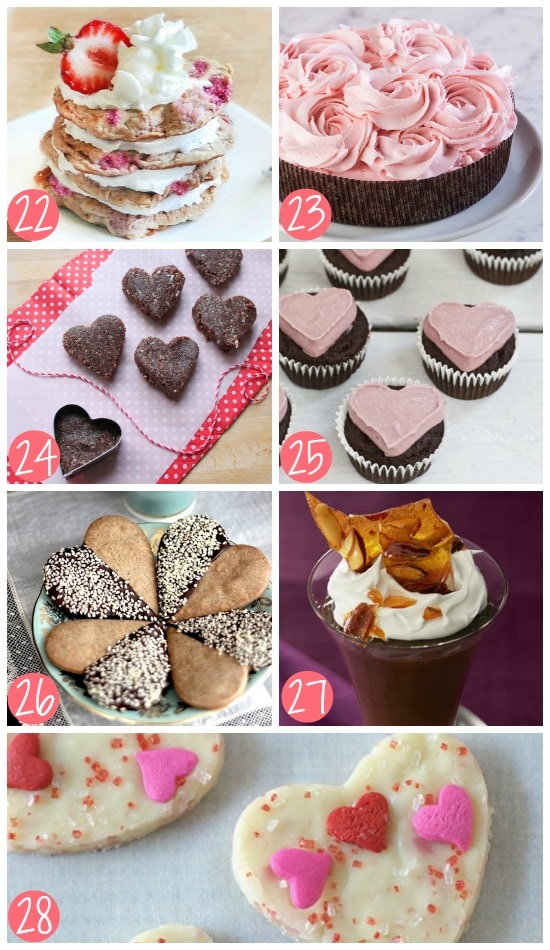 22. Strawberry Shortcake Pancakes (Chocolate Covered Katie) – Infuse a little gluten-free goodness into your Valentine's Day breakfast with these sweet and clever cuties! You could even pair it with these sweet love notes for a fun breakfast in bed.
23. Chocolate Valentine Rose Cake (Gluten Free Canteen) – A little bit floral and a lotta bit fabulous, this is one chocolate cake that tastes as good as it looks.
24. Almond Date Energy Bars (Itsy Bitsy Foodies) – Any time we can make energy bars a little bit better is good day for us! That's why we can't wait to give this healthier version a go!
25. Vegan Chocolate Cupcakes (Vegan Richa) – We can't wait to sink our teeth into these vegan, grain-free goodies! The original idea we had here no longer exists, so we found another option for you!
26. Buckwheat Shortbread (Kitchen Vignettes) – It only takes six basic ingredients to whip up these heart-shaped shortbreads that are guaranteed to please.
27. Dark Chocolate Mousse (Good Housekeeping) – We like to eat dark chocolate as much as we can, and you should too! For the antioxidants, of course… This cute love topper will make it look as good as it tastes.
28. Minty White Chocolate Fudge Bites (Fearless Dining) – Add a little mint to each moment with these white chocolate goodies!
28 Vegan Treats for Valentine's Day
Ditch the dairy (and all other animal products) with these romantic recipes; perfectly plant-based and lip-smacking good!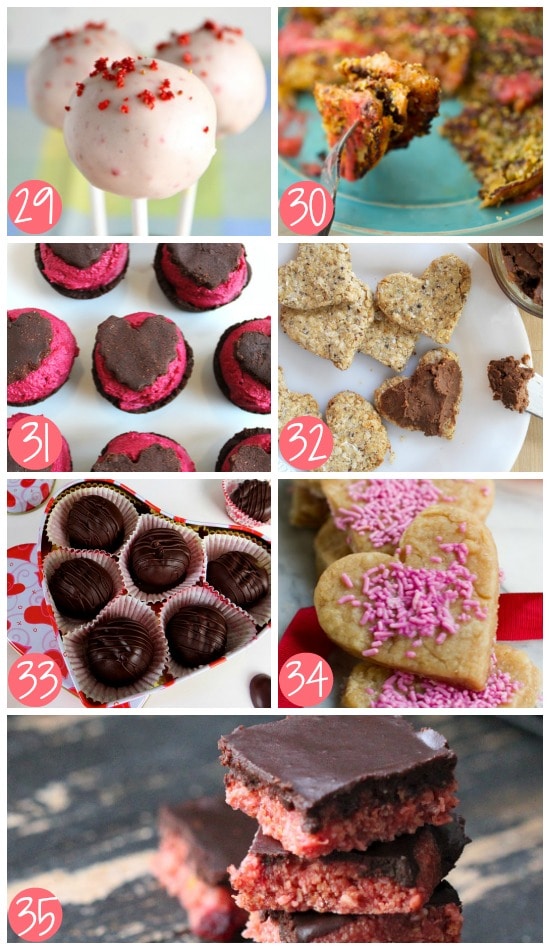 29. Raw Cake Pops (Wallflower Kitchen) – Totally vegan and beyond adorable, we think these cake pops are 'raw'-some! Make sure to have cake pop sticks on hand.
30. Strawberry Swirl French Toast (Healthy Happy Life) – Breakfast is about to get a little sweeter with this vegan french toast treat!
31. Triple Chocolate Mousse Brownie (Purely Twins) – Did someone say chocolate? We're SO there. The original idea we had here no longer exists, so we found another option for you!
32. Coconut Oatmeal Cookies with Chocolate Hummus (The Colorful Kitchen) – Coconut, oatmeal, and a few other not-so-secret ingredients combine to make a Valentine treat that's good and good FOR you!
33. Valentine Cashew Butter Balls (Pocketfuls) – Dipped in chocolate and filled with all sorts of cashew-y goodness, these Valentine Cashew Butter Balls are a definite must. Display them in cute muffin liners.
34. Valentine's Day Heart Sugar Cookies (Healthy Happy Life) – We're drooling over these heart-shaped sugar cookies with vegan sprinkles to match! You can make all sizes with these cookie cutters.
35. Pink Coconut Chocolate Bites (Vegan Richa) – With ingredients such as chocolate and coconut flakes, these pink treats will be gone in a second.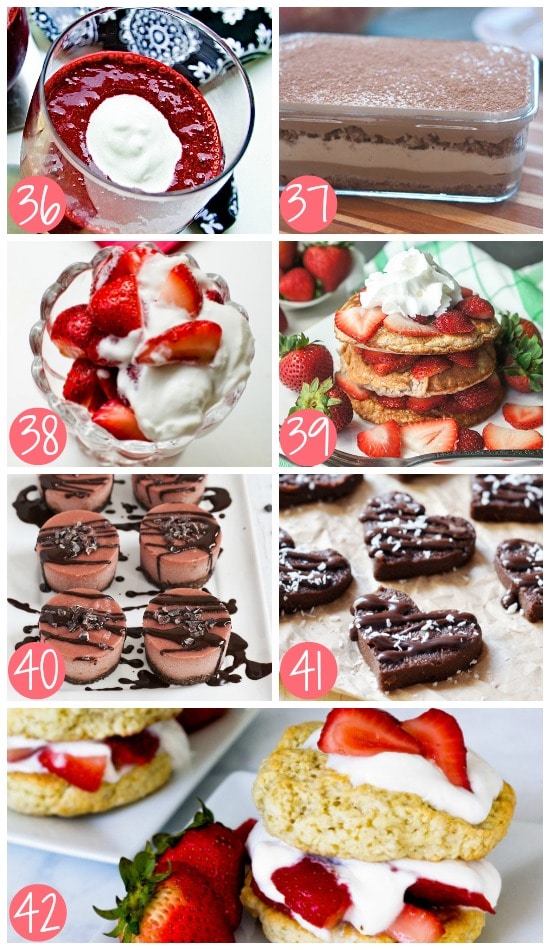 36. Red Velvet Smoothie with Cashew Cream Filling (Keepin It Kind) – Give your sipping a little Valentine flair with this beet based bad boy. Make sure you grab some festive straws or maybe a drink umbrella.
37. Vegan Tiramisu (Peaceful Plate) – Best shared with your sweetie, this vegan tiramisu will set sparks a flyin'. You're welcome.
38. Strawberries and Cream (Healthy Happy Life) – What could be better than a classic berries and cream treat on the day of all things hearts?
39. Strawberry Shortcake Protein Pancakes (Vitamin Sunshine) – Show your regular pancakes a little Valentine lovin' with this protein infused, vegan version.
40. Mini Triple Chocolate Cream Cake (Purely Twins) – Made with pecan, cashews, and coconut oil, these dreamy, creamy treats get an A++!
41. Raw Chocolate Fudge Hearts (The Colorful Kitchen) – Simply sweet in both taste and shape, this raw chocolate fudge will make for one happy Heart's Day!
42. Strawberry Shortcake (Ceara's Kitchen) – It may be shortcake but the goodness factor is long and lengthy!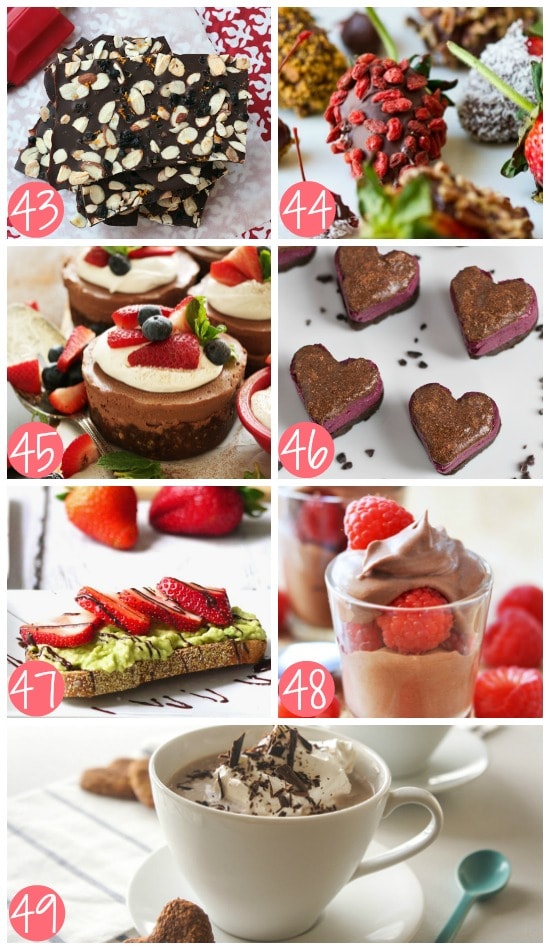 43. Dark Chocolate Bark with Almonds and Blueberries (What Would Cathy Eat?) – Almonds and blueberries combine to make a bark worth biting into.
44. Chocolate Covered Strawberries (Healthy Happy Life) – Topped with vegan-approved treats like coconut and goji berries, this is one chocolate-covered strawberry that won't disappoint. As if they ever do. These gorgeous gold heart toothpicks would be perfect to eat with.
45. No-Bake Chocolate Cheesecake (Minimalist Baker) – Any excuse we have to keep our ovens off is a good one! But that's just one thing that makes this chocolatey cheesecake so tempting.
46. Beet Fudge Chocolate Protein Hearts (Veggiekins) – Guaranteed to satisfy your sweet-tooth, this brownie is a vegan treat that won't be beet. The original idea we had here no longer exists, so we found another option for you!
47. Strawberry Avocado Toast with Dark Chocolate Drizzle (Healthy Recipe Ecstasy) – A chocolate drizzle is ALWAYS a good idea, especially when it's over something as succulent as strawberry avocado toast!
48. 3 Ingredient Chocolate Mousse (The Colorful Kitchen) – With only three ingredients, this mousse-y treat is perfect for V-day.
49. Hazelnut Hot Cocoa (Vitamin Sunshine) – We're crazy for cocoa and can't wait to try this hazelnut version! You gotta drink it out of a heart mug!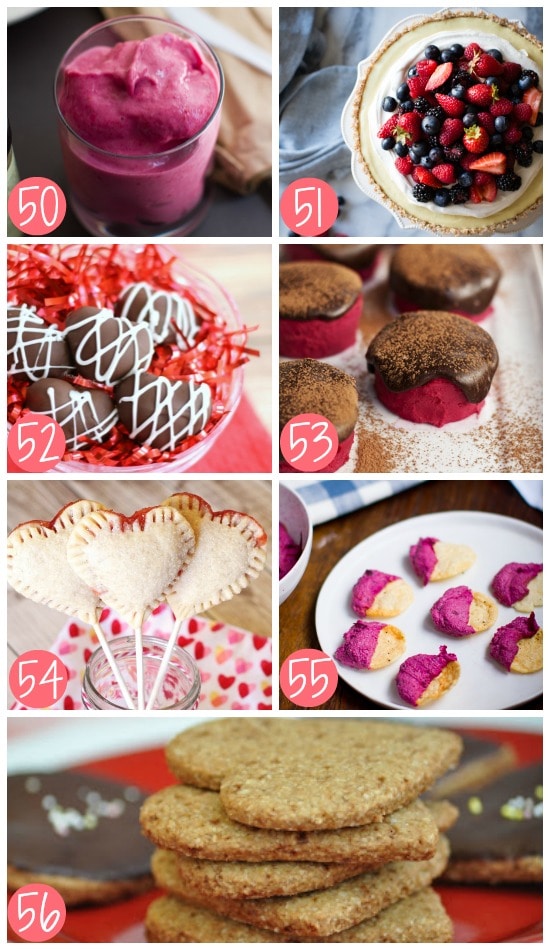 50. Raspberry Smoothie (Healthy Happy Life) – Blend it up and gulp it down because this raspberry packed goodness won't last long!
51. No-Bake Lemon Berry Coconut Cream Tart (Bojon Gourmet) – Pretty as a picture, and packed with vegan ingredients like almonds, maple and coconut, this tart has us drooling.
52. Chocolate Raspberry Truffles (Petite Allergy Treats) – What says Valentine's Day better than truffles? This vegan chocolate raspberry version has us saying, "more please!"
53. Dark Chocolate Beet Cake with Coconut Fudge Frosting (Lily's) – Loaded with nutrients and naturally rosy, this beet cake makes for the ultimate vegan snack. The original idea we had here no longer exists, so we found another option for you!
54. Heart Pie Pops (Sarah Bakes Gluten Free) – Put a heart on a stick and we'll be there in a jif!
55. Beet Walnut Dip (Healthy Happy Life) – Perfectly pink and surprisingly savory, this dip is a trip and a great V-day addition!
56. Oatmeal Heart Cookies (Nourishing Meals) – This recipe is all about oats and we couldn't be happier. These cute cookie notes are the perfect way to say I love you with these yummy cookies.
20 Sugar-Free Treats for Valentine's Day
You don't need sugar for a treat that's sweet and these sugar-free bad boys prove that to be true!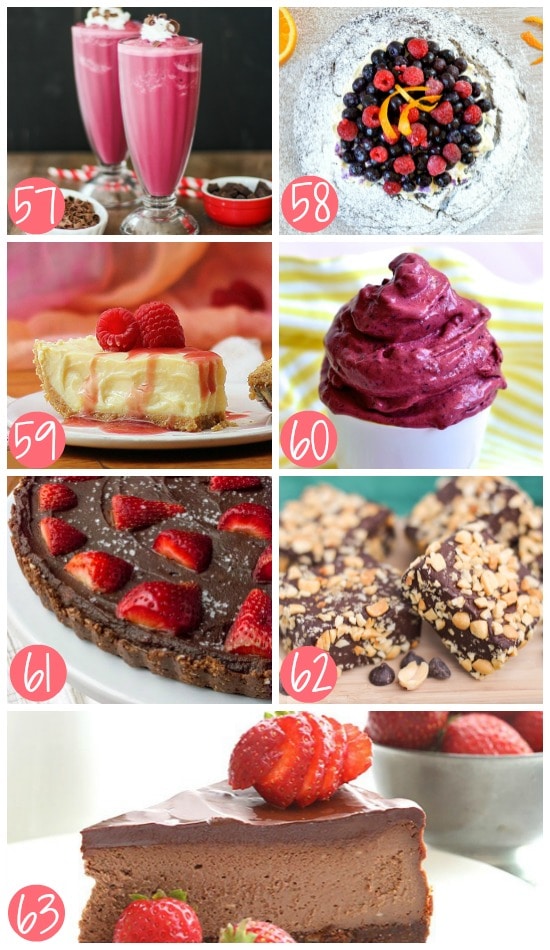 57. Red Velvet Milkshake (Desserts With Benefits) – Combine red velvet, milkshake, and the words "sugar-free" and you've got yourself one Valentine's Day treat that's terrifically tasty! You'll need vintage soda glasses to get the full effect.
58. Sugar-Free Chocolate Orange Cake (Sweet As Honey) – Have all of the goodness, and none of the guilt, with this lip-smacking treat!
59. Greek Yogurt Cheesecake (Chocolate Covered Katie) – We love our greek yogurt, so a recipe that transforms it into a good-for-you cheesecake is right up our alley!
60. 5-Minute Very Berry Ice Cream (Not Enough Cinnamon) – 5 minutes is all that's standing between you and dreamy, creamy goodness.
61. Salted Chocolate Strawberry Tart (Sugar Free Mom) – Nothing says romance like chocolate and strawberries so this clever (and healthier!) spin is a definite must.
62. Chocolate Peanut Butter Fudge (Desserts with Benefits) – For fabulous fudge that's borderline addictive, give this recipe a go!
63. Death By Chocolate Cheesecake (All Day I Dream About Food) – The title of this recipe says it all! It's so good, you might die.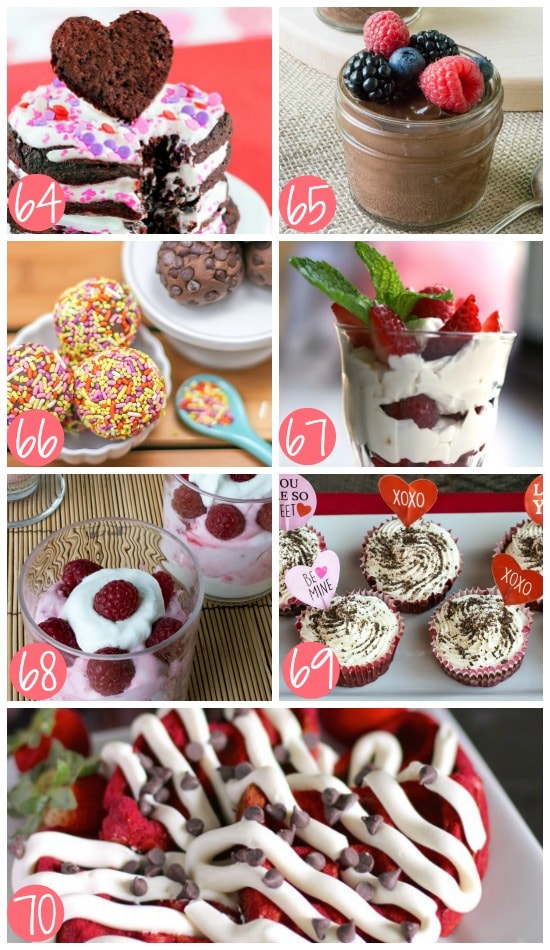 64. Red Velvet Pancakes (Chocolate Covered Katie) – If Valentine's Day means everything red – we've got you covered!
65. Chocolate Pots de Creme (Sugar Free Mom) – Chocolate Pots de Creme, minus the sugar, might be the best thing we've heard all day!
66. Chocolate Fudge Truffles (Desserts with Benefits) – Healthy truffles? Could such a thing be true?! Don't forget the sprinkles.
67. Berries and Whipped Coconut Cream (Cupcakes OMG!) – What do you get when you combine fresh berries and a little homemade coconut cream? Perfection.
68. Raspberry Fool (Sweet Leaf) – Oh-so-fresh and sweeter than sugar (but without it, of course!) this Raspberry Fool will leave you begging for more.
69. Red Velvet Cheesecake Cupcakes (Low Carb Yum) – Cream cheese, vanilla, and unsweetened cocoa make for a dessert that's truly worth drooling over. Make them festive with some heart cupcake toppers.
70. Red Velvet Waffles with Cream Cheese Frosting (Desserts with Benefits) – It's hard to believe this could be sugar-free but 'tis true! By incorporating Truvia, and some other added magic, you'll be seeing red in no time!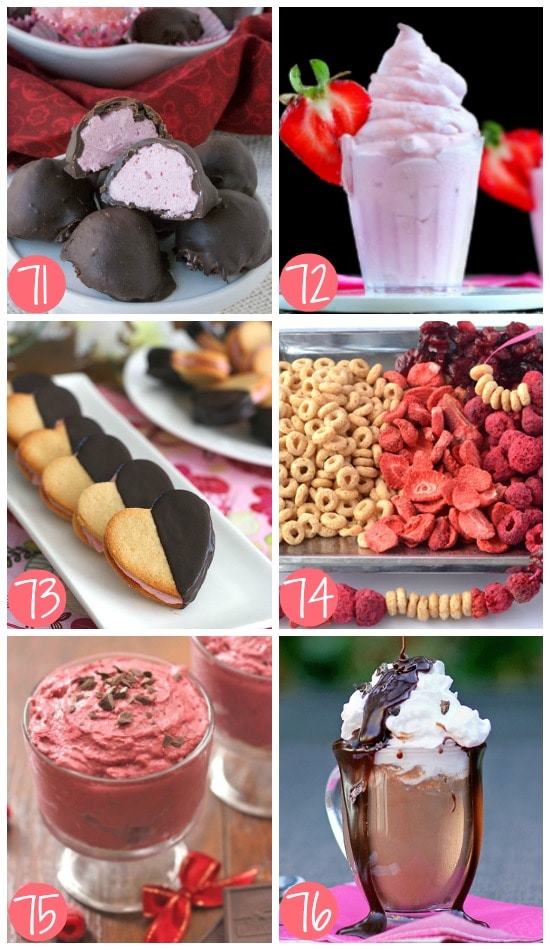 71. No Bake Raspberry Cheesecake Truffles (Sugar Free Mom) – You say cheesecake, we say "yay!" Add the whole no-bake thing into the mix and you've got yourself one steal of a deal.
72. Strawberry Frosting Shots (Chocolate Covered Katie) – So creamy, dreamy, and pink, we can't wait to take a 'shot' at these sweet treats!
73. Strawberry Cream Sandwich Cookies (All Day I Dream About Food) – Both sugar-free and gluten-free, these strawberry sandwich cookies are a definite winner.
74. All Natural Candy Necklace (Super Healthy Kids) – Give those sugar-laden candy necklaces the boot in favor of this all-natural version! You can string it on these to make things even easier.
75. Red Velvet Cookie Dough Dip (Desserts with Benefits) – Cookie dough AND Red Velvet? Is this heaven? You'll need a dessert dish to make it more elegant.
76. Perfect Hot Chocolate (Chocolate Covered Katie) – We can't wait to try this hot chocolate recipe with our loved ones! It claims to be perfect and we're sure that's true! Serve it in a glass mug so you can SEE the goodness!
25 Healthy Non-Dessert Treats for Valentine's Day
Sweets not really your thing? We've got your back with a host of fresh and fabulous non-dessert options!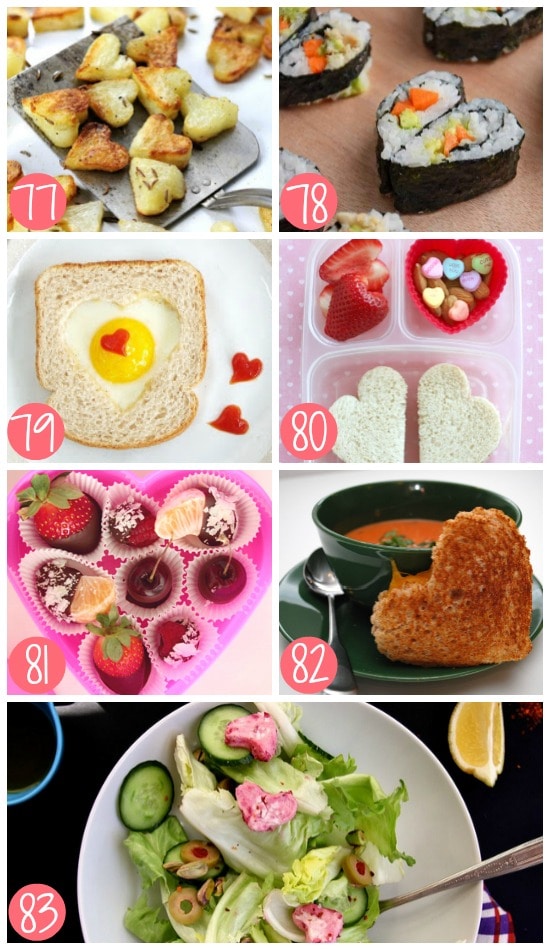 77. Roasted Heart Potatoes (Haniela's) – With a little ingenuity, even potatoes can have a romantic vibe! All you need is a mini heart cookie cutter.
78. Heart Shaped Sushi (Holly's Helpings) – You'll be a rockin' and a rollin' with your sweetie over this darling fish dish!
79. Eggs in the Nest with Heart Ketchup (Cute Food for Kids) – A clever ketchup tutorial gives this Eggs in the Nest breakfast meal a 'hearty' addition!
80. Healthy Valentine's School Lunch (Lisa Storms) – Nix the sugar and show your little ones some lovin' with this Healthy V-day themed lunch! We're in love with these silicone heart cups!
81. Chocolate Covered Fruit (Making Nice in the Midwest) – Make yourself a healthier Valentine's chocolate box with an assortment of chocolate dipped, fruity goodness!
82. Valentine's Day Soup and Sandwich (Make Myself at Home) – A soup-er meal with a heart-healthy sandwich makes for the perfect healthy Valentine's treat!
83. Green Salad with Pink Goat Cheese Hearts (Under 500 Calories) – Give your goat cheese a dash of pink perfection with this clever trick! This recipe is by Joy the Baker.
84. Heart-Shaped Boiled Eggs (Braswell Family Farms) – A truly egg-cellent treat, this is one V-day snack that knocks healthy eating out of the park!
85. Heart-Shaped Watermelon Salad (Craftivity Designs) – Simply whip out that heart-shaped cookie cutter and go to town to craft one delightfully simple treat!
86. Heart-Shaped Sweet Potato Crackers (Merriment Designs) – We think a sweet potato is the PERFECT ingredient for a snack for your sweetheart.
87. Egg in the Basket (Reclaiming Provincial) – Incredibly edible, this heart shaped meal is a great breakfast treat!
88. Valentine's Day Bento Box (Pepper Scraps) – Bento meets Heart's Day in the best possible way with this lucky lunch.
89. Heart Sandwich with Fruit (Wendolonia) – Give your kiddos a Valentine lunch they'll love with this clever setup!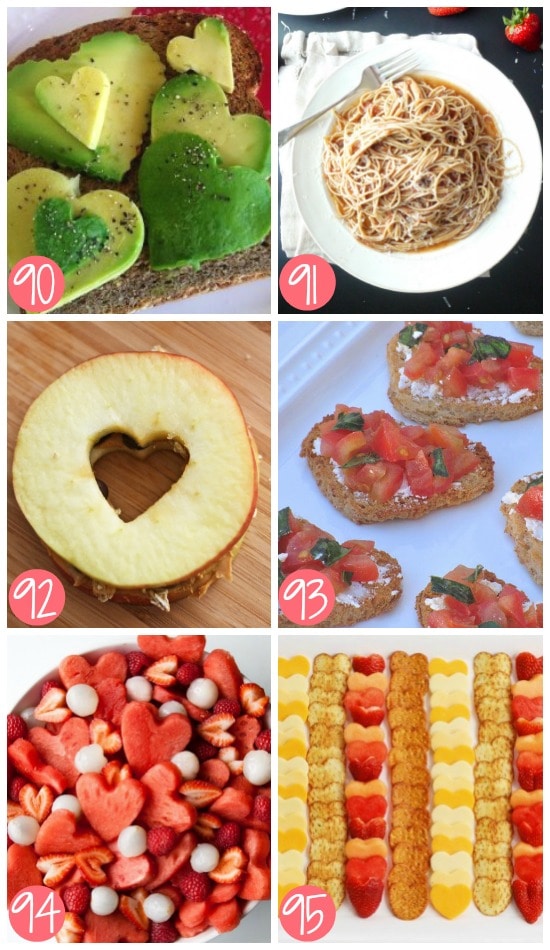 90. Avocado Valentine (Mimi Avocado) – Heart healthy in more ways than one, this clever snack is ready for romance!
91. Strawberry Pasta (Healthy Recipe Ecstasy) – This perfectly pink dish has us so excited for V-day! Now, please pass the pasta!
92. Heart Apple Slice Sandwiches (Happy Together by Jess) – Simply slice, heart-ify, and eat! So easy!
93. Bruschetta Hearts (Jolly Tomato) – Give a little Valentine twist on a classic appetizer with this recipe.
94. Watermelon Heart Fruit Salad (A Designer Life) – So fresh, so fruity, so fabulous! This is one fruit salad you WON'T want to miss.
95. Valentine's Day Fruit and Cheese Platter (Kitchen Fun With My Three Sons) – Especially great for non-dessert lovers, this fruit and cheese platter is the perfect way to have a healthy (and heart filled!) day.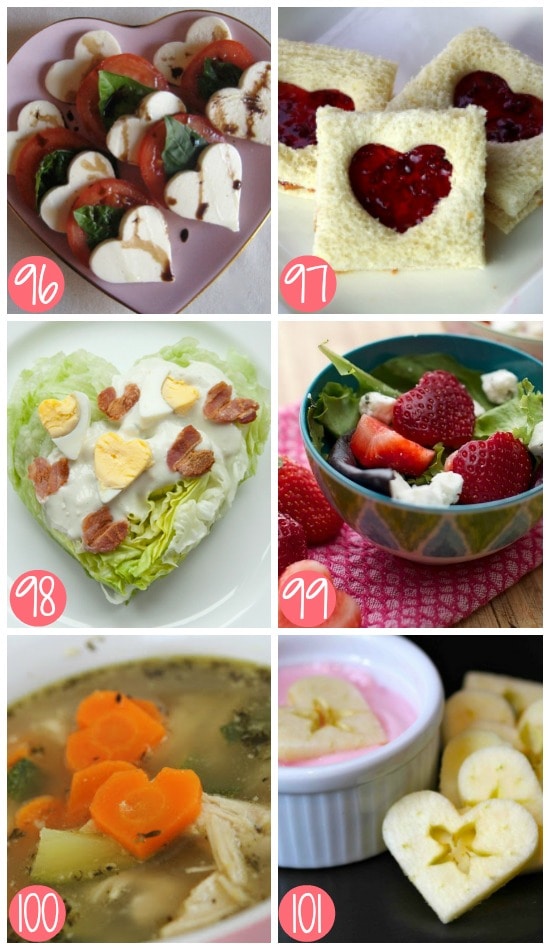 96. Caprese Salad with Heart-Shaped Mozzarella (Education.com) – Give your holiday a little Italian lovin' with this salad.
97. Peanut Butter and Jelly Valentine Sandwiches (Meaningful Mama) – Liven' up that lunch with a little bit of creativity and a lotta bit of love.
98. Heart-Shaped Wedge Salad with Bacon Hearts (Pretty Prudent) – Turn an ordinary dinner salad into something extraordinary where hearts abound.
99. Strawberry Goat Cheese Salad (Spaceships and Laser Beams) – Fresh, fruity, and good-for-you too, this Valentine salad is simply sweet.
100. Chicken Zucchini Soup with Heart-Shaped Carrots (Dishing with Dish) – Comfort food meets cute in this soup-er Valentine's Day dish! Grab your soup bowls and dish up!
101. Savory Valentine's Apple Chips and Dip (Cooking With my Kid) – 'Hearty' (pun intended) and healthy, this sweet treat is perfect for little ones.
Guaranteed to please even the pickiest of palettes, these healthy treats for Valentine's Day are a win in our book! For even more Valentine fun, be sure and check out our Candy Gram Card or a list of Our Most Popular Valentine's Day Ideas!