Amazing Summer Boredom Busters
Summer is in full swing and we have the perfect summer boredom busters to help you celebrate the sunshine months of June, July, August, and September! That's right – no one will have any excuses with this master list of Summer Boredom Busters. There are boredom busters for kids, for families and of course, just for the two of you!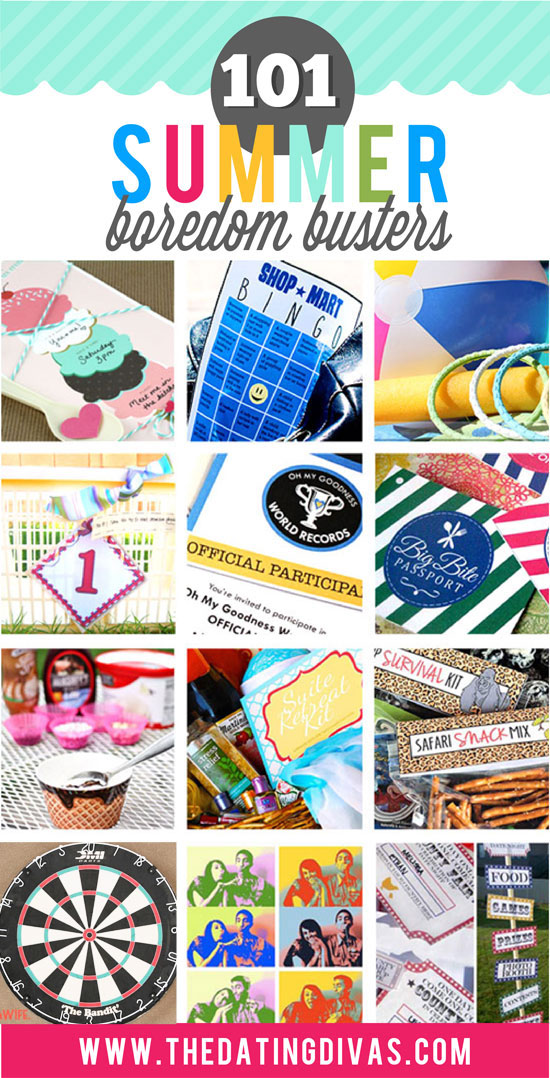 Disclaimer: This post contains affiliate links. To learn more about 'em, click here.
We've scoured the internet for the best, most creative and fun summer boredom busters for your family to enjoy.  Armed with this list of summer activities from awesome bloggers around the web, be prepared to say good riddance to the familiar phrase, "Mom, I'm Bored!"  We've compiled:
Summer Boredom Busters for The Kids

Summer Boredom Busters for Just the Two of You

Summer Boredom Busters for The Family
These boredom buster activities are sure to help you soak in the sunshine and get your creativity flowing- whether you are planning a fun date as a couple or looking for activities the whole family can enjoy.  Let's get started!
Summer Boredom Busters Crafts
Engage the kids minds this summer with these fun craft ideas for kids! Crafts are the perfect Summer boredom busters because the sky is the limit.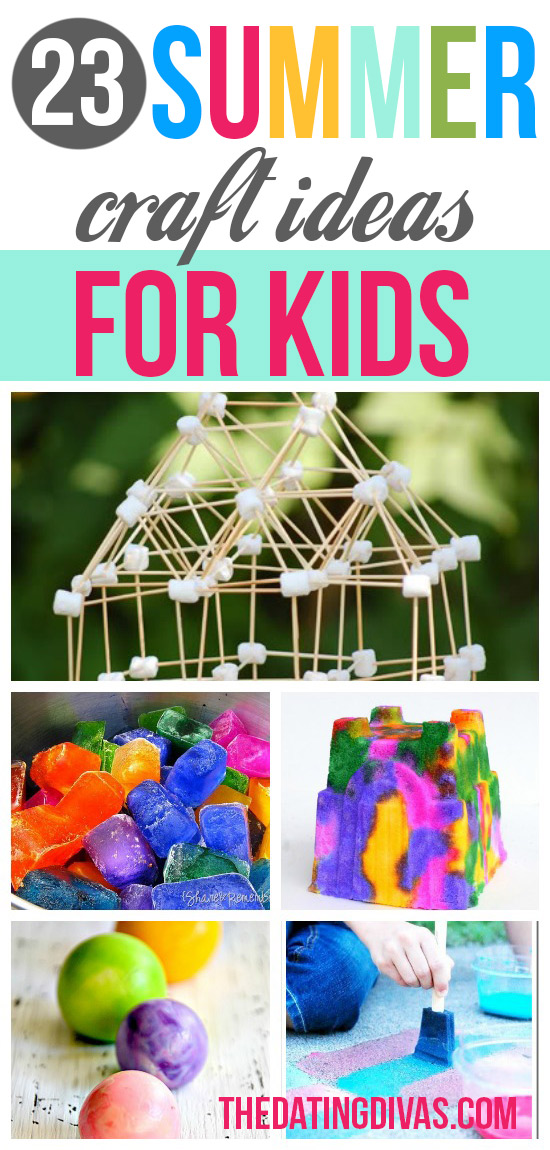 1.  Paper Towel Butterflies – entertain little ones by making these colorful DIY butterflies constructed from paper towels, pipe cleaners, and food coloring.
2.  Fingerprint Art – create cute little bugs, delicious food shapes, buzzing bees and the list continues using your fingerprints, a sharpie, and your imagination!
3.  Pool Noodle Sailboats – fashion a cool sailboat out of ordinary pool toys like these for endless hours of sailing adventures on the high seas of your local pool!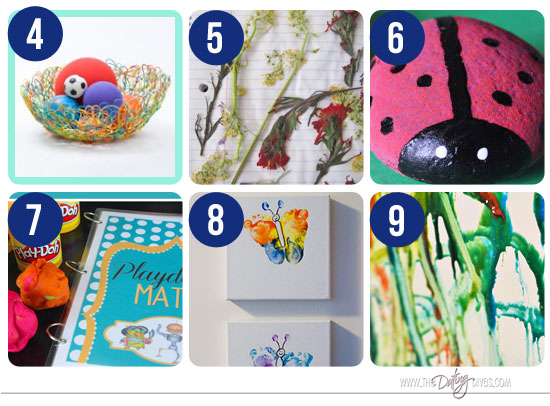 4.  Spaghetti Yarn Balls – your kiddos will have a blast mixing glue and yarn to construct a bowl shape.
5.  Pressed Wildflowers – explore nature and preserve your wildflower bouquet with this DIY idea to press flowers.
6.  Painted Animal Rocks – channel your inner Picasso and transform ordinary rocks into fantastic animals using washable kids paint.
7.  Coloring Pages & Playdough Mats – this collection of activities from The Dating Divas and SingAStory will keep your little ones entertained through interactive stories, songs, and art projects.
8. Butterfly Footprints – your child's feet transform into butterfly wings with a little paint and imagination.  What a darling art project!
9.  Bathtub Paint – perfect for rainy days!  Mix together only 4 ingredients for a colorful, messy fun art activity that cleans up in a cinch.

10.  Rainbow Bubble Wrap Stamps – use a common packing material (bubble wrap) and neon paints to create a truly unique art impression.  Your kids could make their own cards with these prints!
11.  Painted Salt Sculptures – your kids will be mesmerized watching paint colors flow through their very own sculpture made out of… you guessed it!… salt!
12.  DIY Sidewalk Chalk Paint – this super easy recipe will have your budding artists creating gorgeous murals on your driveway in no time!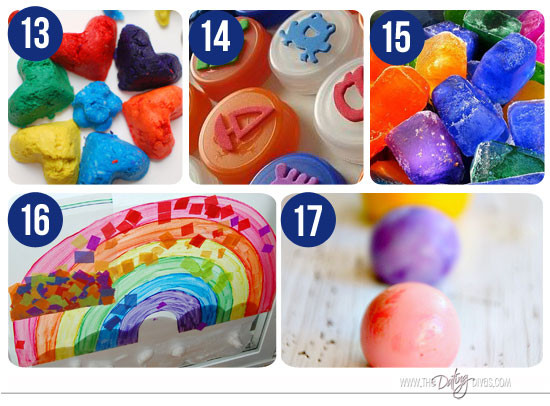 13.  DIY Bathtub Crayons – this activity is full of little tasks for your little helpers: grating soap, mixing, kneading, and most importantly creating an art masterpiece with the finished product!
14.  Bottle Cap Stamp – attach foam stickers like these to the top of a bottle cap and dip in paint for a unique and inexpensive art project.
15.  Ice Cube Painting – freeze liquid water colors in your ice cube trays for a cool art experience on a hot summer day.
16.  Contact Paper Rainbow – use contact paper taped to a glass sliding door to create an art station for your toddler/preschooler!  Your little one will have so much fun adhering fun shapes to the sticky side of the paper.
17.  DIY Bouncy Ball – your kiddos will love making their very own bouncy ball in 5 easy steps.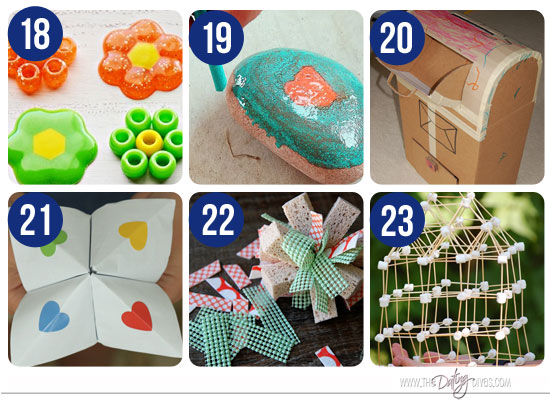 18.  Melted Bead Accessories – what could be easier than creating fun shapes out of beads melted in a toaster oven?  So many creative possibilities for your kids to make their own hair clips and jewelry!
19.  Hot Rock Art – this inexpensive art project just requires you to heat rocks in the oven and then decorate them with crayons, which take on a more paint-like quality due to the heat.
20.  Cardboard Box Creations – instead of recycling your latest box from Amazon, transform the cardboard into a…. mailbox…. or a boat…. or even an oven!  Stretch your imagination and build something using inspiration from this post.
21.  Kindness Cootie Catchers – this simple craft is not only fun to make but full of heart!  Each flap contains a kindness prompt.
22.  Summer Sponge Bombs –  a bucket of these DIY water soakers is just what your family needs for a day at the pool, especially if you are planning on playing water dodgeball!
23.  Marshmallow and Toothpick Buildings – sharpen your child's spatial skills with this simple craft of building three-dimensional structures.
Summer Boredom Buster Sensory Activities
These fun Summer boredom busters are perfect for little hands. Sensory activities are great for helping kids learn and develop new skills.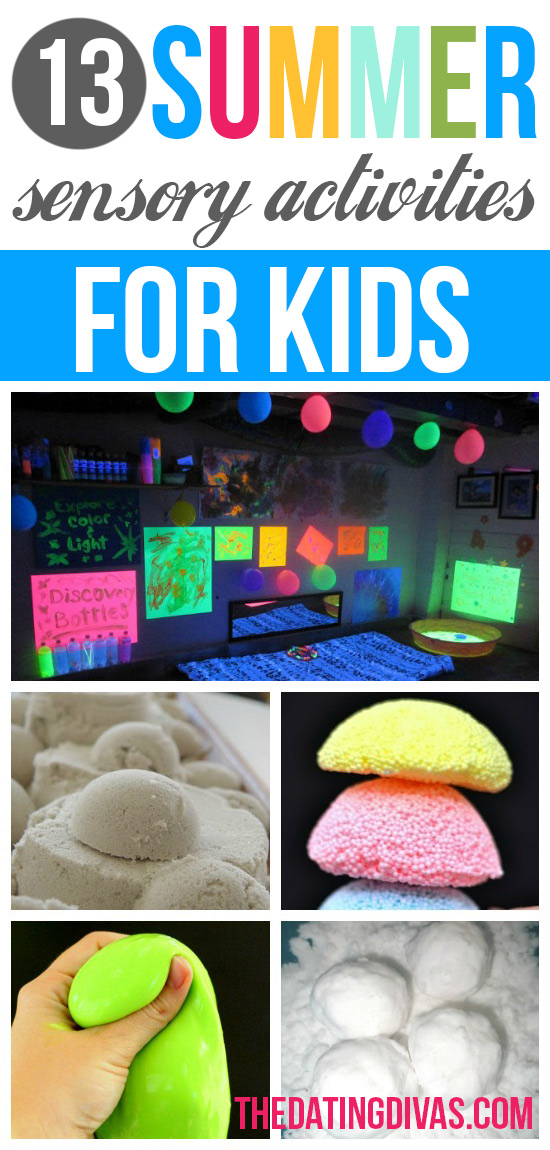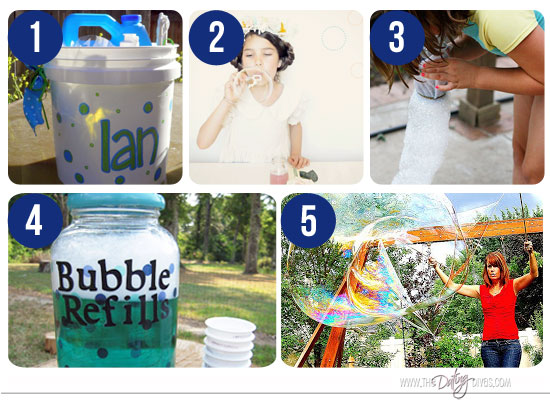 1.  Bubble Bucket – store all the supplies necessary for blowing bubbles (wand, detergent, bubbles) in one convenient and cute spot.  Then, let the bubble blowing commence! *4/28/2016 update: This blog is private now, but as you can see from the picture, it just takes a 5 gallon bucket, some bubble solution, and some fun bubble wands!)
2.  Scented Bubbles – take bubbles to the next level by adding scented Castile Soap to your bubble recipe.  Genius!
3.  DIY Bubble Blower – use the bottom of a water bottle to fashion a one-of-a-kind bubble blower that will create a snake shape!  So cool!
4.  Bubble Refill Station – your kids won't have to worry about running out of bubbles with this clever storage idea – using a plastic drink dispenser! (<–That one even collapses, perfect for the winter months!)  Hours of seamless fun!
5.  Giant Bubbles – make larger-than-life bubbles using glycerin, clear dish soap, and purified water!  These look so amazing!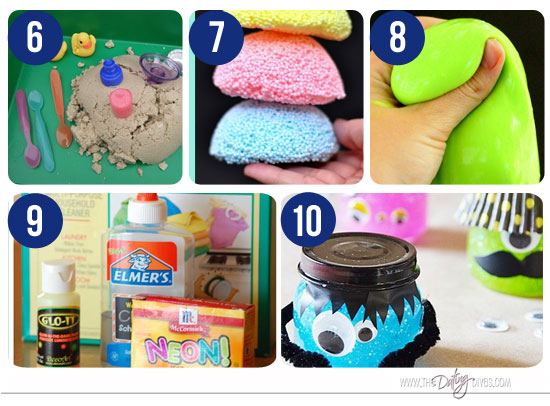 6.  DIY Moon Sand – engage your child's sensory skills by making moon sand. All it takes is 3 simple ingredients: sand, cornflour, and water.
7.  Homemade Floam – use this recipe to create a batch of floam… it's unique, textured, squishy, moldable, & fun! You'll need some borax and bean bag filler, along with some white school glue and water.
8.  Homemade Gak – your kiddos will love this classic gooey substance that provides hours of entertainment.
9.  Glow-in-the-Dark Slime – add a few drops of special craft paint to your next slime concoction for a truly "glowing" experience!
10.  Glitter Slime Monsters – this slime is gorgeous!  Your kiddos will also have fun transforming an ordinary slime container into a scary monster with a few crafty additions.

11.  Indoor Snow – use baking soda and water to effortlessly create SNOW!  Are you ready for an impromptu snowball fight in the middle of July?!
12. Paint with Water – this simple activity is perfect for when your kiddo is starting to get stir crazy!  The best part?  No messes for Mom to clean up afterward!
13.  Black Light Sensory Play Date Party – swap out your normal light bulbs for black lights for a totally different sensory learning experience.  Your kids will love exploring discovery bottles, water beads, balloons,  and bubbles.  Check out the full post for all the amazing details of this party bursting with creativity!
Must-Try Summer Food Activities for Kids
Getting creative in the kitchen is the perfect Summer boredom buster! Kids will love spending time learning new cooking skills and trying new foods.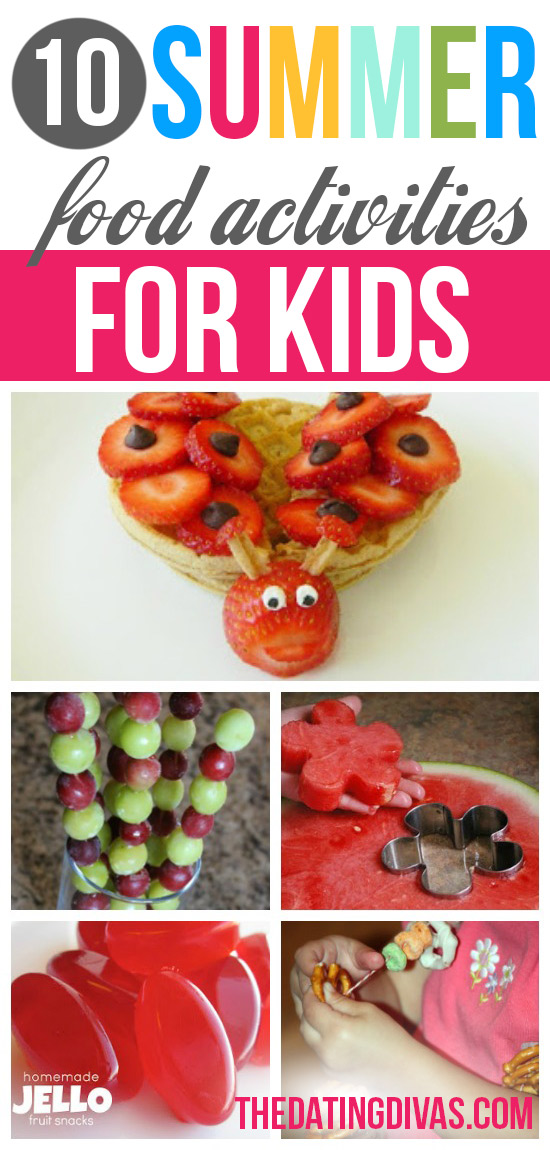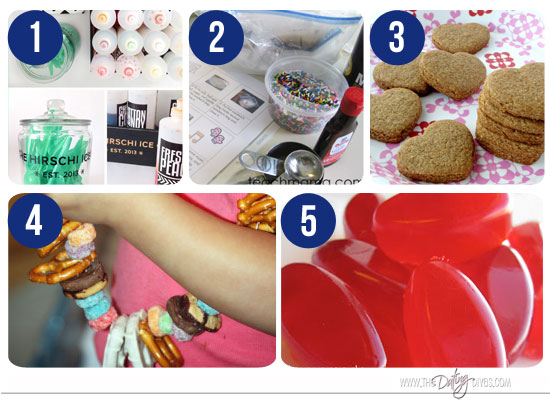 1.  Snow Cone Party – cool off from the heat by making your own snow cones complete with flavored syrups.
2.  Ziploc Bag Ice Cream – your kids will be dancing and laughing while making this quick and easy homemade ice cream recipe.
3.  Homemade Graham Crackers – whip up some fun in the kitchen with this simple and delicious recipe for homemade graham crackers.  Your kids can cut out the dough using cookie cutters!
4.  Snack Necklaces – edible necklaces are back! Have your kiddo create their own DIY version of a snack necklace using their favorite treats.  Not to mention, it's perfect for working on hand-eye coordination, fine motor skills, and counting.
5.  DIY Fruit Snacks – instead of running to the store when your prepackaged fruit snacks run out, test out a homemade version.  This delicious recipe uses Jello as a base and is ready in under 30 minutes.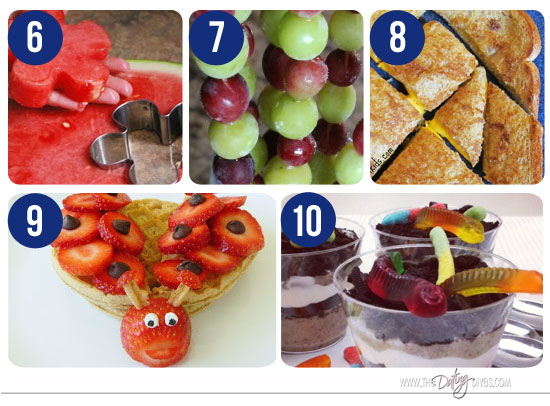 6.  Watermelon Cookies – these treats are extra special since they are cut out in fun shapes.
7.  Grape-cicles– a healthy alternative to sugary popsicles that kids can help you make.
8.  Sandwich Puzzles – practice math skills and spatial concepts by turning your lunch into a puzzle!
9.  Ladybug Breakfast – help your little one create a darling ladybug using strawberries, chocolate chips, and waffles.
10.  Dirt Cup Dessert – spend a little time in the kitchen putting together creepy crawly Oreo cups in honor of Gummy Worm Day in July!
Outdoor Summer Boredom Busters Adventures
Getting outside in nature is the absolute best thing for your kids in the summer. But often they just aren't sure what to do in the great outdoors. Here are some adventures that they just might love!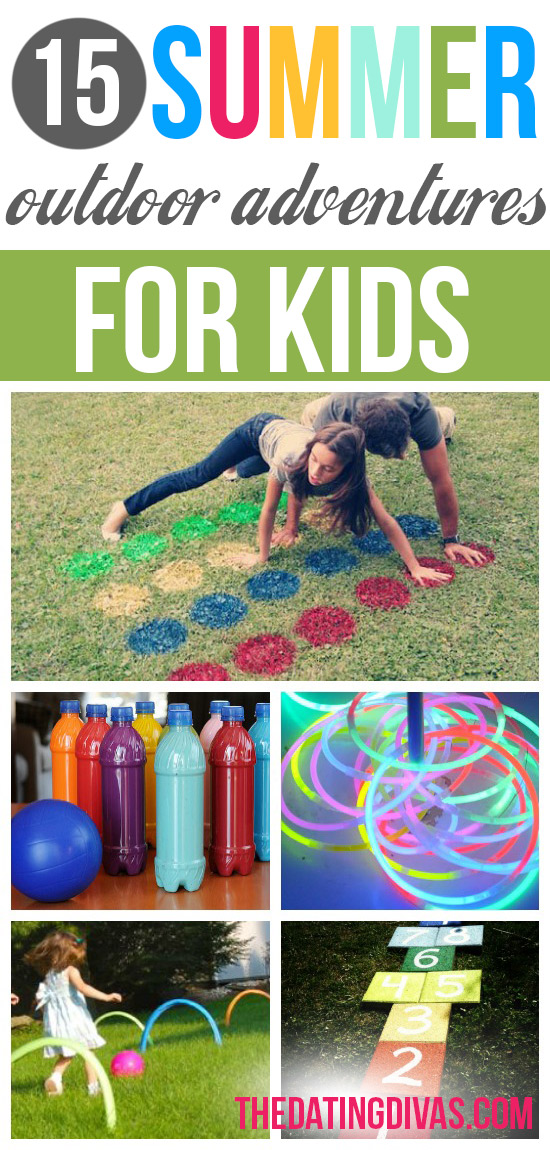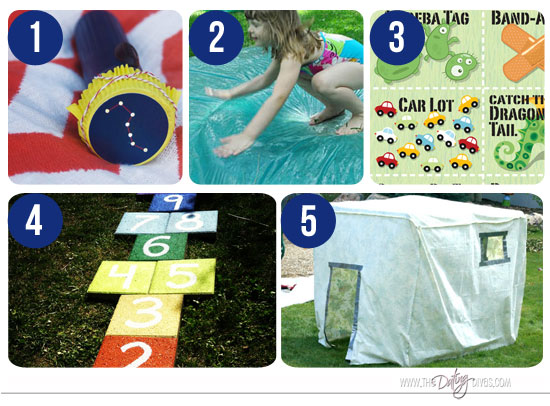 1.  Star Gazing Party – learn about the stars and create a constellation flashlight with this interactive party idea.  You can even download a free star crown and wand for your favorite star kiddo.
2.  Water Blob Fun – create a unique surface for your kids to play/jump/roll around on using a piece of plastic sheeting filled with water.  Love the idea of adding glitter!
3.  Backyard Games – your kids choose a card from this downloadable set and then head out into the sunshine to play the game described.  Easy peasy fun!
4.  Rainbow Paver Hopscotch – this easy and cheerful DIY outdoor feature will get a LOT of use this summer!
5.  PVC Sprinkler Playhouse – this DIY fort transforms into a fully functioning sprinkler system when hooked up to a hose (hint… there are holes in the PVC pipe!).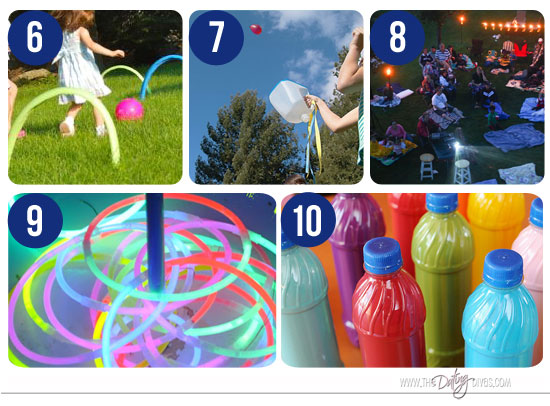 6.  Kick Croquet Lawn Game – fashion a modified croquet course from pool noodles!  Your kids will have a blast kicking a ball through the obstacle course.
7.  Water Balloon Catch – see if your little one can toss a water balloon back and forth into a homemade milk jug catcher.  Last dry kiddo of the team wins a prize!
8.  Back Yard Movie Night – watch a classic under the stars.  Don't forget the blankets, popcorn, and admission tickets!
9.  Glow-in-the-Dark Games – after the sun sets, have your kids test their athletic skills by tossing glow necklaces, jumping though a glowing hopscotch pattern, and digging for buried glowing treasure.
10.  Plastic Bottle Bowling – this inexpensive & easy DIY project is a definite boredom buster for active little ones.  Love that the paint is inside the bottle so you don't have to worry about kids accidentally ingesting or rubbing the paint off.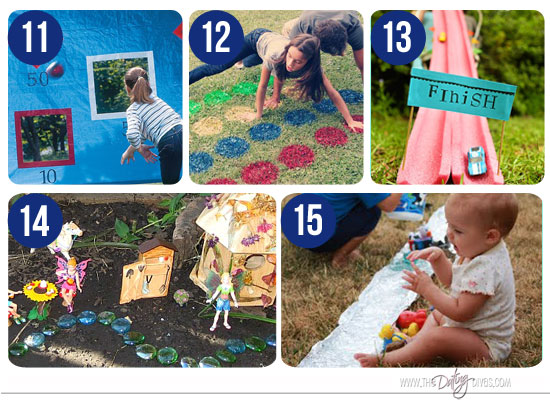 11.  Passing Practice – challenge your athletic skills with this large homemade target practice using a tarp.
12.  Yard Twister – simply paint game circles onto the grass for an impromptu outdoor game anytime!
13.  Pool Noodle Race Track – It's racing time with this innovative and inexpensive race track using pool noodles.  Vrooom!
14.  Magical Fairy Garden – pick out a special spot in the garden for your child's imagination to soar.
15.  Foil River – create a flowing "river" of fun in your backyard for your kids to explore… they will have a blast sailing, maneuvering toys, and battling the currents!
 Summer Boredom Busters Learning Activities 
Summer is a great time to think outside the box and have some fun learning activities. Keep their brains engaged all summer long so their ready to take on a new school year once summer ends! Learning activities are amazing Summer boredom busters.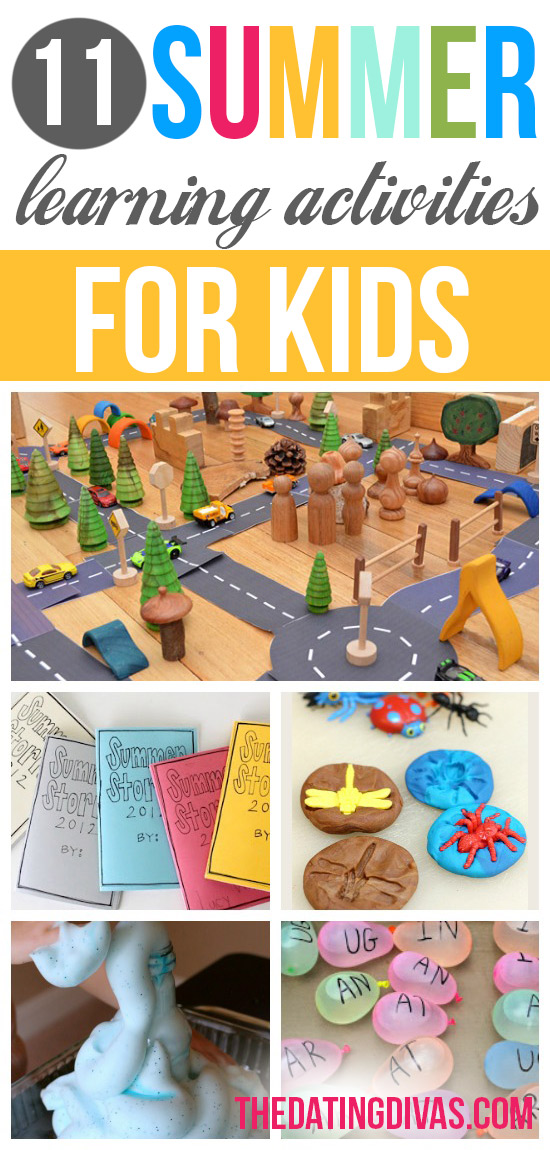 1.  Card Trick – your little one will wow family and friends with this amazing card trick!
2.  Elephant Toothpaste – this super cool science experiment involves an eruption!
3.  Pretend Play: Veterinarian – foster your child's imagination by setting up a make-believe doctor's office.  What a great way to build skills and have fun at the same time! You could even grab this play set while you're at it.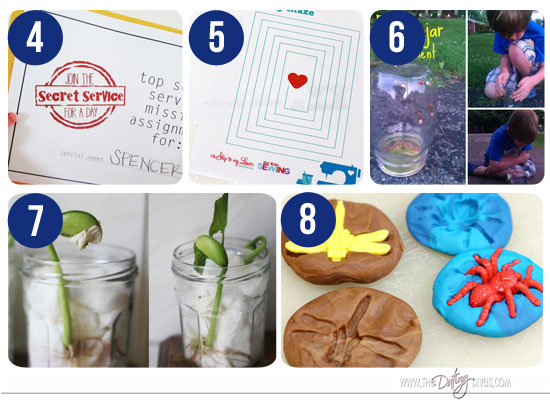 4.  Secret Service Fun – learning opportunities about giving and sharing abound during this day of service for others.  Be sure to process insights from the day with your child!  Be sure to check out THIS PAGE for amazing coupons for awesome learning toys and activities from Melissa & Doug.
5.  Sewing Practice – fire up your sewing machine and start to teach your little one the basics with these fun printables.
6.  Firefly Science – spark a discussion about the science behind these interesting glowing creatures.
7.  Grow a Seed – this particular experiment is awesome because you can actually see the plant's growth and root development.
8.  Playdough Bug Fossils – make art impressions and talk about the fascinating world of insects using these bugs and play dough.

9.  Summer Journals – create a fun DIY journal for activities to foster your child's writing skills… not to mention a fab place to record all those fun summer memories.
10.  Printable Roads – construct your own city with this downloadable road pattern.  Beep, beep!
11.  Water Balloon Phonics – summer fun and language development?  Yes, please! Be sure to grab this amazing doo-dad to fill up 100 water balloons in just seconds!
Summer Boredom Busters for Couples
It's important to keep the love alive in the summer! Check out these boredom busters for couples for some fun ideas to do with your spouse. You'll definitely strengthen your relationship if you give it a little extra love this summer!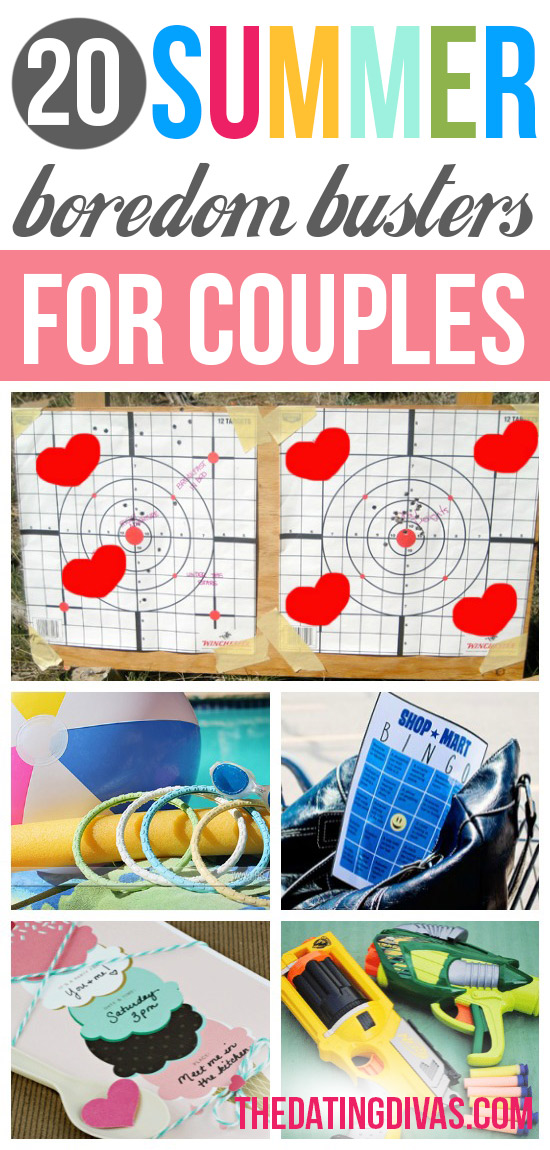 1.  World Record Date – this will definitely be a summer to remember as you both attempt to set a World Record!
2.  Target Practice & Star Gazing – a few of his AND her favorite activities all wrapped up into one memorable night!
3.  Pool Party for 2 – splash around with your hubby and challenge him to some classic swim games.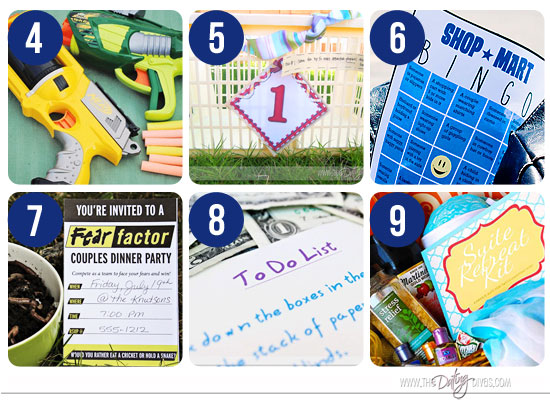 4.  Nerf War! – battle is on- who will win this outdoor game?!
5.  Frisbee Golf – complete with a romantic twist that will leave you laughing and flirting with your partner! Don't forget your frisbee golf fribee set!
6.  Walmart Bingo – a fun, inexpensive date that will test your people watching skills!
7.  Fear Factor Date – face your fears and laugh in the process… grab a few friends for a memorable dinner party that the two of you will be talking about for years to come!
8.  To Do List – knock out those summer chores you've been dreading by turning your cleaning list into a fun date with your spouse.
9.   Suite Retreat – beat the heat by staying in and turning your bedroom into an oasis.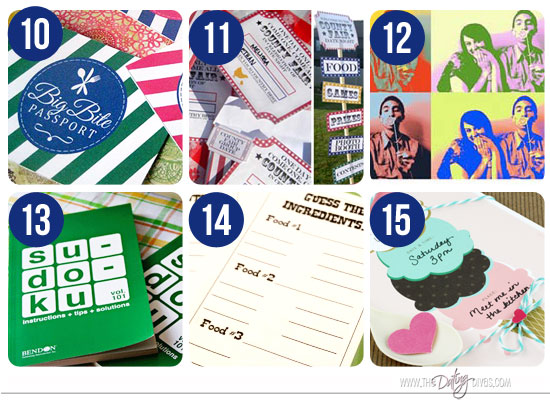 10.  Restaurant Tour – test out different restaurant patios and discover new meals with our big big passport adventure.
11. County Fair – enjoy the sites and sounds of your local fair.  Use the included checklist to make sure you don't miss a thing!  You could also grab a group of friends and create your own county fair in your backyard complete with games and signs.
12.  Photo Booth Fun – find a photo booth in your area, bring a few props, and say cheese!
13.  Sudoku Date – race to see who can finish the puzzle the fastest. All you need is a sudoku book!
14.  Guess the Ingredients – challenge your sweetie to guess the flavors of your next meal.  For even more fun, host a dinner party with this theme.
15.  Ice Cream for 2 – whip up a batch of ice cream in a matter of minutes and then get the scoop about your spouse during a fun round of Truth or Dare.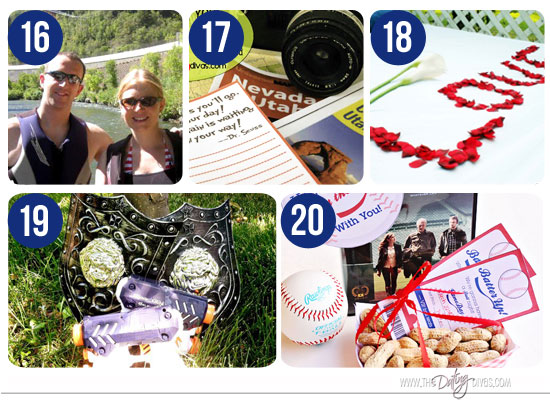 16.  Float Down the River – cool off from those hot summer temps with a lazy river adventure and root beer floats.
17.  Tourist Date – break out your local maps and cameras in preparation to see your hometown in a whole new way with this creative date.
18.  Summer Lovin' – test out new spots for intimacy as you spark some romance with your sweetie!
19.  Squirt Gun Water Fight – you'll be soaking up summer memories with this outdoor water fight.  Here's the twist: your squirt gun is loaded with Kool-aid!
20.  Baseball Fun – either go to a game together or knock it outta the park with this dinner and a movie date.
Summer Boredom Busters for the Family
There is so much extra time in the summer for the family to get together and have some fun adventures together! We highly suggest adding a few of these fun activities into your family's schedule to give the kids something to look forward to this summer.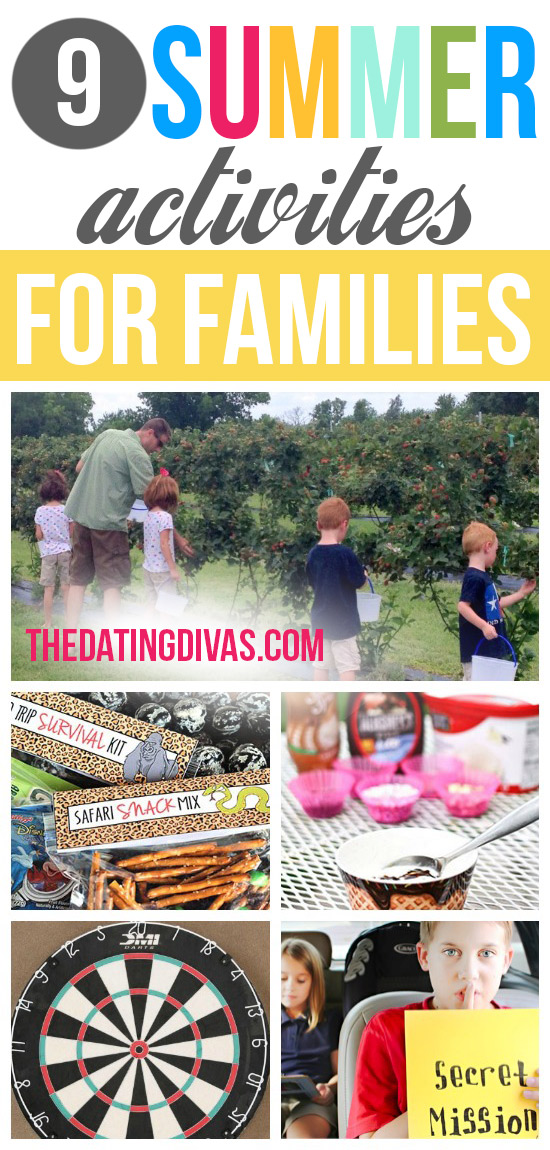 1.  Custom Cold Stone Creation – surprise your loved ones with a delicious fully customizable dessert treat. Yum.
2.  Zoo Scavenger Hunt – this family fun adventure includes DIY binoculars and a guessing game that will help your kiddos learn all about the animals at the zoo.  Don't forget the Safari Snack Mix!
3.  Berry Picking – scout out a local orchard or berry patch to stock up on your favorite fruit this summer… your kids will love picking the delicious treats and you will have a fridge stocked with fixings for jams, cobblers, and more!

4.  Themed Dinner – add a simple theme to transform a regular night into an extra fun dinner extravaganza!  This "Blue Ribbon Dinner" features blue food, blue decor, and even blue attire.
5.  Fateburger – turn an ordinary dinner on the grill into a unique culinary adventure by putting a family spin on our Fateburger Date.  Have everyone in the family take turns throwing a few darts to determine how they will build their burger!  (A ring toss or any other game could easily be substituted for younger children.)
6.  Summer Laboratory – test out these wacky science experiments with your kiddos…. we bet they will love the Diet Coke geyser!

7.  Volunteer Experience – dedicate an afternoon or a day to helping another family and cultivating the value of service for others.  These 24 ideas will get your creative juices flowing for how as a family you can brighten someone's day!
8.  Biking Adventure – explore the city or get off the beaten path as you bike your way to creating summer memories.  Daily Mom has an awesome write-up of the benefits of this family activity, as well as product suggestions to make this a fun experience for all!
9.  Road Trip Fun – the car ride might be just as fun as the destination with these tips and tricks from The Dating Divas!
There you have it– a total of 101 ways to soak in the sunshine!  Be sure to add any favorite creative boredom buster ideas to your "official" Summer Bucket List.  OH – and if you are looking for GORGEOUS "Summer Boredom Buster" printables and MORE fun activities for your kiddos – you'll definitely want to check out our "Summer Boredom Busters" Printable Pack!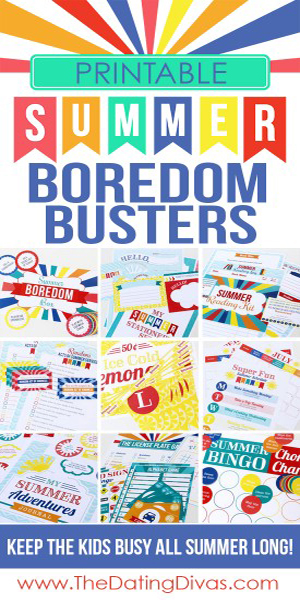 Cheers to a fun-filled summer!