Personalized Christmas Stockings for the Whole Family
The Christmas season is almost upon us, and you know what that means! It's time to put up the tree, wrap the gifts, bake the cookies, hang up the stockings–but wait! Are your stockings looking a little old and boring? Do you want to refresh your Christmas hearth? No worries! We've rounded up 25 of the cutest Personalized Christmas Stockings for every person in your family! Check it all out below!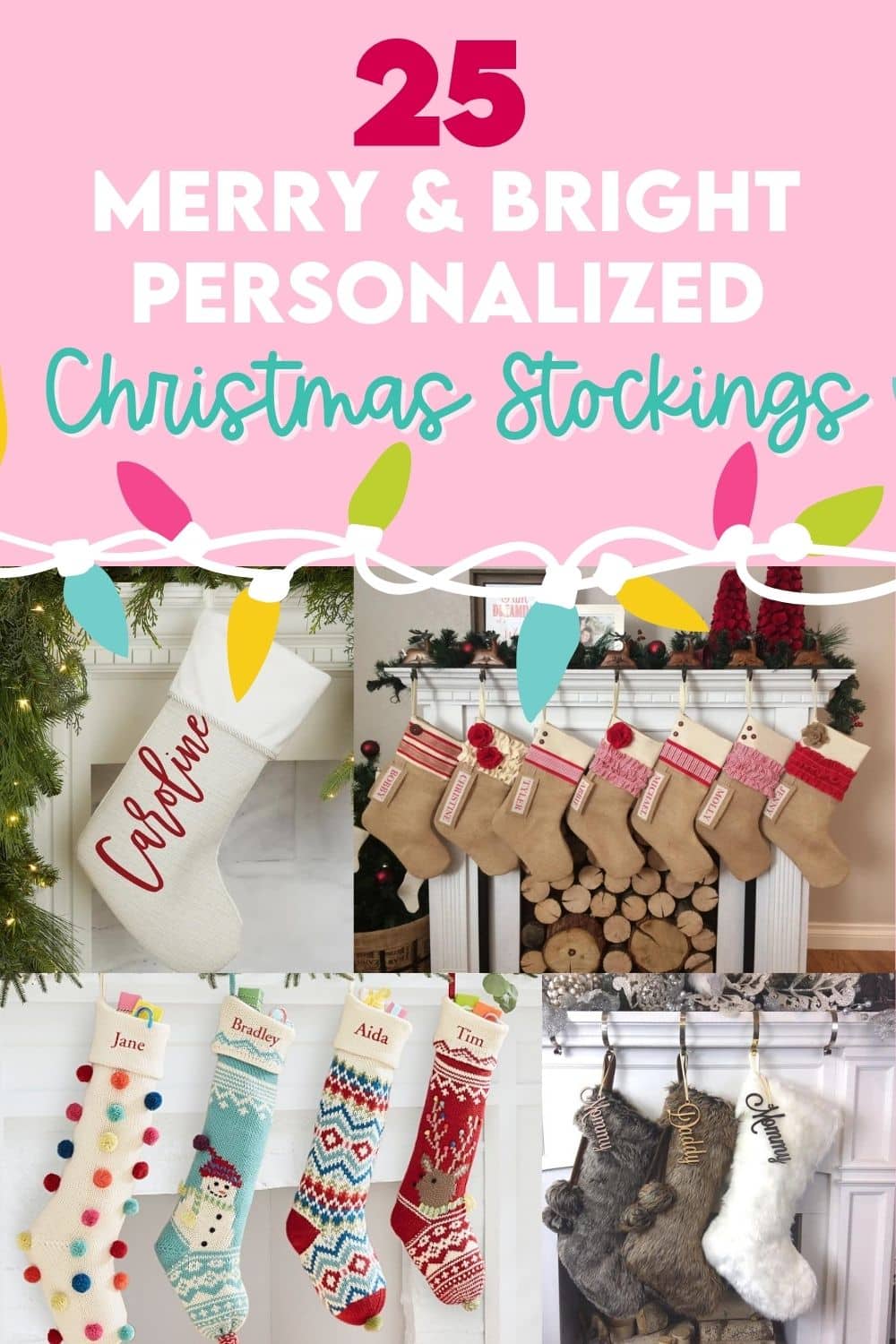 Disclaimer: This post contains affiliate links. To learn more about 'em, click here.
We've made it easy for you to find the perfect custom Christmas stocking to fit your tastes and needs. We have everything from cutesy kid stockings to elegant, vintage, and farmhouse stockings. Take a look!
Oh, and don't forget to get a stocking holder! Don't have a fireplace or mantel? A freestanding stocking holder will do the trick!
Table of Contents
Personalized Christmas Stockings: Kids
1. Merry & Bright (Pottery Barn): Keep your Christmas season merry & bright with these colorful socks. We just love the pompoms!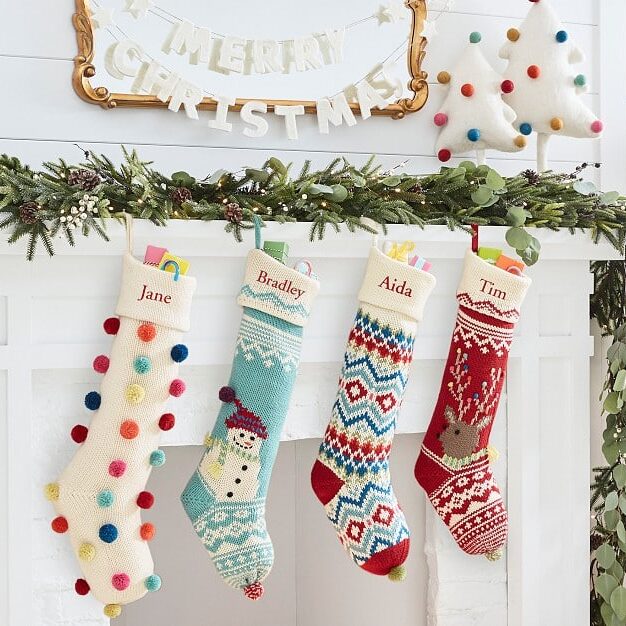 2. Christmas Critters (Personal Creations): These woodland creatures are so adorable, and the neutral color palette will go with any decor!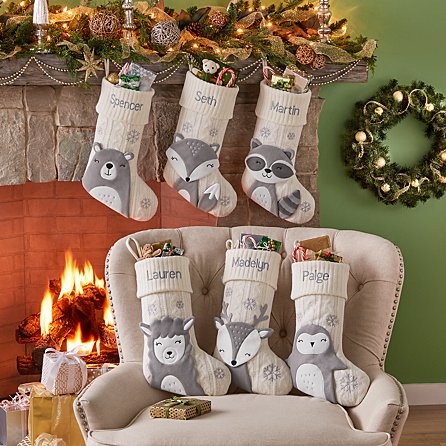 3. Musical Light Up Stocking (Pottery Barn Kids): Your kids will be singing "We Wish You a Merry Christmas" all December long with these musical custom Christmas stockings!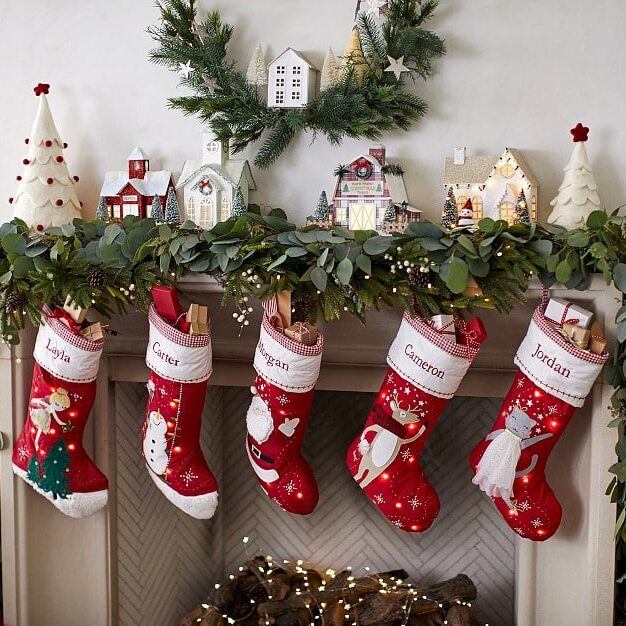 4. Letter to Santa (Personalization Mall): Your kids can write a letter to Santa and slip it into the envelope on the front of the sock, saving mom and dad a trip to the post office!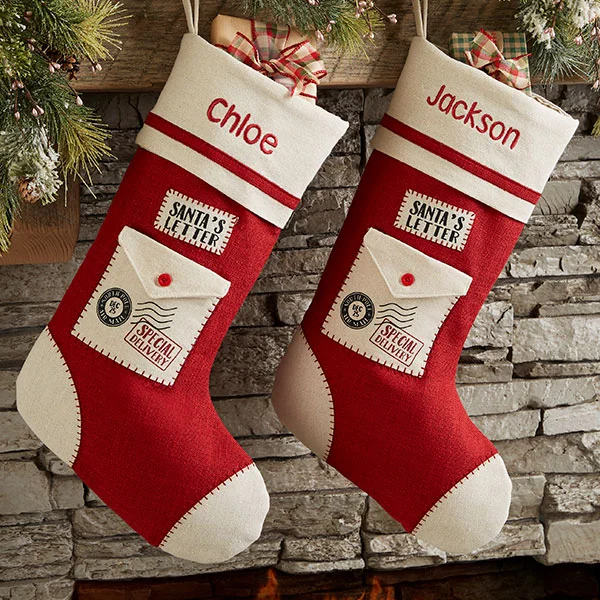 5. Gnomes (Etsy): There's no place like gnome for the holidays! These custom stockings are sure to be a hit with all your favorite gnomies!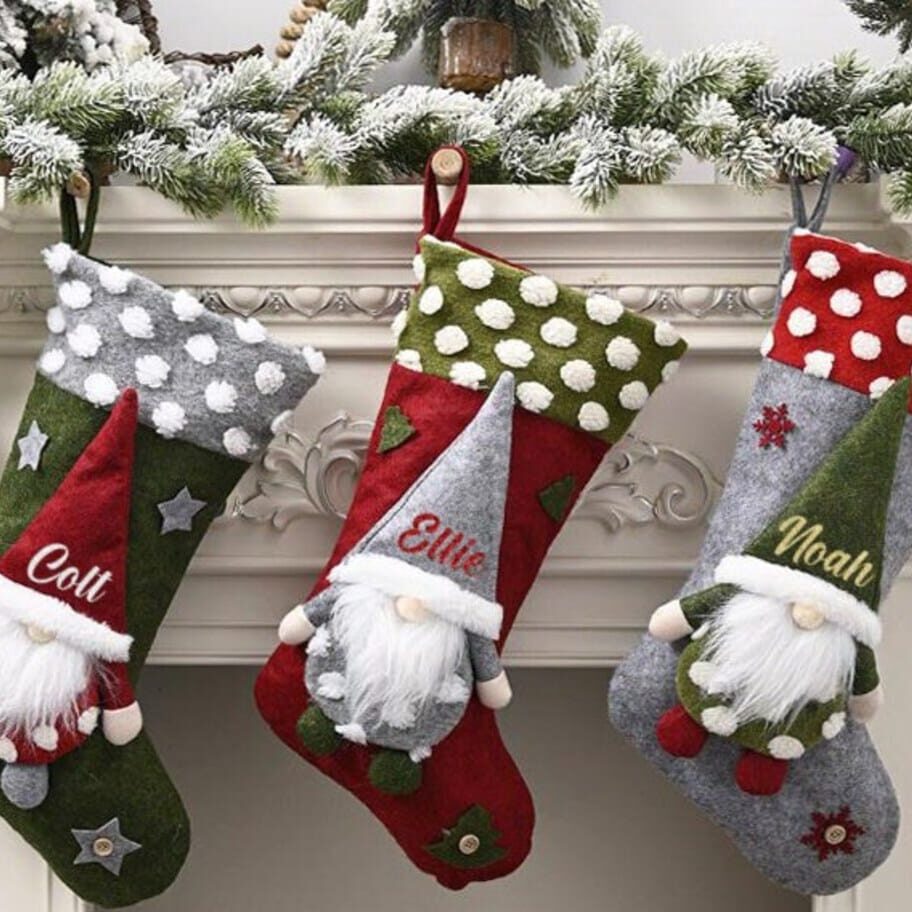 Personalized Christmas Stockings: Elegant
6. Faux Fur (Etsy): Are you looking for some elegant custom Christmas stockings? We think these gorgeous faux fur stockings are so luxurious!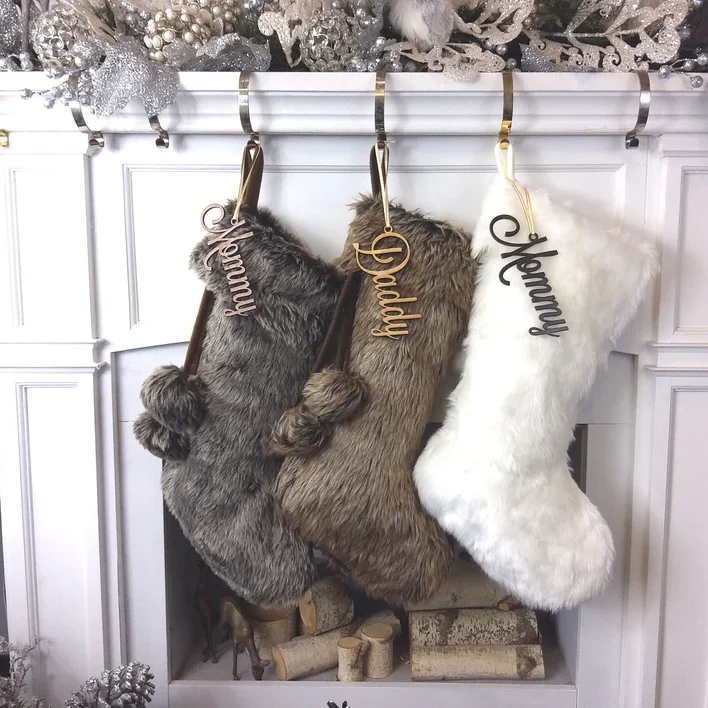 7. Gold Classic Stocking (Etsy): Sparkle and shine this Christmas season! The included gold stocking tags are the perfect way to get your Christmas stockings personalized.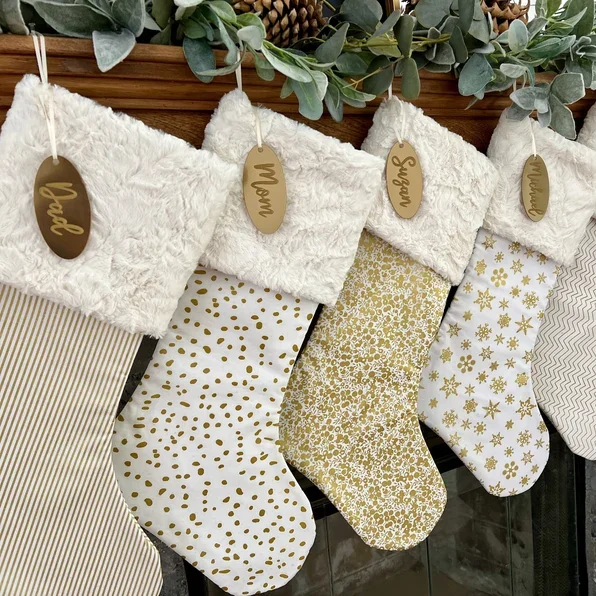 8. Sparkling Name (Personalization Mall): This Christmas stocking will make a lovely and warm addition to any mantle. Why not take a look at the matching green stocking too?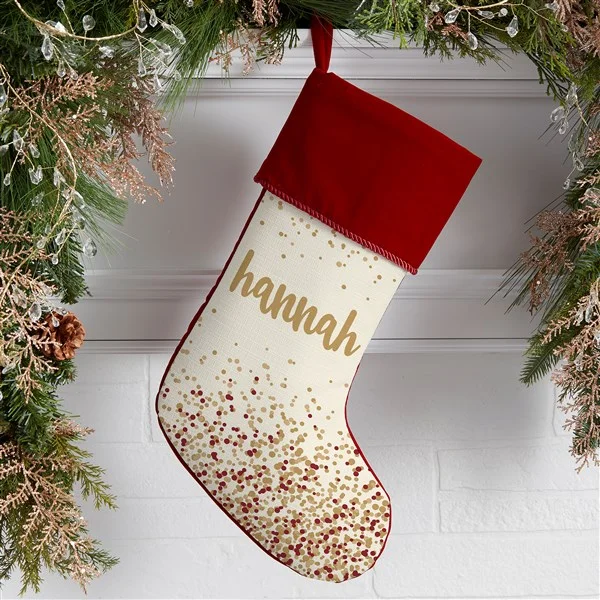 9. Quilted Velvet Stockings: (Pottery Barn): These quilted soft and plush custom Christmas stockings will give your fireplace an elegant, sophisticated look.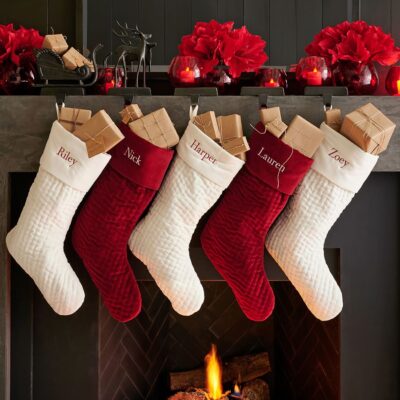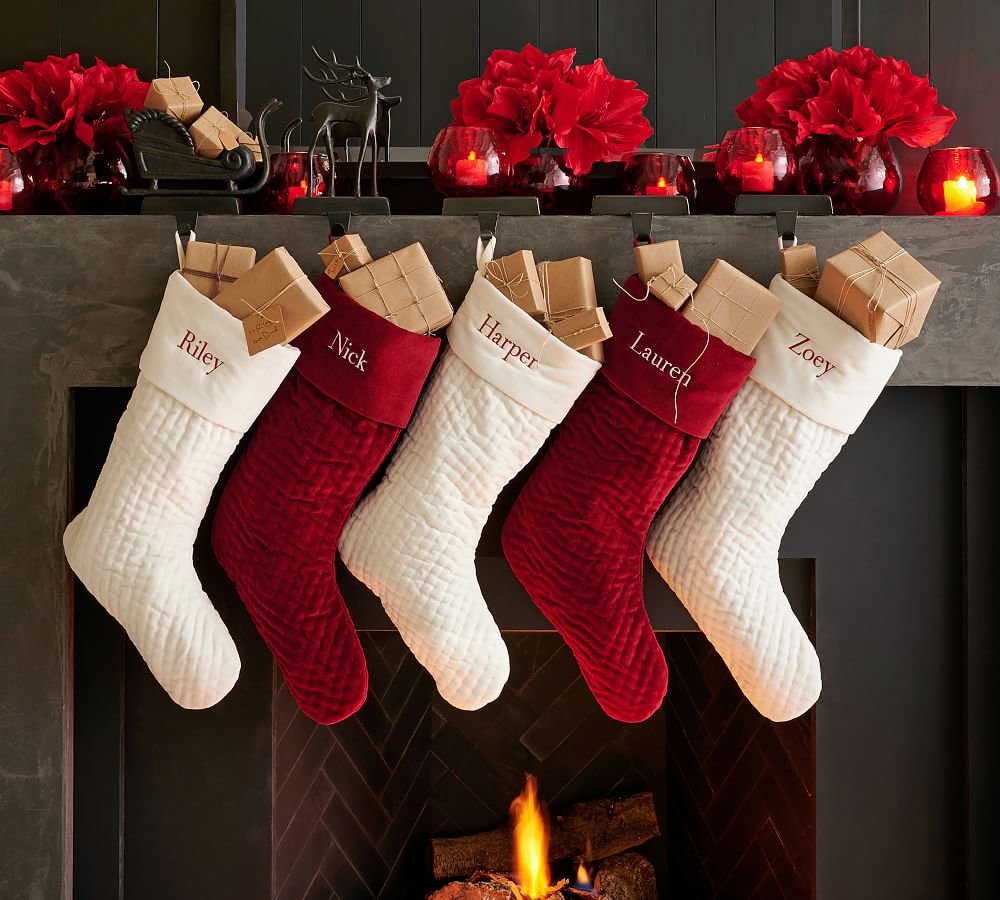 10. Scripty Name (Wayfair): Don't you just love the gorgeous script on this color-neutral stocking? It's both graceful and stylish.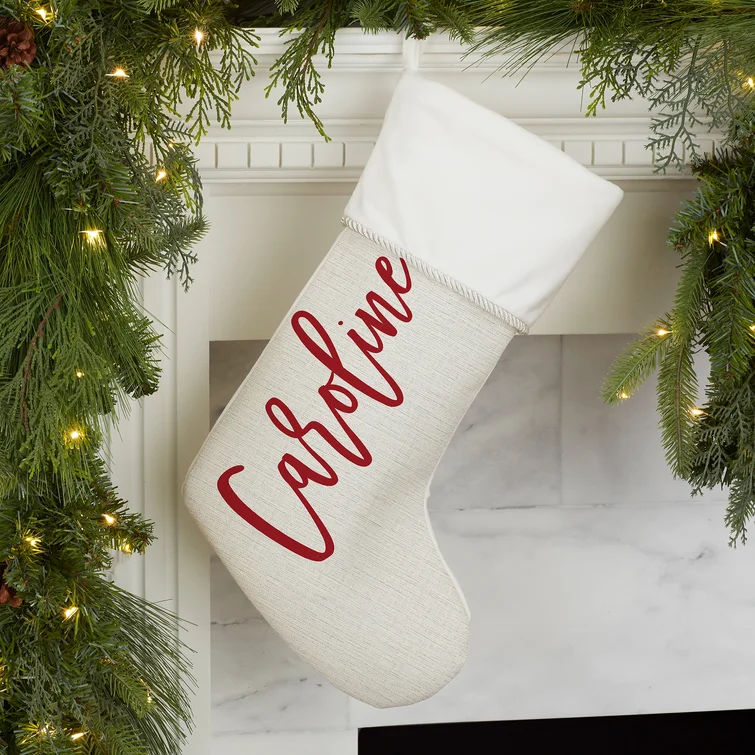 Personalized Christmas Stockings: Farmhouse
11. Rustic Burlap (Etsy): We love the candy cane feel of these custom stockings. The burlap is also lined inside, making the stockings durable enough to use year after year!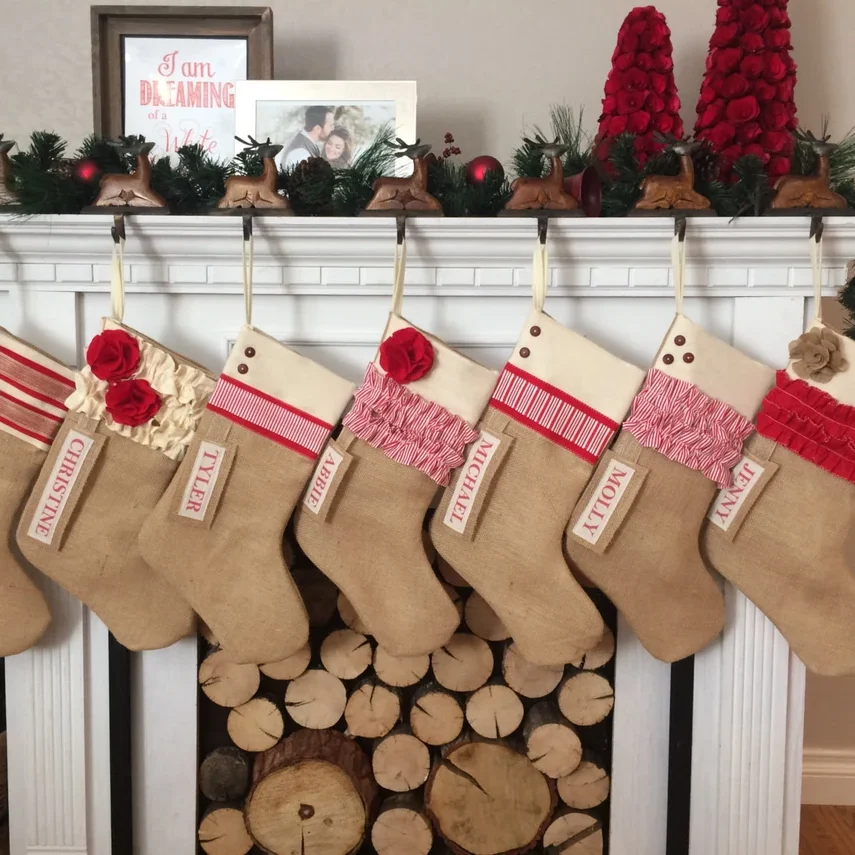 12. Buffalo Plaid (Etsy): Buffalo plaid is the pattern for the Christmas season. We think all the patterns look so cute and go perfectly together.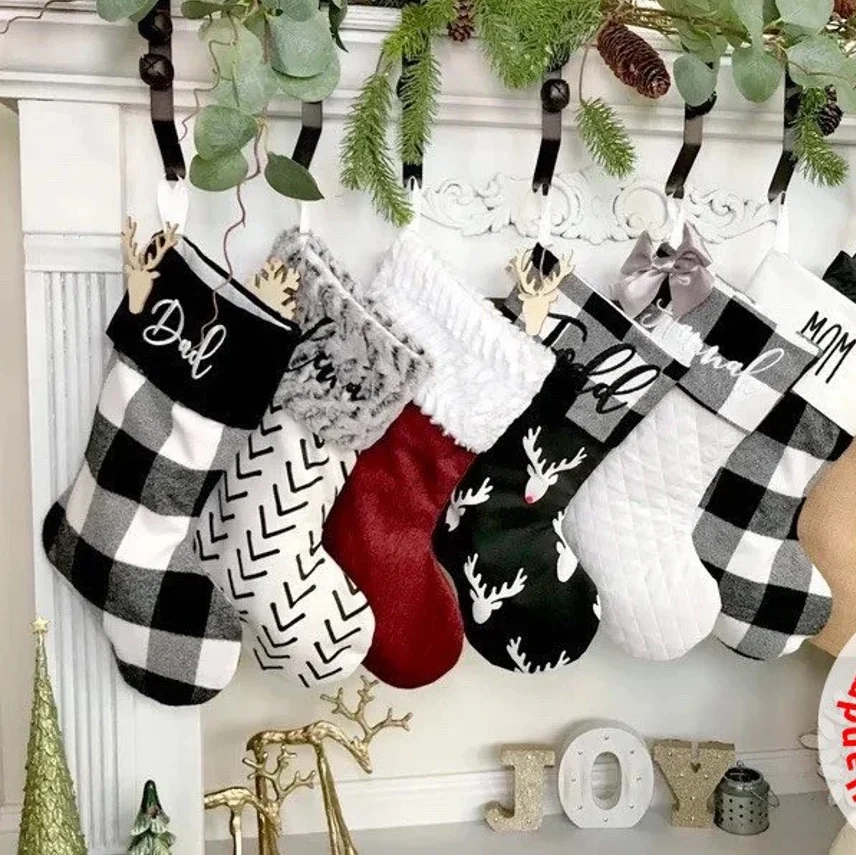 13. Cozy Cable Knit (Bed, Bath, and Beyond): These cozy personalized Christmas stockings come in blue, green, grey, and ivory, too!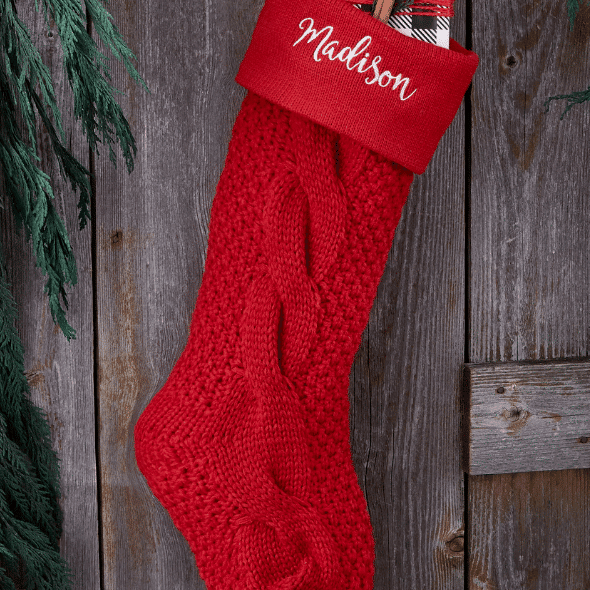 14. Striped With Wood Slice (Etsy): Burlap, flannel, and wood slice name tags will give your hearth all the rustic vibes.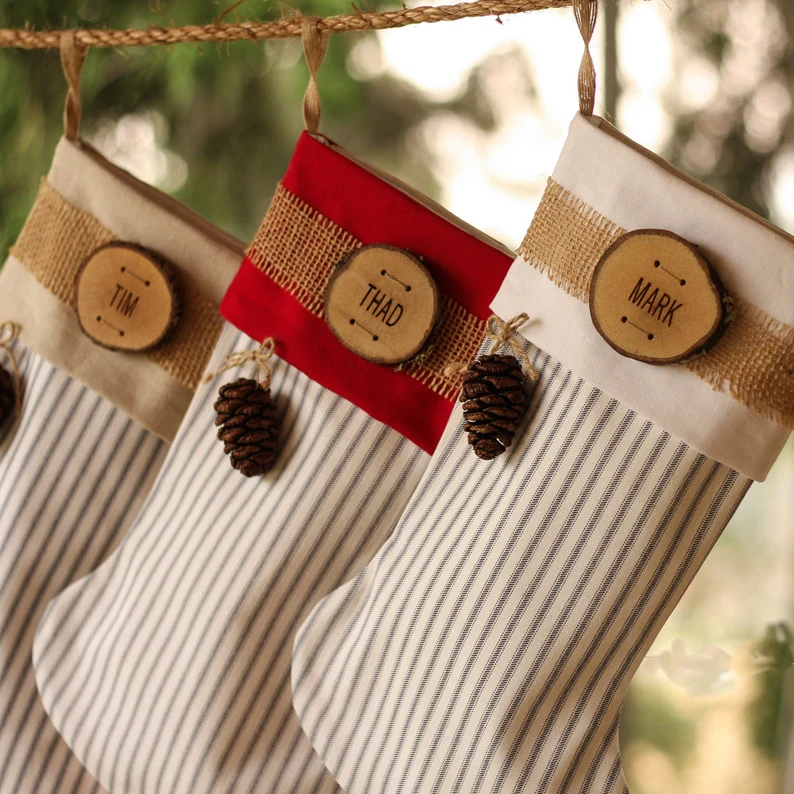 15. Buffalo Check (Bed, Bath, and Beyond): Beautiful personalization? Check. Festive color? Check. Adorable pattern? Check, check, buffalo check!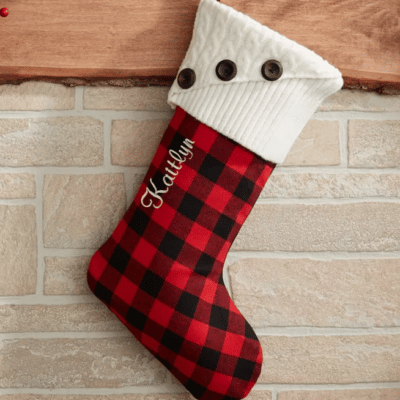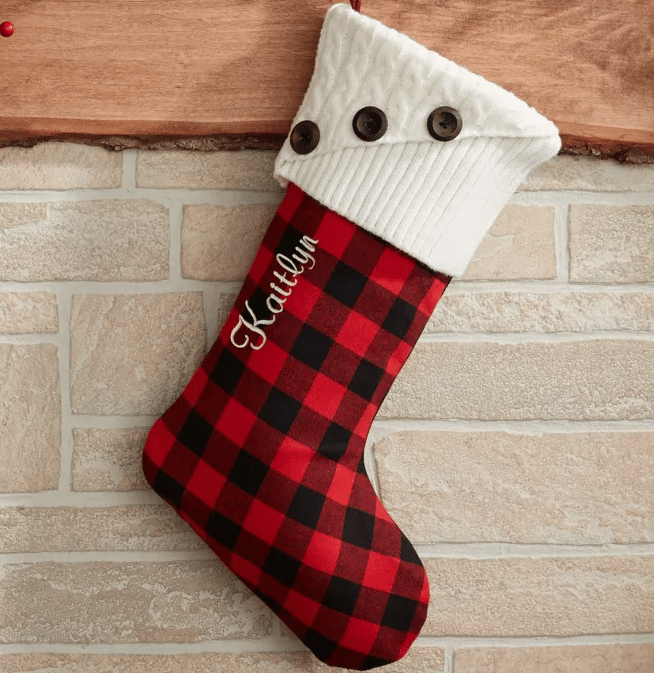 Personalized Christmas Stockings: Vintage
16. Handknit(Etsy): Throw it back to the good ol' days with these handknit Christmas socks.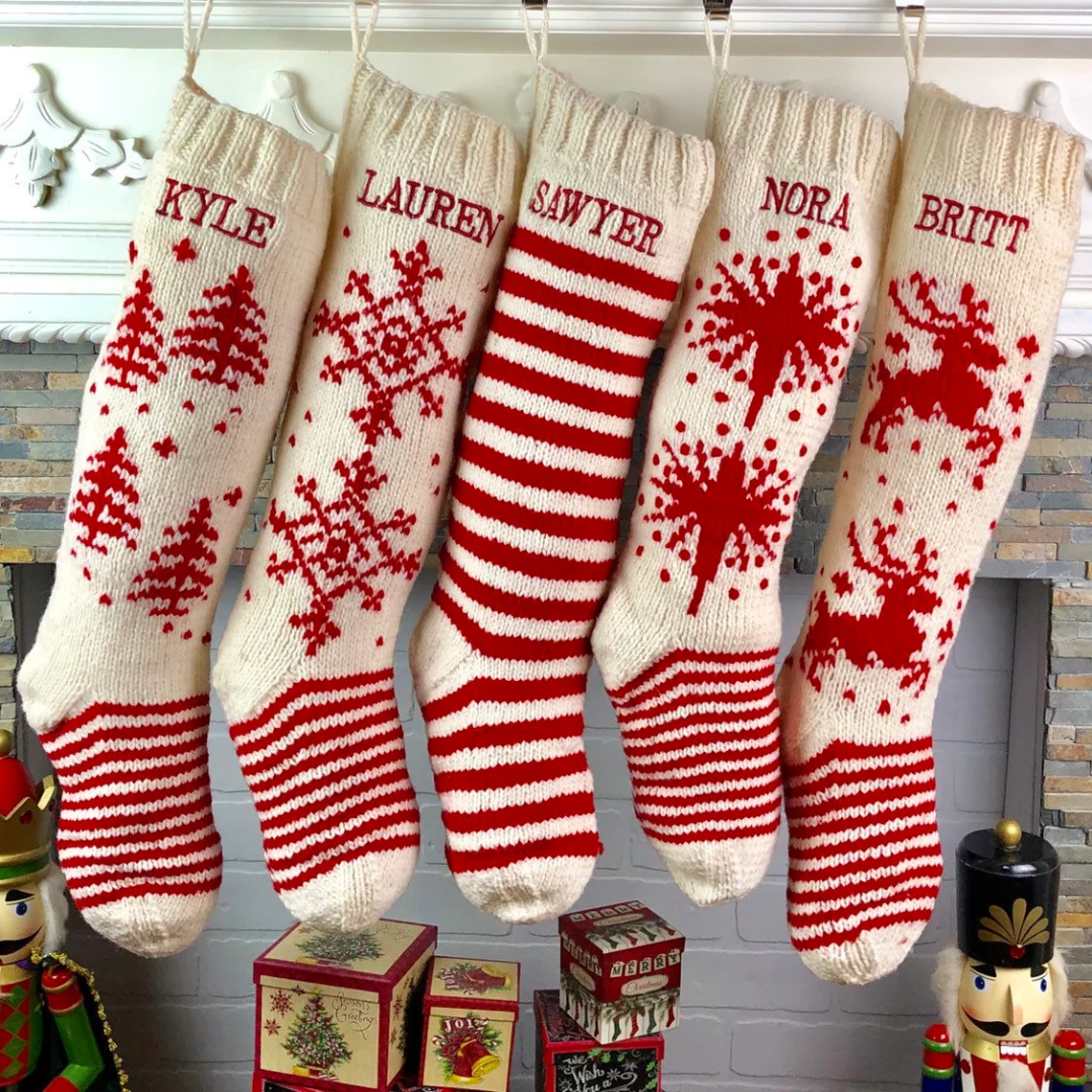 17. Agnes Linen Quilted Stocking (Garnet Hill): We know you will adore this timeless linen quilted stocking. It's gorgeous!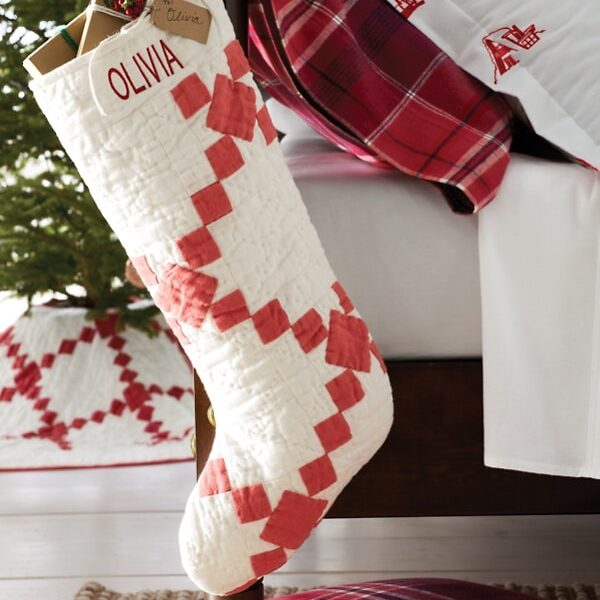 18. Natural Fair Isle Stockings (Pottery Barn Kids): Create a warm welcome for Santa with these classic stockings adorning your fireplace.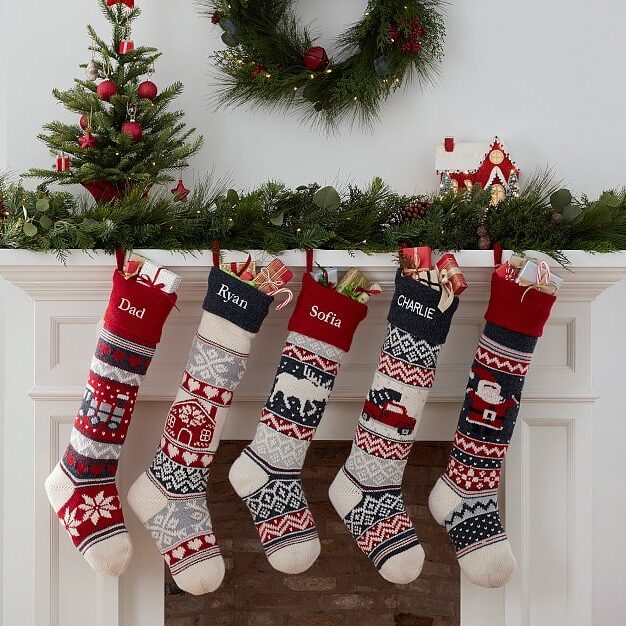 19. Needlepoint Stocking (L.L. Bean): These old-fashioned needlepoint stockings come in various styles. Don't forget to get your Christmas stockings personalized, so Santa knows whose is whose!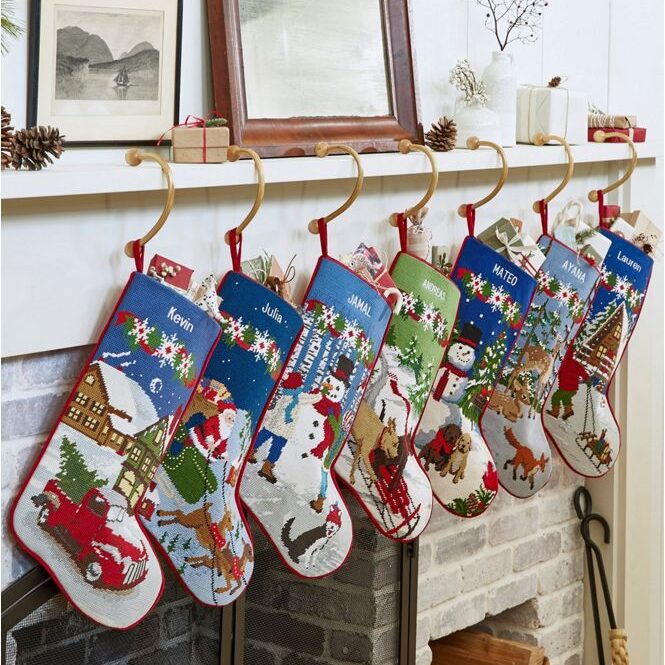 20. Striped Stockings(Etsy): Striped like classic candy canes, we adore the traditional look of these cute stockings!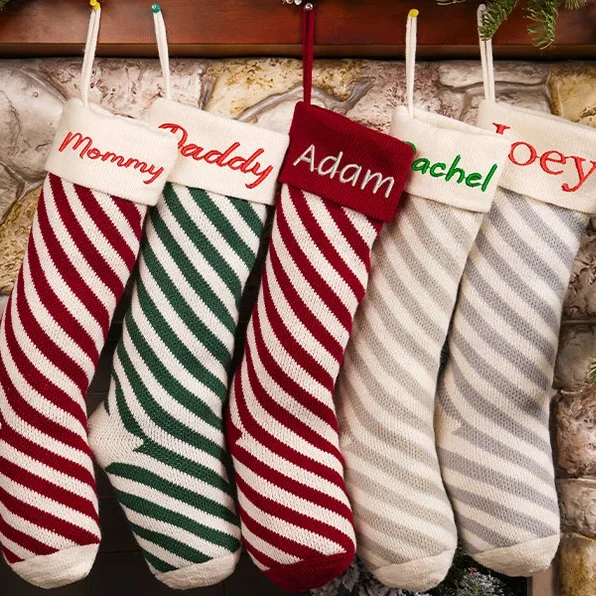 Personalized Christmas Stockings: Unique
21. Countdown to Christmas (Personalization Mall): A stocking and an advent calendar in one? Sign us up! Check out these cute advent calendars while you're at it!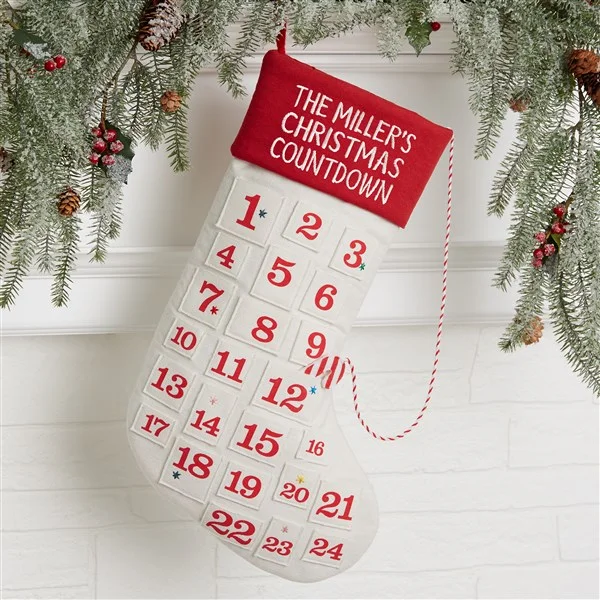 22. Dog Bone (Etsy): Don't leave your favorite furry friends out of the festivities! These cute dog bone stockings are sure to please your pups.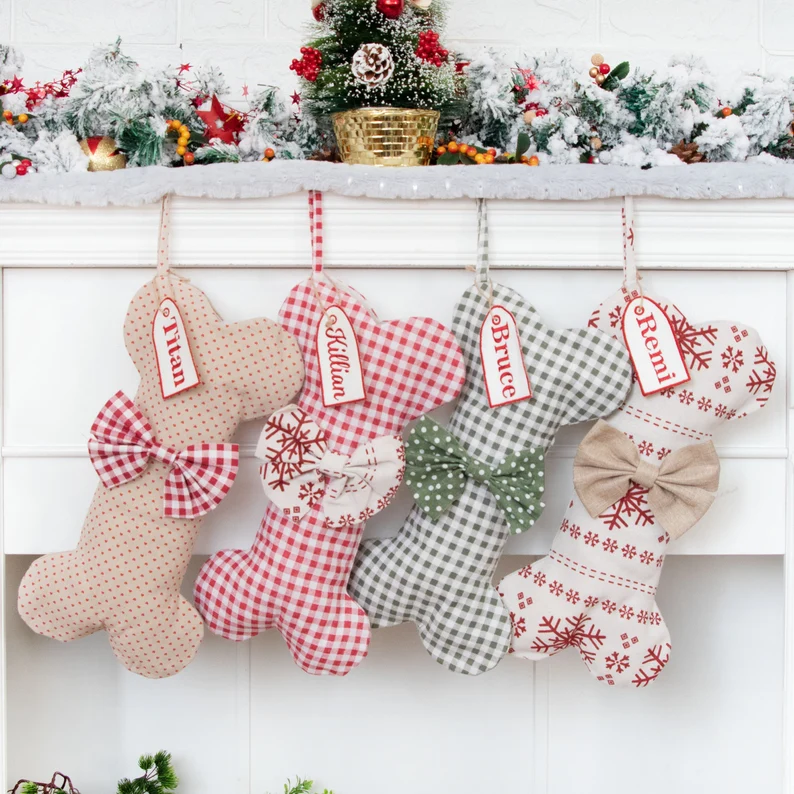 23. Cowboy Boots (Personalization Mall): Got some little buckaroos at your home? These delightful cowboy boot stockings are just the thing!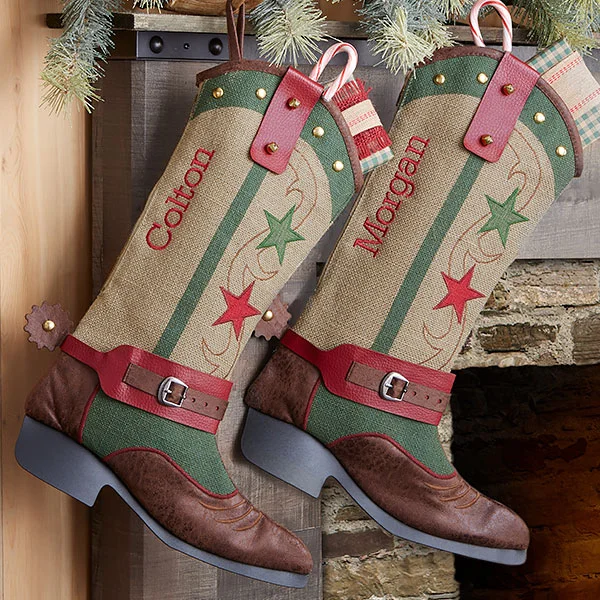 24. Picture Perfect Photo (Personal Creations): No searching for names or tags; Santa will know just which stocking belongs to which family member and your family and friends will love looking at the charming photos!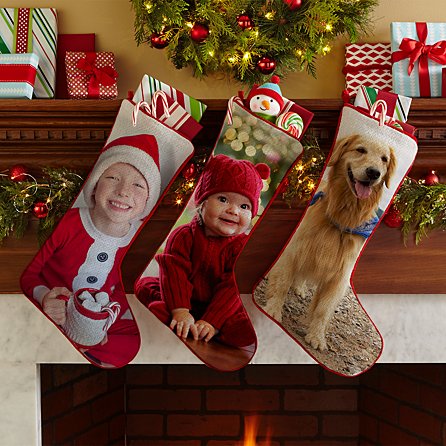 25. Elf Pants (Personal Creations): These funny stockings are so festive and unique! The elf pants will look so cheery hanging on your mantle, though you may need more than one stocking holder per stocking!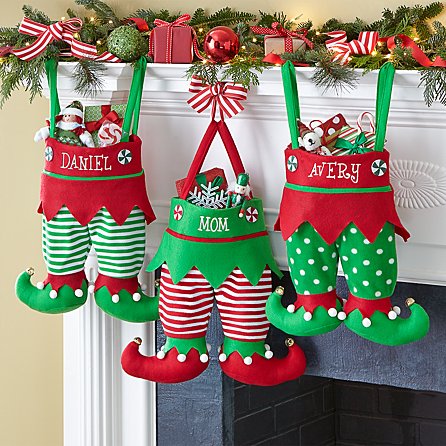 There you go! 25 wonderful personalized Christmas stocking ideas to dress up any hearth. Oh, and of course, you will need ideas for stuffing these adorable stockings! Take a peek at The Greatest Stocking Stuffer Ideas and our darling Stocking Stuffer Printables Pack. Don't forget Stocking Stuffers for Him!
May your season be merry and your stockings be full!