The Best Mocktail Recipes You Can Whip Up for Any Holiday
There's never a bad time for a mocktail, am I right?! Whether it's a warm summer evening, one of your favorite holidays, or a fun family celebration, sipping on a yummy and pretty drink is always a good decision in our book! But, if you're tired of the same old, boring drinks that you have on rotation, you've come to the right place! We've rounded up 35 mocktail recipes that you can whip up for any holiday or fun celebration!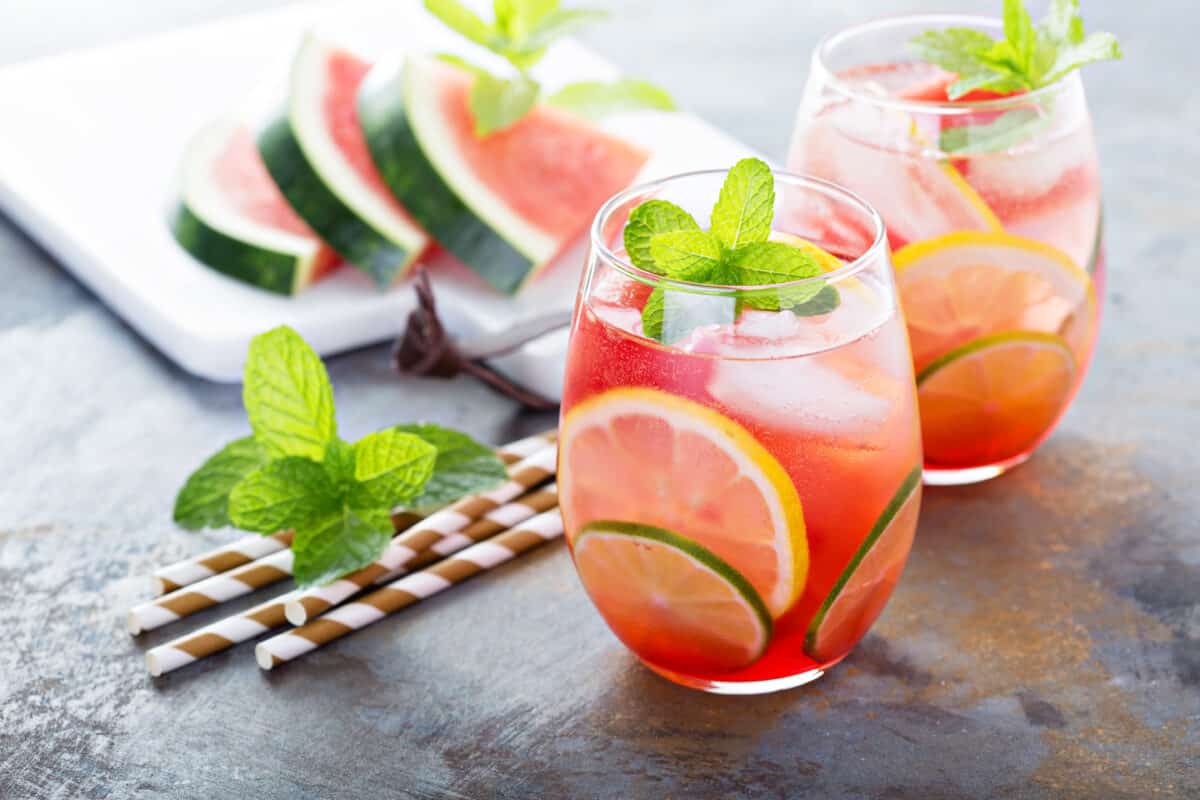 Disclaimer: This post contains affiliate links. To learn more about 'em, click here.
Table of Contents
New Year's Eve Mocktail Recipes
What's New Year's Eve without a little bubbly?! Even if you're opting out of alcohol, you can still feel fancy with a fun drink in hand. From mock champagne to alcohol-free jello shots, these amazingly festive non-alcoholic drinks will surely get you in a celebratory mood!
1. Mock Champagne – On New Year's Eve, everyone wants something bubbly in a fancy glass, am I right?! So, for your next New Year's Eve, try this bubbly beverage with your whole family or for your fun and festive party. It's easy to make and there are only THREE ingredients in the recipe!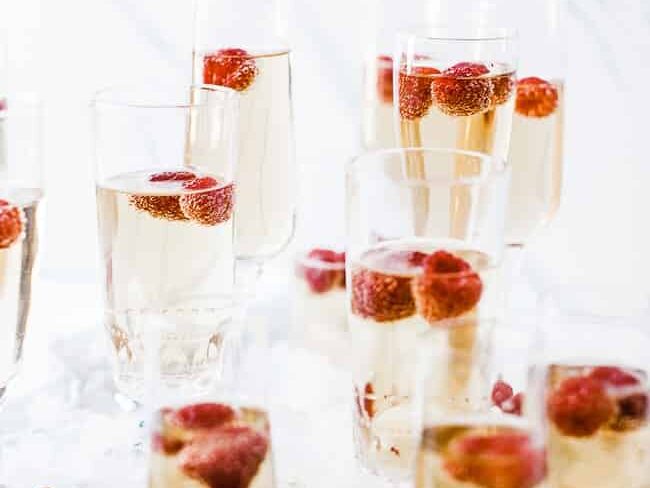 2. Frost Bite Mocktail – Now this looks like a drink that would be perfect on a cold and wintery night. It's festive, smooth tasting, and made with Sierra Mist soda! Not to mention, this is the perfect mocktail to whip up if you're looking for something to sip on in a pretty martini glass!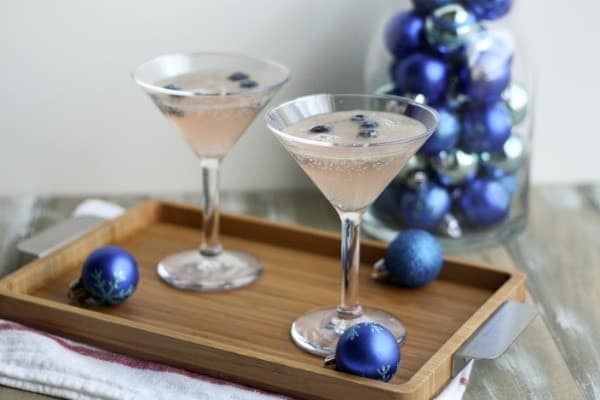 3. Cranberry Pomegranate Bellini's – How festive and pretty is this drink looking all red, bubbly, and cheery?! But aside from its pretty color, this beverage is also delicious, with a flavor that's simultaneously sweet and tart.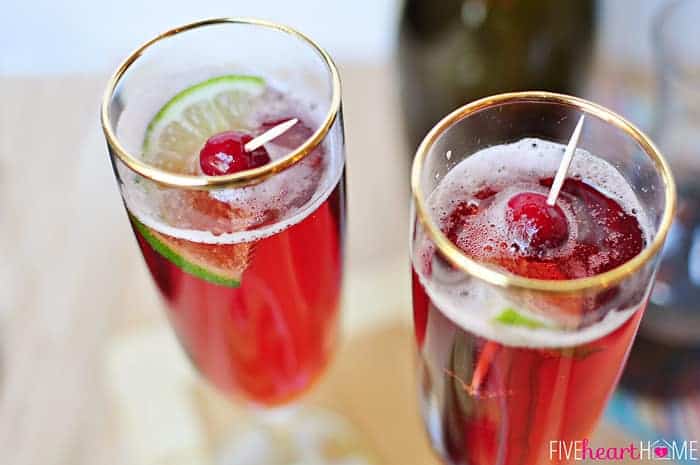 4. Sparkling Cider Mocktail – Perfect for kids or adults, these Sparkling Cider mocktails are a sweet and yummy treat that can be sipped on while ringing in the new year! You can even customize these drinks a bit by switching up the flavor of cider you use.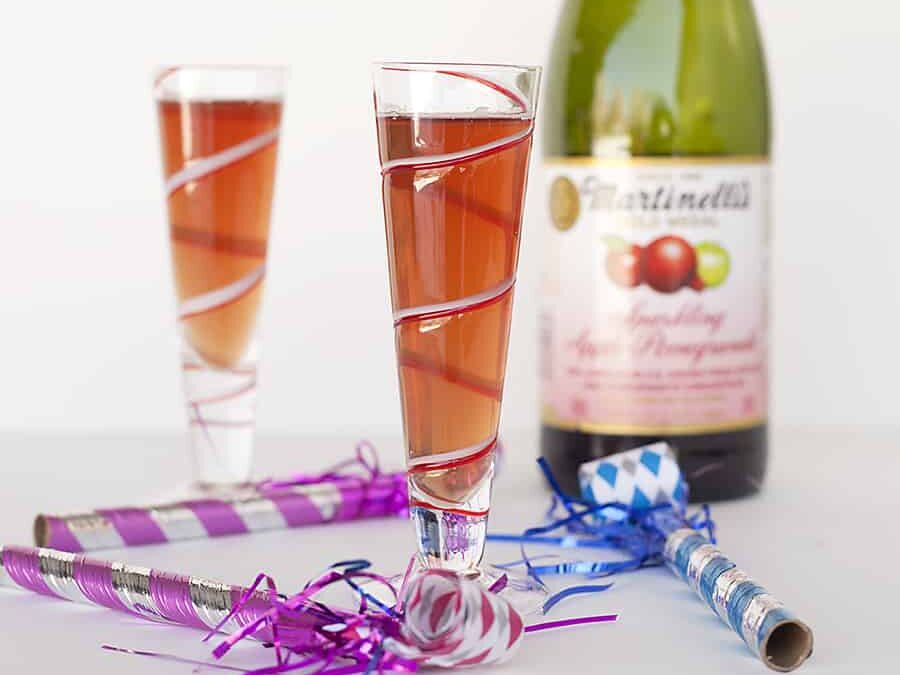 5. Sparkling Ginger Pear Mocktail – This Sparkling Ginger Pear mocktail is a refreshing and vibrant drink for the holidays, even when celebrating with kids and family! Fresh ginger and rosemary infused simple syrup mixed with pear nectar and ginger ale makes for an amazing holiday treat.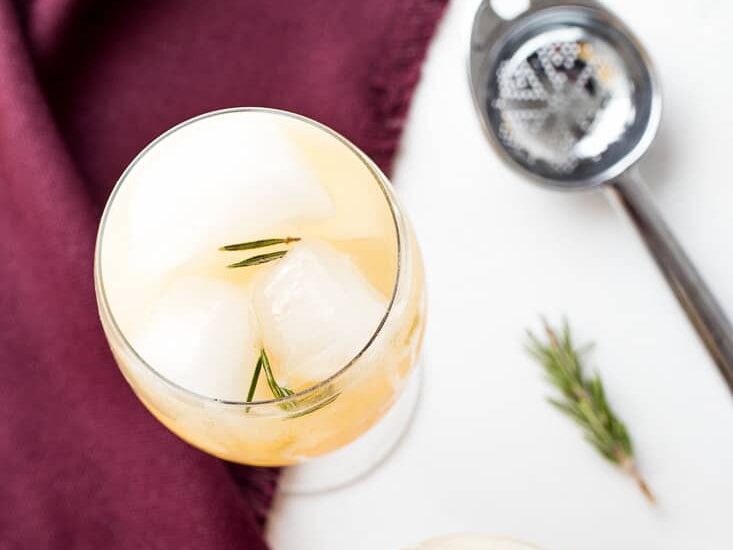 6. Mocktail Champagne Shots – If you're looking for something a little out of the box this New Year's Eve, these mocktail "Champagne Shots" just might do the trick! And the best part is, you only need FOUR ingredients to make these unique and festive treats.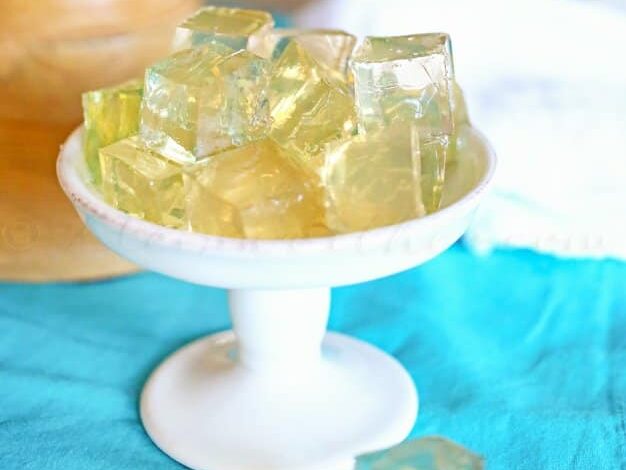 Best Valentine's Day Mocktails
We are convinced that every Valentine's Day celebration needs a pretty pink drink to accompany it! These punches, juices, and fancy-looking mocktail recipes will be the perfect addition to your day of love and affection.
7. Pink Lemonade Punch – Need a great non-alcoholic punch recipe for Valentine's Day? This Pink Lemonade Punch is easy to create, only requires three ingredients, and will definitely be a big hit! It's delicious, refreshing, and oh-so pretty in pink!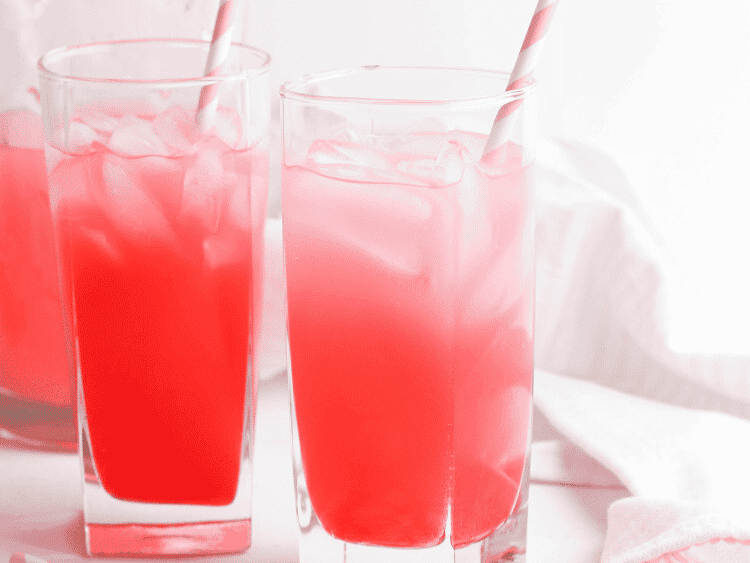 8. Be Mine Mocktail – This drink right here surely proves that having a classy and sophisticated drink in hand doesn't always require alcohol! This easy-to-make mocktail contains hibiscus red grape juice, lemon-lime soda, orange juice, and of course, is topped with these darling candy hearts!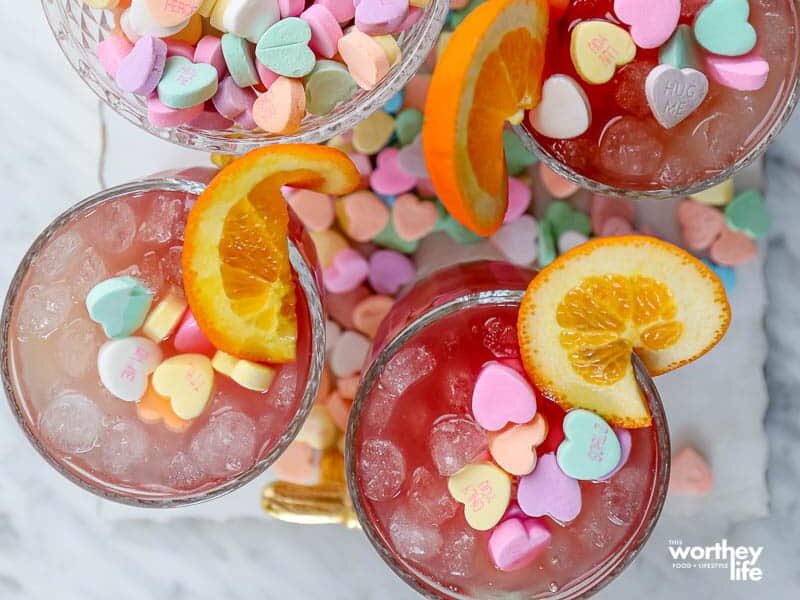 9. Cupid's Cocktail – Doesn't this look like something you would order from an old-school soda shoppe? This spruced-up classic Shirley Temple drink is sweet, easy to make, and is bound to make your V-Day celebrations all the more special!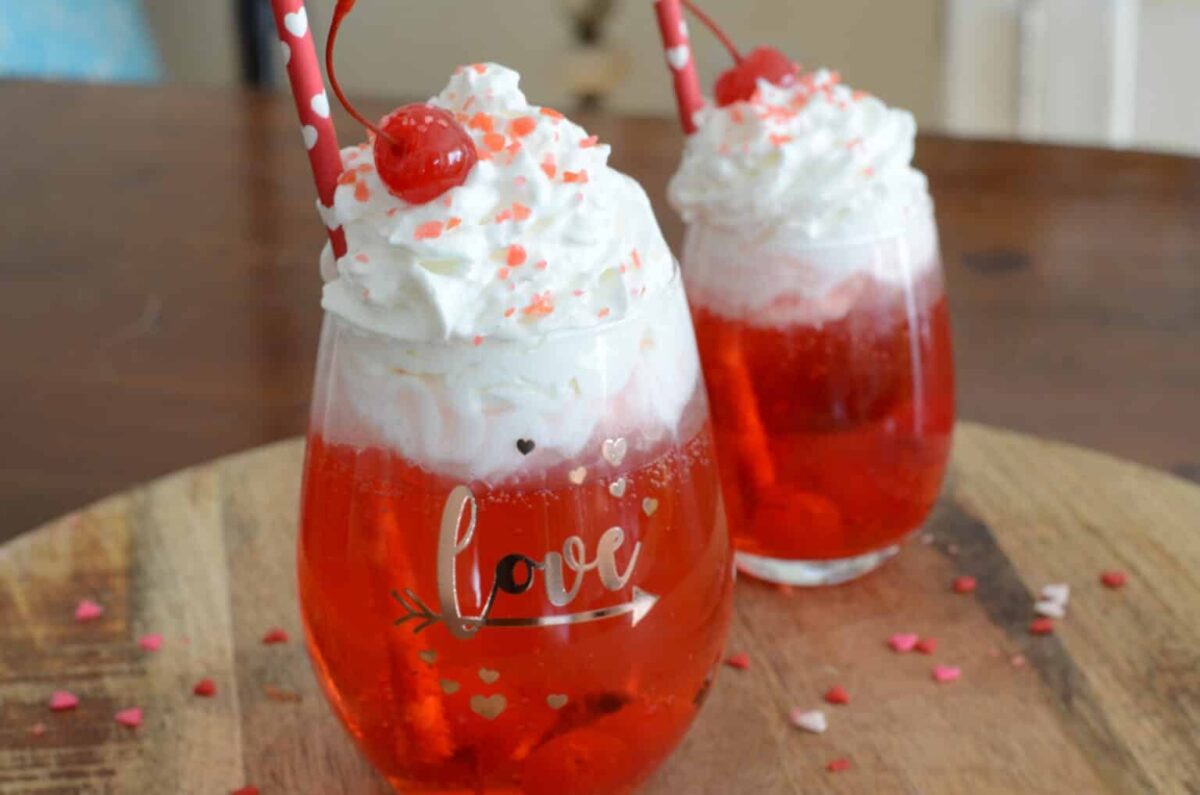 10. Love Potion No. 9 – This sparkling cherry spritzer is just right for the day of love! It's a classic fruity mocktail made with fresh lime, maple syrup for sweetness, 100% fruit juice, and sparkling water. Be sure to finish it off with some heart-shaped ice cubes for some extra pizzaz!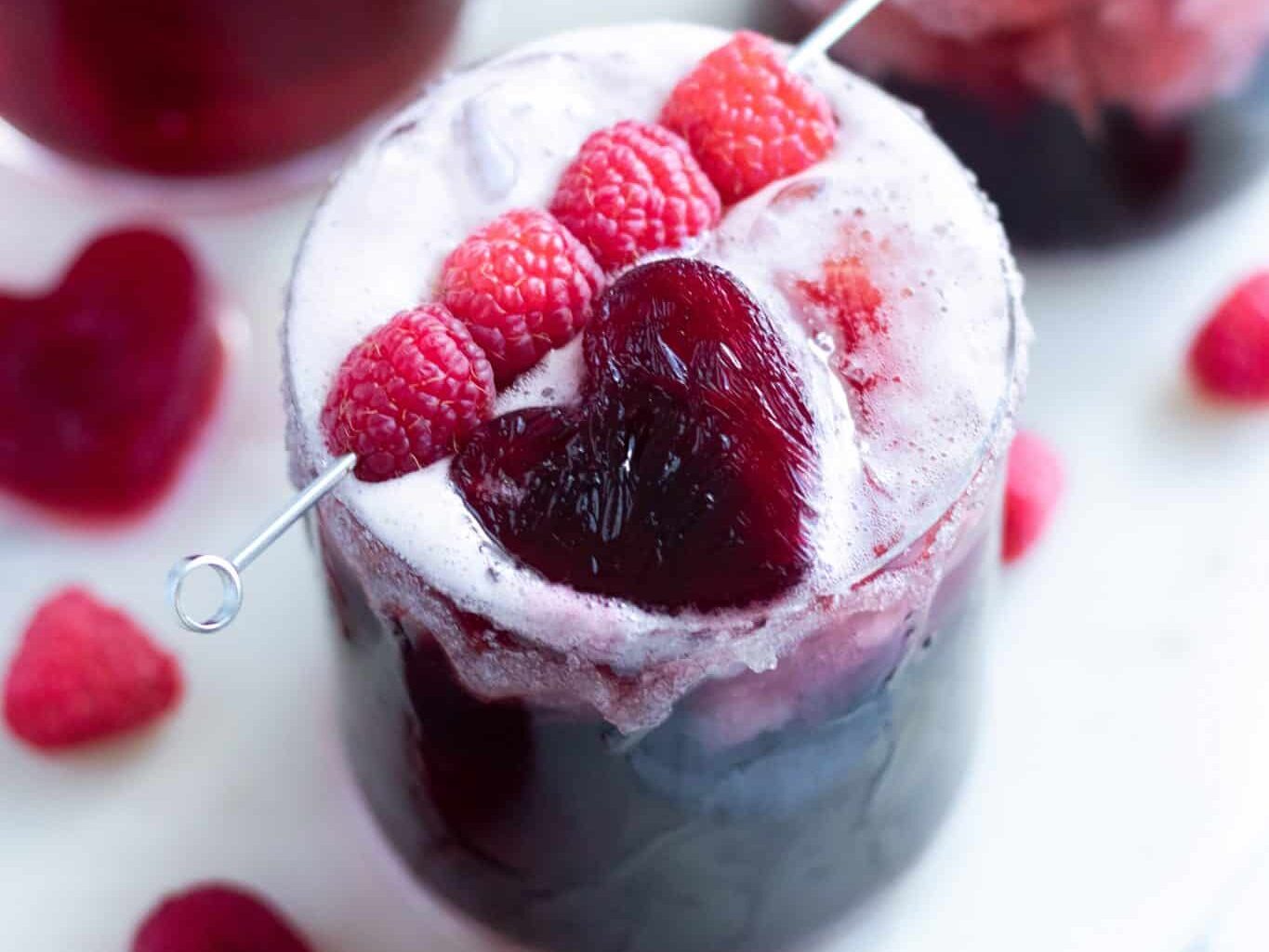 11. Cosmopolitan Mocktail – There's nothing more classic than a Cosmopolitan, right?! But, if you're looking for a swanky Cosmo without all the alcohol, than this Cosmocktailian will be your new go-to! Indulge in the mild version of this trendy drink, and enjoy that gorgeous Valentine's Day treat!
12. Easy Valentine's Day Mocktail – Cute mocktails that everyone in the family will enjoy! This recipe is simple, easy to follow, and has just a few ingredients. Not to mention, the sprinkles on the rim and the fun party straws will make this Valentine's Day drink even more beautiful!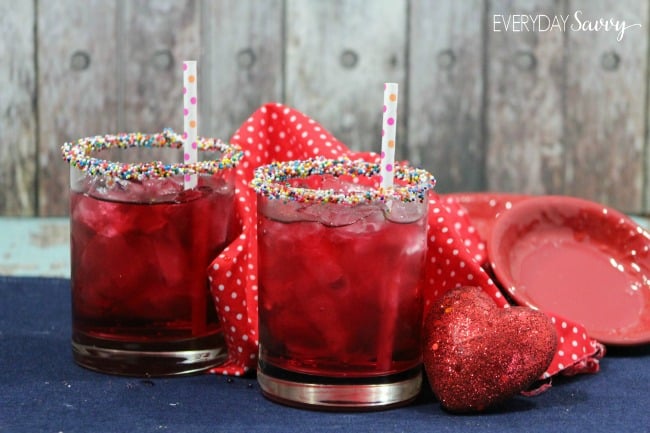 Best Mocktail Recipes for St. Patrick's Day
Even if green drinks typically aren't your thing, these yummy and gorgeously green mocktails just might be the thing that sways you! Whether you're in the mood for milkshakes or light refreshers, you'll definitely find something here that brings out your inner leprechaun!
13. Homemade Shamrock Shake – Are you a sucker for the Shamrock Shake from McDonald's? Don't worry, so are we! This Homemade Shamrock Shake recipe is the best copycat recipe for the classic McDonald's version. Its green color is perfect for St. Patrick's Day, is refreshingly minty, and only contains 4 ingredients!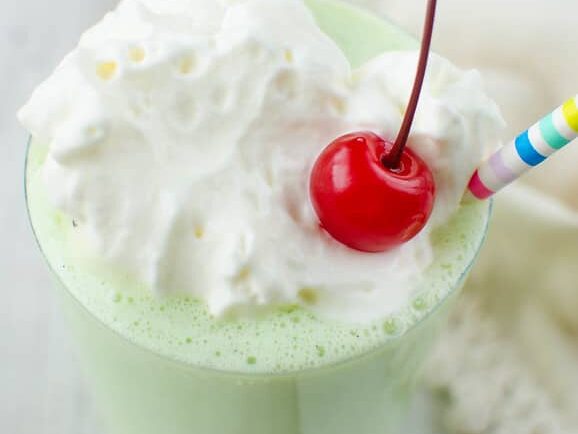 14. Sparkling Limeade with Mint – If you would prefer something light and refreshing this St. Patrick's Day, these Sparkling Limeade drinks are definitely fresh, bright, and tangy! Add a bit of mint garnish and you've got yourself a classic crowdpleaser!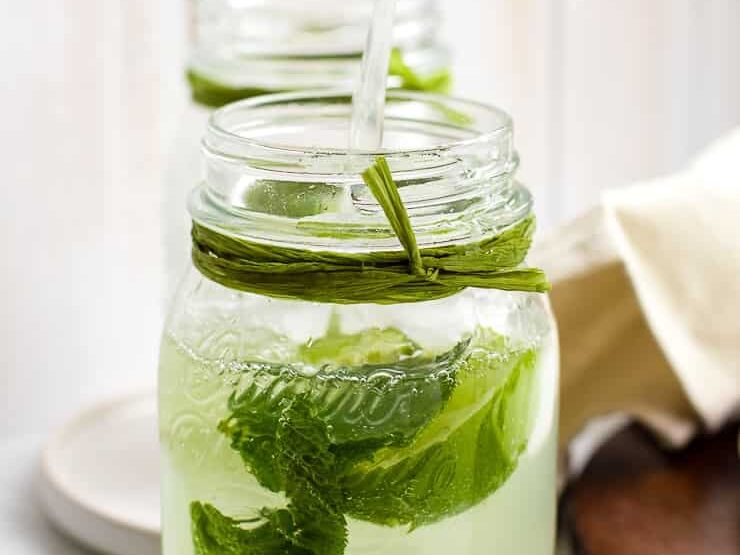 15. Frozen Virgin Margarita – Okay, okay…I know this typically wouldn't be the first drink choice you think of when envisioning St. Patrick's Day but hey, there are no rules when it comes to holiday drinks, right?! This frozen virgin margarita is refreshingly lime-y, and can be made ahead in a big pitcher for everyone to enjoy!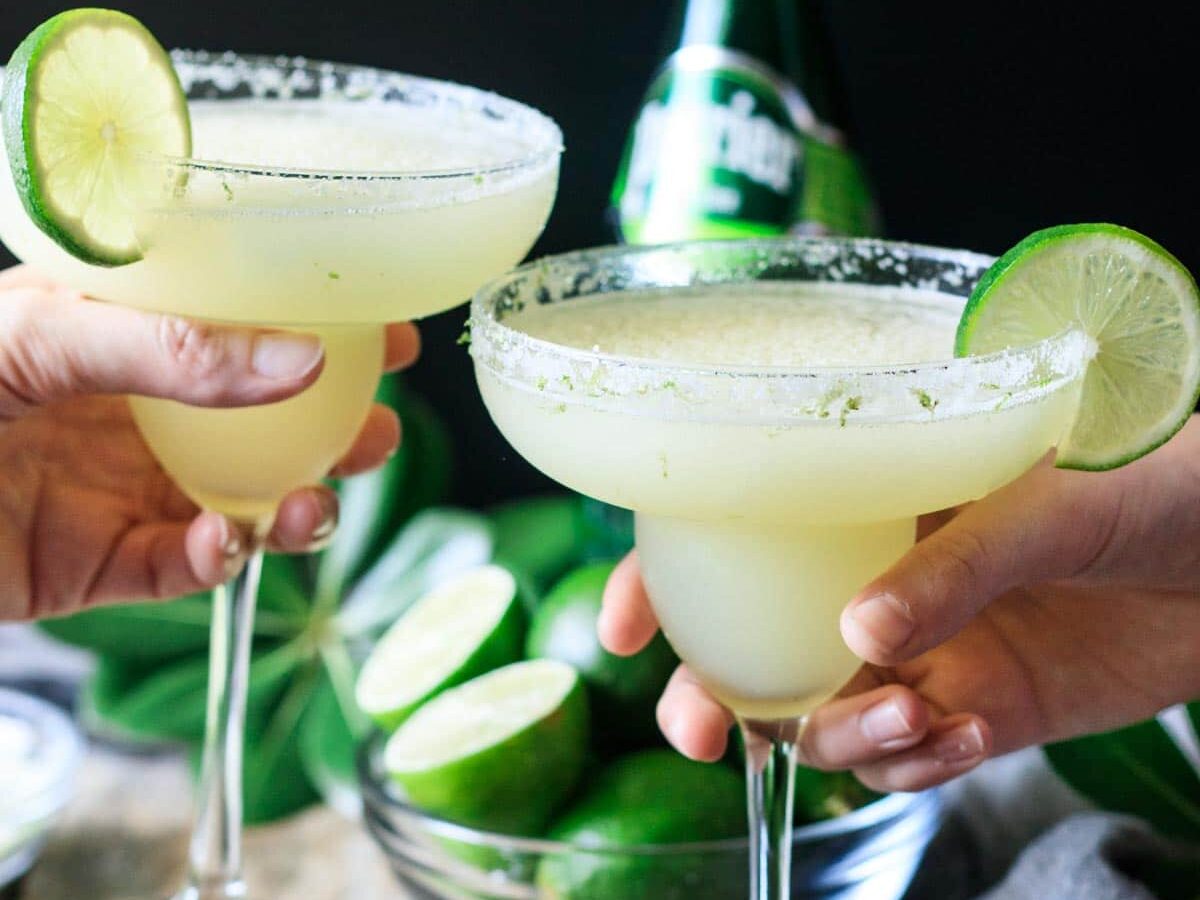 16. Cucumber Lime Mint Agua Fresca – Yes, this one may sound a bit weird, but trust us, it's good. Like really good! A cool and refreshing Agua Fresca made with cucumbers, lime, and mint. BONUS: apparently you can also take the puréed solids from this recipe and use them as a facial mask! Double win!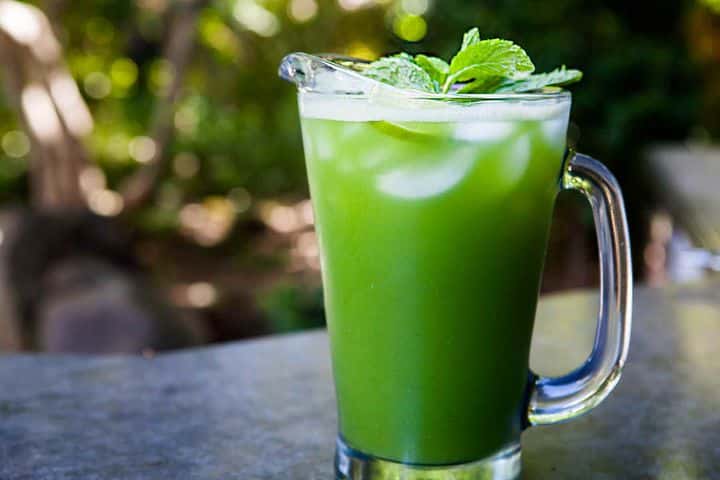 17. Lucky Charms Milkshake – This Lucky Charms Milkshake will remind you of your childhood and that yummy, sugary milk at the bottom of the cereal bowl. Let's be honest, even if you're not typically a cereal-lover, Lucky Charms and St. Patrick's Day kind of go hand-in-hand! These milkshakes are everything you used to love about your favorite childhood cereal, just in milkshake form!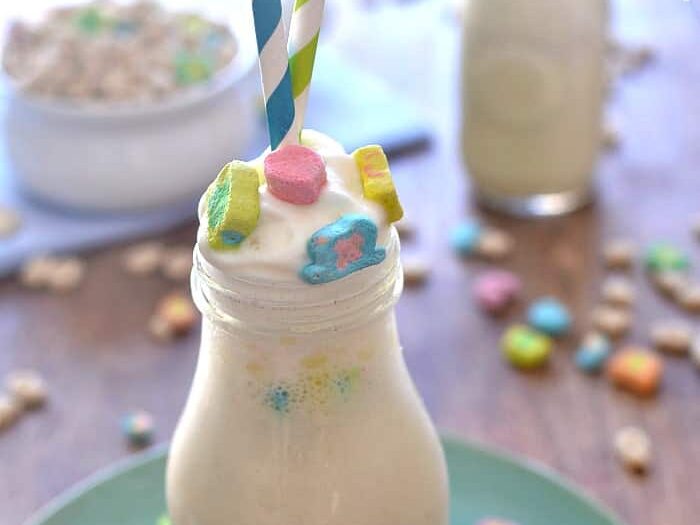 18. St. Patrick's Day Surprise – This simple, gorgeously green mocktail is refreshing, tart, and also contains a little surprise ingredient that will for sure greet your guests upon their first sip. Hint: this little green treat is actually Grapefruit-flavored!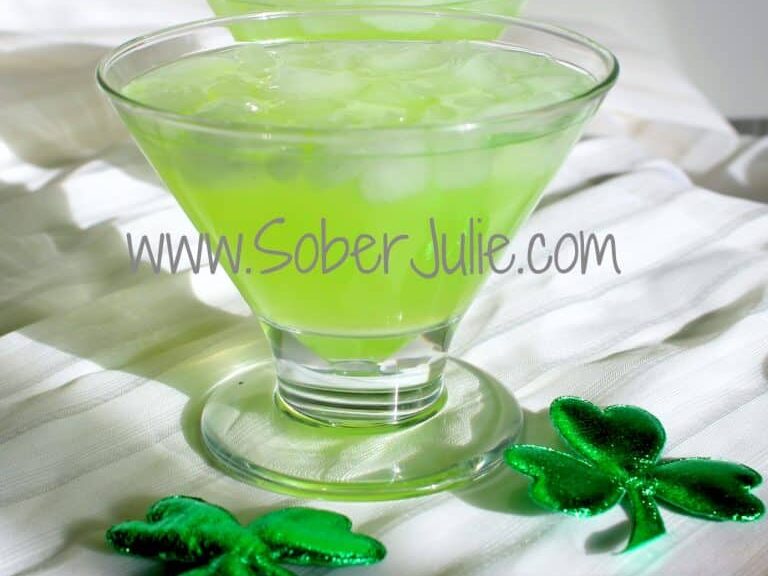 Festive 4th of July Mocktail Recipes
Presenting: the tastiest red, white, and blue non-alcoholic drinks to whip up for your next 4th of July celebration! These deliciously festive and colorful treats will have all of your family and friends oohing and aahing!
19. 4th of July Mocktail – With its layers of red, white, and blue, this 4th of July drink is a perfect addition to any celebration! Just have a little patience when pouring and you'll have the Pinterest-worthy outcome you have always dreamed of creating!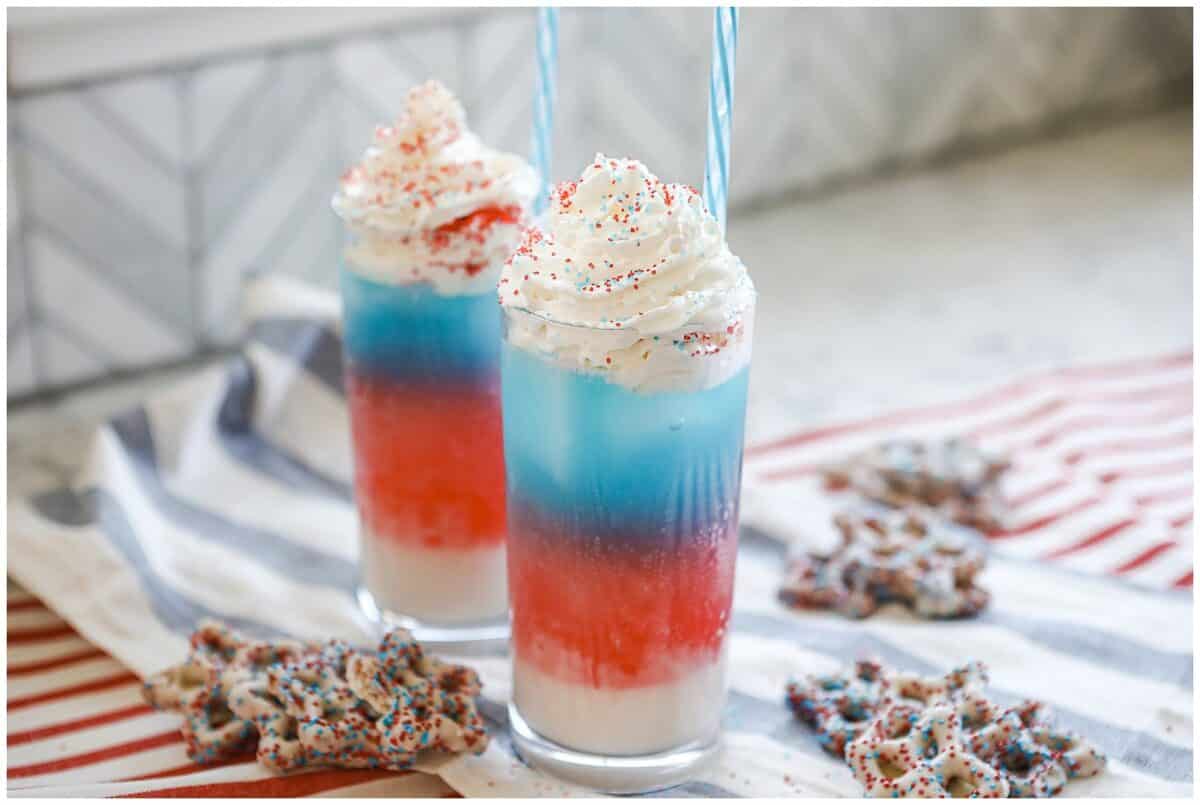 20. Stars and Stripes Mocktail Sangria – This non-alcoholic Stars And Stripes Sangria will be a refreshing hit at your next celebration! This mocktail has the same ingredients as a sangria, minus the wine and alcohol. Instead, it calls for white grape juice! Fresh fruit is always a major hit at any summertime get-together.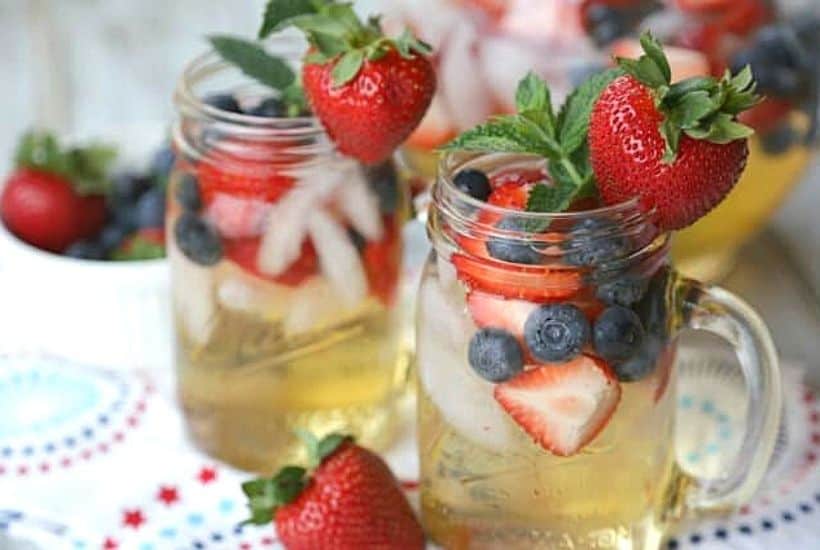 21. Patriotic Punch Mocktail – This three-ingredient Patriotic Punch is a fun drink the whole family can enjoy! It's a layered red, white, and blue drink made with simple, non-alcoholic ingredients. It's fruity, refreshing, and also requires no measurements! You can even spruce up everyone's glass with some patriotic toppers.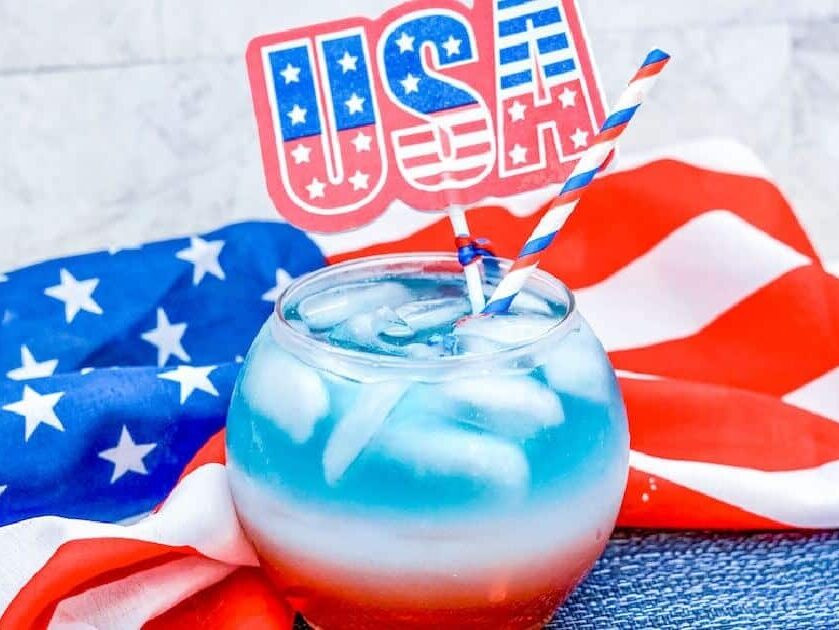 22. Blueberry Iced Tea – Flavored iced teas are the quintessential refreshing summer drink, aren't they? Perfectly sweet, but not too sweet, this delicious homemade blueberry iced tea is made with fresh blueberries and black tea. It's also easy to prepare in advance, making it an ideal drink for a large family BBQ!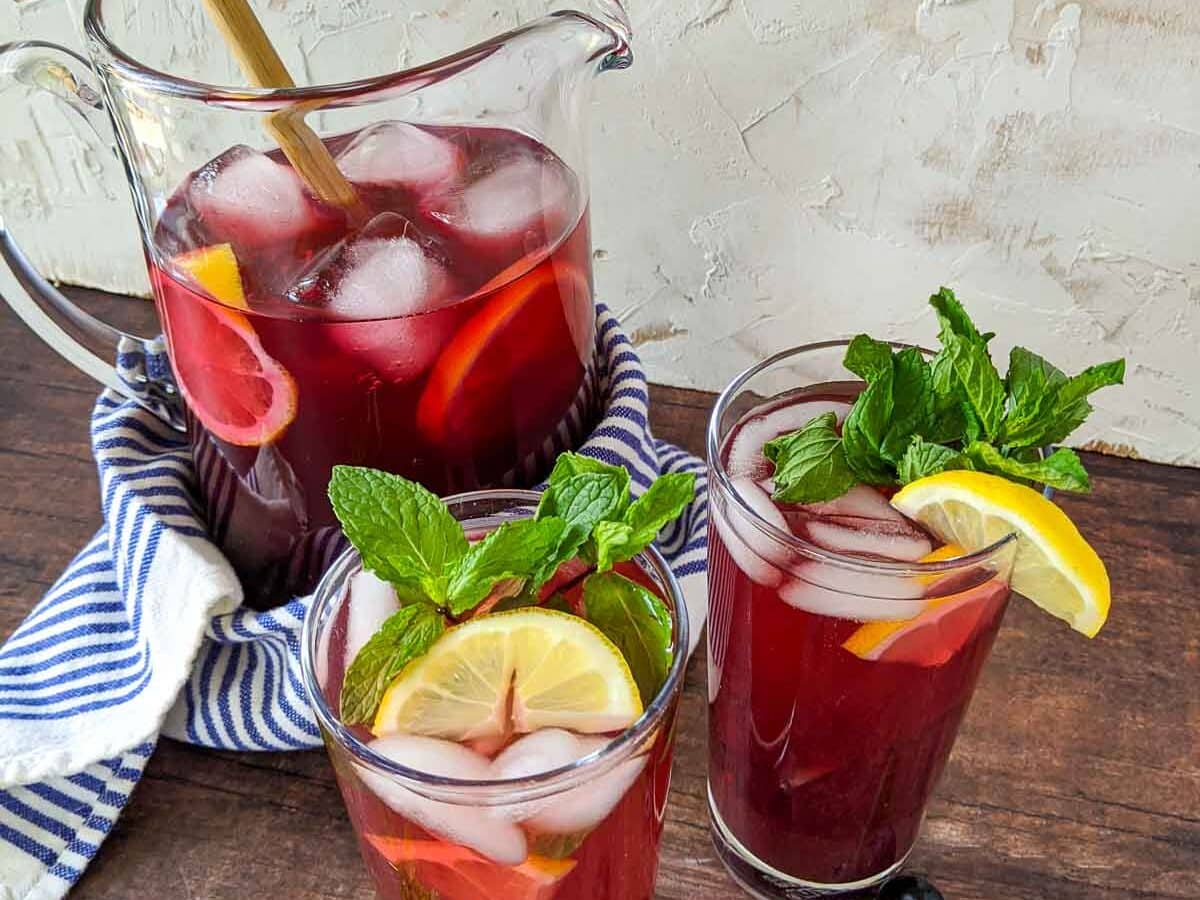 23. Bomb Pop Mocktail – Where drinks and popsicles become one! These Bomb Pop Mocktails will have all the kids (and probably adults) going crazy! Just fill a glass with ice and lemon-lime soda, pop in a festive popsicle, let it melt, and then sip away. YUM!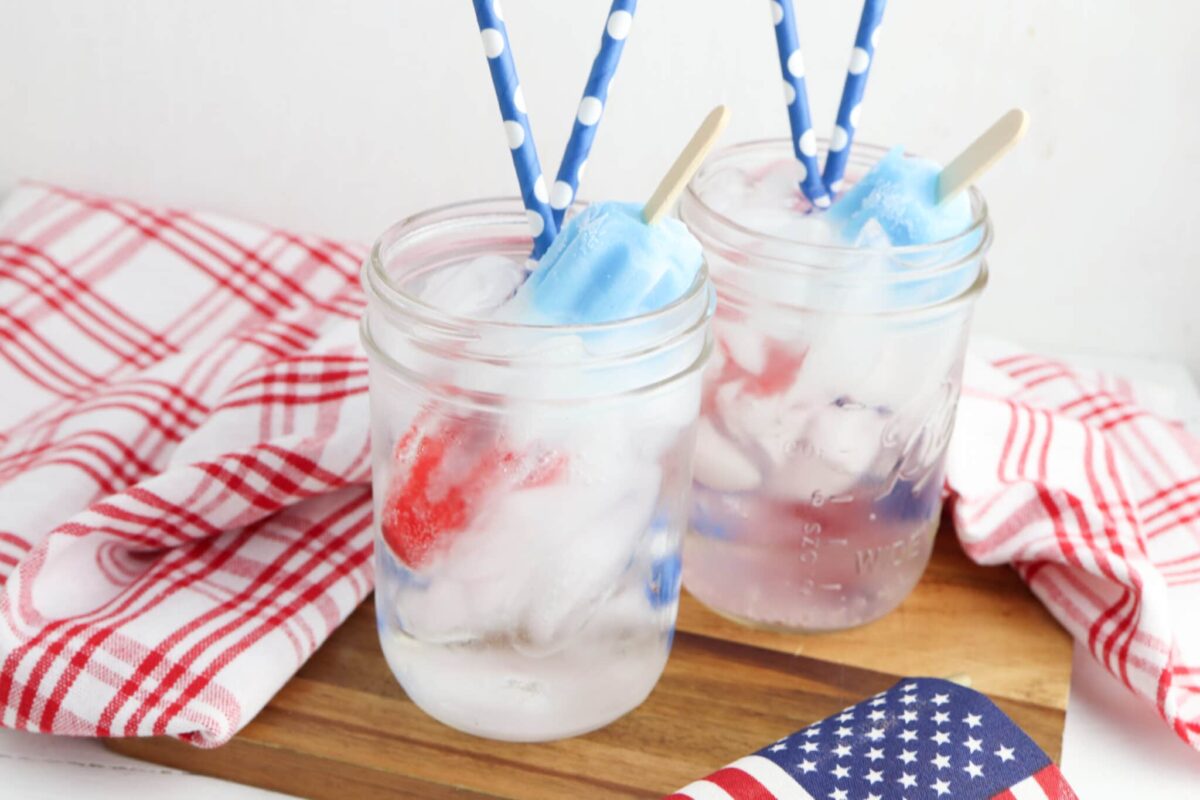 24. Blue Lagoon Mocktail – Looking for a non-alcoholic drink that's quick to make and also super refreshing? You can't go wrong with this impressive, three-ingredient blue lagoon mocktail! Everyone will surely fall in love with its delicious citrus flavor and insanely blue hue!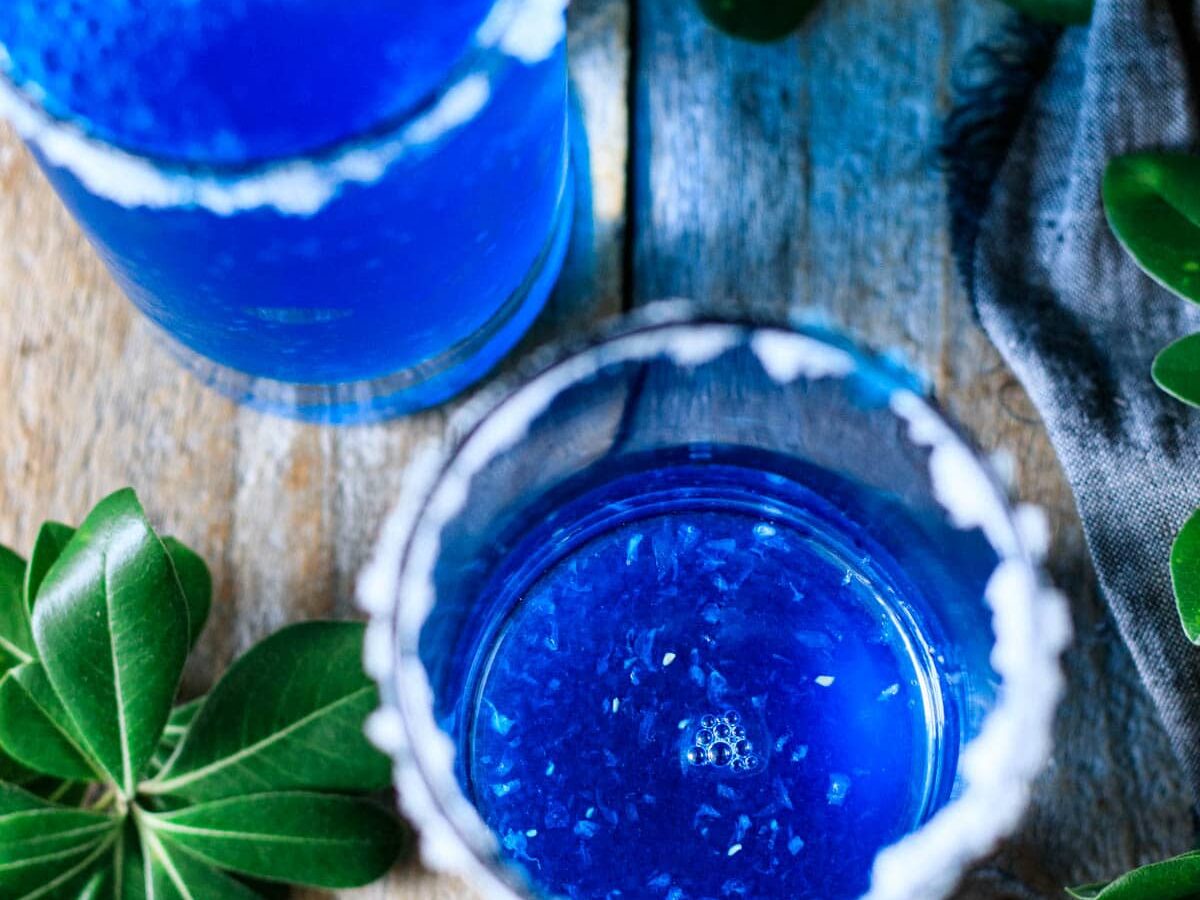 Non-alcoholic Drinks for Halloween
There's nothing scarier than a Halloween celebration with boring beverages! Lucky for you, these Halloween mocktail recipes will have you looking like the head witch at your next October get-together.
25. Hocus Pocus Punch – While this drink doesn't have any real ties to the Hocus Pocus movie, that probably won't stop you from wanting to take a big ol' swig of it! Made with apple cider, cranberry, orange, ginger and all sorts of delicious things, this fall-inspired mocktail will definitely put you in the witchy spirit!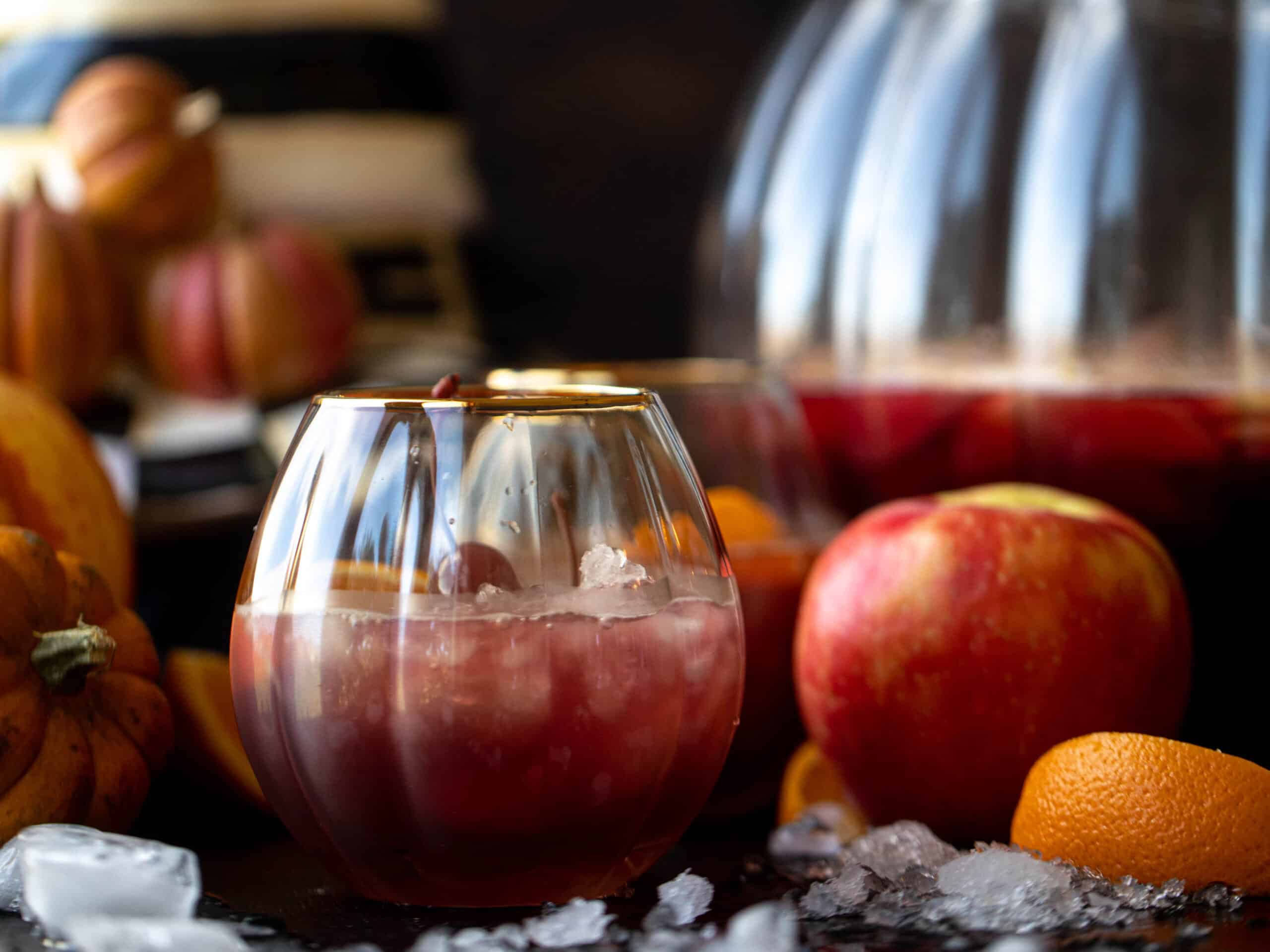 26. Bloody Shirley Temple – Although this drink from Mom's Dinner looks `super spooky, we promise it's completely innocent! Sprite is mixed with cherry grenadine, BUT the grenadine is added to the mocktail through a gruesome bloody syringe!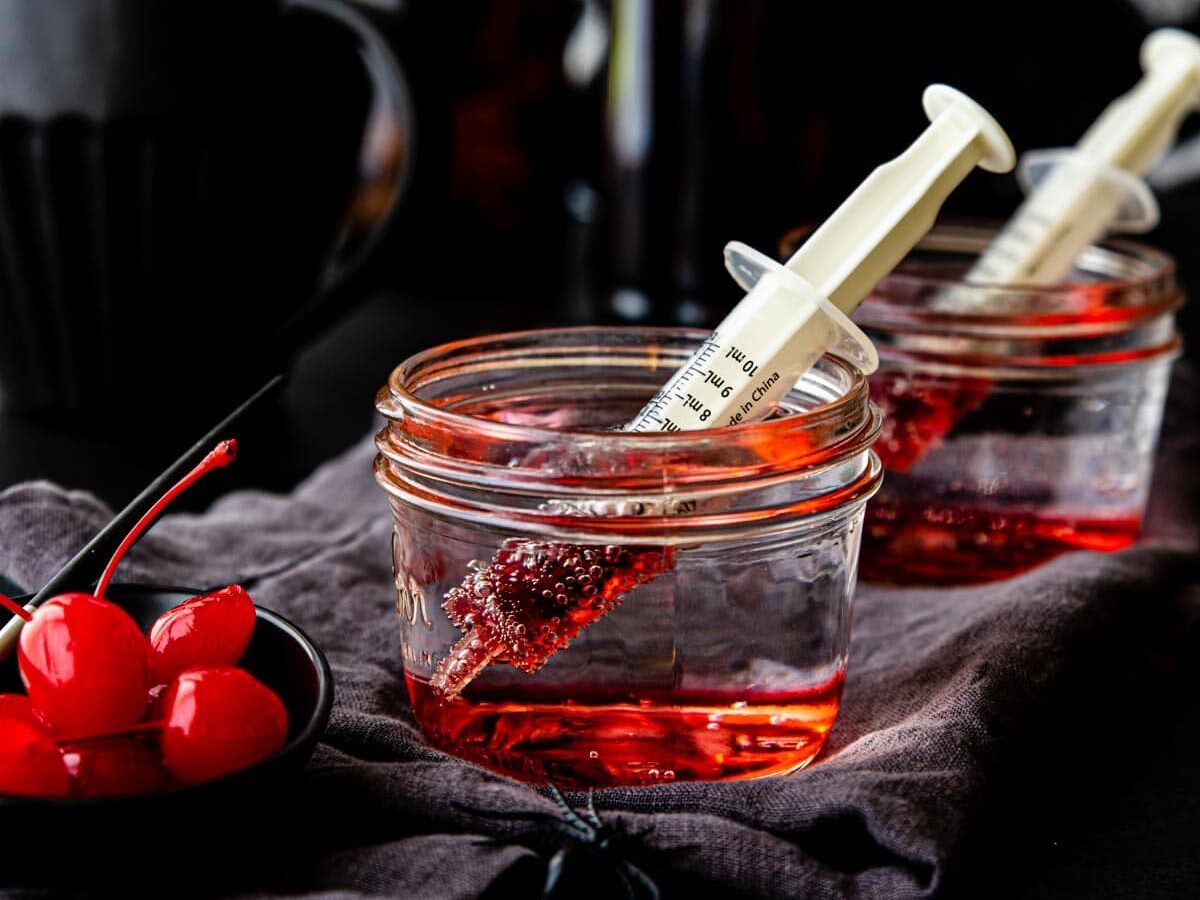 27. Coconut Spirit Mocktail – A non-alcoholic drink recipe that is pretty AND creepy all at the same time! While this recipe does have a few ingredients and steps to it, the outcome will for sure be worth it! Butterfly pea flowers (yes, we googled this too) are used to create this wonderful purple hue!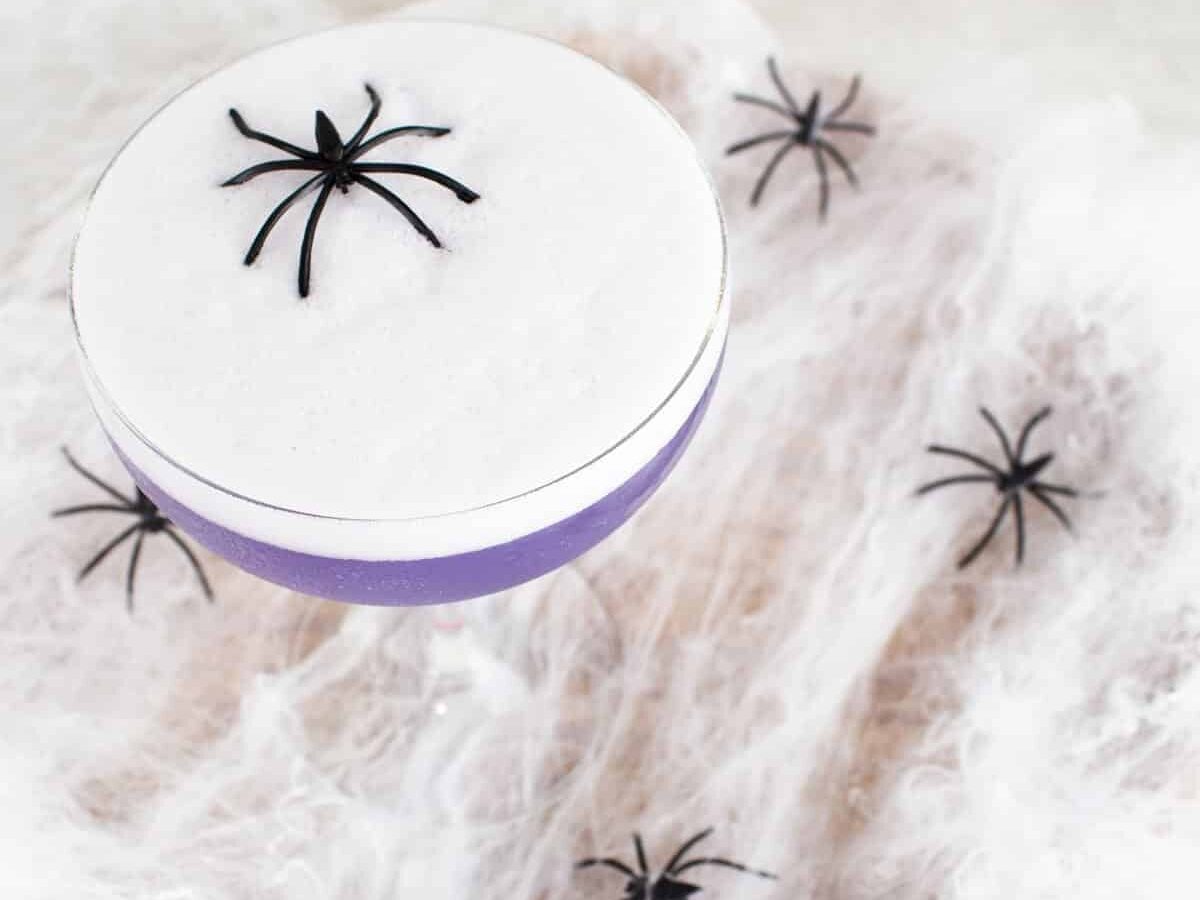 28. Spooky Halloween Mocktails – Whether you're planning a huge Halloween blowout bash or just a simple celebration, these Spooky Halloween mocktails will definitely add to the overall experience! The orange juice base provides the perfect Halloween vibe, and the tonic water gives it that nice festive sparkle!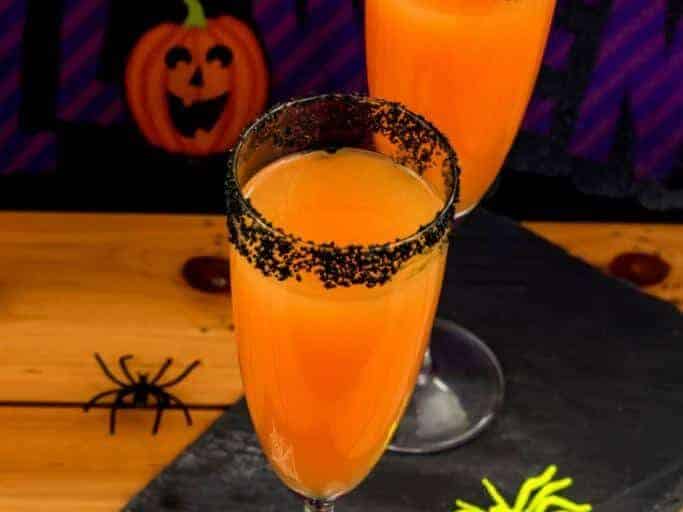 29. Witches Brew Halloween Mocktail – This yummy and bloody Witches Brew mocktail will be the hit of your next Halloween party or family movie night. Blueberry juice is mixed with apple juice to make the perfect brew. You can even coat the rim of the glass with strawberry syrup and sprinkles to look like blood!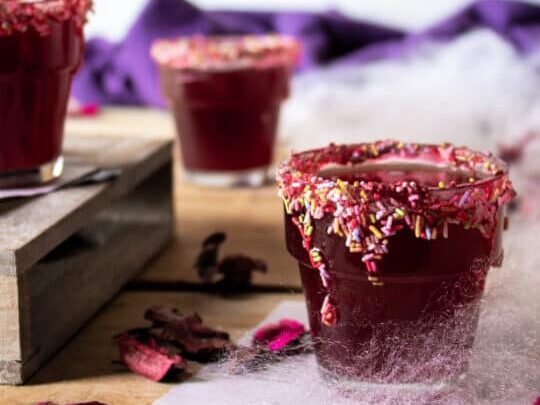 Yummy Christmas Mocktails
Have a holly jolly Christmas this year with these fun and yummy non-alcoholic drinks. You definitely won't need to ask Santa for the best mocktail recipes after you test out some of these ideas!
30. Candy Cane Mocktails – These candy cane Christmas mocktails will make you feel like you are strolling down Santa's driveway in a horse drawn sleigh! They are cool, creamy and perfectly pepperminty. These candy cane treats make for the perfect non-alcoholic toasting drinks at holiday gatherings, and also go great when added to a hot cocoa bar!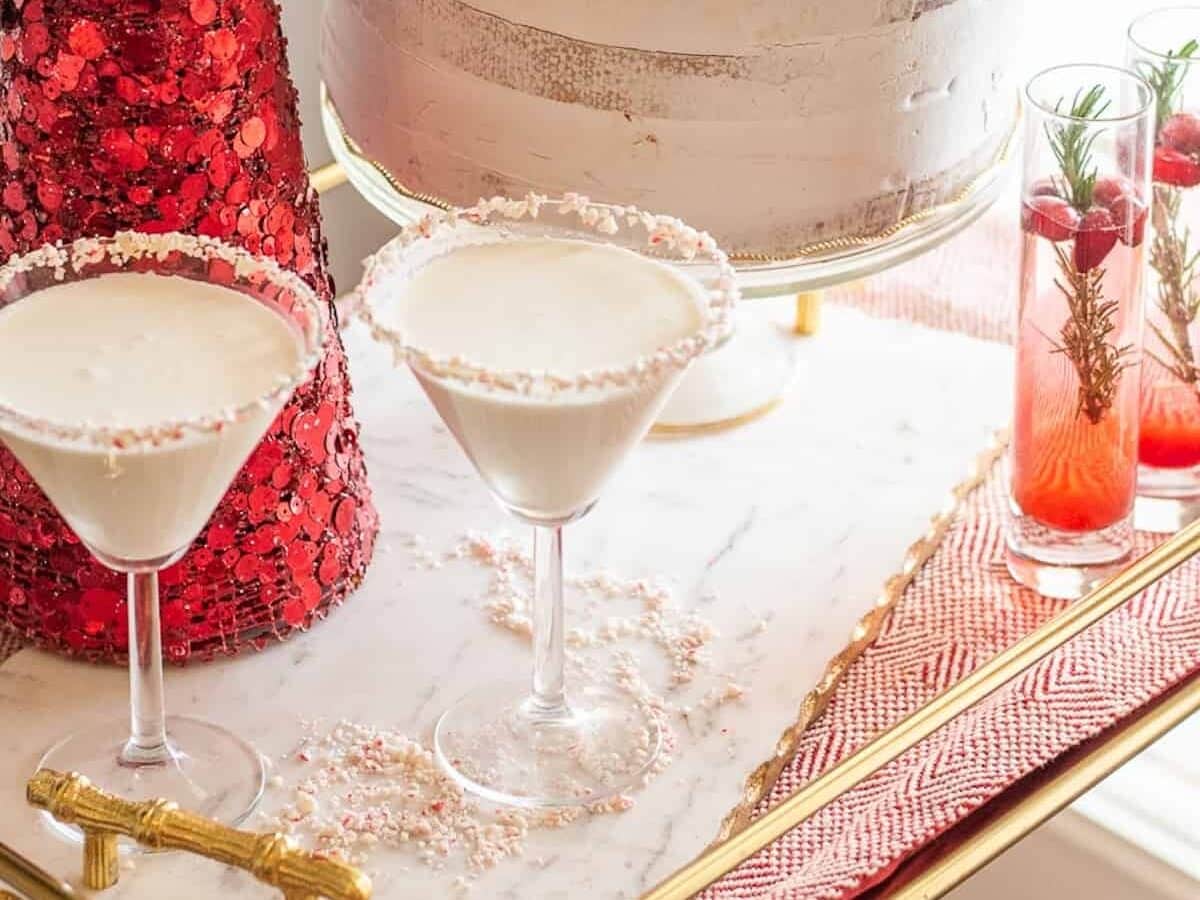 31. The Grinch Mocktail – This Grinch-inspired mocktail is just as green as the Grinch himself… minus the hairy coat! While this recipe does have quite the ingredients list, kale, apples, and spices make up the bulk of it. This yummy drink will surely bring the taste (and look) of Christmas to your palate!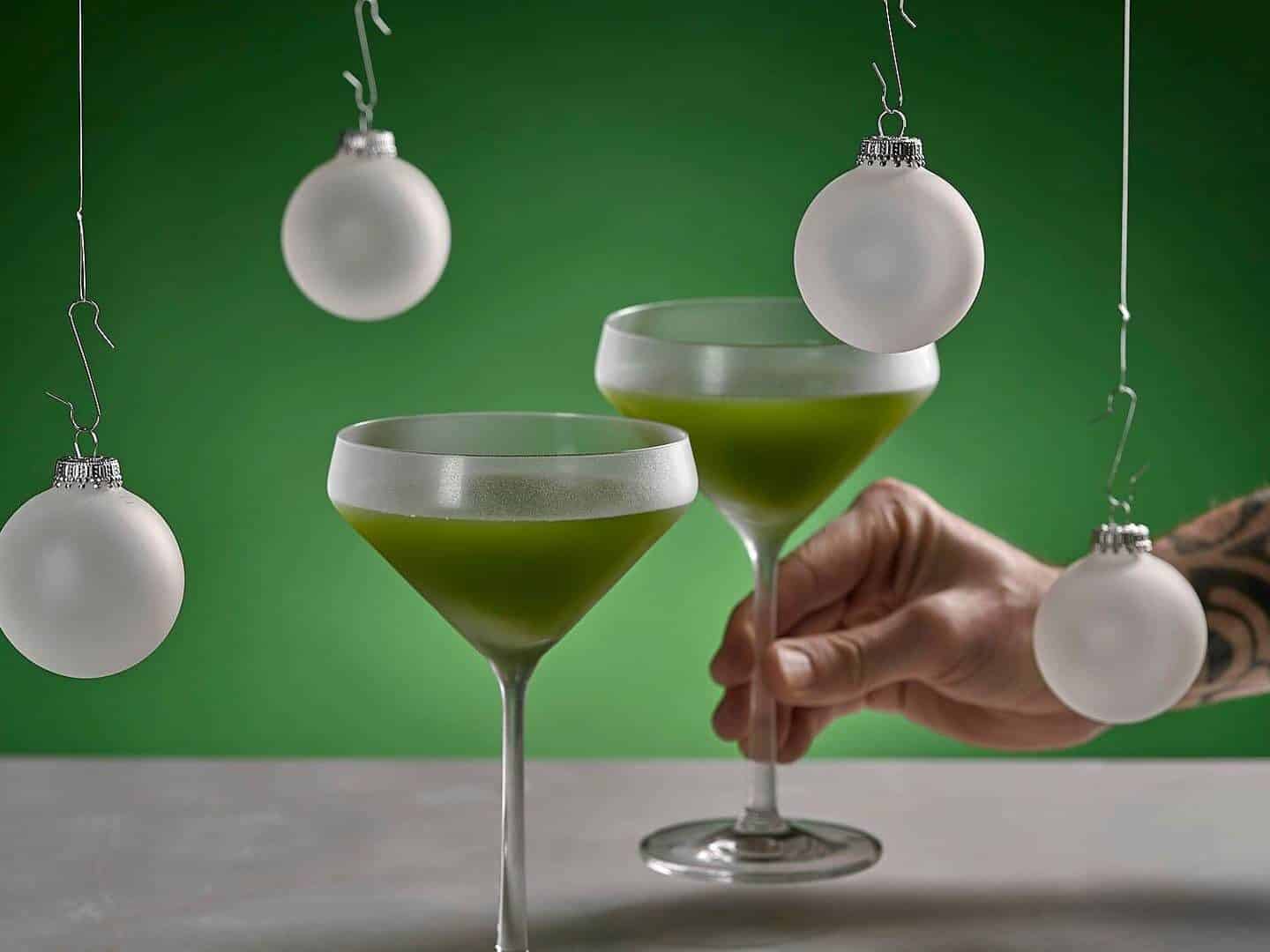 32. Merry Mocktail – Everyone needs a fancy and fun mocktail in their life, especially during the holidays. Herby, zingy rosemary-infused simple syrup, sweet tart pomegranate juice, bubbly fizz, and fresh lime squeezes just screams holiday magic, doesn't it? This four-ingredient treat from Pinch of Yum will be the hit of your next holiday party (or even for a solo gift wrapping night).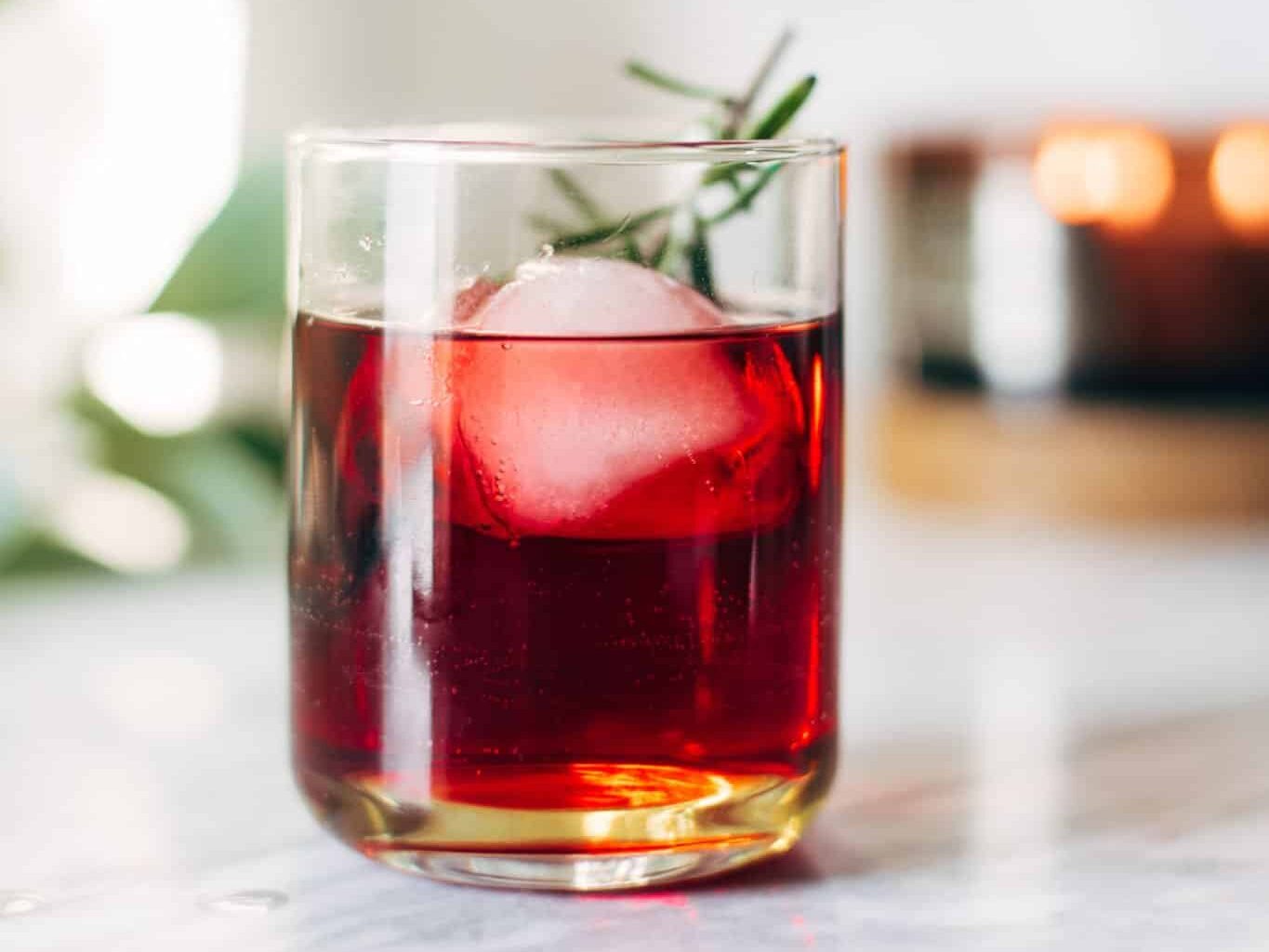 33. Gingerbread Mocktail Martini – A festive mocktail that tastes just like Christmas morning! These Gingerbread martinis are not only gorgeously brown, they are beyond delicious too. And because these are non-alcoholic treats, you can indulge in as many as you want all December long!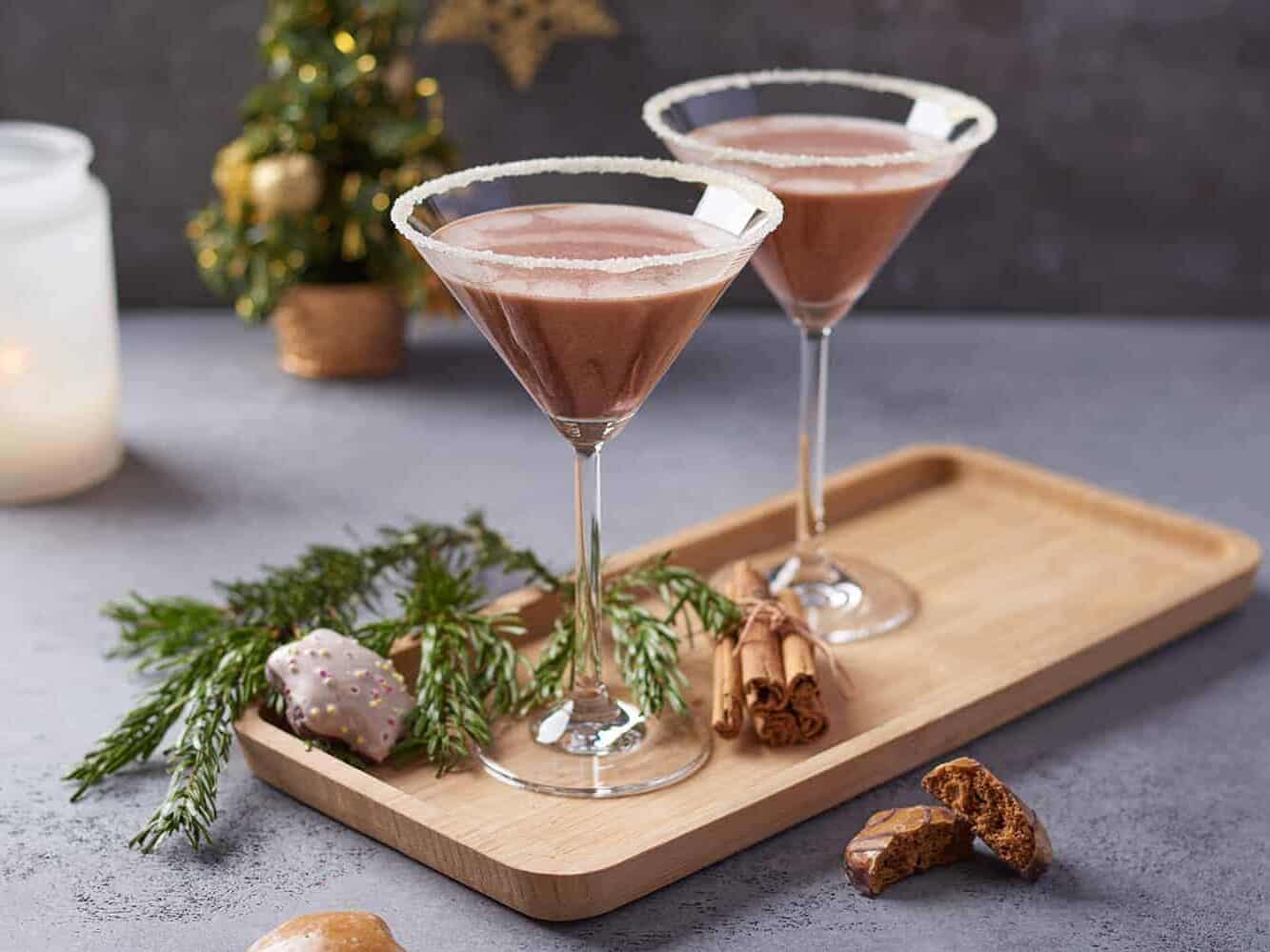 34. Christmas Pudding Mocktail – If you love Christmas pudding and mocktails, you are in for a super special treat this holiday season! This drink combines pomegranate, cranberry, fruit, spices, and citrus to create the ultimate Christmas flavor. You can even decide to serve this hot in a cozy mug or over ice with some sparkling water!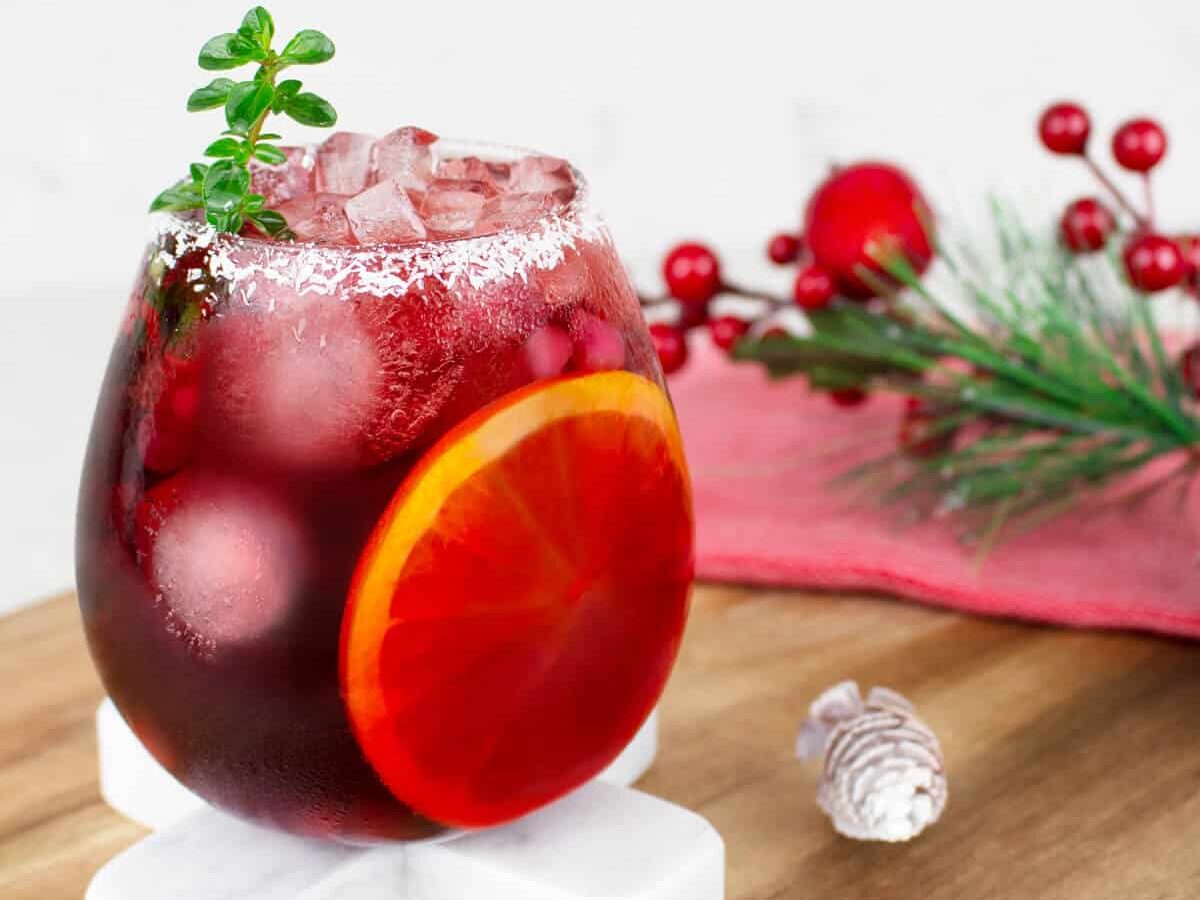 35. Orange Cranberry Mimosa Mocktail – Festive holiday drinks are a MUST for the Christmas season! Make these Christmas mocktails fun by playing with holiday flavors such as apple, cranberry, and cinnamon. Then, amp up the fanciness with garnishes like cranberries, cinnamon sticks, and rosemary leaves. Don't forget to break out your fancy cocktail glasses!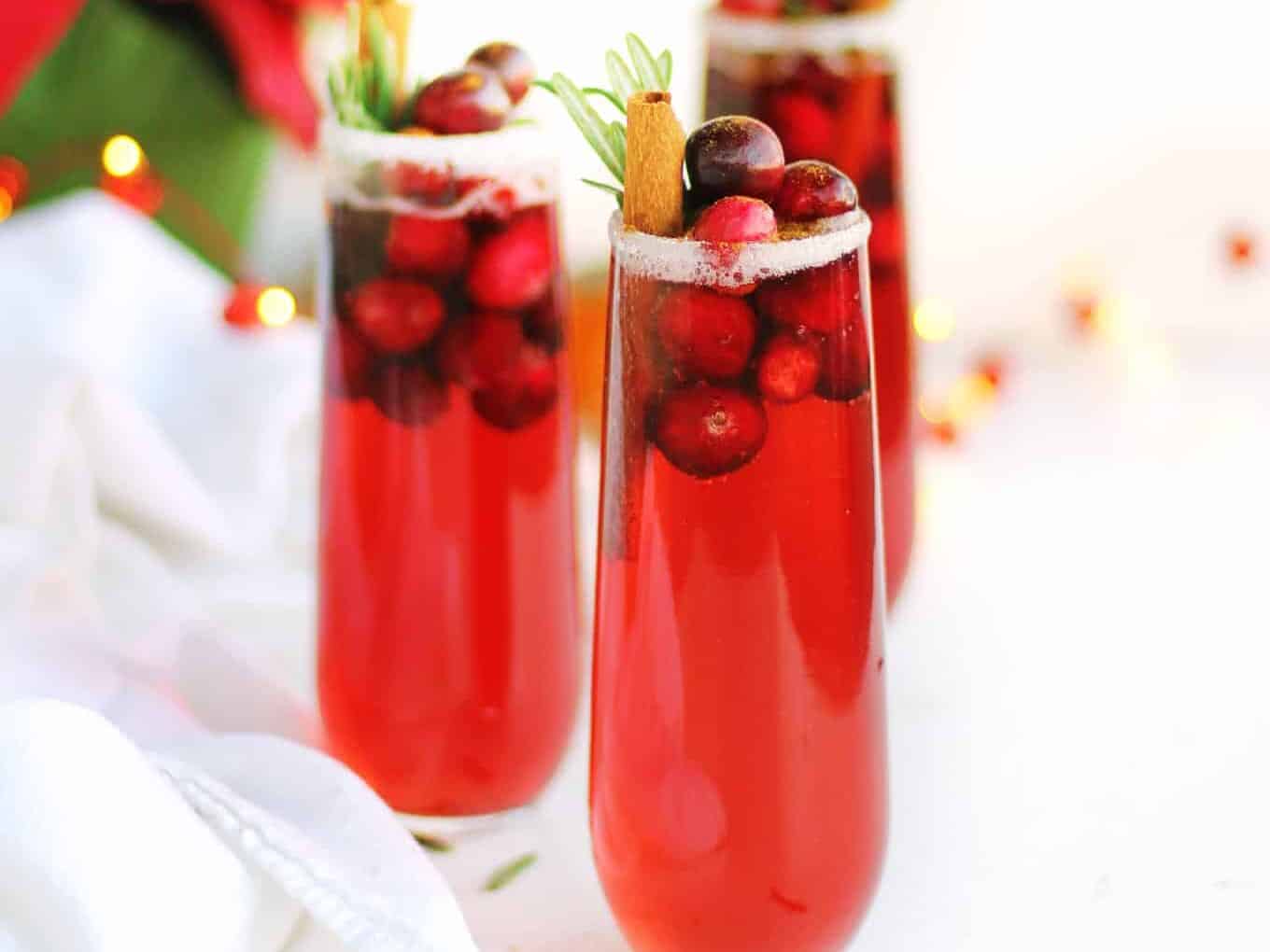 And because you'll need some fun activities or date ideas to enjoy while you're sipping on your yummy drinks, head over to our holiday archives! From Christmas to New Year's, St. Patrick's Day, and more, we have romantic holiday ideas for all couples that will knock your socks off and help make the holidays a little more romantic.
Cheers to love, laughter, and happily ever after!