The best Disney movies is a hotly contested topic – we know! But no matter how long the debate goes on, we know that everyone is always looking for a good list.
Don't worry, the Divas have your back! We have not 1, but 5 different lists for you today! Thanks to Disney+ we have access to the best of the best! You can hop on your smart TV, tablet, laptop, or even your phone and start binging your way through these Disney movie lists.
Don't forget to print off the FREE printables at the end of the page to keep track of which Disney movies you have seen and what is to come. We even included a fun viewing game that will enhance your Disney+ movie marathon.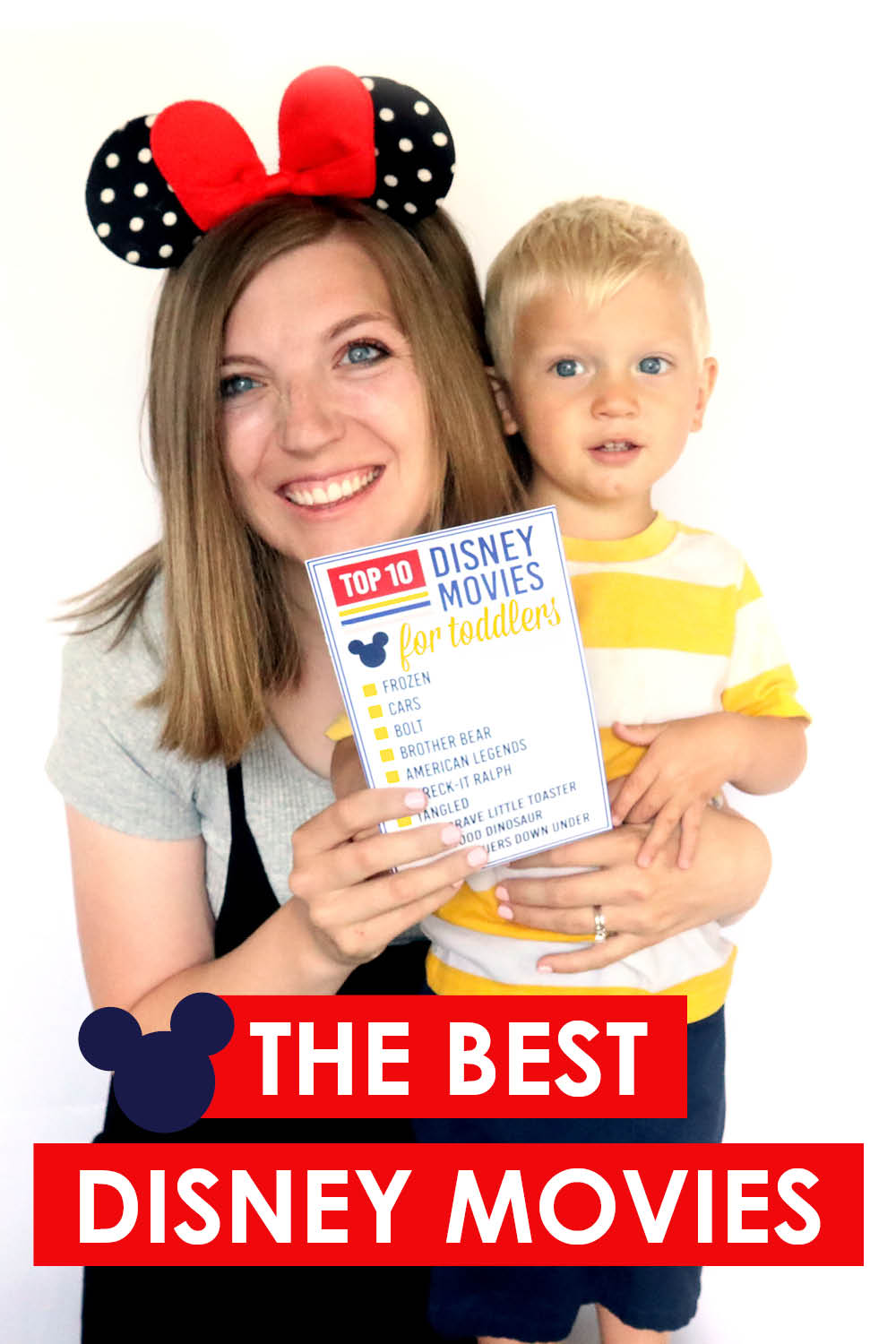 Disclaimer: This post contains affiliate links. To learn more about 'em, click here.
The Top 25 Best Disney Movies
The top 25 best Disney movies may be debatable, but we turned to our trusty source, Rotten Tomatoes, to find out how they've each been rated. Rotten Tomatoes has quite a few different lists, like the top 100 movies on Disney+, but we decided to just look at the animated list. This is what we learned.
Pinocchio (1940) – Fairy tale? Check. Fear? Check. Moral present? Check. Pinocchio may not be the best for those kiddos who are a little sensitive, but it will make an impression on anyone.
Many Adventures of Winnie the Pooh (1977) – This adaptation is very faithful to its literary predecessor. Separated into 3 tales, the entirety of the adventures lasts about 1 hour.
Zootopia (2016) – An inclusive message that can be applied by both adult and kid alike, helps build a strong foundations for this fun film.
Snow White and the Seven Dwarfs (1937) – This was the the standard for animation for decades. Snow White is a must-see for any princess fanatic.
101 Dalmatians (1961) – 1961 seems too long ago to have produced such fun animation, but 101 Dalmatians is here to claim its place as one of the top 5 animated Disney films.
Dumbo (1941) – It's kind of sad, and kind of fantastical – the story of an elephant who can fly has one of the highest ratings among classic Disney movies.
Raya and the Last Dragon (2021) – It may have the same sort of story pattern as a lot of the best Disney movies, but Raya's nod to Southeast Asian countries help give it a place in today's world.
Cinderella (1950) – Nostalgia and a sweet heroine make this old Disney movie a must see.
Moana (2016) – I'm not a Polynesian princess or a way-finder, but the journey Moana takes can resonate with me and you just the same.
Aladdin (1992) – Arabian nights… did you sing it? Venture to Arabia and meet the prince of Ali Ababwa as he tries to win Princess Jasmine.
Fantasia (1940) – This is considered a landmark animation film and maybe the first music video?!
Beauty and the Beast (1991) – It's a tale as old as time, and one that has stood the test of time! Beauty and the Beast is one of the most classic Disney movies, as it should be.
The Adventures of Ichabod and Mr. Toad (1949) – Retelling of classic literary tales and fun animation make this a great show for the kiddos with shorter attention spans.
The Lion King (1994) – We love a good Shakespeare tragedy ;). This story is always linked to Hamlet, but Simba's journey is a little more specific to the animal kingdom.
The Little Mermaid (1989) – Mermaids, princes, and sea witches, oh my! 32 years later this classic Disney movie still hasn't lost its appeal.
Lady and the Tramp (1955) – You better pair this classic with a spaghetti dinner. It's an old Disney movie of a buttoned-up heiress falling for a loose-tie guy of the streets – but dogs!
Winnie the Pooh (2011) – Yep, we're visiting the 100 Acre Woods again. This short, traditional film is a perfect for family movie night.
Frozen (2013) – If you don't hear a toddler shout-screaming, "Let it goooooo!" (whether in your own home or in a viral video) can you really say you have lived? Maybe you're over the music, but Frozen is still a hit!
Bambi (1942) – Most of us know "If you can't say something nice, don't say nothing at all," but did you know it came from this classic Disney film?
Tangled (2010) – This retelling of Rapunzel will capture your heart, if only for the funny quirks of its characters.
Big Hero 6 (2014) – A comedy, adventure, and a tech story. It's a film MADE for today's generation.
Bolt (2008) – Bolt's a Hollywood hero dog who doesn't know he's only a hero on screen.
Tarzan (1999) – It's kind of hard to beat Phil Collin's soundtrack. Add in a boy raised by gorillas and it became an instant classic.
Sleeping Beauty (1959) – A classic Disney movie with lush colors and beautiful illustrations this fairy tale is one for the ages.
Ralph Breaks the Internet (2018) – Funny, heartwarming, and princess cameos to boot!
More of the Best Disney Movies
Now that you know what the critics think, you can see how we feel about things. We have 4 more lists for you of our Top Ten Best Disney Movies in 4 different categories:
Top 10 Best Disney Movies for Toddlers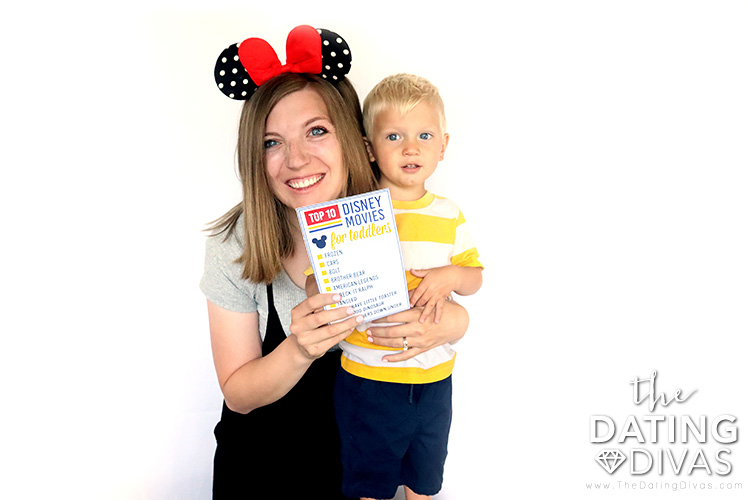 Top 10 Disney Live-Action Movies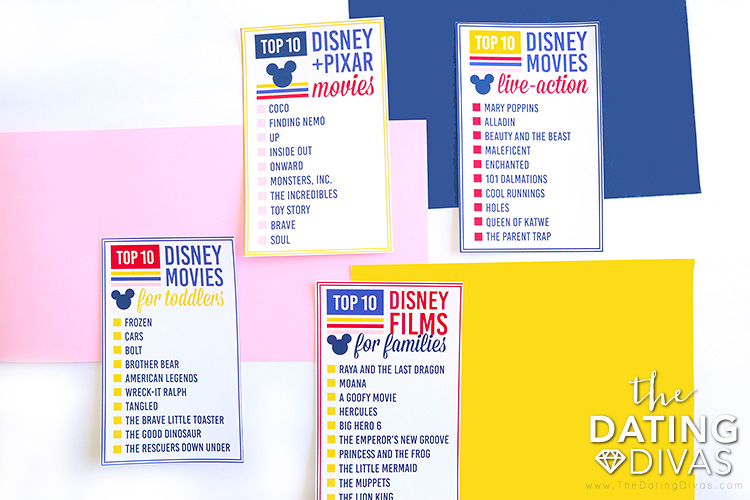 Top 10 Disney Films for Families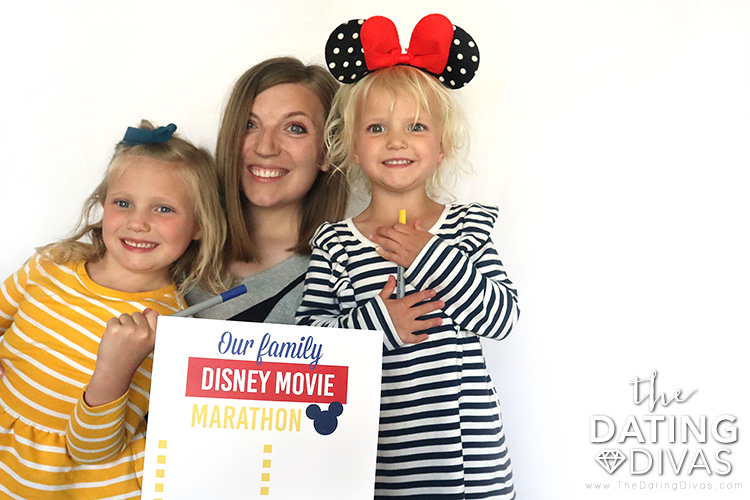 Top 10 Disney + Pixar Movies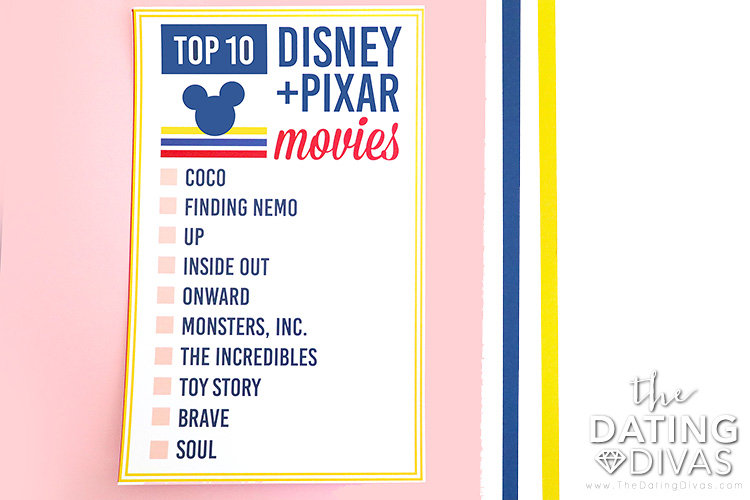 Disney Movie Mania – A Disney Movie Viewing Game
So you've chosen your film, you've checked off your list, now what? Hopefully you have a cozy blanket and some popcorn on hand because it's time to bust out a game of Disney Movie Mania!
This fun viewing activity can be applied to so many of the best Disney movies, but for sure most of the animated ones.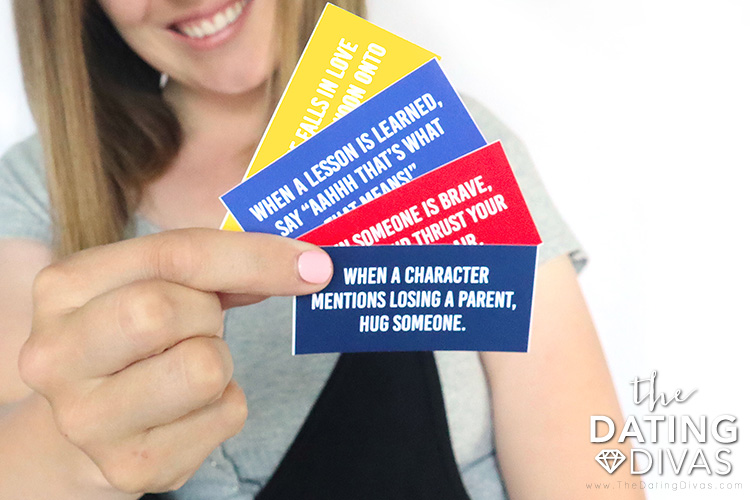 Here's how you play:
Start by printing and cutting out the strips linked at the end of this post and placing them in a hat or a bowl.
Have each person watching the film draw out 1 slip of paper at the beginning of the movie.
Each slip has a different task to accomplish during your movie night. Someone might have to make an animal noise or hug a neighbor. Complete your task during or throughout the movie!
If you have enough options, have each person grab 2! (We've included 2 blanks so you can always add your own ideas too!)
Enjoy your family time watching the best Disney movies!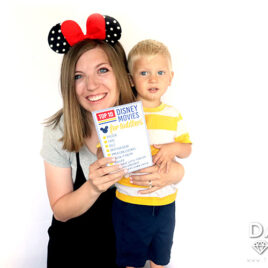 Best Disney Movie Lists and Game
Printables Designed by Courtney @ Paperelli Exclusively for The Dating Divas