5 Senses Gift Printables for Christmas
Do you LOVE Christmas? What are we saying…Everyone LOVES Christmas! It's such a magical time of year filled with lights, carols, and gifts! This year we wanted to do something EXTRA special for our spouses when it came to gifts. The idea came to put a twist on something classic, the 5 senses! Therefore, The 5 Senses Gift: Christmas Edition was created and includes 5 senses gift printables and a whole bunch of gift ideas to fit the theme! Additionally, this kit also contains adorable gift tags that coordinate with each of the 5 senses, including 5 senses gift ideas for smell, sound gift ideas, hearing gifts, and more! There's EVEN an adorable Christmas-themed coupon book! Not only are these 5 senses gift printables easy to prep, they pack a big punch under the Christmas tree!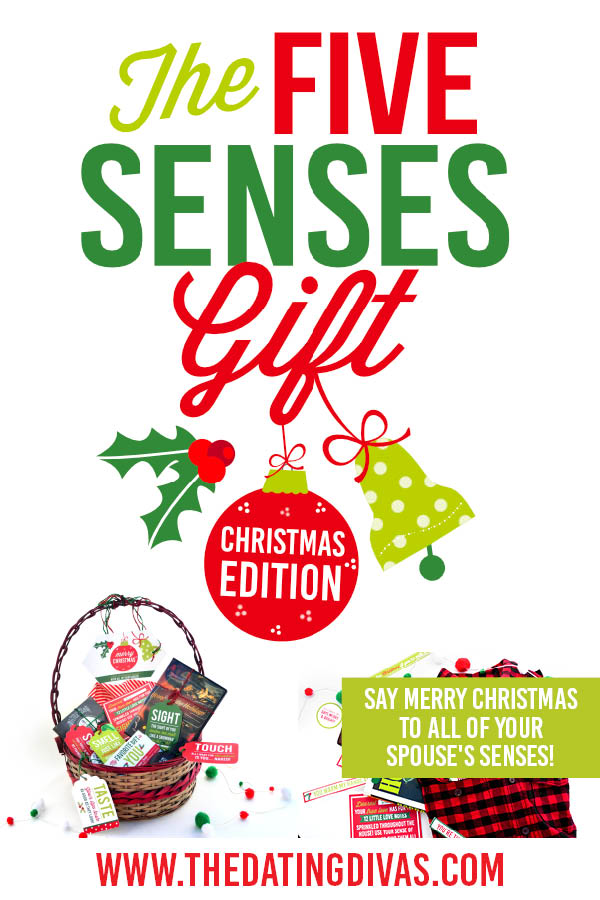 The gorgeous Courtney at Paperelli is the genius designer behind these adorable prints! (Isn't she so talented?!) These 5 senses gift printables scream "Classic Christmas" and the patterns are just too cute! And did we mention that we also have 5 senses gift ideas for HER as well? That's right! This Christmas gift idea goes for both men and women!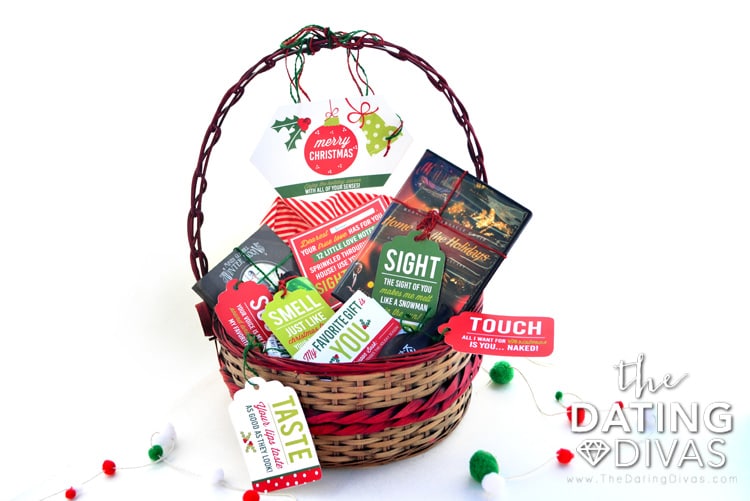 Ready to know what is all included in your 5 Senses Christmas Gift? Check it out below!
Christmas Edition: 5 Senses Gift Printables
Tips and Instructions – Our best tips on making this gift as easy as possible to put together!
5 Senses Gift Tags – Each of the 5 gift tags focuses on a specific sense with a Christmas theme.
1 BONUS Love Note – Do you love The Grinch? If so, you will love this extra love note!
Christmas Coupon Pack – 16 coupons that cater to the senses and to your love's Christmas spirit!
12 Mini Love Notes – Send your spouse on a little love-note hunt with these teeny-tiny love notes!
Most importantly, we've included everything you would need to make this Christmas gift meaningful AND fun! I mean, have you ever seen any other "I love you with all of my senses" gift ideas that are Christmas themed? These are it! AND they are the most festive and cute 5 senses gift printables ever! On that note, we recommend putting this gift under the tree at the start of the season so you can enjoy it all month long!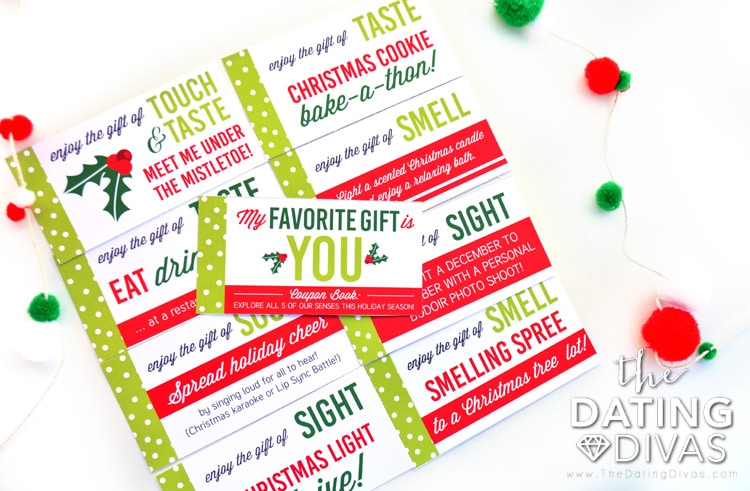 Prepping The 5 Senses Gift Printables
One of the best things about this pack of 5 senses gift printables is that it is so user-friendly! The 5 senses gift tags have an adorable shape on the top (make sure to use your scissors for those details). The coupon book is all straight cuts (which out your paper cutter!) and the mini love notes are a mix of squares, rectangles, and circles. If you don't have a circle punch yet, we could not recommend one more as it will save you tons of time! You will also want to use a regular-sized hole punch for the 5 senses gift tags and the coupon book. We think it's cute to connect the coupon book pages in the corner with some festive ribbon or twine!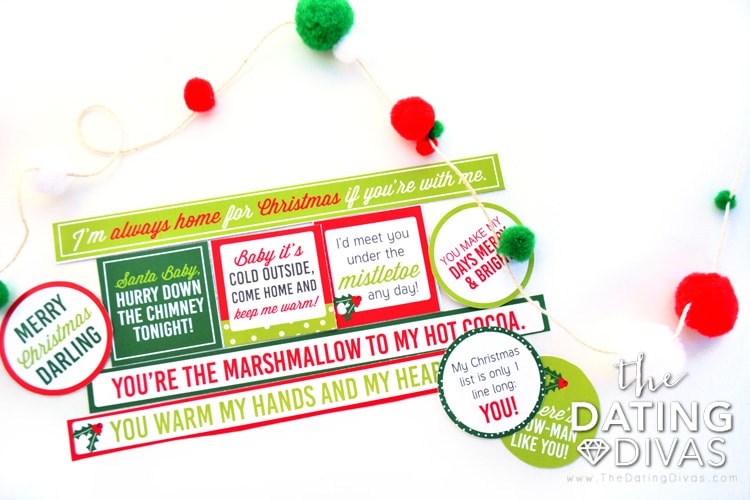 Gifting the Basket
Attach the adorable tags to gifts that you know your sweetie would love! For your convenience, we've included 5 senses gift ideas for smell, sound gift ideas, hearing gifts, and more! We've even included 5 senses gift ideas for HER, because what woman wouldn't love a gift basket all about pleasuring and pampering her 5 senses? Ooo baby!
Additionally, we love giving gifts in baskets because the display aspect is so much fun! If you need to give your 5 senses gift printables + gifts a boost so they can be seen in the basket, simply crumple some coordinating tissue paper for the gifts to rest upon, or toss in a fun Christmas-y blanket! Basically, it becomes an extra gift that also enhances the look!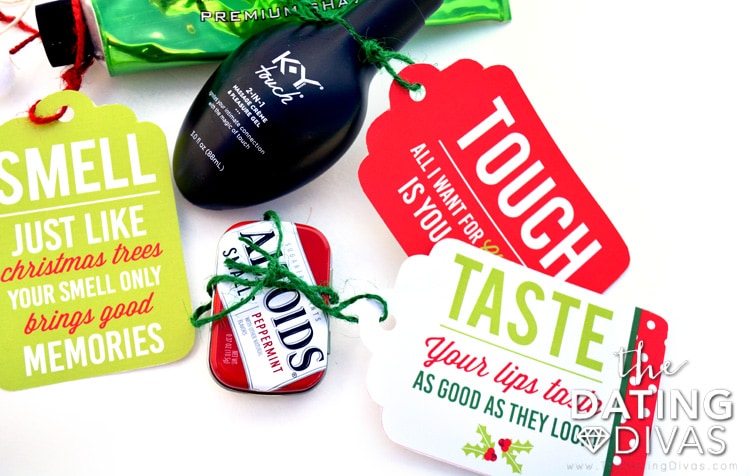 Hiding The Notes
On top of the 5 senses gift printables and ideas, there are 12 pre-made notes for you to hide around the house for your honey to find! We also included 12 blank ones so you can make them personal and even more meaningful. We suggest slipping them into wallets, books, on the bathroom mirror. In other words, anywhere they'll surely be found, but also give a little surprise! The first step is to place and hide all of them. Then, make sure that your spouse sees the note that explains that there are 12 hidden notes around the house! You could even hide 1 per day to celebrate the 12 days of Christmas!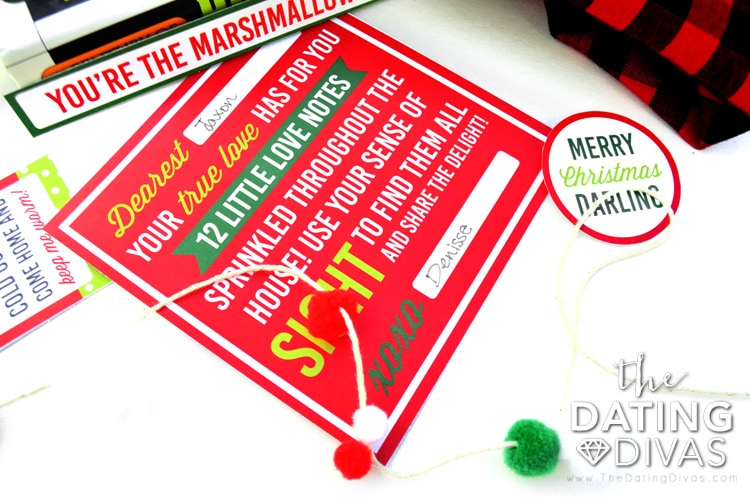 Doesn't all that sound like the PERFECT Christmas gift?! Not only is this one of the best "I love you with all my senses" gift ideas, it shows your love in a different way that's fun, flirty, and unique! What could be better than that?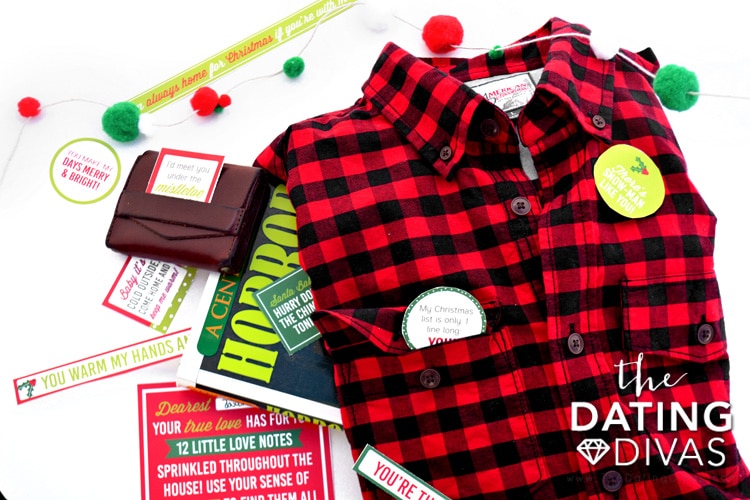 With 5 senses gift ideas for smell, sound gift ideas, hearing gifts, touch and sight gift ideas, AND 5 senses gift ideas for her, there's NO DOUBT this would make the perfect Christmas gift idea for your spouse!
To download & print your 5 Senses Christmas Gift for just $10.97, click below!
JUST $10.97!
After you've given this Christmas pack of 5 senses gift printables + accompanying gifts, continue the tradition with another 5 senses themed surprise…The 5 Senses Gift: Bedroom Edition!
And, if you're still working down your Christmas list, check out this handy list of Last Minute Christmas Gifts that will sure to have something quick and easy to fit someone on your list!
Wishing you the most sensational Christmas ever!