Festive 4th of July Desserts and Treats
Let's be real here—food can certainly make any occasion that much sweeter! And as you know, the Divas LOVE celebrating each and every occasion in a fun, festive way! With that in mind, we've compiled a round-up of fun and creative 4th of July desserts and food ideas that will make the day that much more magical! There are just so many ways to make the 4th a special, festive day using these amazing 4th of July recipes. So check out this awesome collection of 4th of July desserts that are healthy, fresh, and deliciously sweet!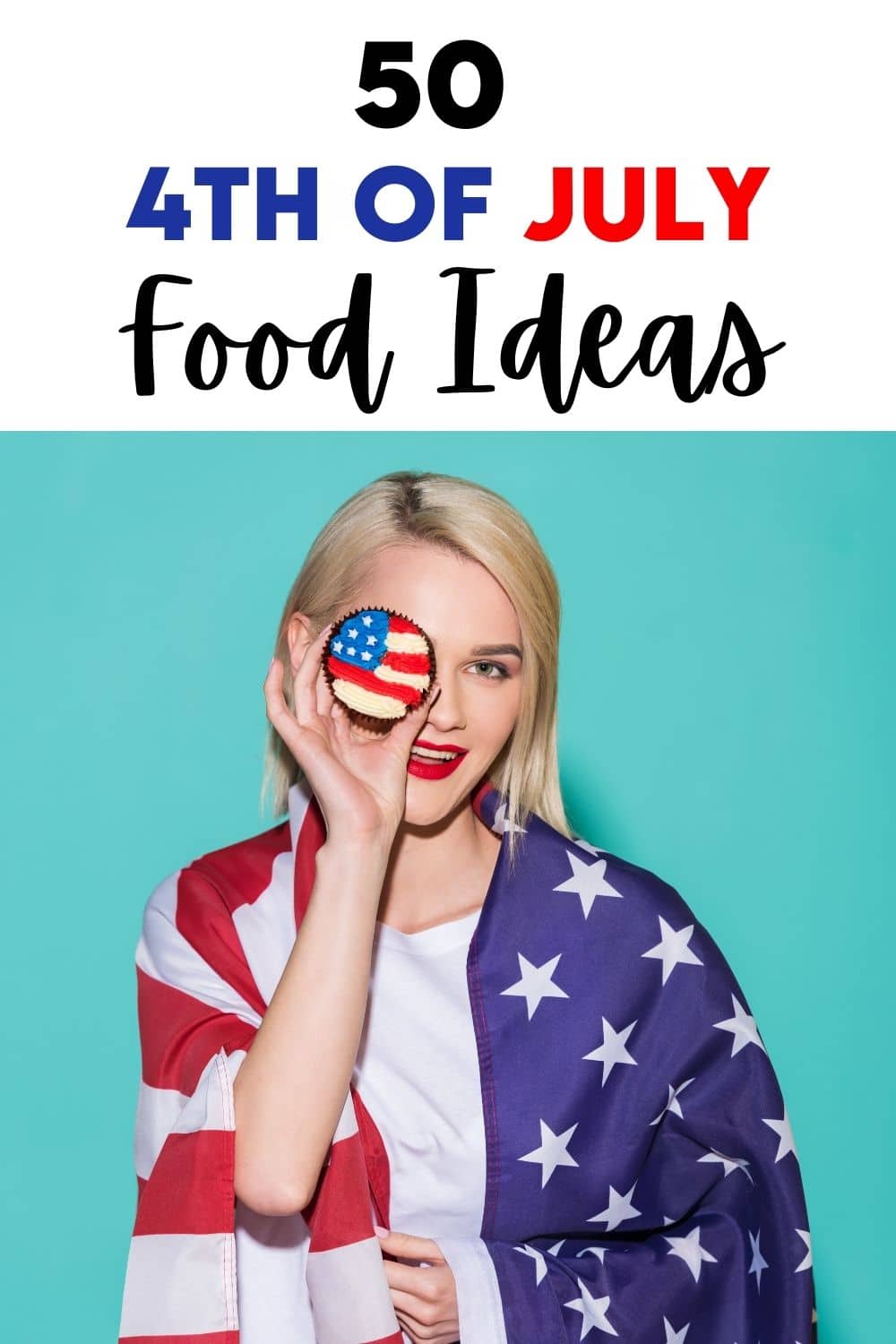 Disclaimer: This post contains affiliate links. To learn more about 'em, click here.
Table of Contents
Delicious 4th of July Desserts
Fourth of July desserts are the cutest combo of red, white, blue, and sugar! Here are some of our favorites for their aesthetics and taste!
1. Red, White, and Blue Berry Popsicles have got to be healthy for you, right?! Start off with a beautiful and refreshing 4th of July dessert.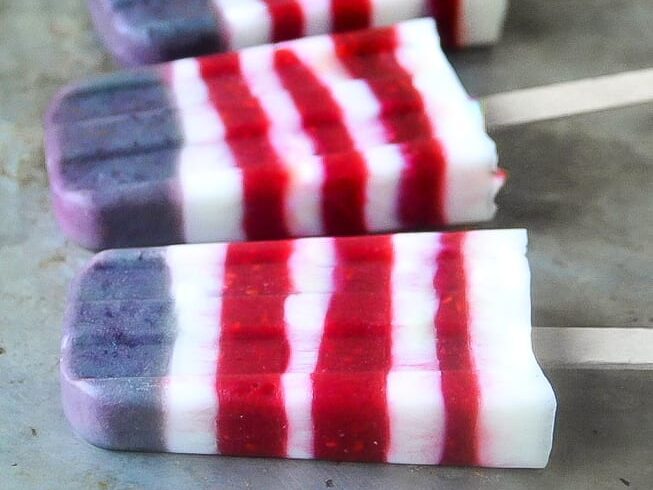 2. Try these melt-in-your-mouth Red, White, and Blue Meringues.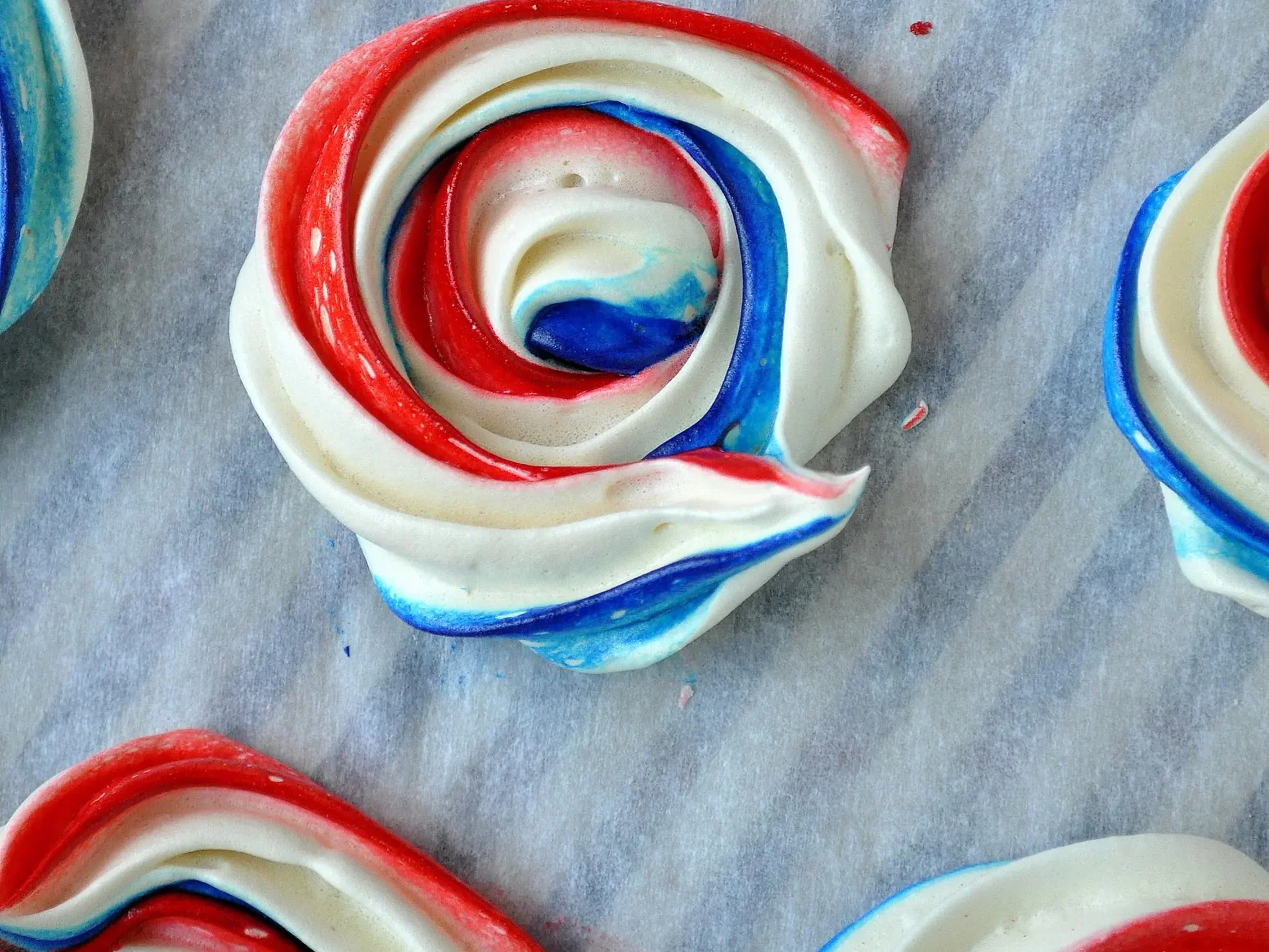 3. Get your wiggle on with this fun Jell-o Patriotic Pie.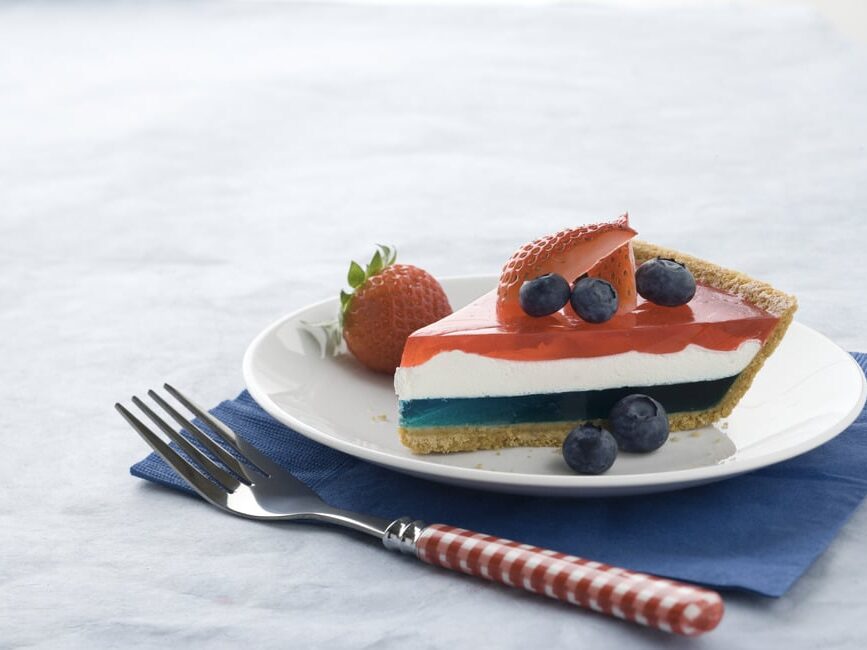 4. These Patriotic Rice Krispie Treat Pops are guaranteed to go fast!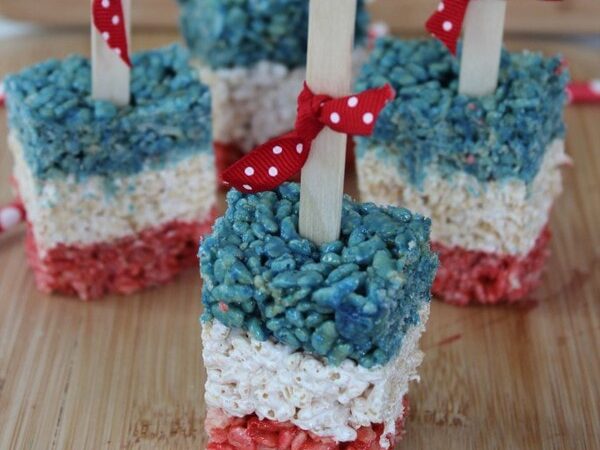 5. I think these Exploding-Star Cookie Stackers look AMAZING!!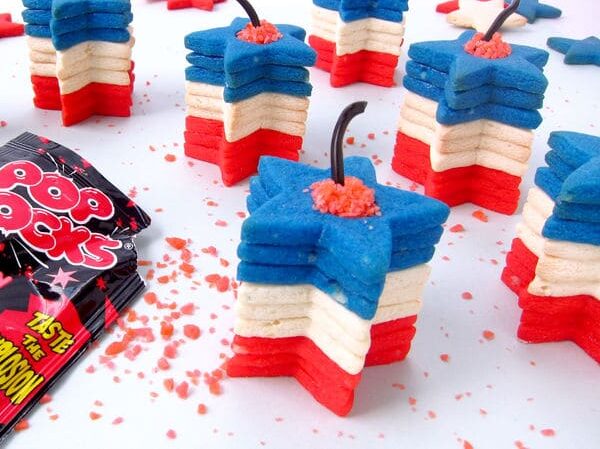 6. Get your favorite little helpers together to make these Pretzel Rod Sparklers!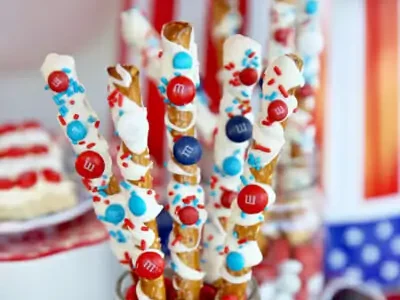 7. Out of all the 4th of July food ideas, Grandma will love these Patriotic Peppermint Patties.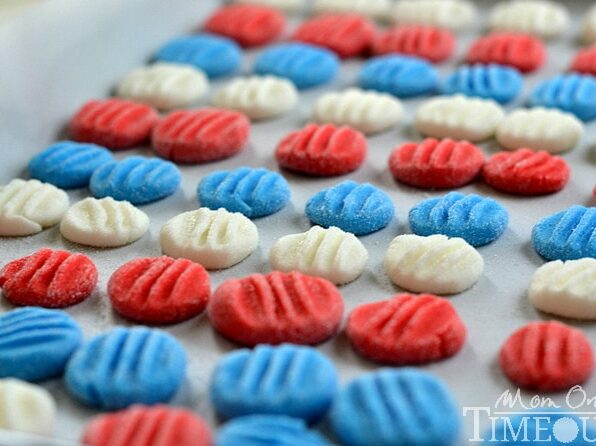 8. Mmmm, I need to try this Patriotic Ice-Cream Cake!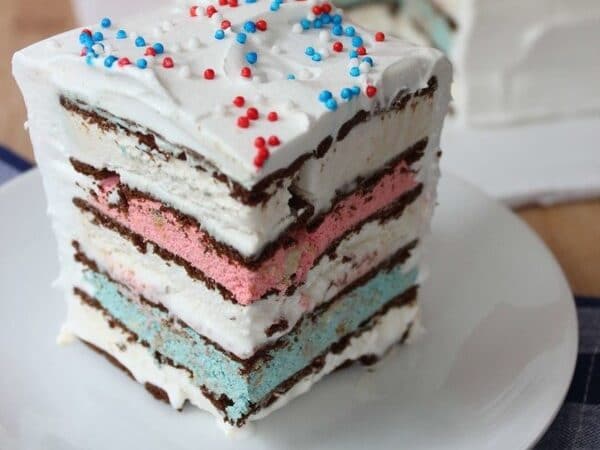 9. Candy corn is not just for October anymore! Try this Patriotic Candy Corn for some 4th of July fun!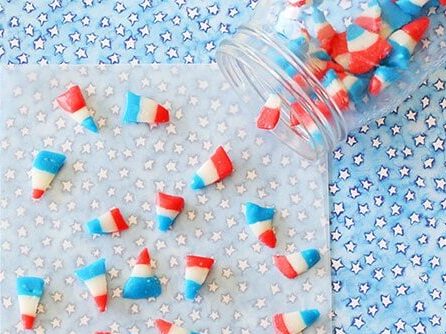 10. These Red, White, and Blue Dipped Oreos are sure to be a hit with the kiddos.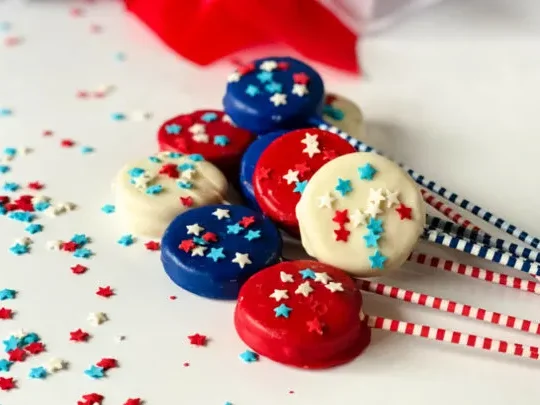 11. Cutting into this Red, White, and Blue Cheesecake Cake is sure to take your breath away! It might be one of my favorite 4th of July desserts.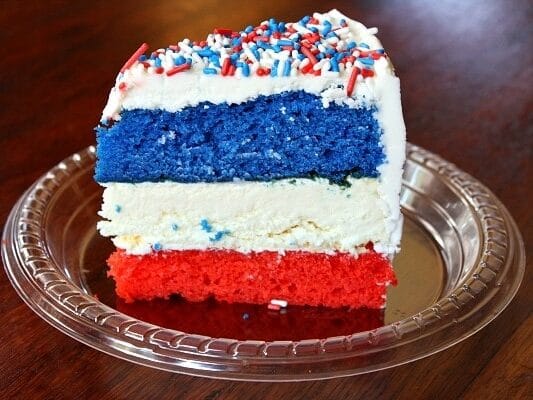 12. Make some cute cheesecake-stuffed strawberries for the Fourth!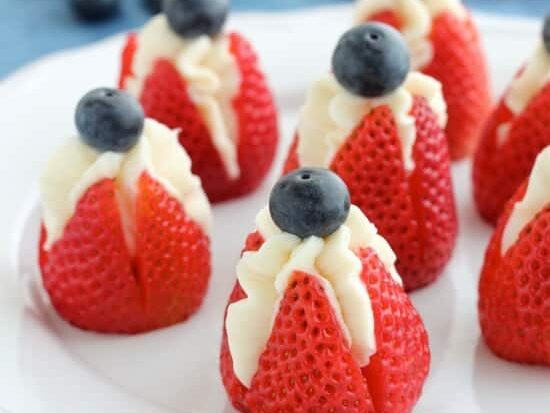 13. I love how pretty these Red, White, and Blue Lollipops are!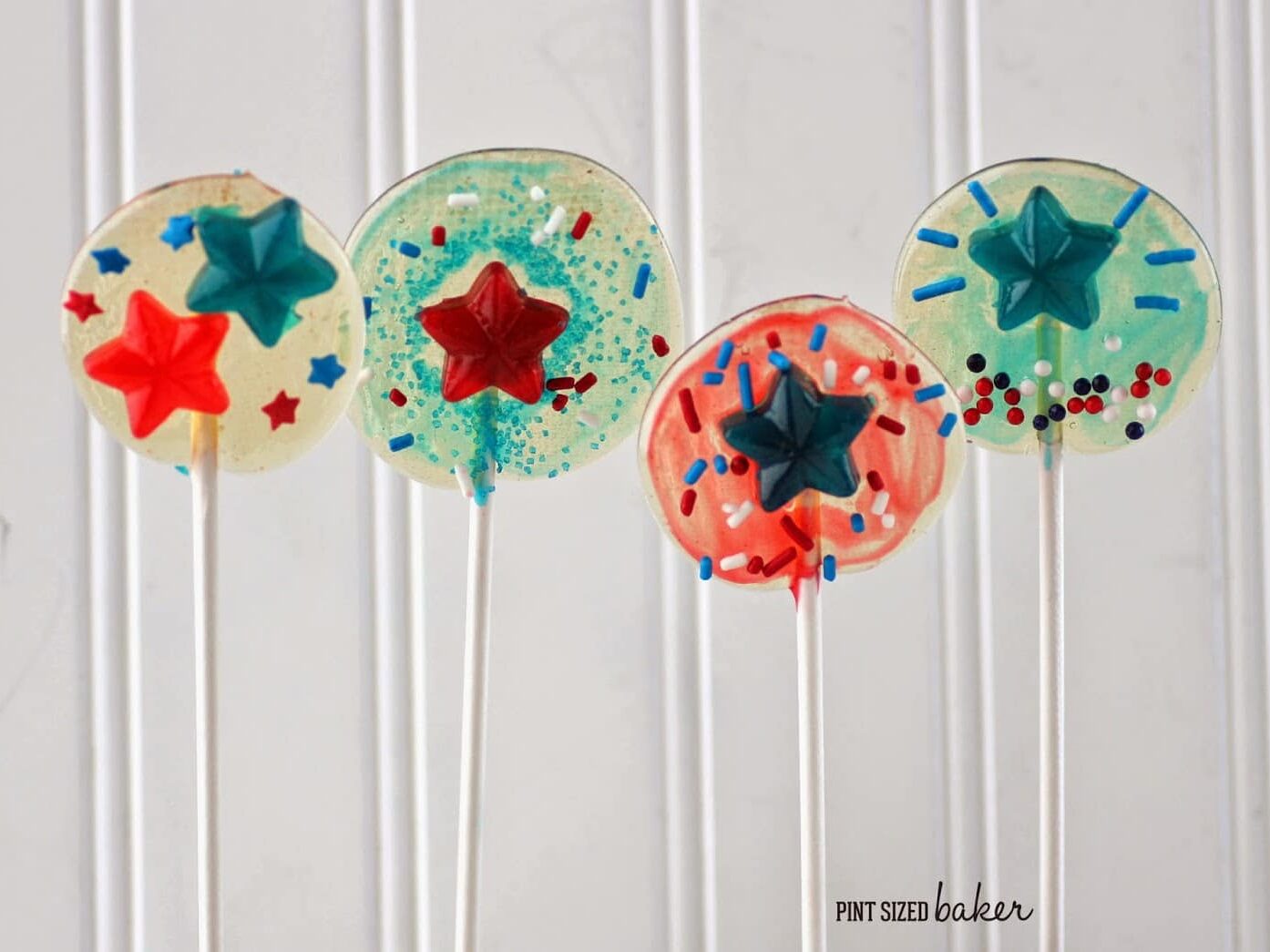 14. You just can't go wrong with these Rocket Pops on a hot summer day.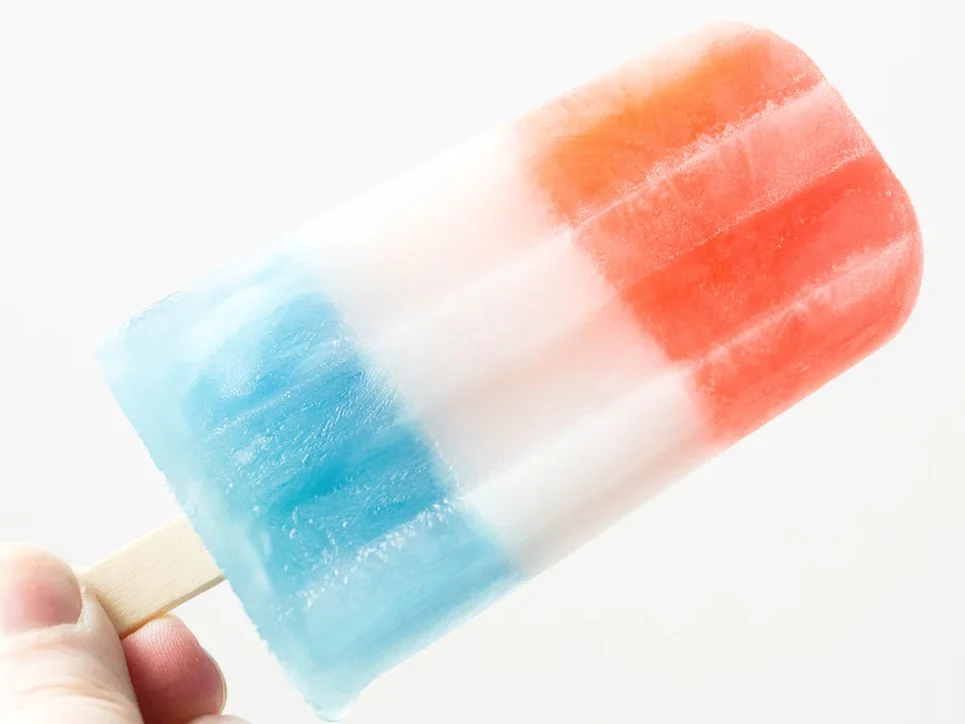 15. Decorate AND enjoy these Red, White, and Blue Giant Marshmallows.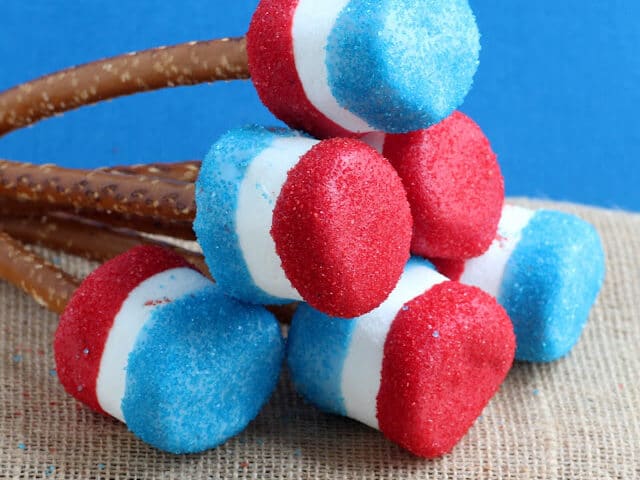 16. Red, White, and Blue Rice Krispie Stars look good and taste even better as far as Fourth of July desserts go!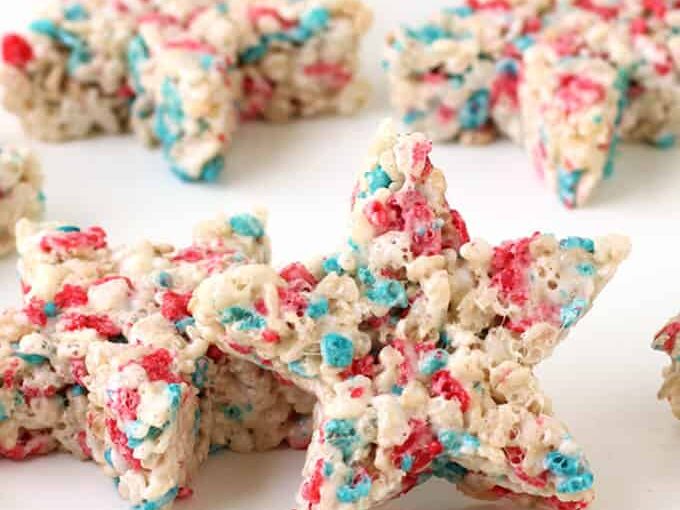 17. I love how this 4th of July Dessert Cake looks—yummy!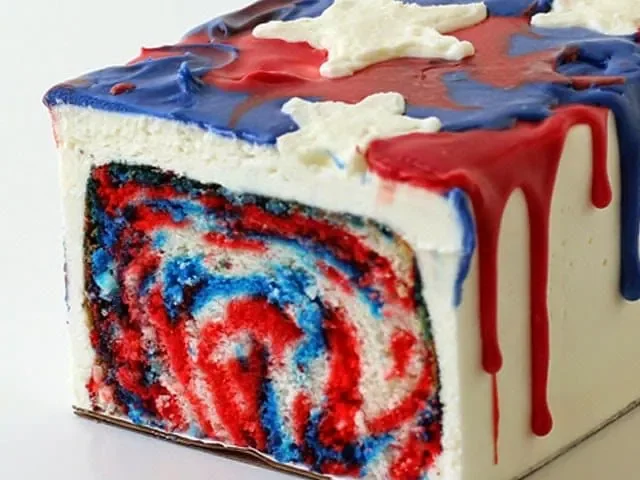 18. You can't go wrong with Lemon Mousse Fruit Parfaits, especially when they are in mason jars.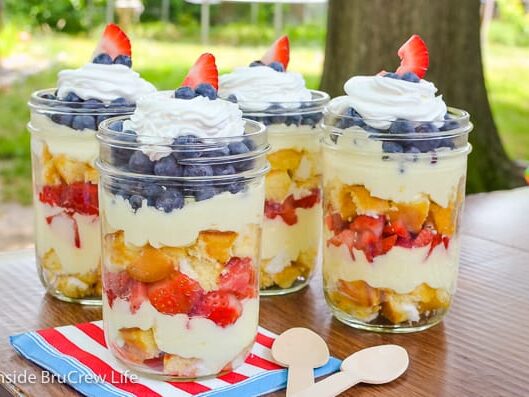 19. Red, White, and Blueberry Cheesecake, that's right, cheesecake! This is a must-try 4th of July recipe!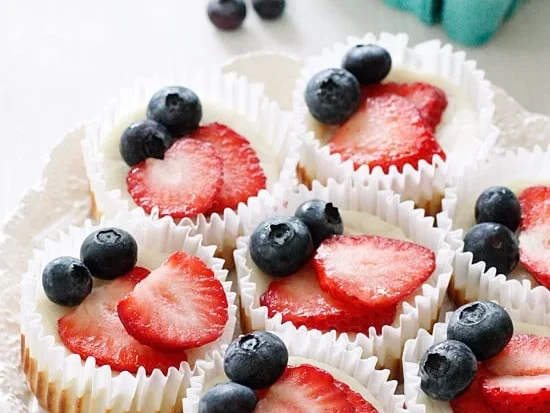 20. How cool do these Party Jell-O cups look??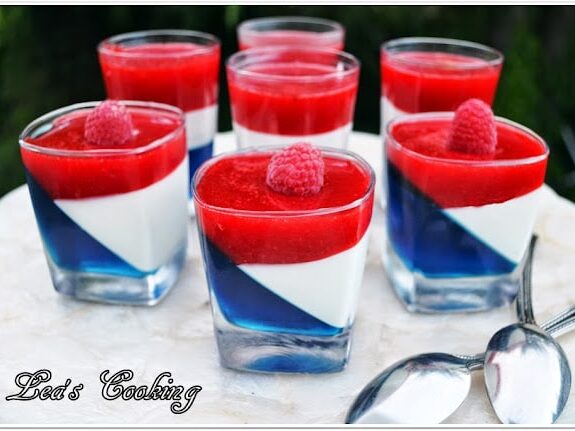 21. Every kid will be jumping to chow down on these Firecracker Cupcakes!
22. USA Cake-Mix Cookies are easy and oh, so festive!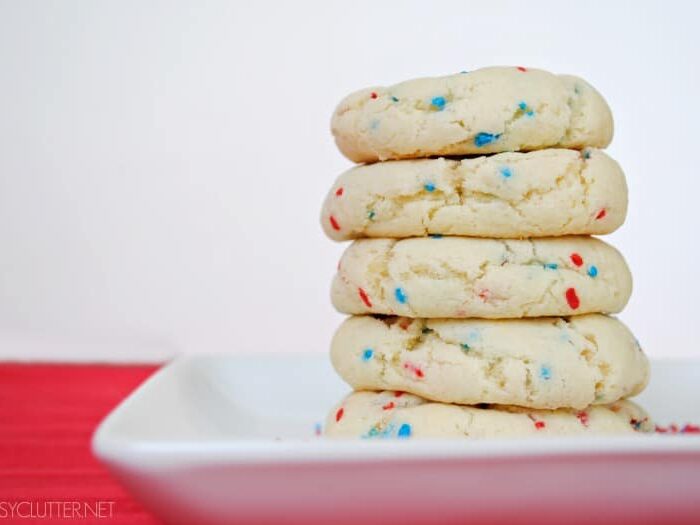 23. An American Flag Cookie Cake will dazzle any crowd.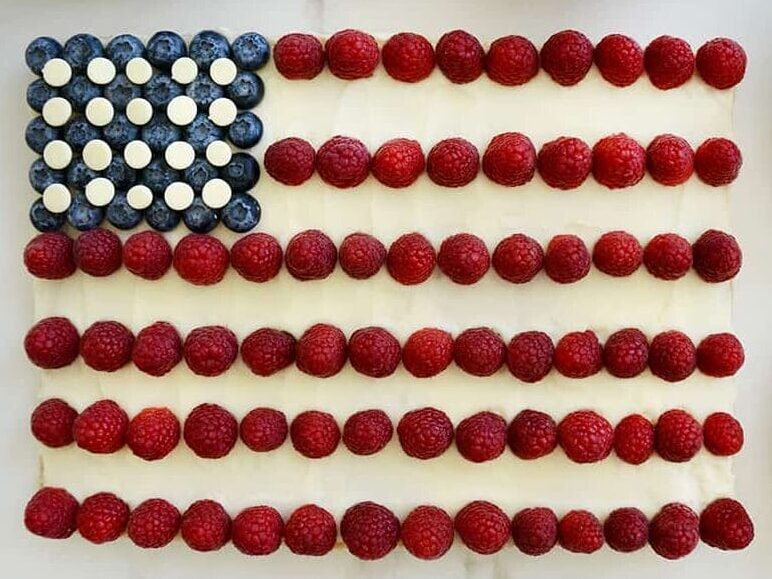 24. I just love these Patriotic Marshmallows! So cute!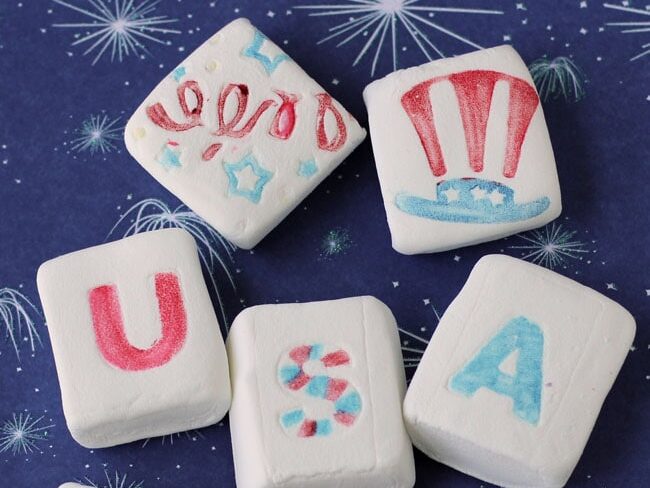 25. For a more mature palate, a slice of this Grilled Brown Butter Pound Cake with Lemon Curd and Fresh Berries looks pretty amazing!!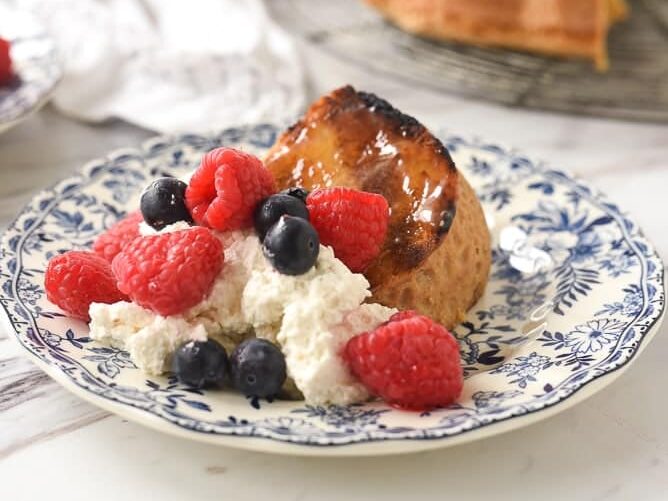 26. Buckets of Patriotic Bark on a table filled with 4th of July food would look so festive!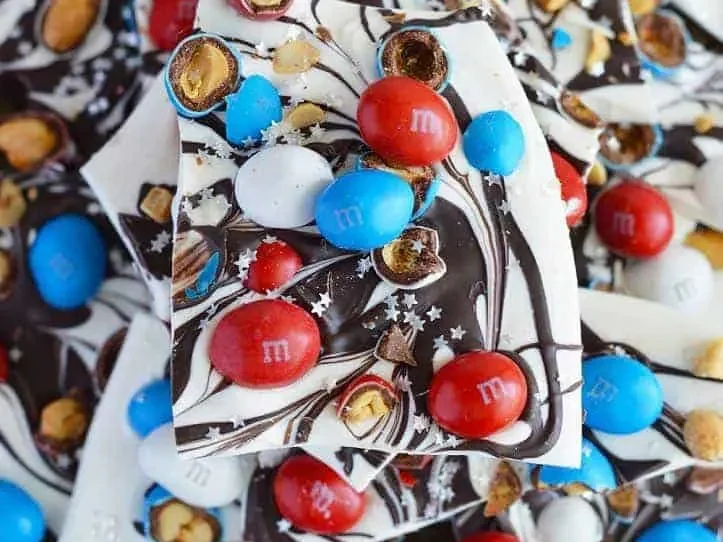 27. These easy Star-Spangled Marshmallow Pops will keep kids' mouths happy and messy, ha!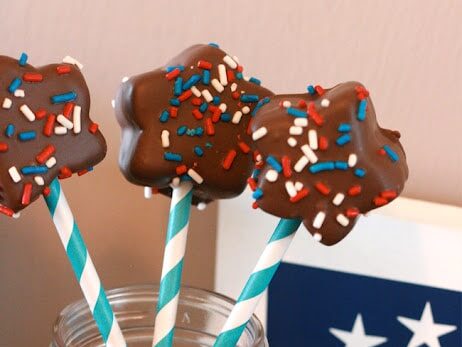 28. No time to bake a 4th of July dessert? Then these Ice-Cream Sandwich Pops are the perfect solution.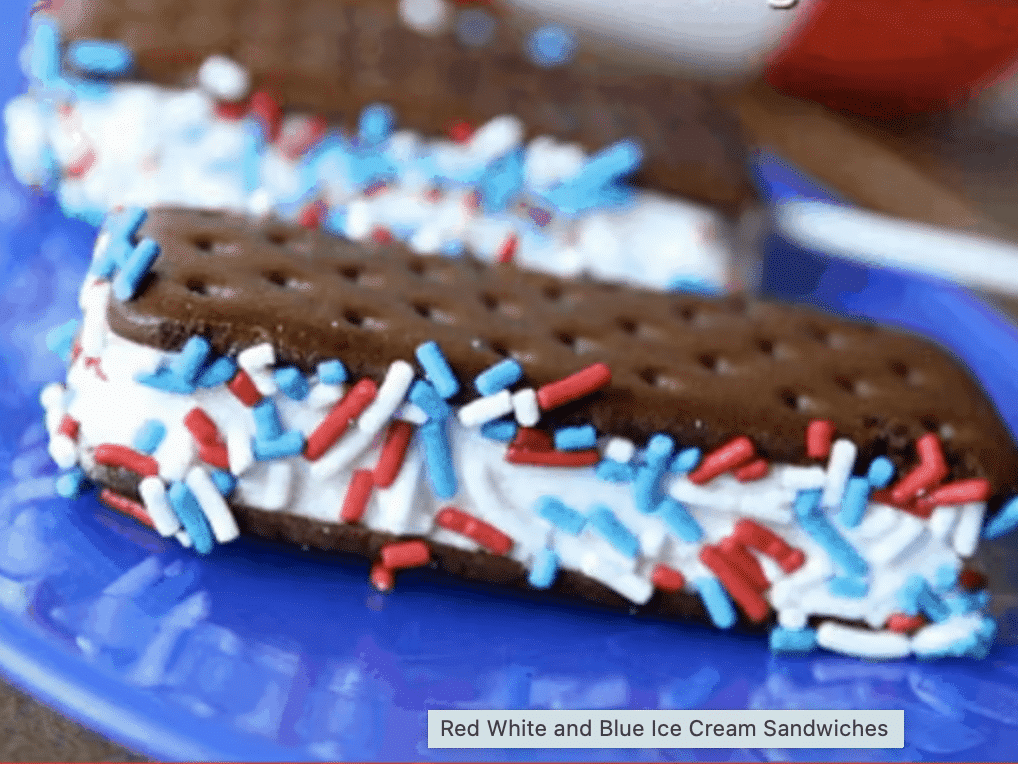 29. How darling are these 4th of July Red, White, and Blue Fudge desserts?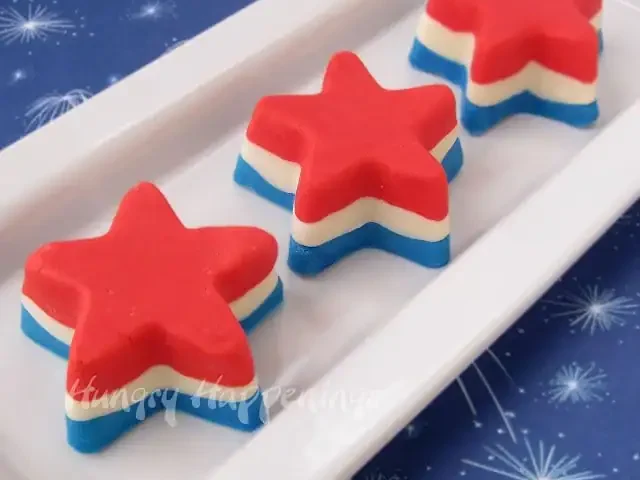 30. These Chocolate-Dipped Cherries would be such a special treat!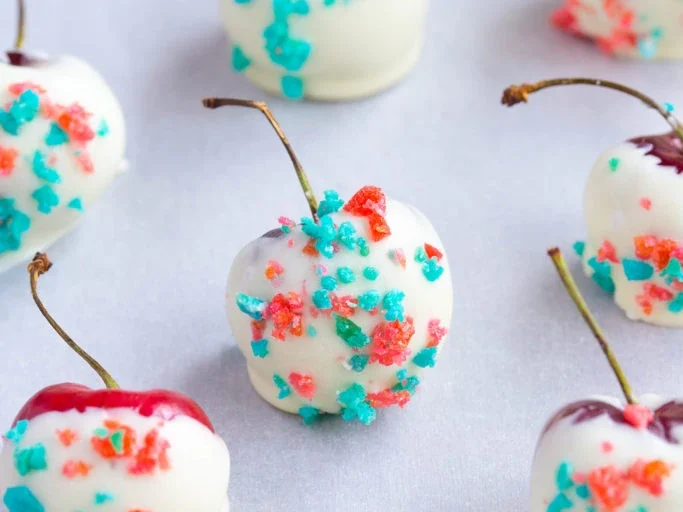 31. This All-Star Berry Tart is a delicious dessert of choice!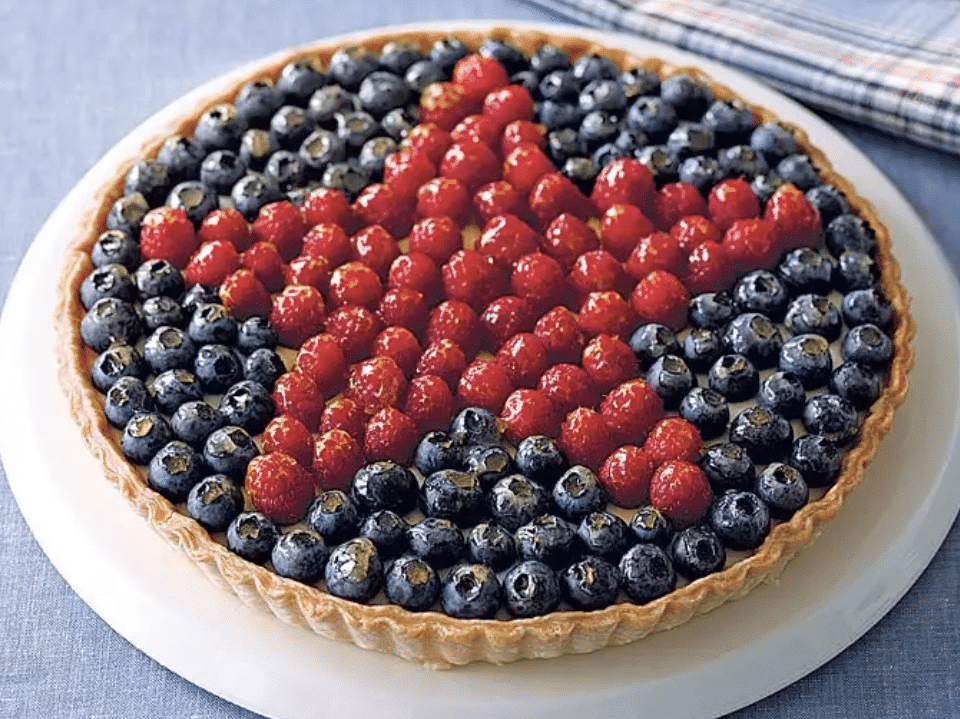 32. Surprise your guests with an Oreo truffle with a cherry in the center!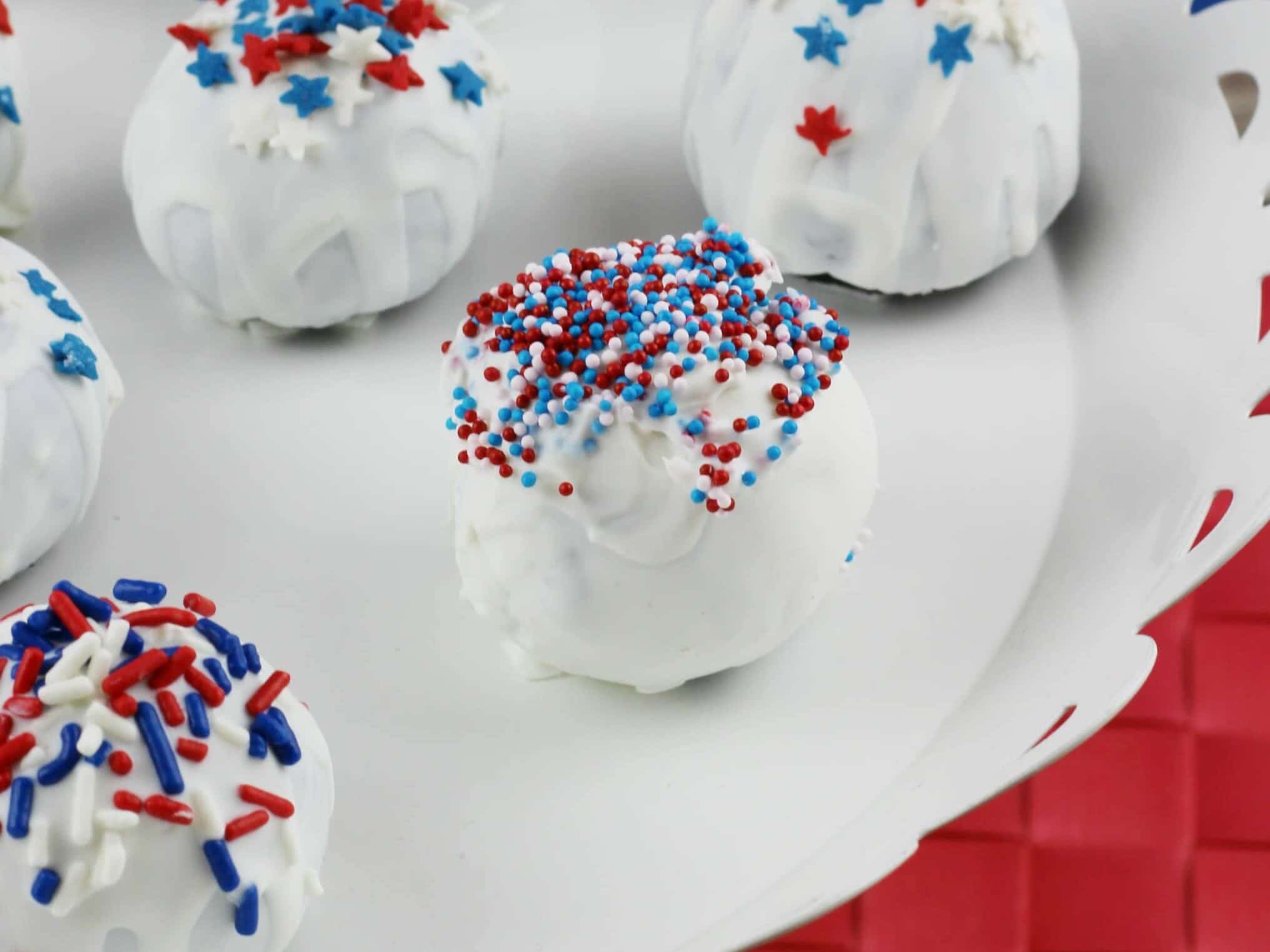 33. Wow, this Top Hat Cake will definitely steal the show, at least until the fireworks!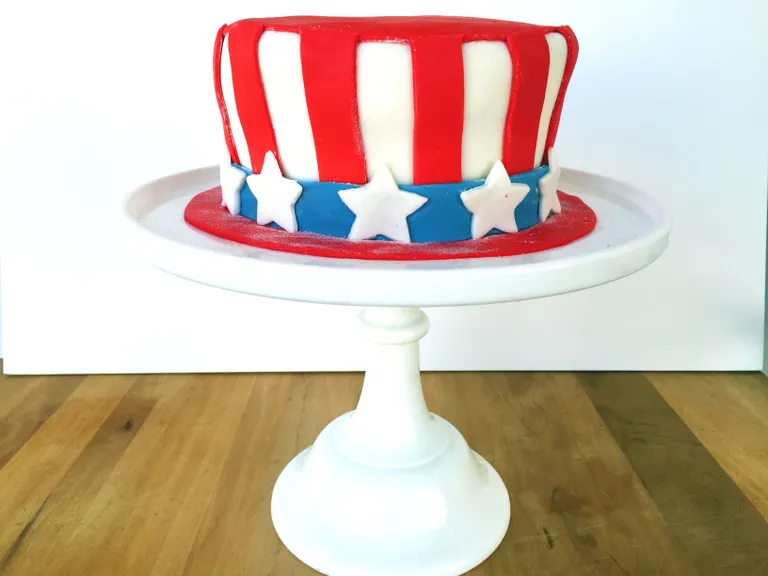 34. Cool off with these super refreshing Snow Cones! I love how cute these 4th of July desserts are!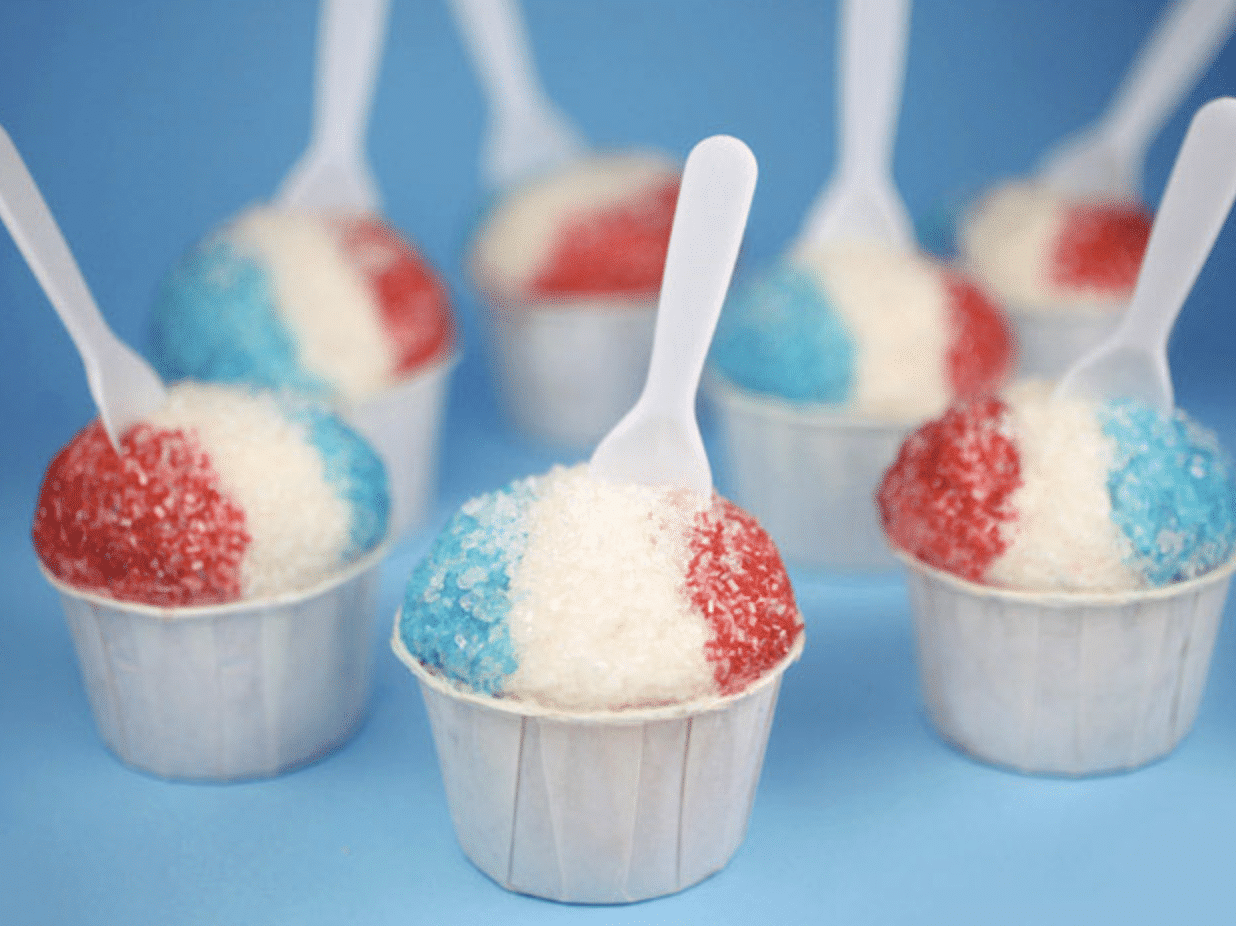 35. There is always room in my freezer for this Red, White, and Blueberry Ice-Cream Pie!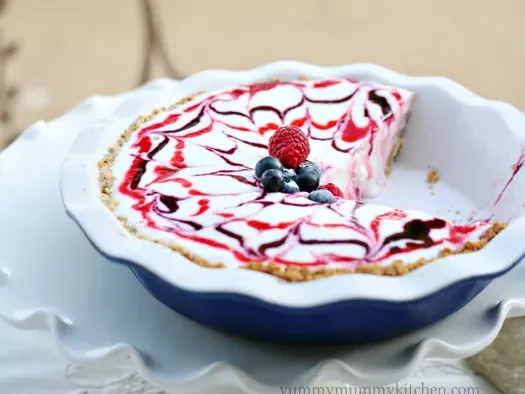 36. No one will refuse one of these star brownies for a Fourth of July dessert option.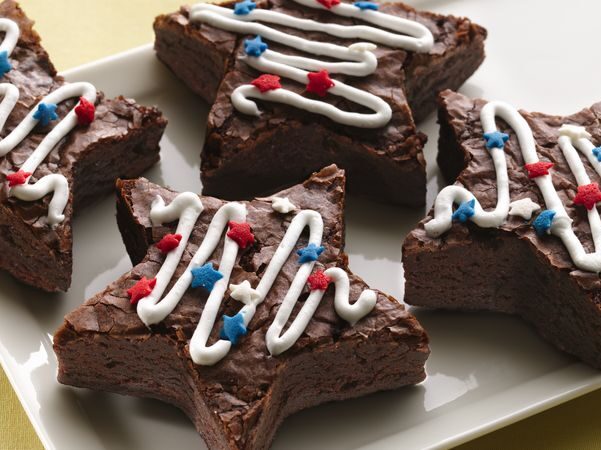 37. Wow, when you cut into this Flag Cake, you will be seriously amazed!!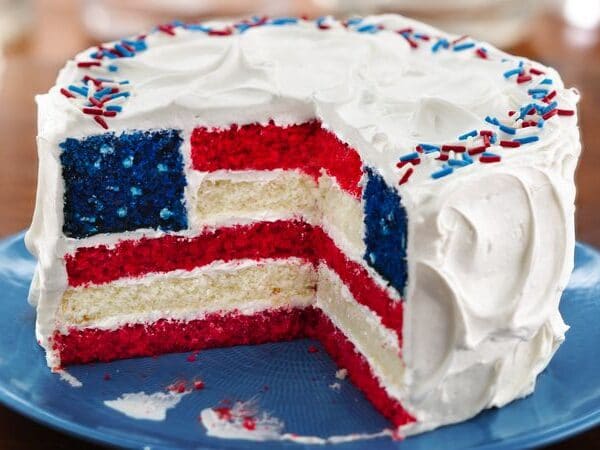 38. Blue Candy Apples with sprinkles? This is one of the most original of the 4th of July food ideas!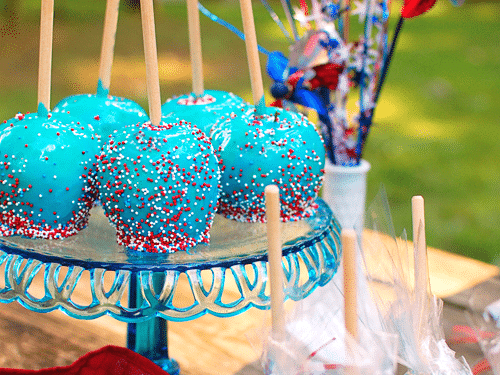 39. Spice up your vanilla ice cream with these Patriotic Cones for the 4th of July!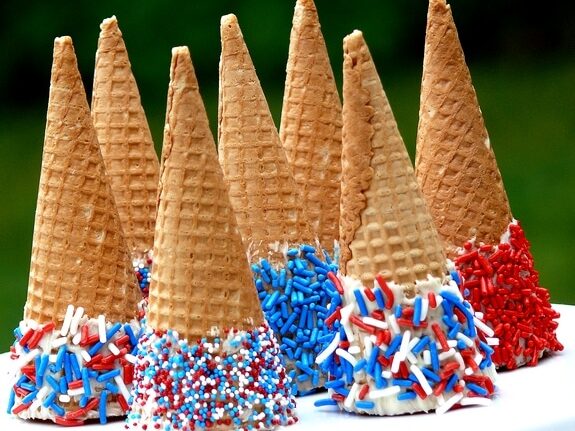 40. Easy Patriotic Oreo Pops will be the hit of the party!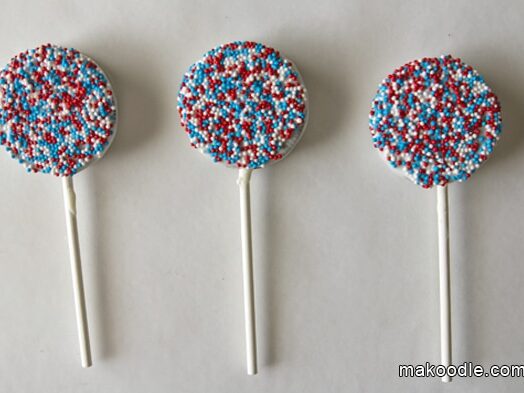 41. The tops of these Lemon Whipped Cream 4th of July Cupcakes look amazing!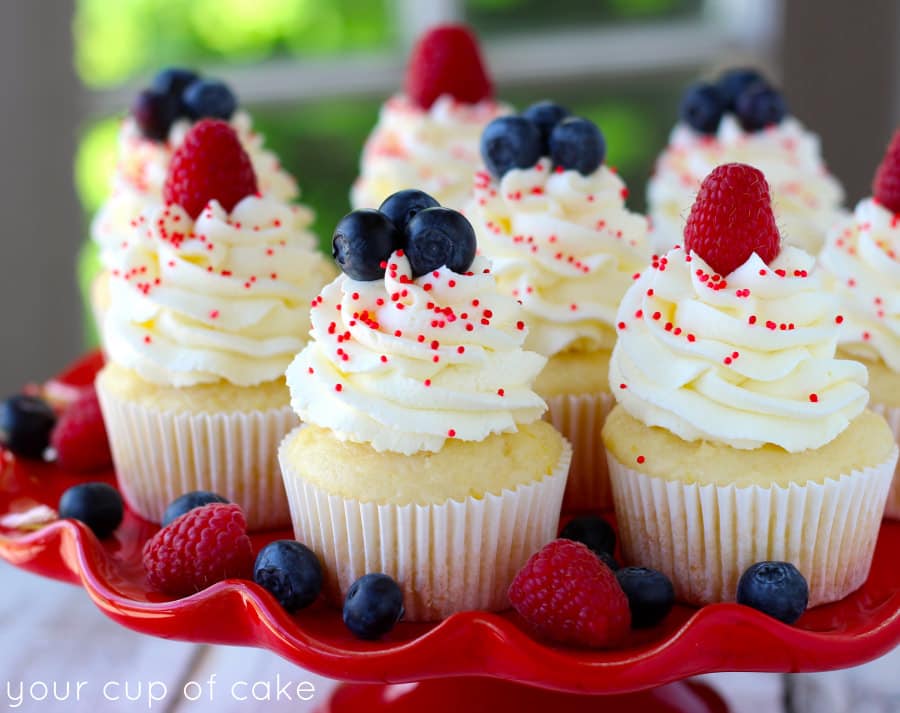 42. This Summer Berry Tart gives a rustic flair to 4th of July desserts.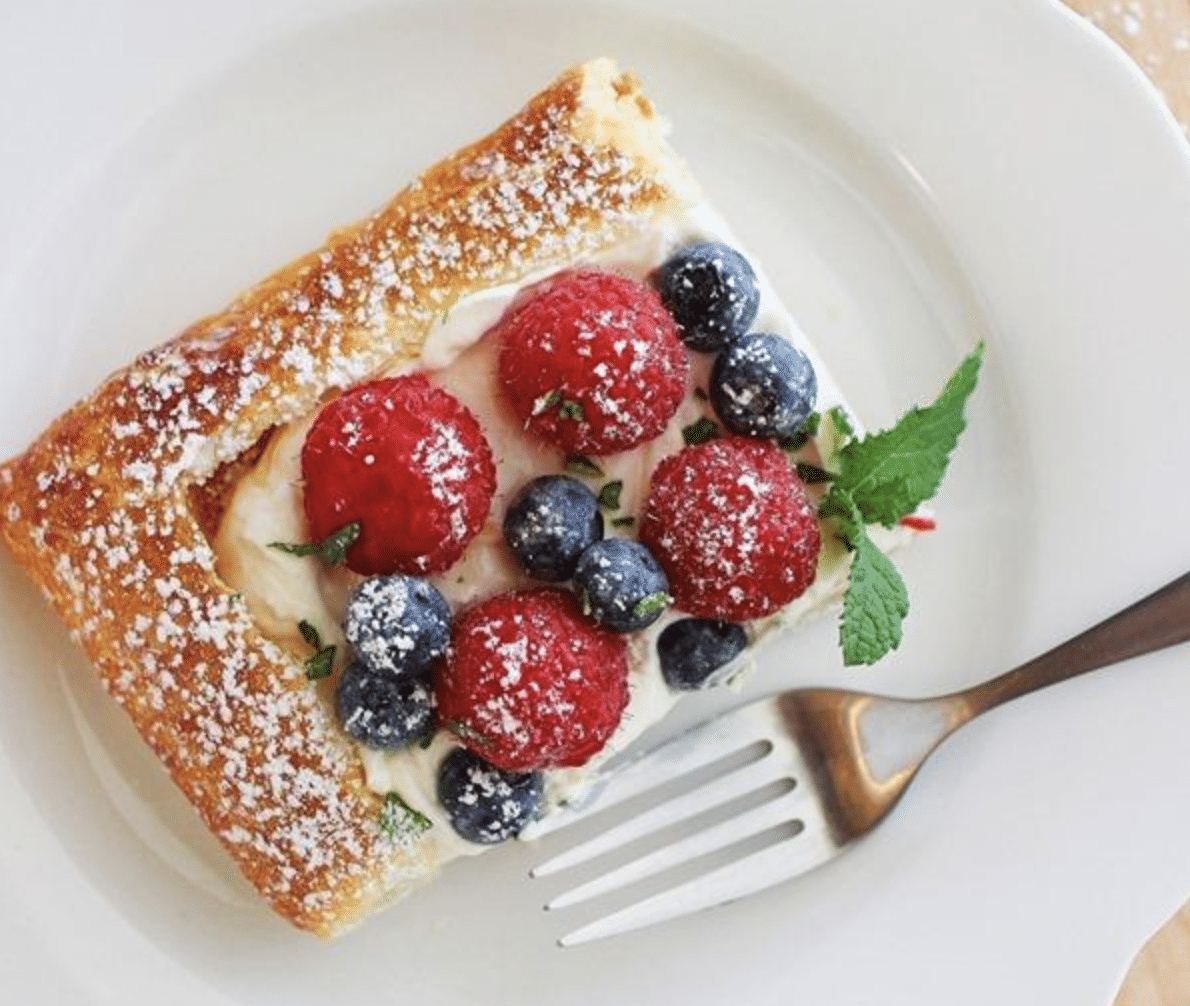 4th of July Drink Recipes
Make some special 4th of July-themed drinks for your celebrations this year. These are simple and easy 4th of July recipes that you can follow to bring some pizzaz to the table.
43. I just want to take a spoon to this Patriotic Punch! Yum!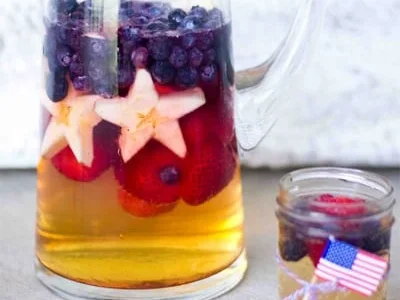 44. Everyone in the crowd will love this refreshing Patriotic Cocktail for the Kids!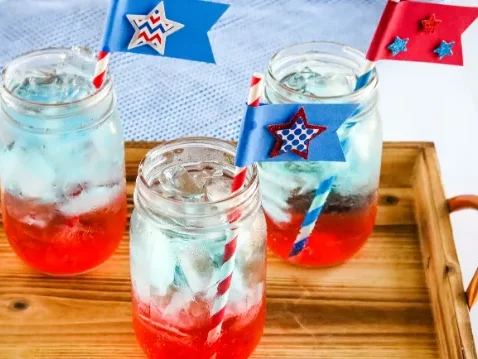 45. Start your morning off just right with a Red, White, and Blue Fruit Smoothie. It's such a fun 4th of July food idea for breakfast.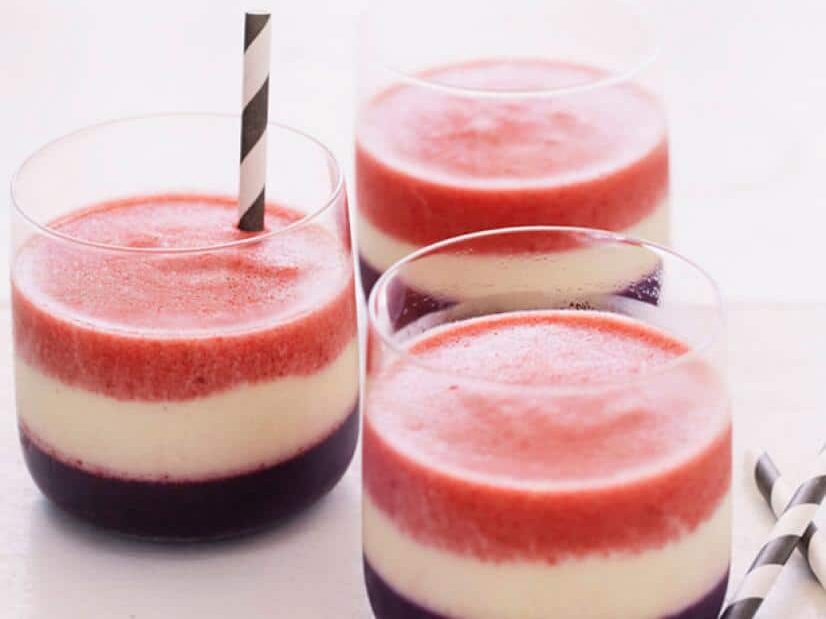 46. Check out this 4th of July Drink for a refreshing twist of heaven.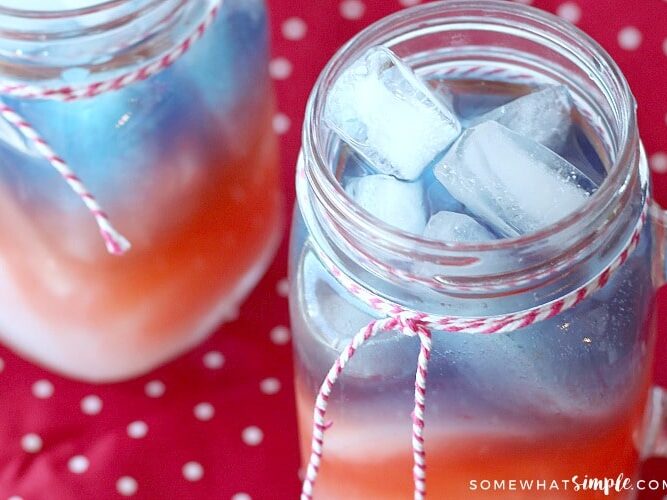 Creative 4th of July Food
Wrap up all of your 4th of July prep with some deliciously themed food. These 4th of July food ideas help me get inspired for the holidays.
47. Patriotic Chex Mix brings together a little sweet and a little salty.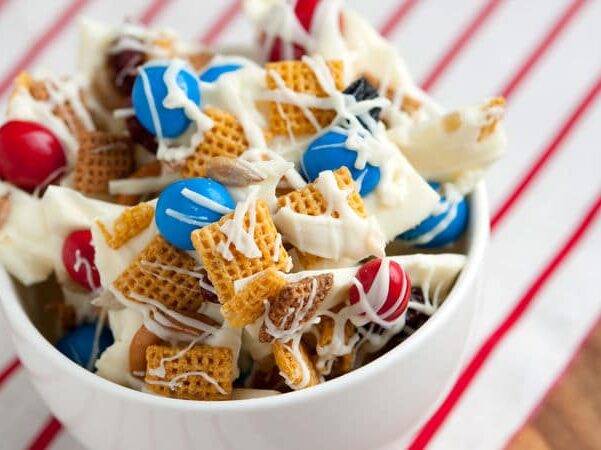 48. How cool looking are these Red, White, and Blue Deviled Eggs?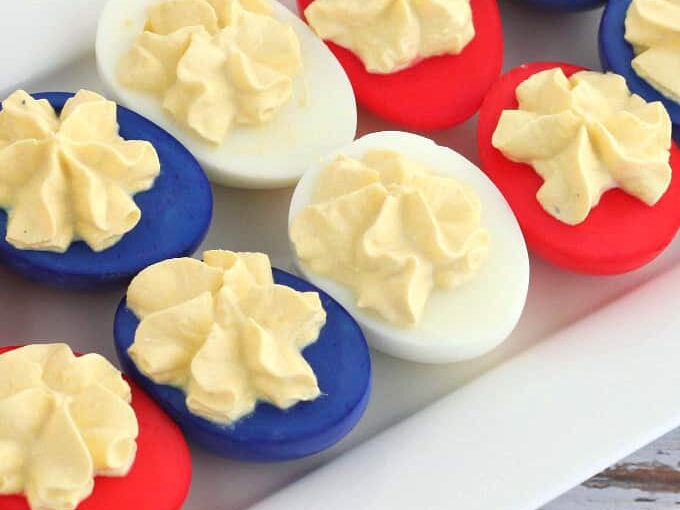 49. I can't wait to twist my fork around this Red, White, and Blue Spaghetti!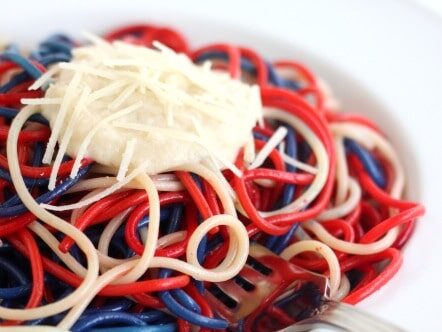 50. Going for healthy? Try this American Flag Vegetable Tray; it's fresh and delicious.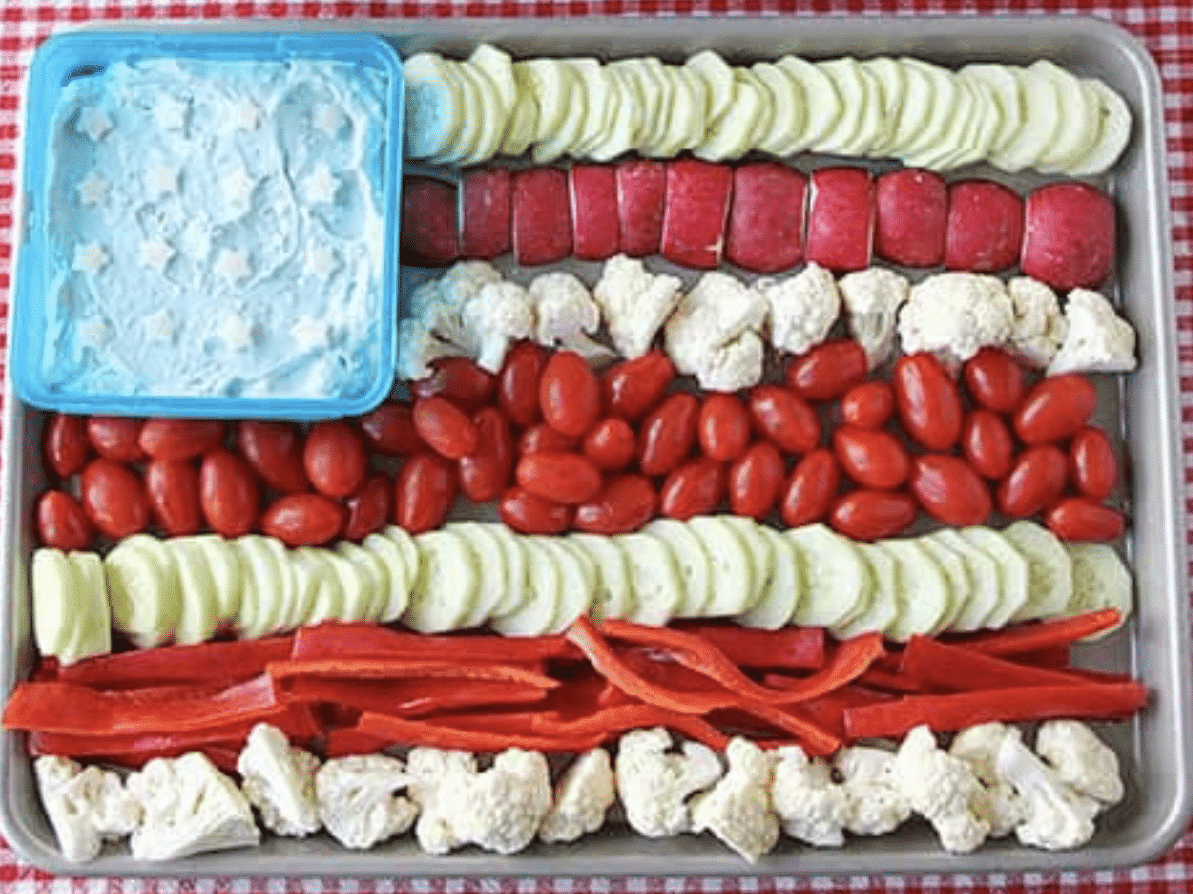 51. Send a little lunch love with this Bento Love Stars and Stripes.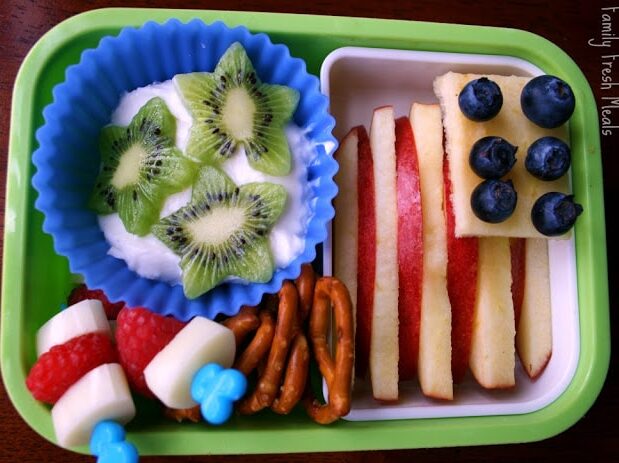 52. Pop up a quick batch of this Patriotic Popcorn to satisfy snacking appetites.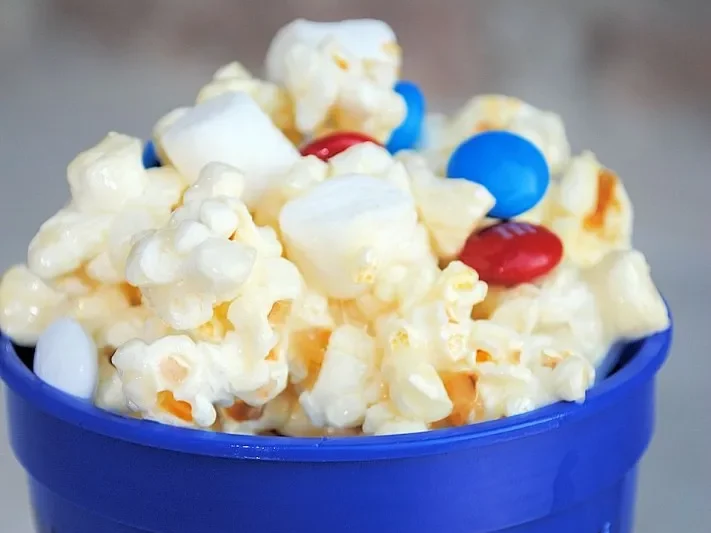 53. A simple 4th of July food idea—Watermelon Stars!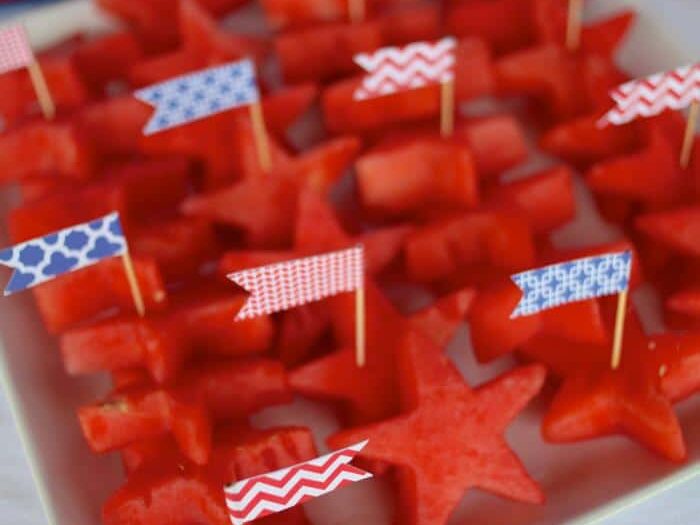 54. Angel food cake and fresh berries make these Red, White, and Blue Fruit Skewers delicious.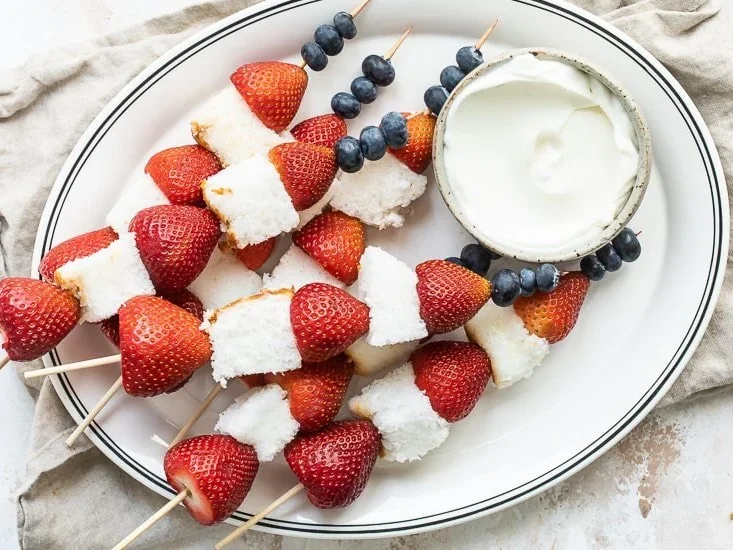 Aren't you ready to pull out your Star Popsicle Molds, Star Cookie Cutters, and your red and blue food coloring? Every single one of these patriotic Fourth of July food ideas looks amazing to me!
Don't forget to grab these photo booth prop printables for the celebration and enjoy your Fourth!
Oh, and once all the festivities are over, and the 4th of July food has been eaten, make your way to the bedroom for a 4th of July date. Or grab some spare sparklers and have a last-minute celebration just for you and your babe.