We have a very cute and creative idea you could give as a gift for any occasion to that someone special in your life! We received this idea from a fabulous reader of ours, Shelby! She has a very creative hubby cause this is the gift he gave her for Christmas this last year! Wow-ee! Such a thoughtful and creative idea AND it will last all year long!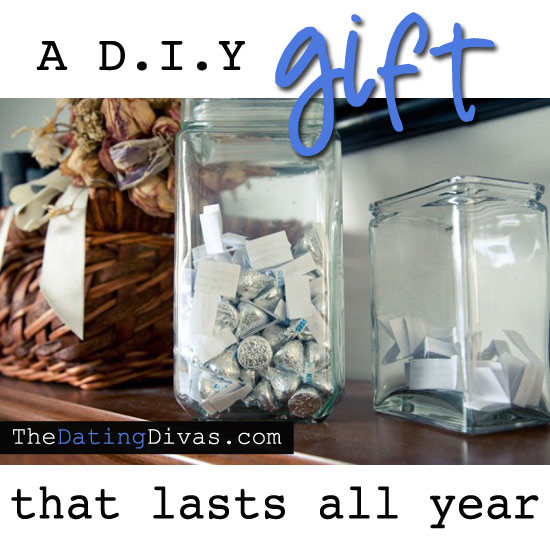 First of all, how cute is that picture?  What a great catch, Shelby!  Here are the details behind this great idea…
*     *     *     *     *     *     *     *     *    
"My sweet husband gave me a gift for Christmas that is going to last all year.  He wrote something special on little slips of paper and put them in a jar.  Some of the slips contained memories of us, something he admires about me, or a gift I get to have that day.  (And I get to pick one every day)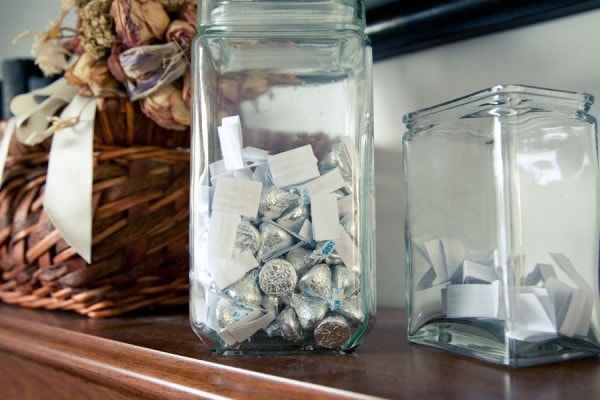 For example, one day I got breakfast in bed (and I got to choose the meal), or he would tell me something funny that happened while we were dating, etc.
The other option, since there are 365 days in the year, he made it a little easier on himself by saying I can either pick a slip of paper or a chocolate for the day. And since I'm chocolate lover it's definitely a fair trade, 🙂
So this gift was a really inexpensive way to show his love every day and I totally look forward to it, too!"
*     *     *     *     *     *     *     *     * 
Thank you Shelby, be sure to thank your hubby for us, too!! {wink, wink}