Meet the Experts: Alisha and Kristin
{Coauthors of the book Real Intimacy!}
You've all heard the amazing news that we are about to host our 3rd "Successful Marriages" Tele-Retreat!! We've brought it to you twice before & the feedback has been overwhelmingly positive! We can't WAIT until you hear from the SIX inspirational speakers we've lined up for you THIS time! We hope you have all registered for this fabulous event AND are following us on our Facebook Event Page… where we will be posting the most recent info! We are super excited to introduce you to our amazing speakers!!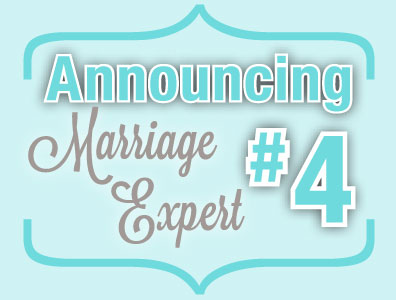 I love learning from EXPERTS, but I always want to know the are REAL people too. 🙂  So, that's why we've asked our Successful Marriages Tele-Retreat Speakers to share a little more about them with us.  It's been a lot of fun for us to get to know them better and we can't WAIT to hear from them at our Tele-Retreat!!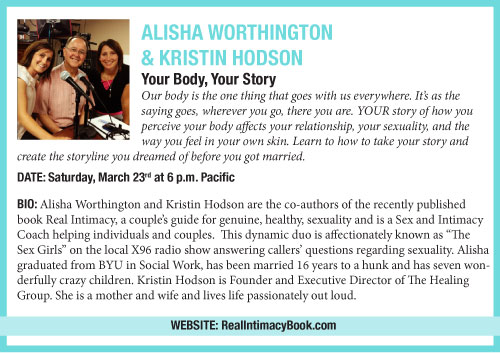 Here is a little more about Alisha Worthington and Kristin Hodson, two of the three coauthors of the book REAL INTIMACY!
Check out the details about Alisha and her husband!
1)  What is your spouse's name and how long have you been married?
My husband's name is Bret.  I actually dated several "Brets" before I found the right one.  We have been married 16 years.
2) Where did you meet?
We met on a blind date, arranged by my ex-boyfriend's older brother.  That's why my ex-boyfriend became my ex-boyfriend.  He wasn't too happy with his brother.
3) What is your all-time favorite date?
Bret and I have a lot of fun goofing around together.  One night we decided to have our own "Olympics" and had all sorts of contests — jumping, running, bat balancing, hopping, and so on.  We had so much fun coming up with random "events" and then laughing at ourselves and each other that we continue to have dates like that to this day.
4) What skill is the most important to develop to have a long-lasting relationship?
I often tell my children that the two most important qualities they can possess as well as their future spouse would be "willingness" and "commitment."  If we are willing to look at ourselves and make changes coupled with a commitment to the process and our spouse then a marriage can grow, change, and expand.
5) What do you do the keep the adventure of your relationship growing?
Having seven young children, it's difficult for us to have a lot of time away, but we do spend a lot of time together talking, dreaming, and goofing around.  We make time, each day, to connect, touch, and to remember the reasons why we had children in the first place!
Here is what Kristin had to share about her relationship with her husband.
1) What is your spouse's name and how long have you been married?
My husband's name is Jake, which prior to meeting him, I'd always thought "Jake" was a hunky name.  We are going on 7 years and are not itching. 🙂
 2) Where did you meet?
We actually met at a party that I showed up to with a guy I was dating. I thought Jake was engaged to another girl.  Turns out he wasn't engaged because he started pursuing me heavily and romantically giving no pause to the guy I was dating at the time.  The rest is history.
 3) What is your all-time favorite date?
My all-time favorite date, and the one where we still laugh about it today was the date where I took him longboarding.  One of my favorite summertime things to do is to go longboarding. My husband led on that he was a bit more experienced than I think he actually was, so I  I took him with some of my friends to the University of Hospital and we made our way down through the hospital and campus ending up on South Temple.  He was riding in front of me and out of nowhere I see him hop up from his board and land on his stomach.  So here he is going down South Temple, head first and I'm thinking, "Who IS this guy and what is he thinking?!?"  Turns out he was very lucky because he actually became wobbly on his board and had lost his balance and just happened to land on his board.  It could have been a very serious accident but since it wasn't, it's one of our favorite relationship memories.
4) What skill is the most important to develop to have a long-lasting relationship?
The ability confront yourself before confronting your spouse.  I think we most often get upset or hurt and immediately start blaming our spouse or fighting with them instead of first checking in with ourselves to see what's going on.  I think doing that first helps you get centered and promotes personal and relationship growth.
5) What do you do to keep the adventure of your relationship growing?
We seek out adventure, play and do things that put us out of our comfort zone.  For example, we just got back from a month in Costa Rica with our two kids.  It was a second world country, we didn't speak any English and we only had each other.  It added deeper spark, deeper love, deeper commitment and was just fun.
Aren't you excited?!  You can tell these ladies have adventurous relationships with their spouses and with nine kids between the two of them, they must have some fabulous thoughts for us about body image!
You can learn more about Kristin and Alisha at realintimacybook.com and thehealinggroup.com and coming soon, but not ready yet, askthesexgirls.com.

Alisha & Kristin are covering one of SIX amazing topics that will help you to have the BEST marriage possible! What are you waiting for? Get registered for this event today AND make sure to follow along on our Facebook Event Page!!