Wedding Anniversary Gifts by Year
Did you know that the tradition of giving themed anniversary gifts by year dates all the way back to the 18th century? It's true! And while we love anniversaries of all kinds here at The Dating Divas, we also love traditions! 
We get asked a lot for anniversary gift suggestions. We decided to help everyone out by compiling a list of the best ideas for wedding anniversary gifts by year to keep with the long-standing tradition!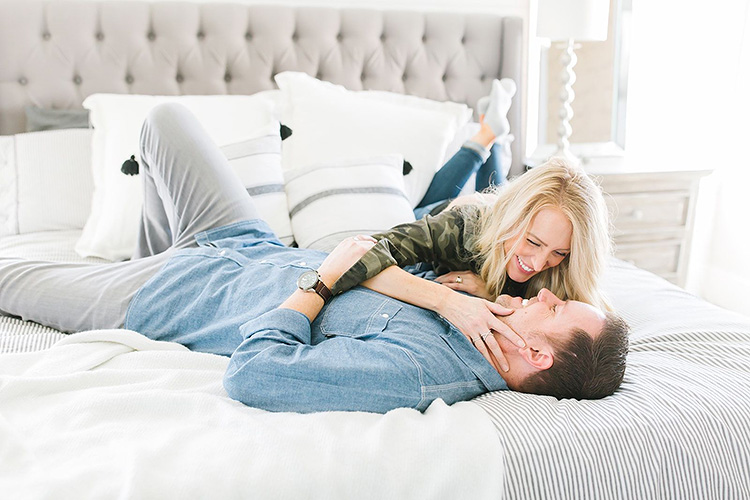 Disclaimer: This post contains affiliate links. To learn more about 'em, click here.
For each year below, you'll find the traditional anniversary gift associated with that year. You'll also find creative ideas based on the number to make your anniversary as memorable as possible! You can click on each of these links to be taken straight to the list of suggestions!
1st Year –

Your first anniversary is DEFINITELY one for the books! You both deserve a huge celebration for what you've accomplished and overcome! With a traditional gift of paper, the 1st year is one where you can really let your creativity (and crafty side!) shine.
2nd Year –

Your two-year anniversary is an exciting time! This is when the deep bonds start to form! Ring in that second year of joy with these cotton-based gifts!
3rd Year –

After three years of marriage, you're really starting to get into a groove. You know what makes each other tick and the best way to communicate. The traditional gift for the third anniversary is leather.
4th Year –

Four years together!! Being married for four years is definitely a TRUE accomplishment, so be sure to set the time aside to celebrate. Classic gifts like fruit and flowers are perfect for this anniversary.
5th Year – FIVE YEARS! You did it! With 5 years under your belt, you can now fully claim that you are no longer newlyweds and ready for the long road ahead.  The traditional gift for this year is wood and these ideas really bring that to life!
6th Year – If you've made it six years being married, you REALLY deserve some chocolate. Make your sixth anniversary as sweet as can be with these candy-themed ideas.
7th Year – Lucky seven! You've made it seven glorious years as a married couple and you're starting to forget what life was like before your spouse. Let the traditional gift of copper take center stage with these clever ideas.
8th Year – Eight years as a married couple?! What a HUGE accomplishment! For this anniversary, bronze is going to make a big appearance with these eighth-anniversary gifts!
9th Year – Alright, nine years! Take the time to really reflect and celebrate all that you've accomplished together to get here. Get in touch with the beauty of pottery with these ninth anniversary gifts ideas.
10th Year – You two are so for-'tin'-ate to have made it 10 years! Celebrate with this list of 10th-anniversary gift ideas that are "tin" inspired classics.
20th Year – TWENTY YEARS! You two have done what many couples can't do. So with that, delicate and beautiful china is what makes the twentieth-anniversary special.
25th Year – Twenty-five years… a quarter of a century! It feels like such an accomplishment! These ideas will make your silver twenty-fifth anniversary shine.
30th Year – What you've accomplished together over the last 30 years is nothing short of a miracle! Show some appreciation and admiration for how far you've come as a couple in the last 30 years and get some inspiration from the sea with these pearl-inspired projects.
40th Year – Another decade together… and you still continue to choose each other every single day. The traditional gift for the fortieth anniversary is the ruby.
50th Year – This is a BIGGIE!! In the United States, only 7% of couples make it this far!! Celebrate winning GOLD with all your loved ones for your golden anniversary.
60th Year – After sixty years together, your marriage is as strong as a diamond. Help your marriage sparkle and shine (literally!) with these diamond-infused ideas.
Anniversary Gift Ideas for Any Year – At the bottom of this list, we've also included links to our all-time favorite anniversary gifts. Additionally, we've added ideas that would work for ANY anniversary year. Make sure you scroll all the way down to check those out! 
Ready for a ton of anniversary gift suggestions by year? Let's do this! 
Anniversary Gifts by Year (First)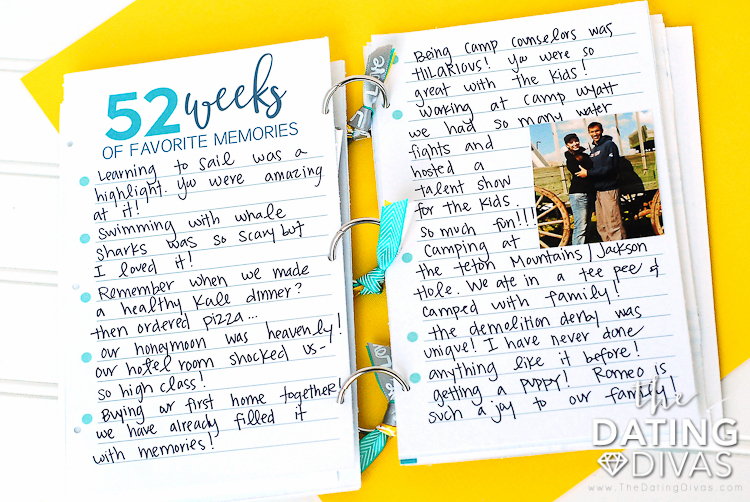 1 . First Anniversary Printable Kit (The Dating Divas) – This downloadable pack has three complete anniversary gift ideas that you can prepare for your spouse. Inside the kit is an Anniversary Picture Frame, 365 Days of Love Traditional Paper Gift, and a Book of Love.
2 . Love Letter of the Month Club (The Dating Divas) – Gift your sweetheart a whole YEAR of love letters! Who wouldn't LOVE receiving a heartfelt love letter every month of the year? If you love this idea, you might also want to check out our Love Letter Kit 2.0.
3 . Anniversary Newspaper (Newspaper Club) – Choose pictures and write articles highlighting your favorite memories. You might also want to check out how to make your own personalized magazine!
4 . 100 Reasons Why I Love You (The Dating Divas)- Why not make a romantic paper book with "100 Reasons Why I Love You" for your paper wedding anniversary gift? The free printables make it a super simple DIY gift.
5 . Anniversary Journal (Uncommon Goods) – This gorgeous anniversary journal would make the perfect first-anniversary paper gift! In addition, you can use it for all of your anniversaries to come!
Anniversary Gifts by Year (Second)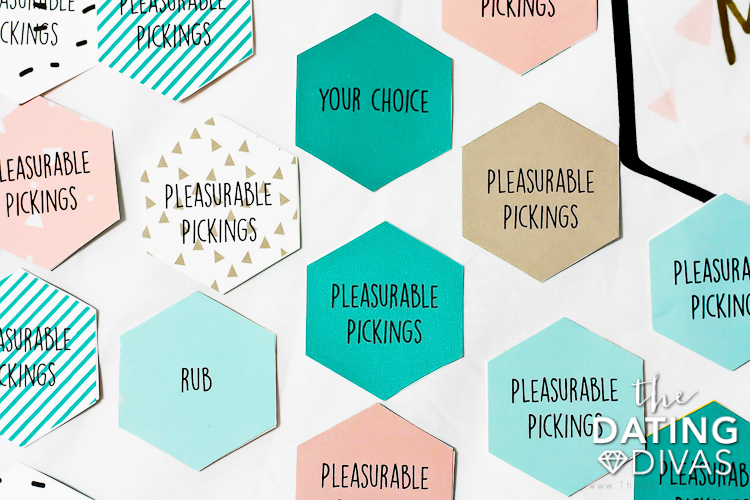 6 . Game of Love (The Dating Divas) – Here's a cotton anniversary gift your spouse is guaranteed to love! Grab the Game of Love, a sexy bedroom board game that's printed on a COTTON fitted bed sheet!
7 . Second Anniversary Printable Kit (The Dating Divas) – This downloadable pack has three complete anniversary gift ideas that you can prepare for your spouse. In the kit, you'll find an anniversary picture frame, an iron-on pillow design for your traditional cotton gift, and a creative "We Go 2-gether" gift basket with cute, coordinating tags.
8 . Cotton Sole-Mate Socks (Not On the High Street) – Matching His and Hers Sole-Mate sock sets are PERFECT for a cotton gift! These would also go perfectly with our Sole Mate printable card and DIY Foot Rub Kit!
9 . Scripted Pillows (A Subtle Revelry) – These sharpie scripted pillows would make the perfect DIY second-anniversary gift on cotton pillowcases. Just use a sharpie marker to write down your vows, the lyrics to your love song, a love letter, or a favorite love poem. And if hand script is not your style, consider custom designing your own unique pillowcase with Printful!
10. His and Hers Cotton Bath Robes (jfy Bride) – Cotton bathrobes make a great cotton gift for your second anniversary, especially this fun "Wifey" and "Hubby" set. A romantic Anniversary Spa Date Night would be perfect to go with it too!
Anniversary Gifts by Year (Third)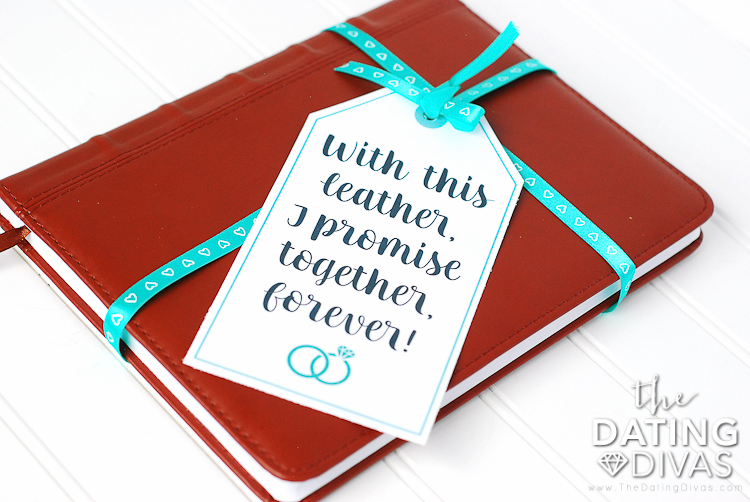 11 . Third Anniversary Printable Kit (The Dating Divas) – This downloadable pack has three complete anniversary gift ideas that you can prepare for your spouse. Inside your kit you'll find an anniversary picture frame, a couple's journal, in addition to a darling "All About Us" gift basket.
12 . Personalized Leather Calendar Keychain (Create Gift Love) – This personalized leather keychain calendar is sure to be a timeless keepsake. Just personalize it with your anniversary month and day.
13 . His and Hers Couple's Leather Bracelets (Cristen Bradshaw) – Leather bracelets are great for a couple's anniversary gift! The leather makes it "manly" enough for the husband, and the lover's knot makes it sentimental enough for the wife.
14 . Leather Bookmark (Love That Leather) – If you're married to a book lover, this leather bookmark would be a great choice for a third-anniversary gift.
15 . His and Hers Leather Passport Holders (Coastal Room Decor) – If you dream of traveling the world together and going on a lifetime of adventure, these his and her leather passport holders would be a great third-anniversary gift!
Anniversary Gifts by Year (Fourth)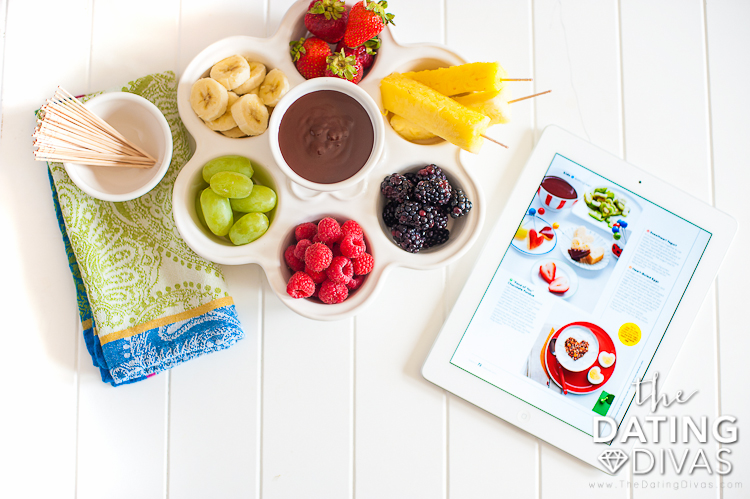 16 . Fondue Date Night (The Dating Divas) – Nothing goes better with fruit than some chocolate, so celebrate your fruit anniversary with an at-home fondue date night.
17 . Fourth Anniversary Printable Kit (The Dating Divas) – The gifts in this kit include an anniversary picture frame and a fun Fruit Basket as a traditional fruit gift. It also has printables for a FOUR-mal four course dinner.
18 . Fruit Bouquet (Edible Arrangements) – Flower bouquets are always nice, but an edible fruit bouquet is even better. Here is another site with cute options! If you're on a budget, you can even try this DIY version.
19 . Keepsake Bouquet (The Paisley Moon) – Getting flowers that never die is an anniversary gift you'll always treasure. It would be fun to get a bouquet featuring your wedding colors.
20 . Trail of Rose Petals (The Dating Divas) – A box of rose petals can turn any ordinary evening into an extraordinary one! Leave a trail of rose petals to a special surprise.
Fifth Year Anniversary Ideas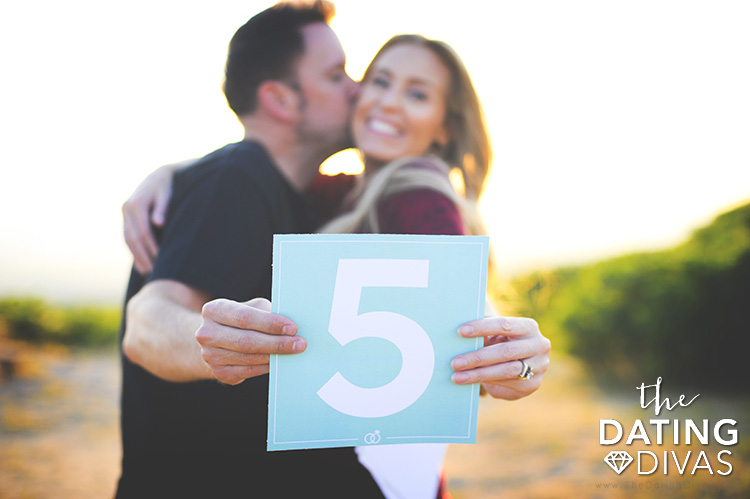 21 . Fifth Anniversary Printable Kit (The Dating Divas) – This downloadable pack has three complete anniversary gift ideas that you can prepare for your spouse. Inside your kit, you'll find an anniversary picture frame, an anniversary Jenga game for a traditional wood gift, and a unique hand love note.
22 . 5 Senses Gift (The Dating Divas) – In honor of your 5th anniversary, give your sweetheart this darling 5 Senses Gift to show your love in every SENSE of the word! They'll really be knocked 'senseless' with these wedding anniversary gifts.
23 . Wood Watch (Tree Hut) – We love that you can personalize this wood watch with a special message for your 5th anniversary like, "5 years later and I've loved every SECOND!" We also love this customizable wood watch!
24 . Wood Postcard (Personalization Mall) – Give a love note that will last forever on this personalized wood postcard. You could even go crazy and create a whole set!
25 . Wood Clock (Denim Heels) – This natural pallet wood clock is beautiful, but our very favorite part is the phrase on it, "Time spent with family is worth every second!"
Sixth Year Anniversary Gift Ideas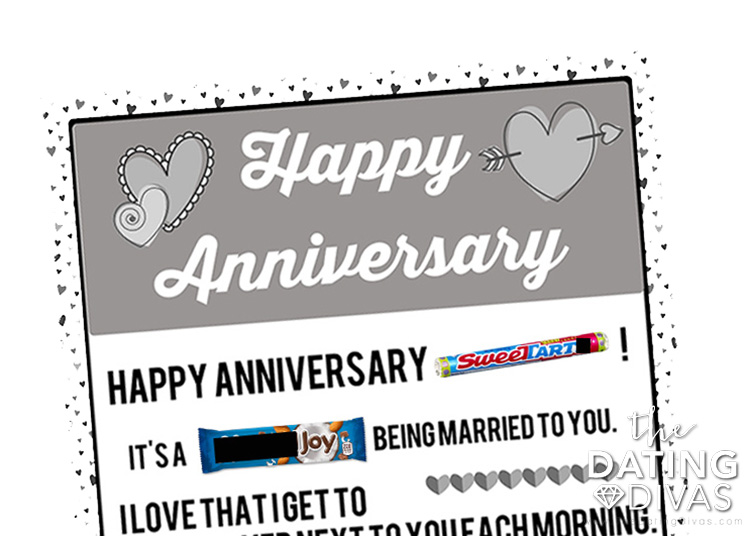 26 . Anniversary Candy Gram (The Dating Divas) – An anniversary-themed candy gram is the PERFECT gift idea for your sixth anniversary. We even have a printable engineer print and template to make it super easy to pull off!
27 . Anniversary Candy Bar Love Notes (The Dating Divas) – These printable candy bar love notes are so clever and witty. There are 10 different versions specifically for your anniversary too!
28 . Sexy Candy Bar Love Notes (The Dating Divas) – If you're looking for more of a sexy sixth-anniversary gift, this is the one for you! You can download 5 whole pages of sexy candy bar love note tags for FREE!
29 . Love is Sweet Bedroom Game (The Dating Divas) – This sexy date night is great for your anniversary night, and its candy theme makes it an especially perfect addition to your sixth wedding anniversary gifts. And, even better, it's totally FREE!
30 . Chocolate Tasting Date (The Dating Divas) – Celebrate the traditional anniversary gifts of candy with a romantic chocolate tasting date! If you wanted to you could even end the night with some DIY chocolate body paint!
Seventh Year Gift Ideas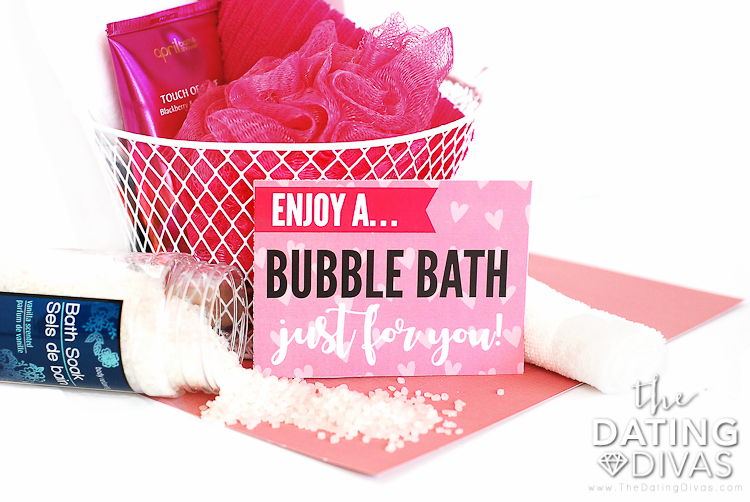 31 . Seven Days of Spoiling (The Dating Divas) – In honor of your 7th anniversary, give your sweetie SEVEN Days of Love! Instead of just celebrating for one day, celebrate by counting down to your big day all week long.
32 . Happy Seventh Copper Keychain (Jewelry Everyday) – This hand-stamped copper keychain is perfect for a traditional seventh-anniversary gift. You can even customize the message on the front.
33 . Copper Wire Photo Holders (Homemade Ginger) – This is a fun and easy DIY seventh-anniversary gift idea. Make your own copper wire photo holders! Then just add your favorite photos of the two of you for new bedroom decor.
34 . "Days that Changed Everything" Penny Wall Art (The Dating Divas) – Make your own DIY seventh-anniversary gifts by creating a wall art display using pennies from the years that have significant memories and meaning to your relationship! After giving your sweetie your gift, you could even go on the accompanying Penny Date.
35 . Solid Copper Mugs (Amazon) – These solid copper, hammered, mule mugs would make a great traditional seventh-anniversary gift! These ones keep the drink inside nice and cold without getting the handle too cold for your hand.
Gifts Ideas for Your 8th Year Anniversary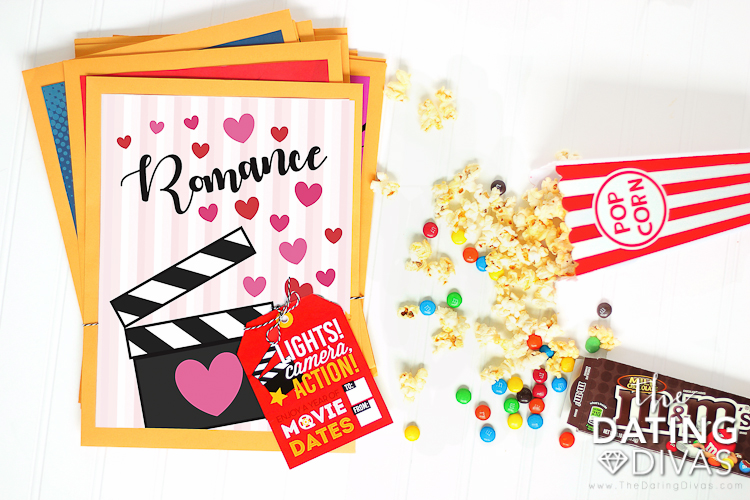 36 . Year of Movie Date's (The Dating Divas) – Playoff the number 8 and give your sweetheart a whole year of movie "D8's". This post has tons of different options to choose from.
37 . Eighth Anniversary Scavenger Hunt (Play. Party. Plan.) – When it comes to wedding anniversary gifts by year, how cute and creative is this eighth-anniversary scavenger hunt? We just adore the little bronze-themed gifts she leaves along the way too.
38 . Bronze Infinity Keychain (Jewelry Everyday) – The infinity symbol is great for your eighth-year wedding anniversary gifts since it signifies your love lasting forever and resembles the number eight! And a sentimental keychain works for both men and women!
39 . Romantic Couple Sculpture (Novica) – This romantic, wooden sculpture of a couple is perfect for an eighth-anniversary gift since their bodies form the shape of the number 8!
40 . Coordinates Bronze Buckle (Steel Toe Studios) – If your husband is a huge belt wearer, this bronze buckle may be the perfect eighth-anniversary gift for you. You can even customize it with your choice of coordinates.
Ninth Year Anniversary Gifts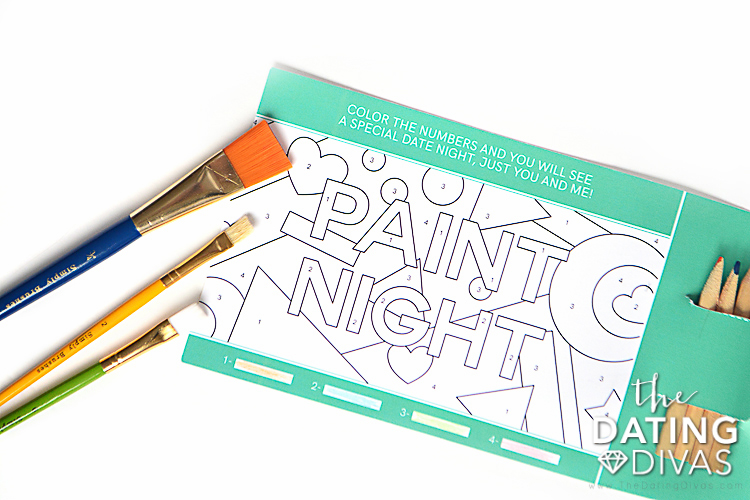 41 . Painting Date (The Dating Divas) – Have a painting night together and choose to paint some pottery! You can also find great deals for pottery classes on Groupon. And who wouldn't love to try out the potter's wheel?
42 . Pottery Barn Shopping Date (Pottery Barn) – Even if traditional pottery isn't your thing, you can still keep with the pottery theme and go on a shopping date to Pottery Barn! How fun would it be to pick out something new for your bedroom or home?
43 . 9th Anniversary Mug (YouNique Designs Store) – Count the days that you have loved each other with this beautiful 9th-anniversary mug AND pay homage to the gift of pottery.
44 . Pottery Rose (Just Paper Roses) – What could be more appropriate for your pottery anniversary than beautiful pottery rose in a terra cotta pot? This one stands 7″ tall and lasts forever.
45 . Number Nine Cake Topper (Ladada Designs) – Bake a cake for your sweetheart for your anniversary and top it off with this number nine cake topper. This is a super easy but still thoughtful gift, especially when placed on a new piece of pottery –a beautiful cake plate!
Tenth Year Anniversary Gifts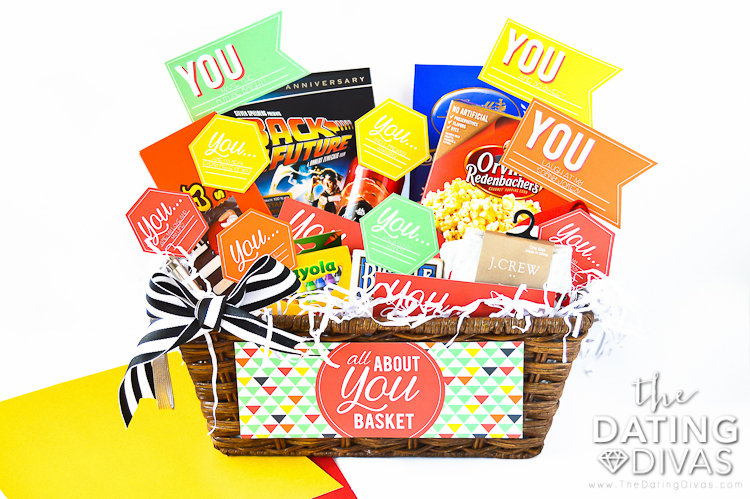 46 . "All About You" Gift Basket (The Dating Divas) – In honor of your 10th anniversary, let your spouse know 10 things you love about them. The printable gift tags for this 10-year anniversary gift make it pretty easy to pull off.
47 . Tin For Ten (Giggles Galore) – When it comes to wedding anniversary gifts by year, the traditional 10th-anniversary gift is tin. Fill a DIY tin can with your top 10 favorite married memories and 10 reasons "why I love you."
48 . The Man Can (The Dating Divas) – If you need more of a sexy 10th-anniversary gift for your husband, this Man Can is perfect- just use a tin can! It's the perfect blend of traditional, yet sexy.
49 . "One Decade Down, A Lifetime to Go!" Keychain (Gems By Johnna) – This dime stamped keychain is such a sweet and unique 10th-anniversary gift. It's the perfect way to commemorate a decade together.
50 . Anniversary Time Capsule (The Dating Divas) – Use a tin can and create an Anniversary Time Capsule to bury for the next 10 years. Pack it with some 10-year-friendly wedding anniversary gifts to 'seal' the deal!
Twentieth Year Gift Ideas for Your Anniversary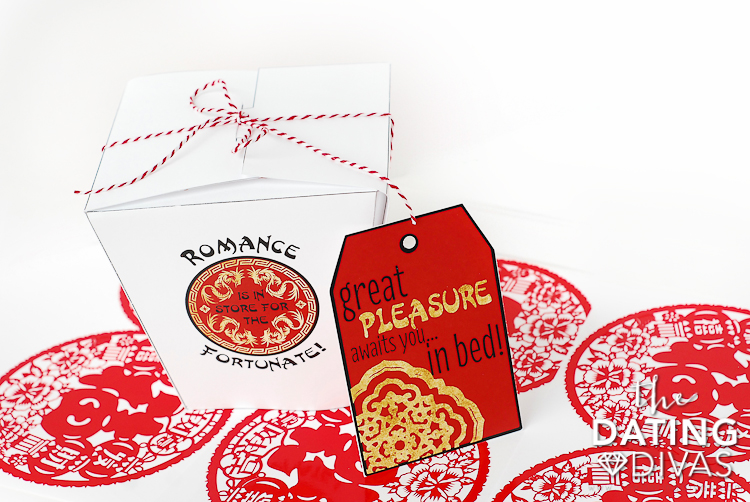 51 . China Date Night (The Dating Divas) – If China dishes aren't your thing, you can still put a spin on the traditional china gift and plan a Chinese-themed date night.
52 . Heart-Shaped China Mugs (Amazon) – China is the traditional anniversary gift of twenty years so these heart-shaped china mugs definitely fit the bill. Or if you prefer something more practical, you could opt for the traditional China dinnerware set.
53 . Personalized 20th Anniversary Word Art (Words and Rainbows) – Order your own unique artwork that features your choice of words or phrases in the shape of the number 20.
54 . Make a Cash Roll with $20 Bills (Crafts a la Mode) – When it comes to anniversary gifts by year, for your 20th anniversary, surprise your spouse with a cash roll made out of $20 bills. You'll be surprised how easy it is to make.
55 . Anniversary Tea Pot (Macy's) – A special teapot made just for a 20th anniversary.
Twenty-Fifth Year Gift Ideas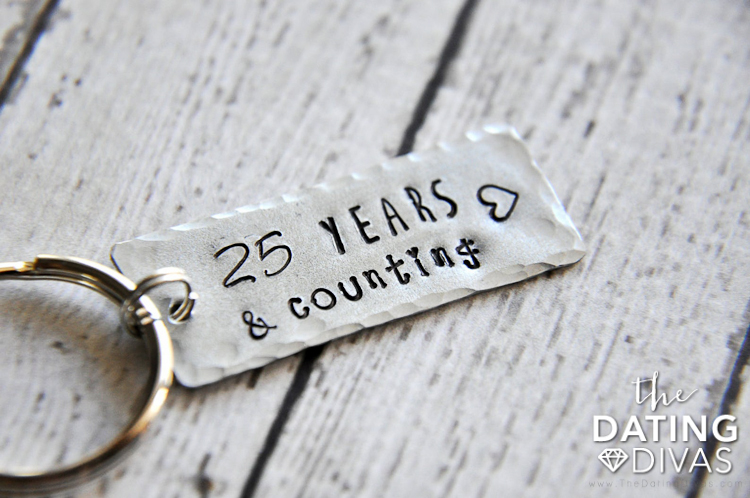 56 . 25th Anniversary Keychain (So Simply Quaint) – When it comes to anniversary gifts by year, this hand-stamped anniversary keychain is sure to be a gift that will last a lifetime.
57 . His and Hers Sterling Silver Ring Bands (A and L Engraving) – This set of sterling silver rings bands is perfect for your silver wedding anniversary gifts. You can customize them with your wedding date.
58 . 25th Anniversary Silver Spoons (Impressions Stamped) – Silver spoons are a great idea for your silver anniversary gifts, and these ones are even better with the added message, "Spooning Since …." with a personalized date (Or go the more practical route and get a new set of silverware.)
59 . 25th Anniversary Cupcakes (Target) – Position cupcakes to form the shape of the number 25 for a silver anniversary surprise! It's SO simple but looks quite impressive.
60 . Silver-Dipped Natural Rose (The Eternity Rose) – A natural rose is coated in pure silver! Talk about a beautiful symbol of a love that will last forever. This is the quintessential 25th-anniversary gift!
Thirtieth Year Anniversary Gifts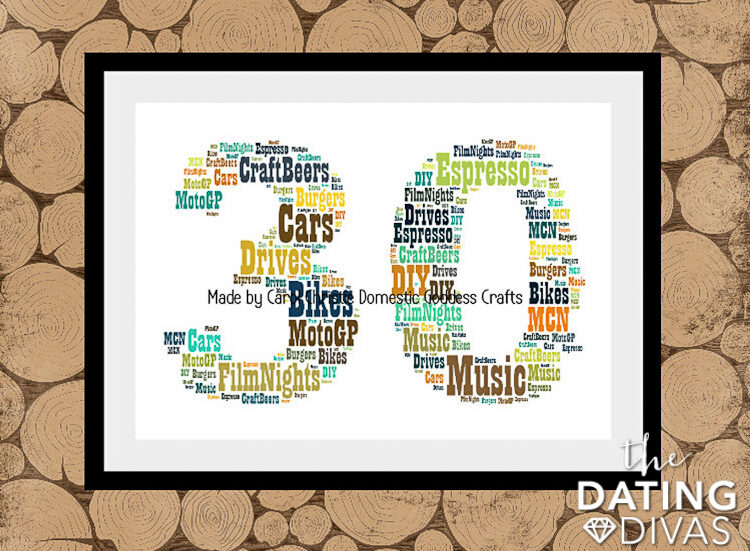 61 . Personalized 30th Anniversary Word Art (Domestic Goddess Craft) – This word collage is a great gift for your 30th anniversary. Personalize it with words and phrases that are meaningful to your relationship.
62 . Counting Keychain  (Marmar) – If you're looking for a great idea, this funny "Who's Counting" keychain has 30 hash marks for each year of your marriage.
63 . Framed Pearl Heart (Button Art by Sophie) -This heart made out of pearlized buttons is a great choice for your pearl anniversary. On the other hand, you might consider pearl cufflinks for him and pearl earrings for her.
64 . Personalized Porcelain Pearl Bowls (Melissa Ceramics) – These beautiful porcelain bowls are the perfect pearl color. In addition, they can be personalized with your initials.
65 . Pearl Tree Sculpture (Josoko) – You'll score big time with this pearl tree to symbolize how much you've grown as a couple!
For even more ideas, check out this list of The Best 30th Anniversary Gift Ideas and Party Planning Tips!
Fortieth Year Gift Ideas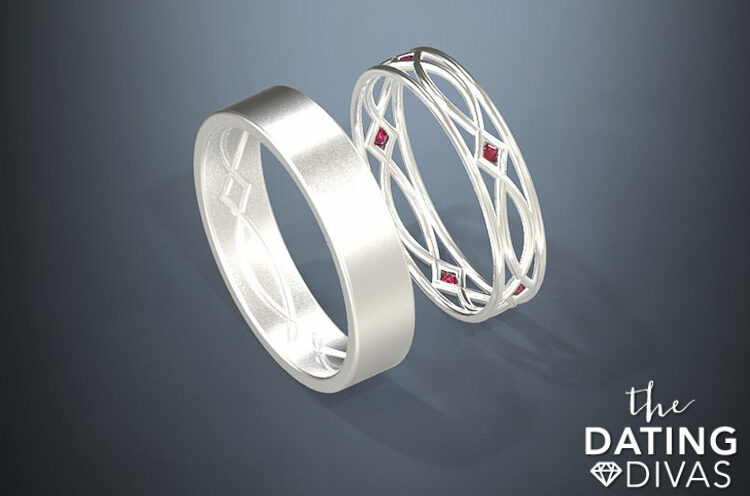 66 . His and Hers Rings With Rubies (Averie Glamour) – These stunning his and her rings are solid 14K white gold. They complement each other perfectly, and the five tiny, princess-cut rubies in her ring make it perfect!
67 . Personalized 40th Wedding Anniversary Sign (Fairplay Printables) – This beautiful wedding anniversary sign can be totally personalized to celebrate your ruby anniversary.
68 . Ruby Red Anniversary Paper Art (Caroline Rees Papercut) – When it comes to traditional anniversary gifts by year, this ruby red cut paper art is perfect for a 40th-anniversary gift. You can hang and treasure it for years to come.
69 . "Her Worth Is Far Above Rubies" Bangle (Redeemed Jewelry) – Since the traditional anniversary gift for year 40 is ruby, the scripture Proverbs 31:10 fits perfectly! "Who can find a virtuous woman? For her price is far above rubies." Let your wife know how amazing you really think she is with this treasured piece of jewelry.
70 . Ruby Anniversary Party (Catch My Party) – Invite your friends and family over to celebrate the big 4-0 with you! We just love these cute ruby-colored centerpieces featuring pictures from then and now.
Fiftieth Wedding Anniversary Gift Ideas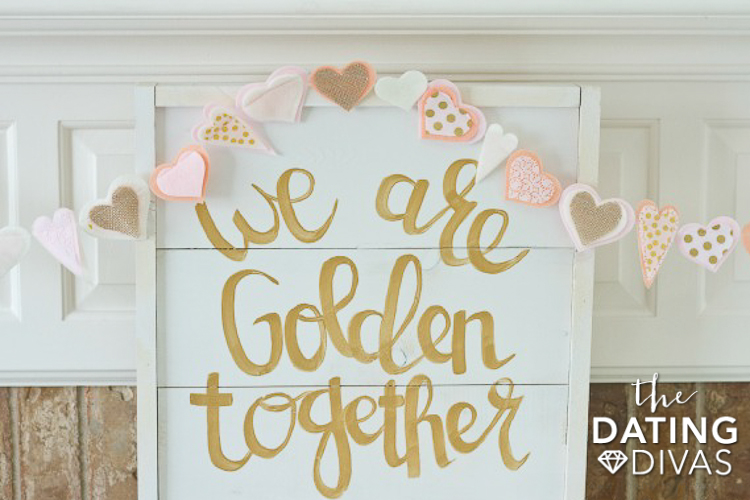 71 . Golden Together Sign (By Jen Rose) – We just adore this hand-painted sign by Salty Bison. It's simply perfect for a 50th-anniversary gift or party decoration. You might even include this "50 Reasons Why I Love You" Jar!
72 . Gold Number 50 (Mary Jo's Party Pics) – This sparkly gold number 50 is perfect for a party decoration or as a fancy cake topper for your 50th anniversary.
73 . Golden Gift Basket (World Market) – This golden gift basket would work perfectly as a 50th-anniversary gift. Of course, if money doesn't allow, you could also make your own DIY version.
74 . 50th Anniversary Memory Book (Amazon) – This 50th-anniversary memory book is a photo album, scrapbook, and guest book combined! Truly a keepsake!
75 . Gold and Glittered Anniversary Frame and Print (Becoming Martha) – Among our anniversary gifts by year list, this is a favorite. Follow the DIY tutorial to make your own personalized gold and glittered anniversary frame and print!
Sixtieth Anniversary Gift Suggestions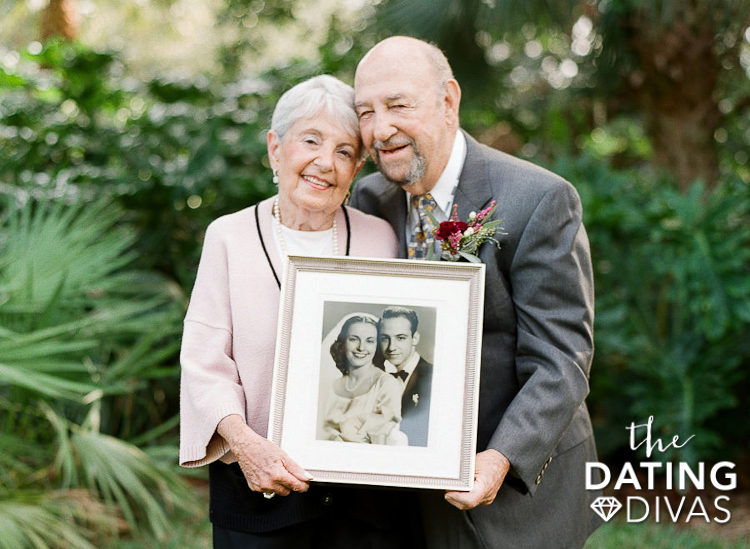 76 . Take a Picture Holding Your Wedding Picture (Style Me Pretty) – Isn't this anniversary photo just gorgeous?! We're totally in love!
77 . 60th Photo Collage (Work To Shop) – Take your favorite pictures from the last 60 years of marriage and turn them into a fun photo collage in the shape of the number 60!
78 . Personalized 60th Anniversary Print (Digital Board) – This one-of-a-kind print includes events, facts, and more from the year you were married!
79 . 60th Anniversary Photo Frame (Amazon) – This beautiful keepsake photo frame is perfect for displaying a photo taken on your 60th wedding anniversary!
80 . Sparkly Diamond Personalized Card (Sarah Louise Designs) – Address it to your sweetie with a pet name and your personalized anniversary.
Our Favorite Anniversary Gift Ideas for ANY Year
No matter how long you've been married, we've got a handful of ideas that will be perfect for any time!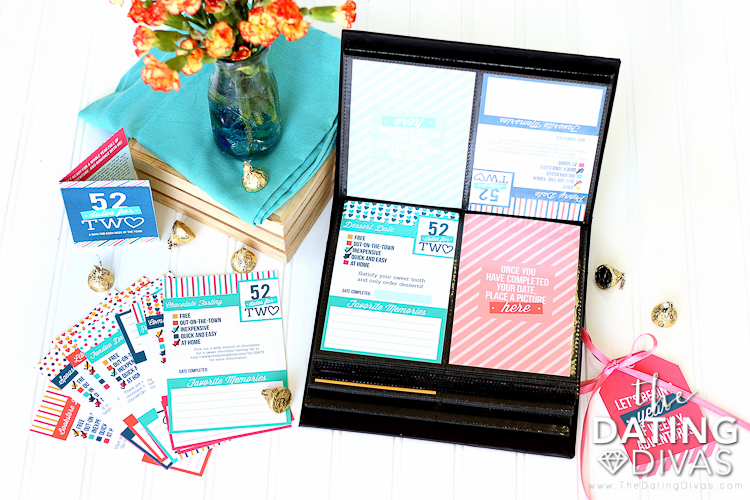 81 . 52 Dates for Two (The Dating Divas) – 52 date cards with 52 date night ideas! That's one for every week of the entire year!
82 . Anniversary Countdown (The Dating Divas) – Countdown to your anniversary and celebrate all week long with this fun Anniversary Countdown Kit! In addition to being super cute and fun, it includes an anniversary pocket banner.
83 . The Ultimate Anniversary Kit (The Dating Divas) – The Ultimate Anniversary Kit has everything you could ever want, or need, to plan your next anniversary. The anniversary journal is my favorite part, but you'll have to go check out everything that it includes.
84 . Anniversary Sticky Notes (The Dating Divas) – These printable sticky notes are darling and there is a whole section JUST for your anniversary! Stick them all over your bedroom, your spouse's car, or make a heart shape out of them on your bathroom mirror.
85 . Anniversary Interview (The Dating Divas) – These sweet anniversary question cards make for the perfect (quick and easy) anniversary date night! Take them to dinner with you or use them for a romantic, at-home anniversary date.
We hope this list of anniversary gifts by year has been helpful in giving you ideas for your anniversary! For more anniversary inspiration check out these pages: