The Ultimate Beach Date
Are you craving some summer fun and relaxation with your sweetheart!? The beach is the perfect place to kick back and relax with your toes in the sand, the calming sound of the waves hitting the shore, and some fun in the summer sun! Sounds pretty perfect, right!? Invite your spouse to take you to the beach.
This would be a great getaway date, but don't worry! If you can't make it to the beach, we have a solution for you – just bring the beach home to you! This date works BOTH ways!!

Disclaimer: This post contains affiliate links. To learn more about 'em, click here.
I have to say, this beach date is one of the most exciting dates we've planned in a long time. I had so much fun designing these printables! Feel free to stop by Messes to Memories to see what else we're creating!
Now, are you ready to kick back and relax!? Pack a cute beach bag with a towel, flip flops, beach ball and sunscreen… Oh, and don't forget your umbrella, sunglasses and lip balm! Everything you need to enjoy a date at the beach.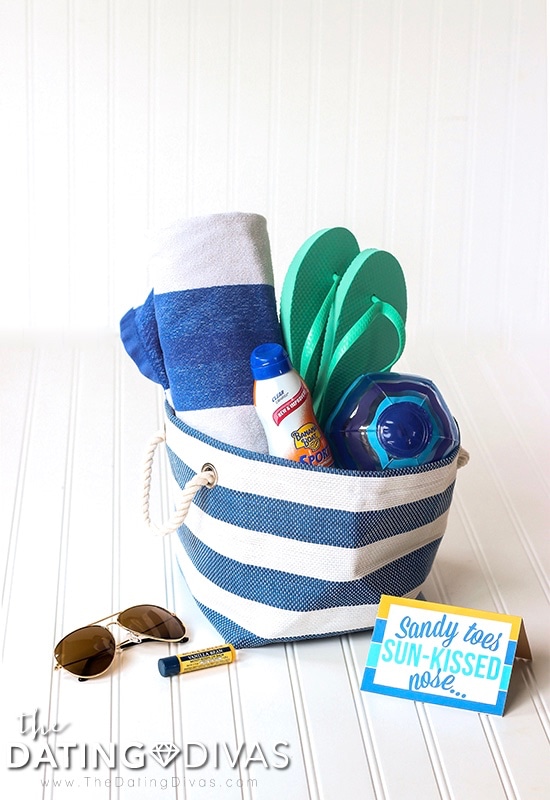 Start out by making the coolest pop-out invitation ever to invite your spouse to take you to the beach! We used this to get beautiful straight edges.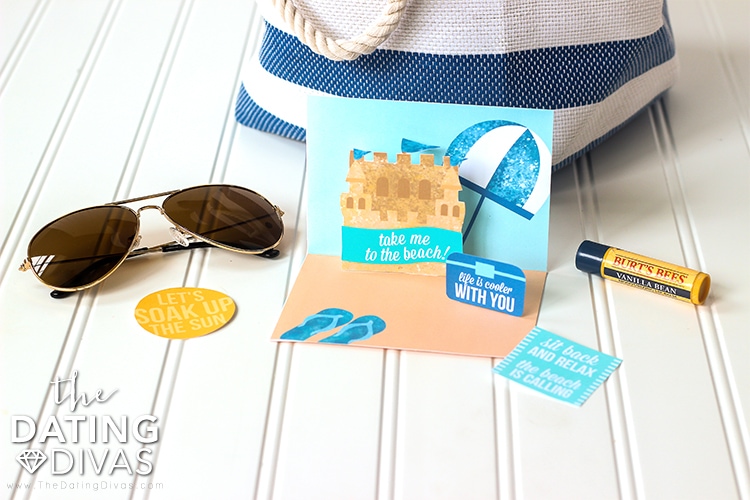 If you live too far away from the beach, use the castle insert that says "let's bring the beach to us!" instead, and bring the beach home to you! You can grab a bag or two of sand and some shells to set up a beach in your backyard. We know it's not the same, but sometimes you just gotta take what you can get!!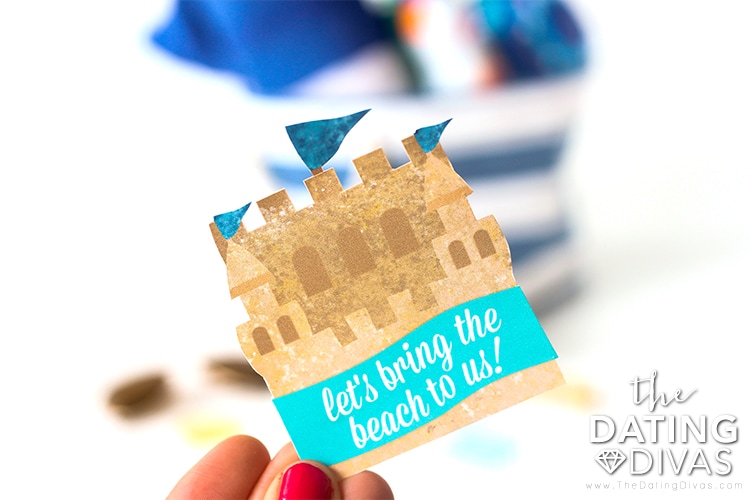 If you DO end up staying home, you might want to grab our staycation kit as well for some even more fun and relaxing ideas at home, including a little sexy idea to do after the date!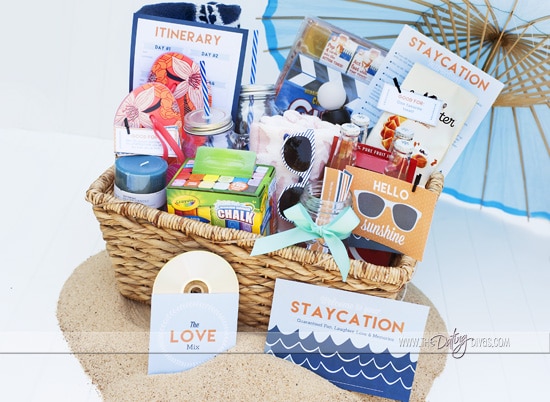 We created 2 different bucket lists! One for the beach and one at home. Both bucket lists have unique activities that you and your spouse will definitely enjoy, like sand pictionary, racing the waves, and creating your own seaglass! With these bucket lists, you can make this beach date whatever you want it to be.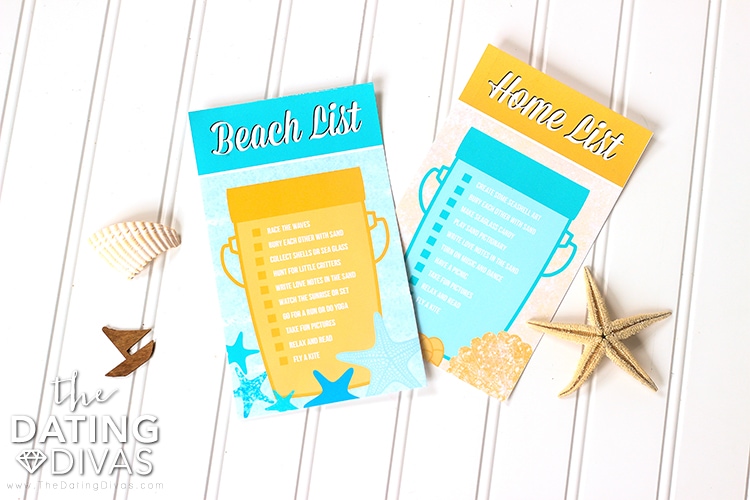 You might even want to do a couple of beach dates to get to all the fun on the bucket lists! I wouldn't complain about that. For our first beach date, we might have just enjoyed the relaxing part a little too much…. So I'm definitely looking forward to doing some more of these fun ideas!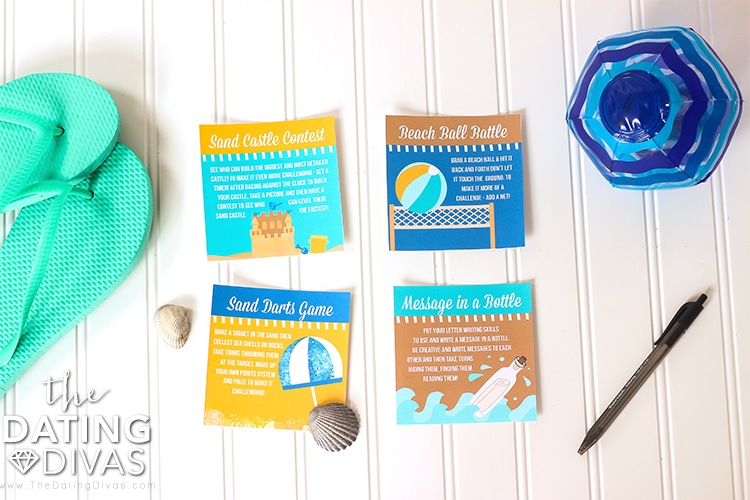 In addition to the bucket list, there are 4 fun activity cards! Have a blast competing with your spouse in a sand castle contest or a beach ball battle.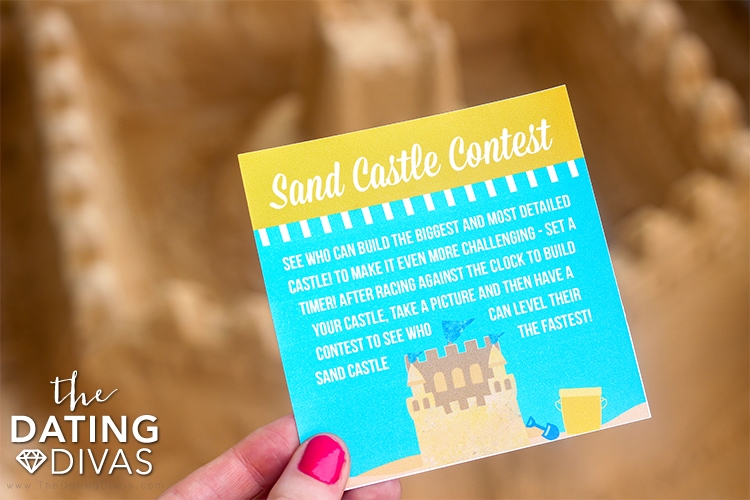 One more fun and creative idea for this date night, is to write your own message in a bottle.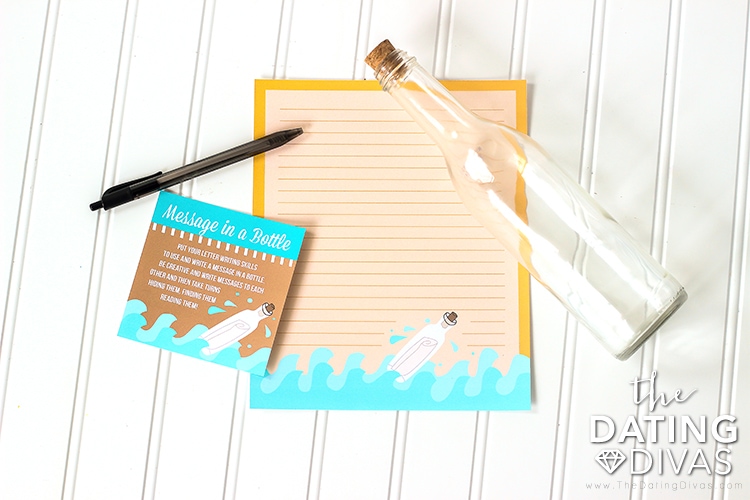 Write a sweet love note for your spouse and place it in a bottle. Then, you can hide it for them to find!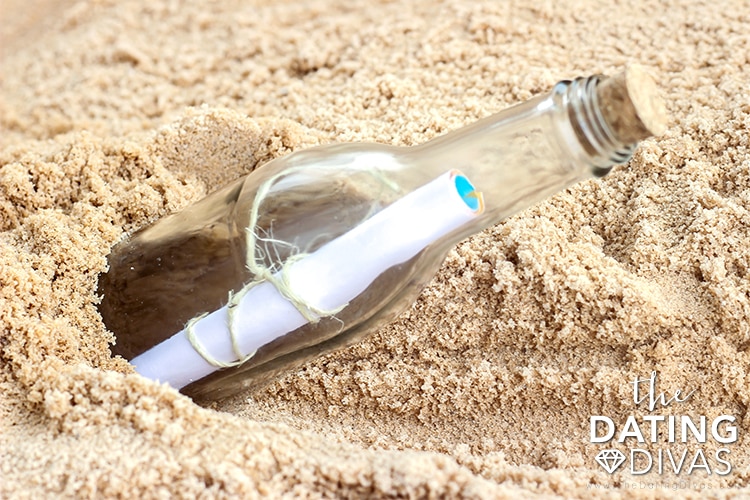 I love this idea because it's not just your normal love note!! Plus, it has the added element of being presented in a bottle. Pretty romantic, right?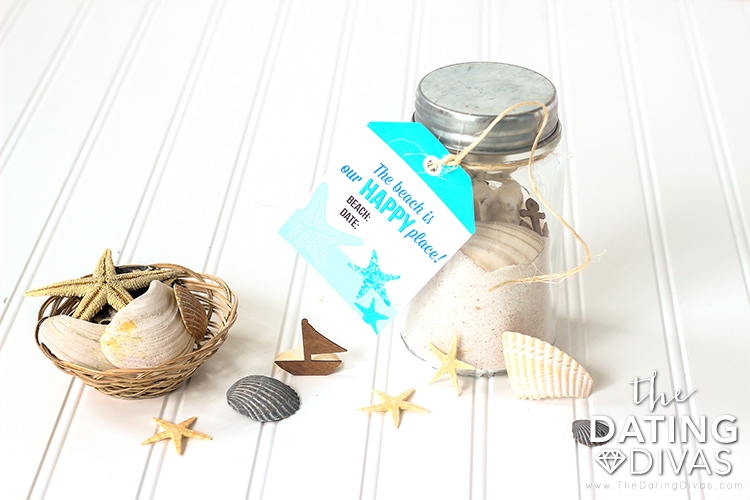 We even made a couple of memory jar gift tags for all of those beautiful shells that you collect at the beach! That way you can make a little jar to display all of your favorites!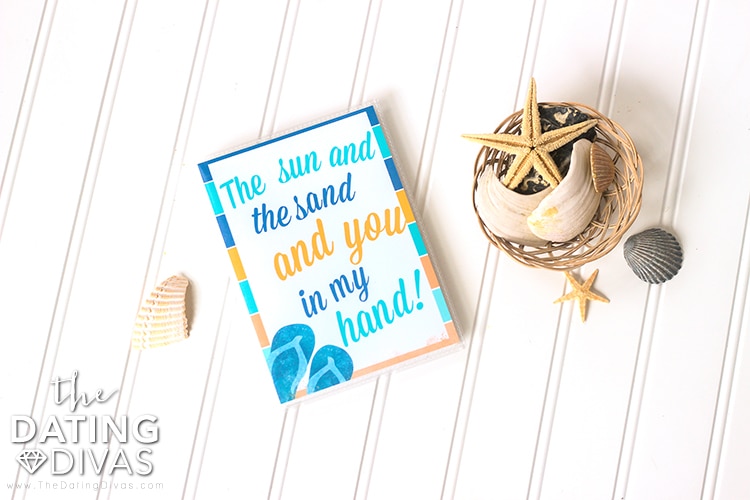 One of my favorite things to do at the beach is take pictures. It's such a romantic and relaxing setting with the sun set and the waves, it makes for some really sweet photos. After taking some pictures, put together a 4×6 photo album to remember the date by!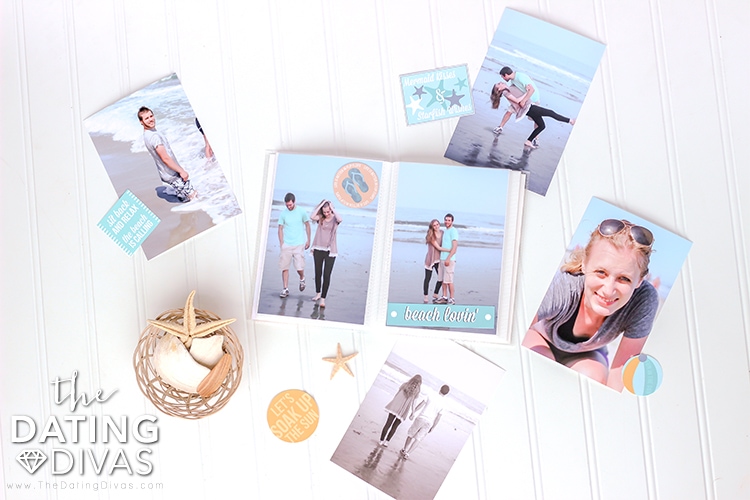 Now you'll remember your beach date forever!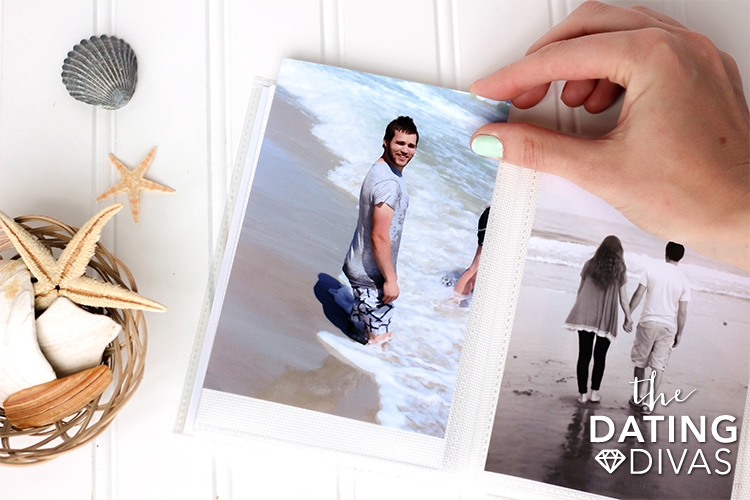 The beach definitely holds a special place in my heart, so I'm excited to make even more fun memories at the beach!! We hope you get the chance to soak up the sun this summer! The beach is calling!
Beach Date
Printables Designed by Carisa @ Messes to Memories Exclusively for The Dating Divas