Lingerie Bedroom Games for Couples
Are you ready to turn up the heat in the bedroom? You've come to the right place! We've got all sorts of great bedroom games for couples and this is one of our very faves. Yes indeed, this Lingerie Shopping Date is the perfect way to reconnect physically and is so fun and easy to do! Complete with a printable invitation, shop sign, decorative bunting, price tags, and bedroom bucks. We'll have you and your sweetie spending that hard-earned cash on the sexiest items around. Ready for some retail-therapy like never before? Let's take a look!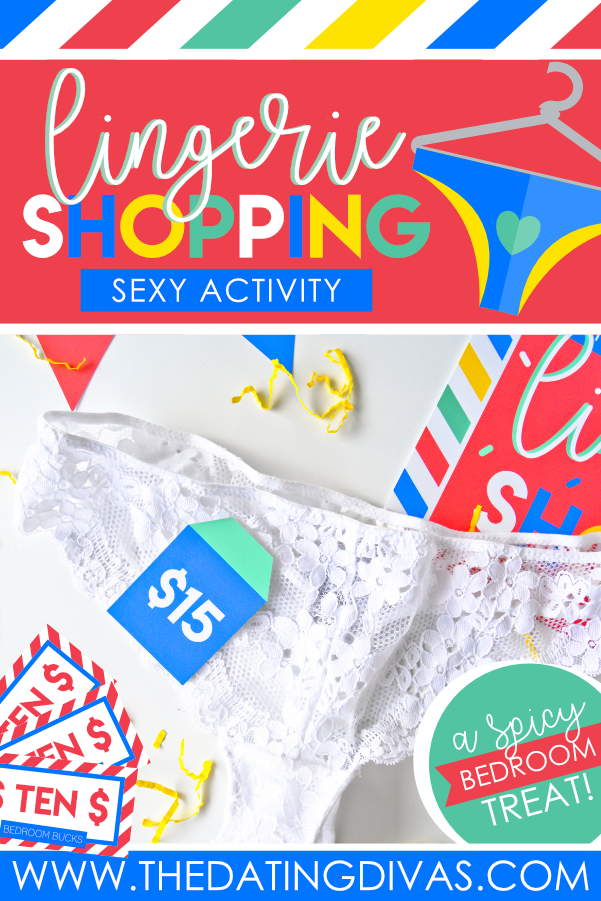 Disclaimer: This post contains affiliate links. To learn more about 'em, click here.
But before we dive in, we HAVE to give a huge designer shoutout to Diva Elizabeth! She created these sexy printables for us and we couldn't be happier!
What's Included in Your Lingerie Bedroom Games for Couples
Your Lingerie Shop Date is one of the easiest (and spiciest!) activities around. Take a look at the included items below, and keep reading through the post for a more detailed description of how to use each of them.
Invite
Bedroom Bucks
Shop Sign
Price Tags
Decorative Bunting
So fun, right?! Don't forget to grab some quality cardstock to help these printables shine!
Bedroom Games for Couples Invite
No date idea is complete without an invite and this printable download includes the perfect one! Just picture your spouse's face when they read the fun and flirty message. We GUARANTEE they'll blush and be ready for a little one-on-one fun. The invite itself is so simple to put together. Simply print, cut, and fold!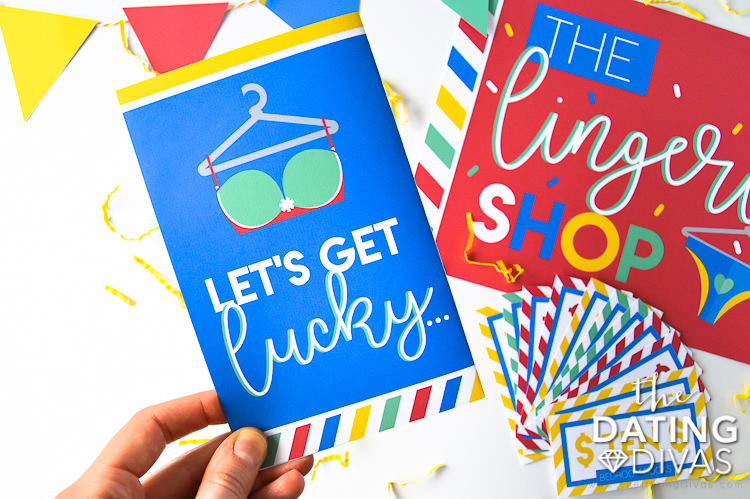 This ultra-spicy invite is two-sided so everything remains nice and neat. One side contains the "Let's get lucky…" message and the other has all the deets. Just fill in the date and time you want to take your sweetie 'shopping' and slip it somewhere they're sure to find it. Don't forget to include the Bedroom Bucks! They'll be spending these on some special items later on so leave a stack near the invite.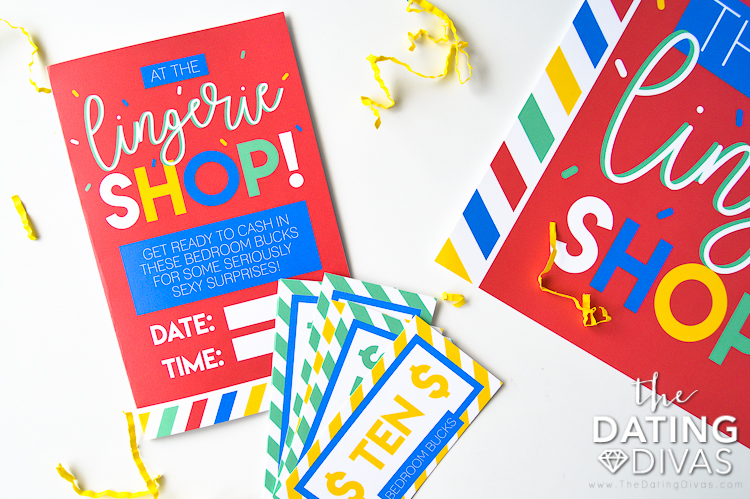 Bedroom Date Ideas and Bedroom Bucks
The idea behind this date is that you will choose a few sexy items to 'sell' in your Lingerie Shop (ie. your bedroom). You might choose lingerie items such as bras or panties (definitely consider picking your spouse's favorite!), sexy toys, bedroom sex games, music, candles, or more. You can absolutely do this activity using just a few items but it's a lot more fun if you include a decent amount. By the way, if you're looking to add to your lingerie collection, you HAVE to check out this site. It's classy and elegant and best of all, model-free!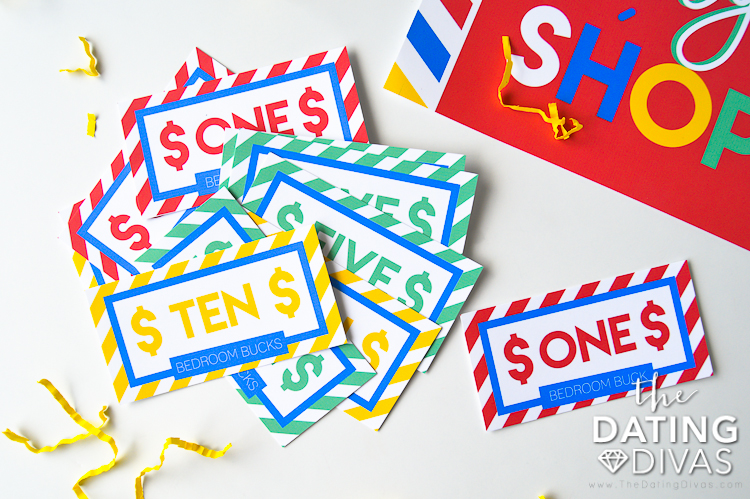 Display the included shop sign and the decorative bunting to help set the tone for your shop and really take your bedroom games for couples to the next level. Then affix the included price tags to each of your sexy items. Invite your sweetie in (making sure they have their bedroom bucks with them!) and have them 'shop' from the items you've displayed. Whatever they 'buy' is fair game to use during the sexy-time to follow! We've included ones, tens, and fives in your set of bedroom bucks so the sky's the limit!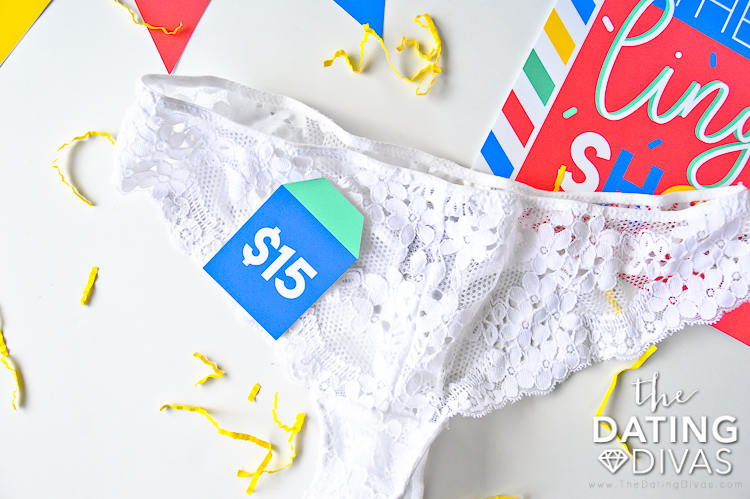 Lingerie Price Tags
As previously mentioned, these bedroom games for couples will have you choosing various sexy items from among the ones you already own (or feel free to purchase some new items!), and assigning them prices. We've not only included pre-set price tags but several blank options as well. Select or fill in the amount and attach them to your items. That's all there is to it!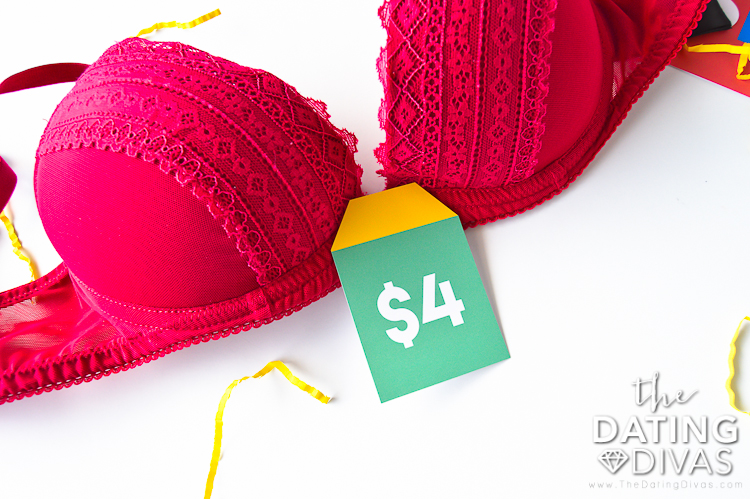 Once everything has been displayed, priced, and is ready to go, welcome your spouse into The Lingerie Shop! Let the bedroom games for couples begin! Tell them they can buy ANYTHING they want to be used (or worn by you!) during sexy-time. BUT They can only spend the money they have (ie. their bedroom bucks) so they need to choose carefully. We guarantee you're in for some good times as you watch your sweetheart examine, consider, and 'purchase' their wanted items. You could even take the idea one step further by acting the part of  'salesperson.' Talk up the items and convince your honey that they HAVE to have it!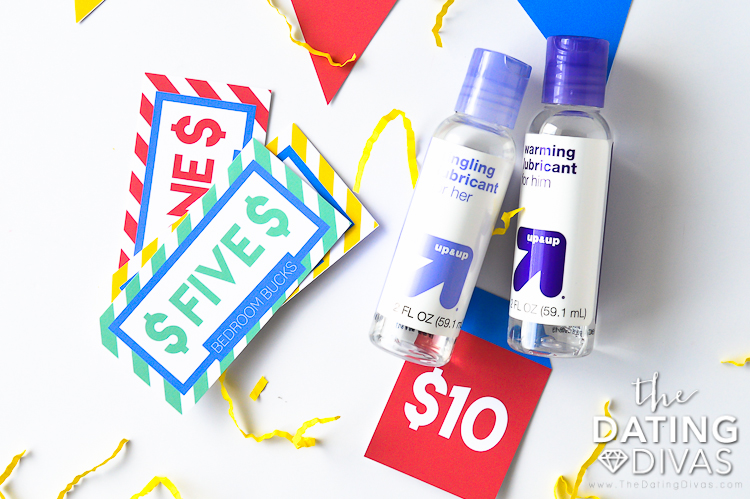 When your sweetie is set on their purchases, go ahead and tally up the totals and request the proper amount from them. Cha-ching! You and your sweetheart have just scored a serious deal with these bedroom games for couples. So fun, right?! There's nothing left to do but to close up shop and put those items to good use. We'll let you take it from here…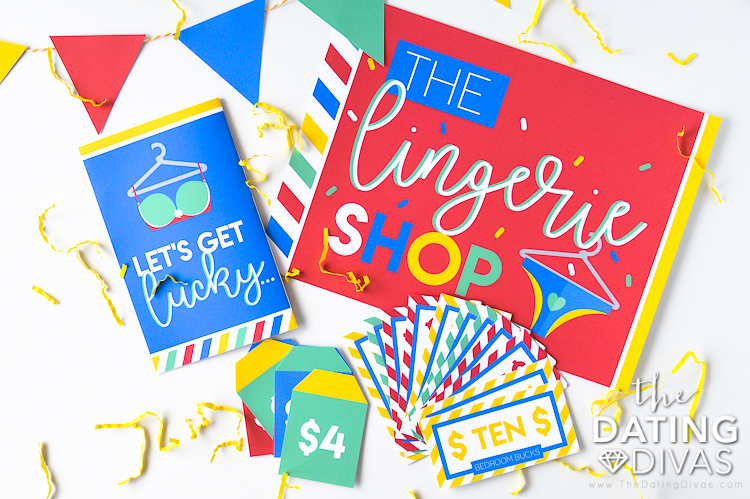 Lingerie Shop Date
Printables Designed by Elizabeth Edwards Exclusively for The Dating Divas