Master Bedroom Makeover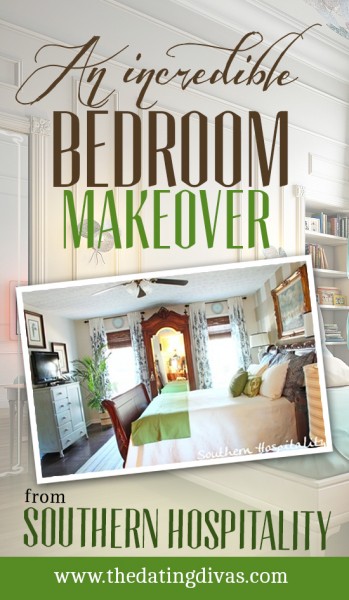 We have quite a treat for you lovely Diva readers! Today we are launching our FABULOUS new series called "Master Bedroom Makeover"! Each month we'll be bringing you incredible Guest Bloggers who are experts in DIY, home decorating, thrifting and all around amazing-ness! These wonderful ladies will be showing you step-by-step how they've turned their master bedrooms into a BEAUTIFUL oasis ideal for relaxing and recharging! The more inviting that oh-so-important room is, the more likely you will want to use it to escape from the stress of life and hopefully utilize all of our "Intimate Moment" ideas to reconnect with your sweetheart!  So without further ado, I'm so honored to introduce Rhoda from the Southern Hospitality Blog. This talented woman is a PRO at decorating on a budget and I KNOW you are going to be floored when you see her delightful bedroom! Get ready to be TOTALLY inspired!
Here's what Rhoda has to say:
*     *     *     *     *     *     *     *     *
Thanks to the Dating Divas for asking me to share my master bedroom makeover with you all.
Even though I'm a single girl right now, I still wanted my master bedroom to be cozy and serene for ME. I just finished renovating my 1979 fixer upper house and making over the master was part of that process.I already had all of my pretty antique furniture and it's all mixed and matched for an eclectic look. None of the pieces go together, but they do, if you know what I mean.I bought a pretty dark wood sleigh bed years ago, when they were really popular and I don't have any plans to change it out anytime soon. I still love its classic good looks.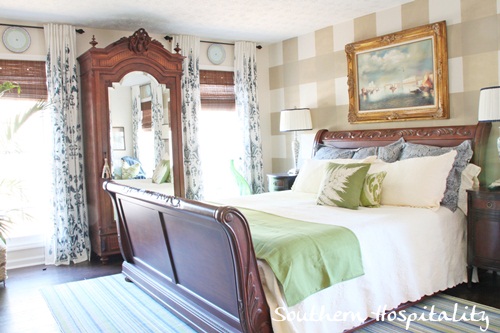 I updated my space by re-using the pretty matelasse creamy coverlet with blues and greens.  See that checked wall treatment? I spotted it in a Southern Living idea house and thought it would be a really nice accent in my bedroom, so I did it at home using tape and paint.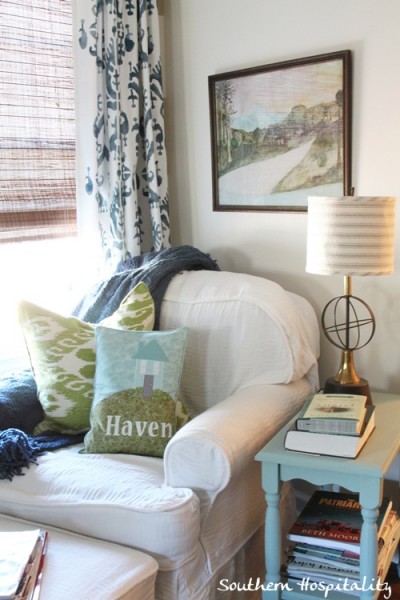 Those drapes are a DIY project as well and they are stenciled with plain wall paint.  It was a bit of a job to get all 6 done, but by using Ikea ready made panels for $25 a pair, I was able to do all 3 windows for less than $100.  That little side table was a yard sale find for $5 and fits in perfectly by the chair. Budget minded for sure!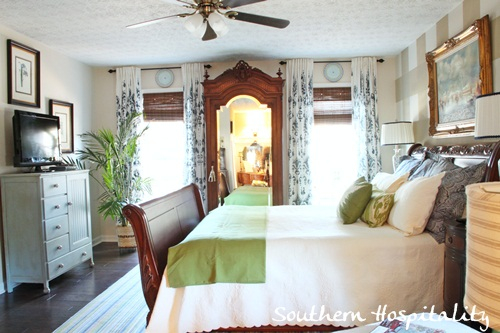 I love shopping thrift stores and yard sales and that's where I've gotten a lot of my treasures, from artwork to plates and accessories.  I found the TV stand at an antiques store and brought it home, adding a fresh coat of paint.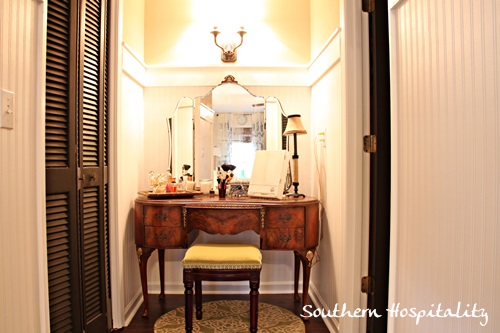 The vanity was an antiques store find and the vanity stool was found at a yard sale for $10. I recovered it with fresh fabric and trim and it's right at home in my master now.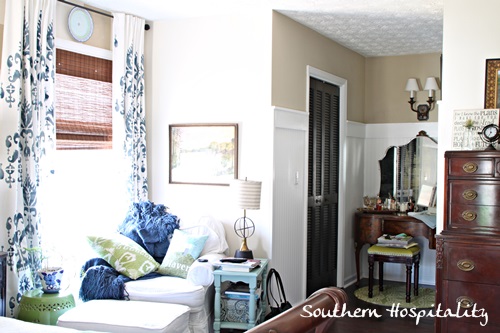 Having a cozy seating area in a bedroom is one way to make it so inviting and comfy.  My chair and ottoman was a thrift store find and I recovered it with a white slipcover.  Adding pillows and throws create that texture that is important to making a bedroom warm and inviting.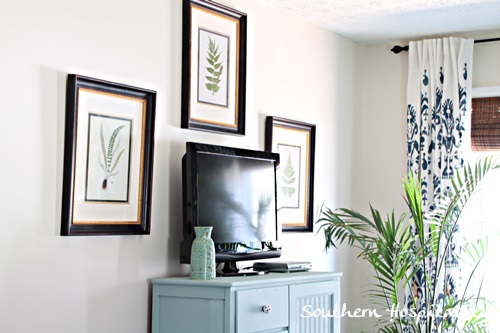 Botanicals that I framed around the TV help bring in additional interest to that side of the room.  I'm also a big lover of real plants and having live ones in a space adds so much coziness to the room.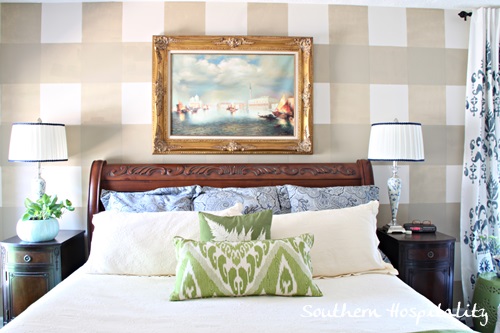 Pretty pillows and cozy linens create that haven we are all looking for and I've found mine. I hope these ideas that I've done in my master bedroom will give you some ideas for your own romantic space. Just to recap, here are a few ideas I used for my bedroom that I did on a budget: Add a reading nook if there's room, with a chair and ottoman, along with cozy throw and pillows. Save money by stenciling your own drapes using Ikea ready made panels. Add real plants for a cozy feel to your space. Mix up the textures in your room with affordable pillows and fabrics. Find colors that you love to live with and bring them into your master bedroom.
Thanks for letting me stop by and share my master bedroom makeover with all of you! I really enjoy my master bedroom every single day and at the end of the day, it's my haven of rest.
*     *     *     *     *     *     *     *     *
Thank you SO much, Rhoda for your words of wisdom!! I don't know about anyone else, but now I'm ready to COMPLETELY redo my bedroom… Look out yard sales! 🙂