Meaningful and Functional Baby Shower Gifts
Time to spoil that Mama-to-be! A sweet little baby is always a good reason for a party and we rounded up the best baby shower gifts to celebrate them. These gift ideas are functional, cute, and sure to make Mama smile. From memory books to help remember every sweet detail, to grooming kits that make trimming easy and quick and then useful baby equipment to make life easier, you will be able to find something that is absolutely perfect! Let's shower that mama and baby with love.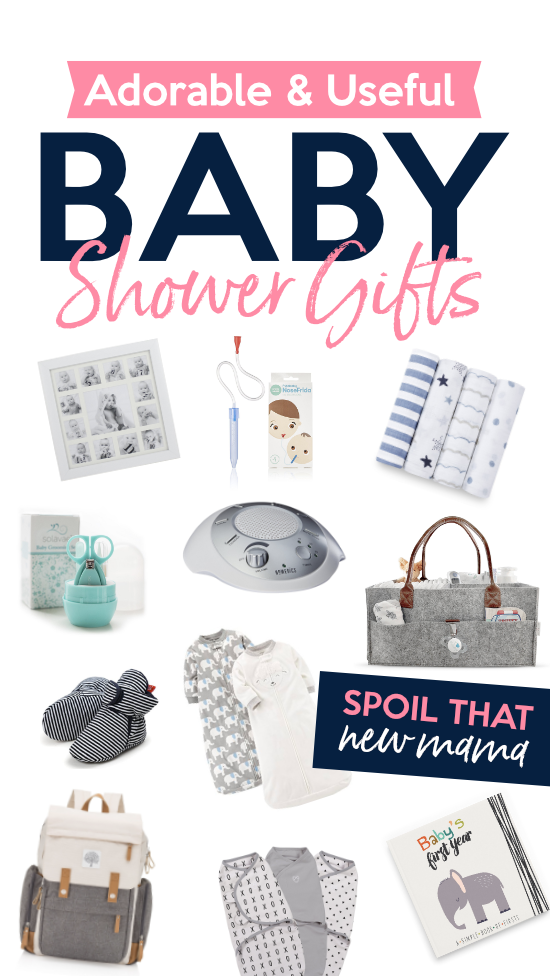 Disclaimer: This post contains affiliate links, to learn about them click here.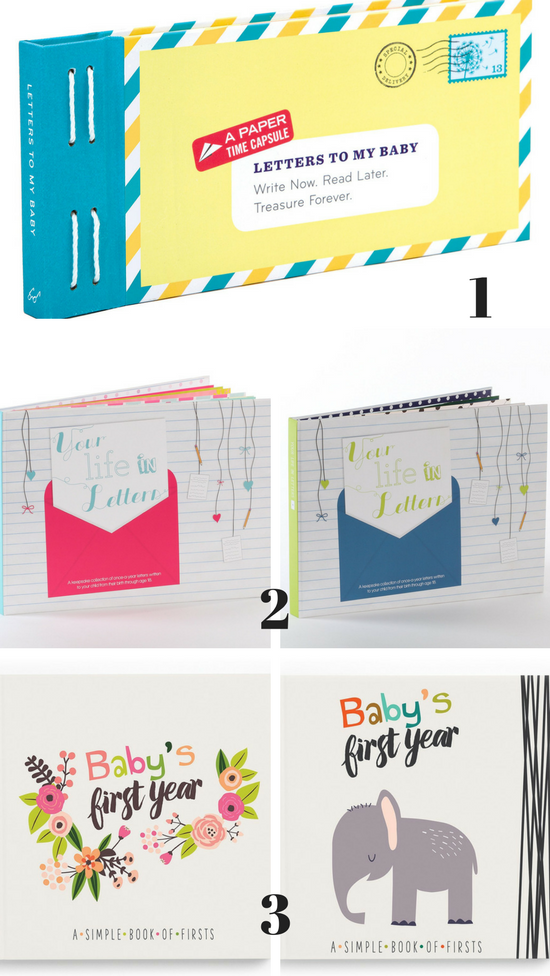 1. Letters to My Baby – 12 letters with prompts allowing you to document sweet baby memories and your hopes and dreams for your little one.

2. Your Life in Letters – Once-a-year-letters from birth to 18 years. What a sweet gift to give your child on graduation or their wedding day!

3. Baby's First Year – A simple place to track all your babe's firsts.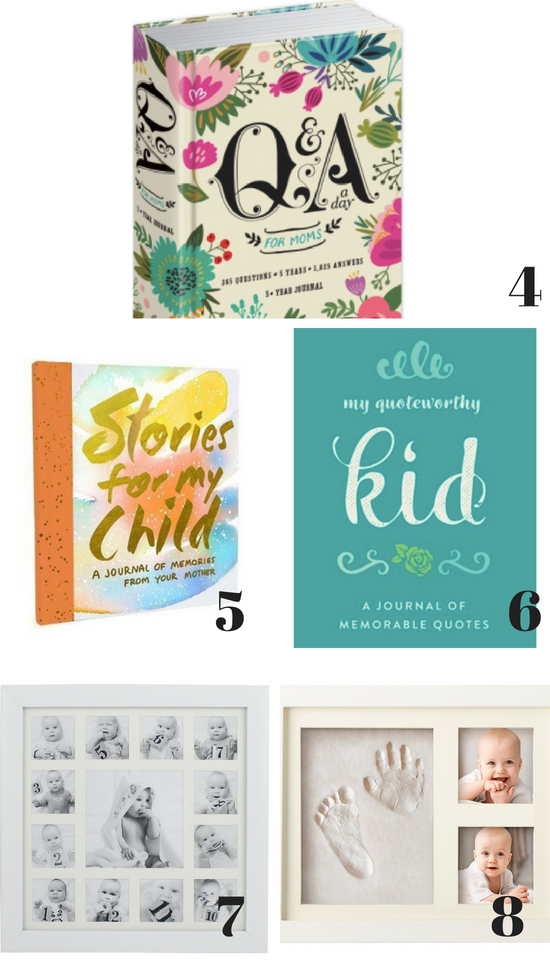 4. Q&A a Day for Mom – A 5-year journal to help you remember the good, the bad, and everything in between!

5. Stories for My Children –A beautiful journal with prompts for your child to treasure.

6. My Quotable Kid – A book to help you track those hilarious and unexpected things kids say.

7. My First Year Keepsake Frame – Take a monthly picture and then compile them in this frame at a year. So fun to see them grow and change.

8. Baby Handprint Kit – Perfect way to remember those tiny features!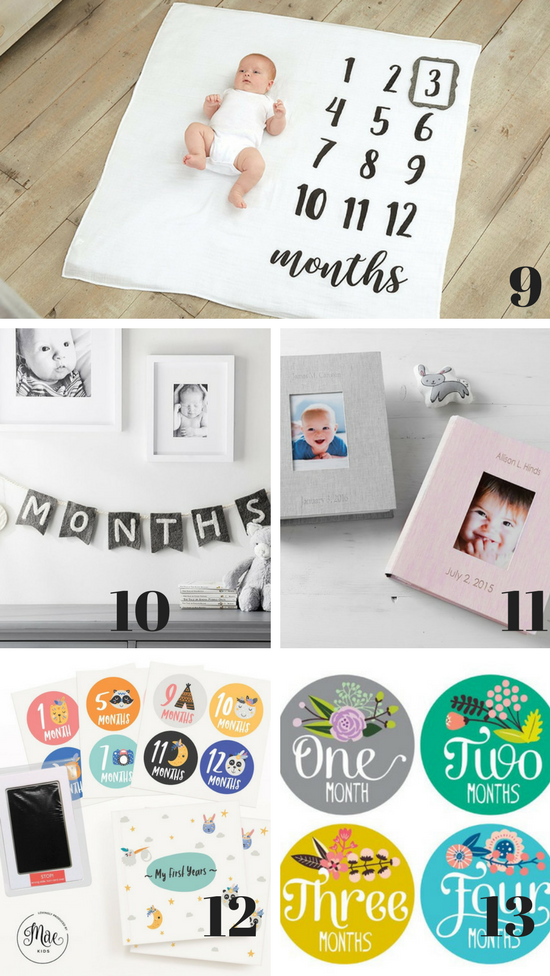 9. Milestone Blanket – A muslin monthly blanket with a felt frame for monthly pictures.

10. Milestone Garland – A felt garland for monthly updates.

11. Linen Baby Journal – A beautiful keepsake journal available in 3 colors.

12. My First Years Memory Book – A book full of ways to document holidays, monthly updates, and more!

13. Lucy Darling Monthly Stickers – So many different styles of adorable monthly stickers.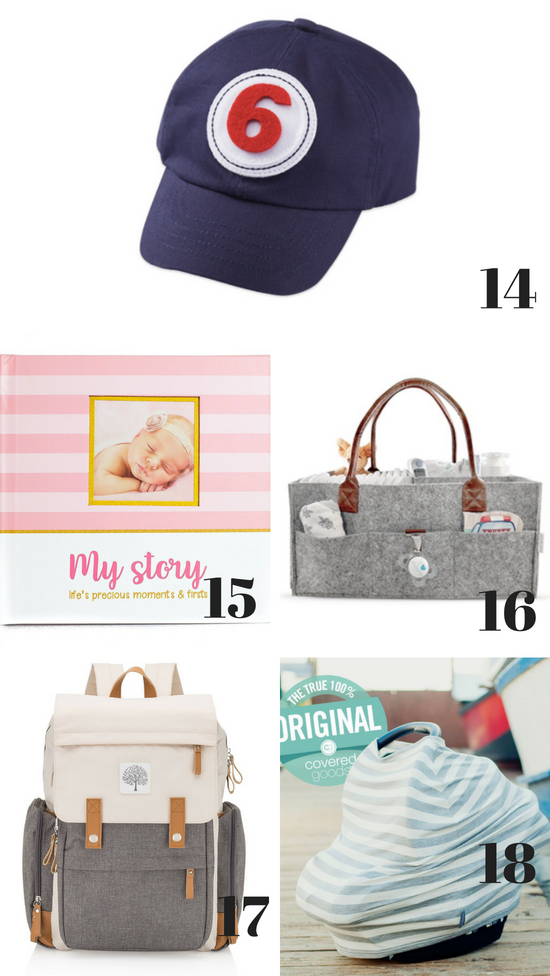 14. Monthly Milestone Baseball Hat – A hat with interchangeable numbers for monthly pictures.

15. First Year Memory Book – A sweet book to help capture those special little moments!

16. Diaper Caddy – This caddy has a pocket for everything, I need one of these in each room in my house.

17. Diaper Backpack – How darling is this functional diaper bad?!

18. Multi-Use Nursing Cover – I have this and seriously love it! Use it for nursing, a car seat cover, or a cart cover! GENIUS!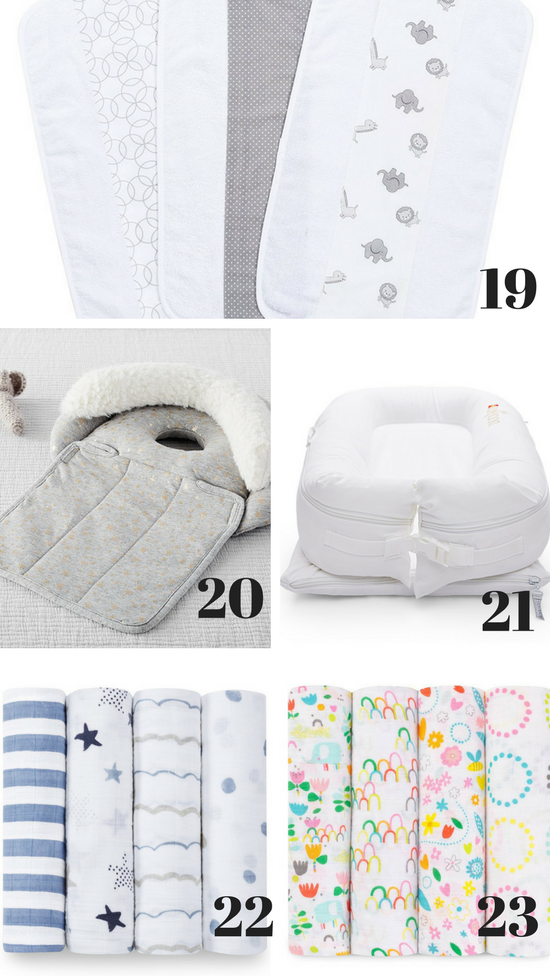 19. Burp Cloth Set – Cute and functional. Perfect!

20. Boppy Head Support – This cradles and supports baby's head.

21. DocATot – This portable bed allows baby to feel cuddled and secure while still being safe for co-sleeping and overnight use.

22. Aden + Anais Swaddle Blankets – Soft blankets to wrap that sweet baby up nice and tight.

23. Aden + Anais Classic Swaddles – Choose your pattern with these different options!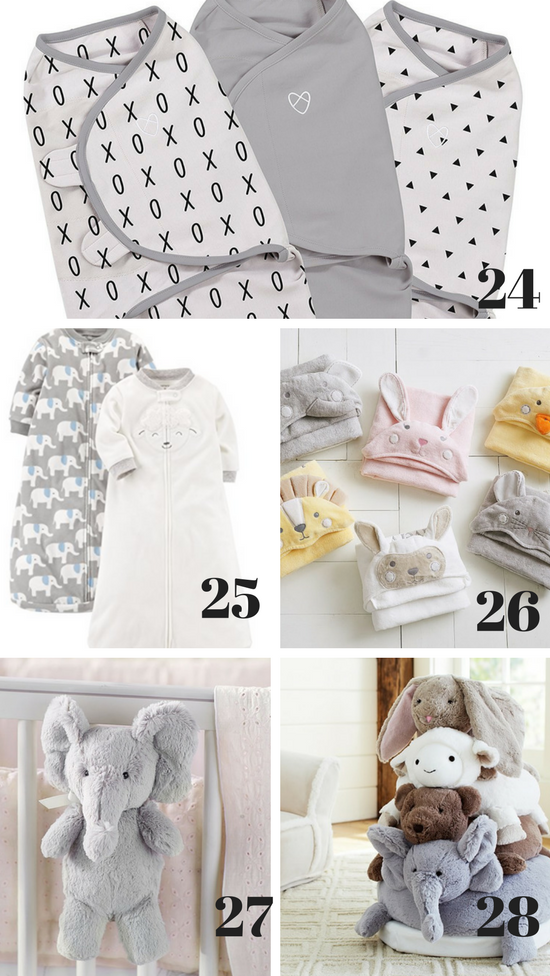 24. SwaddleMe Velcro Swaddles – I love these because they keep those babes secure all night long! My boys could break out of everything except these!

25. Microfleece Sleep Bags – So nice and cozy!

26. Nursery Critter Towels – Darling and functional, WIN-WIN!

27. On-The-Go Soothing Sounds – Battery operated and will lull that little one to sleep.

28. Jumbo Animal Plush Stacker – Four plush stackable animals that are so soft and cuddly!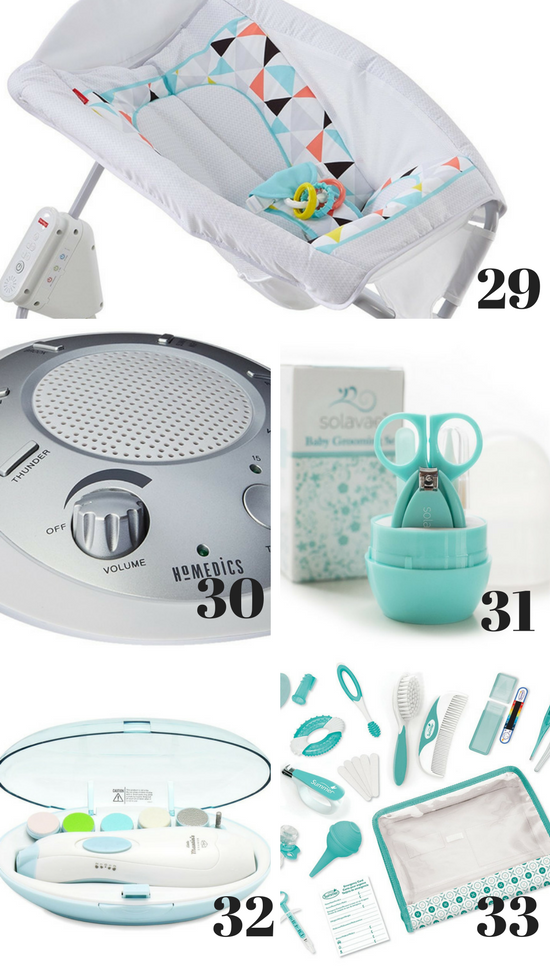 29. Auto Rock-n-Play   – This has saved me time and time again. The incline is perfect and the auto-rocking feature is so handy!

30. White Noise Sound Machine – Six soothing sounds to help relax and encourage sleep!

31. Newborn Grooming Kit – Perfect grooming kit and stores nicely in a little case.

32. Electric Nail Trimmer – A safe nail file that won't hurt or damage cuticles! Plus it is quiet so you can do it while they sleep.

33. Infant Care Kit – Everything you could possibly need. From a thermometer and nasal aspirator to a comb and grooming needs. It has got it all! One of those baby shower gifts that Mama will LOVE and use!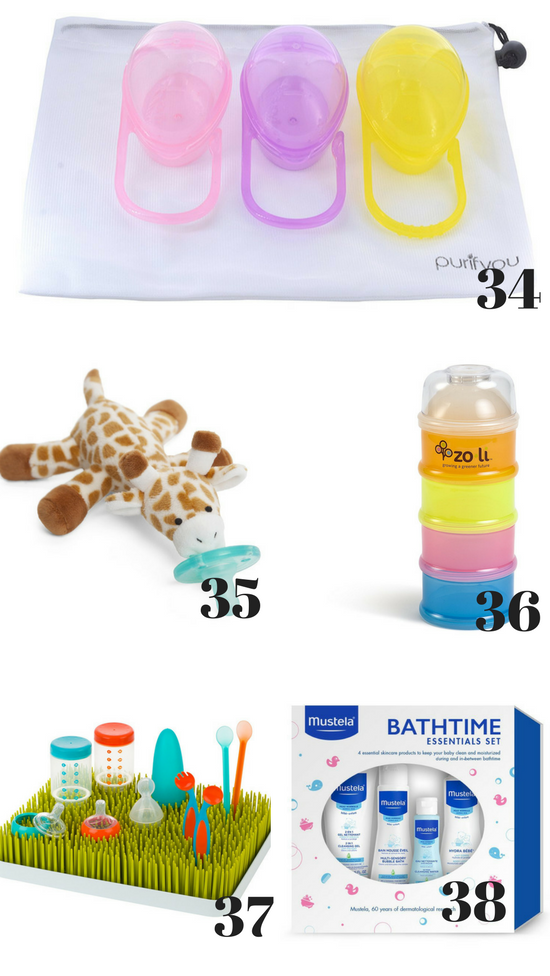 34. Pacifier Cases – Keep those pacifiers clean and ready to use!

35. Wubbanub – Helps keep the pacifier in and it is a cute little animal holding it in so that's adorable!

36. On-The-Go Formula and Snack Dispenser – Each container seals to ensure your food or formula stays fresh and it's got an easy-to-pour spout!

37. Bottle Drying Rack – The grass-like fingers will hold the bottles and other accessories upright to get them dry!

38. Mustela Bathtime Set – Plant-based products to keep your baby clean and moisturized!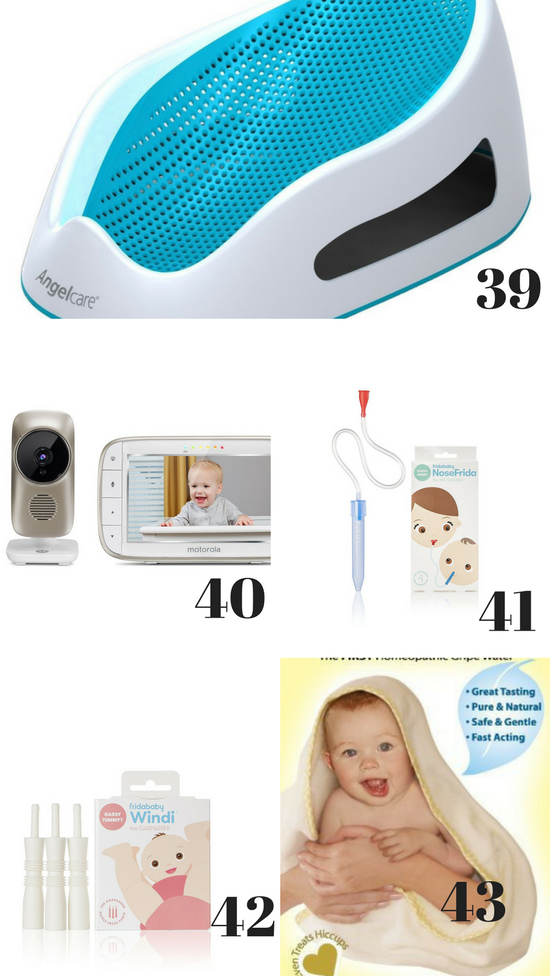 39. Angelcare Bath – Mildew-resistant and good for babies 0-6 months! We have this and I love it!! One of the best baby shower gifts I've ever received.

40. Baby Monitor – 5-inch color screen which allows you to make sure your babe is doing just fine. 🙂

41. Nose Frida – This works wonders for those poor little stuffy noses.

42. Windi – This little gadget helps with gas and colic.

43. Colic Calm Gripe Water – Provides fast, natural relief for babies colic and gas.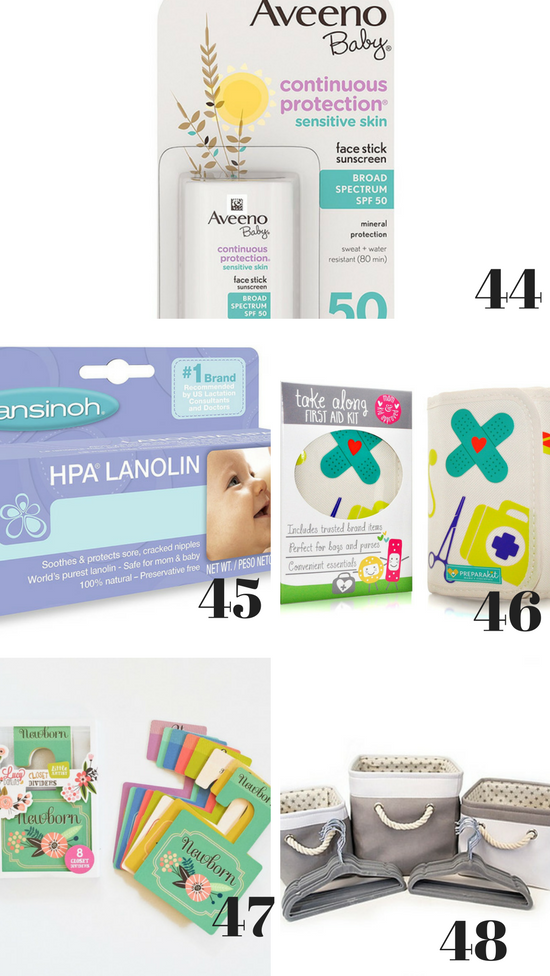 44. Baby Sunscreen – These sticks are so quick, easy, and safe for babies!

45. Breastfeeding Salve – Perfect for that new Mama who is learning to breastfeed.

46. Mom's TakeAlong First Aid Kit – Perfect for purses and diaper bags for those little owies!

47. Closet Divider Set – Keep babies clothes separated by size with these easy and darling tabs!

48. Baby Closet Set – Cute bins and felt hangers to keep that closet organized.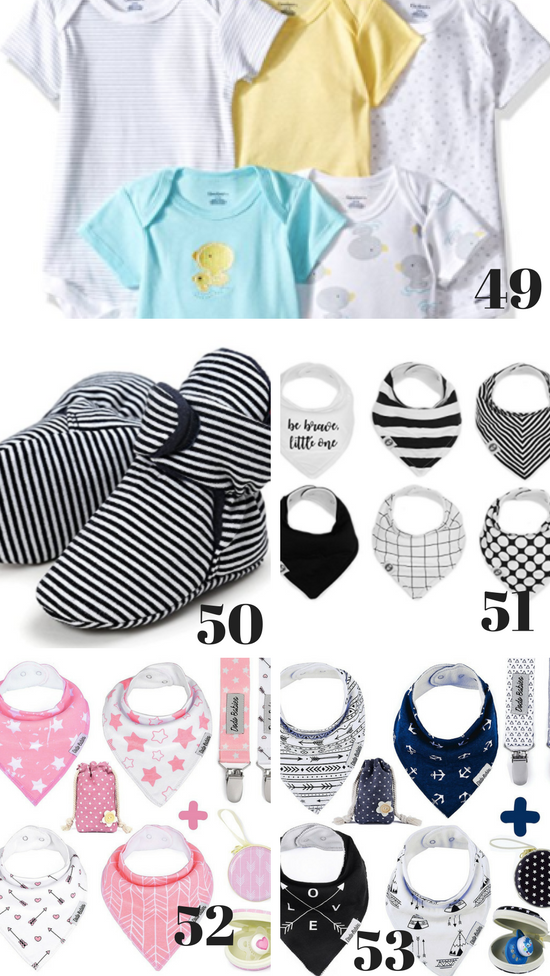 49. 5-Pack Onesies – Onesies are quick, easy, and so cute.

50. Baby Booties – Keep those little feet nice and cozy.

51. Baby Bandana Bibs – Not only are these so darling, they will catch all that drool and keep clothes dry!

52. Baby Girl Bandana Bibs and Pacifier Clips – An adorable girl version and pacifier clips so they don't fall out and get dirty.

53. Baby Boy Bandana Bibs and Pacifier Clips – Such a sweet boy pack and those pacifier clips will keep those pacifiers clean!
For more ideas click here! 
Seriously some of the best baby shower gifts, right?! I think I might have to buy a few new things for my babe! I am obsessed with that monthly blanket and those bandana bibs are so darling! Plus all mamas-to-be will appreciate that infant care kit that has everything she could ever need. And lastly all the sweet memory books and picture ideas, babies grow so fast so these are the perfect gift! Now go celebrate that Mama and sweet baby!
We rounded up Tips and Tricks for Newborn Photography that Mama will love! We also have a New Dad Kit to make Dad feel special and appreciated!
SaveSave