A Birthday Care Package Made Easy!
Birthdays are the perfect opportunity to show you care. When someone you love is having a birthday, you want to make their day as special as possible, but what if they are far away? What can you do for someone you love when you won't be with them to celebrate their birthday? A birthday care package is just the thing! Send your love a special delivery filled with our birthday box gift ideas and printables. Surprise your loved one with one of our many birthday care package ideas.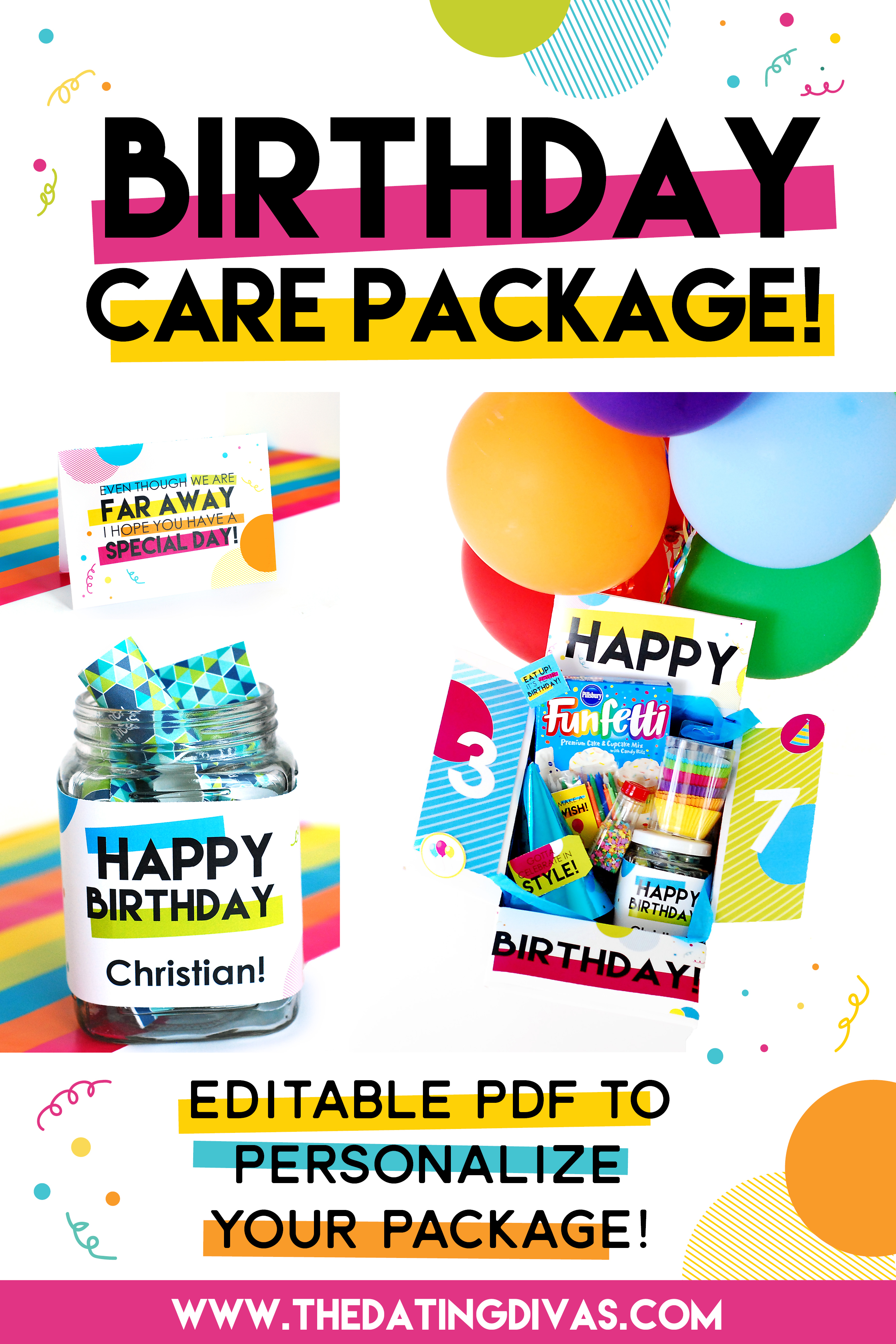 Disclaimer: This post contains affiliate links. To learn more about 'em, click here.
When your loved one is away on their big day you can make their birthday special with a birthday care package! With the bright and cheerful printables designed by Courtney from Paperelli designs making your own birthday box is super simple! Here is what we have for you in the free printable download:
The pack includes:
Printable AND Editable Box Flap Covers
Birthday Box Gift Tags
Birthday Card
Personalized Gift Jar
Birthday Mad Lib Game
Birthday Care Package Box Idea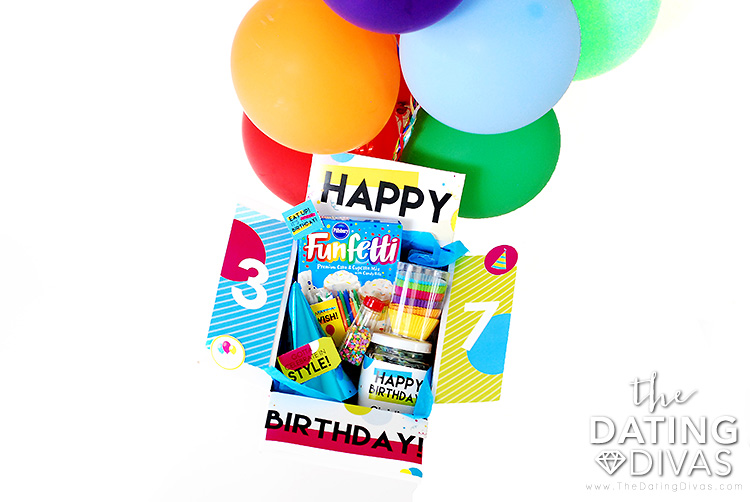 From the moment your loved one opens the box, the bright colors of the birthday care package will bring the birthday fun! The printable box flaps can be trimmed to fit any box. My favorite feature is that you can personalize the side flaps with your loved one's age using a free Adobe program but that is totally optional! Adding the box flaps is something that is so easy to do but can make a big difference in giving your birthday care package that extra tender loving care!
Birthday Box Gift Ideas & Tags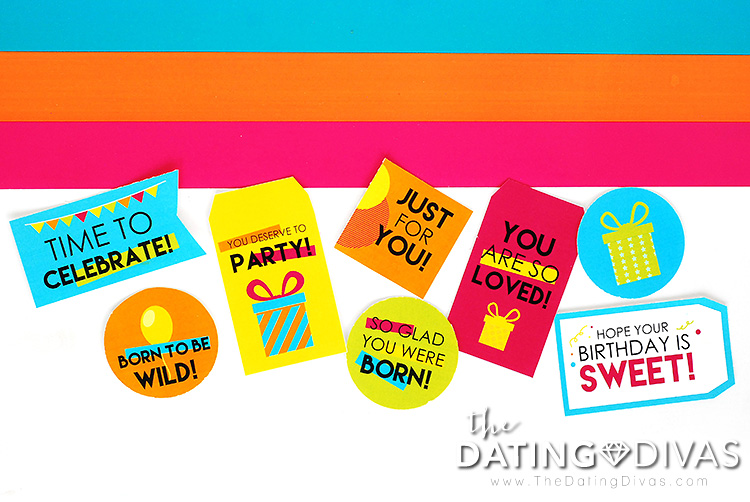 Now for the fun part! Now you get to fill the birthday care package with all sorts of fun birthday items. We have some colorful tags to add to the items you choose to put in your box to make it even more special. Think about what your loved one would enjoy most on their birthday based on their situation.
Here are some birthday box gift ideas to inspire you:
A birthday cake or cupcakes items:

Cake mix, icing, cupcake liners, birthday candles, etc.

Ice cream sundae (minus the ice cream) items:

Sprinkles, cone, fudge topping, fun spoon, etc.

Birthday decor items:
Gifts (of course!):

Letters from loved ones

Photos from home
 If you need some gift inspiration we have a birthday gift guide with over 100 ideas for the whole family!
Gift jar (see idea below!)
A Birthday Card For Your Care Package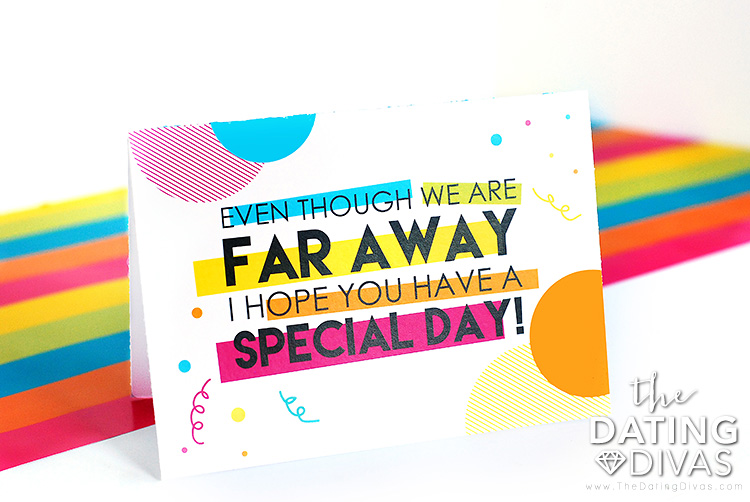 No matter what you put in your package, make sure you take time to leave a little note. This birthday card goes perfectly with the long distance situation and gives you a place to let them know you miss them and love them.
Fun Personalized Birthday Gift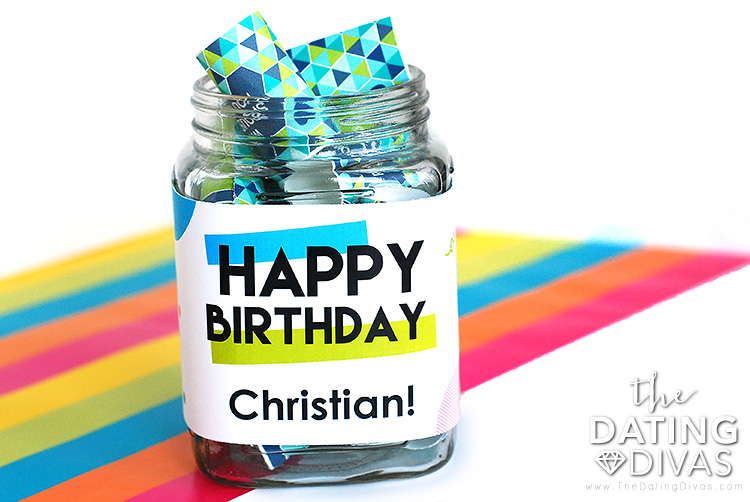 For a very personalized gift, we have included an editable wrap. Using the free Adobe program you can actually insert your loved one's name into the printable! How impressive is that?
Here are few ideas of how you can use this printable for your own personalized gift:
Wrap the printable around a gift. Anything from a candle to socks would work!
Wrap the printable around a jar and fill the jar with their favorite treat
Wrap the printable around a box and fill the box with notes containing things you love about them.
More Birthday Package Ideas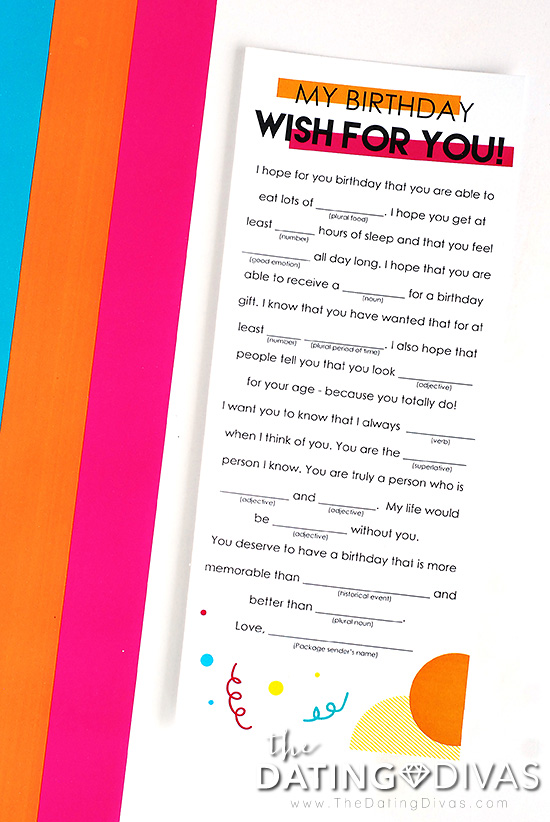 Finally, we have a fun little game that you can slip into your care package. Everyone loves a classic Mad Libs game and this birthday edition is a simple but fun addition to your box. If your recipient is a little bummed they can't be with you on their birthday this will certainly liven things up and give them a good smile (and chuckle!).
What I Love About This Care Package: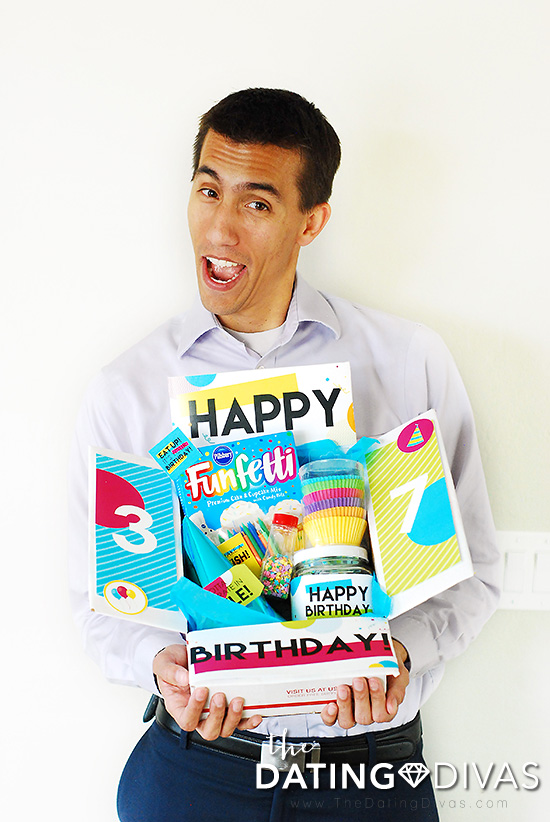 The ideas and printables are perfect for any age.
I love being able to personalize the printables.
It is very easy to put together but it looks like I put a lot of effort.
I appreciate that I can use this for my spouse, my kids, neighbors – anyone really!
Birthday Care Package
Printables Designed by Courtney @ Paperelli Designs Exclusively for The Dating Divas