Birthday Countdown IDeas
Raise your hand if you've ever made a countdown chain! You know… the slips of paper that, when looped into circles and linked together, make a giant chain that you can use to countdown to something? The idea is to rip off a chain for each day that passes until the chain is all gone and the event is reached. Yep, those chains! While some might consider this to be a childish activity, we're here to propose that it can be for ANYONE! Most especially, birthdays!
We came together and decided that enough was enough, we just HAD to make an epic (and FREE) birthday countdown chain for all to enjoy! With this birthday idea, you, or the birthday boy or girl, will be celebrating all week (maybe more!) and have TONS of fun along the way!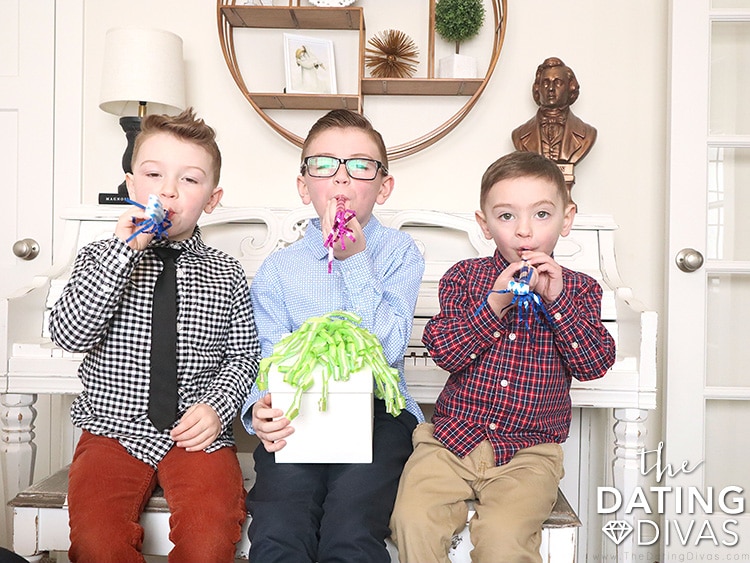 This post contains affiliate links. To learn more about 'em, click here.
How to Make a Birthday Countdown Chain
Making this adorable birthday countdown is as simple as 1, 2, 3. You will need:
Your FREE birthday chain printables (linked below)
Scissors
Tape
Super easy, right? Now on to assembling the actual birthday chain!
We created the most adorable printables to make your countdown chain that much cuter. The monochromatic designs of each strip make me so happy, and the colors have enough variety to work for everyone in your family. Talk about perfect!
Make sure to scroll all the way to the bottom of this post and find the big pink download button to access your birthday chain links.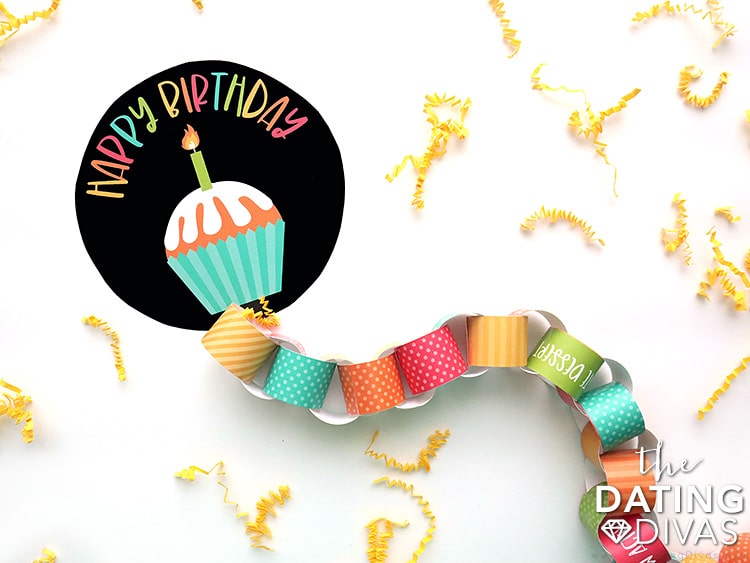 After you've downloaded and printed your birthday chains + decals, cut everything out! We like using a paper cutter to get our lines nice and straight.
After you have your strips cut, loop the first one into a circle and secure with tape (you could also use a stapler). Keep feeding the strips through the circles, and tape them to make new links. These are smaller rings, so it makes a little mini-chain when you link them all together.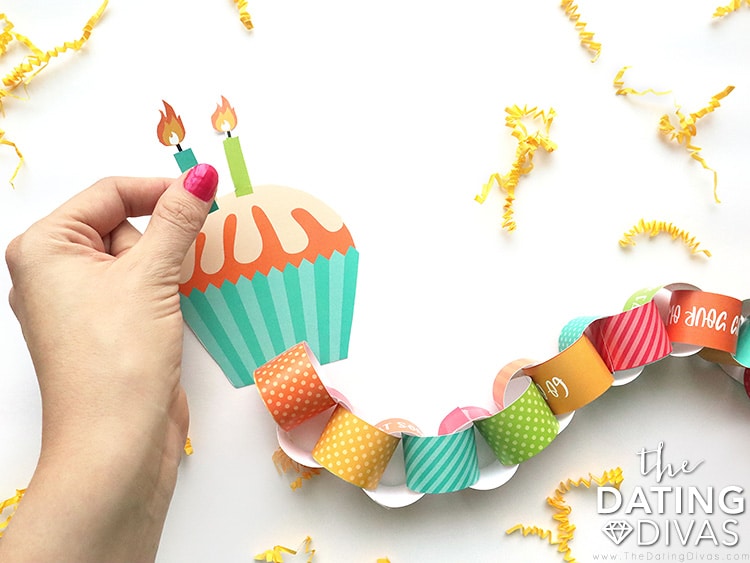 If you want to hang it up, we have two different options for you: a circle print that says "Happy Birthday" or a simple cupcake. You can even add on additional candles to represent how old the birthday person is turning.
Wah-lah! Your birthday chain is complete! But wait! That's not all this birthday chain can do…
How to make a Birthday Countdown Special
In the past, we have written sweet notes on the inside of the paper chain, and that is a tradition we want to continue. But we also wanted to add something new.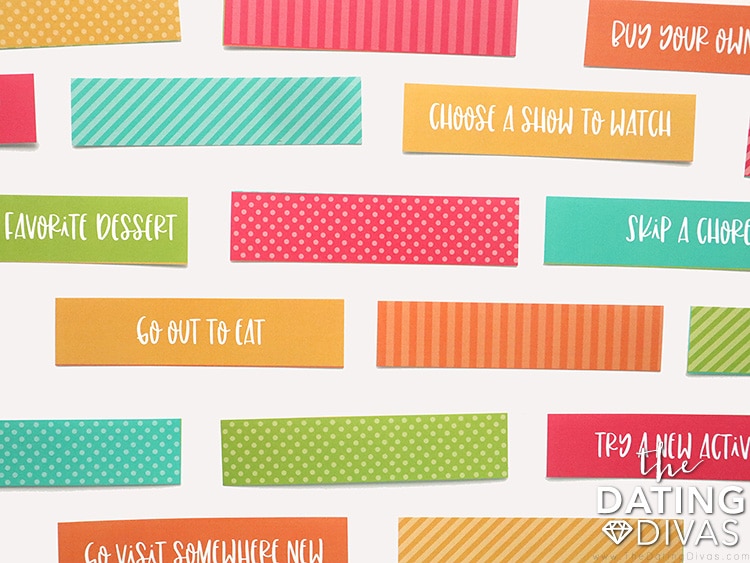 Introducing: Pre-made Birthday Countdown Ideas! In addition to the 14 blank rings, included in your free download are 8 exciting birthday ideas already printed on the rings. Check out these fun ideas!
Go out to eat
Buy your own $10 gift
Choose a game to play
Skip a chore
Eat your favorite dessert
Choose a show to watch
Go visit somewhere new
Try a new activity
Each day when your sweetie or kiddos remove a link, they can discover either a handwritten note or an exciting birthday idea to do for the day. How fun, right?
Extra Birthday Card
There are so many ways to make birthdays special in addition to the chain. We wanted to include a sweet card that you could gift your "cupcake" as well! Once you cut it out and fold it in half, you have a blank card to write your well wishes for the birthday boy or girl.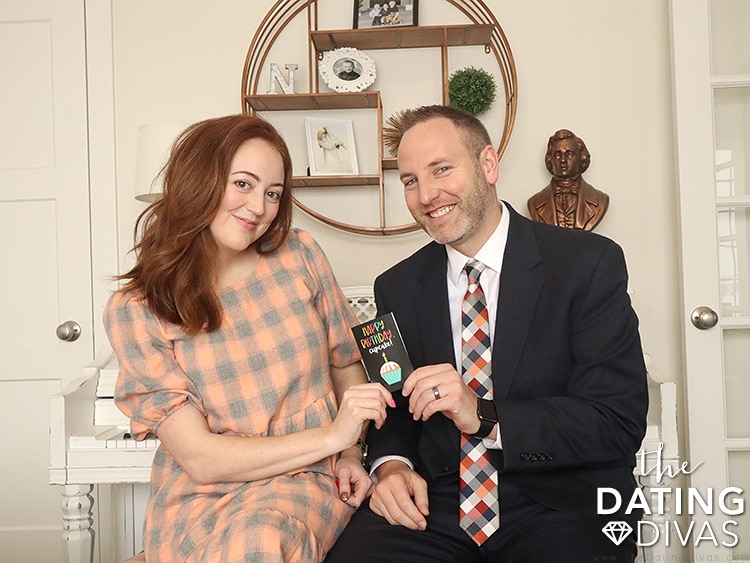 Are you reading for the birthday countdown chain to become a tradition in your home? We're thinking it just might!
Enjoy celebrating birthdays with these fun new birthday countdown ideas!
Before you go, if you need more birthday inspiration, make sure to check out some of our favorite go-to birthday ideas: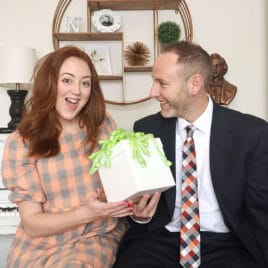 Birthday Countdown Chain
Printables Designed by Nichelle Lora Exclusively for The Dating Divas