Have you heard of Bitstrips?! 
Create fun or romantic comics for your spouse, using this App!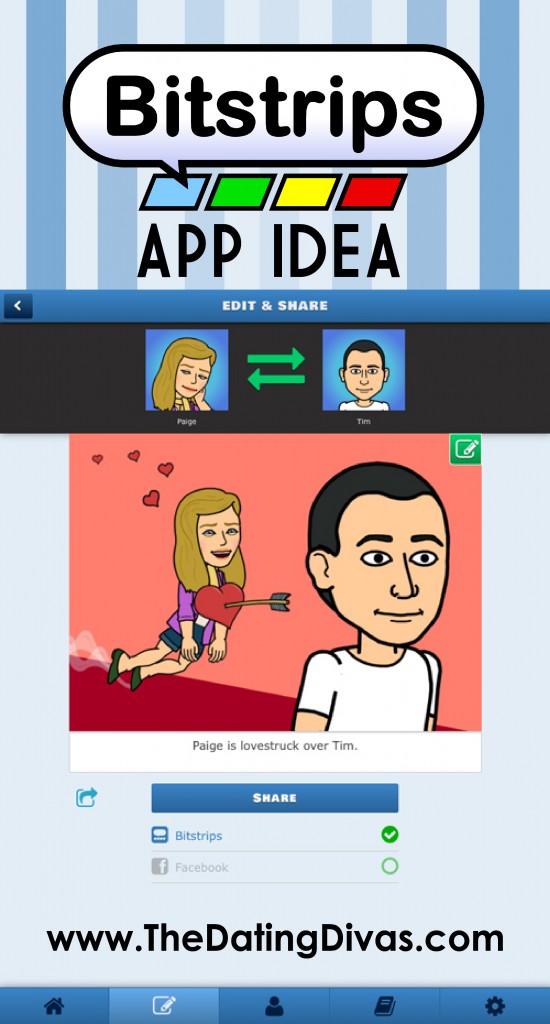 Disclaimer: This post contains affiliate links. To learn more about 'em, click here.
Today, I'm going to teach you how to quickly and easily create fun or romantic comic strips starring you and your spouse using this amazing app! It's a simple and unique way to send him little love messages throughout the day!

Setting Up Your Bitstrip Account:
Download the Bitstrip app to your phone or tablet device or go to www.bitstrips.com.
Create a log-in using your Facebook account.  *Note: Currently you have to sign in using Facebook but soon sign in with out Facebook will be an option!  AND just because you are signed in using Facebook, doesn't mean you have to share you comics on Facebook!
Create your avatar! Choose between a variety of face shapes, tones, hair styles, and attire!
Save your avatar!
 Now it's time to start creating your Bitstrip comics!  You can create and share just on the app or on other social media outlets!  You can include your friends, spouse OR just yourself in the comic!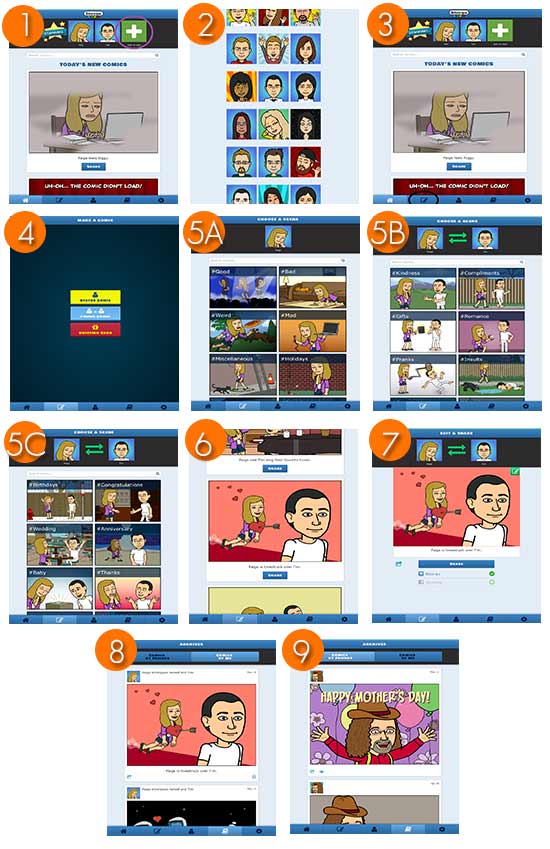 Creating a Bitstrip Comic Starring You & Your Spouse:
*Note: These directions are for use on the Ipad. It may vary slightly on different devices!
While on the Home Page, you'll see a variety of pre-made comics posted by Bitstrip. You can select any of those to share OR make your own! By clicking the plus button in the top right corner

(see purple circle)

you can add co-stars to your comics.
Here, choose from a list of all your friends or spouse, who have a Bitstrip avatar, as a co-star in your comic.
Click the pen and paper in the bottom left bar

(see black circle)

to create a new comic.
You can choose between 3 types of comics: A Status Comic (starring you alone), A Friend Comic (starring you with others) and a Greeting Card.
5A. Status Comic: Allows you to create a comic from a variety of scenes (ex: good, bad, weird, miscellaneous, etc.) starring you alone.
5B. Friend Comic: Allows you to create a comic starring you and the co-star of your choice in a variety of scenes (ex: kindness, romance, pranks, etc). Here is where you can create romantic comics your spouse.
5C. Greeting Card: Allows you to create a comic starring you and a co-star for a given holiday or event (ex: birthdays, anniversaries, baby, etc). This is another great place to create a comic for your spouse!
Once you've selected a type, you can pick from a variety of comics in that theme. When you found one you like, click share.
Once you've clicked share, it gives you the option to share it on Facebook and/or the Bitstrip App. Check those that apply and click share again.
When you've clicked shared again, it will show up in the Comics by Me section of your app. Others, like your spouse, can see the comics you've created by clicking Comics by Friends in their app!
You too can view comics made by your spouse (and friends) by clicking Comics by Friends!
Check out Pair, another amazing app designed specifically for couples! This app is also super easy to use and allows for more personal exchanges! {wink wink}