Guys, you are in for a REAL treat today! And I don't just mean the amazing cake date idea! Our LONG-time adored Erin from Strawberry Mommycakes is guest posting today to announce her unbelievably adorable new cake-themed mugs! If you haven't heard of cooking cake in a mug, then you need to get googlin' ASAP! And THEN you need to get yourself some of these perfect mugs! But I don't want to spoil Erin's surprise, so read on… and prepare to be amazed!!
*     *     *     *     *     *     *
Hey Divas! I can't tell you how excited I am to share how to Create a Cake for 2 Date Night. I'm Erin from Strawberry Mommycakes and you've probably seen a lot of my design work on here…but I've NEVER had a guest post. How crazy is that? Well, it was about time that I remedied that situation!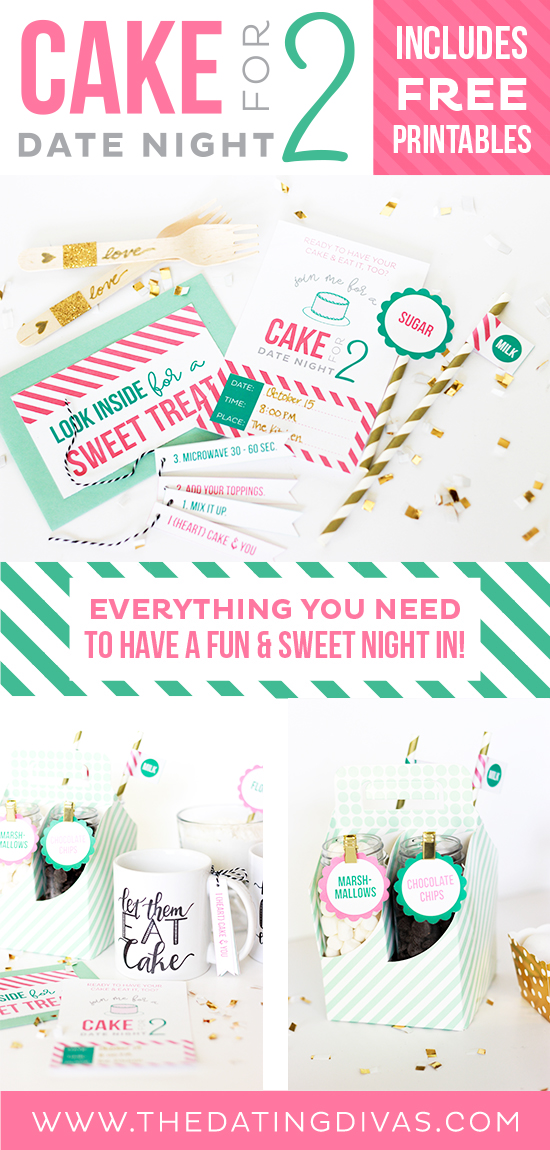 I blog a lot about food, and if you couldn't tell by my business name…I like cake. A LOT. So much that I designed some Cake Mugs for my shop. You can see them HERE.
They're super fun and they go perfectly with this Date Night Idea.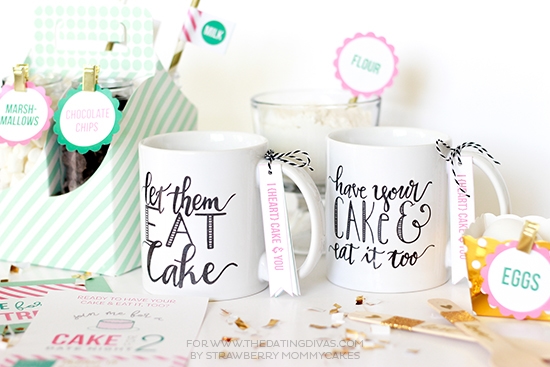 To create the perfect Cake for 2 Date Night, you'll need:
My Free Printables, for personal use only
White Card Stock
4X6 Envelope
Glue or double sided tape
Scissors
Small Hole Punch
2″ Scalloped hole punch (optional…you can also cut them out with scissors or use a round 2″ hole punch)
Bakers Twine
Containers for toppings
Forks (like the cute wooden forks I used)
Ingredients for Mug cake
Fun Toppings for Mug cake (such as chocolate chips, marshmallows, toffee, fruit, etc)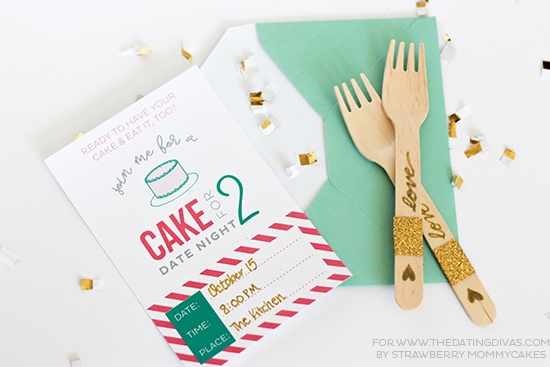 First, print and cut out your printables. You may use the scalloped hole punch for the 2″ tags or cut them out with scissors. You'll first glue or tape the "Sweet Treat" envelope label to the front of your envelope. Fill out the invitation, add some confetti to the envelope and seal it with a kiss!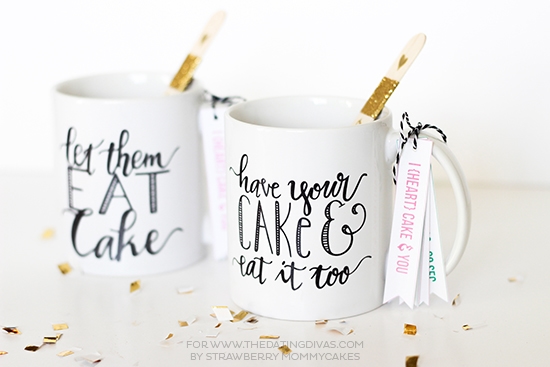 Punch small holes in the mug cake instruction labels, then tie them to the mug handle with baker's twine.
On the night of your Cake for 2 Date, attach the food labels to paper straws with tape or clip them to the containers with clothes pins or gold clips (mine are from Tatertots and Jello's new scrapbook line). Fill your containers with mug cake ingredients and toppings. Make sure you set out measuring spoons! My go to recipe is this one from Instructables (but also check out my blog for more recipes, like this Pumpkin Chocolate Chip recipe!)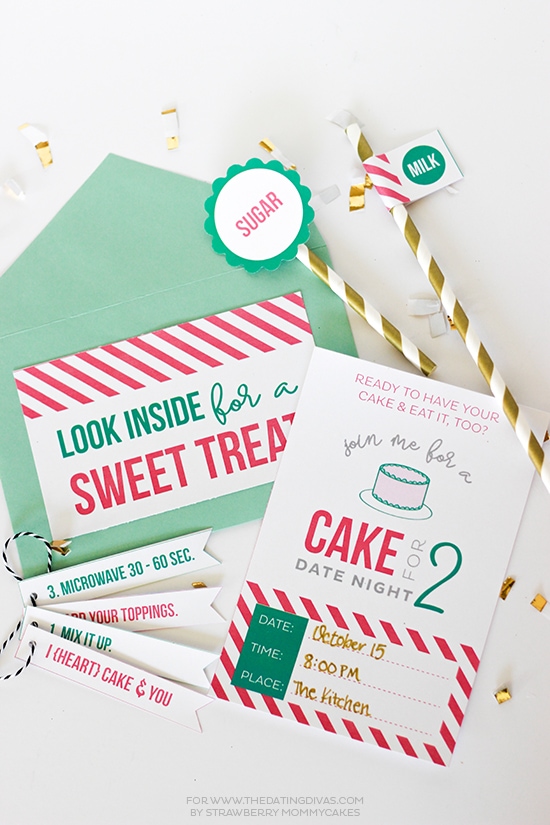 You and your spouse will then use your favorite mug cake recipe and toppings to make a delicious treat! Add the wet ingredients first (eggs, oil, vanilla, milk), then add the dry ingredients, then add your favorite toppings.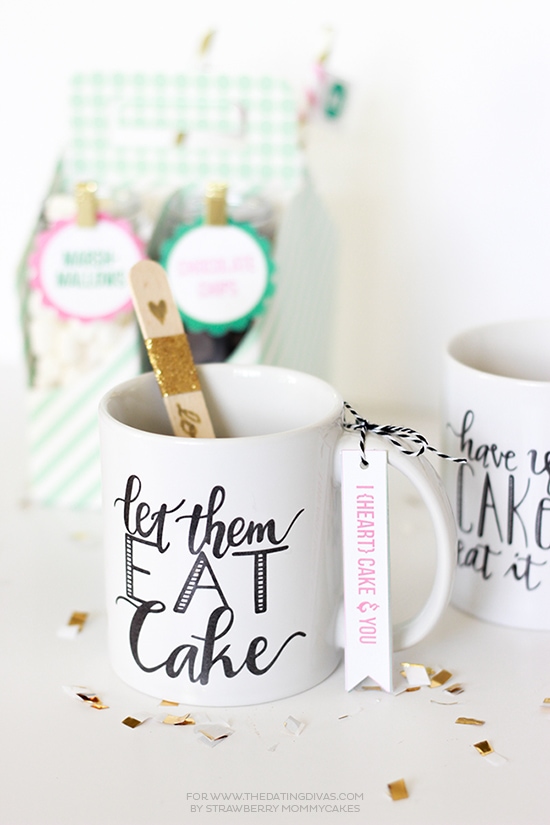 Stir and heat it in the oven for 60-90 seconds, then let cool. While you're eating your mug cakes, play games, watch a movie or simply enjoy each other's company!
I hope you enjoyed these free Cake Night Date For 2 printables!
Check out my blog for more free printables and my shop for fun and pretty gifts!
*     *     *     *     *     *     *
See what I mean?! THE best idea ever!!! I can't wait to try this date, Erin! Thank you for sharing it with us and giving us the first look at your fabulous new product!!!