Fun things to do in your car for date night!
This car date is so perfect for the couple wanting to break out of their old date night routine and try something new! One of my favorite date night ideas involves grabbing takeout, some pillows/blankets, a laptop, and a movie. Then, you drive with your spouse to an isolated location and park! You can enjoy dinner, chat, maybe watch a movie, etc. Most important: you cuddle up for a date night that is fun, relaxing, and romantic – not to mention inexpensive and easy to prep! Now, this car date night idea just got easier (and cuter!) with flirty printables to pull off this cozy date night for two!

Disclaimer: This post contains affiliate links. To learn more about 'em, click here.
Prepping this car date is super simple! Our talented Designer Leah Aldous from the site January & May has created printables for everything you need for a cozy date night in the car! Just gather the items, attach the tags, and you are set for memorable date night! Check out what the printables include: 
INVITE
Start by inviting your spouse to this date night with this adorable Love Bug Invitation!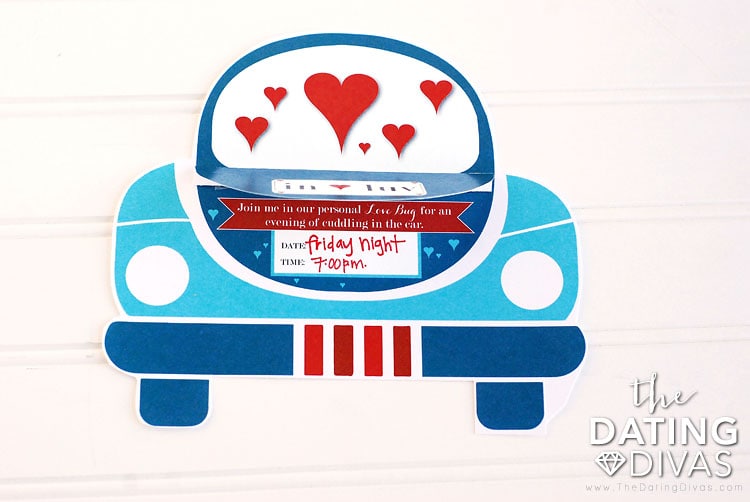 Write in the date night information and your spouse will "open the trunk" to reveal the date and time. How cute is that? 
PREPARE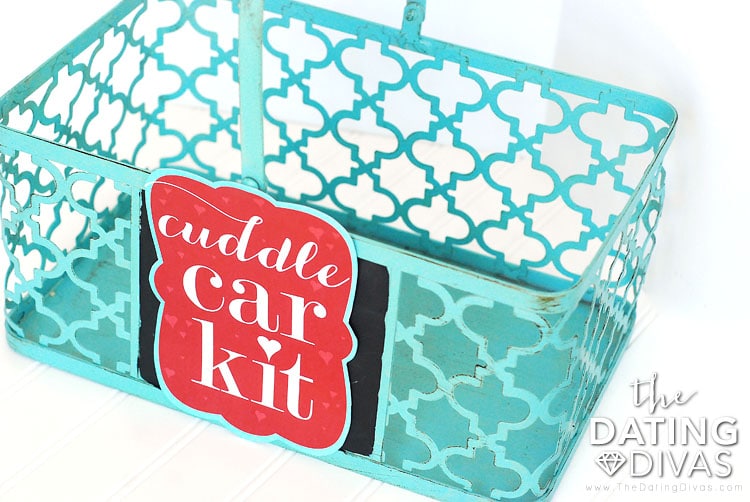 You may want a basket to place all of your items. And to be extra cute, you can add the Cuddle Car Kit printable to the front.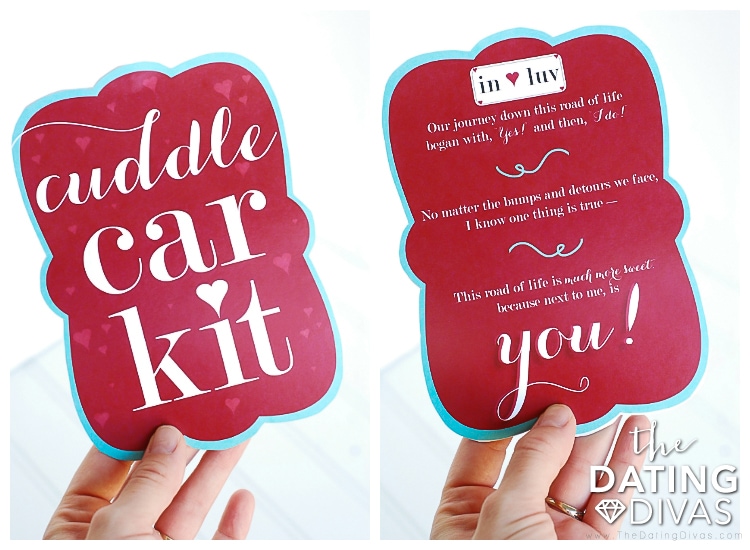 On the backside of the label is a Car-Themed Love Poem that reads: 
Our journey down this road of life
began with, "Yes" and then, "I do!"
No matter the bumps and detours we face, 
I know one thing is true – 
This road of life is much more sweet,
because next to me, is 
YOU! 
Add that to your basket to share with your spouse later in the evening! 
GATHER
Next, you will want to gather up comfy and cozy items for your evening in the car! Most items can be found around the house, but if you want to go all out, you may need to make a few purchases. Think about what you will want to do for your evening of cuddling. Eat? Watch a movie?  Chat? Smooch?
Whatever you decide we have you covered with flirty printables to add to your items. And, yes, all the printable tags have a road sign theme to them. How fun is that? 
To make this Cozy Car Date all come together, be sure to grab a great quality paper cutter and nice cardstock.
Here are some items you might want to add to your own Cuddle Car Kit: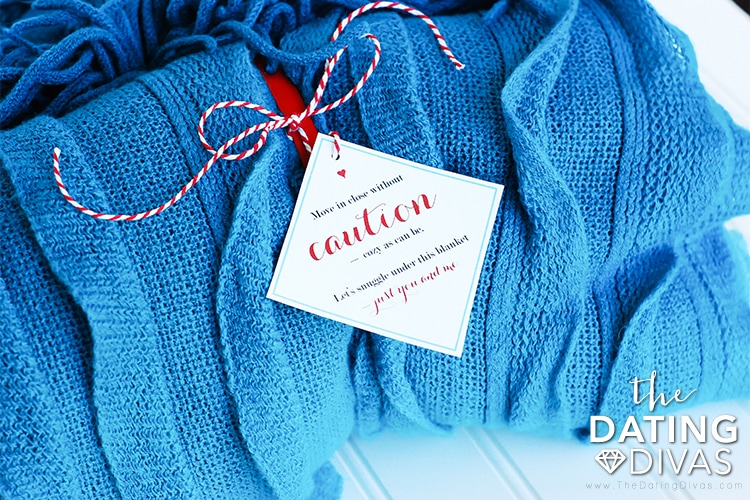 What is a cozy evening of cuddling without a soft blanket? Grab your comfiest blanket, attach the printable tag and add it to your basket!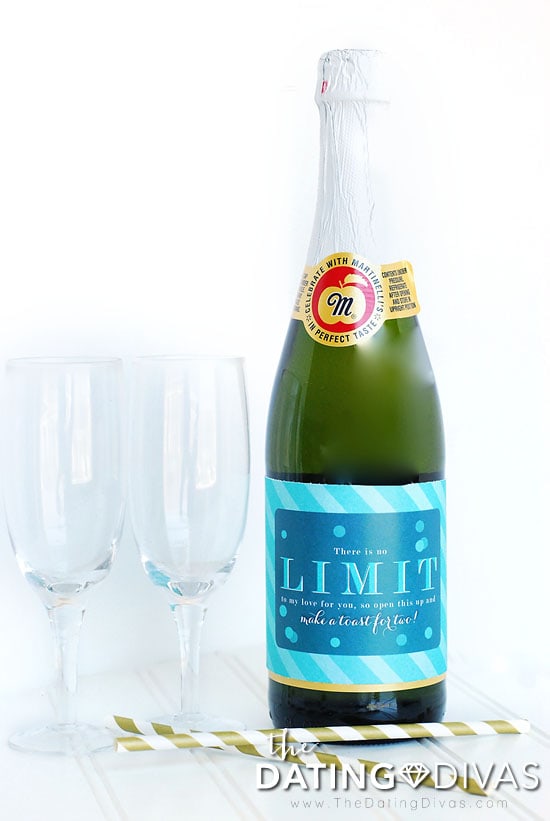 For a little romance, add this printable drink label to your favorite bubbly drink. Then, add the drink and some glasses to your basket.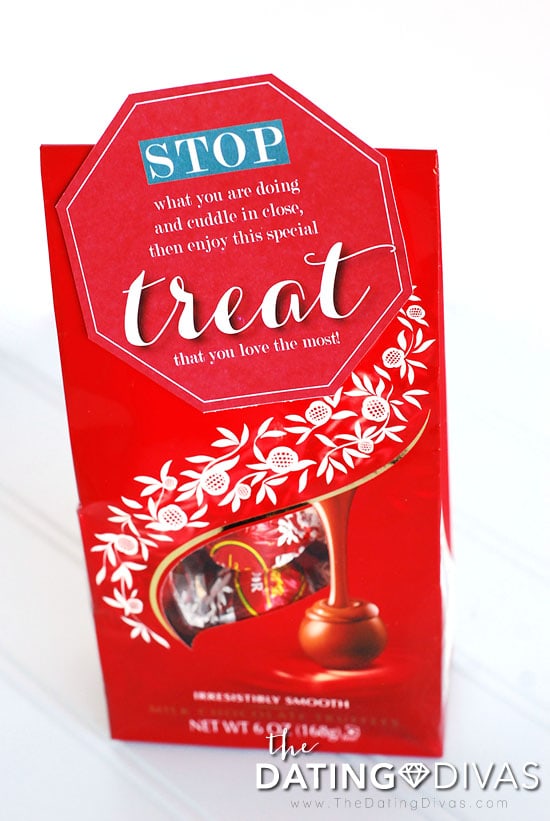 You can add your spouse's favorite dessert or treat. These chocolates are my spouse's favorite. They don't last long at our house!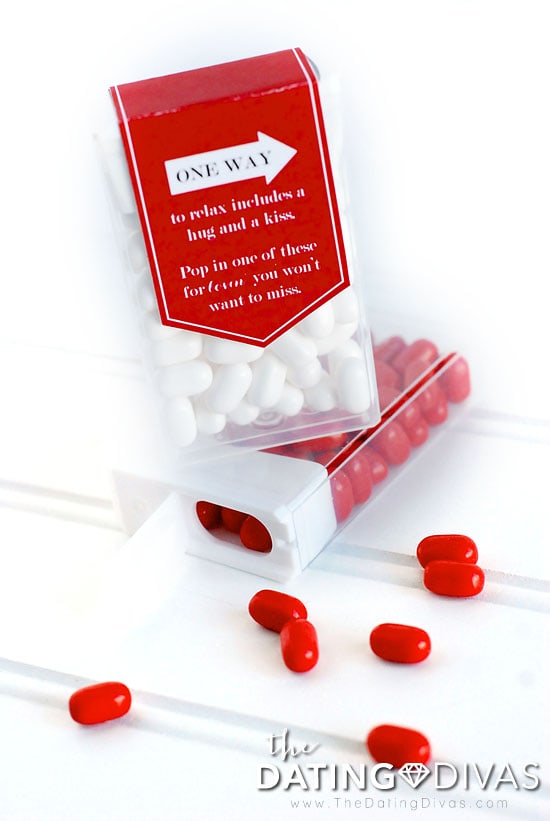 If smooching (or more!) is on your agenda for the evening, you will definitely want to add this printable label to some breath mints. Your spouse will quickly get the hint…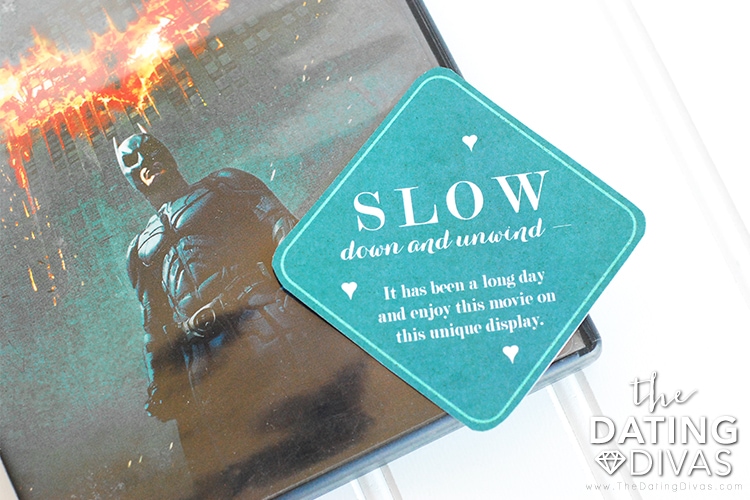 If a movie is in store for the evening, add a laptop and a movie to your basket.
Tip: make sure your device is fully charged before leaving the house!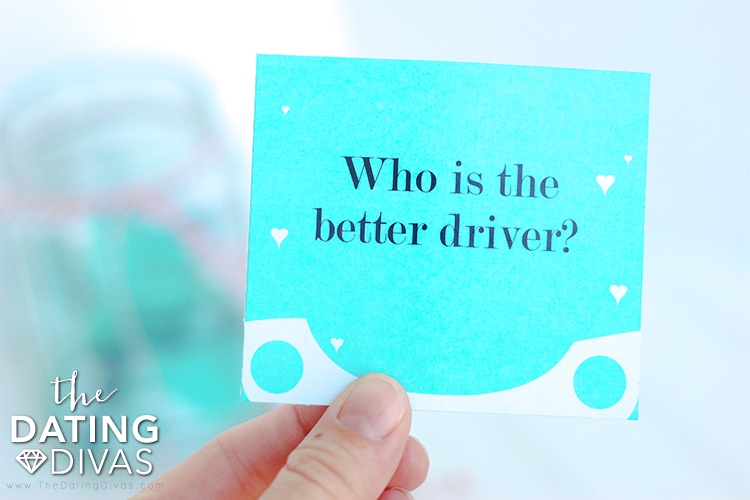 Finally, for some chatting while cuddling, we have some conversation starters. Just print out the question cards and choose one to get the conversation going.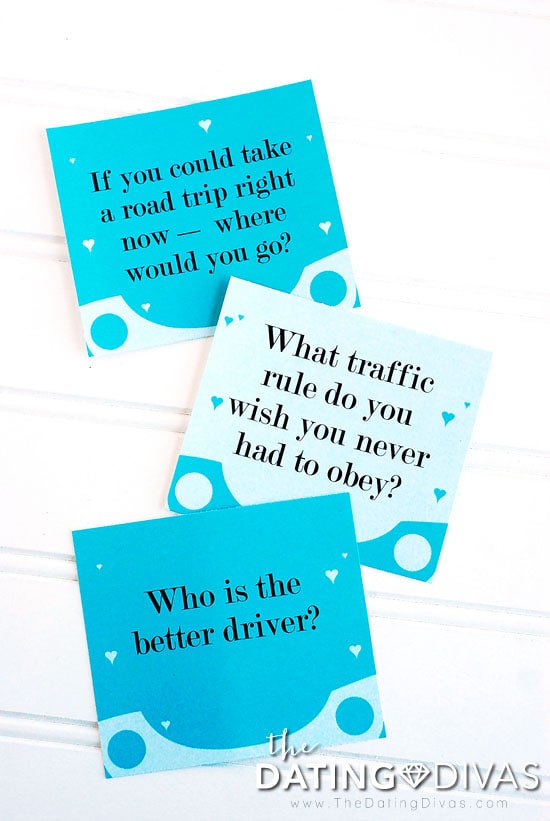 In case you were wondering – the questions all revolve around, you guessed it, cars.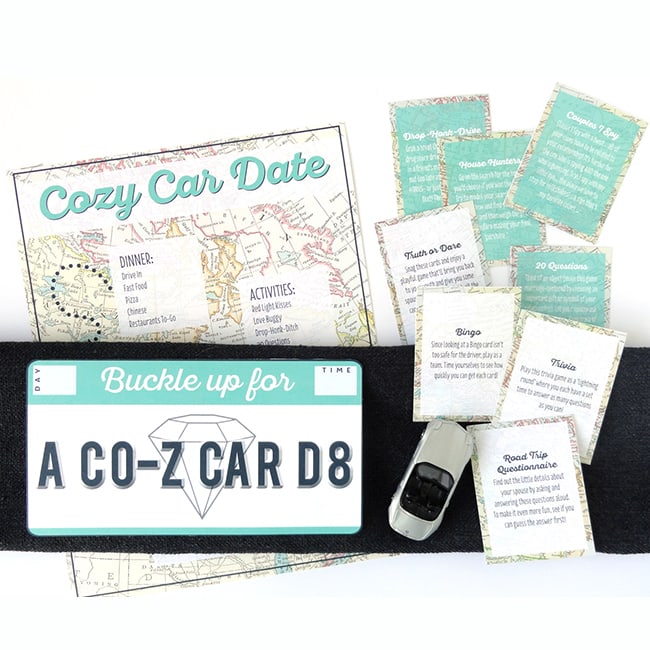 Finally, you could also add in any of the 14 fun games from our Cozy Car Date! Any of these ideas would go perfectly with this date night idea! Just print them out and add it to your basket!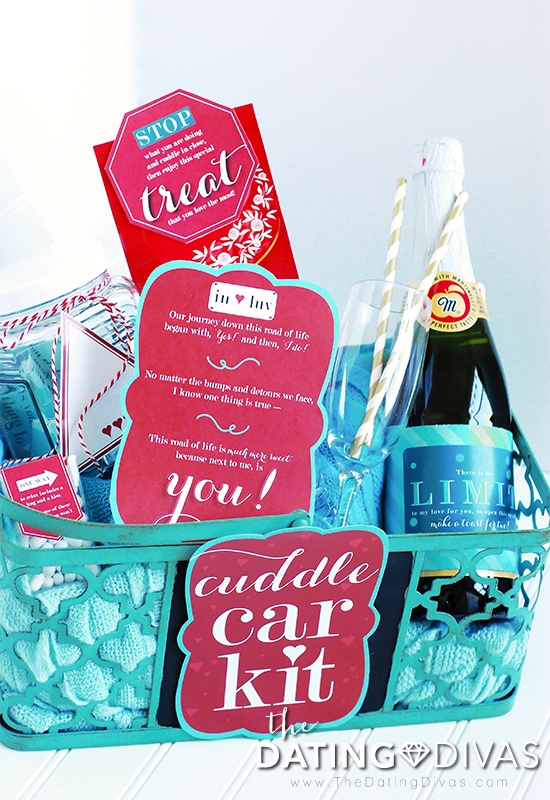 Once  you have gathered all of your items, attach the printables and add them to your basket! You now have everything you need for a cozy car date! 
DATE NIGHT 
Put your basket and maybe some pillows in the back of your car, and get ready for an evening or romance and relaxation!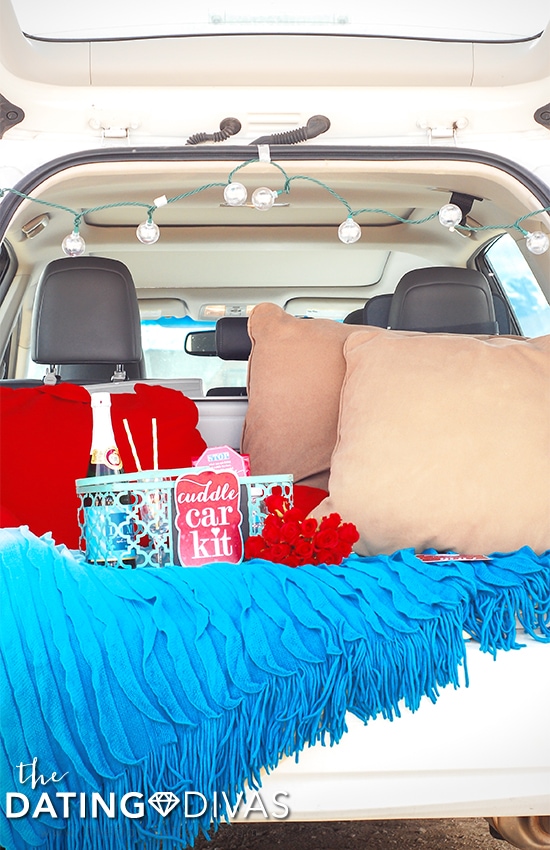 Now it is time to snuggle up in the backseat with your honey! If you have a truck, it might be fun to add lots of pillow and blankets (maybe even a mattress!) to the trailer bed. If you don't have a truck, maybe you open the trunk and lay down the seats – whatever works for you. Our little hatchback car is perfect for this date.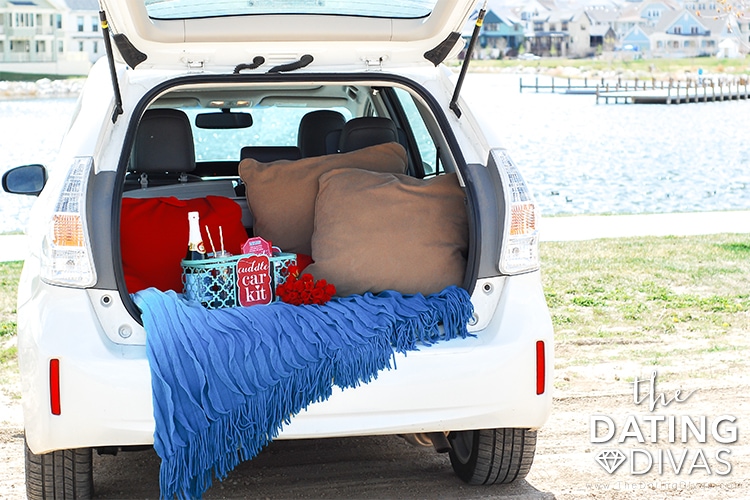 Finally, drive to an isolated or romantic location and get settled! Perhaps somewhere with a view? Watch a movie, chat, eat some food, but most importantly enjoy each other's company in the comfort of your own car! 
It doesn't get any easier than that. 
Cuddle Car Kit
"Printables Designed by Leah Aldous @ la-sync.com Exclusively for The Dating Divas