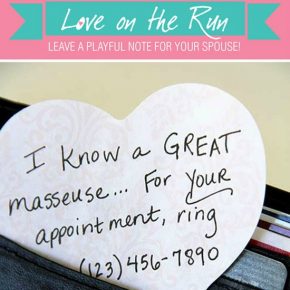 Flirty Love Note Idea
Welcome back to our LOVE ON THE RUN series! If you are new to these cute posts airing EVERY FRIDAY, check out all the details HERE.
Today's love on the run tip features a flirty and EASY way to say "I Love You" to your sweetheart!
Before he heads out for the day, slip this fun note into his wallet! Can you imagine the grin on his face when he reads this flirty message?

If you like the idea of leaving something thoughtful in his...
Continue Reading