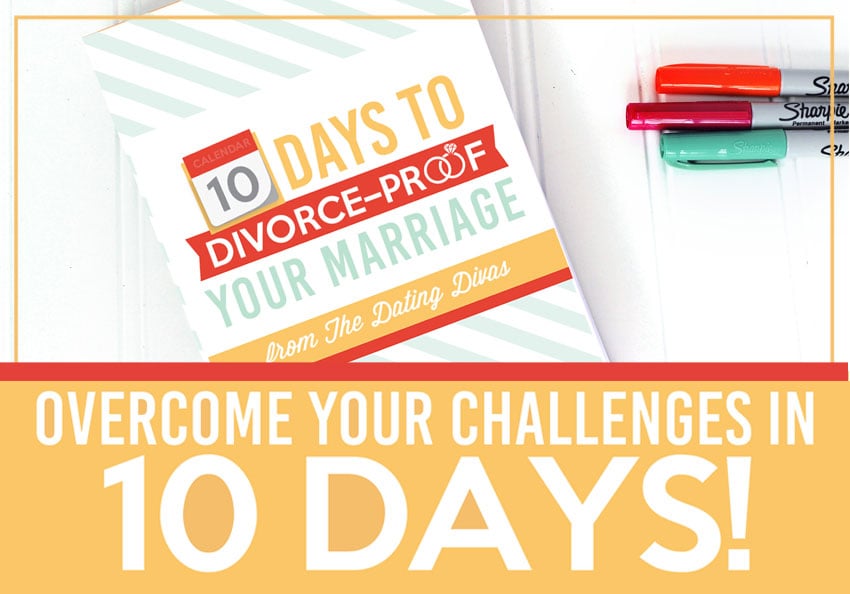 Communication in a marriage is tough, you guys. It doesn't matter if you've been married a month or 20 years, sometimes simply having a conversation is dang hard! You feel attacked; he doesn't feel heard. All that can leave you feeling disconnected from your spouse. It doesn't have to be that way! My little known "communication exercises" will help open the lines of communication in your marriage, and reconnect you to your spouse—FAST!
The "10 Days to Divorce Proof Your Marriage" workbook will force you to put your thinking caps on and figure out how the disconnect began.
Your communication needs may be rooted in other areas of your marriage, and we'll explore those areas, one a day, for the next 10 days. Ten days of secrets that will help strengthen your marriage! Sincerely, Tara Carson (Founder of The Dating Divas)
How to talk about setting goals for your marriage!
How going on dates can get your spouse to open up!
How feeling confident can help get you connected!
Proven techniques to really listen – and really be heard!
How working together means better communication!
How respecting one another can positively impact your communications!
How forgiveness can open up a whole new conversation between you!
How trusting each other is essential to deep connections!
How to talk about the tough topics – like money!
How conversation can enhance your marriage in the bedroom!
Yes! Please send me my FREE "10 Days" workbook to help me improve communication fast!