Couples' Retreat in the Mountains
Happy Labor Day to you and yours!  Speaking of Labor Day, have I ever got a great Labor Day Date for you!  Even though it's obviously a little late to plan it for today, it's not too early to be thinking ahead to next year!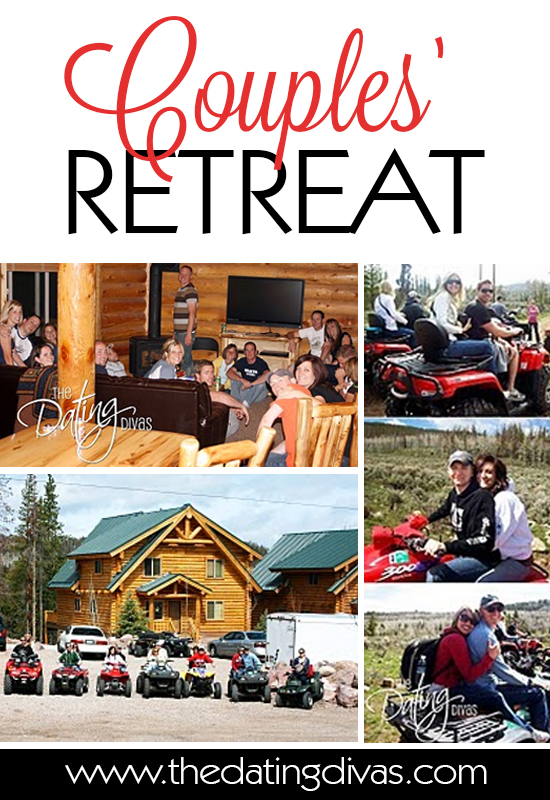 Have you ever been to Bear River Lodge??  This place screams of fun and adventure.  Especially if you go four-wheeling for a weekend with 10 fabulous couples!!  After reading this post, you are definitely going to book your trip!!  K, so maybe you won't go exactly where we did, BUT you WILL want to try this date out…..so much fun!!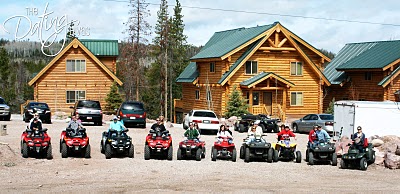 First of all, I cannot take the credit for the super-rejuvenating date, wish I could but, um……
nada
.  My friend Sarah, and her hubby, Jed put this all together!  All I had to do was plan a game and do some cooking, pretty fair trade, don't ya think?  What I hope to accomplish with this date idea is: that you, the readers, will be inspired to get out of the house with some of your closest friends and take a weekend away from the normal day-to-day
activities
that we all call life!  For
us
, Dom and I, this weekend away, was
just
what we needed.  We were able to come back to our kids happy and refreshed.  Sounds nice, right?!
Early on, in the summer, we arranged for my mom to
baby-watch
our 5 kiddos while we were away. (Thanks, Mom!) Once the kids were all set, we headed up to Bear River Lodge for a
fun filled
weekend with some of our outrageous friends.  I figure now is the perfect time for all you couples out there to follow suit.  Grab a few of your favorite friends and get out in the great outdoors.  Don't forget to enjoy the view, after all Fall is the perfect time of year to do so.
If your destination is hours away like ours was, make a point to carpool with at least one other couple.  I can not tell you how fast the hours passed!  You get to enjoy good company while getting pumped up about the weekend ahead of you.  Of course, if you ride with a "Jed" or "James'", you will be told that you talk too much!  In my defense, "That's better than talking too little, right?"
Speaking of Jed and James, there they are!  Dominick, my hubby, is smack dab in the middle of them. Aw, well, I forgive them, they made a smokin' dutch-oven meal the first night.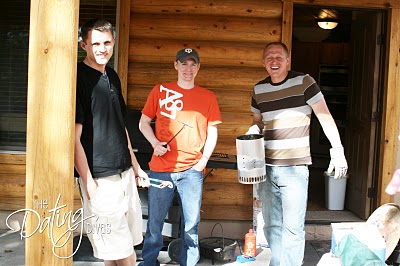 Following dinner, we played games like a bunch of teenagers!  There wasn't really any rhyme or reason to our games that night.  Any game someone could think of…we did! Getting some good laughs was a great way to kick off the weekend.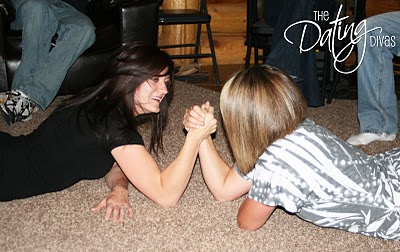 ( In case you're wondering, Sarah eventually won this arm wrestle.  BUT, I put up a pretty dang good fight for what felt like forever!)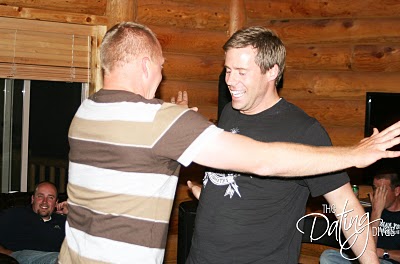 I highly recommend acting like you used to in your youth and STAY UP LATE.  (Or should I say early?)  When you're excited for something, like Christmas as a child, you don't really mind missing the sleep.  Reason being that you are more excited about what is happening while you're awake.  Or maybe that is just how I work……either way, here is a pic of all of us staying up till the wee hours of the morning!  Good times!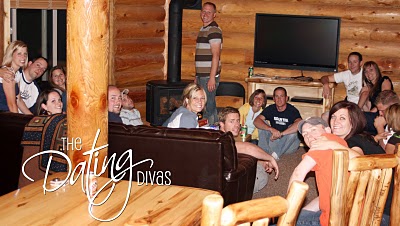 The next day we set out on an adventurous four-wheeling trip.  It consisted of some four-wheelers breaking down, while the ones that kept going couldn't make it too high up in the mountainous snow! The land that we were on had so many great trails, so it was easy to just pick one and go.  We did get to stop by a lake and lucky for us, it was the only day of the year that you can fish in Utah without a license!!  Well, that's what they tell me anyway.  I never did dare pick up a pole to find out.  Here are a few of us just taking off on the trip….before the dust hit our faces and mud splattered our backs!!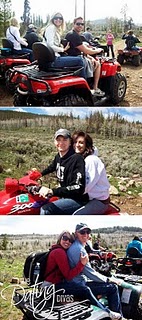 That night I planned a yummy Cafe Rio dinner. This, of course, has quite a lot of steps, so we teamed up with another couple and cooked a yummy meal!  To get the recipe click on the link below.  I LOVE THIS!
Okay
, now that my mouth is watering, let's move on!  After dinner, I put together a great game to show us all how well we knew our dates.  It's a little game known as "The Newlywed Game". I know, not so little, right??  If you have never played this game it is a
MUST
!!  Can I just tell you how surprised I was that Dom and I did so well?!?  I was not expecting our answers to match up much, but I was pleasantly pleased with our performance.  I downloaded all the questions for the game and cut them into strips.  That way we were able to pass them around and randomly pick them from a container.  We didn't keep score and we didn't follow the rules to the game, but I loved just seeing how much we all knew…or didn't know about our spouses.  I thought I would share the link to the
downloadable
questions!  Feel free to make up your own questions, too!
After the game, it was way too early to go to bed!  Lucky for us, Bear River Lodge is equipped with a pool and hot tub.  You could say we were totally pretending to be young lovers who were hot
tubbing
!  I remember when hot
tubbing
was
sooo
fun during the dating years.  Is it still a cool thing to do anymore? Well, we thought so!
The next morning we packed everything up and headed out.  The ride home was equally exciting.  We were so anxious to see how the
kidlets
did while we were away.  This is why the carpooling idea is especially useful.  The ride home went by just as quick with all the talking we were doing….though some would say it was just me doing all the talking. 😉