Dancing With the Stars 
My husband and I met ballroom dancing, and Dancing With The Stars is easily one of our favorite reality shows to watch. We diligently watch each week as famous celebrities are matched with professional ballroom dancers and compete for the coveted mirror ball trophy. If you haven't gotten hooked on this show yet – you should definitely give it a try and if you are already a fan, you are going to LOVE this date night idea!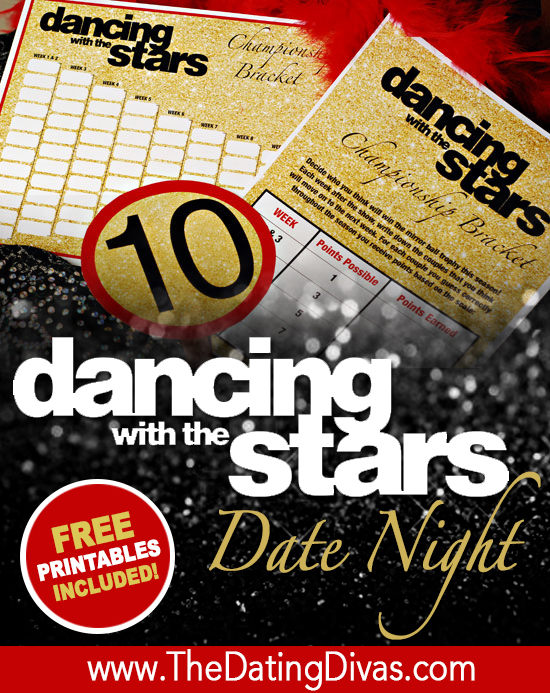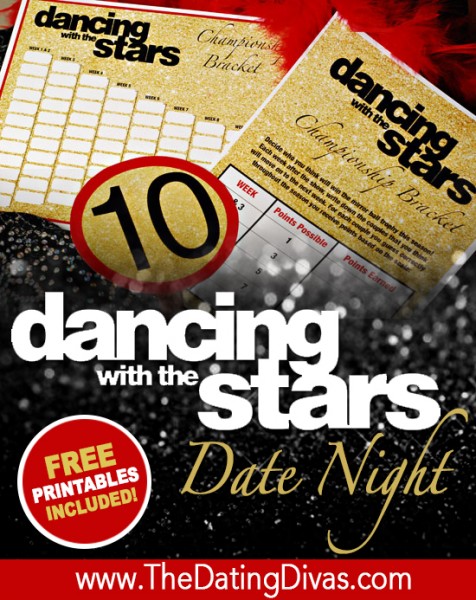 Disclaimer: This post contains affiliate links. To learn more about 'em, click here.
The best part about this Dancing With the Stars date night is that it can be a one time thing OR it can be an ongoing tradition for the duration of the season! You decide!
So let's get started:
You Be the Judge
On the show, three judges critique the dancing after each performance. They give verbal commentary, but they also contribute a score by raising a sparkly score paddle into the air (everything on this show sparkles!). When my husband and I watch we are always trying to guess what score will be given before the judges say it.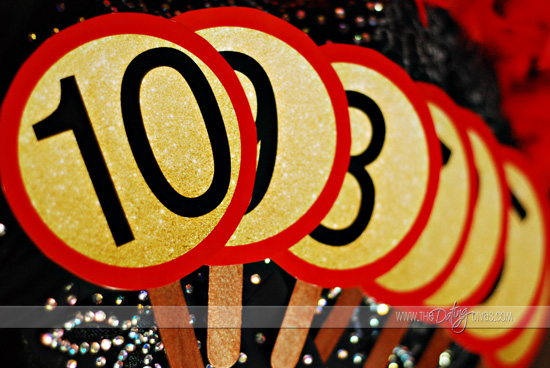 So . . . for this date, I had our amazing designer Leah Aldous create score cards! She made them almost IDENTICAL to the ones on the show. They are perfect – I am so excited to use them!
I made a set for both my husband and I to have while we watch the show. I cut each score out and attached a popsicle stick
. When each performance is over we can raise our score cards and see how we voted compared to each other and to the judges.Way more interactive than just watching!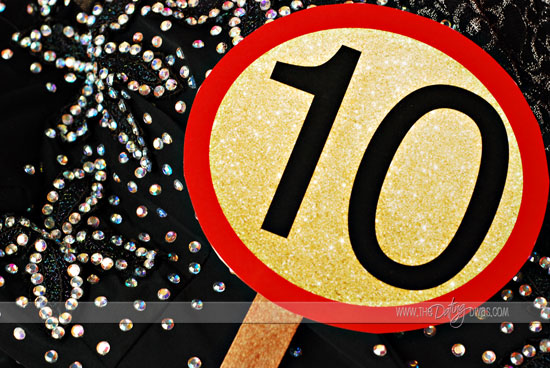 Fantasy Foxtrot 
I grew up in a home where sports ruled and every football season the family was waging their bets in the fantasy football brackets. Well, my love for ballroom dance has rubbed off because my dad will surprisingly choose to watch Dancing With The Stars OVER Monday night football. Now THAT is amazing! His love for both the show and football inspired this NEXT idea: a Dancing with the Stars Championship Bracket – a friendly competition!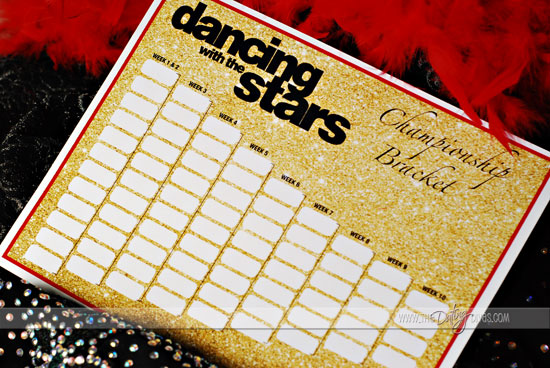 Again, Leah Aldous Designs created this Dancing with the Stars Competition Bracket. Here is how it works: traditionally there are 10 weeks of competition starting with 12 couples and ending with the top 4 placing. Now, many seasons there have been surprises with celebrities leaving early or a night of double elimination – so be prepared to be flexible if it doesn't fit perfectly!
In the first column, write down the names of each of the original competing couples. At this point you can either . . .
1. Fill out the entire bracket for the whole season right from the very start. This will be more challenging since you would be doing this without seeing any of the celebrity's dance moves before guessing.
OR 
2. You can fill out your guesses week to week. For each week of an elimination, fill up your bracket with the names of the couples you think will be moving on. Just leave out the name of the couple you think will be eliminated.
Once week 10 arrives there will be 4 couples remaining. After making your final guesses with the final four, you can also place a number 1-4 in the order you think they will place.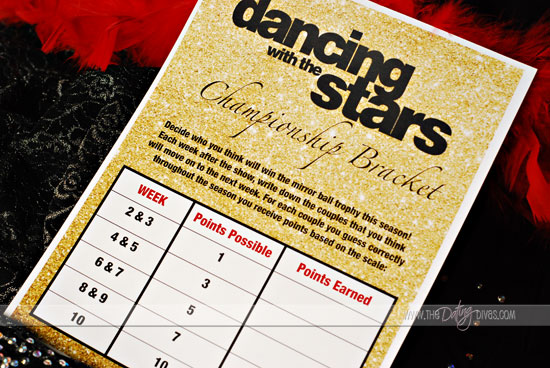 If you want to keep track of points, Leah Also included a point value printable which tells you how many points you can earn per correct guess each week.
And, of course, you can always decide personal wagers between you and your husband to make the competition a little more exciting! I will leave that one up to you!
Get Moving 
Partner dancing is romantic – it just is. So why not try learning a few moves with your spouse? I highly recommend the Rumba for anyone in love! Oooo yeah!
First, learn about each of the dances. The official Dancing with the Stars website has a basic guide to each of the dances so you can know your Tango from your Mambo. You can check that out HERE.
Also – just for being silly, Dancing with the Stars actually has an app called Dancing with the Stars: On the Move. For $0.99 you can choose your partner, customize your costume, pick and song and "perform" a dance. Performing a dance really entails coordinating your fingers with the screen to move with the animated figures, but it is still fun!
Finally – check out your local area for a dance studio near you! You could do a private lesson, a group class or often dance studios will host a quick class right before a dance. Take a class and then dance the night away in the arms of your love – the closer the better! Wink, wink!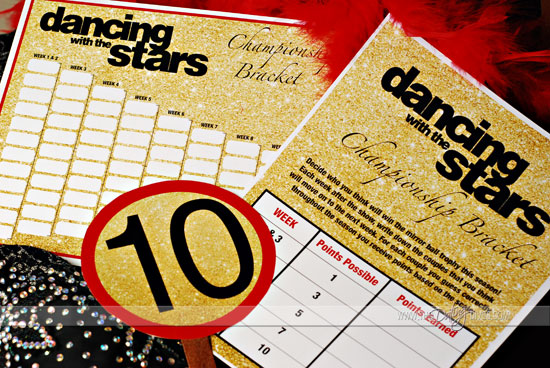 Planning this date night is as easy as 2, 3 Cha Cha Cha! Actually – with all those complicated steps – this date is probably easier!
Dancing With The Stars
Printables Designed By Leah @ Leah Aldous Designs Exclusively For The Dating Divas