Dressing Up For Date Night
Okay it's DATE NIGHT and YOU HAVE NOTHING TO WEAR! Well, here is a FOOL-PROOF way to look HOT and not have to think TOO much about it!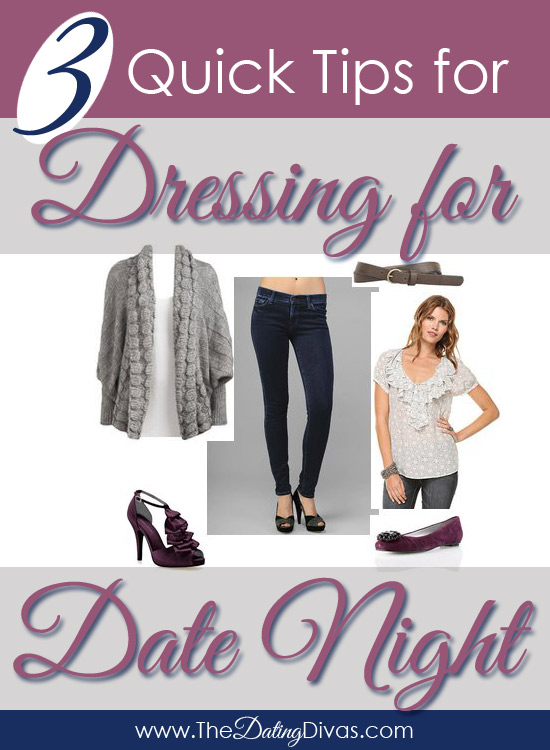 Some quick tips for your date nights go a little like this…..
Start with some music – Remember the days when you would throw on some tunes and dance while doing you hair and make-up. WELL, do that NOW! Put on your favorite Britney, Beyonce, or Lady Gaga, OH WAIT those are just my favorites! YOU can put on whatever you want and get groovin' while you get ready.
When you look in your closet keep in mind that you want to wear something a little out of the ordinary so that you feel SEXY and your hubby appreciates that you tried a little harder than usual.
Keep it comfortable. Guys like a little sexy, but they still want to be able to hug and kiss you without you falling over from wearing SKY HIGH HEELS (save those for girls night out or later in the bedroom).
With that being said, I will give you your next DATE NIGHT LOOK! Try it out this weekend! This season GRAY is the new BLACK! It's neutral and goes with a lot, but isn't so harsh.
Start with a dark wash skinny jean. If skinny isn't your thing then go for boot cut. They should be fitted but not so much that you can't BREATHE!
Add a blousy or flowy light-colored, neutral top. Then pick out a "chunky" knit. This will keep you warm this season and still make you look HOT!
Since you are going to be wearing so many neutral colors everywhere else, make your shoes a BRIGHT FUN COLOR (I like purple). Heels or Flats…choose what feels comfortable.
Add a belt around your waist if you want, for a more fitted look. Then throw on some accessories!! You will be feelin' and lookin' HOT FOR YOUR DATE!
Here is the look I styled JUST FOR YOU! SO NO EXCUSES! GO GET READY!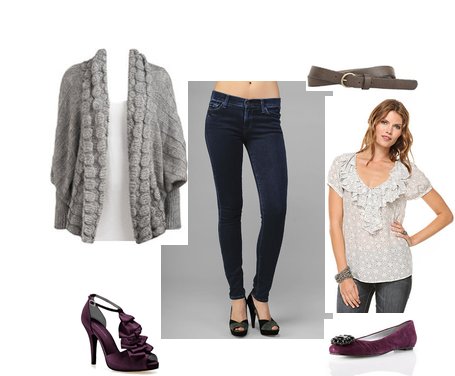 Let's show our HOT MEN that we can do all the amazing things we do every day (cook, clean, change diapers, work, etc…..) and still look Rockin' Hot to go out that night!