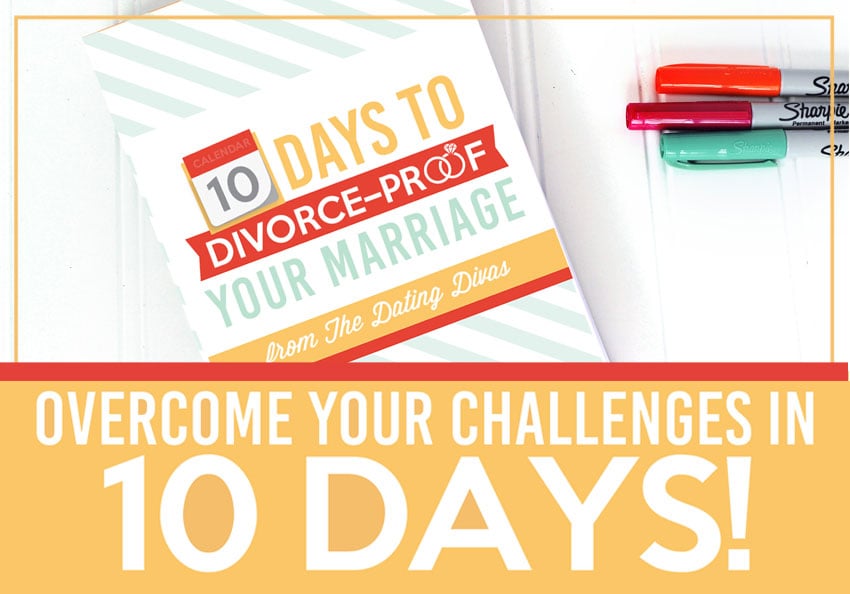 If you're longing for those early days where you just couldn't get enough of each other, anticipating date night all week, my secret 10-day formula will put that romantic spark back into your marriage and have you dating again in no time—no babysitter required!
The "10 Days to Divorce Proof Your Marriage" Workbook will help you re-discover your can't-wait-to-be-together "couple selves!"
Over the next 10 days, we'll dive into 10 different areas of your marriage that will strengthen your connection, providing you with exercises to help bring back those butterflies!
How setting goals for your marriage can help make date night happen!
Ways to make dating a special part of your everyday life!
How dating can make you both feel better about yourselves and your marriage!
How communication can improve dating – and vice versa!
How teamwork all week makes date night more enjoyable!
How respecting your spouse's wishes creates a date you'll both love!
How giving – or getting – forgiveness can clear the "scorecard" and help you start dating anew!
How trusting your spouse can inspire great date plans for both of you!
How you can date regularly without breaking the bank!
How to make sure date night doesn't end at the door!
YES! Please send me 10 days of secrets to help my spouse and I reconnect and enjoy each other again!