Christmas Gift Ideas Date
If you're anything like us, your Christmas to-do and shopping list is a mile long, right? However, that doesn't leave a lot of time for date night. Well, not anymore! Combine the best of both worlds with this Christmas Gift Ideas date. With a printable invitation, shopping challenges, and gift planner, this printable kit has everything you need to turn ordinary Christmas shopping on its head! In addition, it's tried, true, and tested and will help make your holiday season extra holly jolly. Ready to check it out? Keep on reading!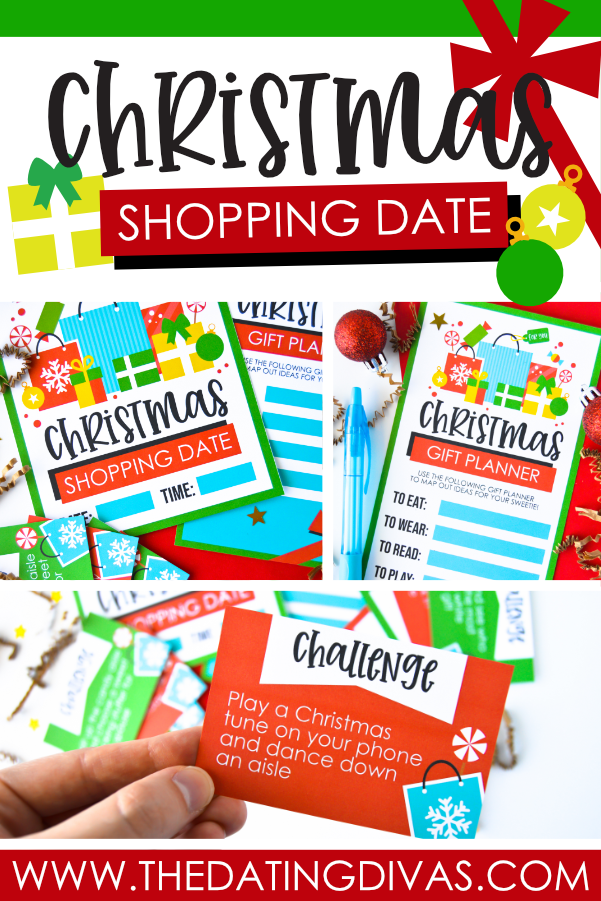 Disclaimer: This post contains affiliate links. To learn more about 'em, click here.
Before we unleash the awesomeness, let's give a huge holiday shoutout to our own Diva Elizabeth for creating these super cute and Christmasy designs for us! She rocked them!
What's Included in Your Christmas Shopping Date?
Your darling Christmas Shopping Date printables will make your date a total success. Take a look at your included printables below, and keep reading for more details on how to use them.
Christmas Shopping Date Invitation
Christmas Gift Ideas Planner
Pre-written Challenge Cards
Blank Challenge Cards
How great are those?! Keep reading to take a closer look at each printable!
Christmas Gift Ideas Invite
First, let your holiday honey know about the fun date to come with the printable invite. All you need to do is print, cut, and fill in the info. After that, go ahead and deliver it to your darlin'! They're going to be so excited to spend some time together!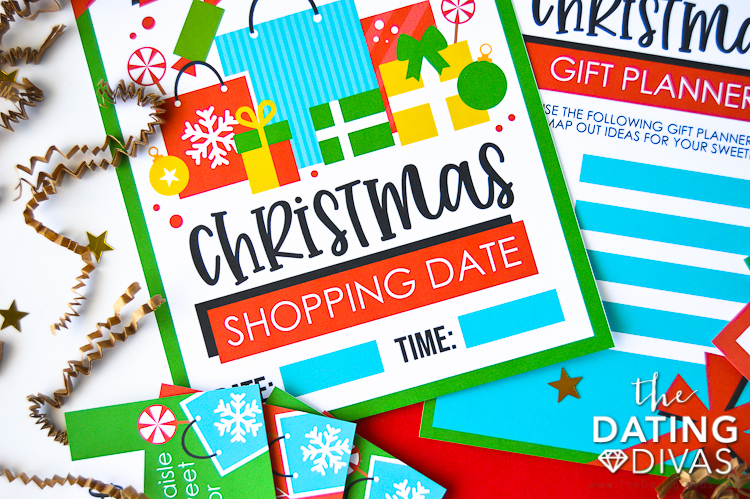 Christmas Gift Ideas Planner
After that, it's time to get ready for the 'shopping' portion of your date by filling in the Christmas Gift Planner. We've included two copies so you and your spouse can each have your own. Map out ideas you think your sweetheart would like best and be sure to add any special notes at the bottom. You can make this as expensive or budget-friendly as you like! For example, a high-end "To Eat" option could include a gift card to their favorite steakhouse, while a lower-cost one could be their favorite candy bar. Additionally, you could challenge each other to stay under a certain budget. Above all, you'll be using these planners to do your shopping at the end of the date, so be sure and keep them out of each other's sight.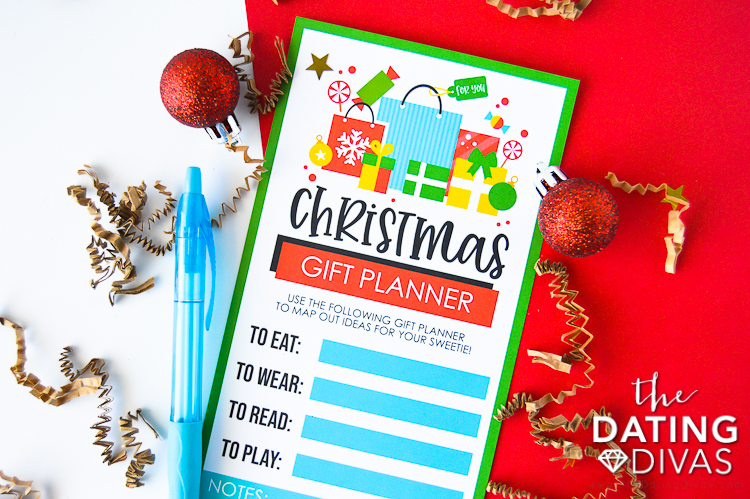 Christmas Shopping Challenges
Once you've filled those gift planners out, it's time to get shopping! Hit up your favorite store and be sure to bring the challenge cards along. These hilarious and oh-so-fun tasks will turn the store into your new favorite date spot.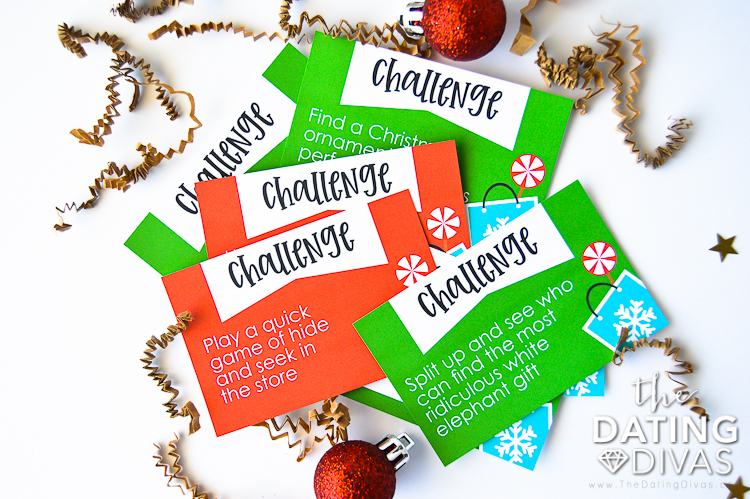 The tasks range from super wacky to relatively tame. That means even the shyest of couples should give them a go (wink!).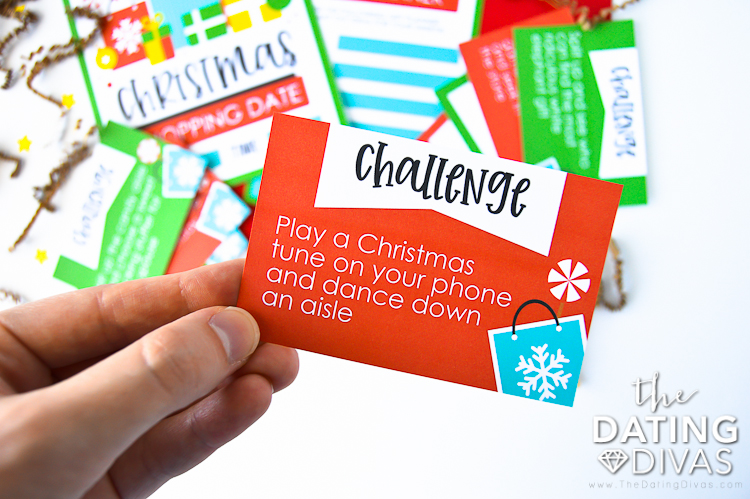 Take turns deciding which challenge you'll do next and be sure and pat yourselves on the back for a job well done. You can even add more ideas using the included blank challenge cards (more on that below!).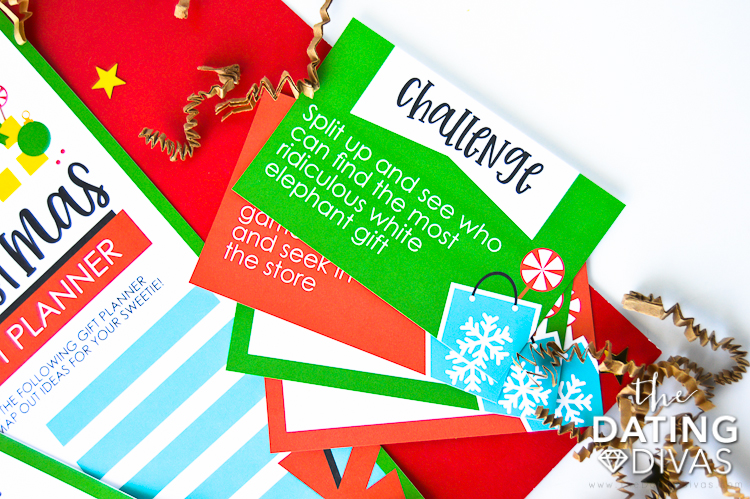 Blank Christmas Gift Ideas Challenge
We're obsessed with the pre-written challenge options. With a full-page a blank challenge cards, you and your sweetheart have the freedom to come up with challenges specific to the two of YOU. So great, right? Just try and keep them Christmas themed!
Christmas Shopping Date
Printables Designed by Elizabeth Edwards Exclusively for The Dating Divas