Family Photo Idea 
Have a large spot on the wall that is just itching for something special? A family photo perhaps? I have searched department stores, and home decor for my walls can be pricey AND it is not even personal! If I have something on my wall, I want it to be special and mean something and I really don't want to spend a lot of money! I want a family photo and I want it to be different.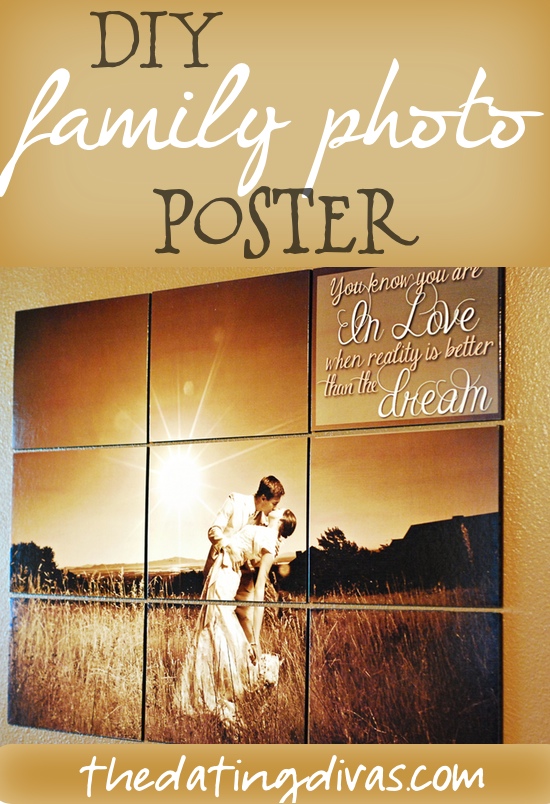 Disclaimer: This post contains affiliate links. To learn more about 'em, click here.
This was all resolved when I discovered the website called Rasterbator. An odd name for an amazing (and free!) online source that allows you to upload an image, state the total size you want the final image to be and then it will split the image into multiple 8 1/2×11 prints that can be put together as one complete poster quickly and easily. This technique is called tiled printing. You could take any picture and create 8.5 x 11 tiles that, when put together, make up the entire photo. This provides personal home decor at a small cost with your own family photos!
You Can Make Your Own Family Photo Poster in These 10 Easy Steps:
1. Choose Your Photo – Take a look through your family photos and wedding photos to pick what you want for your wall! There are so many options! For my poster I chose one of my absolute favorite picture from our wedding.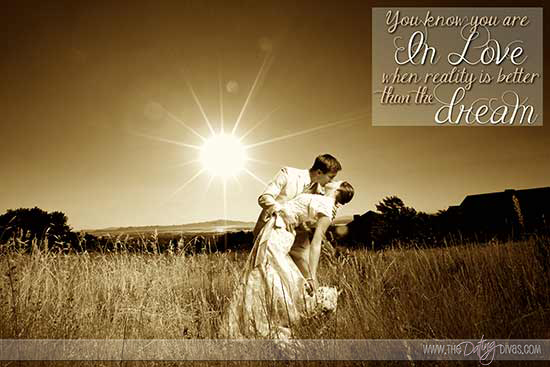 2. Go to THIS SITE – and click "Create Your Poster" and upload the family photo you want to make into a poster. For my image, I played around with the image before uploading, but that is completely optional. For mine, I added a sepia overtone and placed a quote in the top right corner of the image.
3. Design – Once uploaded, you get to play with several options for sizing and spacing. For mine, I choose to print it myself and I selected "US letter" for my sizing. Then, you get to play with how many 8.5 x 11 sheets of paper you want to make up your poster. The more squares, the bigger your poster will be. As you play with the number, the site will calculate how many sheets of paper it would take up and the total size of your project once printed. Someday when I have a house with more walls, I want to fill up the entire wall with one of these. For now, I did a simple 3×3 grid.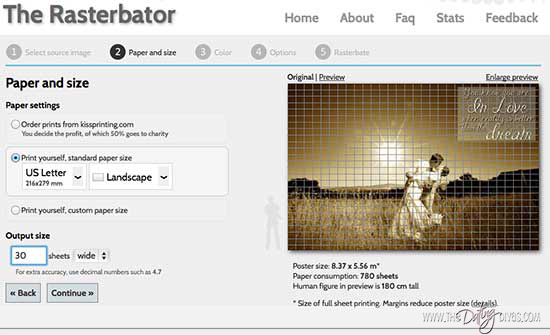 Here you can see 2 very different options from playing around with the number of tiles. In the first example with a width of 3 you would have a total of 9 tiles and the total size would be 83.7 cm x 55.6 cm (a little under 3 feet x 2 feet). In the second example you have a width of 30 which is a total of 780 sheets of paper and a size of 8.37 m x 5.56 (approximately 27 feet x 18 feet=HUGE!) You could cover the side of a building!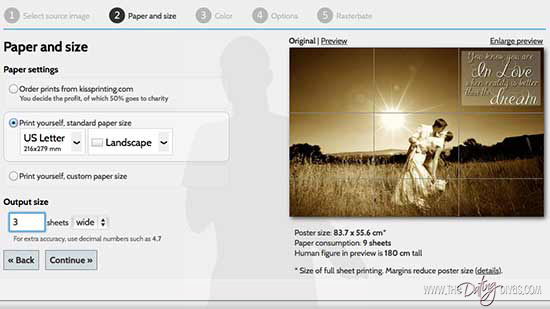 The site also lets you play with color and a few other options. I love my original photo and so I just hit continue on those. If you want to get more artistic – have fun! There is so much you can do!
4. Download – When you have your poster just the way you want it, you can click "rasterbate" and voila! It will create a pdf file for you!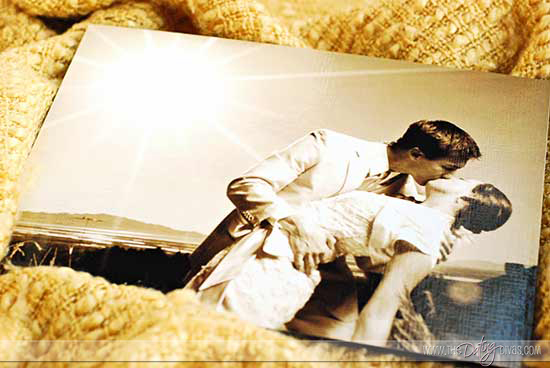 5. Print – While you could absolutely print this from home, I choose to print my at my local Staples Office Supply Store. If this is going in my home, I want to make sure that it looks the best! Using the file from the site, I had them print my 9 pages onto card stock. Just to be a little bit more fancy, I printed onto a card stock that has some texture to it. Once printed, it looked almost like a canvas! The total cost of my copies was around $8.00.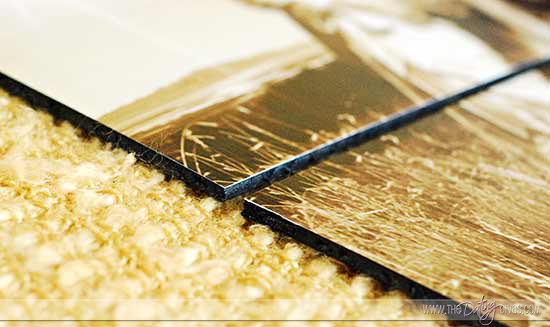 6. Mount It – I then purchased some generic foam board (like the kind we used for science projects as a kid) and had the kind Staples worker place the copies on the foam board as she sent it through a large lamination machine. She then with great precision (and precision is key!) cut each page for me. I then had 9 pieces to my poster puzzle, backed and laminated. They looked like this: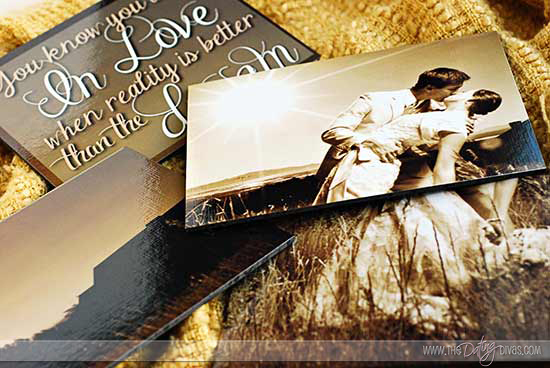 Another option would be to find some cheap frames and just frame each picture and hang the frames. That would look nice as well!
7. Put it together – Place each piece where you want it to go. Decide how much spacing you want between each piece. You could place them together to create a unified poster or add space for a more artistic look. If you really want to get artistic you can move some of the pieces out of order or off center. I have seen some like that and they are cool too!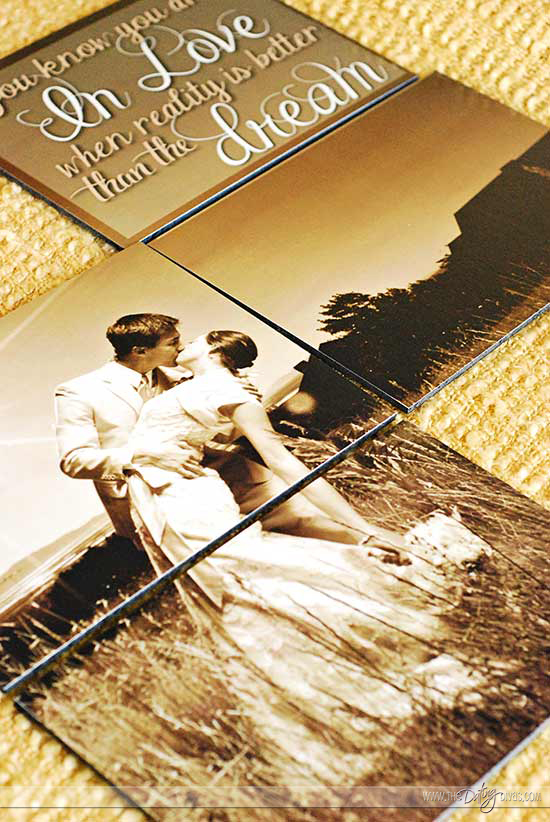 8. Hang it up – I used Scotch Removable Mounting Squares
to adhere my pieces to the wall. These were just the right size AND they don't damage the wall. I know this for sure because I had to take all the pieces down to take pictures for you all to see! It didn't hurt the paint and, although secure, came off easily.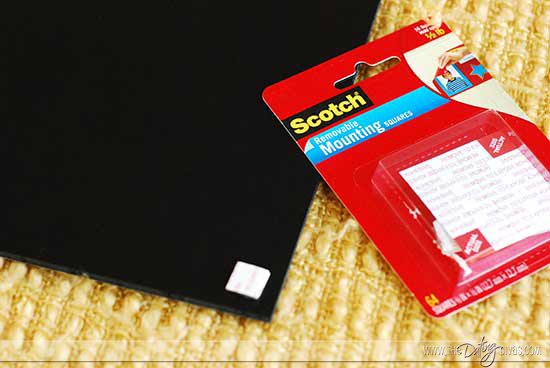 9. Space it Right – Now, as you are hanging be sure that you are keeping each piece exactly straight and have even spacing. This is one of those projects that if aren't detailed in your measurements – you will be able to tell! To help me keep my spacing just right, I used the edge of one foam board between the two pieces like this: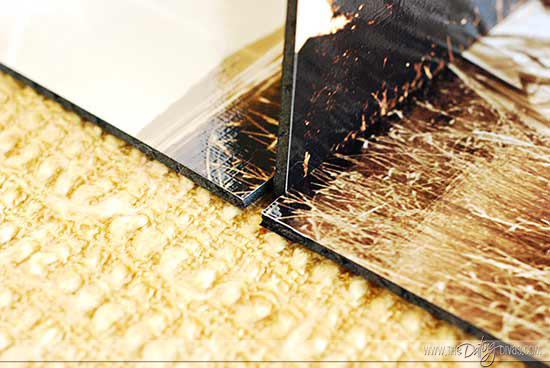 10. Enjoy! And there you have it! An amazing poster-size wall decor of a picture! Think of the possibilities! This could be a whole wall in your house or a little nook that you haven't know what to do with!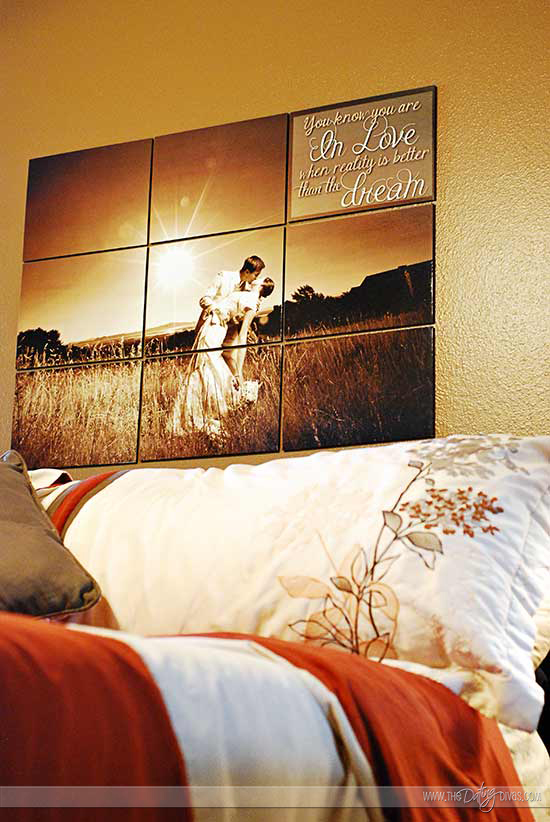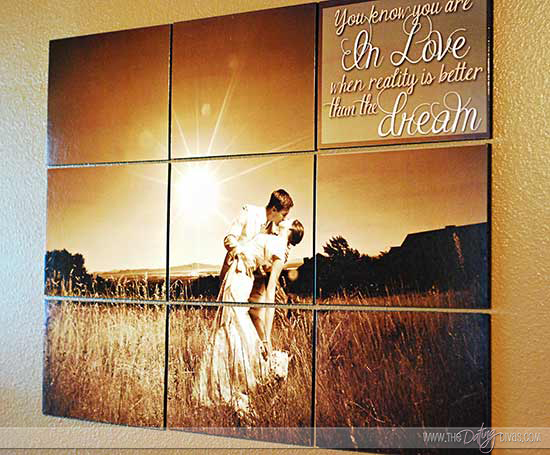 If you love making artwork with pictures you HAVE to check out my Photo Mosaic post. You can make ONE image out of thousands of other smaller images!