Family Fun Activity: Drop it Like It's Hot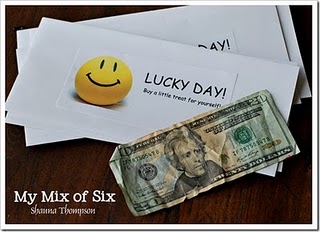 "What are we going to do today?"  This is a question posed to me by my children throughout the day.   I am always searching for ideas that are worthwhile and FUN!
The basic concept is simply this…
1. Your family creates a few smiley faced greeting cards.
2. Inside the greeting card you get to put a cute saying…something like, "It's Your Lucky Day."
3. Also inside the card you can leave a treat, quarters for a vending machine, a pack of gum, etc.  So…basically fill the cards with anything you think would be fun to receive.
4. Once your cards are done and filled with treats… your family goes, "Card Dropping."  The goal is to leave the cards in places you know people will find them.  As a family, we left the notes on our neighbor's doorsteps.
My family had such a fun time making the cards and especially "Card Dropping" them for others to find. Serving others is a great family activity.