Do you love your spouse but miss that excitement you had back when you were first dating? Are you feeling more like roommates instead of husband & wife? Wishing you could reconnect with your best friend?
Are you ready to take things from good to GREAT (or should we say from luke-warm to HOT)?!?
We know marriage isn't easy…in fact, we know it's one of the hardest things any of us will ever be a part of! It's quite a ride, isn't it!! We have had SO much fun providing fun date ideas for our readers but the emails flooding in asking for our advice indicated that you all wanted a little more…..perhaps a "blueprint" of sorts? We came up with a brilliant idea!
Why not offer something that will hit upon tried & true marriage tips WE use….and DATE NIGHT!?! We sprung into action and we are so excited to offer TWO perfect e-books to get your marriage sizzlin' once again!

Ready for some of the inside scoop on these fabulous books?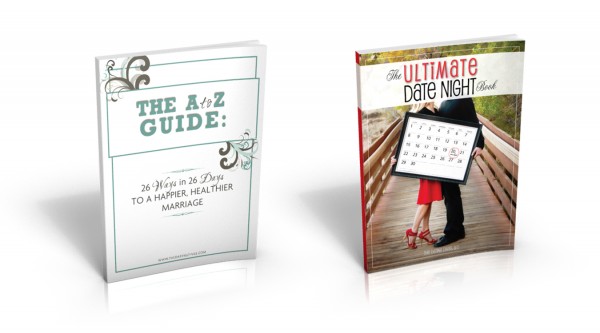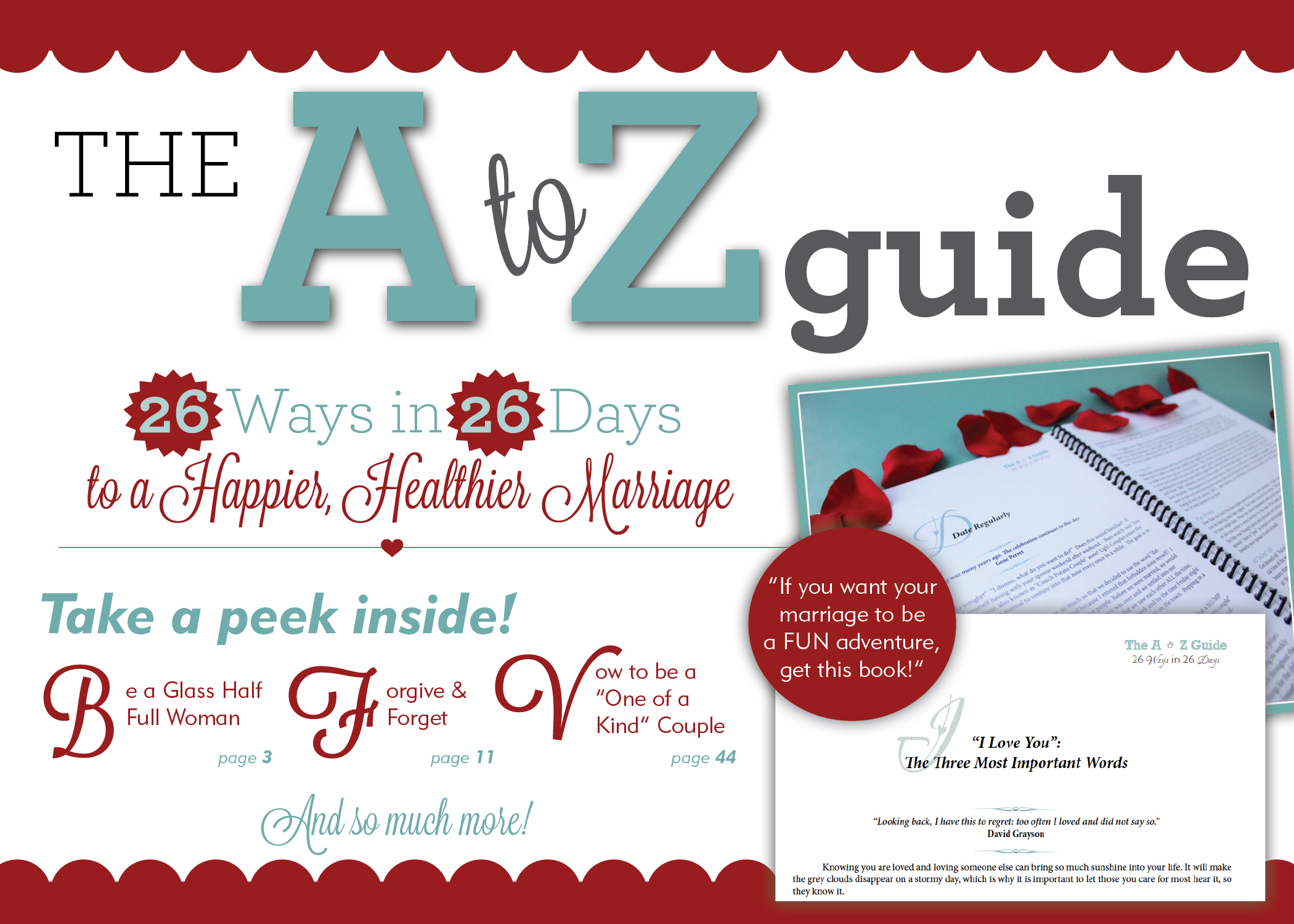 Since we can't come to each of your homes & have a FUN Girl's Night Out…..we decided to do the NEXT best thing! We've gathered our BEST marriage tips – the secrets behind the success in our own marriages and compiled them into a book to share with all of you! A collaboration effort by us, the Divas, we share touching, enlightening, and humorous stories to demonstrate each marriage tip. You will get to see a glimpse inside the marriages of a few of the divas. {Hang onto your hats!} By applying these simple, yet valuable tips, you will start to experience a different, happier marriage right away. This digital ebook will give you practical tools to literally transform your marriage. We are confident you will:
Realize you're not alone

Feel love in a way you've never felt it before

Communicate more effectively

Begin to get that "twitter-pated" feeling back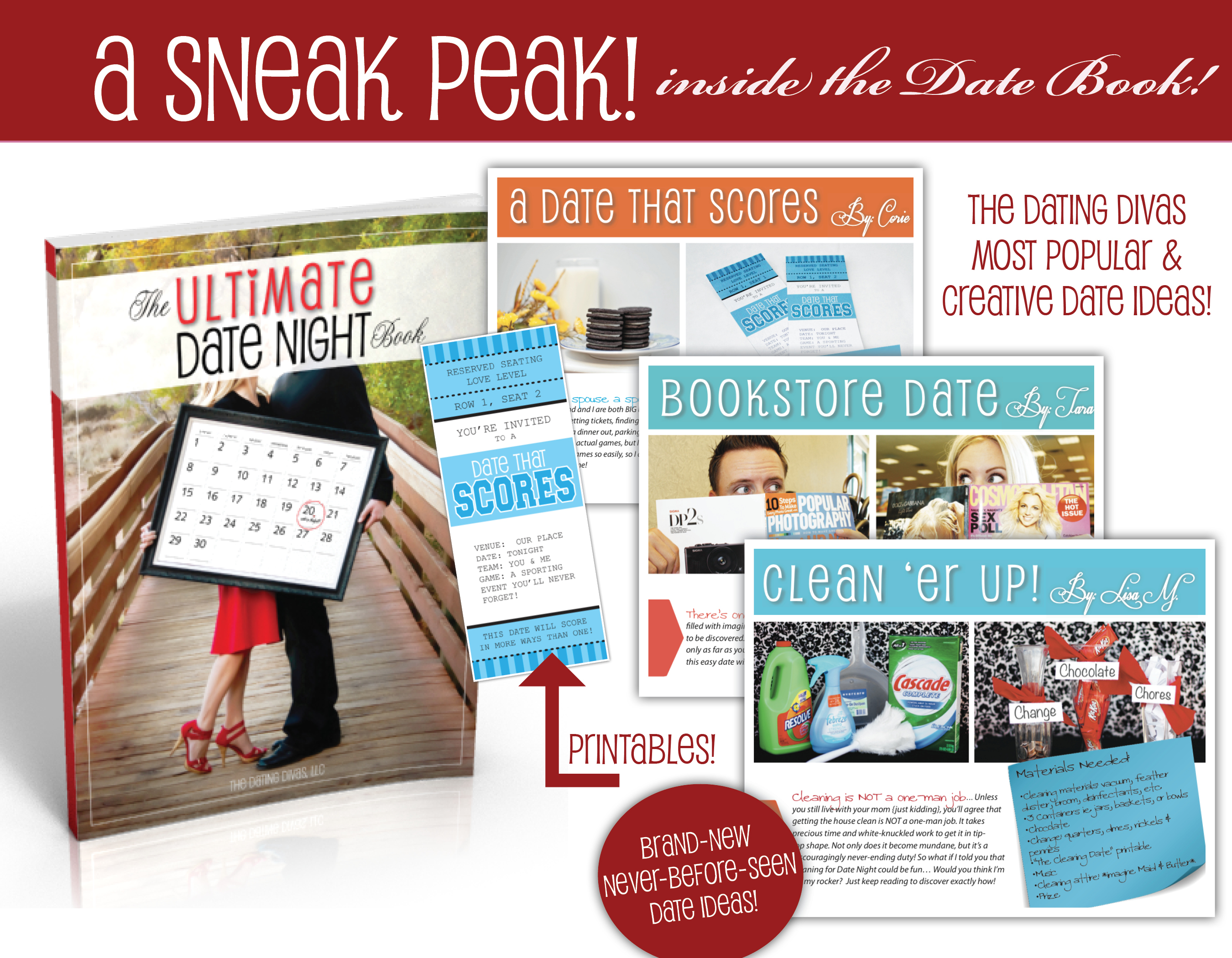 You asked for it AND we delivered!! We gathered all of our TOP dates (voted by readers and Divas) plus fresh, never before seen or published date ideas…..and compiled them into our first digital DATE ebook! This is the perfect book to have on hand for planning date nights! We pretty much have your Friday Night Date Nights planned out for you! We did all the work, you can enjoy the results. Make this year THE year to spice up the date nights for your marriage! {We also thought this would be the perfect book to give away as a wedding present!}
All printables included

Gorgeous photos

Easy-to-follow "Date Night" outlines


The A to Z Guide: 26 Ways in 26 Days to a Happier, Healthier Marriage e-Book {$9.97}

The ULTIMATE Date Night e-Book {$27.00}


 

"SO Inspiring! I LOVE this book! I'll be honest…I was a skeptic….I was one of those girls who thought these perfect DIVAS had the perfect marriages to go along with it. Because I respect my husband (as the Divas do) and don't air my dirty laundry, so-to-speak, I often felt like I may be the only one having a hard time with marriage (especially because we weren't going on fabulous dates…er….dating at all!). I'm so grateful that The Dating Divas created The A to Z Guide: 26 Ways in 26 Days to a Happier, Healthier Marriage. I enjoy getting "real time" advice from women living lives similar to me. I want to know what's working for them and put it in to use in my life. Here's to going from good to AMAZING!!! Thanks, Divas!" Michelle Chopin {A Happy Reader}

"I've NEVER made it through a marriage book. I've tried, but they never really grabbed my attention. The A to Z Guide is a completely different story. I feel like it's current. It's applicable to me RIGHT now! These girls are 100% qualified to be the Dating Divas. They are qualified to be the Marriage Divas. They walk the walk and I appreciate being inspired and given tools I can put to use right now in my marriage by women not much older than I. I'm so grateful these girls were willing to put themselves out there – to share their stories. My marriage is a higher priority now than ever before and I'm looking at growing closer to my husband as a fun adventure, rather than a really HARD task I have ahead of me for the rest of my life. If you want your marriage to be a fun adventure, get this book!" Nisha Riggs {Transformation Coach, Healthy Mom's Kitchen}

"I recently purchased your book, The A to Z Guide: 26 Ways in 26 Days to a Happier, Healthier Marriage, and I just wanted to let you know how I was liking it. I was preparing for our Sunday School lesson this coming Sunday…about how God whispered a word of encouragement to Elijah after he defeated the priests of Baal. I had begun to feel a little down and out that day prior to reading for the lesson, and it was neat to read that God whispers to encourage us. So, I said a little prayer that God would whisper to me. The next thing I picked up to read was your book, and guess what chapter I read? Be a Glass Half Full Woman! Now, I am a pretty optimistic lady most of the time, but it was so nice to have God whisper to me through this little chapter in your book! I was very encouraged, and I even shared some of your thoughts with my hubby. Thank you so much, and I am looking forward to more whispers!" Dani Turner {A Happy Reader}

"I am posting my review for the "A to Z Guide." I absolutely love it! I am so happy I went ahead and ordered it. It has really been such a huge help! My husband is leaving in about 5 weeks and will be gone for 5 months and this book has really helped strengthen our love for each other and the bond that we have. I look forward to reading it over and over! Thank you so much!" Rachele Burtenshaw {A Happy Reader}

"I finished reading The A to Z Guide the same night I bought it. haha. I am getting married in June and it was wonderful information to know and work on before our marriage. So thank you Dating Divas! I cannot wait for the 2nd e-book to come out!" Janessa Gould {A Happy Reader}

"Just finished reading The A to Z Guide….well worth the money! Helped me decide on some of my New Year's resolutions! Thanks, Dating Divas!" Jourdan Drake Hubble {A Happy Reader}

"I was first introduced to The Dating Divas through Pinterest and added your site to my bookmarks immediately. Since then, I've been checking in every-so-often to see what fun & new ideas had been posted. In the past few weeks, I have found myself to be in the same marriage rut talked about in the "About Us" section on your website – life has taken over & our focus has shifted! I don't want fun and new ideas every-so-often anymore – I want them all the time! So today, I joined your newsletter, "liked" your facebook page, and purchased your Ebooks (The A to Z Guide: 26 Ways in 26 Days to a Healthier Happier Marriage AND The Ultimate Date Night Book)! After reading the first chapter of The A to Z Guide, I can't tell you how excited and hopeful I am that this is exactly what my marriage needs right now! I am ready for a positive change to take place & to get that "twitter-pated" feeling back once and for all! ♥ Thanks, Ladies!!! ♥"

Stephanie Mahan
{A Happy Reader}