"Eat Pray Love" Movie Themed Date
Dinner and a movie is ALWAYS the "fall-back" date, right? If you get in a rut with your spouse….that is usually what the two of you will end up doing for date night. Well, as much as we would ALL like to be "super spouses" and have an amazingly creative date planned for every Friday night….the truth is….sometimes it's FUN to just kick back and enjoy a great flick with your spouse!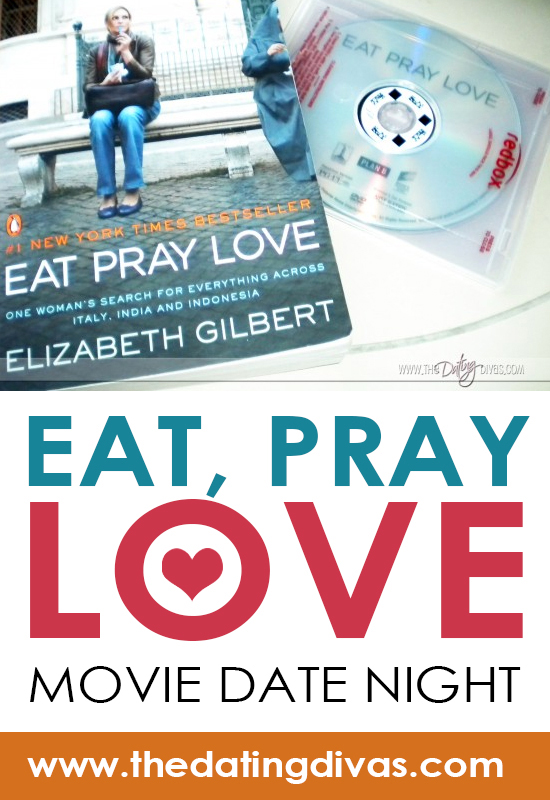 Disclaimer: This post contains affiliate links. To learn more about 'em, click here.
SO – the divas decided that we would like to help you out a little with that! Once a month, we will showcase a movie that we enjoyed…and give you some ideas on what you can do to "spice it up a little." These will be ideas that shouldn"t be too hard to prep. In fact – most of these you could do within the hour of your spouse coming home!
For our first movie…we went with…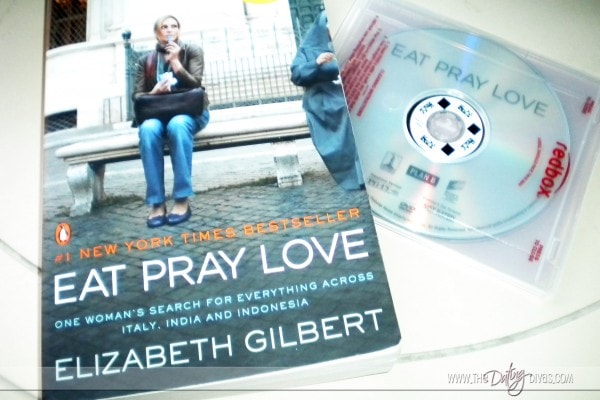 For those of you who have not seen the movie or read the book here are the basics of it:
The main character (Liz) travels to three destinations for a year. She spends 4 months in each place. The first place is Italy, eating to her heart's content, learning the Italian language and meeting great friends.
She travels to India and practices Yoga in an Ashram. This is where she works through a lot of inner turmoil and learns to forgive herself.
She travels to Bali, Indonesia continuing the practice of her meditation skills learned in India and working closely with a Medicine Man in Bali. This is where she opens up her heart after her divorce and she falls in love again.
The Dating Divas had so many ideas to make this movie memorable for you and your spouse. It was hard to narrow down our enormous list! So here are LOTS of fabulous ways to spice up your movie night and have a bit more fun:
Italy
Marie Claire did a write-up on beauty secrets from Eat, Pray Love. Before the date, use these awesome tips to help you get ready.
Leave a sweet handwritten invitation or note on his bed that morning with a few lines written in Italian. You can write beneath it in parenthesis that it's in Italian and that he will have to decipher it… WorldLingo.com is a really cool site where you can type in your phrase and it will translate your English phrase into any language you would like.
Sheknows.com acquired the recipe for one of the authentic pasta dishes that Liz (main character) eats in Rome. It would be so cool to have this for dinner before you watch the movie! Here is the recipe for Bucatini All'Amatriciana.
Top off your night with the always delicious Italian Gelato or Tiramisu
Display some of your own photo albums of your travels together. It would be fun to reminisce over dinner.
Her ALONE time is what was healthy for her in the movie. A great idea would be to present your spouse with a gift certificate for a night where you take the kids out of the house so they can have some peace and quiet! Just like what Lisa M. did for her hubby, Dom, in A Surprise Date!
India
Greet your husband when he comes home from work with a tiny gem on your forehead (this is a symbol that you are married) and a colorful wrap/shawl/scarf around your head….wearing little else. Haha….or if you have little ones…save that until the kiddos are in bed and then try it out before the movie starts. If you actually want to WATCH the movie…then excuse yourself and change into your fun attire as soon as the movie is over.
After the movie head to your bedroom (put a sign on the door ahead of time) which is now labeled "YOGA CLASS". Try out some new Yoga moves while in class. 😉
Try spending some time in meditation (basically by yourself). Then talk about how you felt trying to get your mind blank.
A life lesson she learns in India is to let go of control. Try blindfolding your husband and take control or guide him… spark any romantic ideas?? LOL!
During her time spent in India, her eyes were opened to the needs of others. If you have some extra time, plan a night to do some service for someone in need.
Want more India ideas? Check out Kari's Taste of India Date for fabulous Indian recipes, decor, and more! Or put a twist in your nights events by adding a few ideas from Tara's Choose Your Own Adventure Date!
Bali
Pretend to be your HUBBY'S medicine man after the show is over!
While in Bali, she travels around on a bike. If the weather is fitting, you and your hubby could take a bike ride.
At the end of the movie share 10 things you love about each other (other than the typical stuff) to rekindle the love in your relationship. Or talk about some ways that you can selflessly do some little extra things for each other. Just like Kiirsten did in her Ol' Hijack & Kidnap Date.
This movie has to do with finding joy in your life, peace and relaxation. You could end the night with your spouse having a spa night. For more ideas on this, check out Cami's Spa Night Date.
Baliguide.com has over 70 traditional Bali recipes. It would be fun and different to cook up some of these recipes for dinner or dessert or both!
All of The Dating Divas hope these ideas will transform your ordinary movie night into an extraordinary one! What movies would you like to see us create a special date night for?