Eater Basket Ideas for Your Spouse
HOLY COW!!
Easter is JUST around the corner!!
Jamie and I have always done Easter Baskets for each other….and this year I decided I wanted to "change things up" and add a little somethin'-somethin' to his basket as well as make the dinner a little more festive. Here are a few ideas I found…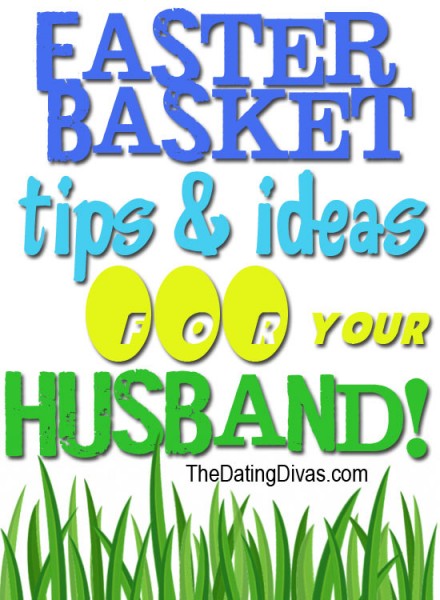 Disclaimer: This post contains affiliate links. To learn more about 'em,
click here
.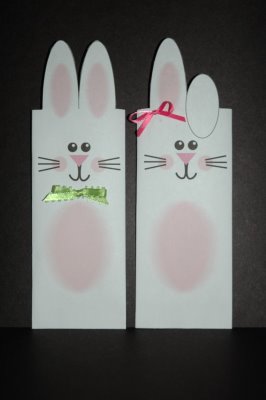 Katrina over at Katrina's Kreations made the above bunnies to "wrap" a candy bar with! Click HERE to go to her blog and get her downloads. You can also glue a ribbon on the front…and a pom-pom on the back!  CUTE!! I would probably add a little "love" message to it! 🙂
Totally RANDOM – but if you are making a yummy Easter dinner for the family – I am sure both the kiddos AND the husband would love this next item….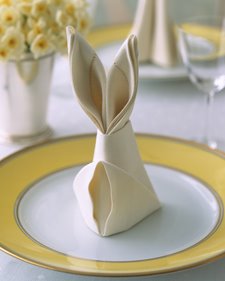 W
hat an adorable bunny napkin, huh! If you have older kids, they could even help you create them. Martha Stewart's website has the directions on HOW to fold this creation. (I found it via
Homemaking Fun
.) Click
HERE
for directions.
Lovingyou.com
has a section where readers can post creative dates that they have been on. Here are a few of the ones that related to Easter. Hopefully this will give you some ideas:
It's kind of goofy
t
's kind of goofy
,
but I'd never participated in an Easter egg hunt before and neither had my boyfriend. So, we went to the dollar store and got some plastic eggs. The night before Easter, I fashioned an Easter egg trophy out of cardboard, a plastic egg, some green grass, and glitter. The eggs didn't have anything in them (we're college students), but whoever found the most eggs got to keep the trophy. We plan on continuing the tradition of the hunt and trophy every year to pass the trophy back and forth!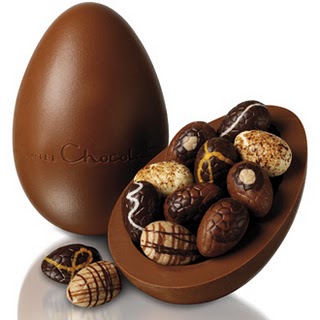 When you break a Kinder's chocolate egg, a toy usually comes inside. Well, for this idea you can buy the chocolate egg and insert your own toy/gift/message. All you need to do is buy a chocolate egg (Kinder or any brand that makes hollow ones) and cut it in half very carefully so that the whole egg doesn't break. Placing the egg in a paper towel will prevent chocolate melting all over your hands. Then you add your little toy/gift/message inside, and to seal the egg back together: take melted chocolate and paste it on the two broken pieces and then put the egg in the freezer so that it will stick together. Once chilled, wrap it.
It was my wife's 27th birthday. She loves the Easter Bunny and has since she was a kid. Even though her birthday is not on Easter, I rented a huge Easter bunny costume and showed up the morning of her birthday at the door. I knocked and when she opened the door I had an Easter basket full of candy with a clue in it. The clue led her to six different places; most of which meant a lot to both of us. They were the place we met, the place we went on our first date, the place I proposed, the place we were married, a beauty salon where she got her nails and a pedicure and ended at her favorite restaurant. I didn't talk to her the whole time to leave a little suspense as to if it was really me. At every place we went there were another clue and a present. It was pretty funny walking around the mall with her while I was dressed that way doing cartwheels and playing with kids. I embarrassed her the whole time, but she loved it. Once we were at dinner I went to the bathroom and changed into a suit and then came back and was finally able to talk to her. After four hours of not being able to talk I had a lot to say, mostly how much I loved her.
I Love You Because… Egg Hunt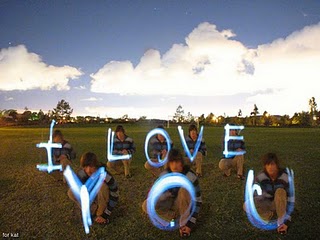 Get plastic Easter eggs to fill with candy. Put a note in one saying, "I love you because you are…" Make sure your significant other opens that one first. Put a note in each one saying things like…smart, sexy, funny….whatever applies. Hide them and let the hunt begin!
Lovingyou.com
also had a "
his
" and "
her
" section for Easter Basket Ideas!!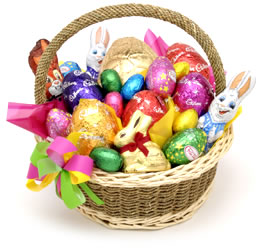 Here are the "HIS" ideas:
(found on the
lovingyou.com
website)
Get an average size Easter Basket, and if you have time, try to spray paint it in your spouse's favorite team colors. A nice touch is to spray paint their favorite player's number on it or find team related stickers and place those all over the basket. You don't have to use a basket either. You can use a toolbox, bucket, fishing box or anything else that goes along with your theme.
What goes inside the basket depends on what they are interested in. Choose a theme and go around that.
A starting point would be get a six pack or travel size bottles of their favorite drink. 
(Jamie is LOVING black cherry soda right now…and it's a great "filler" for the basket, as well!)
Next choose items relating to your theme. Some theme ideas you might try include:
*Tickets to favorite team or local team game
*Favorite team t-shirt or hat
You can change the baseball theme to any sport.
(My husband is WAAAAYYY into golf…so that is going to be my theme this year!) 
If you can, try to arrange a date
(Um..I would call it a GNO instead – "Guy's Night Out"…)
with his friends within the upcoming week for a friendly game. Place a "Love Coupon" in his basket good for one day of play with his friends.
For the Cook
*A recommended cookbook he doesn't have. Try an ethnic food book or something a bit different.
*Raid the spice rack and replace spices that are low or out.
*Gift Certificate for one night out of the kitchen to his favorite restaurant.
Guys are generally easy to please 
(….um….yeah, this is
NOT
coming from
my
mouth…tee, hee…)
.
Whip him up a batch of his favorite cookies and/or brownies, tuck in a favorite movie and a guarantee for a special night together and he'll be praising your thoughtfulness. In the end it really is the thought that counts not how much you gave him. 
(TOTALLY agree with that last statement!)
I think a themed basket is such a great idea. It can be ALL his favorites. Easter Baskets don't ALWAYS have to be filled with candy! Personally, I would LOVE one filled JUST with clothes! Hmmmm… maybe I should send that memo to my husband!?!
We are going to be outta town this weekend, spending time with some close friends… BUT I have a few surprises up my sleeve! I will post the
GOLF
surprises next week… (I am still tweaking them)… and then put it under our "Show HIM The Love" section… cuz you can pretty much use them for any occasion!