Host a fabulous Favorite Things Gift Exchange with these favorite things party ideas!
Favorite Things Gift Exchange Parties are becoming more and more popular for a REASON! An evening with your favorite friends, each sharing your favorite products is the perfect recipe for an evening of fun! We have a favorite things party invitation as well as decor, activities and even some favorite things party gift ideas to make your night one that will be a FAVORITE for years to come! And with this gorgeously designed printable pack – planning your party could not be easier!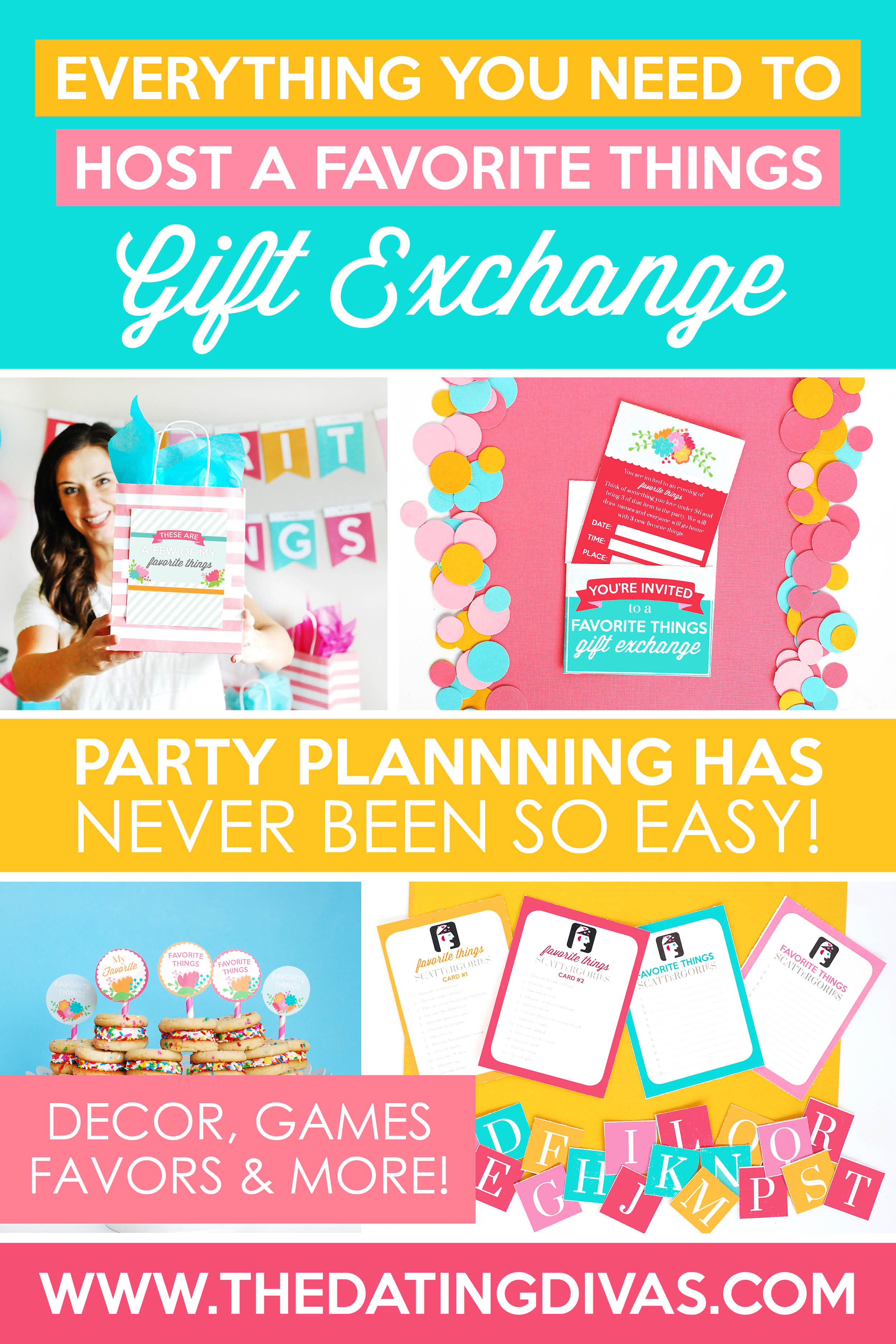 What is a Favorite Things Gift Exchange?
What is a Favorite Things Gift Exchange Party? The idea is simple: invite a group of your favorite friends and ask them to bring 3 items that they absolutely love! These items could be kitchen gadgets, beauty products, a craft supply or even something handmade. Each guest will tell the group what they love about the item, and then draw names to see who gets to keep it! So, each person arrives with three of their favorite things and leaves with 3 new things. PLUS after hearing everyone's favorite things they will leave the party with lots of new ideas to try! It is like a night full of favorite things gift ideas and you get to take three of them home! Fun right?!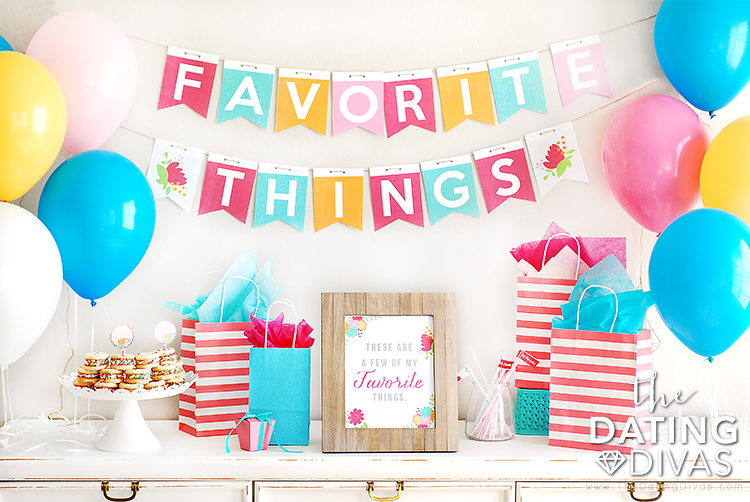 Hosting your own favorite things party couldn't be easier! We have got you covered from start to finish on how to plan, prepare and host a great evening with friends and all those favorite things gift ideas! This all-encompassing printable pack includes almost 50 pages of hosting instructions, favorite things party activities, party favor printables and decor! Each page of favorite things party ideas contains drool-worthy designs by the super talented Courtney, of the site Paperelli! I just love the floral design she uses and her beautiful combination of colors! She can turn any design idea into something beautiful!
This Favorite Things Party pack includes:
Host's Guide to help you plan all the details.
Favorite Things Party Invitation to not only tell your guests about the event but explain what it is.
Party Decor including food table decor, framed printables, and even a banner!
Ice Breaker Games to add a little more fun to the evening.
Gift Exchange Printables to make the main event run smoothly.
Party Favors to send your guests home with something special from you.
Favorite Things Gift Ideas to inspire the three items you bring to the party.
Favorite Things Gift Exchange Host's Guide
Never been to a favorite things gift exchange? No problem! Party planning has never been easier! We have got you covered from start to finish on how to plan, prepare, and host a great evening with friends and favorite things!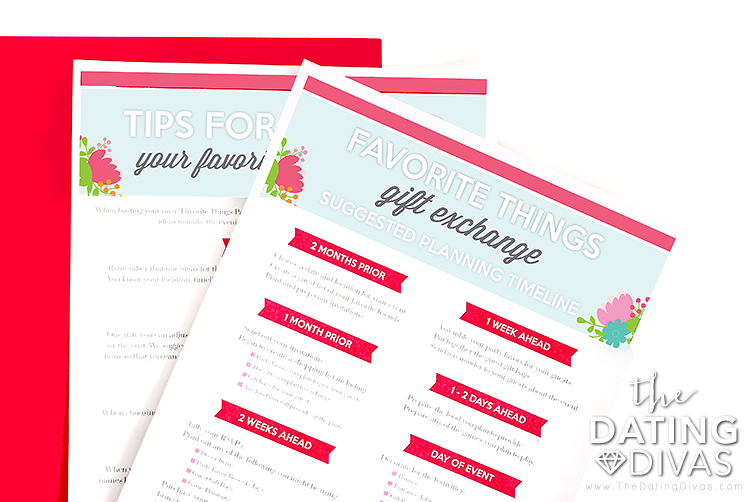 Our detailed host's guide includes a thorough description of how the exchange works, a suggested planning timeline and tips to help your party run smoothly! When I hosted my favorite things party for the first time on my own, I realized that it helped so much to have a little timeline to walk me through each step of the way!
Favorite Things Party Invitation
Invite your favorite guests with these gorgeous invitations. Each favorite things party invitation includes an easy-to-assemble envelope with an insert to put the details for your favorite things party.
The Favorite Things Party Pack includes pre-printed invitations with specific directions as well as blank invitations so you can customize the maximum amount each guest should spend and even adapt how many items they should bring.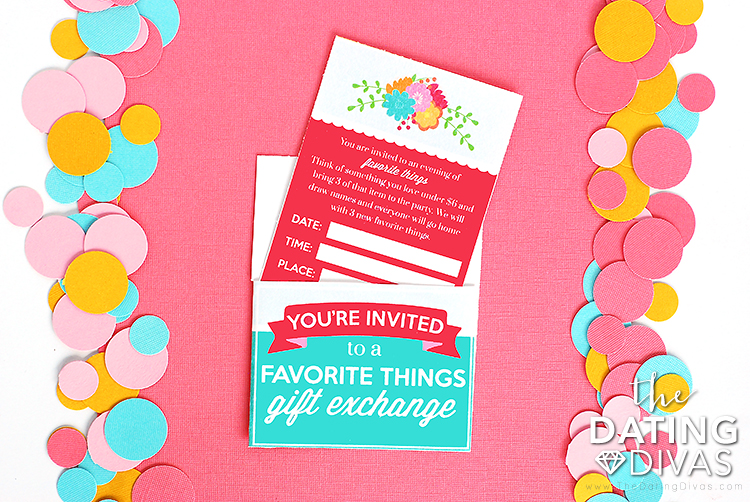 If you plan to have food at the party, but want to go potluck – consider having each guest bring a favorite dish to share! Simply fill out what type of food you want them to bring (dessert, appetizer, drink, etc.) and insert this paper into the pocket of the invitation!
My favorite feature: the back of the invite includes five very helpful tips for the types of gift exchange items your guests might want to bring. This is so helpful to have everyone on the same page!
My Favorite Things Party Ideas for Decor
My favorite part about hosting a party is decorating, however, it can be tricky to know what to do. I love that this pack already includes everything I need to decorate for the party in a fun, but simple way. The Favorite Things Party Pack includes three different printables to frame and a decorative banner.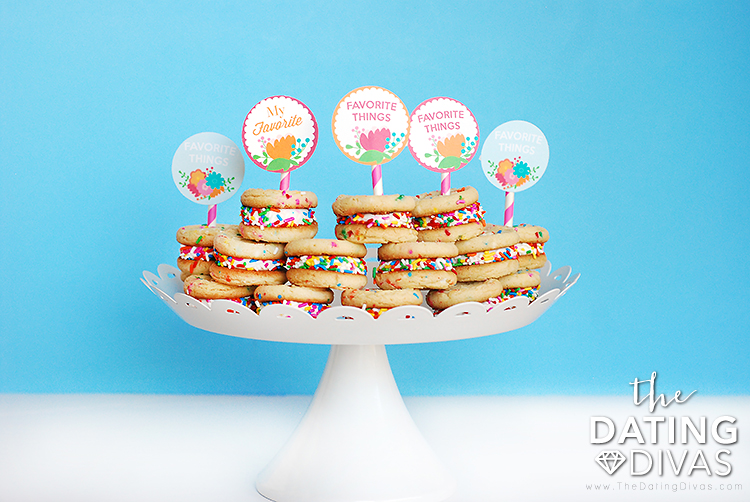 You will definitely want to have some of your favorite food at the party and you can utilize the pack's straw flags, food tents, and treat toppers to display the food in a fun way.
Favorite Things Party Ice Breaker Games
Another one of our favorite things party ideas- games! It is likely that your invited guest might not know each other well, but by the end of these fun getting-to-know-you games, they definitely will!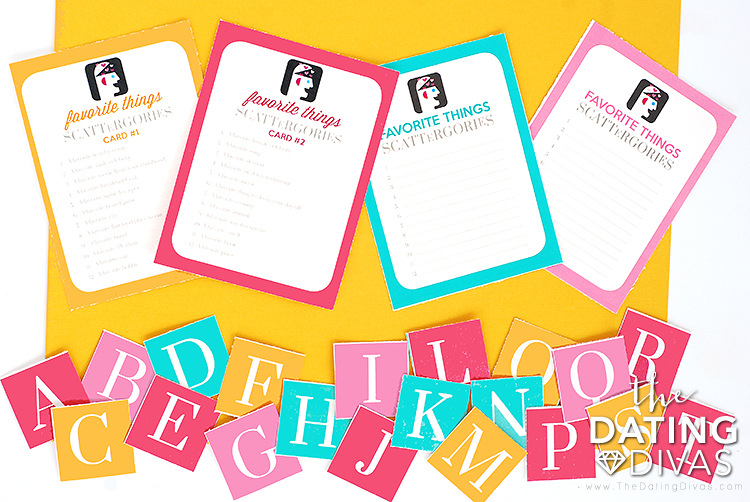 You can help to break the ice with not one but TWO unique ice breaker games:
Favorite Things Party Questionnaire: Guests answer questions about their favorite things. The host reads the final paper and everyone tries to guess whose paper it is!
Favorite Things Scattergories: In this game, guests have 3 minutes to answer the questions regarding their favorite things. The catch? All of their answers HAVE to start with a designated letter!
How a Favorite Things Party Works:
Now for the highlight of the party: the favorite things gift exchange! Now is when you and your guests get to tell all about your favorite things and then share them with each other!
Invited guests should have brought 3 of their favorite items under $6 (or whatever quantity you chose). When the exchange begins, each guest will write down their name on a slip of paper (printables provided in the pack!) and place it in a bowl. When it is time for the favorite things gift exchange, each guest will draw 3 names from the bowl. NOTE: have the guests look at the names they drew to make sure that #1 their own name was not drawn and #2 they don't have any duplicate names. If either of these options occurs, simply switch names until everyone has 3 different names.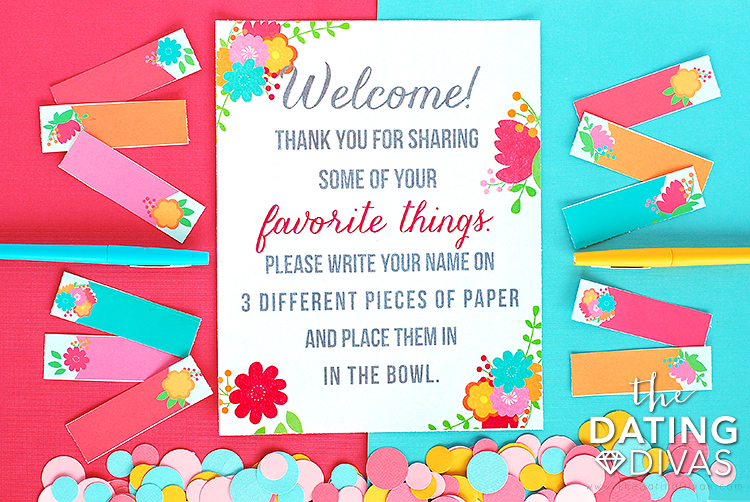 Each guest will then take turns sharing about the gift they brought. They tell everyone what the item is and why they love it! Then, that person reads the names of the 3 lucky people who now get to take home that thing.
So each person at the party arrives with 3 of their own favorite things and leaves with 3 other people's favorite things PLUS after hearing everyone else's ideas, they will have a lot of new things to try!
My Favorite Things Party Favors
To make this party EXTRA personal, you can send your guests home with a little something special from you. Your guests can leave with one more of your favorite things in one of the adorable take out box printables included in the pack (or so simple with a gift bag like I did!). Just fill the box with a small and simple party favor for your guest and add the printable poem letting your guests know that THEY are your favorite thing!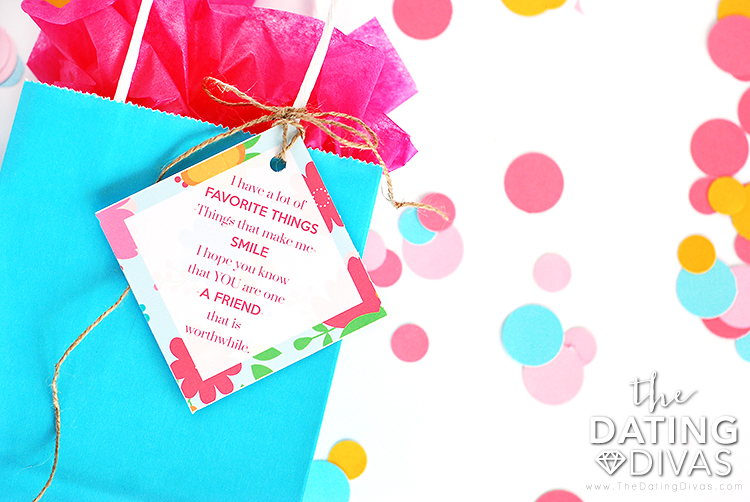 The Dating Divas' Favorite Things Party Gift Ideas
The Favorite Things Party pack includes a PDF page full of Diva-approved favorite things party gift ideas from fashion to food to craft items WITH links included! Hopefully, this helps you get a few ideas of items that would work nicely for your Favorite Things Gift Exchange!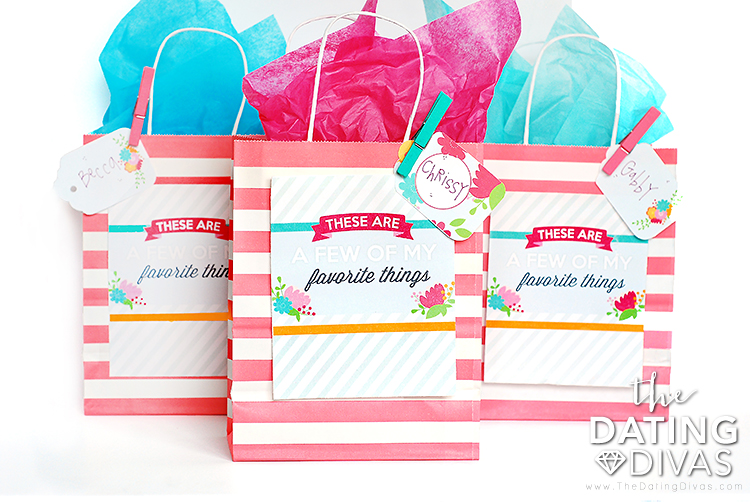 It is officially a tradition for The Dating Divas to host a favorite things gift exchange at each of our yearly work retreats. This year's theme was "Date Night" and here are a few of favorite things gift ideas that were brought:
Escape Room in a Box is a fun date night that brings an escape room to you! Diva Tara found this one and it is less than $10! 
Massage Ball Rollers. Who doesn't love a massage for date night? Diva Megan says these ones are the best!
Monopoly Deal Game & Mini Jenga are two of Diva Lexee's favorite games for date night!
Monkey Bread Mix makes a delicious treat for date night and Diva Whitney says it is the best!
Pazookie Skillet & Mix is another delicious treat that is a tradition at our diva retreats. Diva Sarina brought this one to make someone's date night a little sweeter.
Blanket Scarf a beautiful cashmere scarf to add to your date-night outfit when it gets a little chilly. Diva Katelyn found this beauty!
Additional Favorite Things Party Ideas:
I had a friend that did this for her 30th birthday party and I thought that was brilliant. As an adult, it is fun to celebrate your birthday but it just isn't the same as when you are a kid. It can be awkward, for instance, when it comes to an expectation for gifts. This was a great way to still get together and still exchange gifts with all of your best friends. In this case, EVERYONE leaves with something.
Consider adding a theme to the gifts you ask your guests to bring. This year at our Dating Diva retreat, the theme was "Date Night". Each girl brought something that could be used for date night! There are so many themes you could do! For example, you could do favorite beauty products, favorite cooking/baking supplies, favorite books to read, favorite dessert – the possibilities are endless!
Remember that you can customize the type of gift brought. We usually do 3 items under $10, but you can decide what works best for your group. You could do 5 items under $5 and your guests will leave with more stuff. Or, for more established guests maybe 2 items under $20 – you decide!
We often think of a favorite things gift exchange party for a group of women, but it definitely doesn't have to be this! This would make a really fun date night activity for couples. We even have printables for a Favorite Things Party for Couples on our site!
What I Love About a Favorite Things Party: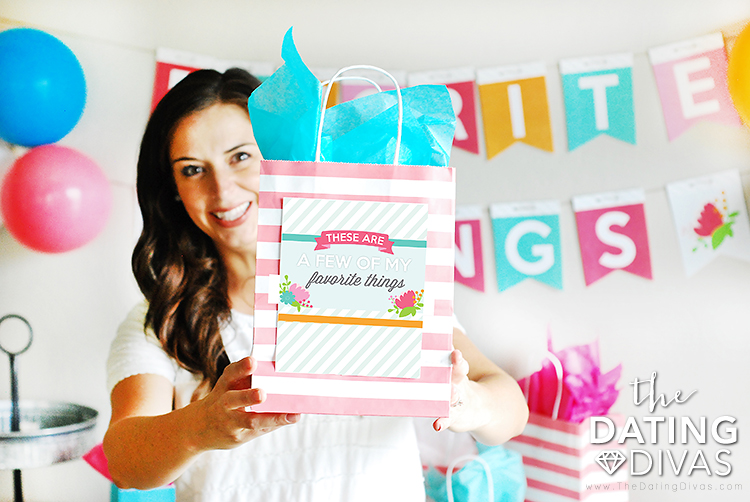 I have now hosted a Favorite Things Party four times and we do this favorite things gift exchange every year at our Dating Divas retreat. It is a tradition now! There is a reason we do it each and every year! Here are a few things we love about a favorite things party.
This type of party works for all ages and all situations. Neighbor friends, work associates, friends from church – any group you want to get together would love to do something like this!
It is so fun to see what others bring. Every time I host one of these I leave with new things I want to get or try. We always share the links to the items after the party so even if you didn't get to take home a gift that you had your eye on – you can get it.
A favorite things gift exchange is great for any size of group. You need at least 4 people if you are exchanging 3 gifts each, but there is no cap to how many people could come to this type of party.
Everyone loves receiving gifts! In addition to having fun, each guest will leave with 3 gifts of their own to take home.
With a party like this, you don't need to feel like you need to invite friends that all know each other already because this is a great party that allows guests to get to know each other!
Host Your Own Favorite Things Gift Exchange!
Isn't this seriously fun? This is a party you could host over and over and each time it would be new and interesting! Then, after you host this party – your guests will confirm this was their favorite party yet!  You can get all these printables right here!
Get the
 Favorite Things Gift Exchange Party Pack
for just $9.97!

While you are in a party-planning mode – why not make it a monthly tradition? We have a beautiful Girls Night Out Party Pack to encourage a little girl time once a month or ideas for Organizing a Monthly Couples Date Night Group.