Fun and Romance on a Dime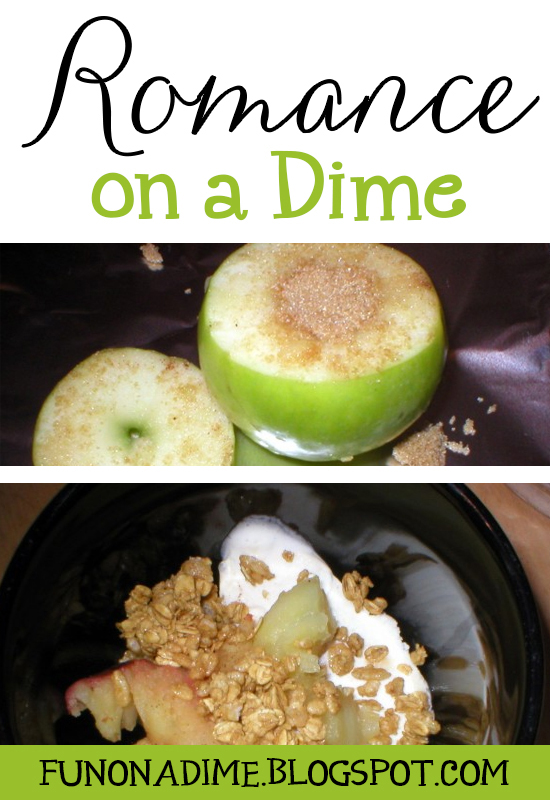 Hello! I am so excited to be a guest blogger here on the Dating Divas. My name is Michelle, aka the Fun On a Dime Lady, from Fun On A Dime. If you are looking for some inexpensive fun for the whole family, you should come over and check out the fun we are having. There are a lot of yummy recipes, crafts, games, and many more fun ideas to keep you and your children busy. Come join the fun!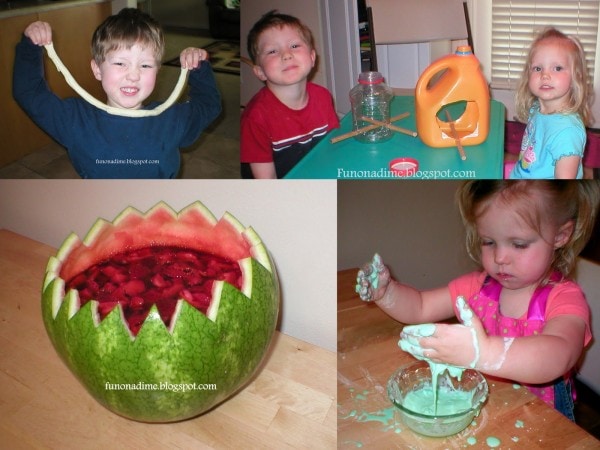 Being the wife of a full-time student and being on a tight budget we do not have a lot of money for dates, but we know that we need them! Here are the 3 main things I have learned that you need to successfully have some "Romance On A Dime" (it is only 2 if you do not have any children! =D ).
1. Time. There are two aspects to "Time". One aspect to having true romance on a dime (and probably the most important) is that you need time together. I asked a few people what they thought "Romance on a Dime" was and the one common attribute in all their responses was spending time with your spouse. You may not always get time by yourself, but you need to make the effort to do something together.
The other aspect of "Time" is a saying I grew up with: "Those who do not have time, spend money and those who do not have money, spend time." It applies to almost every situation. What are you willing to pay for and what are you willing to sacrifice time for? If you want some romance on a dime, chances are you are going to have to spend some time planning it or doing/making some things you may normally buy to save you time.
2. A Free or Inexpensive Activity. I am big on getting to know your resources. There are so many free or very inexpensive activities going around your city (or neighboring cities). Check out your city's Internet site and see what is going on locally. Another really good resource is to go to your city's Visitor Center. There you should find a bucket load of information on local things to do and it is a common place for others to hang event fliers on local events. I went and looked at my Visitor's Center and discovered they had a list of "23 Free Things To Do Within the City" as well as maps and other lists of local hiking trails, ponds, and museum information. I left with my arms full of fun stuff to do!
3. A Free Babysitter. If you live near family who will watch your children, you have scored! But for those of us who do not live near family, you still need to get out alone every now and then. A great way to do this without having to pay someone is to make friends with your neighbors or people who live nearby that have children and swap babysitting. Most likely you have friends who would love a free babysitter too and would enjoy swapping kids for one or 2 evenings out alone.
Another option for a free babysitting is to start a babysitting co-ops. I have heard of co-ops where 4 couples will work together so each couple gets 3 date nights a month kid free! How it works: 3 couples will drop off their children at the 4th couple's house for an evening out. Then the next week they switch which couple is watching the kids. This is always a great option if you have a good group of reliable friends.
Sometimes you cannot always get a babysitter and may have to do something with the kids and that is okay. For us, we sometimes get lucky and if I have my kids skip their nap, we can put them to bed early allowing us to have some time to ourselves when it is not late!
Whatever you do to have "Romance on a Dime"- have fun and remember the most important thing is spending time together. If all you have time for is to take a walk, then that is great! Just make the effort!
Now On To the Fun… A favorite activity of ours is going on a long walk, a planned hike, or just doing something outdoors. We discovered a lake that was not too far from our home. We were able to go there and enjoy our surroundings while relaxing and cooking some tinfoil dinners we made at home. We loved the tinfoil dinners so much that we have made them at home on the grill or in the oven on a "date night" in. Here are some of our favorite tinfoil dinner recipes.
Another new favorite of ours is to cook some tinfoil desserts. They are so easy and taste amazing!
Baked Apple
What You Need:
Apple
Knife
Spoon or fork
Brown sugar
Other spices (nutmeg, cinnamon, etc.) *optional
Tinfoil
Directions:
Step 1: Cut the top off the apple (you want to save it as a lid) and core the apple. Try to leave the bottom of the hole intact, so you have a little bucket. I discovered the easiest way to do this, is to cut around the core with a sharp knife and then use a spoon or fork to twist it into the core kind of like a drill. This is a lot easier than trying to dig it out with the knife.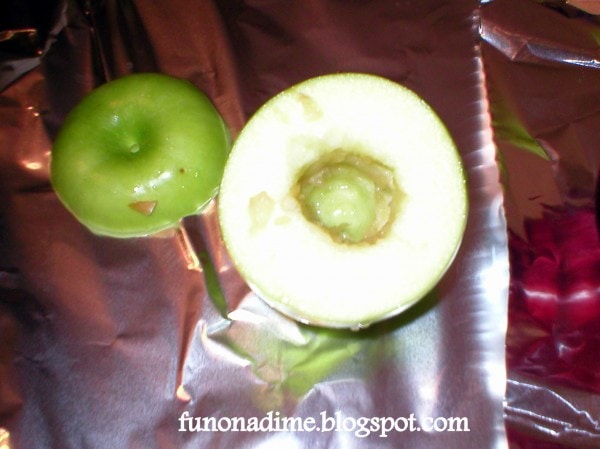 Step 2: Pack it full of brown sugar. You can add other spices if you would like. We have tested out a few different combinations of spices and sugar and we liked the plain brown sugar the best.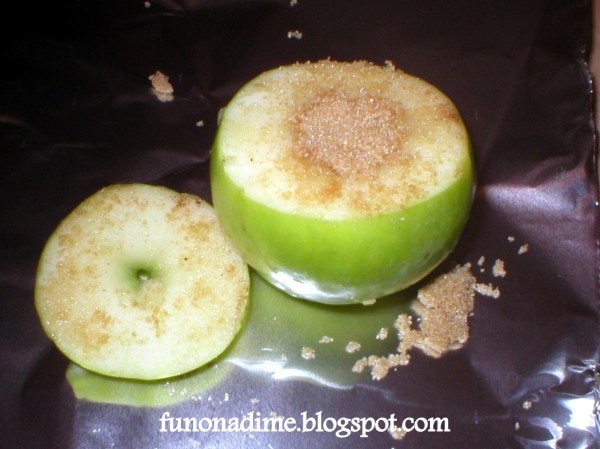 Step 3: Bake in warm coals for 5 – 10 minutes. Closer to 10 for us! If you are at home and happen to have some vanilla ice cream, this tastes heavenly with ice cream and a little granola sprinkled on top.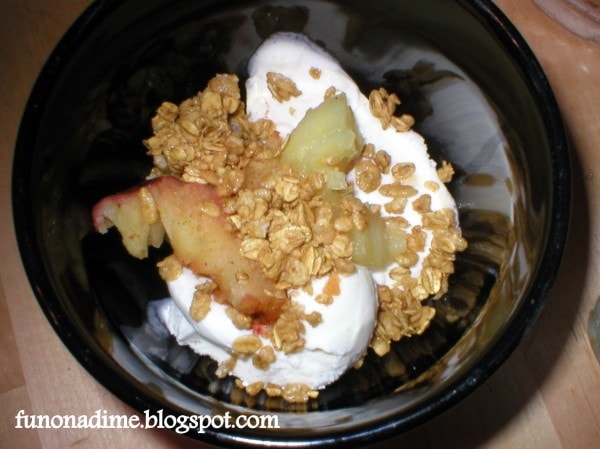 Yum!!!
Banana Boats
I'm not a big banana person, but I love this! It reminded me a lot of the taste of banana bread! Oh, so good!!
What You Need:
Banana with the peel attached

chocolate chips (one kind or a variety…whatever is on hand works well!)

marshmallows

Anything else that melts or tastes good that you love to eat (crushed candy bars, nuts, etc)

Tinfoil
Step 1: Cut 2 slits into the banana peel lengthwise. Pull back a strip of the banana peel to expose the fruit on the inside curve, but leave the peel attached so it can be replaced later. (See picture below)
Step 2: Cut a slit into the banana. If you want, you can cut a long chunk from the center and then replace it after you fill the banana. A slit worked fine for us.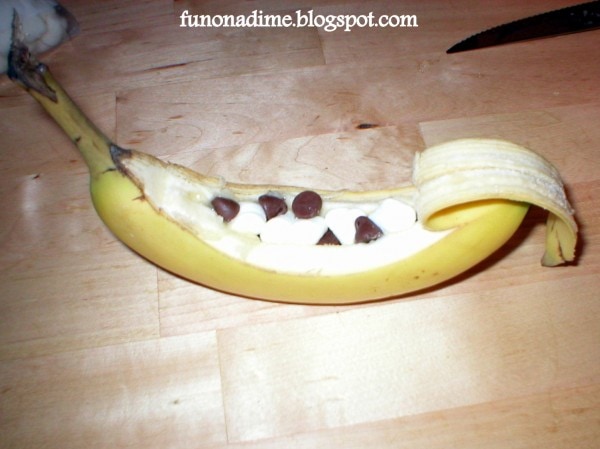 Step 3: Fill the center with your favorite melt-able treats. We used milk chocolate chips and marshmallows and that tasted great!
Step 4: Replace the banana peel and wrap with tinfoil. Bake in warm coals for 5 minutes. We cook ours for 10 and it is extra mushy, which tastes great, too.
Enjoy!
Make sure you stop by and visit me over at
Fun On A Dime
for more affordable fun for the whole family.
Thank you Dating Divas for letting me join in on your fun!!!