ULTIMATE DIVA STORE PRODUCT GIVEAWAY
We know… you've been eyeing some of our FABULOUS printable packs but just can't decide which to buy!? It's tough when there are so many great options, so we'll make this easy for you! How about we give you ALL of them!
Yup, you read that right!
Win EVERY single printable packet, e-book and tele-retreat recording found in our Diva Store by entering the Diva Store Sweep Giveaway!

Not only will you be MORE than well suited to celebrate the ULTIMATE Valentine's Day with your spouse but EVERY additional holiday, birthday and anniversary thereafter….plus MORE, of course!
So let's recap ALL of these FANTASTIC goodies:
That's 27 GORGEOUS Printable Packs

5 EXCLUSIVE Diva E-books

5 INSPIRATIONAL Tele-retreat Recording

s
Our 27 GORGEOUS Printable Packs: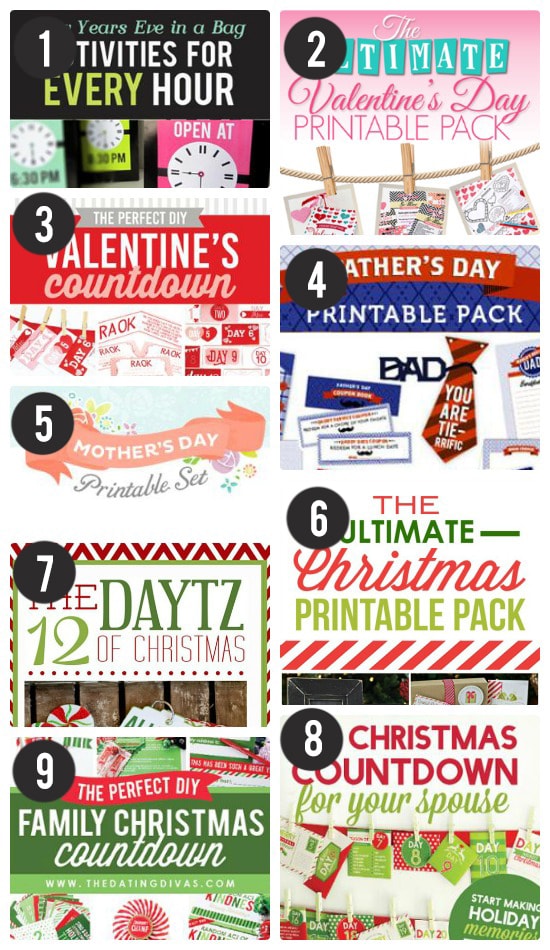 1. NYE in a Bag: Activities for Every Hour – We've got New Year's Eve in the BAG… literally!  This printable kit has 6 HOURS worth of New Year's Eve games, activities, decor and MORE that allow you to count down hour by hour and ring in the New Year!
2. Ultimate Valentine's Printable Pack – When we say ULTIMATE, we mean it's SUPER ULTIMATE!  This printable pack has 22 DIFFERENT Valentine's ideas that cover EVERYONE in the family!  Just some of the fun wrapped up in this pack includes a date night adventure, Valentine's BINGO, a babysitter in a bag kit, sassy bedroom game, scavenger hunt, wall art, love coupons and MORE!
3. Valentine's Countdown – Spread Valentine's cheer over 14 days instead of just ONE! This perfect DIY Countdown includes cute love notes, acts of kindness and date ideas for your to present to your spouse, starting on February 1 leading up to your romantic Valentine's Day celebration on February 14th!
4. Father's Day Printable Pack – Not sure what to get Dad for Father's Day this year?  No worries! This printable kit has got you COVERED!  From cards to coupons, decor and activities, Dad will be feeling extra special this year!
5. Mother's Day Printable Pack – Don't you think we forgot about Mom!  Melt her heart by surprising her with a breakfast in bed kit and a spoil session!  Just what every mommy dreams about!
6. Ultimate Christmas Printable Pack – Christmas is ready…just press print!  Dress up your gifts with these adorable tags or give the unique gift of time…time together that is! 
7. The 12 Daytz of Christmas – This is the best stocking stuffer! With NEW and improved printables, the 12 daytz of Christmas gives you a date for each month of the upcoming year.
8. Christmas Countdown for your Spouse – Showers him or her with compliments, acts of service, and a healthy dose of fun Christmas date nights all month long!
9. Christmas Countdown for your Family – 25 days of activities to help your family bond over holiday fun! We've also provided coordinating printables!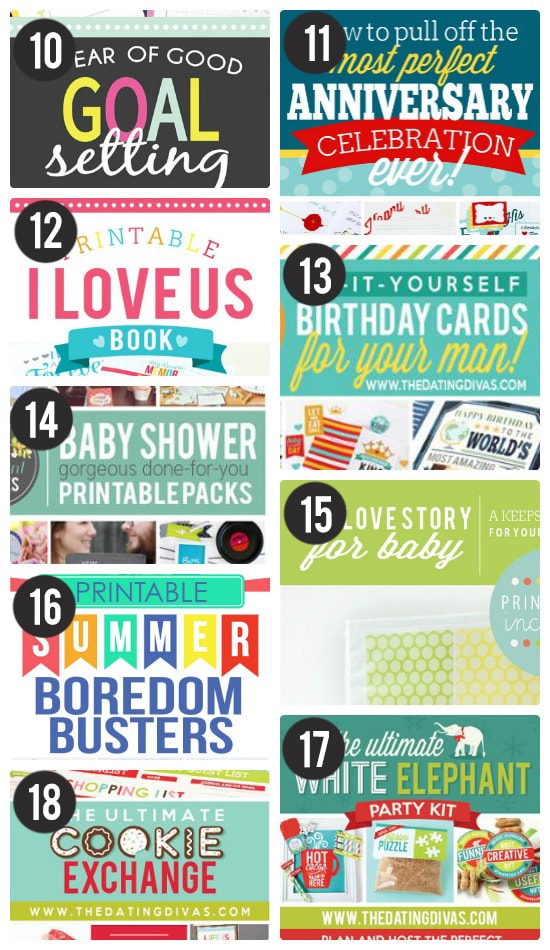 10. Year of Goals – Get focused and stay focused with our printable goals kit.  Equipped with monthly goal sheets, tips on how to make "SMART" goals, meal plans, bill trackers and more! Getting organized was never so easy!
11. Ultimate Anniversary Printable Pack – 12 AMAZING done-for-you anniversary ideas to make this year the best one yet!
12. "I Love Us" Book – The perfect DIY gift to show your love and record cherished memories!
13. 10 FABULOUS Birthday Cards for Him – Is his birthday coming up? We have 10 stylish birthday cards, with one (or more) that are bound to fit his unique personality!
14. Baby Shower Bundle Pack – This is the ULTIMATE pack to shower the mommy-to-be, throw a gender reveal party or announce the BIG news!
15. "Our Love Story for Baby" Book – Create a unique keepsake journal for your new addition!
16. Summer Boredom Busters – Create a summer FULL of memories with a printable lemonade stand, reading kit, BINGO and more!
17. Ultimate Cookie Exchange Party – It's the ULTIMATE Girl's Night In, filled with cookies, cocoa, trivia and laughter!
18. Ultimate White Elephant Party – We've taken the stress out of either planning or attending a fabulous white elephant party with your favorite people.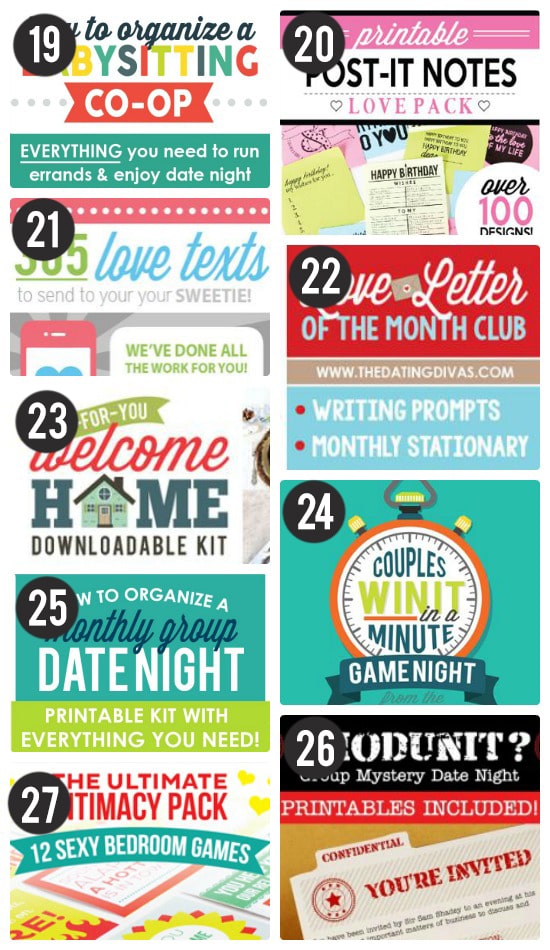 19. Organizing a Babysitting Co-op – Gather your closest friends and neighbors to organize a babysitting co-op that offers FREE exchanges of baby-sitting so you can squeeze in errands and date night!
20. Post-it Note Printable Pack – Stick it to your spouse with our AH-dorable post-it love note collection!  This pack has printable post-it notes for any occasion.
21. 365 Love Texts – Sweet, sassy and silly texts; one for each day of the year!
22. Love Letter of the Month – Our exclusive printable love letter kit contains beautiful stationery, fun writing prompts, and SO MUCH MORE! Surprise your loved one with heartfelt messages, ALL YEAR LONG!
23. Welcome Home Kit – Whether your spouse was on deployment or just traveling for work, this Welcome Home Kit will make them feel missed and loved!
24. Couples Win it in a Minute Game – You will be working with your hubby AND challenging each other at the same time… in 60 seconds or LESS!  Got to love a little friendly competition!
25. Organizing Couples Date Night – This kit will get you and your closest friends organized and on track to taking turns planning amazing couples date night activities!
26. Who Dunit Group Mystery Night – This date has everything, and I mean EVERYTHING that you need to host and play your very own murder mystery detective game. Detectives will race to figure out: WHO dun it? WHERE? and with WHAT?
27. Our NEW Ultimate Intimacy Pack – 12 SPICY bedroom games, each themed a different month of the year!
5 EXCLUSIVE E-books: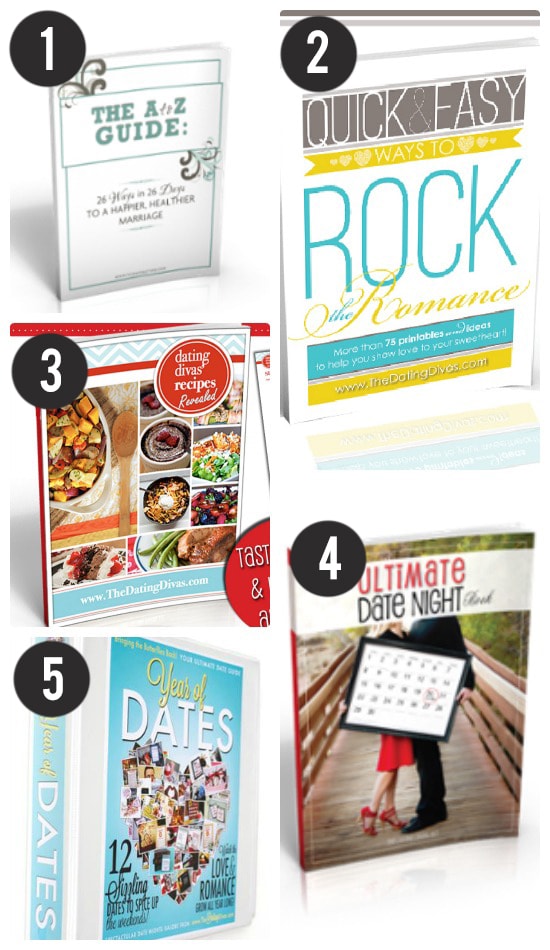 1. The A to Z Guide: 26 Ways in 26 Days to Improve your Marriage – We have put our hearts and souls in this book.  Inside you'll find our very best advice and our personal stories, so we're confident your marriage will improve from reading and putting the principles in this book to use! Happily Ever After can happen if you put forth the effort your marriage deserves.
2. Quick and Easy Romance Ideas – This book alone has 75 printables and ideas that will ROCK your romance!
3. Dating Divas Recipes Revealed – We have 29 mouth-watering recipes that are ALL husband approved!
4. The Ultimate Date Night Book – This is our most popular ebook by far. Instead of dinner & a movie for EVERY date night, this ebook will help you create memories of those times you can steal away together, that you will treasure always.
5. Year of Dates Binder – We have the perfect gift for you, that will last the whole year through. In this binder, love awaits in the form of 12 fun dates. Each month you'll find a different one, already planned, prepared, and DONE!
5 INSPIRATIONAL Tele-Retreat Recordings: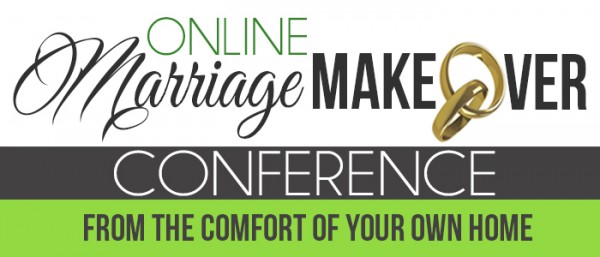 1. Go from 0 – 60 Sexually presented by Laura Brotherson – This presentation will help those with less readily apparent desire fuel their fire and bridge the gap, making it easier and quicker to get from 0 – 60, sexually.
2. 7 Successful Tips for Marriage presented by Fawn Weaver – In this discussion, we will explore 7 of the 12 universal secrets to a happy marriage. By the end of the session, you will be fully equipped to begin creating the marriage you always dreamed but may not have known was possible.
3. Scream Free Parenting presented by Hal Runkel – Scream Free Parenting is the principle-based approach that's inspiring parents everywhere to truly revolutionize their families. Moving beyond many of the child-centered, technique-based approaches, the Scream Free way compels you to focus on yourself, grow yourself up, and calm yourself down.
4. How to Embrace Your Inner Hotness presented by Leta Greene – It's time to bring it on in all sorts of ways that are more important than your outer beauty. Leta Greene shares wisdom and insights on how she looked that in the face and made a choice to have lasting happiness and permanent hotness.
5. 5 Crucial Keys to Nourish Your Marriage presented by Shannon and Dino Watt – No matter what stage your marriage is in; Newlywed, just started a family, teenage years or empty nesters, all couples need to know how to make their marriage thrive not just survive.
So are you just JUMPING up and down with excitement!?
That's OVER a $425 Value – FREE!
Okay…okay! So, how can YOU win?!
SIMPLE!
Follow US, The Dating Divas, on ALL of our FABULOUS Social Medias! Yup, that's IT!:
Enter NOW Through February 21st to SWEEP our store clean of these amazing printable packs, e-books and tele-retreats!
*Please note, this giveaway does NOT include a membership to our Diva Central Community or Marriage Masters Program!