With Thanksgiving right around the corner, it's the perfect time to show your man just how thankful you are for him!  And what's better than a love note?  Well, how about lots of little love notes… hidden inside his food!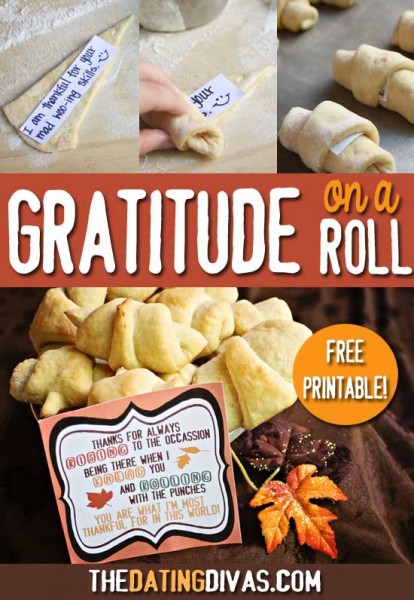 This post contains affiliate links. To learn more about 'em, click here.
So if you're already planning on doing some bread baking this holiday season, why not spend a couple extra minutes to make it extra special for the one that you are MOST thankful for in the world?
When I saw these fun Gratitude Rolls on Pinterest, I knew I had to try them!  You see, when it comes to Thanksgiving- I am all about the pies.  My husband, however, is all about the rolls!!  He'd take my homemade crescents over just about any sweet.  So I decided to put my own spin on the idea- just for him!
I began by writing on little slips of paper lots of different reasons why I am thankful for him.  And then I pulled out my all-time favorite crescent roll recipe…  (It comes from my mom, and it's super simple and always turns out perfectly.)
 You'll need:
1 C lukewarm water
2 TB dry yeast
3 eggs, slightly beaten
½ tsp salt
¼ C sugar
½ C melted margarine
4 C flour
To start, pour the water in a large mixing bowl.  Add sugar and sprinkle in yeast.  Let stand 5-10 minutes, or until yeast is bubbly.  Add melted margarine, eggs, salt, and flour.  Stir to mix well.  Place in a greased bowl.  Cover and allow to rise 3-6 hours, or in the refrigerator for 12-24 hours.
Next, turn out onto a lightly floured board.  Knead the dough 3 or 4 times, just to get rid of the stickiness.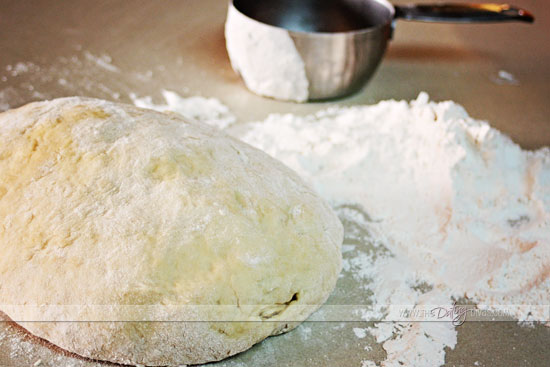 Divide the dough in half, and roll each half into a circle about 12″ in diameter.  Brush liberally with melted margarine, and use a pizza cutter to cut the dough pie-fashion into 12 pieces.  (I usually cut the circle into quarters first, and then cut each quarter into 3 pieces.)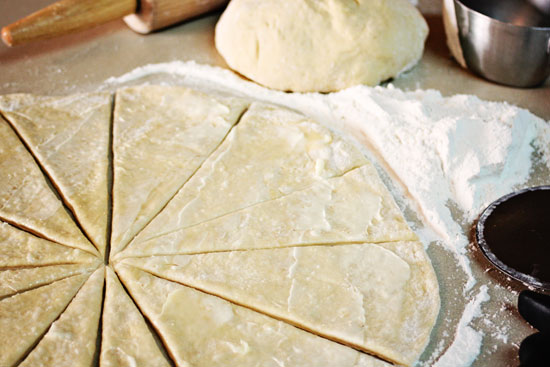 This is where it gets fun!  Grab one of your gratitude love notes and set it on top of one of your triangles.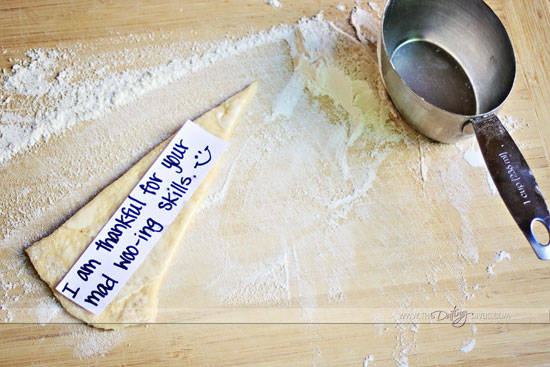 Then, just roll the dough starting with the wide end of your triangle.  Wrap the tail end of the triangle under the roll and place it on a greased cookie sheet.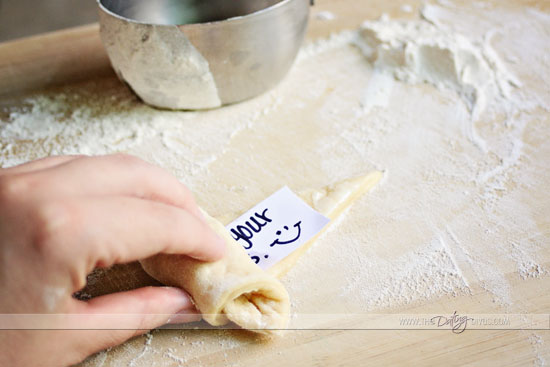 Repeat for all 24 crescent rolls, making sure to leave room on the cookie sheet for the rolls to double in size.  Let rise 2-4 hours and bake at 350° for about 10 minutes, or until light brown.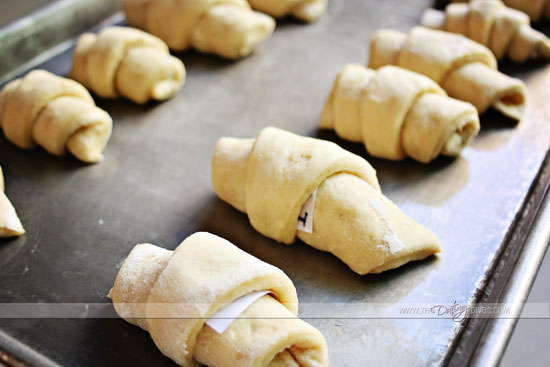 When they come out of the oven, brush the tops with butter and pile them in a basket or bowl for your hubby.  Then just grab our free printable below to go along with it.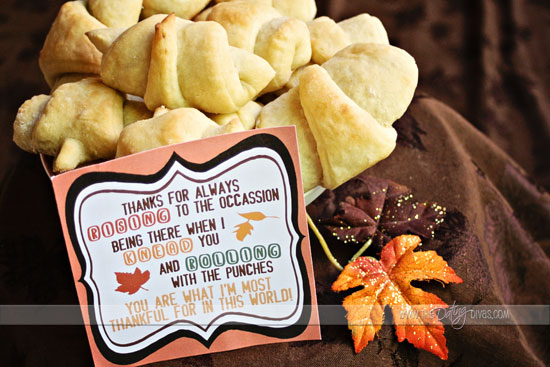 Now who wouldn't love coming home to that?!
If your guy is a serious bread lover like mine, you can put a little love note in every roll and give him a whole bowl-full.  (I'm sure he'll share, and he can use the leftovers for lunch sandwiches throughout the week.)  Or you can make the recipe to go with your usual family dinner, and slip a note into only a roll or two- just for your man's dinner plate.  (Just don't forget which rolls they are!)  Heck- I'm sure the kids would love their own special rolls, too!
**Just a couple a tips I learned from experience…
Printing your notes on typing paper works better than writing them with marker.  (The marker can bleed onto the roll.  Ick!)  Spreading butter liberally onto the dough and rolling loosely prevents the paper from sticking.
So get on a roll- and go show some gratitude to your bread-winner!
Gratitude Rolls Printable
Printables Designed by Becca @ The Dating Divas Exclusively for The Dating Divas