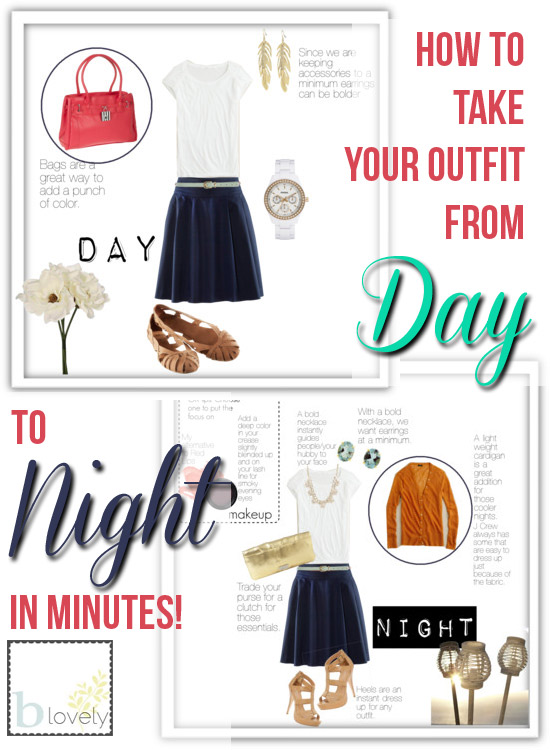 Disclaimer: This post contains affiliate links. To learn more about 'em, click here.
Our Fab guest post today is by Jenn from blovely! She has some great ideas about how to take your look from day to night fast! We are excited to have her posting today! Take it away Jenn.
If you're like me some weekend scenarios go like this: I'm out running errands and the day got away from me, and now I'm running home to hurry and clean myself up for a fabulous evening out with my man. I hate when I don't have the time I want to get myself looking the way I want. Well, there are some tips to a quick date night make over. I'd like to share with you an outfit, and tips on how to take your day outfit to date outfit- in minutes. This is something you can do in 5 minutes or 30 depending on how much time you have or want to take. The outfit I chose to share with you is a basic skirt and T. Skirts are one of my favorite things to wear during the summer, especially during the day. They're nice and cool, but still stylish. Let's take a look at my day look:
Day by b lovely featuring striped bags
J Crew scoop neck top, $36 H&M flare skirt, 20 GBP H&M leather pump shoes, 15 GBP Principles by Ben de Lisi striped bag, 36 GBP FOSSIL buckle jewelry, 105 GBP Tinley Road metal jewelry, $18 Dorothy Perkins buckle belt, 5 GBP
So now- I have 15 minutes to get looking fab for my date. Especially when starting with something basic like a T-Shirt, accessories and shoes are the easiest way to dress it up. These tips can apply to many outfits. I added a statement necklace, changed my earrings and shoes (heels always dress up an outfit), and packed my essentials in a clutch. Choose either your lips or your eyes to make pop. Doing both can confuse the eye. I like to play up my eyes more than my lips- so I add a deeper tone to my lash line and in my crease. I then throw my hair up into a cute night do. Lastly, I grab a cardigan just in case those unexpected chills arise. 🙂 I have pictures and a how-to for an easy up-do that can be found on my blog- blovely.
J crew cardigan, $80 J Crew scoop neck tee, $36 H M cotton skirt, 20 GBP ALDO t strap high heels, $100 Nine west handbag, $41 Blue topaz earring, 99 GBP J Crew chunky chain necklace, $98 Dorothy Perkins skinny belt, 5 GBP stila cosmetics – long wear liquid lip color BY TERRY Ombre Soyeuse Silky Eye Shadow, $43
Now you are ready for a great night out, without spending hours re-doing yourself. Have a great time! 🙂
*looks created on polyvore.com*
Thank you so much for being our guest blogger today Jenn. We LOVE your ideas and can't wait to try them out this Friday night!