A Recipe for Healthy Chocolate Shamrocks!
I love chocolate. In fact, one might call me a chocolate connoisseur. I like all kinds of chocolate and not a single day passes that I don't just give in and have a piece. Well, today we have the best of both worlds… healthy chocolate!  Healthy chocolate?  Count me in!  We would like to introduce the chef behind this amazing creation, McKenna, from mckennagordon.com.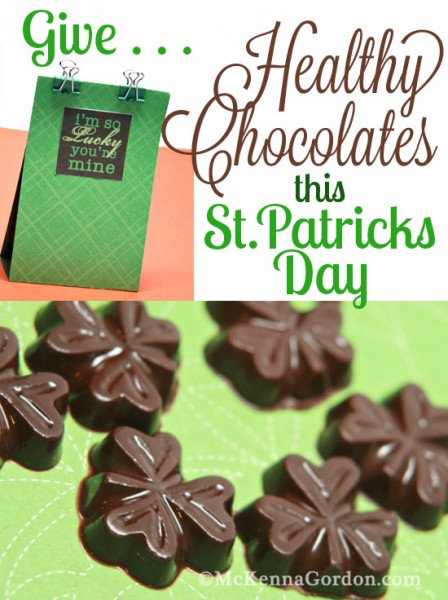 Disclaimer: This post contains affiliate links. To learn more about 'em,
click here
.
What an honor it is to be writing for The Dating Divas! All you gorgeous diva readers are in for a special guilt-free treat today! I'm so excited to share with you my simple, healthy mint chocolates and peanut butter cups. Now, before you go clicking to another post because you don't think that healthy chocolates could possibly taste good, just bear with me a moment, because I'm telling you, it's more than possible. Healthy food is my specialty. But it can't be about force-feeding nasty stuff. Food and desserts can (and should) be healthy and comforting. When you throw together this St. Patrick's Day treat for your sweetheart, there's no way he'll ever guess they're healthy. And speaking of your sweetheart… I just have to bring up one point: when it comes to romance, healthy foods are crucial. How many times have you planned a decadent, indulgent dinner, fully intending to have a romantic evening, only to feel bloated and drained by the time candle-lighting time rolls around? Not only that, but eating too much sugar and refined foods can mess with your hormones and literally steal your libido.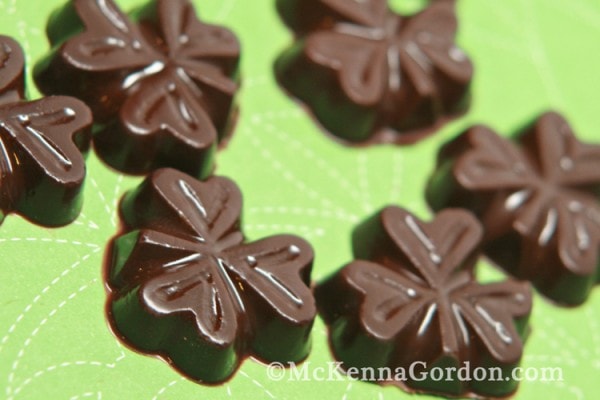 These sweet shamrock candies are so rich, you'll be satisfied after just a couple, and even if you eat the whole batch, you're still bound to feel light and happy, instead of weighed down and guilty.
Ingredients:
2 cups all-natural dark chocolate chips

(you can get the unsweetened kind, or sweetened with just a bit of organic, evaporated cane sugar. But check all the ingredients and make sure everything on the list is something you recognize as a real food, or you'll be feeling yucky and weight-gainy afterward  )

1/4 tsp stevia

(optional, only if you got unsweetened chocolate chips – can be found by the sweeteners at your grocery store)

1/8-1/4 natural peppermint extract

(depending on how strong you like your mint flavor)

A candy mold in any shape or size

.  You can also use mini cupcake liners for a "Reese's" shape.
Directions:
Melt chocolate chips in a double boiler. If you're like me and don't own a double boiler, just fill a pot with water and set a metal mixing bowl on top of it.
You need to make sure the bowl can make a decent seal against the rim of the pot, and that the bowl doesn't sit too deep into the pot. You don't want the pot to touch boiling water, so that your chocolate gets steamed instead of sauteed.
It will take about 3-5 minutes for the chocolate to melt. Stir it with a rubber spatula until it's completely melted and super shiny.
Then, turn the heat down to low, and thoroughly stir in the natural peppermint flavor and optional stevia.
Using a metal spoon, drizzle chocolate into your candy mold, filling it up, but taking care not to over-fill each shamrock hole.
Place mold in the fridge or freezer for about 15 minutes.
Turn Your Chocolates Into a Gift!
This is the simplest little treat box in the world.
Simply take a 12×12 piece of scrapbook paper and cut it to 3×12.
Score it at 1?, then score again at 5 3/4? and 7 1/4?.
Embellish as you wish and fold into place.
Fill a small cellophane bag with shamrock chocolates and staple it to the back panel of this treat bag.
Then secure the bag closed at the top with ribbon (punch holes) colorful clips, or even a magnet/velcro.
Print your very own "I'm So Lucky You're Mine" bag topper below!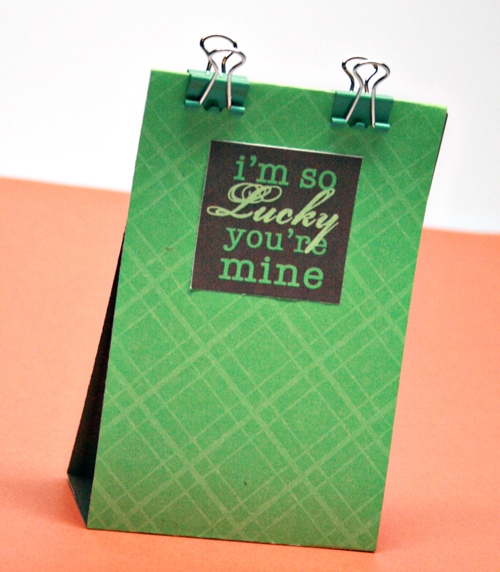 If peppermint chocolates aren't your thing, I have an amazing recipe for peanut butter cups that you can create in any shape, including Reese's shape using mini-cupcake liners.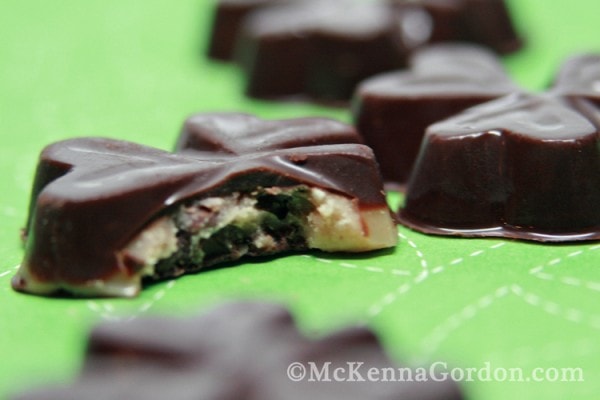 Check out the peanut butter recipe here!
*       *       *       *       *       *       *       *       *
Wow, there you have it! Chocolate that is healthy, festive and pretty much awesome!!
If you want to check out more delicious, healthy recipes, be sure to stop over at mckennagordon.com to check it out!