How to Make a Homemade Kite
Once upon a time, when my daughter was 3, I had one of those really awesome mom moments! You know, the ones where you feel like you are completely killing it as a mom?! Well, it was a REALLY good one, and totally out of character for me. I decided to throw caution to the wind and let her stay up way past bedtime. After that, we went to a drive-thru and got some delicious hot chocolate. Well, it was a CRAZY windy night, and she was dying to go outside. But I couldn't think of anything we could possibly do outside with the wind. Until…I remembered a kite I had bought her a while ago.
Well, being the coolest mom on the block, I suggested that we go outside and fly a kite. You should have seen the look on her face when she realized how cool her mom really was! It was one of those truly magical moments. The ones where you will never forget the memory because it felt almost…transcendent.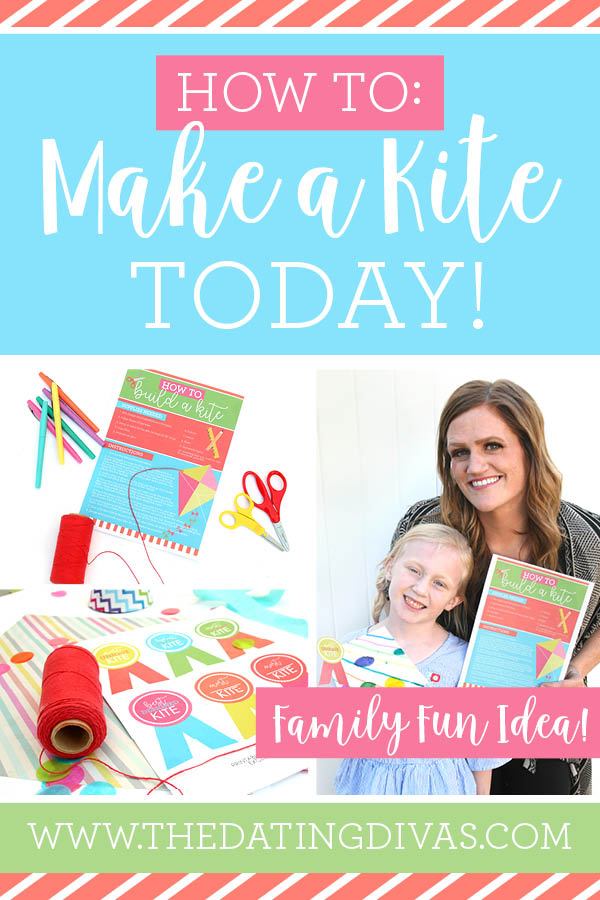 DIY Your Way to Family Fun
It's that transcendent moment that makes me SO excited to share this fun DIY idea with you. I know first hand that this kite making craft (even though it might seem so silly and simple) can help create a magical moment for you and your family.
So if you want to change up the boring old routine, what better way than to DIY as a family! This effortless, competitive, and fun DIY kite activity is the perfect way to create a memorable experience that you won't soon forget! So without further adieu, we present to you for your ultimate family enjoyment…"How to Make a Kite Today!"
Printables & Supplies
In total Dating Divas fashion, we have prepped and planned everything for your DIY kite activity. This family-fun idea comes with step-by-step instructions for building and even flying your kite. In this DIY packet, you will find a kite template, judging sheet, and even miniature awards (that are so adorable)! These printables are also easily adaptable for competitors of all ages. So even if you don't have kids, you could do this kite flying activity as a fun contest with other couples for an awesome group date!
First things first, DIY projects often get a bad rap because they are always so much work. But for this project, we have decided to take all of the pain out of DIY.  The hard part is already done, so all that's left is for you is to color, cut, and have some fun! Before we get into the nitty-gritty, let's start by giving a shout out to our very own Diva Elizabeth Edwards. She is responsible for creating these adorable "How to Build a Kite" printables that are easy to use and so adorable!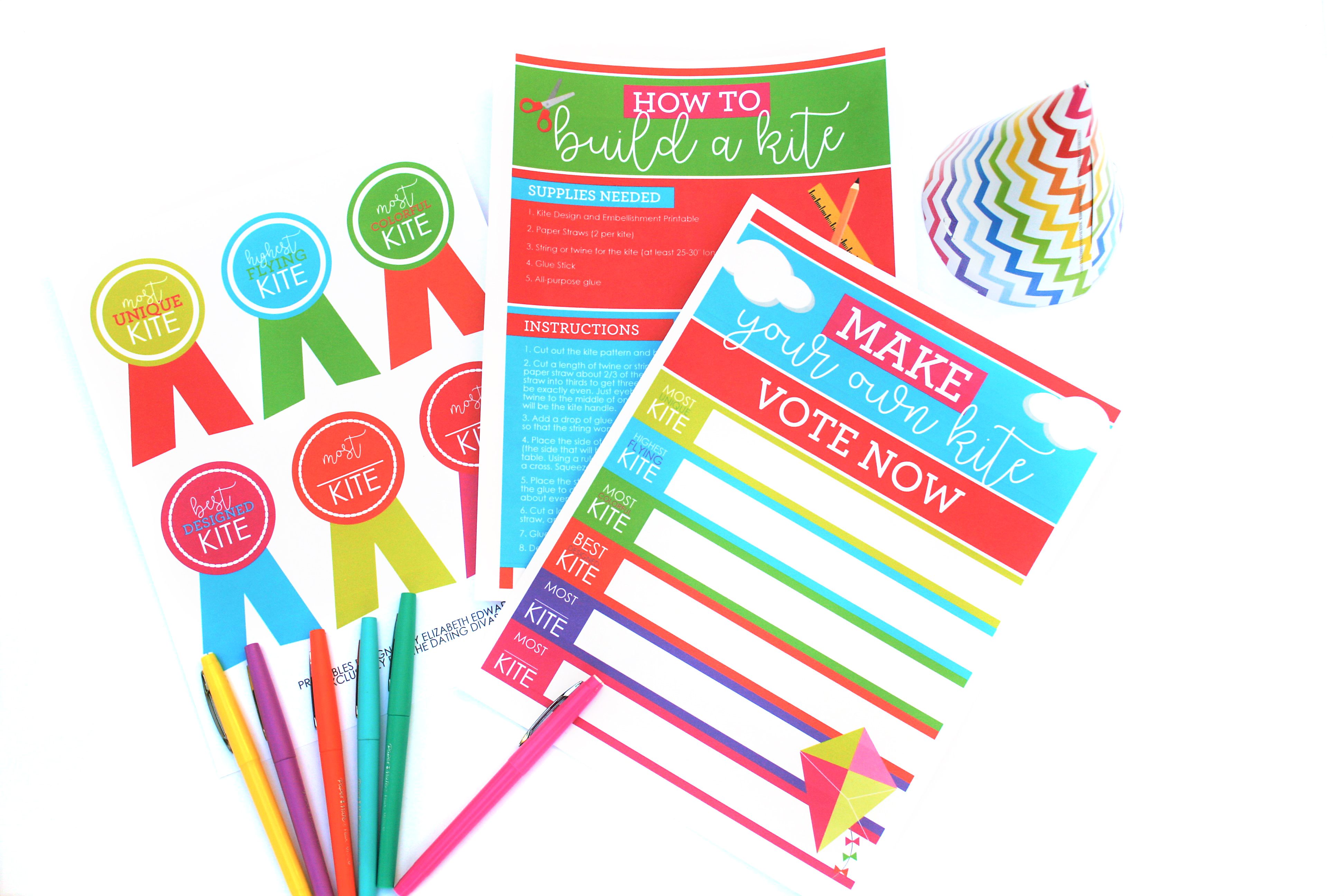 Kite Making 101
First on your list is the creation of the kite! On page two of your download, you will find a template for your kite and embellishments. We would recommend printing the kite template itself on cardstock if you want it to be more sturdy and easy to fly. Start by coloring, designing, and beautifying your kite template. On the printables, this is actually listed as the last step of the kite making process. But after doing it with my own family, I decided that it was easier to design the kite first and assemble it at the end. But feel free to do whatever works for you! Also, you can either tell your family what categories you will be judging them on before they start creating, or you can save that until the end. Personally, I think surprises are always a win in my book!
After you have designed your kite, you are going to have to put it together. Luckily for you, we have put together 8 super simple steps on how to do this. The instructions can be found on page one of your download and are super simple. All you will need are some paper straws, scissors, twine or string, and glue.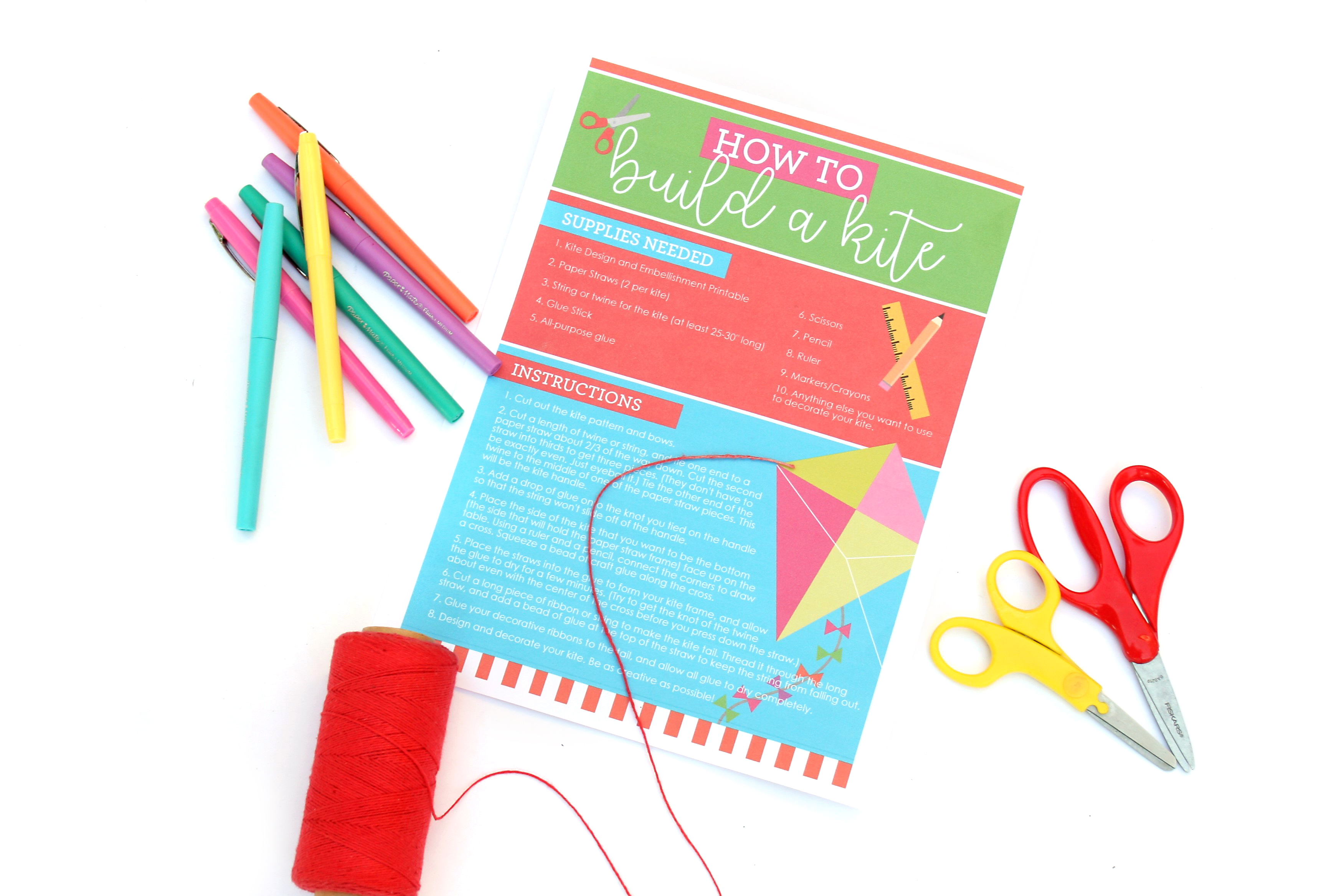 Assembling your DIY Kite
Next, you are going to cut a long piece of twine or string. Tie one end to a paper straw about 2/3 of the way down. Cut the second straw into thirds to get three pieces (go ahead and just eyeball this). Tie the other end of the twine to the middle of one of the straw pieces (this will be your kite handle).
Add a drop of glue onto the knot you tied on the handle. If you put glue onto the string, it won't slide off the handle. Place the side of the kite that you want to be the bottom, face-up on the table. Connect the corners with a pencil to form a cross or a "t" on the back of the kite. Squeeze craft glue along the cross.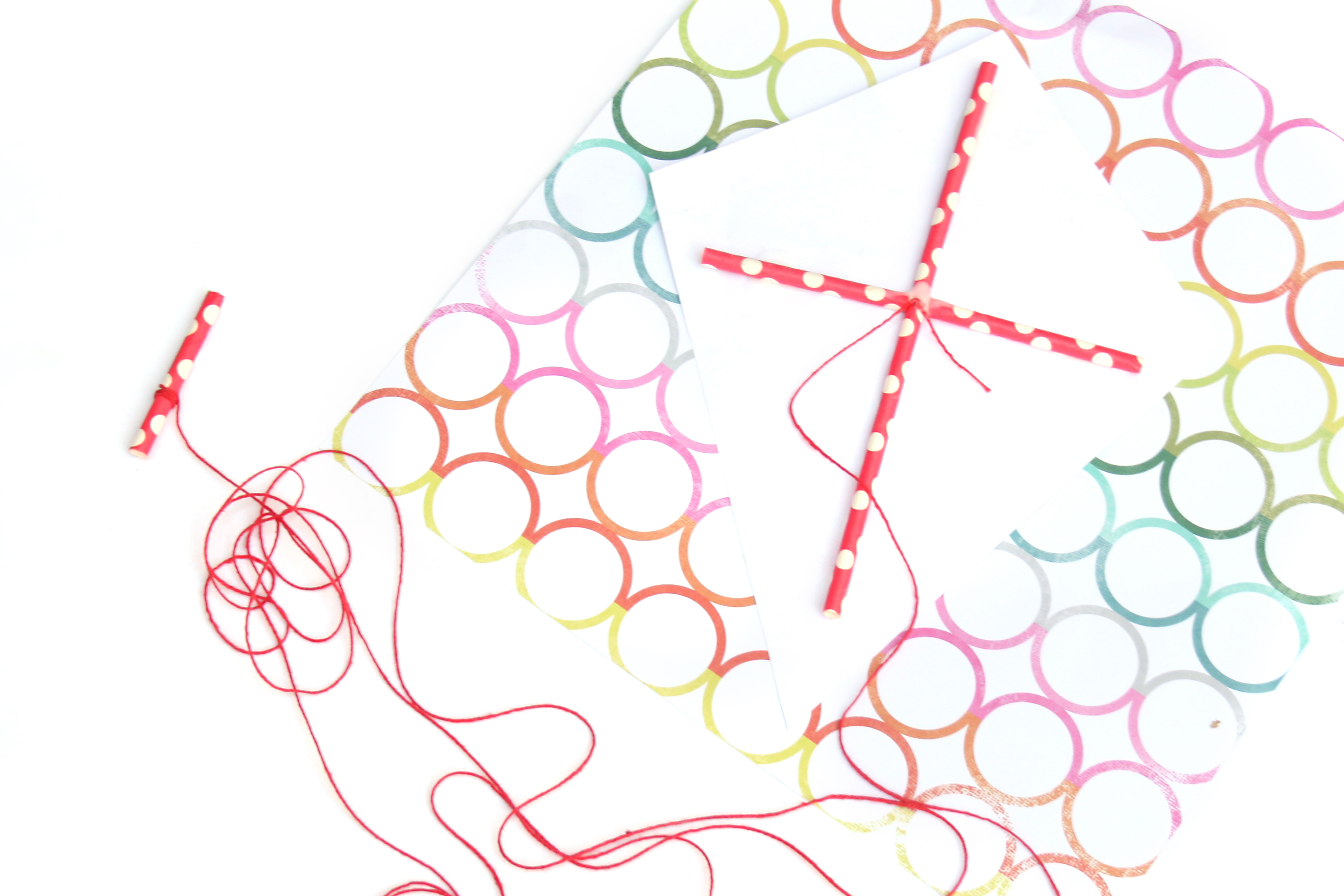 The final step is to push the straws into the glue to form your kite frame. Cut a long piece of ribbon or string to make the kite tail. Then thread this string through the long straw, and add a bead of glue at the top of the straw to keep the string from falling out. Glue your decorative ribbons to the tail. Allow all the glue to dry completely to prevent your kite from falling apart. And just like that, your kite is finished and ready for flying!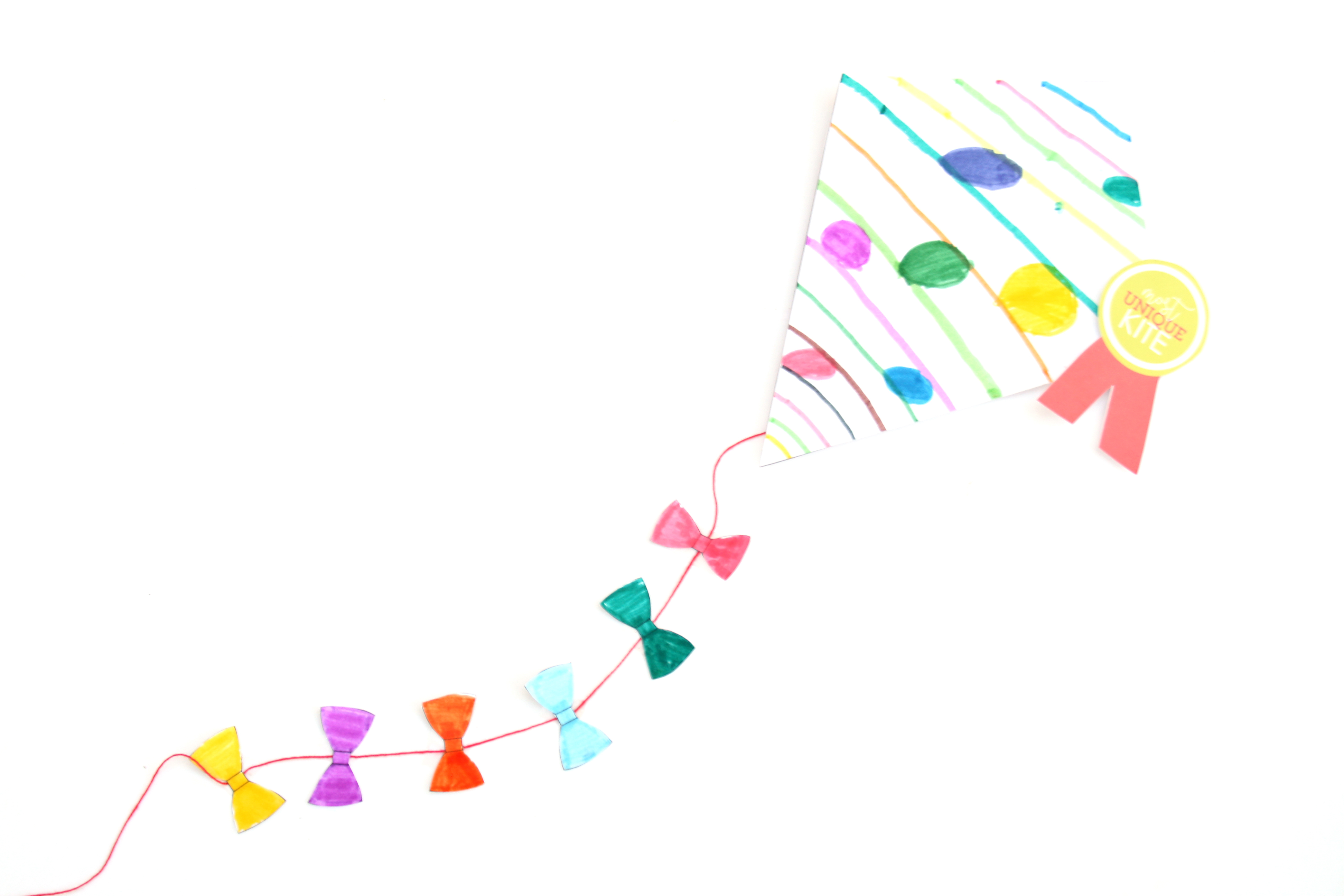 Let's get this party started!
Now that you are done with the construction of the kite, you are ready for the fun part—flying your kite! Make sure it's a windy day, and take these babies out for a spin. When I did this part with my kids, it was obviously much harder for them to keep their kites in the air than it was for me and my hubby. So, just make sure you give them plenty of help, and show them how to run with the kite to keep it in the air.
Honestly, even if their kites only fly a little, I promise that you will have a blast doing this together as a family. It was actually even funnier when my son's kite kept falling on him, and we all couldn't stop laughing. My kids still talk about kite making and have begged to do this again, ever since we made them. It was seriously so memorable for them, which makes this a DIY activity that I can get behind.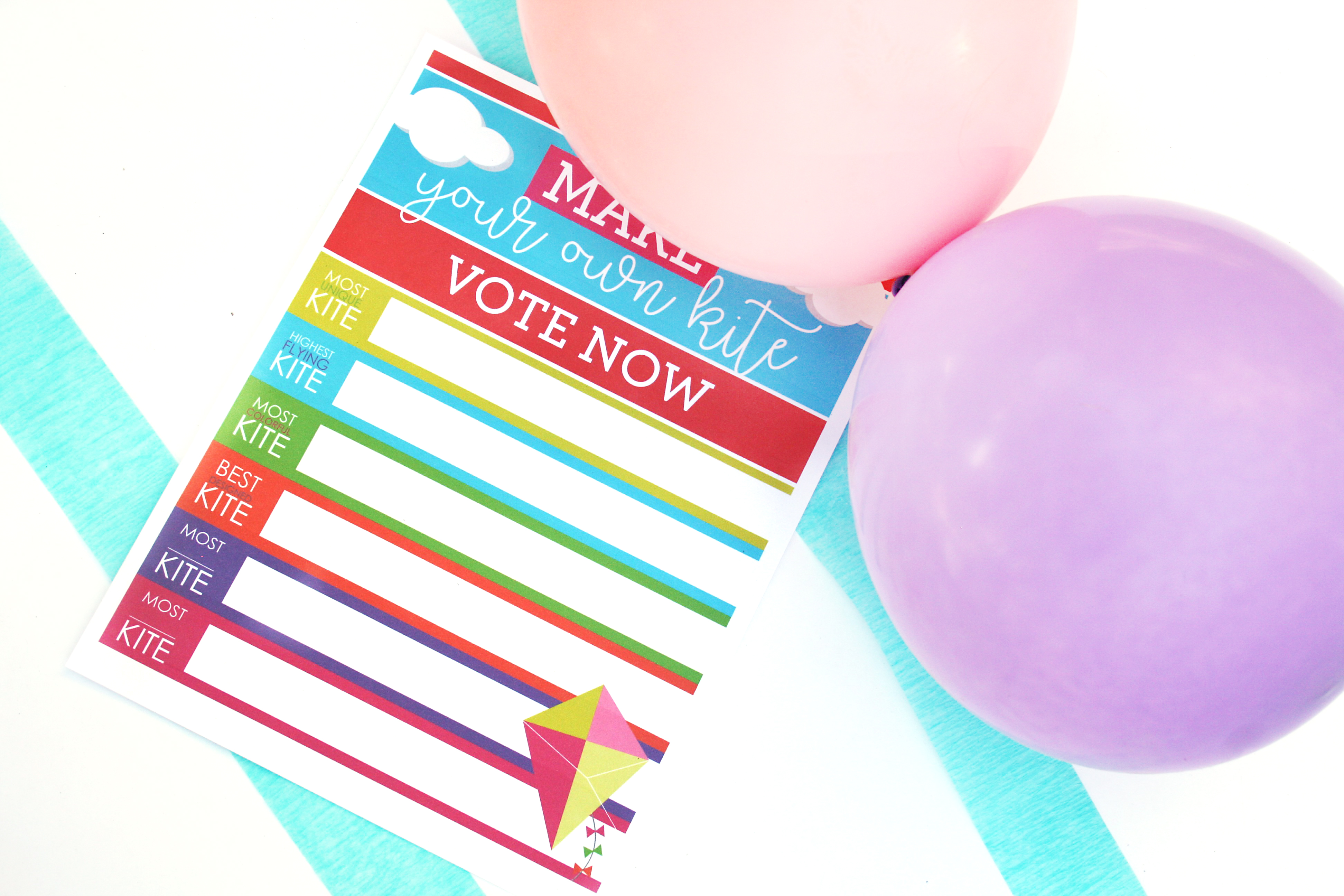 Judging the Kite Making
This is where the rest of the printables come into play. We have included a voting page to make this part super easy and fun. There are a few categories for the judging part of the contest. Most unique kite, highest-flying kite, most colorful kite, and best-designed kite. We have also left two categories as fill-in-the-blanks, so you can decide what else you want to judge.
My family personally only needed four awards, so we just used the pre-determined ones when judging the content. Some good ideas for those fill-in-the-blank awards might be, "Best Construction of a Kite," or "Most Indestructible Kite." Be creative with this one. The most important part is making everyone feel special and like they all did a great job participating. You could also have your kids make up the other awards for each other since they are usually so creative!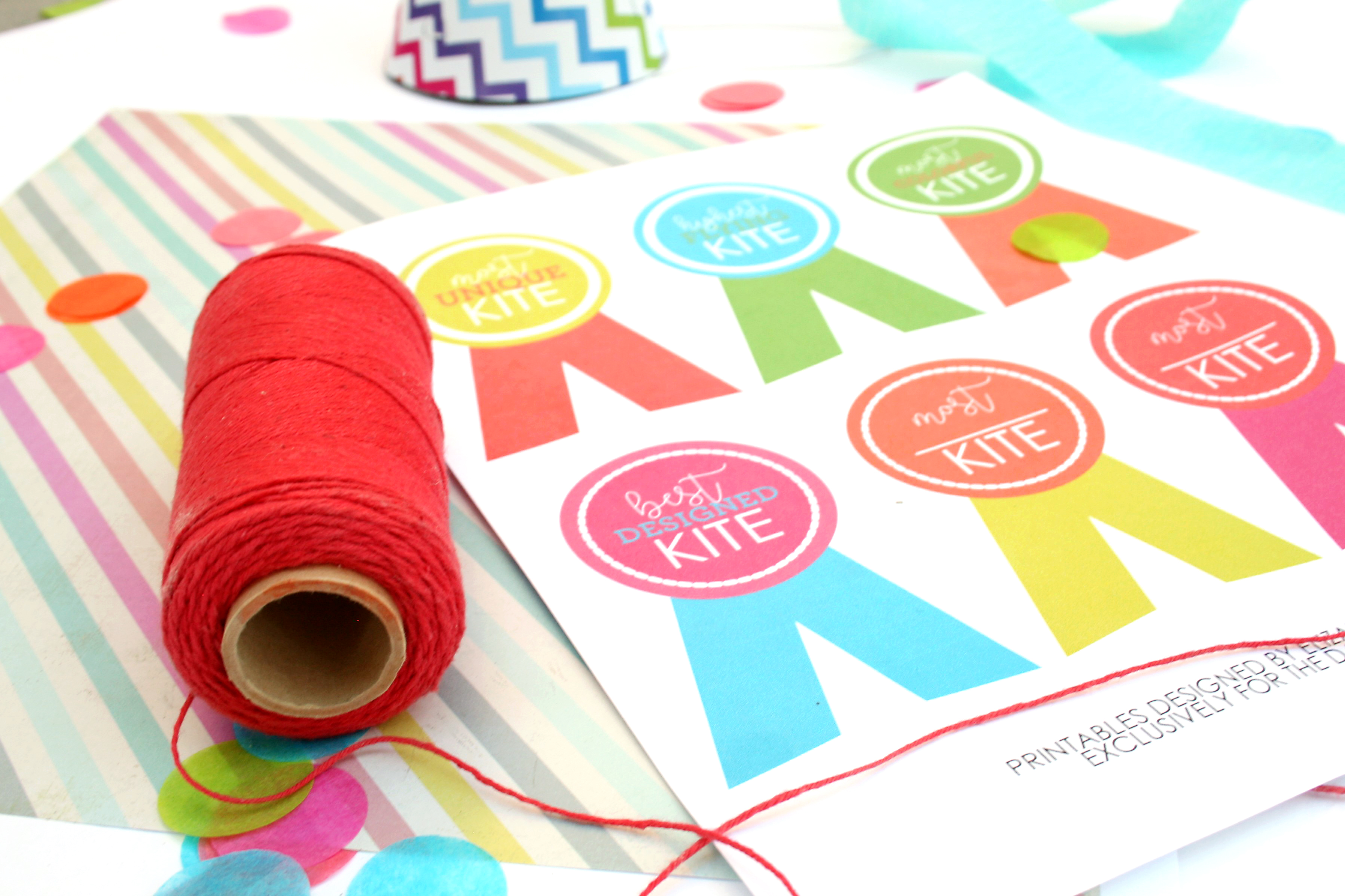 It's Award Time!
The last part of this family fun idea is to give out the awards. I seriously think these awards are so adorable. I just can't even get over how tiny and fun they are, and how perfectly they fit with the kites we created. We had an award presentation ceremony (with music and everything) when gave the kite making awards to our kids. They thought it was extra special, and their faces lit up with so much pride when they were presented with their individual awards.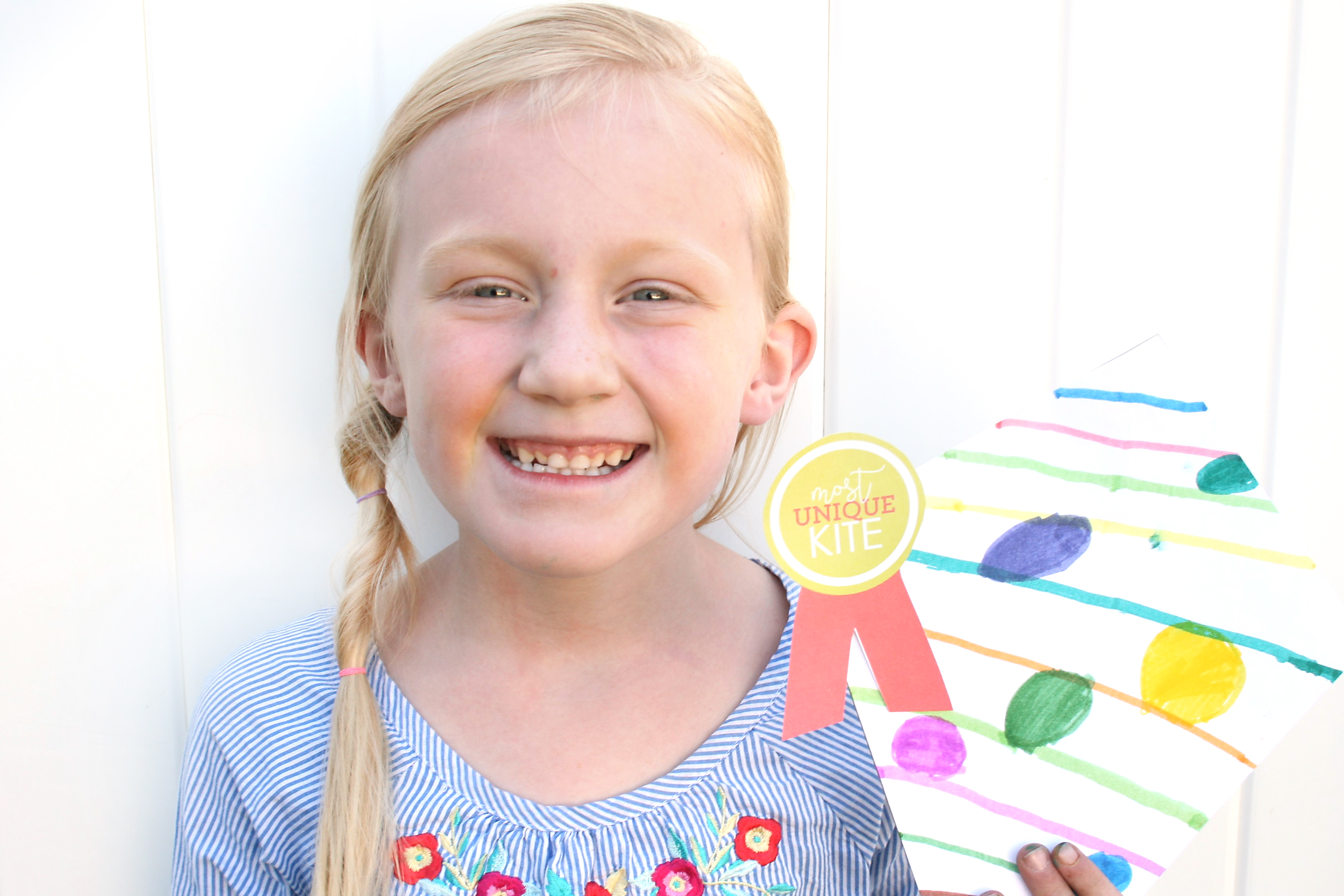 And there you have it, folks! A simple, easy, and fun DIY kite-making activity, that will make memories to last a lifetime. Making a homemade kite has never been simpler, more fun, or more memorable than this! So go ahead and give this kite flying tutorial a spin, and be sure to tag us if you do!
If your family loves creative family activities, we have a few more that they will love! Check these out:
Fun Bowling Ideas for the Whole Family
How to Make a Kite Today!
Printables Designed by Elizabeth Edwards Exclusively for The Dating Divas