A quick, convenient way to feel closer to your spouse!
On crazy days filled with crying kids, late nights at the office, meetings at church and responsibilities around the house, sometimes my husband and I flop into bed at night, look at each other and just say "Hi there!" It almost seems like the first time we really greet each other with undivided attention. Have you had that feeling? Although you've been around each other, you haven't had much of a chance to be "together" or connect at all. It can seem like you are two bodies just passing each other without much interaction!
Since we are all busy and short on time, we need fast, easy, CONVENIENT ways to stay connected with our spouses amongst the chaos. Using digital technology is a great way to keep in contact with each other even when you are apart! But just texting about the mundane daily tasks like "Don't forget to pick up milk on your way home," isn't going to do much for your romance or connection. Writing something a little more flirty, meaningful and interesting to each other can bring some connection back to your relationship. We've thought up 52 fun and sweet prompts to help you draft digital love letters to your spouse, via email!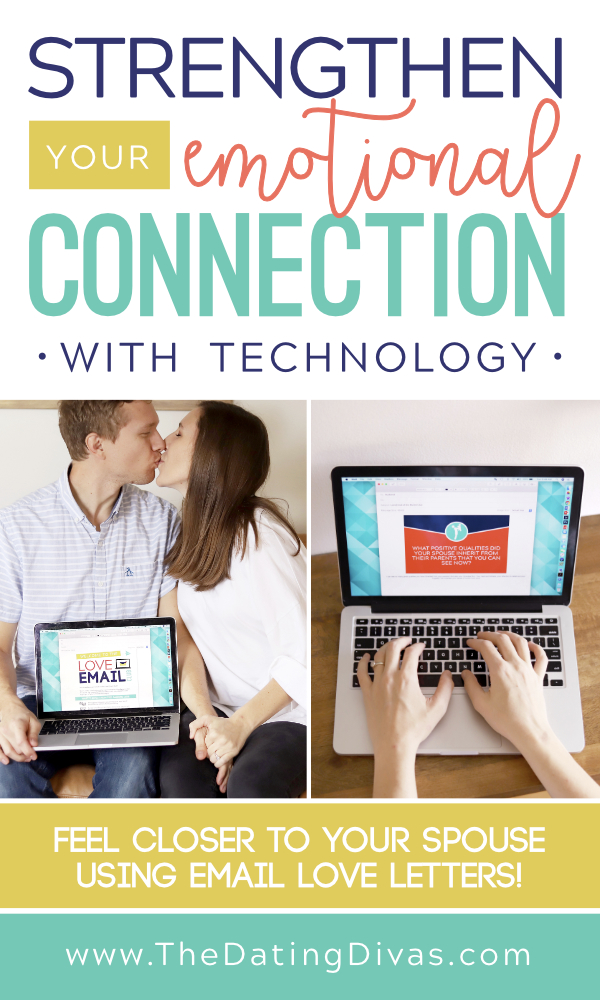 Lack of emotional connection 
When life gets busy, it can make us feel disconnected and distant from our partner and can put a strain on our relationships. I know when my husband and I have had busy weeks or have been apart for long periods of time, I start to feel irritated by small things, frustrated and lonely in our relationship. It's so important to keep emotionally connected through it all!
"Emotional connection, a bond that holds partners together in a relationship, is one of the most important strengths for couples to have. Without a strong emotional connection, relationships can easily drift apart." 1 
A few reasons you may have a lack of emotional connection with your spouse…
1. You and your partner are not spending as much time together as you used to.
2. You are not communicating like you once did.1
Whatever the obstacles to you staying close with your sweetie, we definitely don't want to let our connection fade and drift apart from our spouse.
Using Email to Feel Closer to Your Spouse
So what do we do? How do we find the connection with our spouses when we barely even seem to have time to talk? If you are a follower of the Dating Divas, you know we advocate for regular date nights, which REALLY help you grow closer to your spouse! My husband and I try to carve out some time each week for date night (whether it's in the home or out), but what about the whole week in between? Or if you only have time for a date night once a month? That can be a long stretch between dates.
Talking with your spouse will, of course, bring you closer, but sometimes we have to think outside the box when it comes to conversations. Luckily, we have the tools to make the connection happen at our fingertips, with us all the time–on our phones! Who doesn't have time to check a quick email throughout the day? Finding SIMPLE, FAST and EASY ways to show your spouse they are loved and communicate with them is key to not letting that emotional connection slide. You can use EMAIL as a great tool to stay in touch with your spouse and interact throughout the week!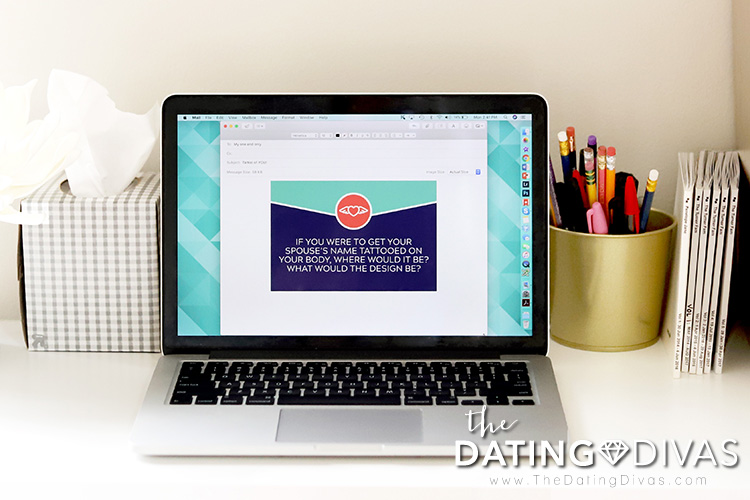 The Love Email Club Idea
We've come up with a twist on one of our popular ideas- The Love Letter of the Month Club. A heartfelt love letter makes you feel closer to your spouse, but time to sit down and hand write one can be sparse. So why not use technology, like EMAIL?
The idea behind this club is to send email love letters to each other, and we've provided TONS of prompts to take the hard work out of it for you!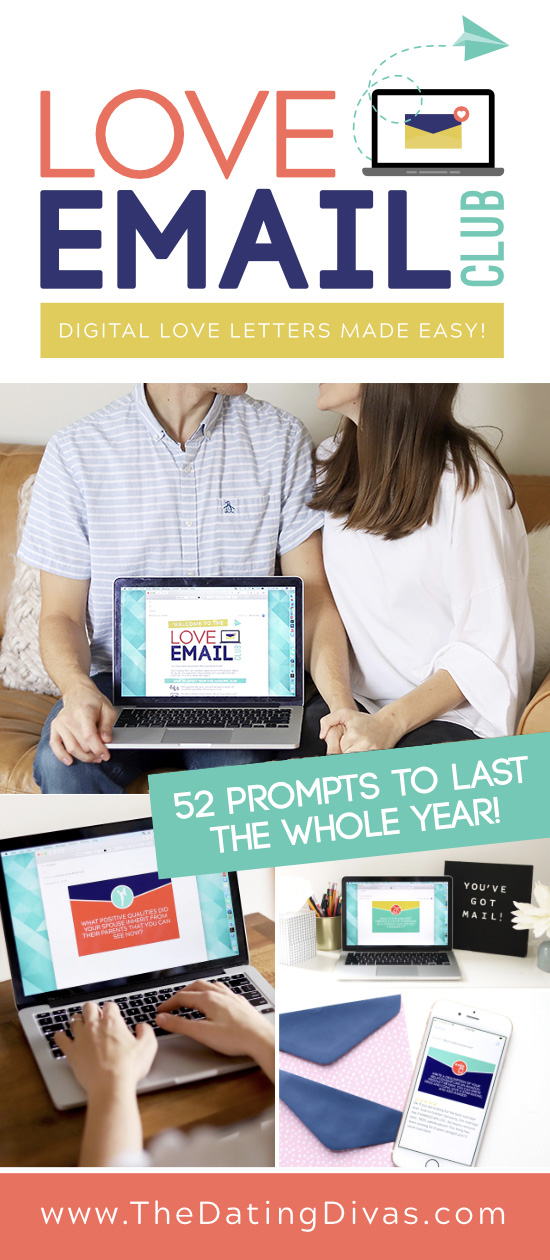 Easy, Meaningful Gift Idea
Send an initial email to your spouse explaining to them how this club works. It can be a gift from you to them, or something you try together!
I tried the idea with my husband by gifting him a "Love Email Club" for Valentine's Day. Every month, I send him a quick email with a fun, silly or thoughtful prompt that we both respond to. It has been so fun and I really look forward to it in my inbox!! We have shared memories, goals, compliments and had conversations we probably wouldn't have otherwise. He's a pro at finding hilarious GIFs too so we have had some good laughs!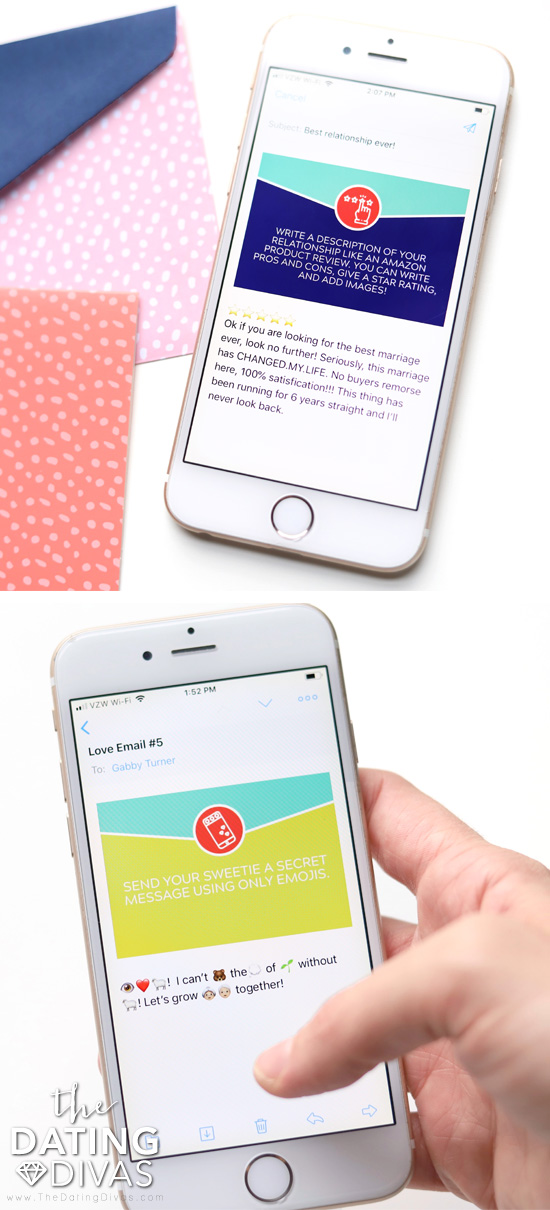 52 Email Prompts
There are 52 prompts for you to choose from. Send one a week for all 52 weeks of the year, or use them once a month (pick and choose your favorites). You can do this from your phone, tablet or computer! Easy peasy!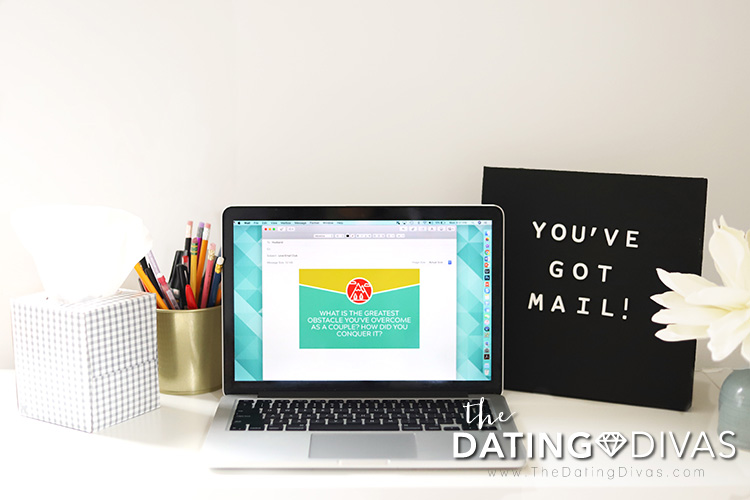 Great for Long Distance Relationships!
The Love Email Club is the perfect way to start a fun correspondence with your spouse and send them your words of affirmation. This is especially great for long distance couples, but it's just as fun when you live together too! Reading a fun email from your sweetie at work or even with them right next to you will bring you closer together
Keep your emotional connection strong with
the Love Email Club!
Grab it for just $15.97!

Some other ideas to use technology to keep you connected to your sweetie:
Sources: