James Bond Date
Are you or your hubby a fan of the James Bond series?  Well, we have a treat in store for you today inspired by one of our FABULOUS readers, Sarah.  Introducing the James Bond Date Extravaganza!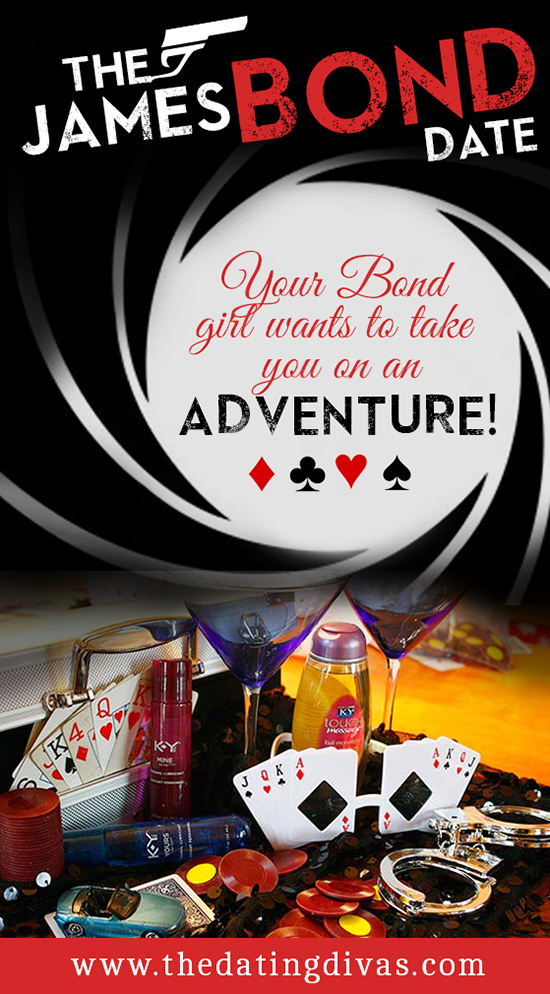 Disclaimer: This post contains affiliate links. To learn more about 'em, click here.

8 Steps to Take Your Mate on an Adventure!
Set aside a special date night with your sweetheart and leave the DARLING INVITATION  (page 1) for him to open in the morning.  Catch him by surprise by leaving it on the bathroom mirror, his briefcase, or the seat of his car.  His interest is sure to be sparked!  A huge thank you to

Diva Robin

for putting together this super cute invite inspired by Sarah!
Dress the part!  Channel your inner Bond girl and slip into something that will leave your hubby speechless.
Start your date by watching one of the Bond movies.  Don't forget to call your sweetheart: Bond… James Bond.  To set the mood, our reader Sarah suggests listening to a soundtrack of Bond music or Googling a bit of Bond trivia.
Take quick breaks throughout the movie to steal kisses.
Crack open a bottle of something bubbly like apple cider to celebrate your romantic night for 2!
After the movie, introduce the game, "It's in the Cards" and explain how he can cash in on all the LOVE COUPONS! (page 2 and 3 of printable).
The winner of the card game gets control of the GADGET CACHE.
Explore the contents of the cache upstairs… no further explanation needed! (wink!)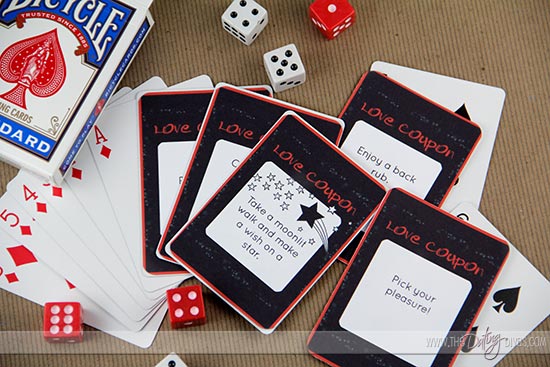 How to Prep for This Fun Date:
Print out the invitation and love coupons by opening the PDF:

James Bond Extravaganza Materials

.
Cut out and attach the love coupons to the numbered side of club or spade playing cards (you will be using the diamond and heart cards for something else in the game).  To easily round the corners of these fun coupons, I used this

corner chomper tool.

Assemble your deck for the, "It's in the Cards" game.  Your deck should be comprised of 5 random HEART cards, 5 random DIAMOND cards, and all the LOVE COUPON cards.
Create a "GADGET CACHE" or a love box for you and your James Bond to explore after watching the movie.  Fill it with items like: massage oils, candles, water guns, blindfolds, etc… The possibilities are endless!
Read through the following instructions on how to play "It's in the Cards" so you can quickly explain it to your hubby.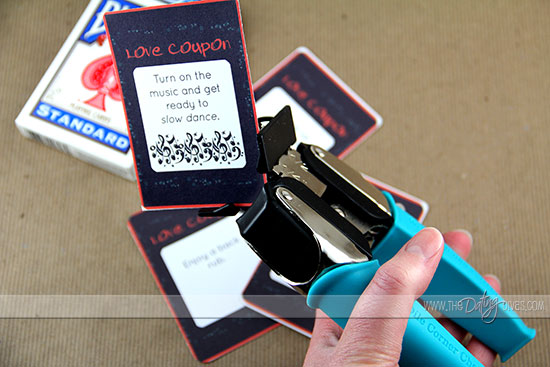 Rules for Playing: "It's in the Cards"
Take turns choosing a card from the deck you put together in the prior section.
If you draw a LOVE COUPON, then complete the activity.
If you get a numbered card, you have to shower your mate with that many kisses!  Sarah explains that if you choose a face card, increase the number by 1 so a Jack is equivalent to 11 kisses, a Queen is worth 12 smooches, and a King is valued at 13 smackers.
Whoever draws the most number of kisses to give away is the winner and in charge of the Gadget Cache box!
A huge thank you to our wonderful reader Sarah for her inspiring ideas on creating this ultimate James Bond themed date night.  We love how she developed the "It's in the Cards" game and used playing cards as kisses.  Such a cute idea to use "hearts because they are romantic and diamonds because they are forever!"
Sarah also mentioned to us how this evening for 2 could easily be turned into a group date night with a few modifications.  For a group date, invite your friends over for a special screening of a James Bond movie complete with appetizers and a round of bubbly spirits.  All guests would be encouraged to dress the part to look charming and debonaire!  After the movie screening, the host would present each couple with a deck of cards so everybody could play the "It's in the Cards" game when they returned home.
Cheers to creating the perfect Bond adventure night- either for 2 or a group!