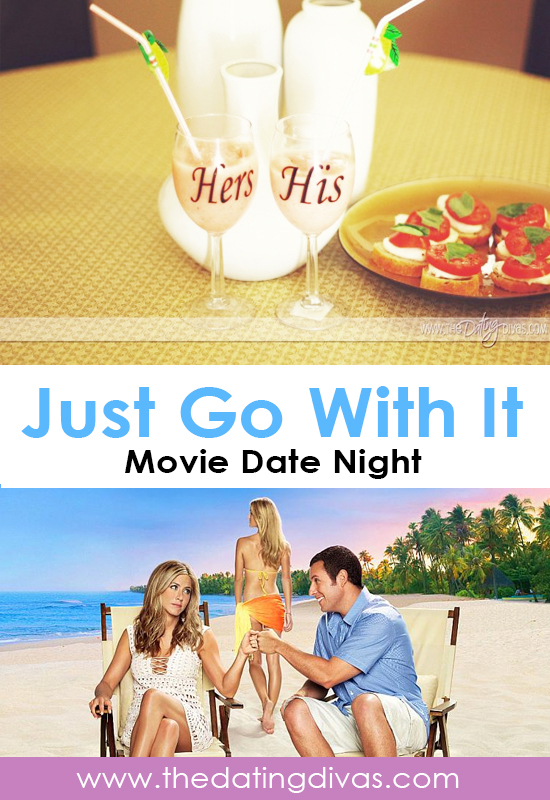 Disclaimer: This post contains affiliate links. To learn more about 'em, click here.
Are you ready to have a really good laugh with your spouse? Sometimes as couples, life tends to make us forget our sense of humor and focus on the mundane. Well, tonight make it a laugh festival! We've picked a hilarious new movie called "Just Go With It" starring Adam Sandler and Jennifer Anniston. But don't let those two names fool you…this movie is an exceptional gut buster that will leave you and your spouse near tears from laughter. Oh, and The Dating Divas have added some even more hilarious little activities for you and your honey to try out. So let's get this party started!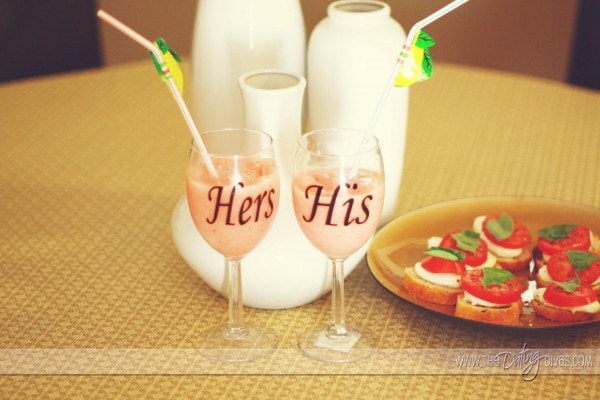 Na'au Hau'oli, 'oli'oli
(Feelings of Happiness)
In the movie they take a trip to Hawaii. So round up what you have that is tropical (Beach/Island Pictures) or go hit the Dollar Store. Use Light Up Flower Lei's
, Beach Towels
, tropical flowers, coconuts, etc. If you want to take it to another level, each of you wear your swimsuits and watch the movie while sitting in a blow-up kiddie pool (just like Tara did on her I'd Get Lost With You Date).
Mea 'ai, 'ai
(Hawaiian Food)
Tropical food is an absolute must for a night like this! Think grilled fish and pineapple. Then cut open the coconuts you've used for decorations, add an Umbrella
, and drink the milk straight out of the coconut fruit. Or try these delicious tropical recipes (download below) for Hawaiian Haystacks, Pina Coladas, and grilled brown sugar pineapple. A nice extra touch? Have some Hawaiian Luau Music
playing in the background or a little Beach Boys would work too.
Pa'ani/Hana, 'oihana
(Games/Activities)
Anniston's daughter (in the movie) talks in a ridiculous English accent during the entire movie. It would be hilarious if you and your spouse were only able to talk in an English accent throughout your entire date.
In the movie they have a family outing at a place called "McFunnigans" – a video game & pizza place. You could take the whole family out to Chucky Cheese (or some place similar) and have a ball!
Begin the date in your swimsuits and wash the car together while playfully flirting. If that's not an option due to whether or a late night, put on your suit anyways and lotion each other up, because even though the suns not shining, it's going to be a hot one tonight!!!
Surprise your husband by turning around wearing ridiculously THICK coke-bottle glasses (like the one ridiculous guy in the movie that is trying to win Anniston's heart). Then act all casual… like "what's so funny"?
Do the "Coconut Smoochie" (they play this game in the movie). You place a coconut between your stomachs and you have to work it up to your lips without touching it with your hands.
This movie is all about deception….so play two truths and one lie with your spouse and see if he knows which one is a lie….I'm thinking this would be really tricky.
In the movie they have a hula dance competition. So strap on some grass skirts (or just stay as you are) and have a hula competition between you and your spouse using the Hawaiian Luau Music you played during dinner. Or…Play the LIMBO!!
After the movie take a sexy Shower together with your swimsuits on, and the rest is history!
Take turns giving CPR to a sheep or goat! LOL….totally just kidding!
Mahalo (Thank You)
For more amazing delicious recipes that The Divas' husbands love, check out our Dating Divas Recipes Revealed Cookbook!