Lisa and Brent's Love Story
 Once upon a time a princess from Maryland and a prince from Utah were brought together. They fought many things to find each other. They had different goals and paths in mind when they graduated from High School. They didn't know it at the time but all of the sacrifices and changes would bring them to their true love.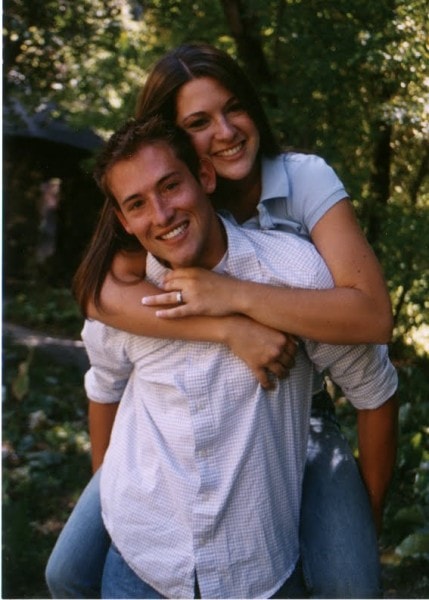 The princess loved her friends and family back in Maryland but decided to leave her life to come to Utah for her senior year of High School. She desired a relationship with her father which had been denied too many times in her life. She needed to fill the hole in her life, but when she moved she found so much more. Now the church that she had been a part of for so long was in question. It was the thought of Families Forever that made her want to start a life in a different church. This was hard for her as many didn't agree with this choice. This made choosing a college even harder because many wanted the princess to return to Maryland. But this girl knew how hard it would be to change her college and path. She decided it was worth it.  This forever changed the course of her life.
The prince grew up in Utah his whole life in a very strong family. They encouraged the boy to live in great ways. He had lots of fun in school and had many friends. During his first year in college he decided he should go on his mission.  He went to Ohio and accomplished many things including a lot of growing up. When he got home he had to get through many obstacles to get into a school. (He had started too late looking for a college.) After many doors were opened he ended up at a great school.
The princess and the prince moved to Utah State to start a new beginning of their lives. They were put next door to each other. The prince and his roommates came over to the princesses' house. When the princess walked downstairs she immediately met the eyes of her prince. They kept their distance as only a few witty comments that were passed back and forth.
It was the next night that the prince came to see the princess again and they were able to spend time together. That night they spent hours upon hours talking to each other. They knew there was something different about each other and desired to spend more time with each other.
Both of them were shy with their feelings. They didn't want to admit anything was going on with each other yet wanted to continue hanging out with roommates and going out. They continued to meet every day. The prince would drive the princess to her house every time they wanted to leave college. They went on many fun and romantic dates together. There was no denying their feelings when they were together.
One popular date they had was going up to the 2nd dam in the princes' truck. The prince would make everything romantic with this date. They even named a set of stars and would follow them on their dates. They grew to know everything about each other and did so many fun and romantic dates.
*   *   *   *   *   *   *   *   *
After a few months we were ready to meet the families. We did everything together and only separated for our classes as school, where yes, we did become "True Aggies."  We dated for a year when the magical moment happened.
Brent took me back to that wonderful spot where so many of our dates had been, the 2nd dam. He lured me there telling me he had a flat tire in the canyon and this is where he was able to pull off on the road. Of course he had already talked to my dad and his family. I quickly went to his rescue. When we met I knew this was the moment. He had the area ready and quickly fell to one knee. He stated the following phrase "Lisa, I'll love you forever, I'll like you for always, as long as I'm living, my baby you'll be. (This is my favorite children's book.) Will you marry me?" Of course I said YES and it has been happily ever after, ever since.
We got married in the beautiful Salt Lake Temple which my daughter calls a castle. We have been married for 6 wonderful years. We have two beautiful children, a house, and we have so much love for each other. I love him more now than I did then and it is because we keep our relationship alive.