Now, how Joseph and I met…
Hmmm… depends on what story we want to tell. I'll tell both! We actually first met when my girls and I decided to take a girls trip to AZ for Valentine's weekend. None of us had significant others and we wanted to go to WARM weather! While there, we attended an Institute dance. We walked in and a country song was playing and we immediately RAN to the middle of the dance floor and started to do a line dance. We were soon surrounded by a huge crowd (because NO ONE else knew how to dance to country – HEELLOO). Anyway, a cute guy came up to us after the song ended and said "Wow, I have never seen a group of girls be able to attract such a big crowd before". Well, he had never seen US in action before that night! 🙂 I immediately thought he was really cute, we talked for a few seconds, and then we were on our way.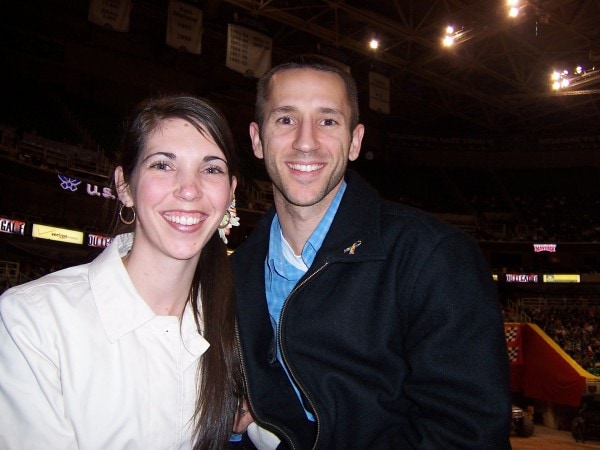 Later, I saw him again during an activity of breaking a pinata. I was really hyper and so was my friend, who kept trying to push me into the middle to grab the bat! The cute guy was there and just laughed at us, and then I couldn't ever find him again – well, that's what I thought anyway… At the end of the dance, my friends were talking to a group of guys and I was off dancing by myself. The cute guy walked up to one of my girls (Tara) and said we should go hot tubbing or something – BUT she blew him off for a group of 19 yr olds (thanks Tara)! WHAT!!! I immediately tried to intervene and ask why she blew off the only cute guy, older than 20 in the whole place, but she thought that another of the girls in our group was into this other guy (BIG mistake). I left the dance wondering who the cute guy was and I was sad that I never really got to talk to him.
Anyway, 2 months later my parents talked me into going to AZ with them for Easter. While attending church, I saw a cute guy sitting by his mom. I pointed him out to my parents (since my dad had a running joke that whole weekend of finding me a boy) and of course after Sacrament, my mom B-lines it to him to introduce herself. I was mortified! Here I am, 24 years old, and my mom still acts like I can't take care of myself!
Long story short, we talked for a long time, found out his name was Joseph, and after Sunday School he mentioned that if I ever came back in town to call him and his friends (LAME). I took it one step further and mentioned the fireside that night (he caught on) and invited me to go with him and his friends. We went to the fireside and it turned out to be about KISSING! What a way to get to know a guy right? We laughed about it as we left the building. On our way home, we were talking about how often I came to AZ. I mentioned that I hardly ever came, but had just recently taken a trip around Valentine's. He asked if I went to an Institute dance, and I said yes. It turns out my "long lost"cute guy from 2 months before was this cute guy I was now riding in a car with!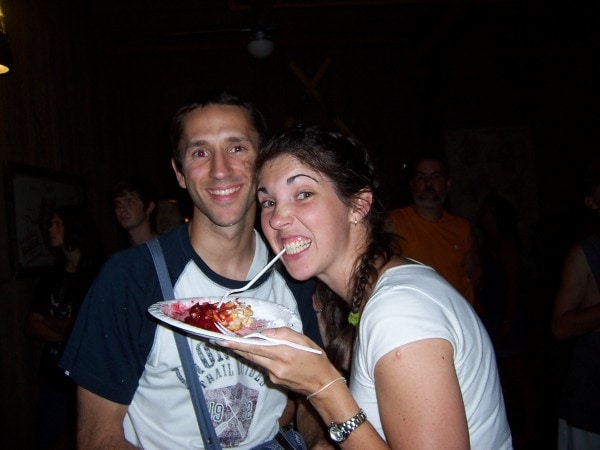 We dropped off his friend, went to a park, talked for HOURS, drove to the mountains, talked for more HOURS, and then got dropped off at like 3 in the morning. I was awe struck with how easy our conversation was, how many similar interests we had, and that he was planning on being a physician for kids with disabilities. Hello – I was a teacher for kids with disabilities! Fate, right? So, from then on I was hooked. The rest is history… from meeting him twice, to getting married 8 months later, I have been in love with him ever since!