May 2003…
I was in Boise, ID visiting an old friend of mine, Katee, from high school. She had made plans for us to meet up with three of her boyfriend's friends for dinner at The Olive Garden. Little did I know she was trying to set me up on a date with one of those friends.  Let's just say that I did not end up with the guy she was intending to set me up with. However…
When we got to the restaurant the guys were already at a table waiting for us. I automatically locked my attention in on Adam. The other two guys were good looking, but Adam was just HOT. He was really tan with a nice smile and gorgeous eyes. After dinner the five of us went back to my friend's house to play games and watch a movie. Adam invited me to go to church with him the next day, which blew my mind. So Adam and his other best friend, also named Adam, came to pick me up for church the next day. We ended up spending the day together. We went to church, he made me lunch at his parents' house (which was also the best sandwich I had ever had in my life), he took me for a ride on his bullet bike and then we hung out at his brother's house for a while before I had to head back to Pocatello.
Fast forward 3 weeks…
While we had talked a few times on the phone during these three weeks, we hadn't actually seen each other until Memorial Day weekend. We were going to go camping with a bunch of his friends, but that plan fell through. I still ended up making the trip to Boise in hopes of seeing him again, but I wasn't holding my breath. I kept trying to give him a way to get out of seeing me if he wasn't interested, but as fate would have it, we were just meant to be. We had our first official date that night. He took me to dinner and then we watched a movie at my cousin's house…and there we had our first kiss. The next day he took me to two of his friend's barbeques (…and He held my hand practically the entire day). Then on Sunday he took me up to Jordan Valley, OR to meet his ENTIRE family on his dad's side. Terrified is the only way I can describe how I felt, but it was fun. We went 4-wheeling and ate dinner up there and I got to know his family a little bit. Then Monday I decided it was time for him to meet some of my friend's. Enter Diva Tara.  🙂  Adam and I met up with Tara and couple of my other girlfriend's at TCBY. I could tell by my friends' reactions and Adam's reaction to my friends — this guy was going to be a keeper. The next four days were the longest days of my life.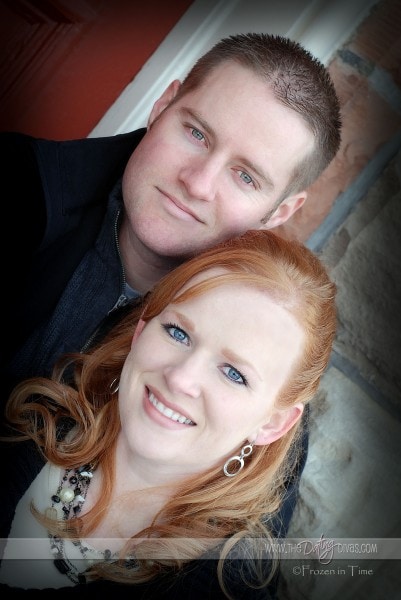 Adam traveled up to Pocatello, ID the following weekend to meet my family. We hiked up to the ISU "I" with his friend, Pat, and my friend, Lizzy, in tow. While we were overlooking all of Pocatello – Adam asked me to be his girlfriend. A month later he moved to Pocatello. Two months later we were engaged. Two months after that we were married in the Salt Lake City Temple. And here we are 6.5 years and 2 kids later. One happy little family.