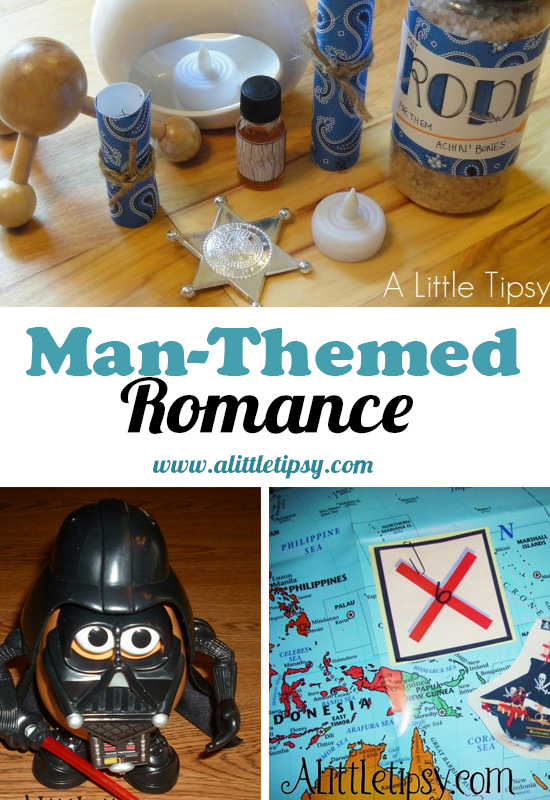 I am super excited to be here on Dating Divas today! I have a serious cheese ball side and adore creative and fun dating ideas.
Hi, I'm Michelle from…
I love planning fun theme-y gifts and surprises for my man. Today, I'll be sharing some ideas for your guy that suit "his" personality and let him keep his man card.
Some of these may not work as well for those of you whose guy is not quite as geek prone, but it may spark some ideas for theme dates or fun things you could do. Here goes…
One year I wrote the hubs a love note in html (Internet programming language). He loves computers and thought it was awesome that I was "speaking his language".  You can just use Microsoft front page and write and edit as if you were in Microsoft word and it will "translate" it for you.
Another time, I used Star Wars quotes to send him on a hunt for to defeat Darth Tater. I sent some to him at work, hid some in his car, etc. Each one had a little romantic memento like candles or massage lotion with it.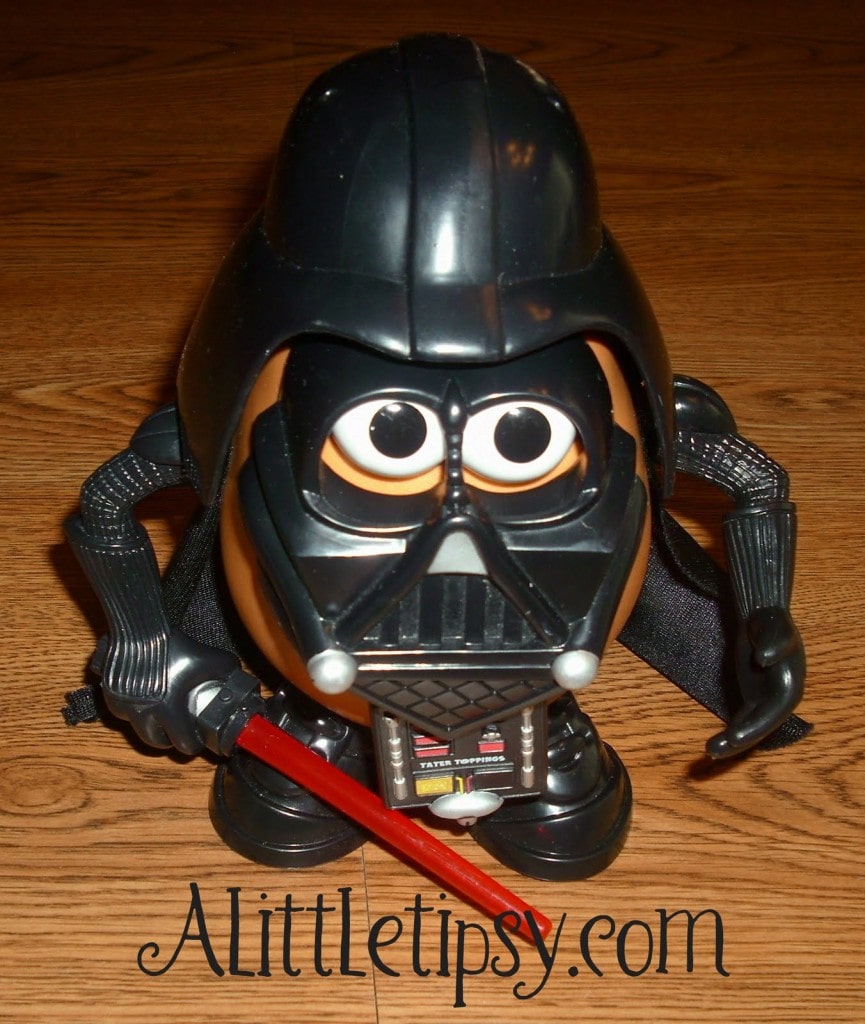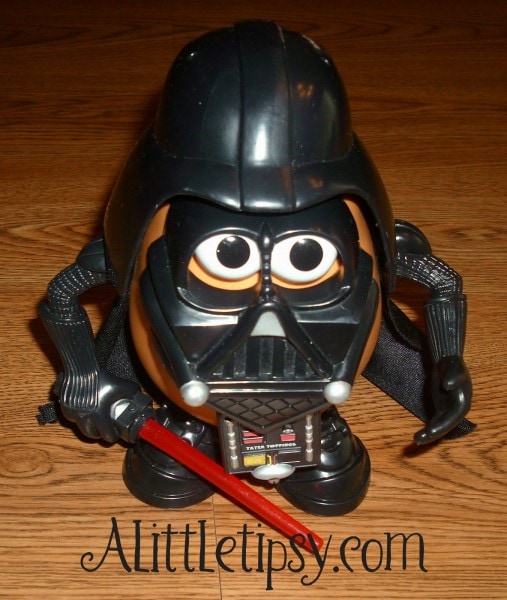 Here are some examples of quotes:
"Attachment is forbidden. Possession is forbidden. Compassion- which I would define as…Unconditional love—is essential to a Jedi's life. So, you might say that we are encouraged to love." –Anakin Skywalker
"Remember, concentrate on the moment. Feel…don't think. Use your instincts". -Qui-Gon Jinn
"Search your feelings you know it to be true."  –Darth Vader
"Ready are you? What know you of ready?…All his life has he looked away…to the future. To the horizon. Never his mind on where he was. Hmm? What he was doing. Hmph. Adventure. Heh. Excitement. Heh"  –Yoda
Last year, for our anniversary, we stayed at the Anniversary Inn in the Treasure Island Suite. That made this theme date even better, but you can do it at home. I bought a world map and covered it with Xs. Then I gave him a Pirate ship he had to move from X to X. Each X had a different activity card.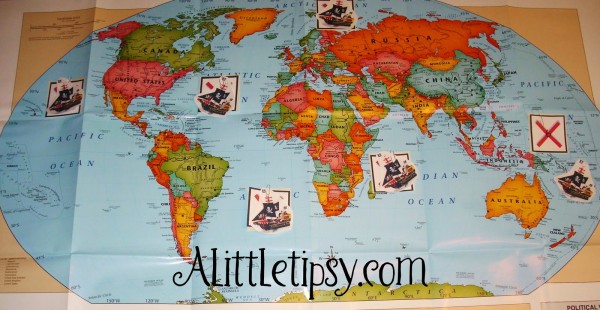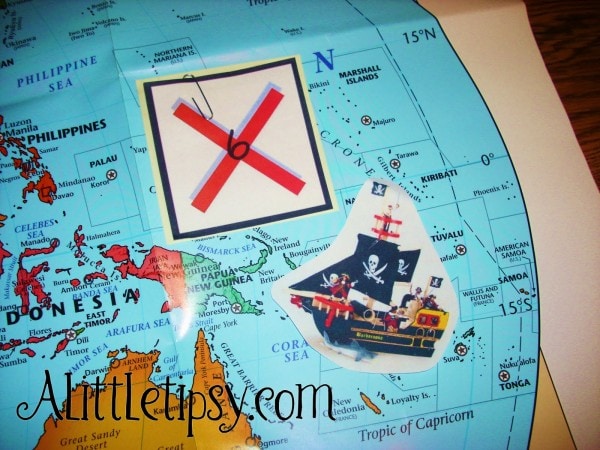 Here are some examples:
Walk the plank ye landlubbers! (relax in a hot tub or bubble bath)
Avast, yer drippin' on the bough. Find yer sea legs and don a proper swagger. Eye, Eye Cap'n. (I had pirate themed jammies for both of us)
Yo ho ho and a bottle of rum. By now ye have worked up quite a hankerin. (I had a bottle of sparkling cider and cheesecake.)
Yo ho, Yo ho a pirate's wife for me. Look through the magic spyglass for some trainin' on how to be a real pirate. (Watch Pirates of the Caribbean or another pirate themed movie)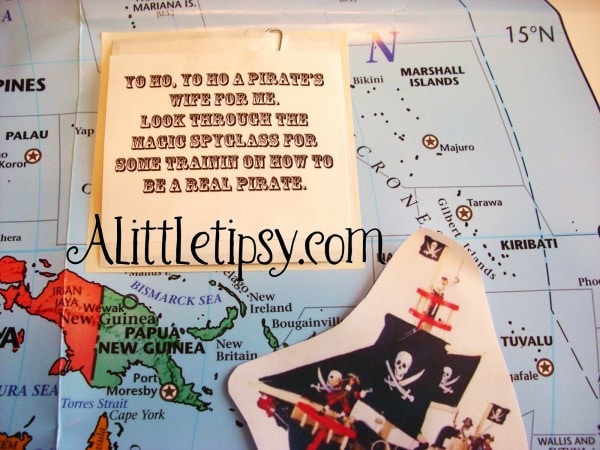 For our anniversary this year we stayed in a Jackson Hole Suite. We're talkin' sleeping in a covered wagon and showering in water piped through bottles tipped over on shelf. HILARIOUS! But again, an easy theme to do at home. Anyway, I ran with it and made the hubs a little "Wild West" themed gift to take along.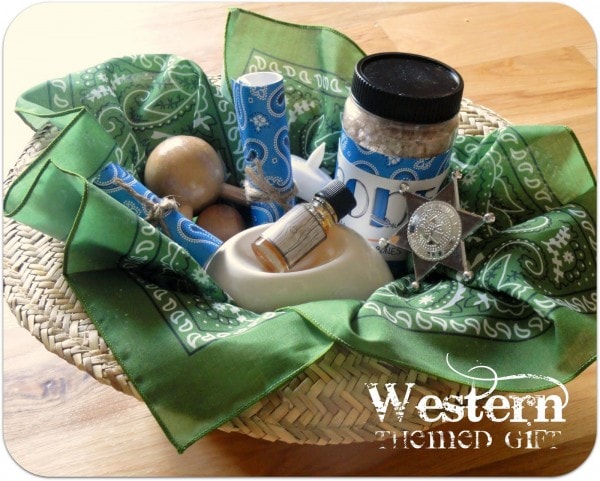 Massager
IOU for 2 tickets to "Cowboys vs Aliens" which the hubs was DYING to see

(at which my presence is a gift in itself.)

Vanilla scented oil with diffuser
Battery operated tea lights (inn has no-flame rules)
Gift Certificate for couples massage
Bath salts aka "Post Rodeo Soak"
Sheriff's badge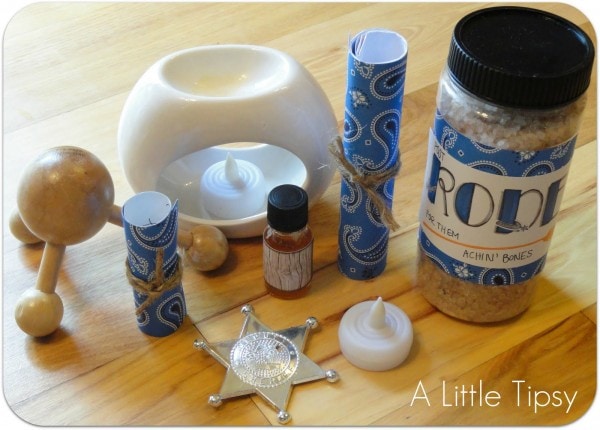 Throw those all in a straw hat lined with a bandana and you have a gift, my friends!
I love creative, fun dates and with the economy as it is right now there is no better time to get creative and have some fun at home.