What to Do for Mother's Day Game
From chauffeur to cook (and everything in between!) Mom is the person who's always there for us. She somehow does it all and STILL has time to show us the love. Well, we think it's time we show HER an extra dose of love and attention for a change! This darling mother-focused idea is the perfect way to figure out just what to do for Mother's Day and is definitely one to keep in mind when it comes to DIY Mother's Day gifts, birthdays, and more. Ready to put on your random acts of kindness hat and get going? Let's take a look!

Disclaimer: This post contains affiliate links. To learn more about 'em, click here.
But before we get to the mom-approved goodies, we HAVE to give a giant shoutout to Carisa from Messes to Memories for designing such uber-beautiful printables for us! Seriously, we could not have made this idea happen without her magical touch. Thanks again, Carisa!
A Way to Say, "Thank you, Mom."
Alright, let's dive in! You may be asking exactly what to do for Mother's Day and how it might ever be possible to tell Mom just how much you love and appreciate her. We agree that words may never fully express that sentiment but this nifty service-based gift idea is a fabulous place to start! It not only has the most darling fresh and floral design we've ever seen, but the entire concept is based on letting your ACTIONS speak louder than your words, hence the term random acts of kindness. Plus, this idea works for even the busiest of folks by removing any possible guesswork. You'll be armed with a whole host of ideas Mom is going to go gaga for and it's a gift anyone can give at any time to say, "Thank you, Mom, for everything." Best of all, the whole family can get involved thanks to our multiple Mother May I? printable cards that are just too cute for words. Is that a made-for-mama idea or what?!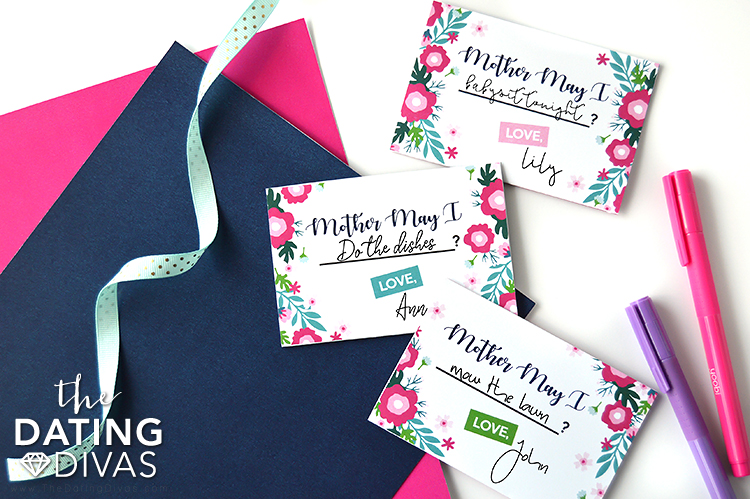 What's Included
We've taken every step to ensure this gift for mom is as done-for-you as possible and totally hassle-free, giving you more time to get yo' gifting on! Keep reading to learn more about each item in your printable pack and how to use it!
Mother May I? Instruction Sheet
First item up, a gorgeous printable instruction sheet that's the perfect way to explain the 'rules' to family and friends. Print on good quality paper (we always recommend cardstock!), cut, and place the card in a location everyone is sure to come across, or pass it around! We also recommend having your random acts of kindness list (see below) and your printable Mother May I? cards nearby so family members can instantly get thinking of their special treat for Mom. We guarantee no one's played Mother May I? like this before!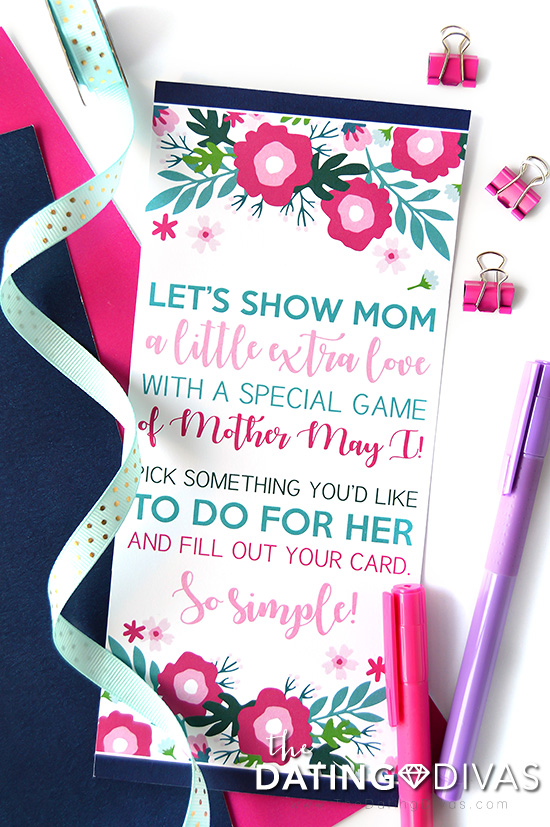 Mother May I? Ideas List
As much as we adore the random acts of kindness concept, we totally get that it can be tricky coming up with fresh and new ideas. That's why we've also included this one-of-a-kind list made with Mom in mind. Say goodbye to those days of wondering what to do for Mother's Day because this is the real deal. Simply give it a skim and have each participant select an item Mom will love. Spoiler alert!! She'll love them all.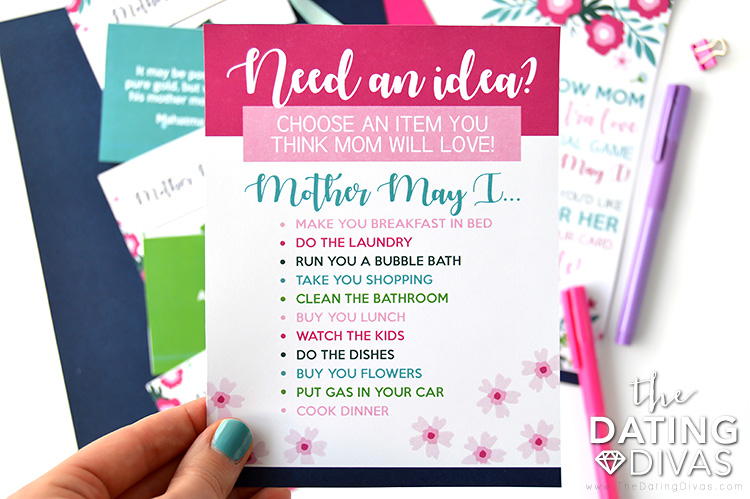 Mother May I? Cards
Last but not least, these clever cards are the go-to spot to record what to do for Mother's Day for mom. We've designed them in such a way that assembly is super simple and we'll give you an up-close look at how it's done. Simply print and cut, being careful not to cut through the center line of each card. You're going to be folding the card back on itself, creating a quick and easy front/back. Take a look!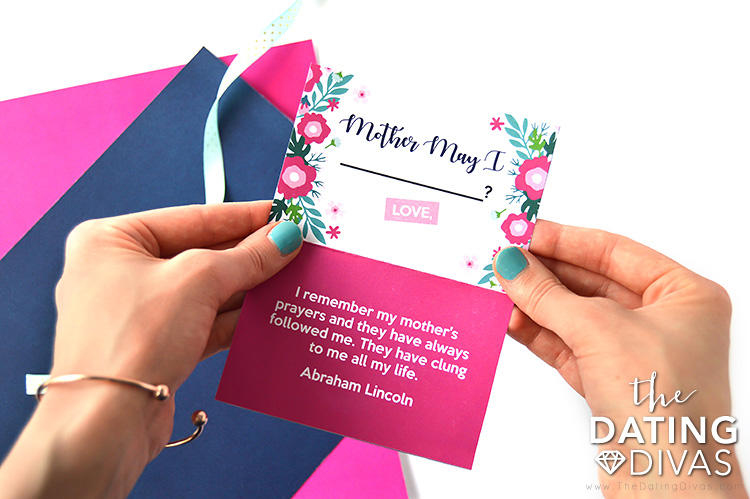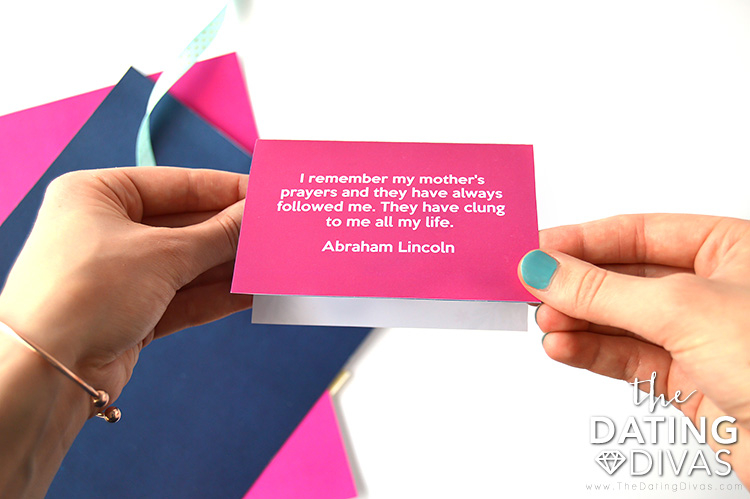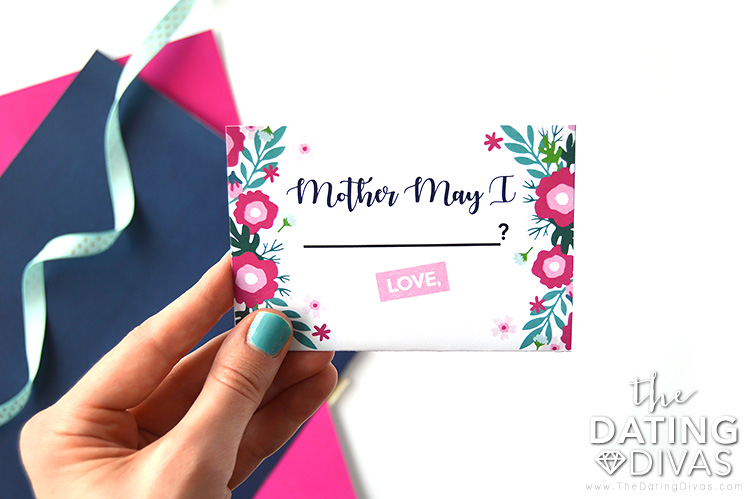 Apply a bit of adhesive in between the front and back and you've got yourself a gorgeous double-sided card that's really something. After everyone's chosen one (or more!) idea for Mom, get ready to get writing! Simply fill out the cards with your service idea and sign your names. Then have everyone present their cards to Mom at the same time or consider scattering them across her pillow, sticking them to the bathroom mirror, or even placing them all over the inside of her car. How great of a surprise is that?!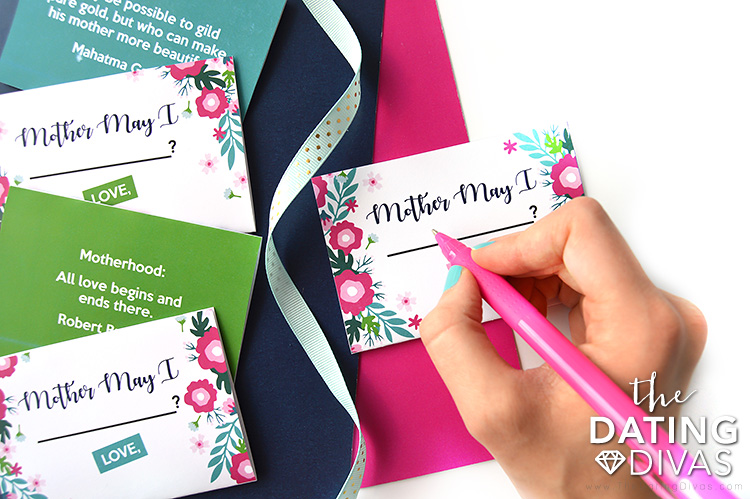 Mom Quotes She'll Love
We Divas are all about going above and beyond and that's why we've included a little something special on the back of each printable card; a fabulous mom quote that will give her all the feels! Take a look at just a few of the quotes we've included and maybe have a couple tissues handy…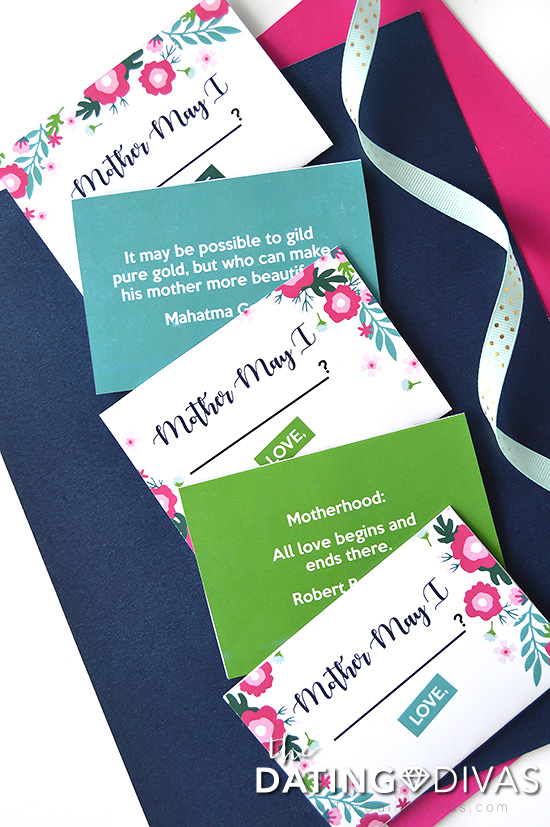 I realized when you look at your mother, you are looking at the purest love you will ever know.
– Mitch Albom

God could not be everywhere, and therefore he made mothers.
– Rudyard Kipling
It may be possible to gild pure gold, but who can make his mother more beautiful?
– Mahatma Gandhi
DIY Mother's Day Gifts and More!
If you're anything like us, shopping for mom can be H-A-R-D. That's why one of the most fantastic parts of this Mother May I? idea is just how versatile it is. It can literally be used over and over again and will NEVER get old! Take a look at just a few of the ways it can be used and get ready to take gifting to a whole new level.
Birthday Gift
Congratulations Gift
Get Well Soon Gift
Mother's Day Gift
Anytime Appreciation Gift

Is this an idea Mom will die for or what? Be sure and remember this one for the next time Mama needs a little something special! Save these cute printables on Pinterest!
Mother May I?
Printables Designed by Carisa @ Messes to Memories Exclusively for The Dating Divas