Secret Date Night Reveal
Want to spice up your weekly date night? We've got a super simple idea that will take any date night up a few notches. This idea is so versatile that it can be adapted to just about any date idea you've got! Use it for group dates, intimate dates and even your average movie night (watch out—it won't be average for long!). Plan this Mystery Spy Date and anticipation will be more than half the fun! I love that we can use this idea over and over… and over again and it's different each time! If you and your spouse love a good riddle, fun puzzles and decoding top-secret information, you've come to the right place. This date night enhancer has it all!

Disclaimer: This post contains affiliate links. To learn more about 'em, click here.

So the idea behind this date enhancement is that you'll plan a fun date a week in advance and each day you'll reveal a clue about that date to your spouse. They'll spend the week leading up to the date trying to figure out the plan! To help you put all the clues together and stay super organized we created some spy-themed printables. We teamed up with Joanna from Cutify Creative and now all you need to prep this top-secret date is the tiniest bit of creativity paired with Joanna's killer printables! Don't you worry, she hooked us UP so you barely have any work to do!
There are lots of ways to modify these spy date cards to fit your date and creative comfort level, but here's how I planned to surprise my hubby with a secret date:
Pick Your Date
You could choose just about ANY date idea. Seriously, the possibilities are endless, just don't tell your spouse, that's the secret! And you just know that The Dating Divas have more than enough ideas to help you out, so just pick one! Alright, I'll help you out. Here are a few of my favorites that I think would work just perfectly with our spy date theme:
In the end, I chose Niki's Believe it Or Not Date. It felt like such a great combo with the spy date clues since we'd end up trying to determine what was an outrageous fact and what was fiction!
Plan Your Clues
Okay, you've picked your date. Now, you need to get your clues ready. You'll provide your spouse with clues in five different categories: Location, Guests, Attire, Food, and Activity. You've got two ways to dole out your clues. Option A is best if you want to give specific clues—you can cut out and fill in the poem clue cards to coordinate perfectly with your chosen date. Use Option B if you're strapped for time—just cut out and use the done-for-you question clue cards.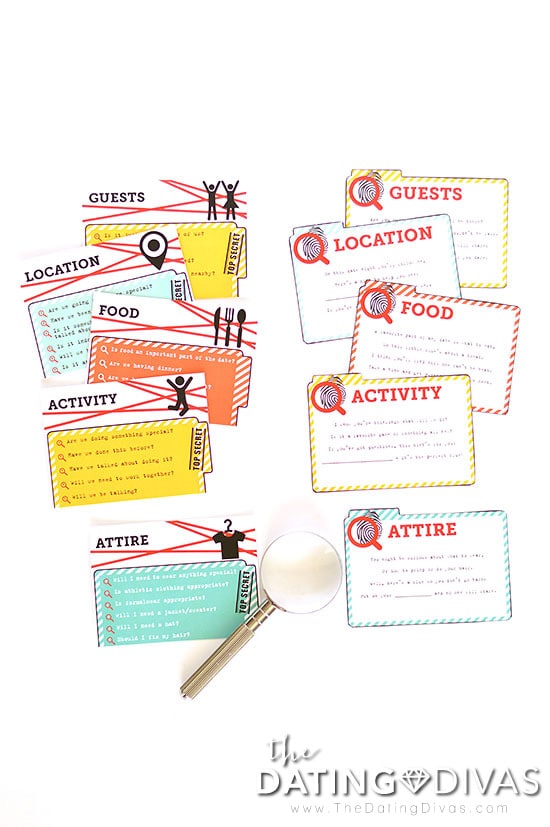 The poem cards give them a hint that you have to complete ahead of time while the question cards make it easy-breezy for you and just give them question ideas for each day to ask about different parts of the date.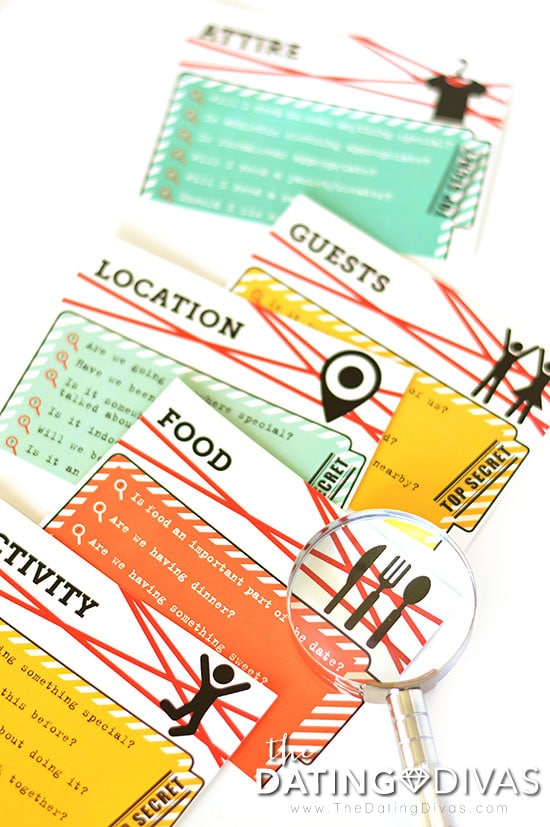 I had my creative juices flowing so I went with Option A. I filled in a few blanks and then chose the order I would give out the cards. (Hint: The "Food" card doesn't have a blank, for this one you can include a clever treat as your clue!)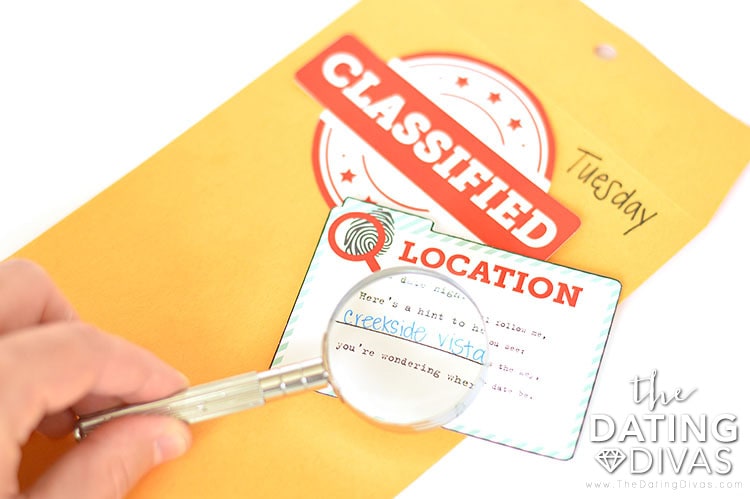 If you're going with Option B, you'll just give your sweetie a new question card each day and they can ask up to six "YES" or "NO" questions about the topic, in order to gather hints about the date. (Hint: They don't have to ask questions from the card, those are just ideas to get them started!)
To make it a little more spy-like, I added each clue to an envelope and labeled them for each day of the week. Plus, Joanna included some fun 'sticker' embellishments to make it feel super top secret!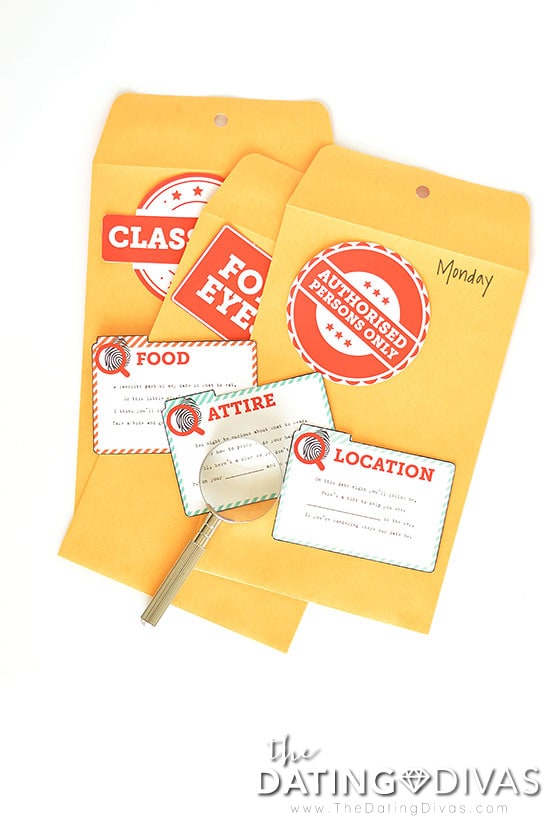 Give Some Hints
 Once you're all set up, start handing out the clue cards (either the poems OR the question ideas). Give your spouse the corresponding clue tracker (there's one to go along with the poem clues and one to go along with the question clues) so they can record each hint and all their guesses.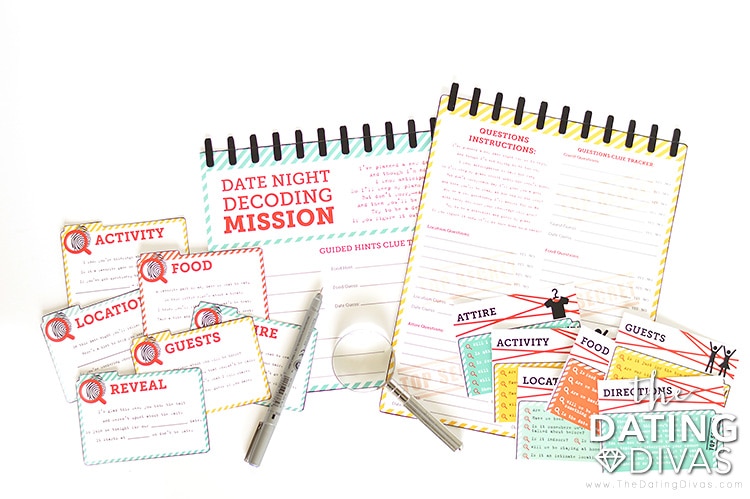 Enjoy Date Night!
At the end of the week, give them the final card to reveal the date! I added all the supplies we'd need for our date night to the last envelope so he'd get a sneak preview of all the fun! Ready to have some secret agent fun? Add some suspense with these clue cards to your next date night!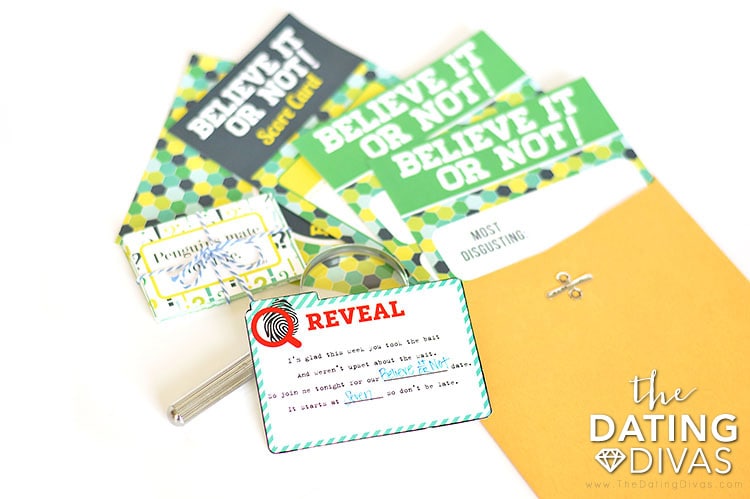 Mystery Spy Date
Printables Designed by Joanna @ Cutify Creative Exclusively for The Dating Divas